The second day in Malta greets us with rain and clouds, so we decide to start sightseeing from Maltese towns. We are closest to the town of Mosta, so we head there at the beginning.
Mosta- a walk around the city
We come to Mosta. Finding a parking space in this town is a tragedy. Finally, after 15 minutes of circulating around the city, we manage to find a stop and go for a walk. We are mainly interested in one monument, which is why we set navigation to this point, and on the way we pass several interesting buildings with colorful balconies.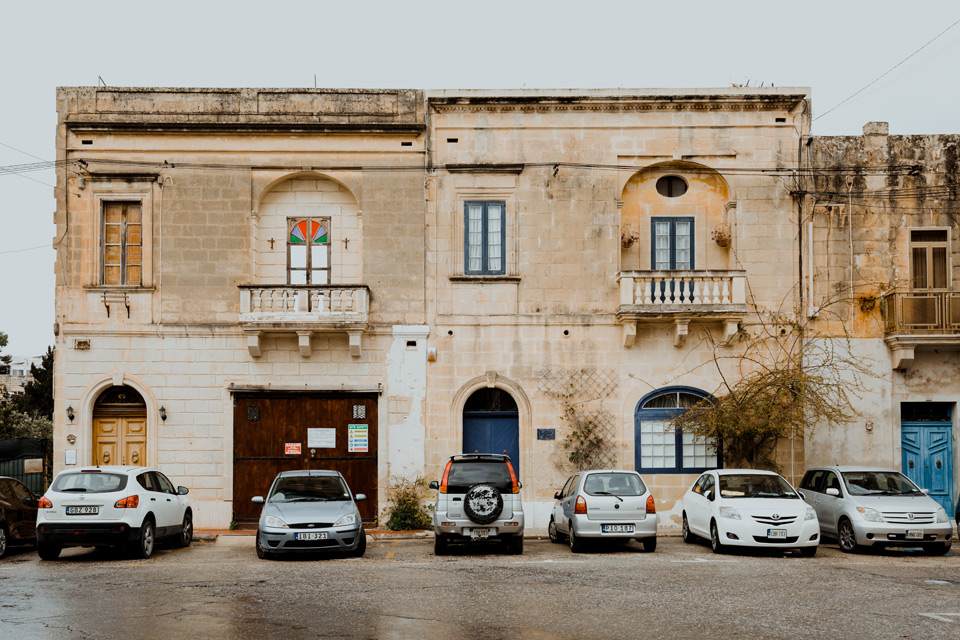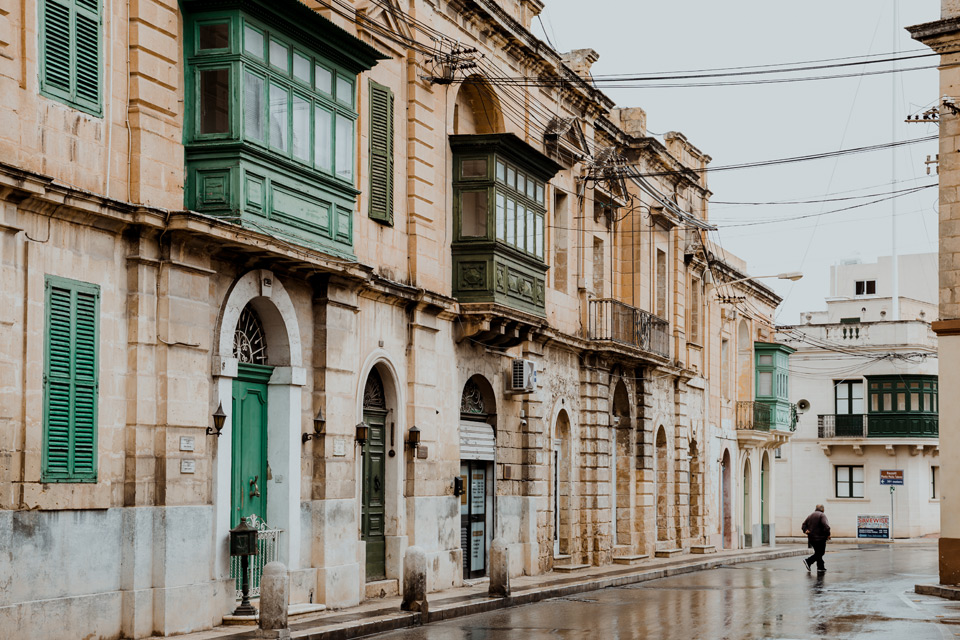 Rotunda in Mosta
The monument that we wanted to see was the Church of the Assumption of the Mother of God, known as the Rotunda in Mosta. It has the ninth largest dome in the world and the third in Europe.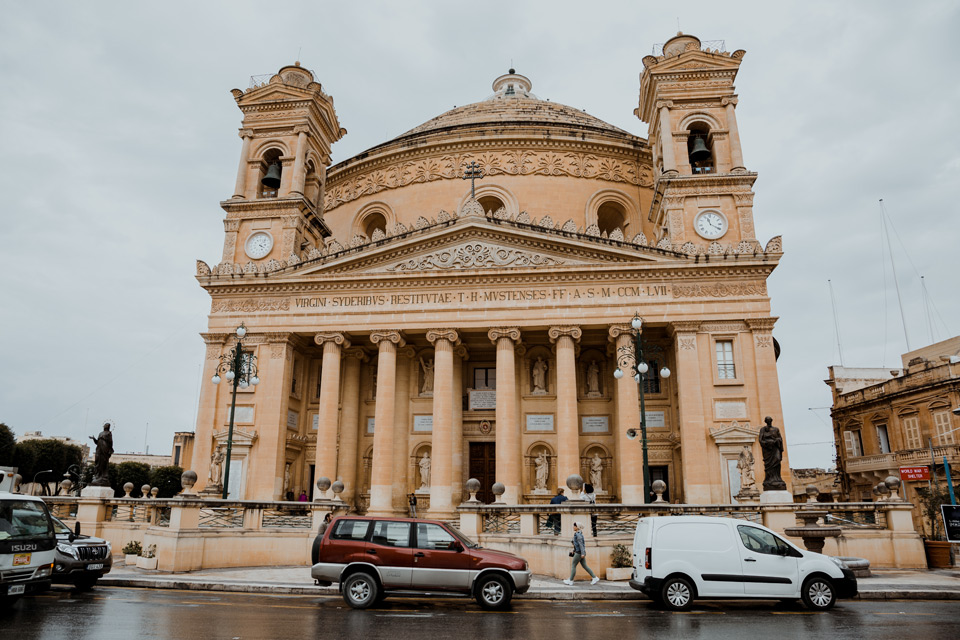 We go inside. Inside, we learn that a bomb had once fallen on the dome. Fortunately, it didn't explode and hurt anyone, which the Maltese consider a miracle. We also observe its replica in one of the niches of the church.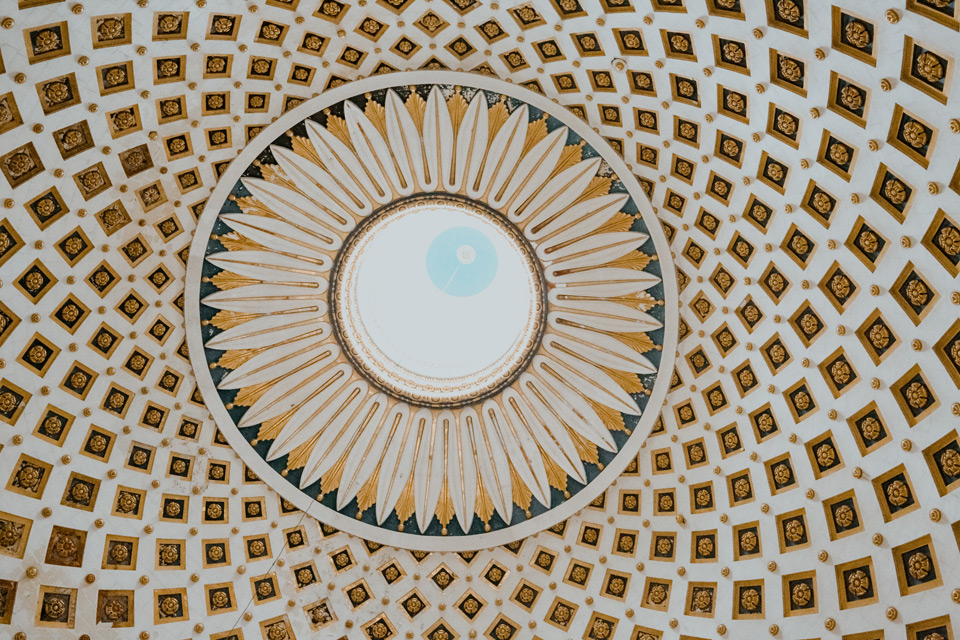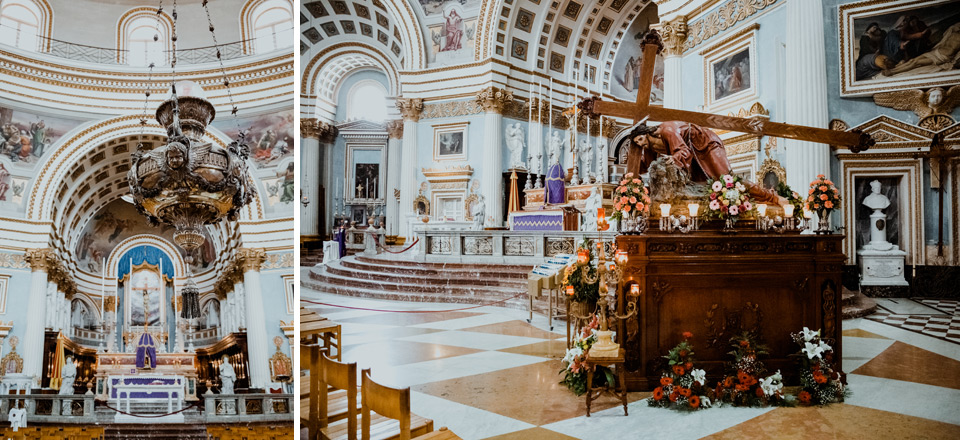 Inside the church it's very interesting, so we spend some time there. After leaving, we cross the street. There is a small cafe where pastizzi are sold. It's a puff pastry snack that has different fillings. Most often, pastizzi are stuffed with cheese or chicken. It's worth a try. We eat and continue the walk. Along the way we pass some interesting balconies, shutters and climatic Maltese courtyards.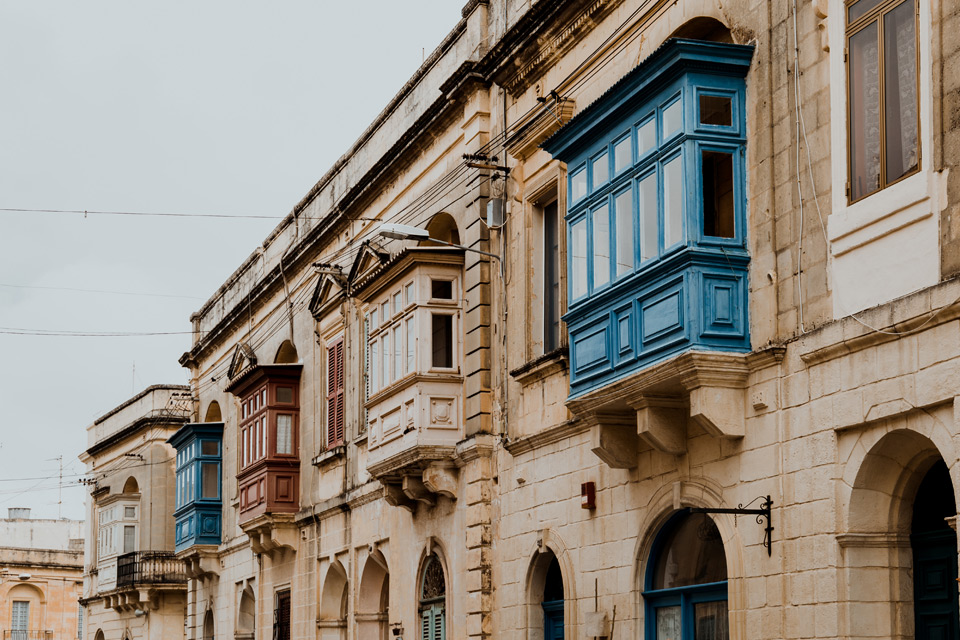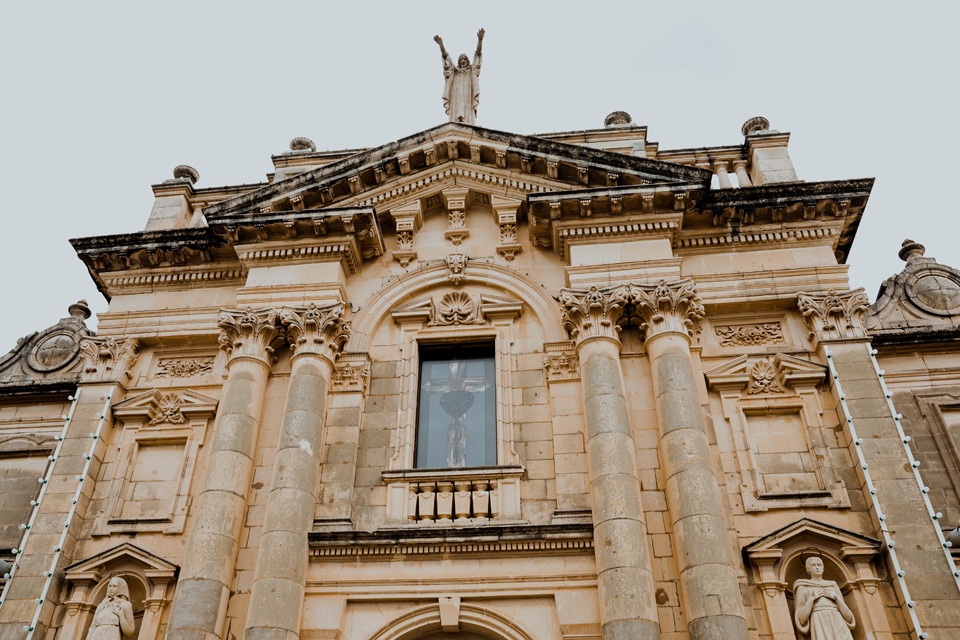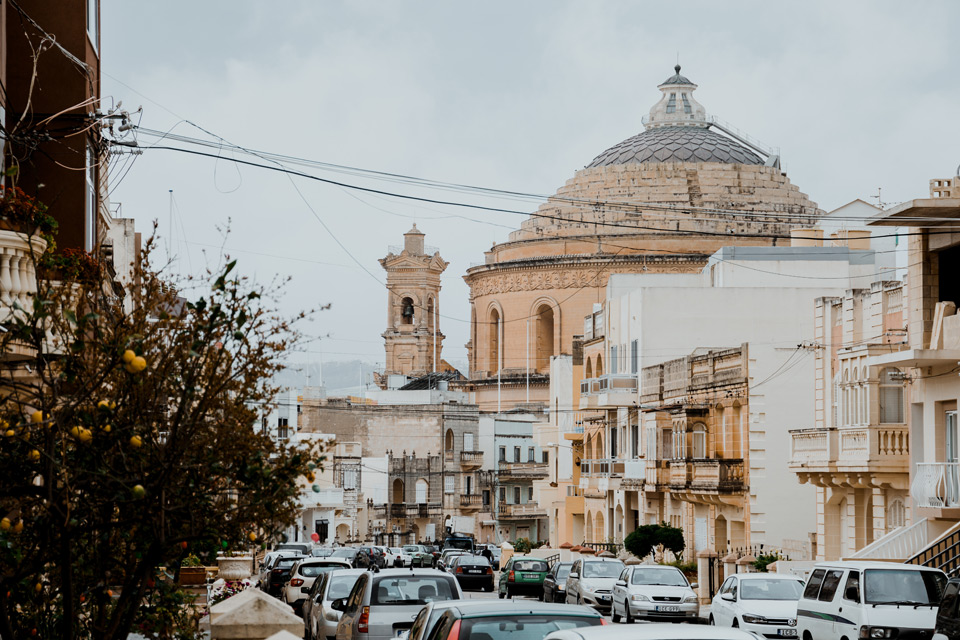 Panorama of the city of Mdina
After visiting Mosta we go towards Mdina. Along the way, we try to find a place where we can admire the panorama of Mdina. We find one, stop for a moment on the side of the road and take pictures. It's a bit foggy, but the views are great anyway.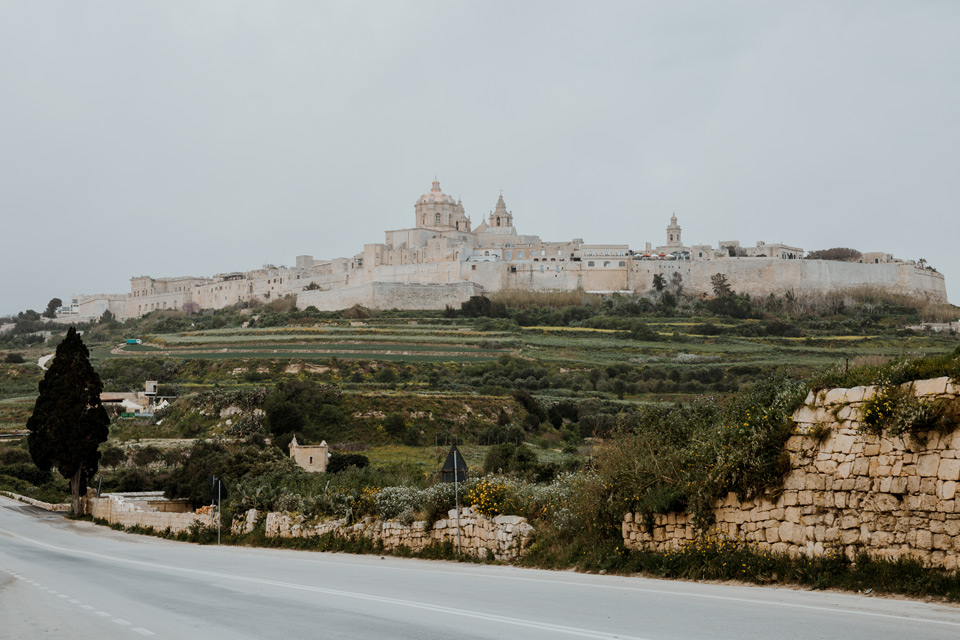 Rabat and Mdina
When I was looking for information about interesting attractions in Malta, it was often mentioned about Rabat and Mdina. Often, both these names were used alternately at the same place. It was hard, but in the end I managed to solve this puzzle. Mdina is a very small city surrounded by walls, you can't enter it by car. Whereas Rabat is a suburb of Mdina, which is all around the defensive walls.
Stroll around Rabat
We leave the car in a Rabat and go for a walk around the city. There are few people on the streets. The town is quiet and peaceful. It seems to me that all tourists have fled to Mdina, and yet Rabat has some interesting things to offer. We pass a large church. A few dozen meters away there is a small church, and in its basement there are free catacombs to which we descend.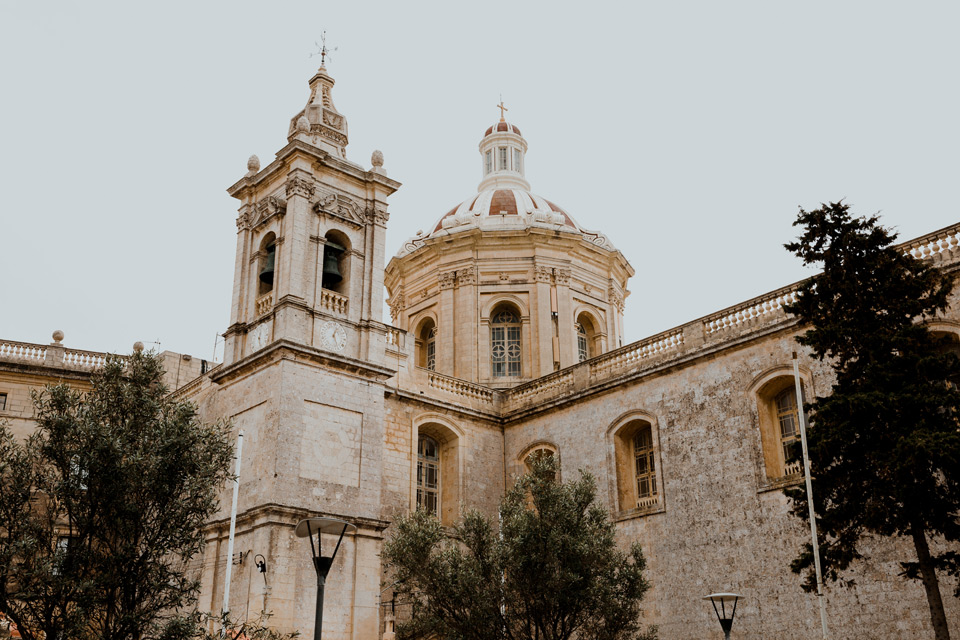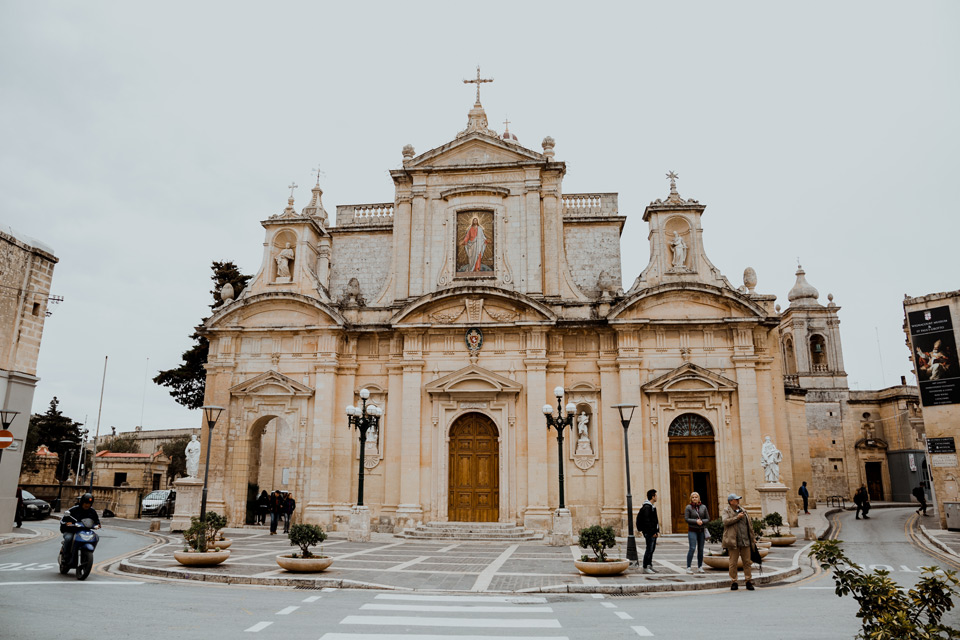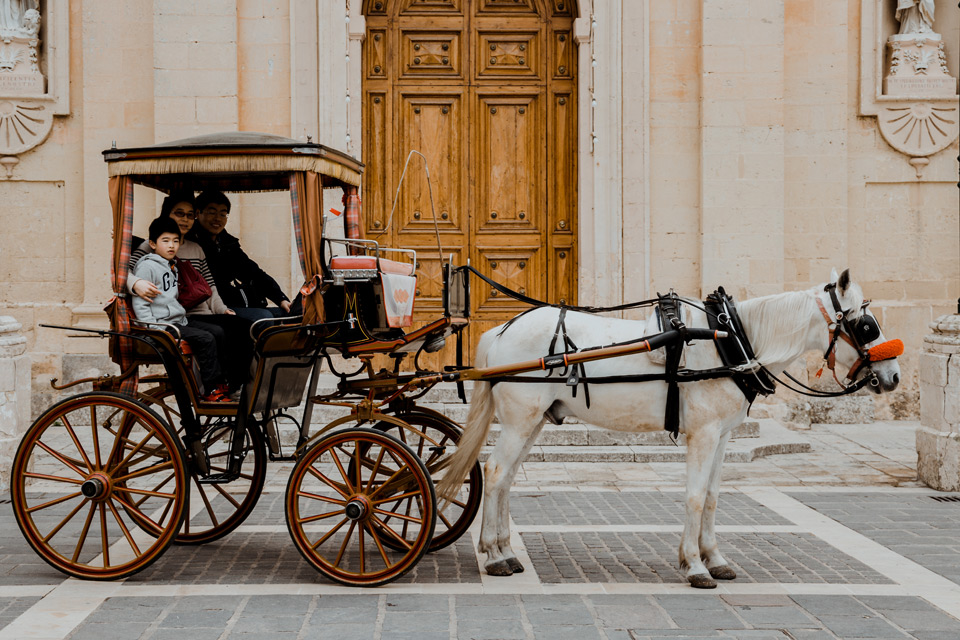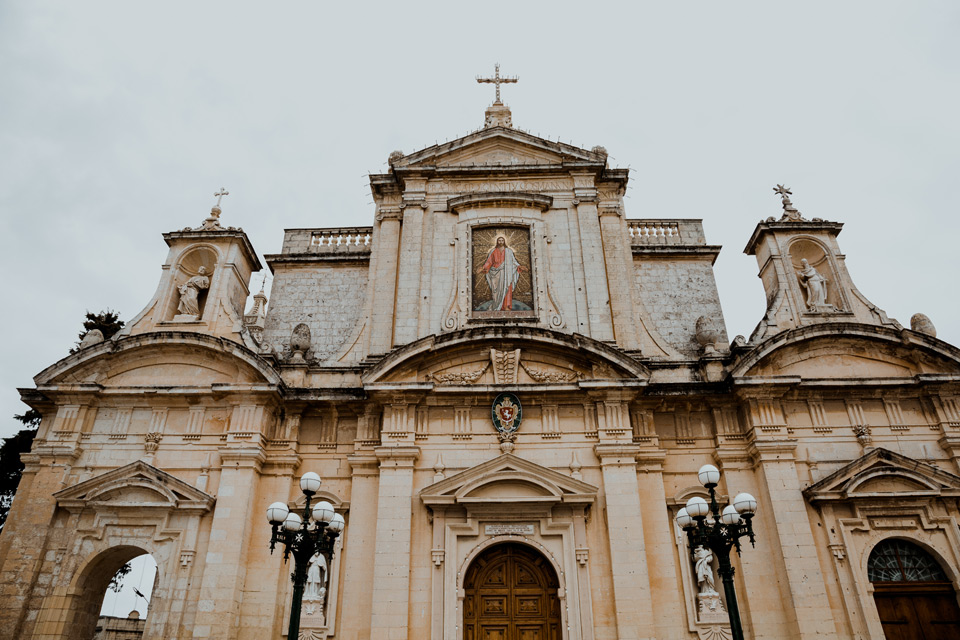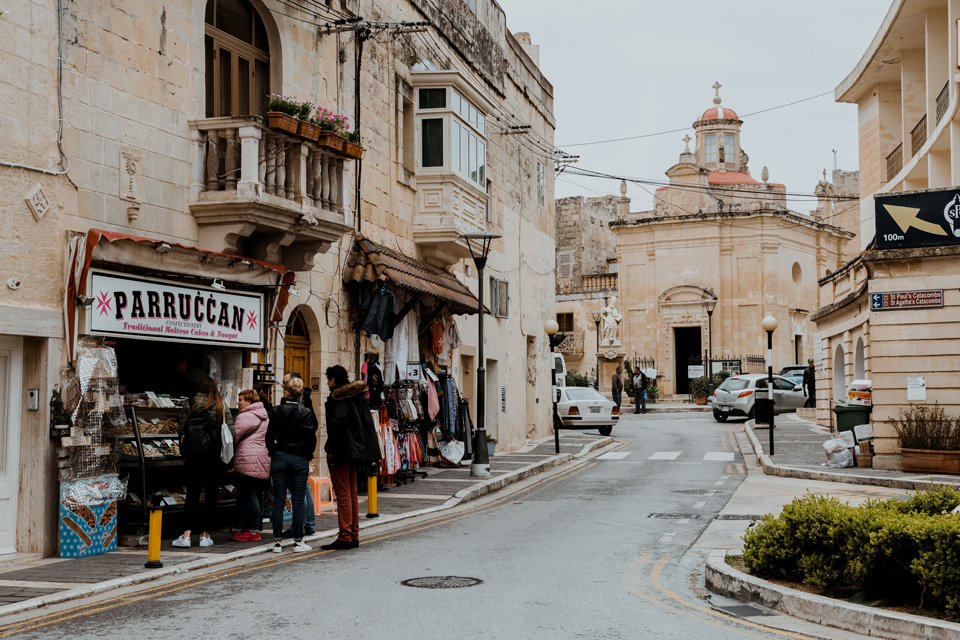 The recommended place in travel guides are the St Paul's Catacombs. Me and Wojtek are not interested in such places, that's why we go for a walk and the rest go inside. We discover several interesting nooks and crannies. We have quiet time to admire the local architecture.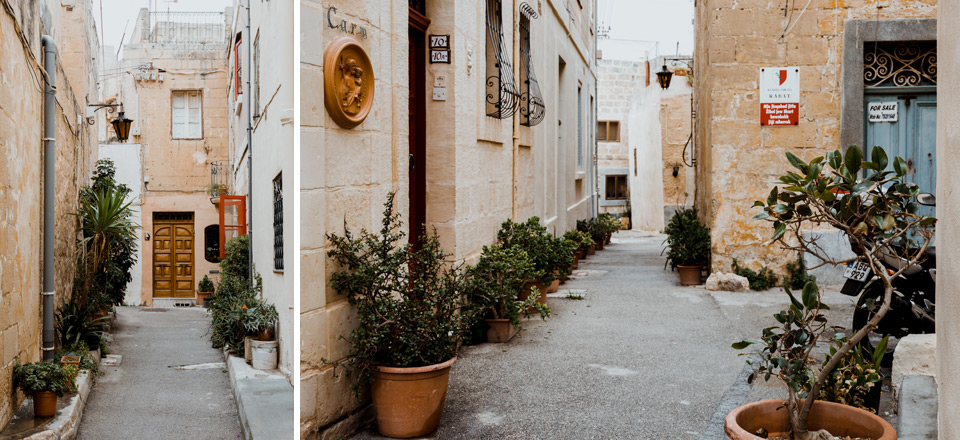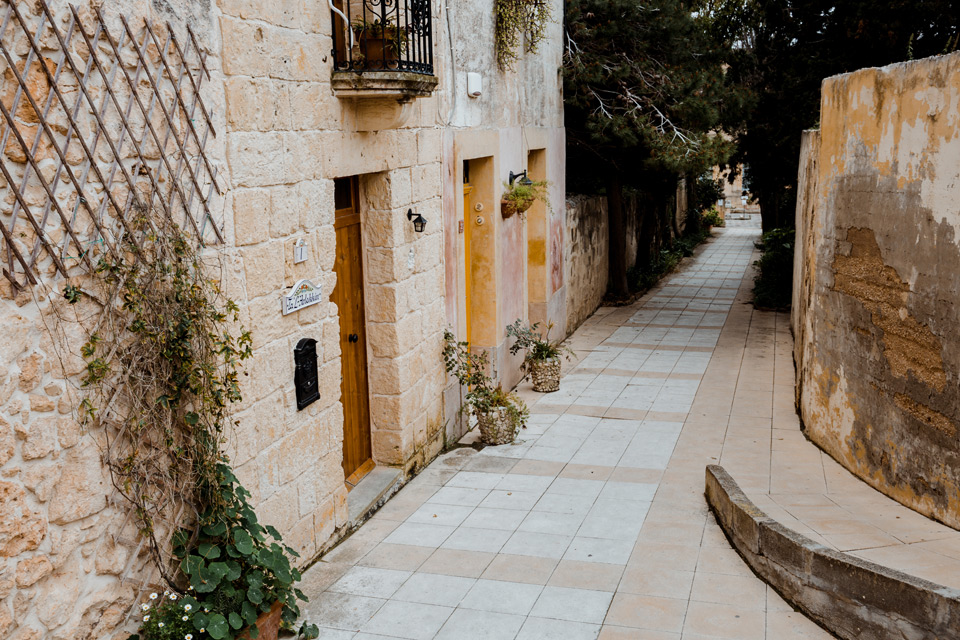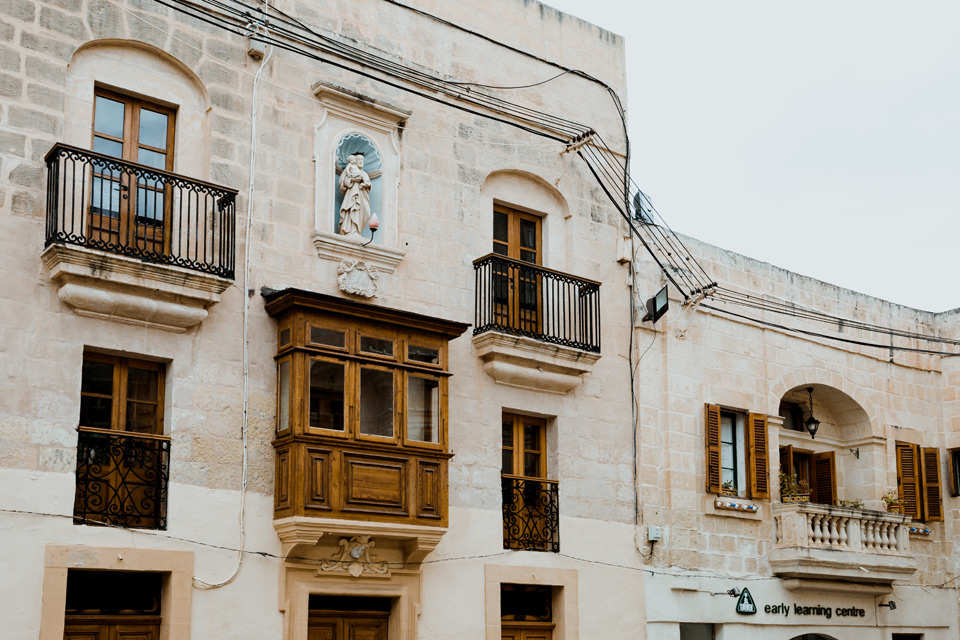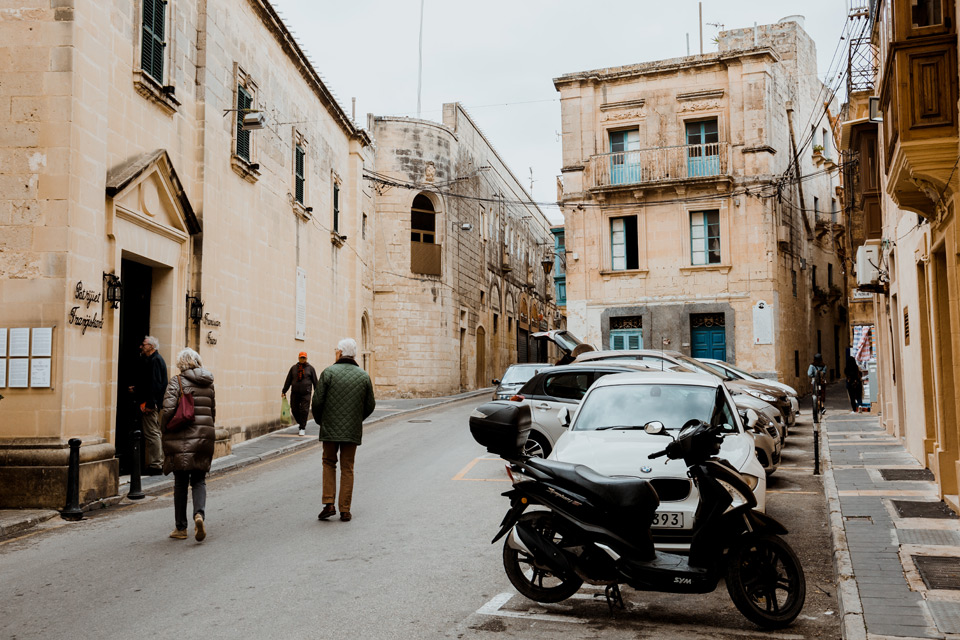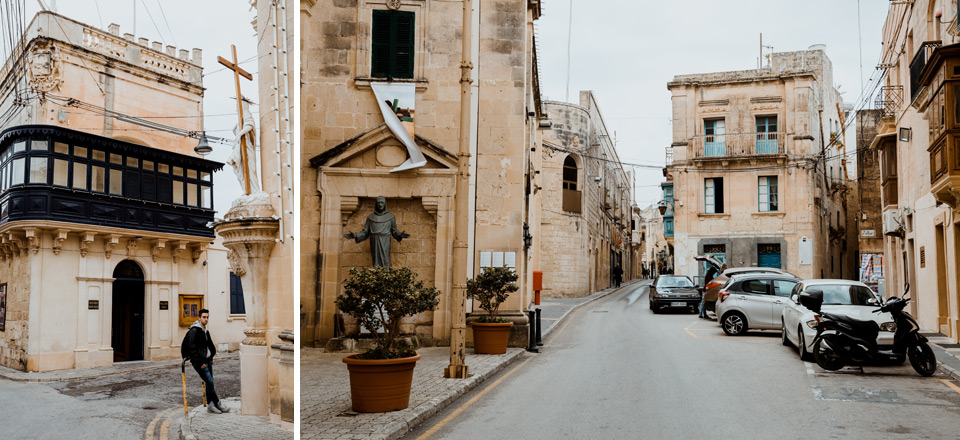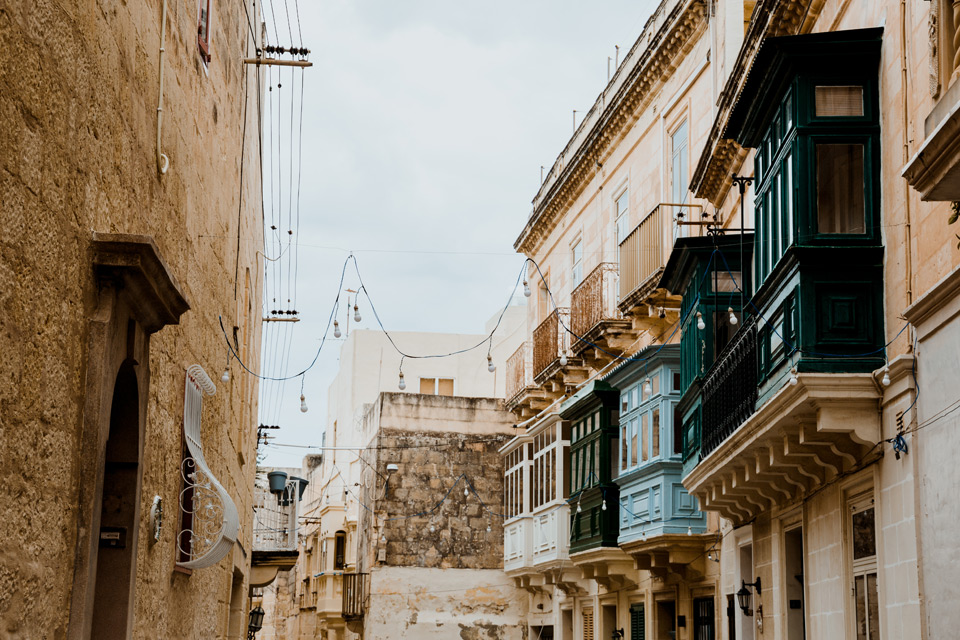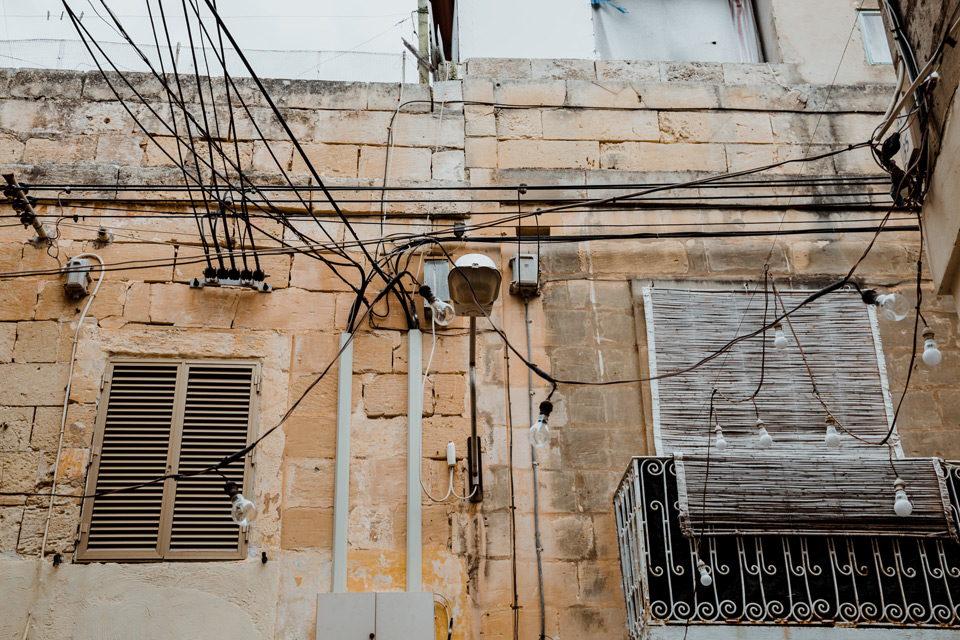 Mdina- defensive walls
Completely by accident we manage to reach the defensive walls of Mdina. We slowly walk around the city and take pictures. We wait for the rest to leave the catacombs and rest on the bench.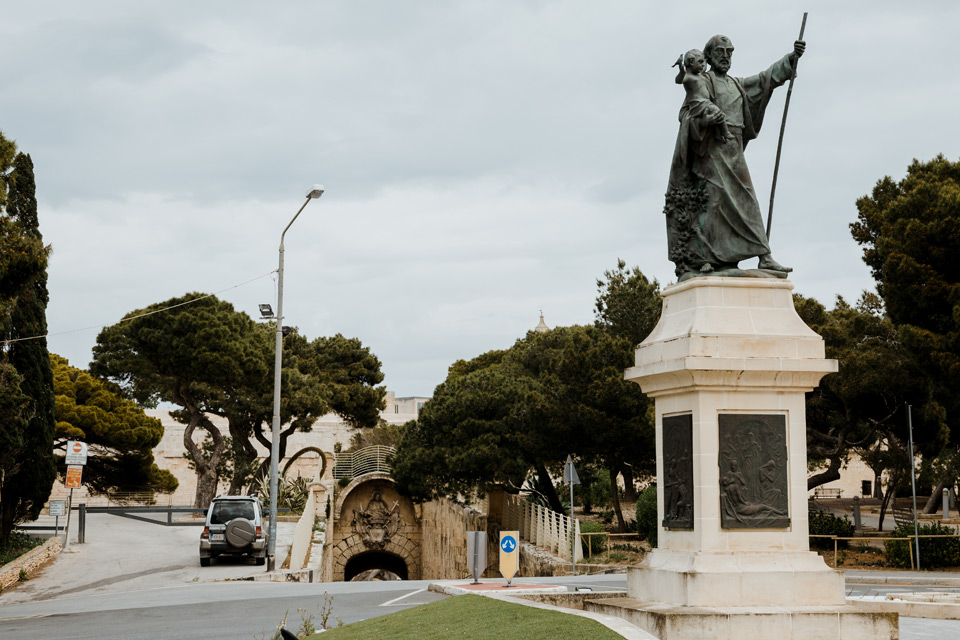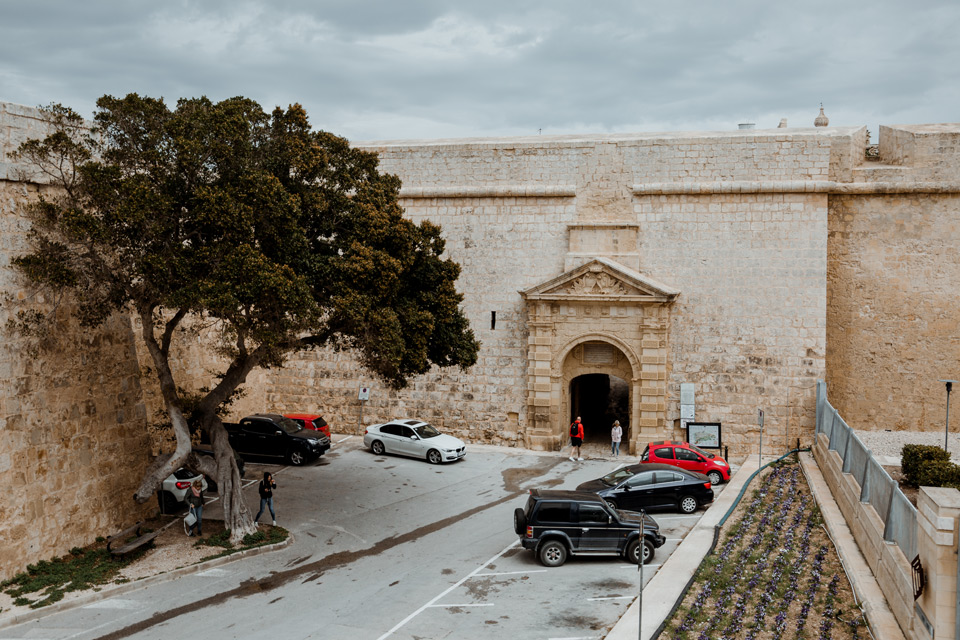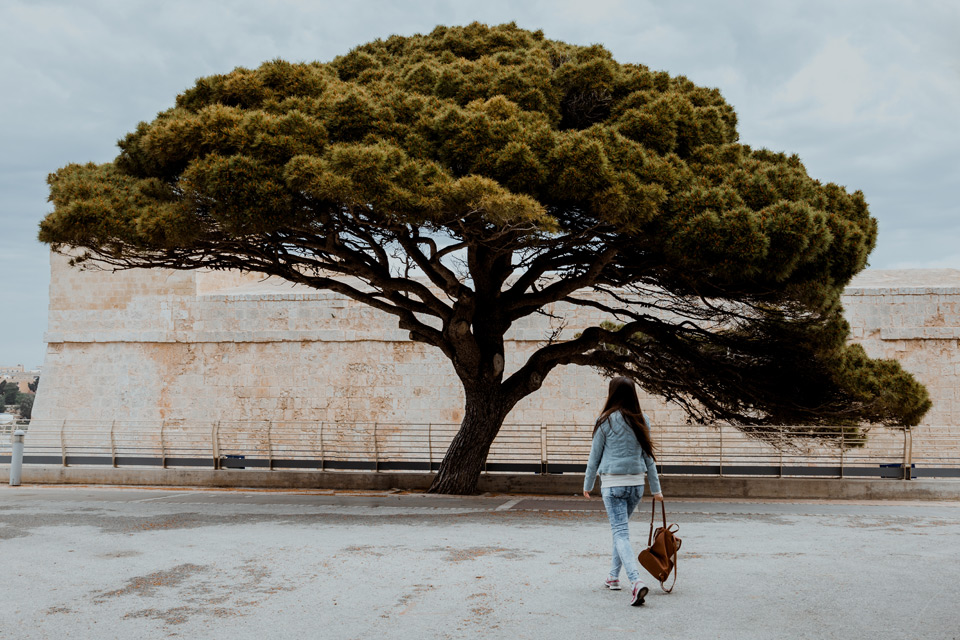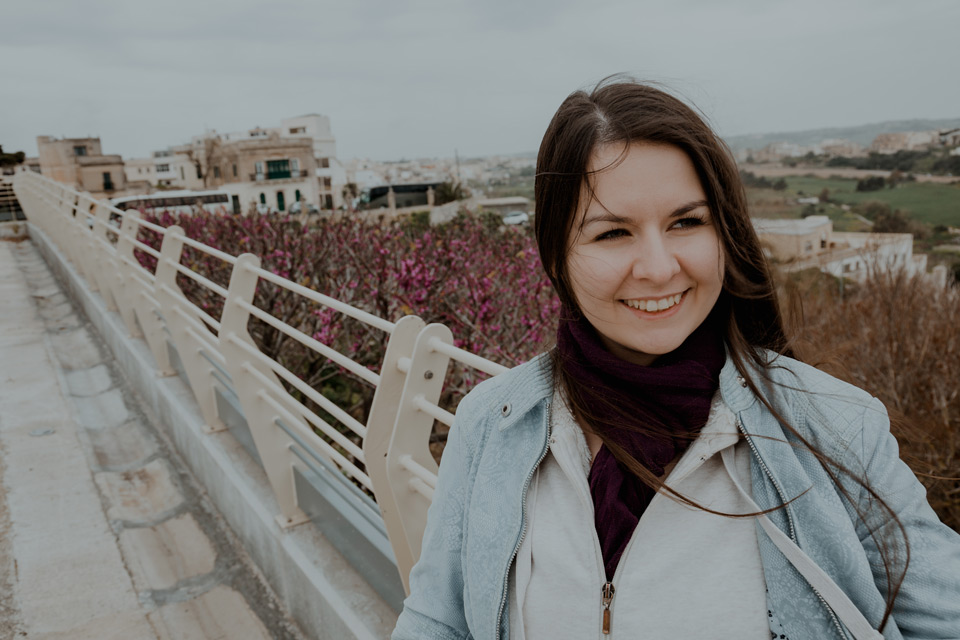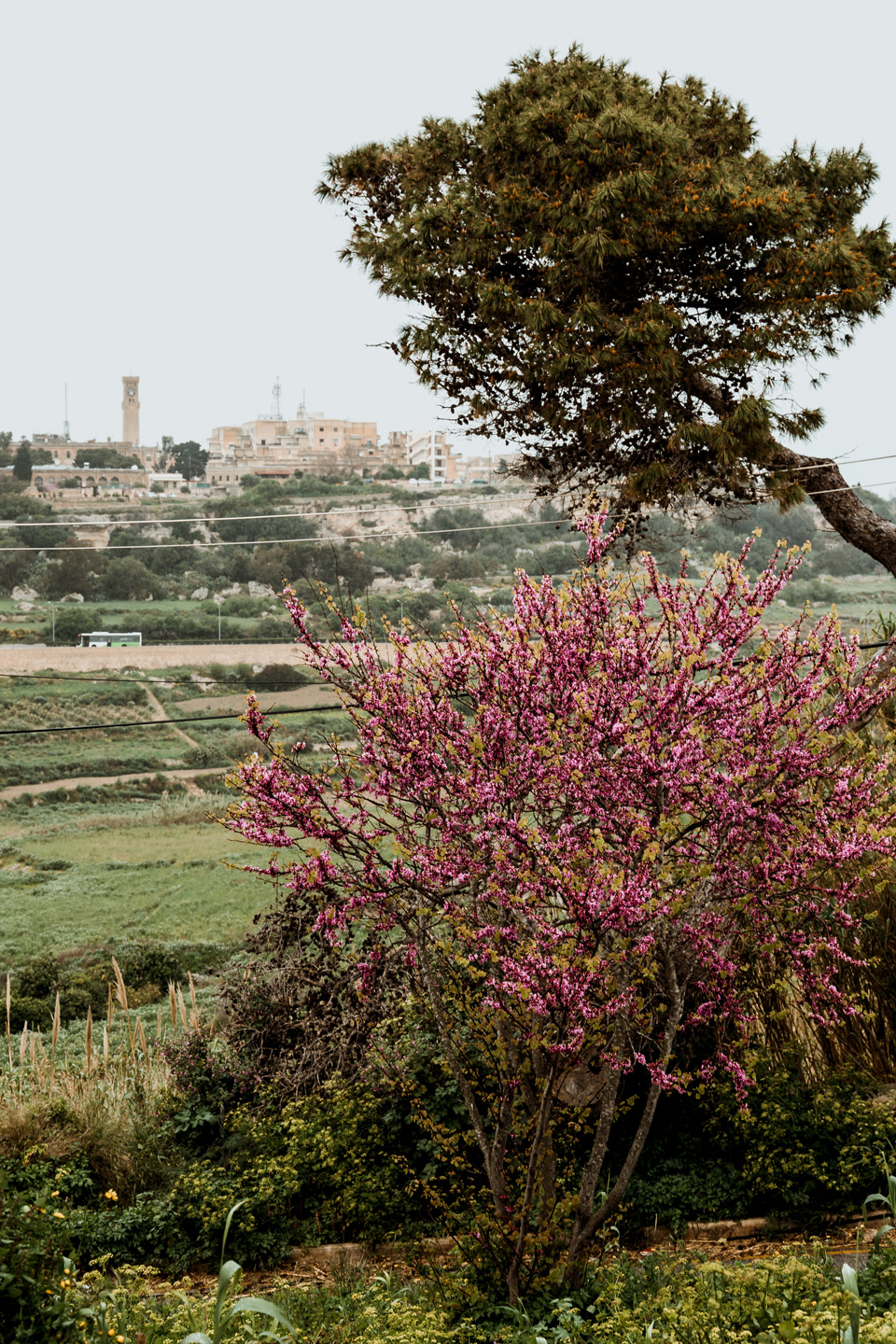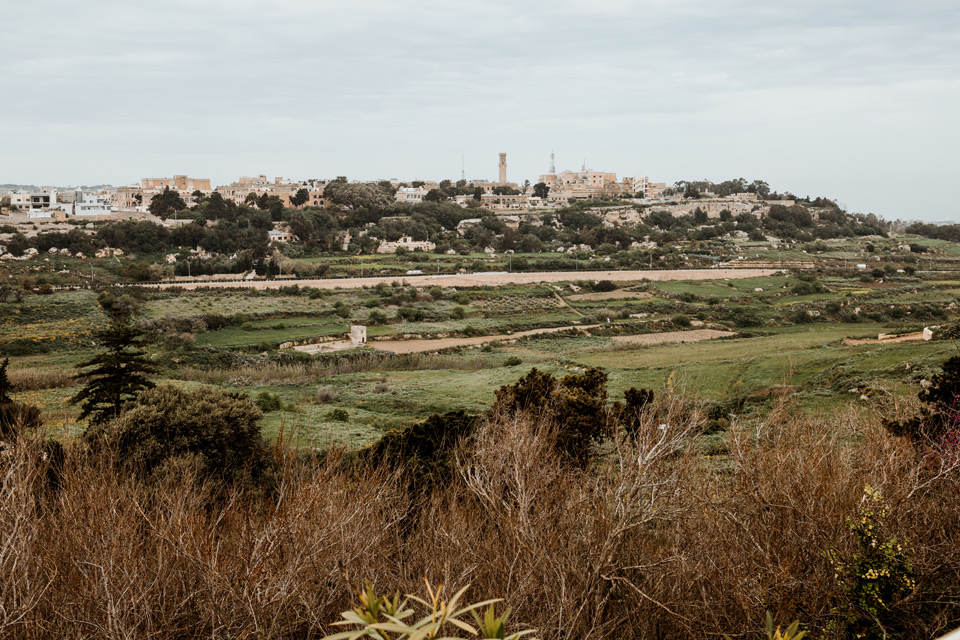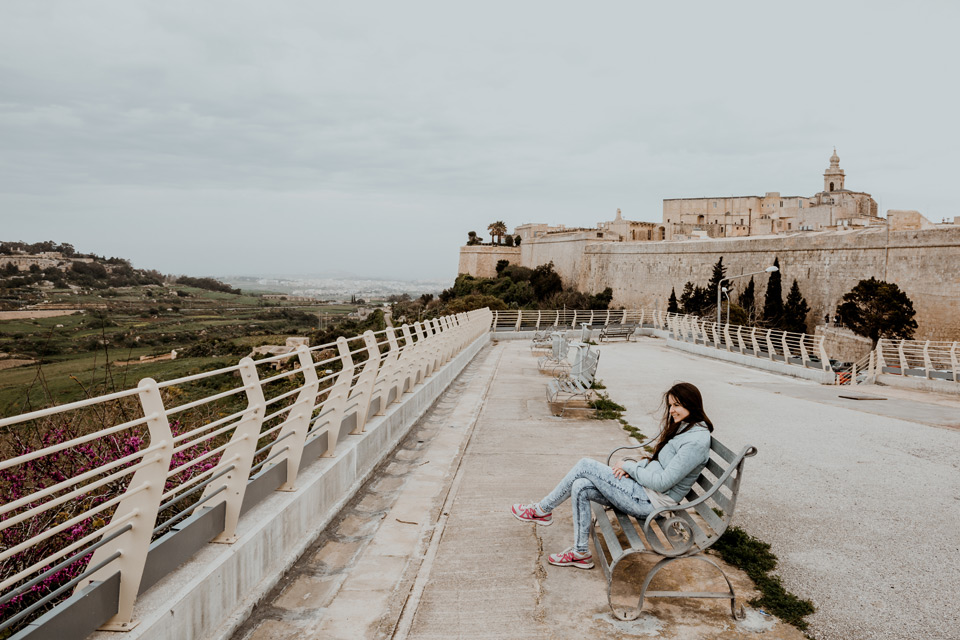 Mdina- "quiet" city in Malta
Our companions finally appear. It took a while before we find ourselves, because we were waiting at the gate of Mdina, and they were waiting for us at the gate of the catacombs. I was running around the defensive walls and looking for them, by the way I learned that there are several gates around Mdina. Anyway, I didn't have a chance to find them because it wasn't even around them. I don't remember how we finally met, but I will always remember this jogging around the walls.
We enter the city. There are definitely more people here than in Rabat. That is why I wrote the word "quiet" in quotation marks, because I wouldn't name the quiet city of Mdina. It's beautiful though. The place is very climatic and has very interesting architecture. There are also phone booths, which makes me very happy because I was looking for them.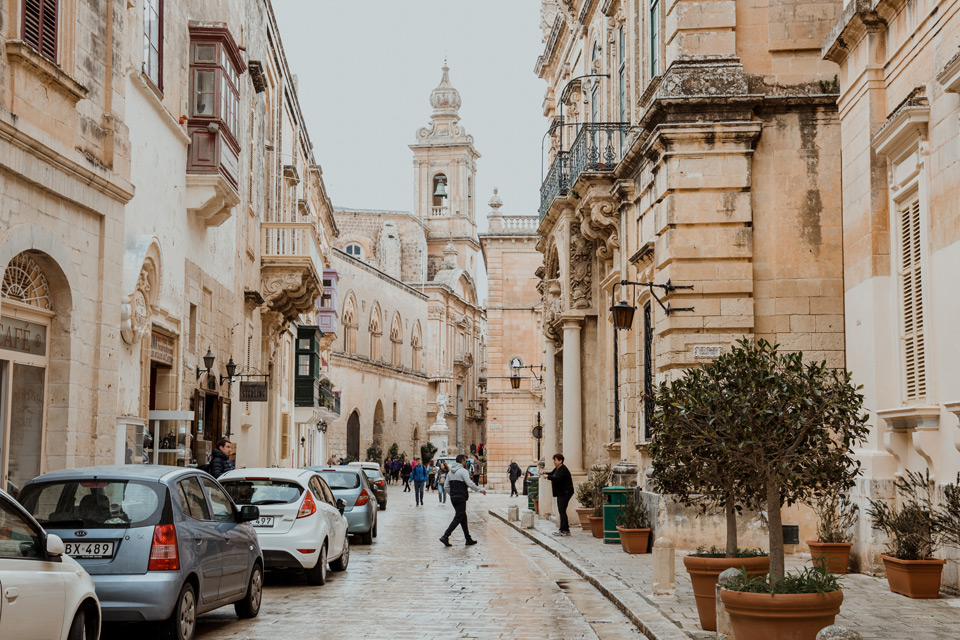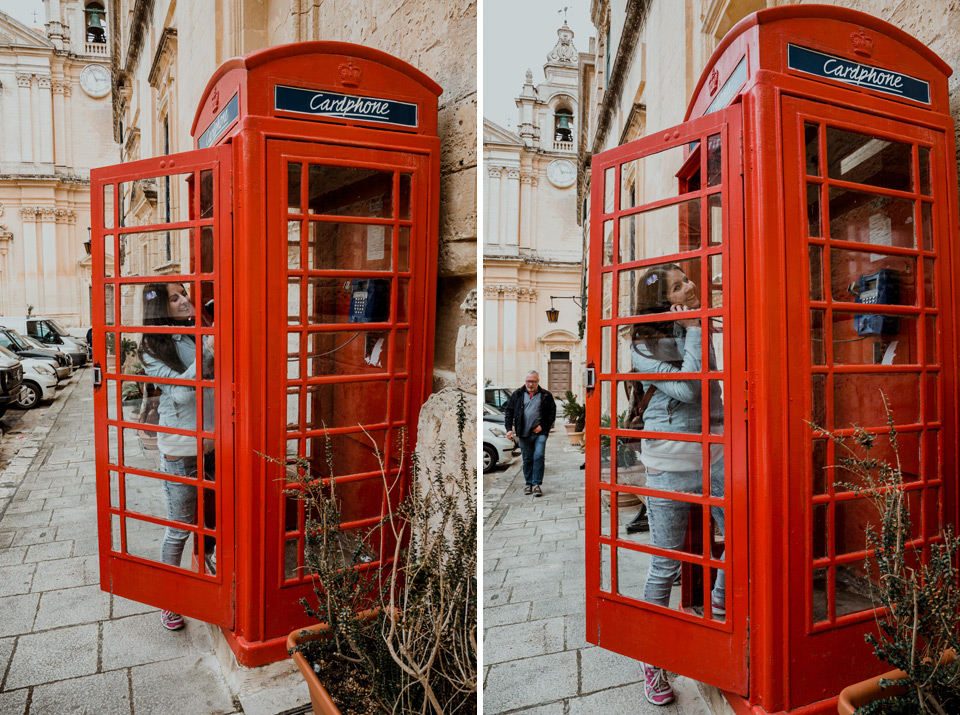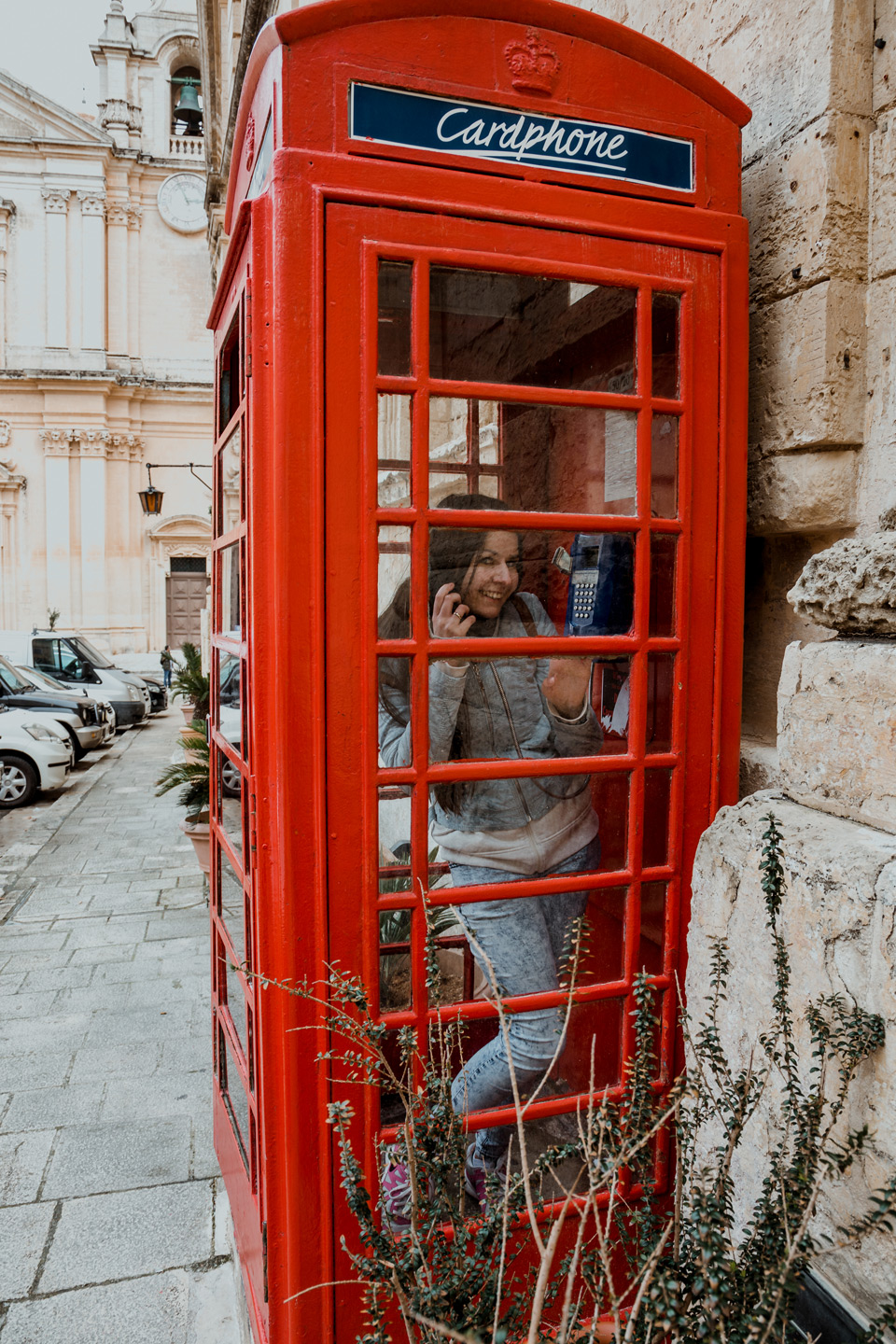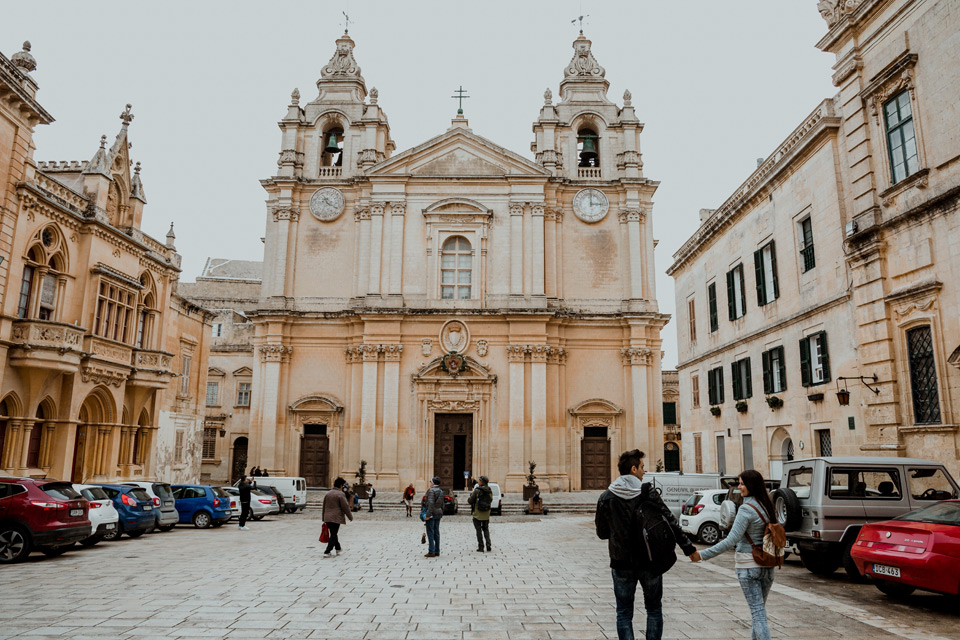 Quiet corners of Mdina
Mdina has many small, narrow streets. You can find some peace here and relax from the hustle and bustle of tourists. Orange-black lanterns add a cool atmosphere. Streets must look beautiful in the evening when the lanterns are lit.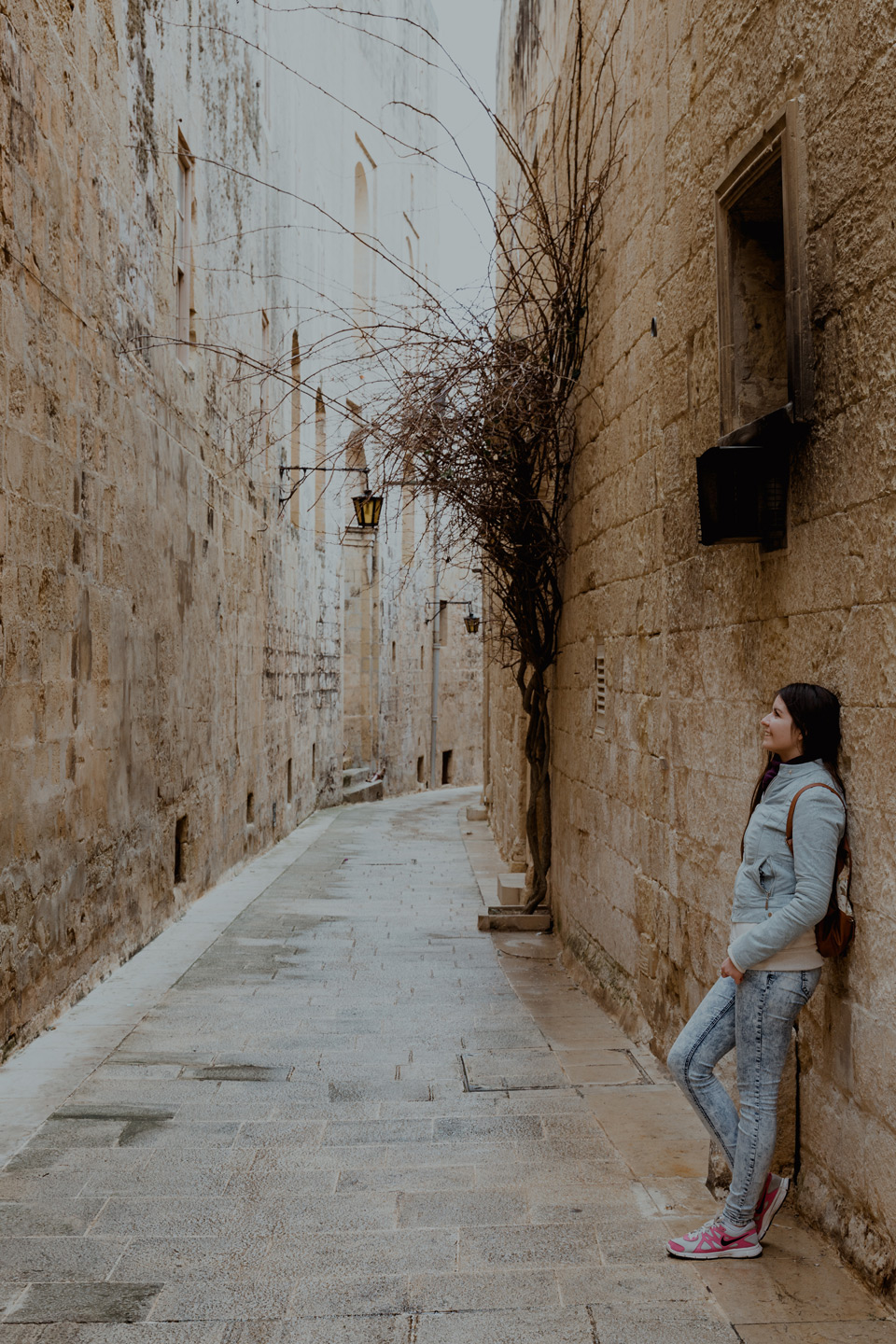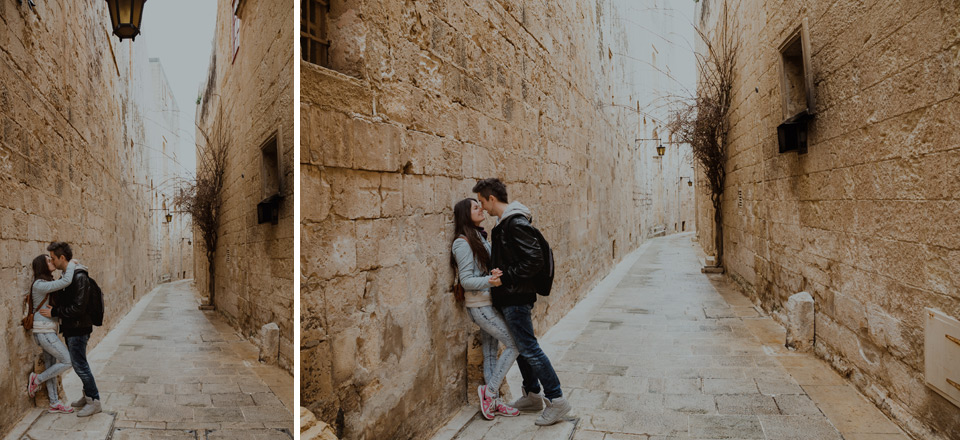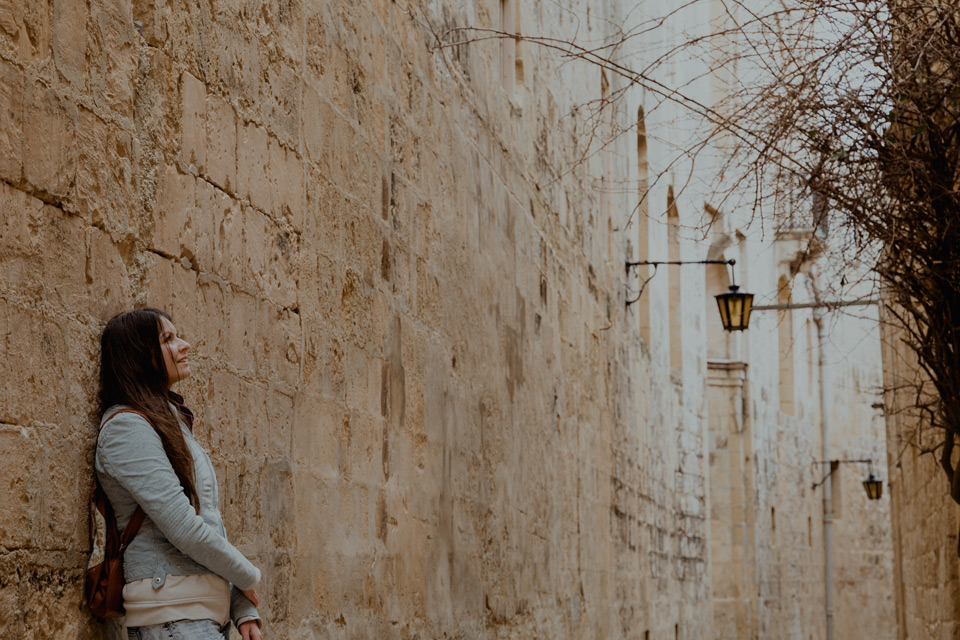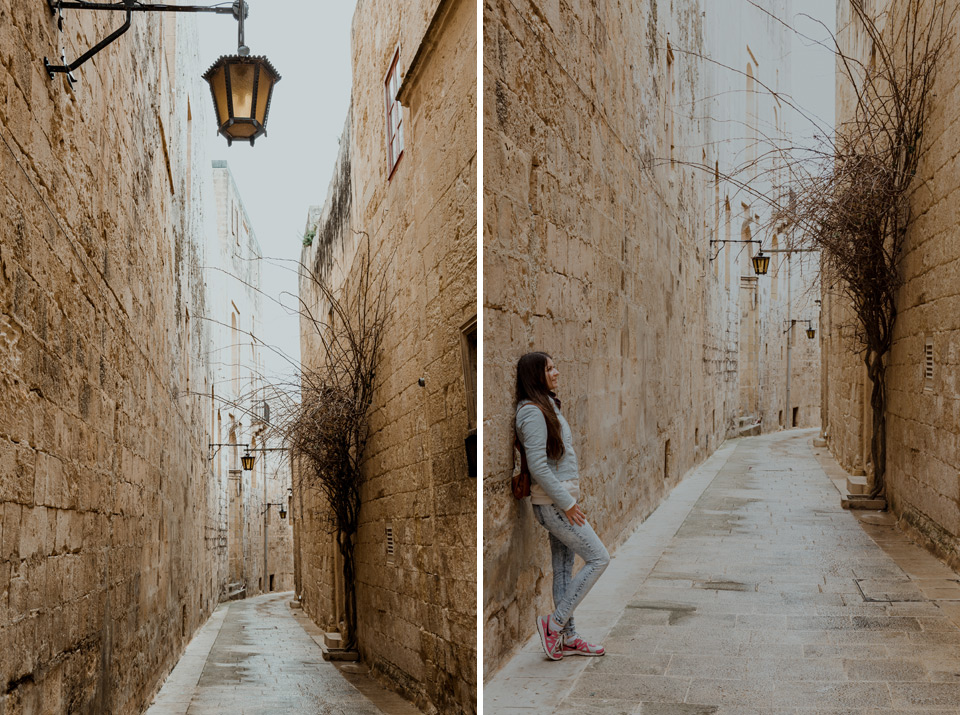 We continue our walk around Mdina. The town is very small, so unless you get lost among many similar streets, you will visit them all. It's worth taking a walk around the defensive walls. From some places you can see the panorama of the area.
I mentioned earlier that you cannot enter Mdina by car, but there are a few exceptions, hence the cars in some photos. Some residents, newlyweds, cleaning services and vans have the right to enter the city.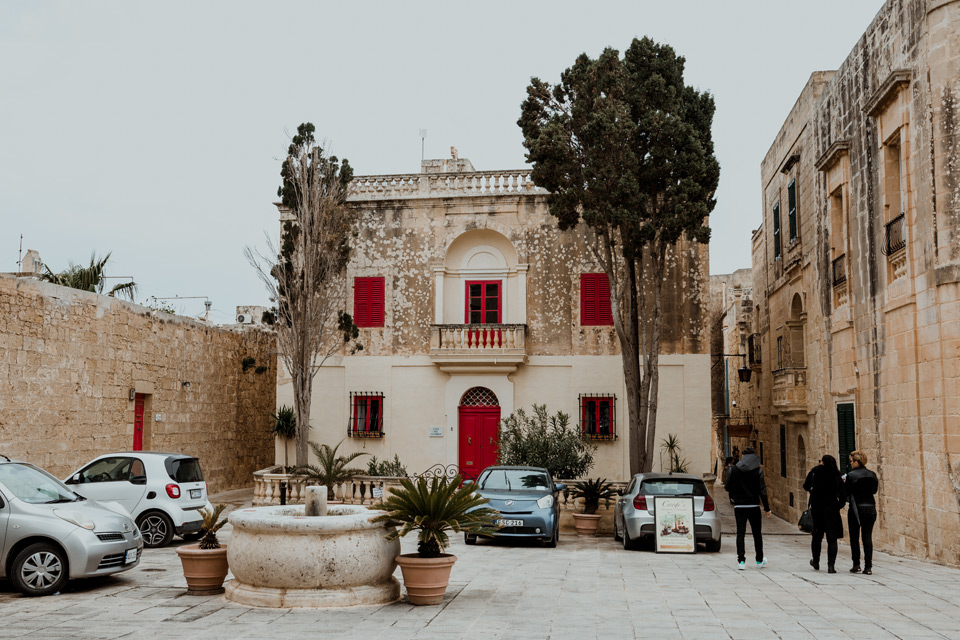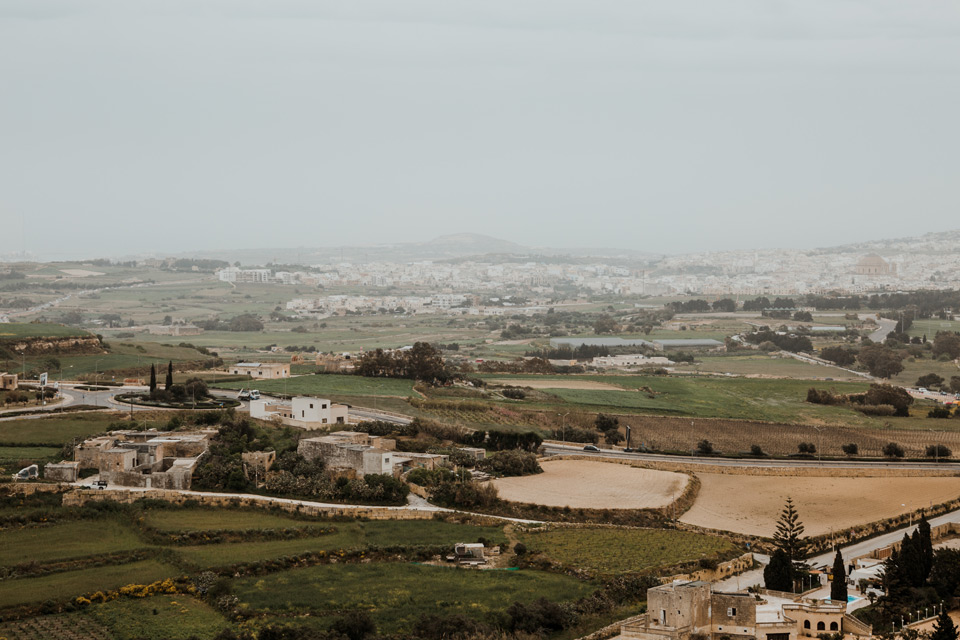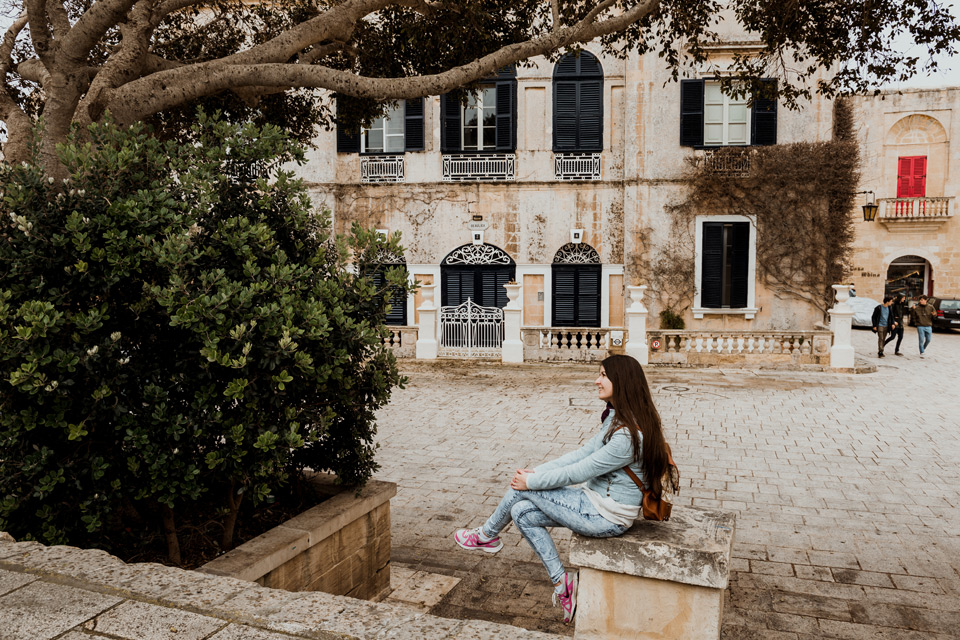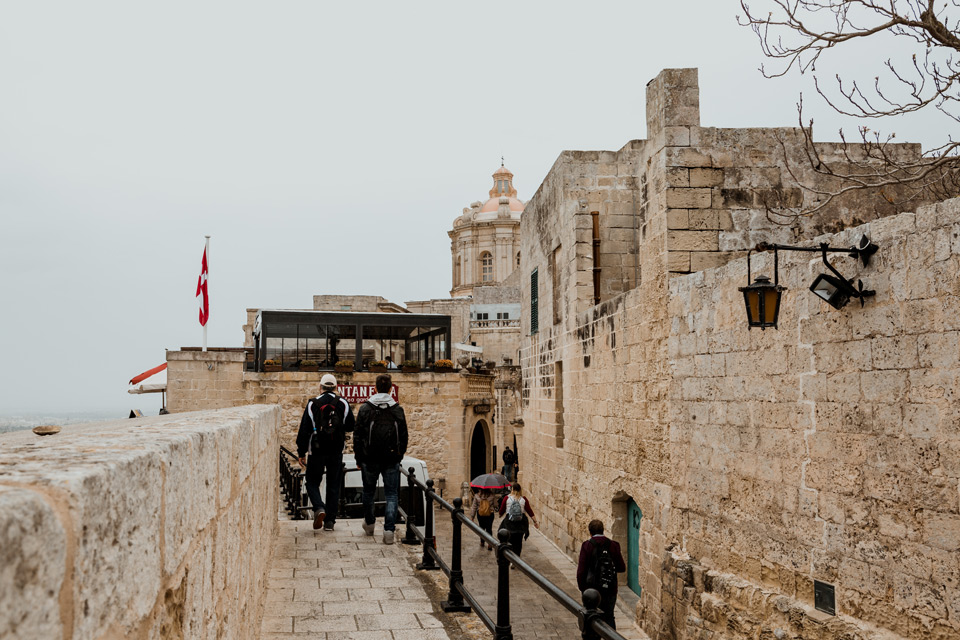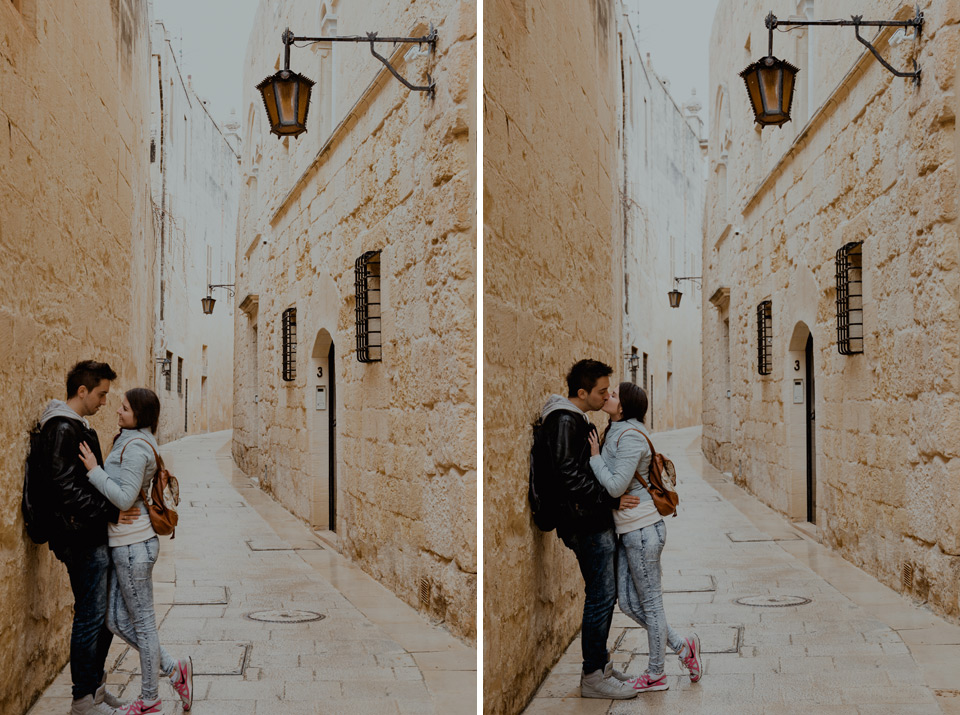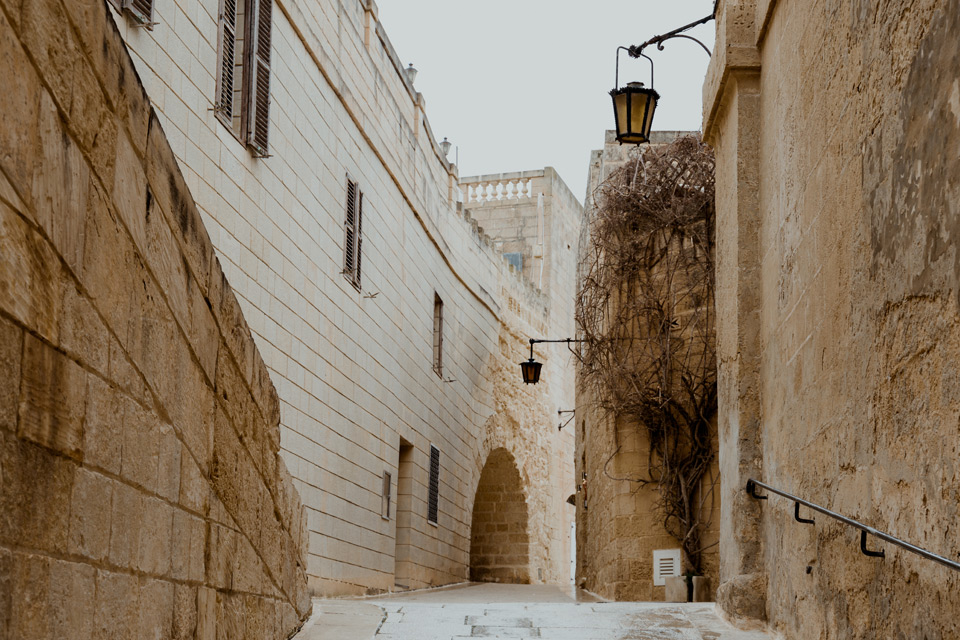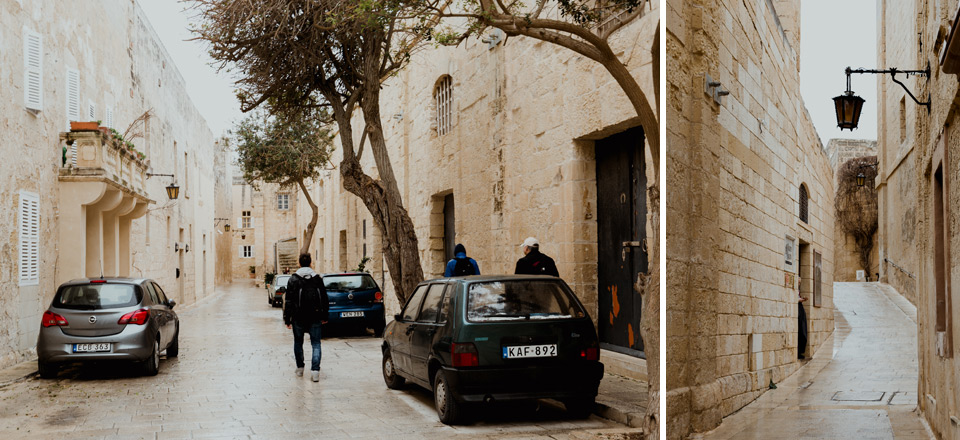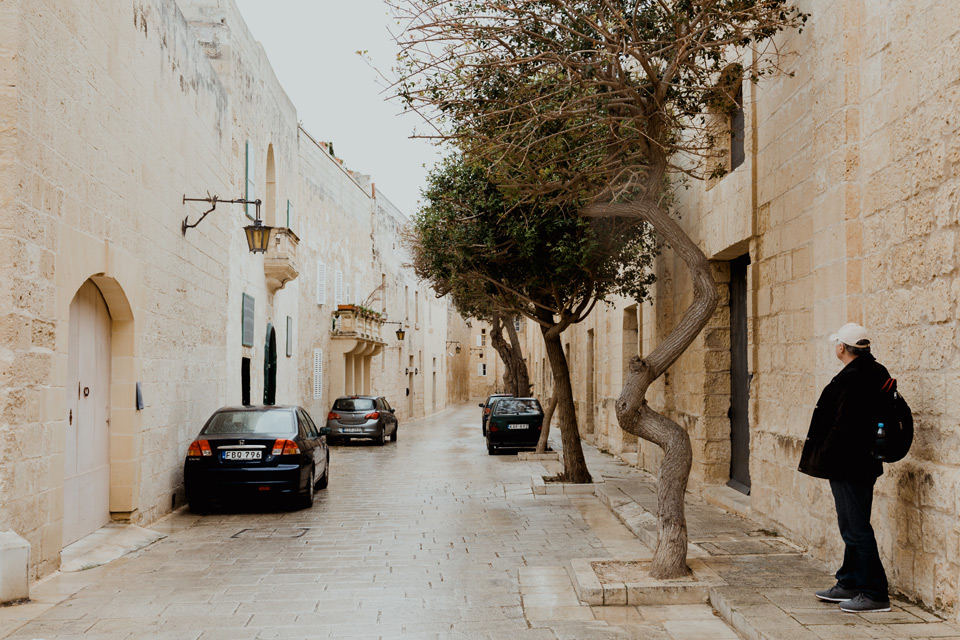 Dingli Cliffs
From Mdina, we have a piece of the road to the cliffs of Dingli. Unfortunately, the weather is still not too good, but we decide to try to see them. We stop at the parking lot at St. Mary Magdalene Chapel- Chapel of St. Mary Magdalene. Not much can be seen from here. Only a few vertical rocks emerge from the sea.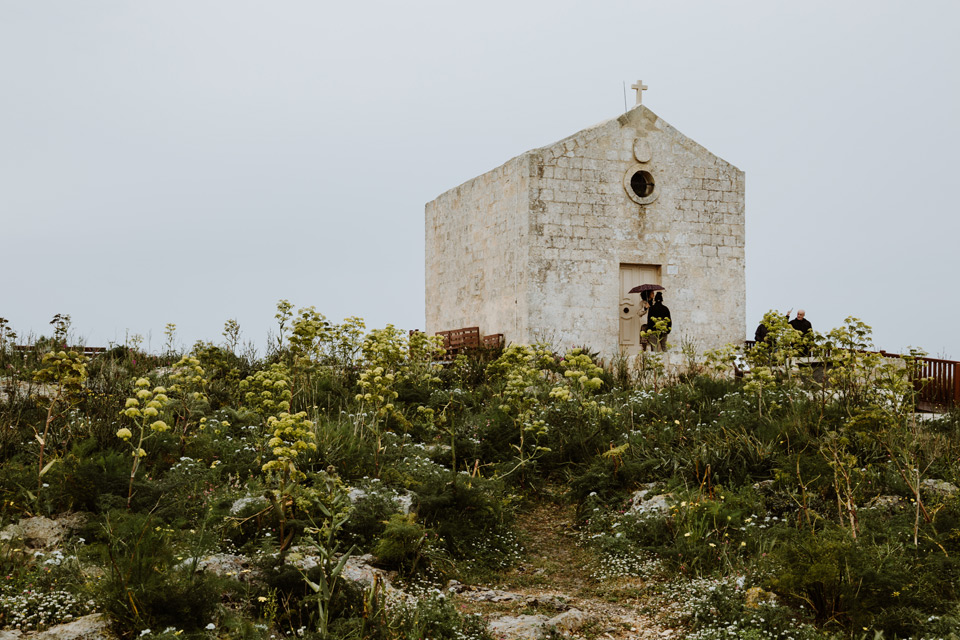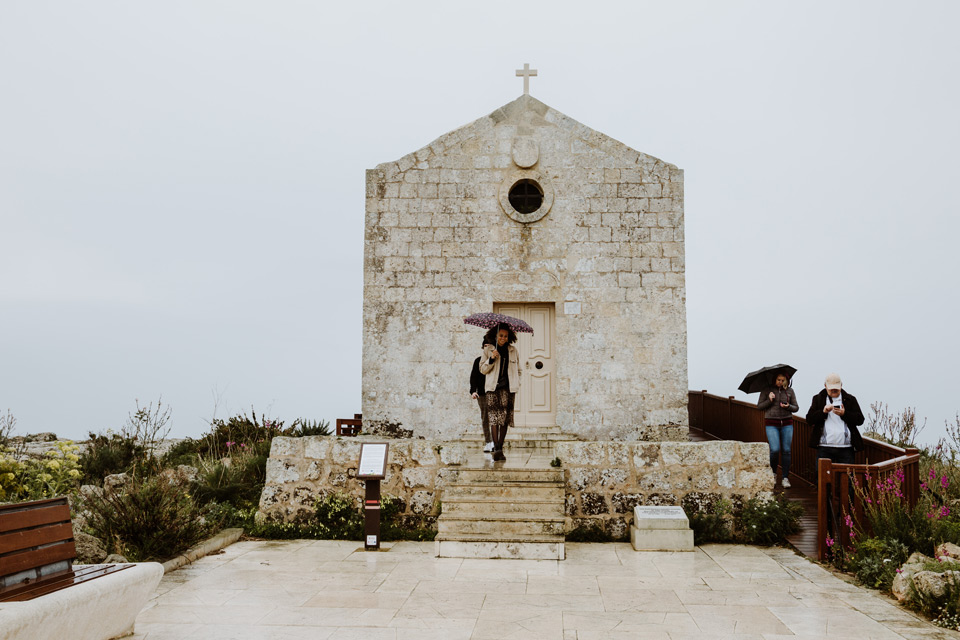 We decide to go east in the direction from which rocks emerged. Near the place marked by Google Maps as "Dingli view point" we decide to stop. There is a small path leading to the end of the coast. We slowly walk on slippery wet stones.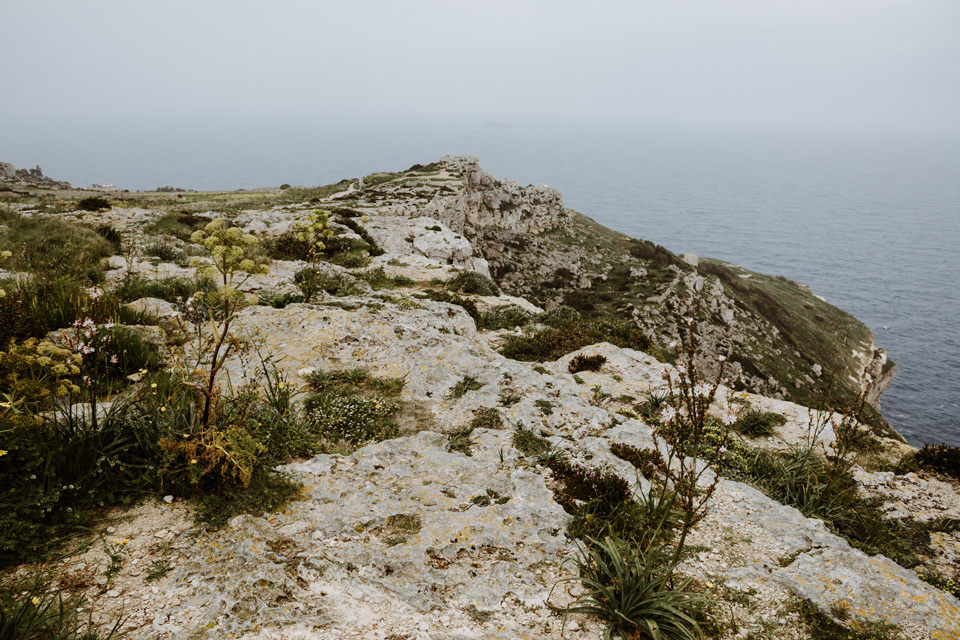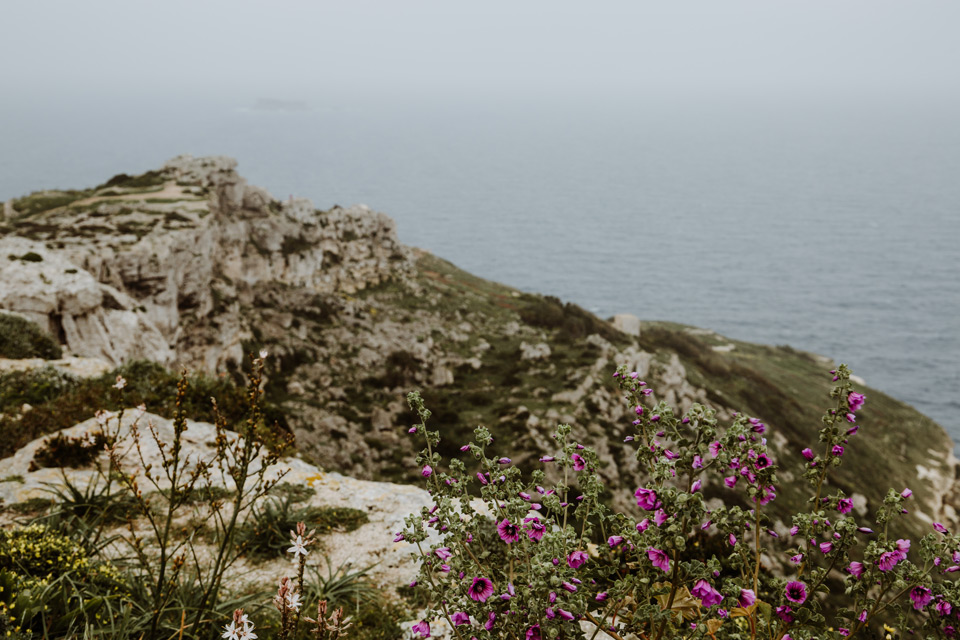 Finally, we reach the end of the path. The wind blows so hard – that in my mind I curse my future hair combing – the longer my hair is, the longer it takes me to comb it. At the same time, however, I smile because the views are great. Maybe I was expecting something better, but there is nothing to complain about. I'm on vacation!
I leave you for a moment with a larger portion of photos. You will see a lot of us and in the background the cliffs of Dingli.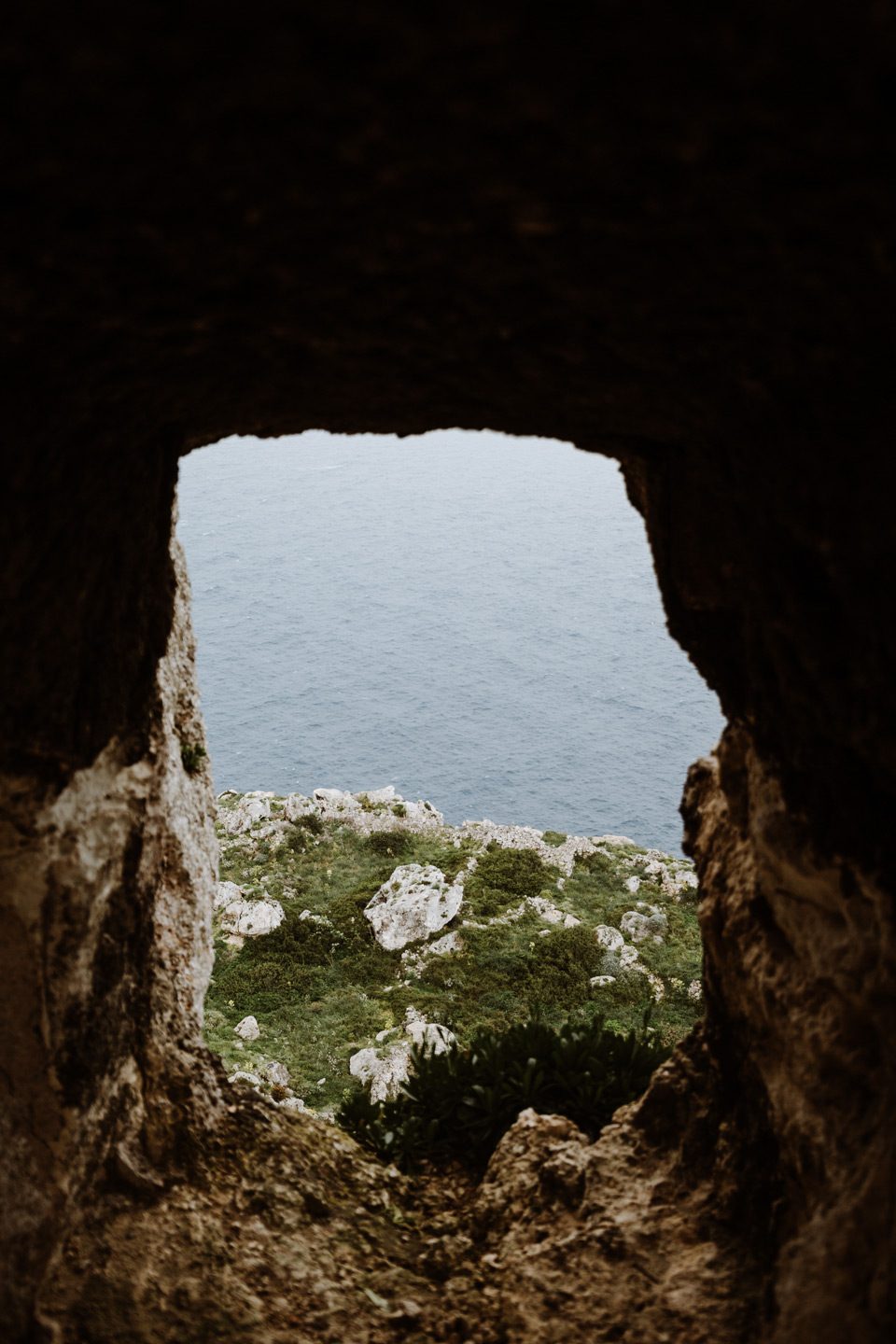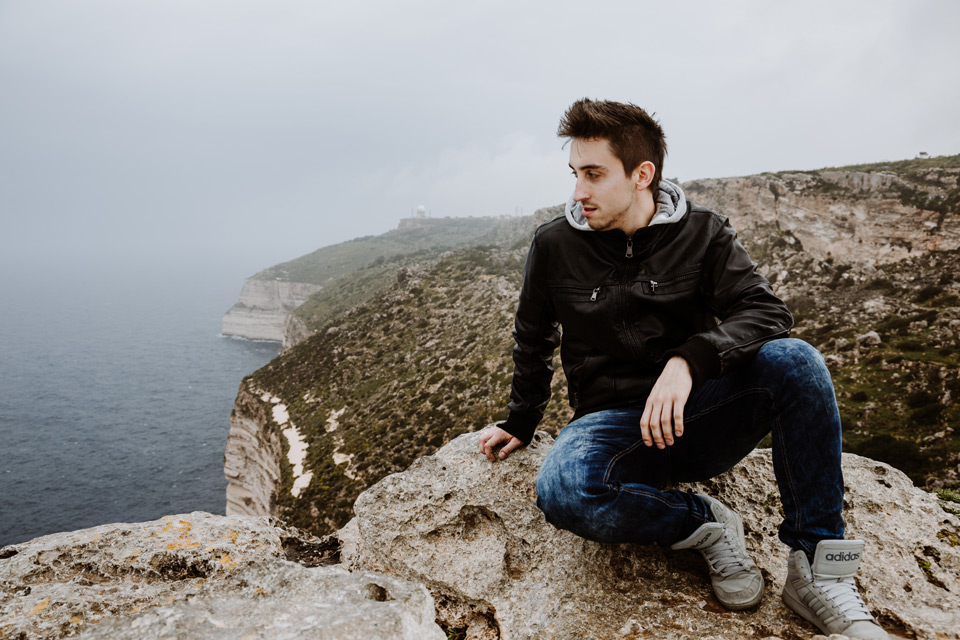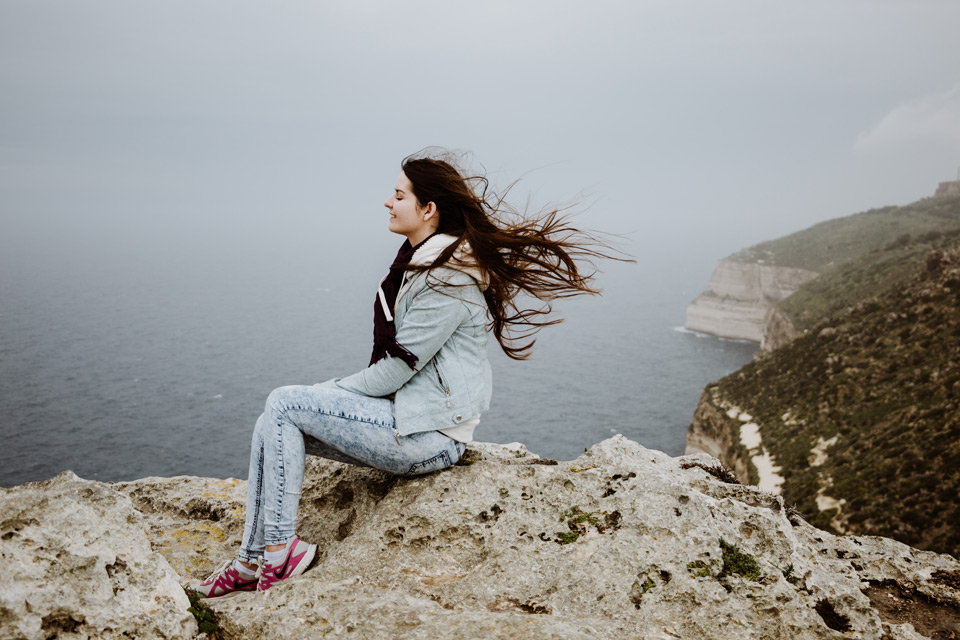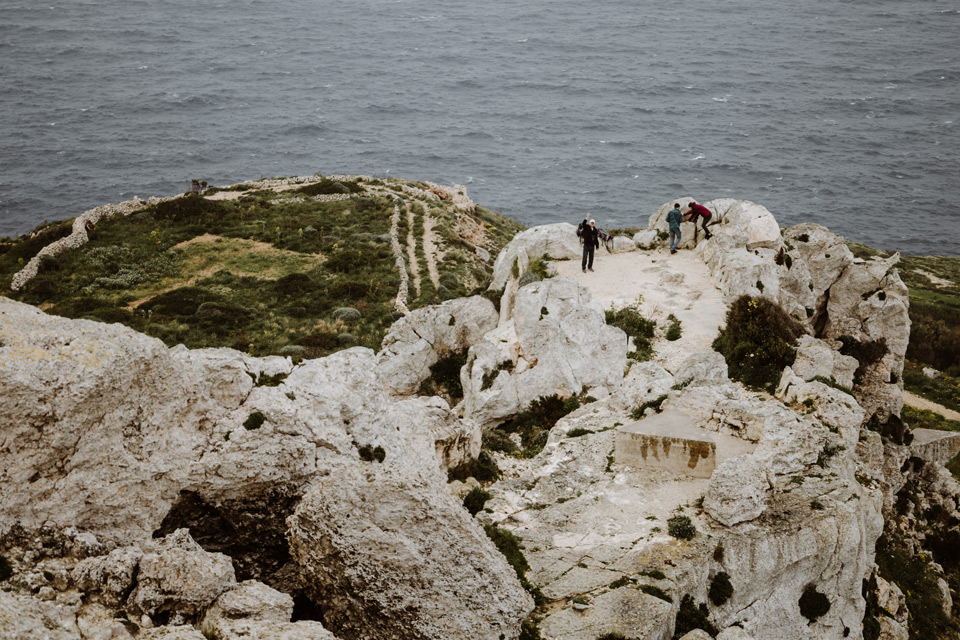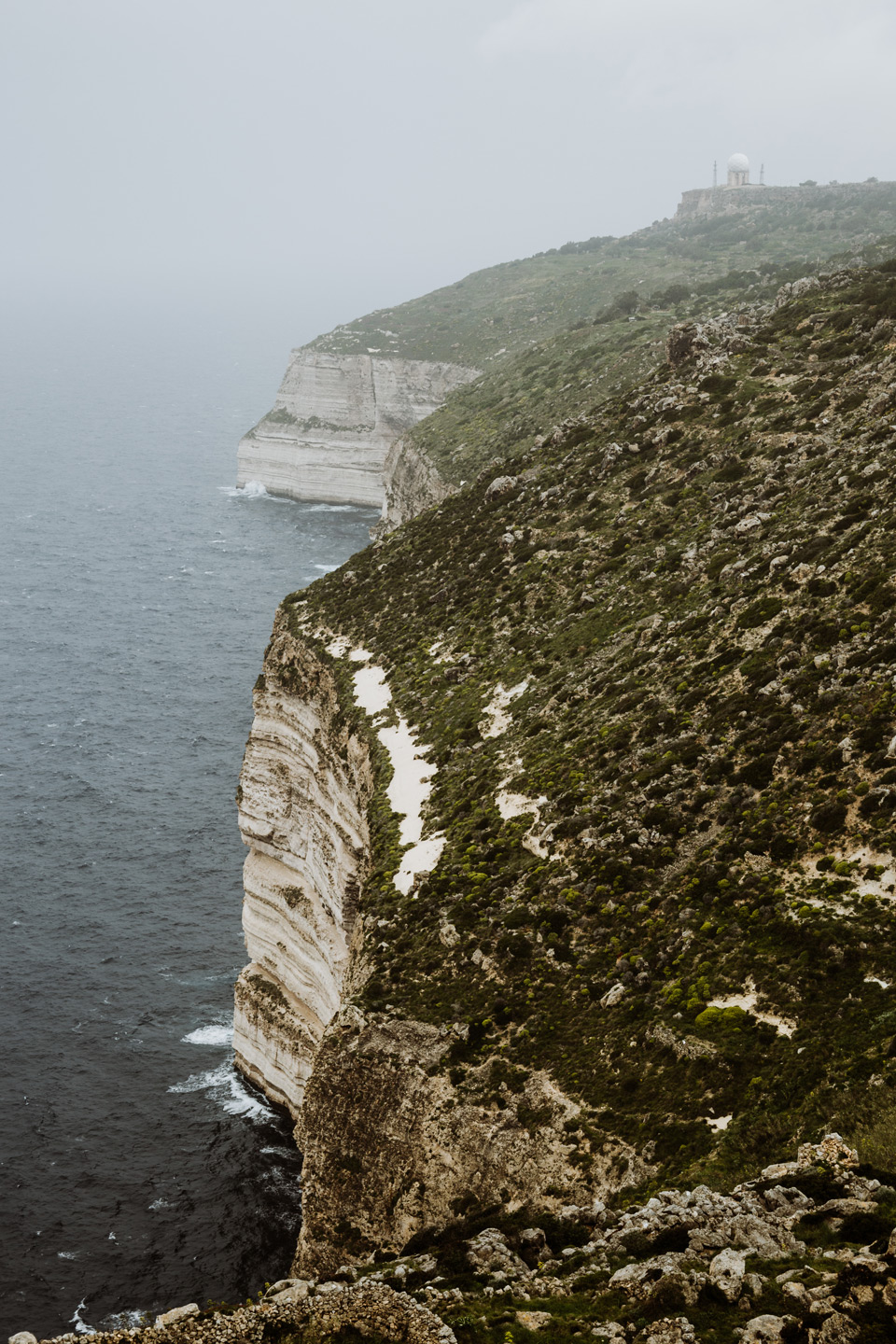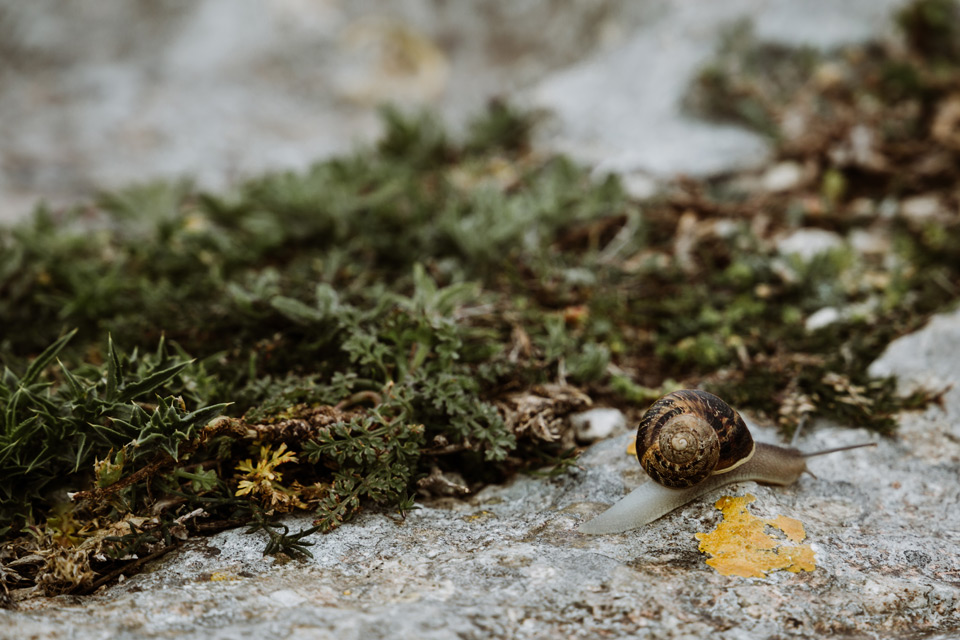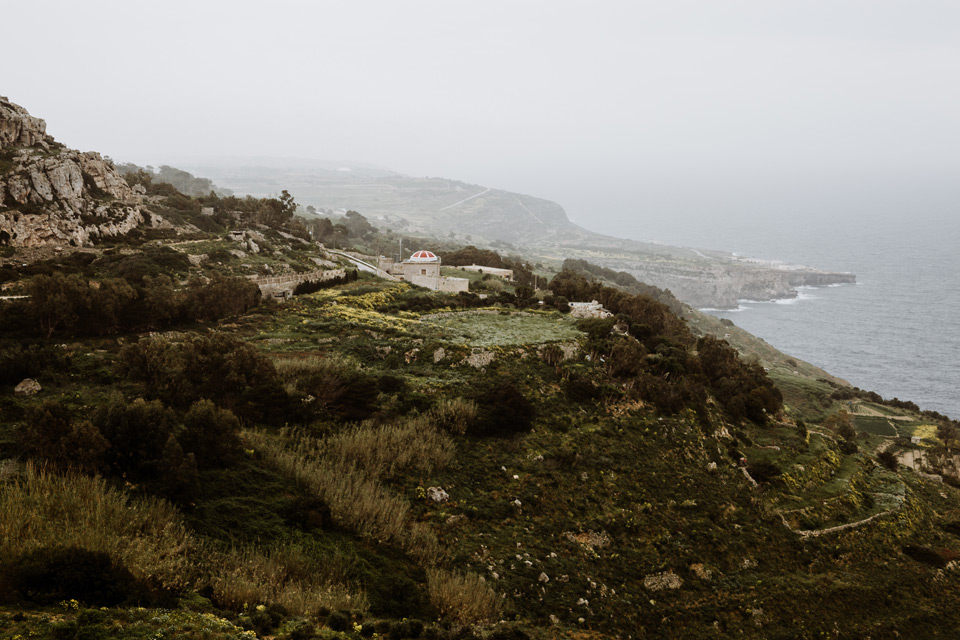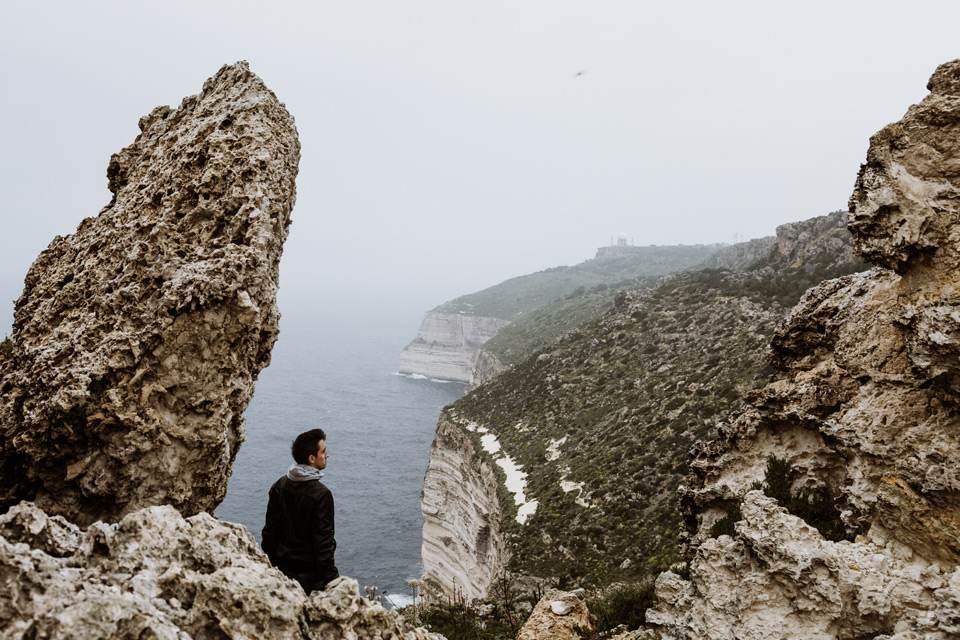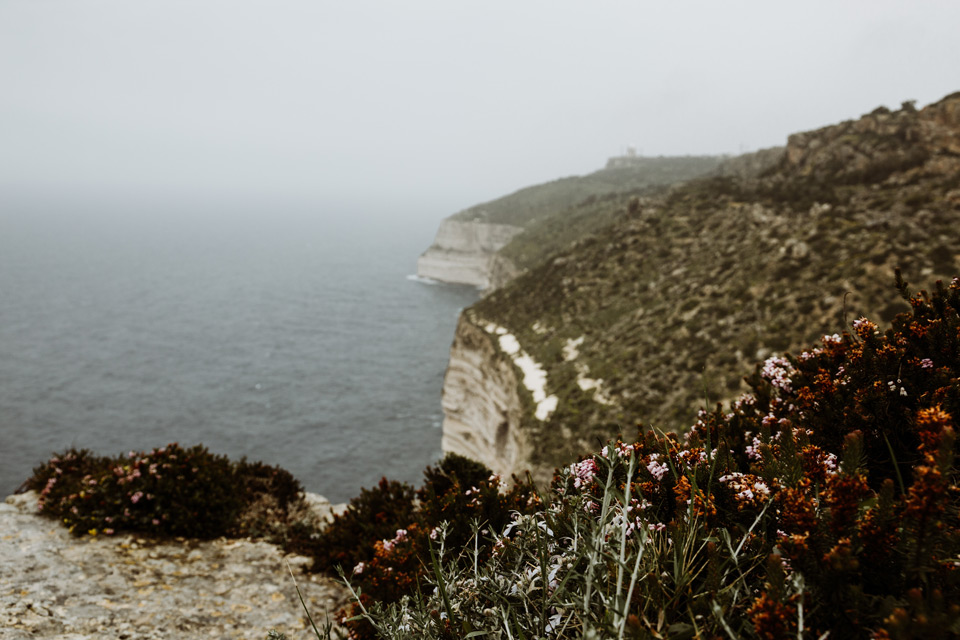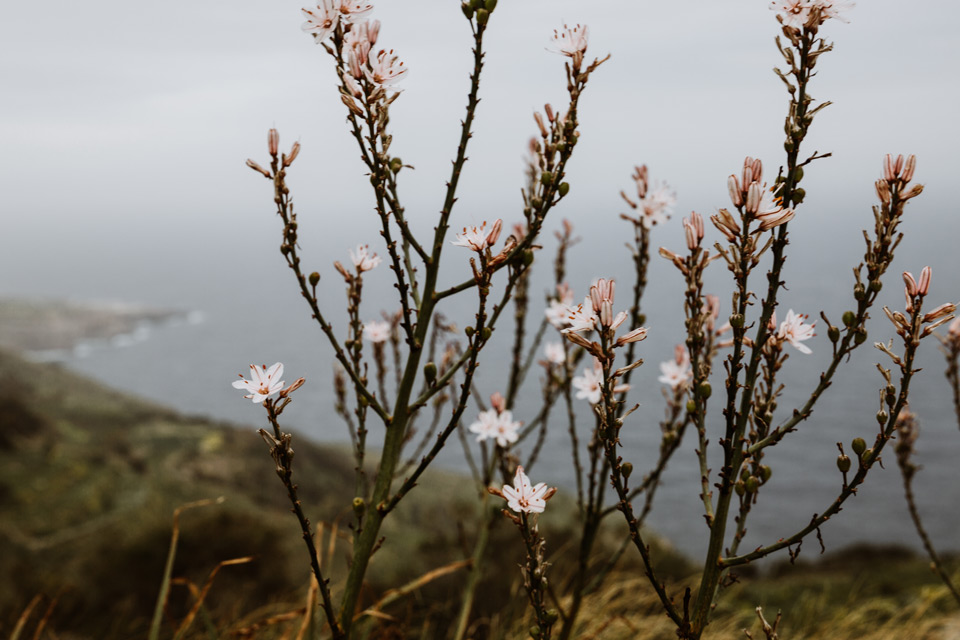 Ghar Lapsi Divesite
Near the cliffs there is a place called Ghar Lapsi Divesite. It's a small bay that is located in a tiny village with several restaurants. Going by narrow roads we reach a small parking lot. There are maybe one or two cars outside us.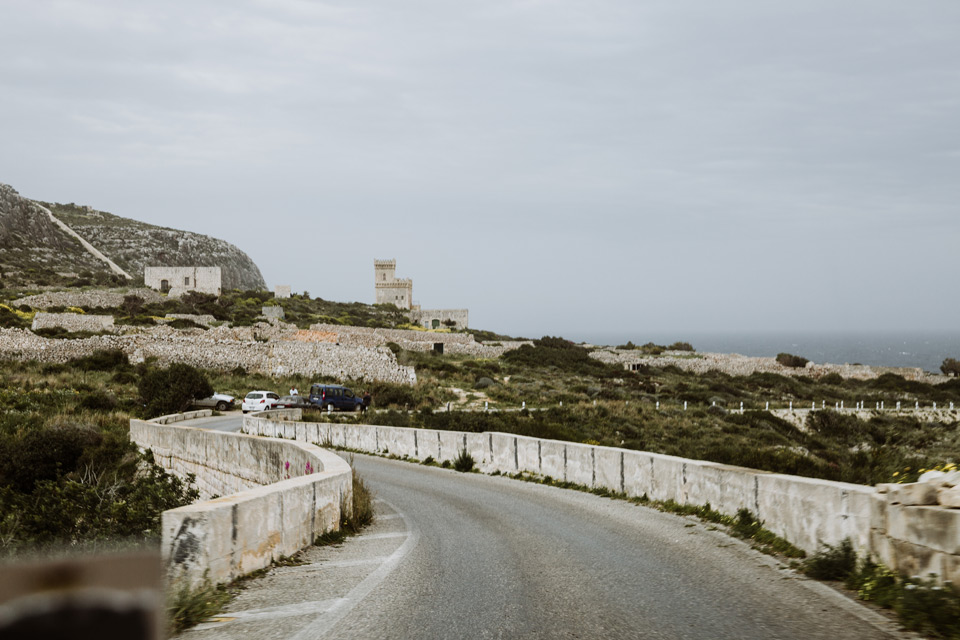 At the beginning we don't go down to the bay, but we go east towards the path visible from the parking lot. To be honest, I like the views from this place much more than on the Dingla cliffs. In the distance you can see the misty rock – it's Filfla – a small island. Filfla is uninhabited and is a nature reserve.
We admire the local nature, cliffs and huge waves. We take a rest and take pictures.

Ghar Lapsi Divesite- descent to the bay
I am surprised that the place where we are is not recommended on any Polish blog. I think it's worth taking a look here, especially in sunny weather. Our photos are gloomy by the weather, but take a look at the image search engine and see how beautiful it's here in the summer.
We had a slight stress caused by huge waves that bounced off the stones, but we walked a bit along the shore of the bay. We almost got to the cave – "almost" because unfortunately it was flooded with water.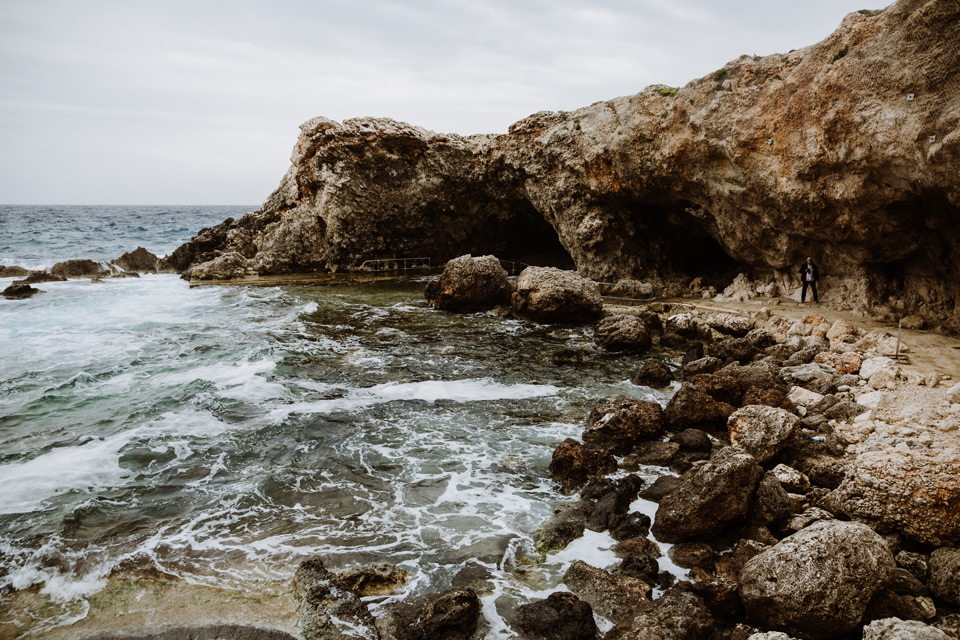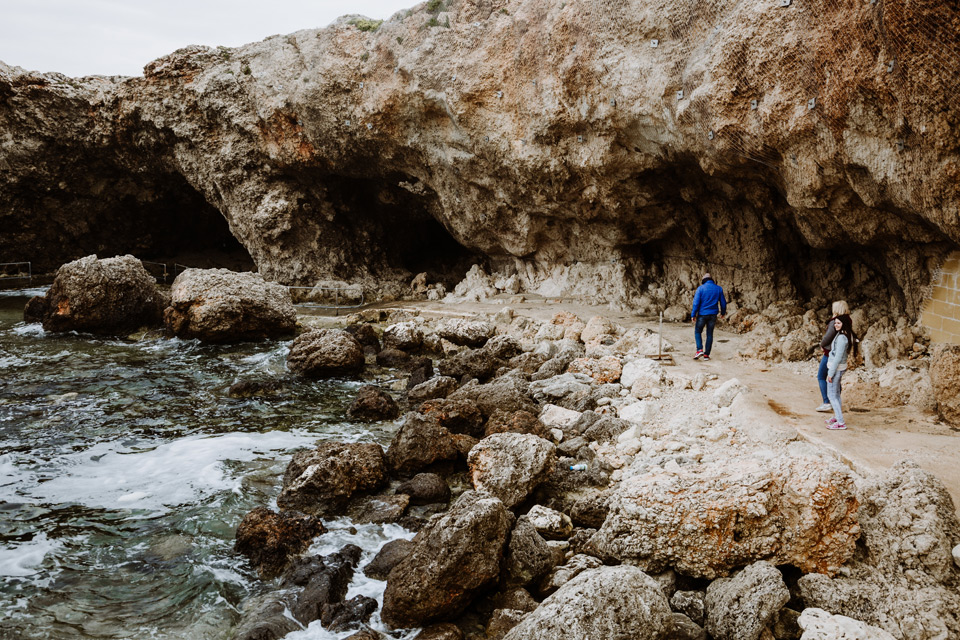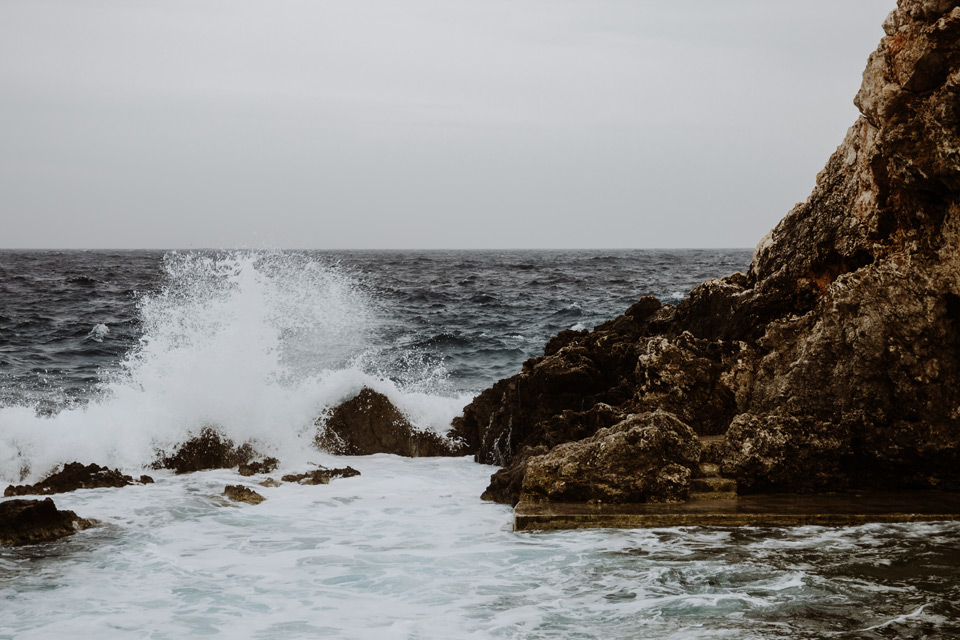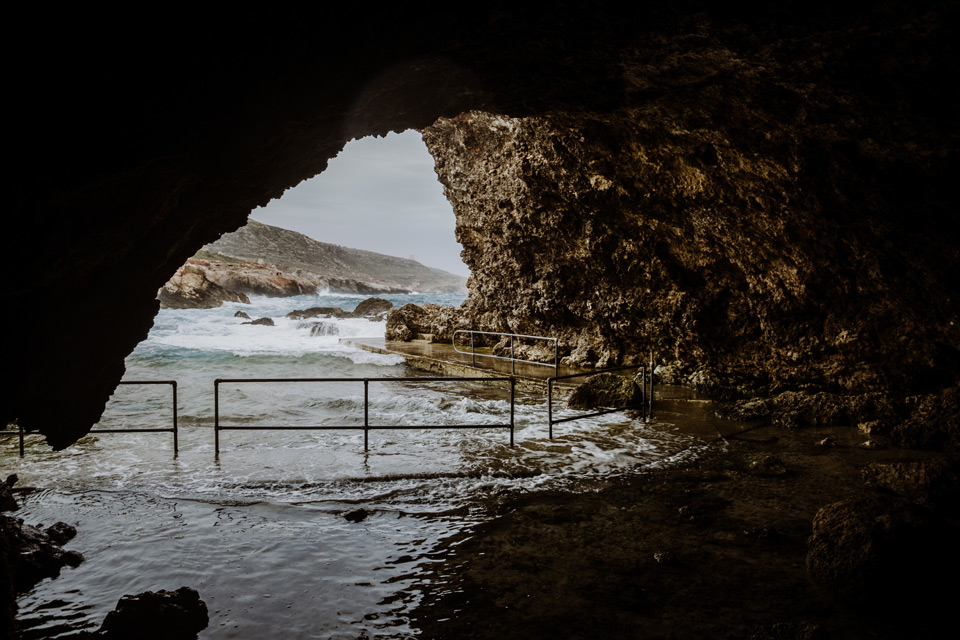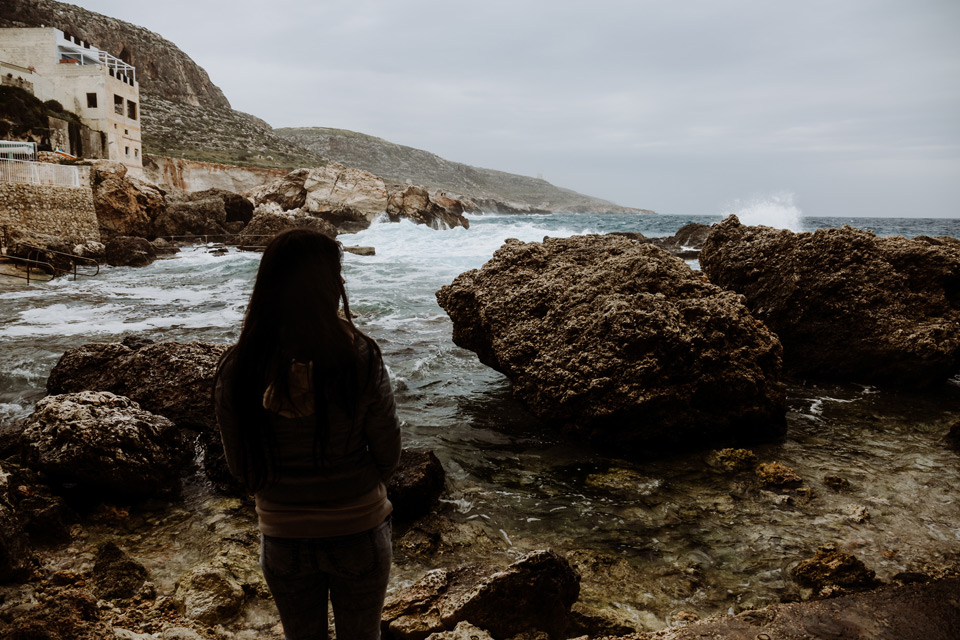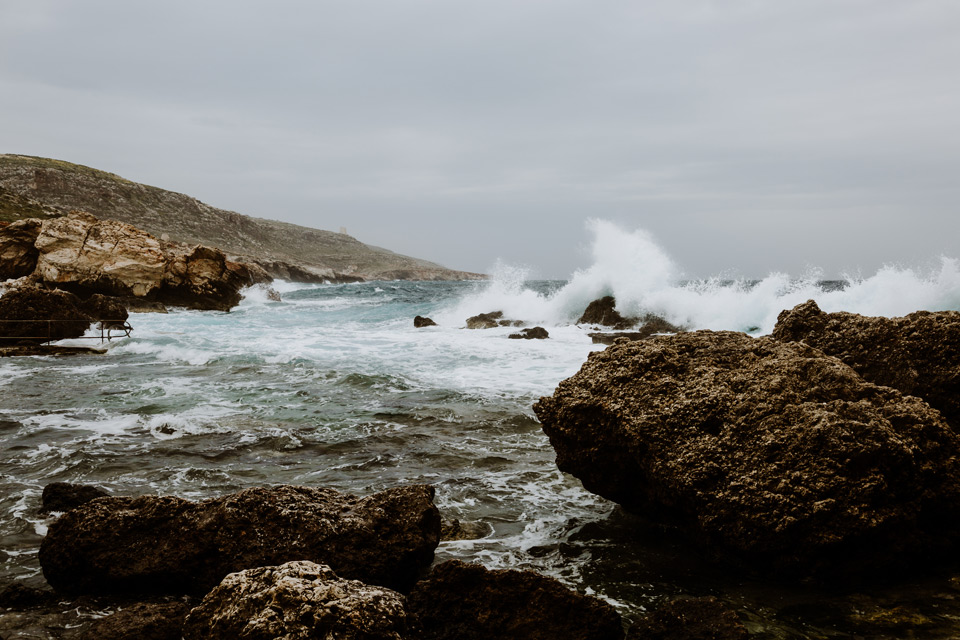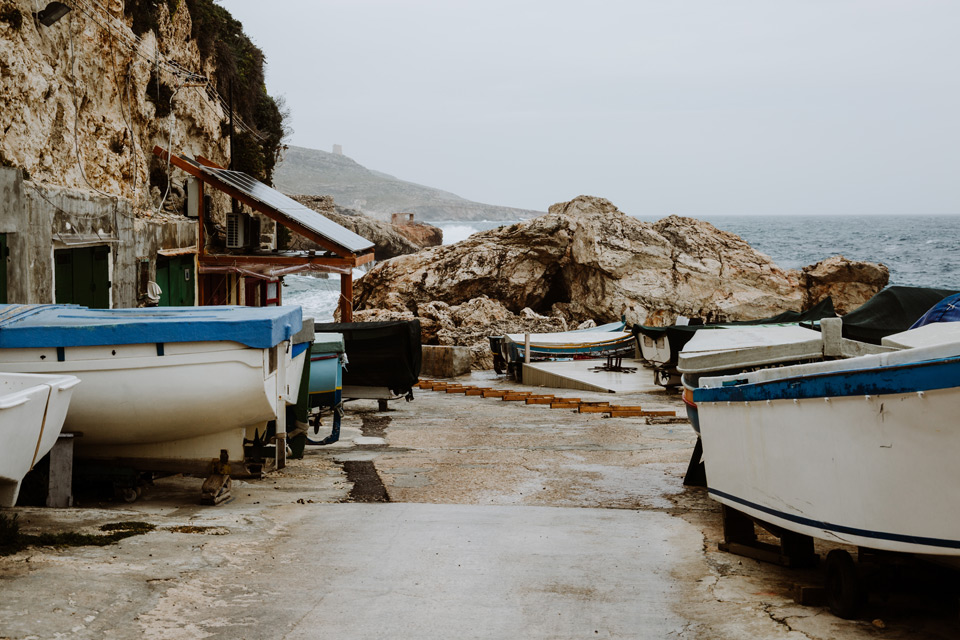 After visiting the bay, we go to the only restaurant open today "Dive In Cafe & Grill". It has a rating of 4.5 on Google Maps, an interesting menu and competitive prices. I would love to eat here, but not everyone is hungry, so we only order something to drink. We have a plan to go to St. Julian's and go there for dinner.
St. Julian's and spinola bay
As we decided, we did so. We take advantage of the last moments before sunset and walk around the town of St. Julian's on Spinola Bay. You can see that the place is tourist – many restaurants and hotels here. An interesting attraction is the inverted inscription "LOVE" and the barriers with padlocks. On the left part of the bay you can see the church in Sliema.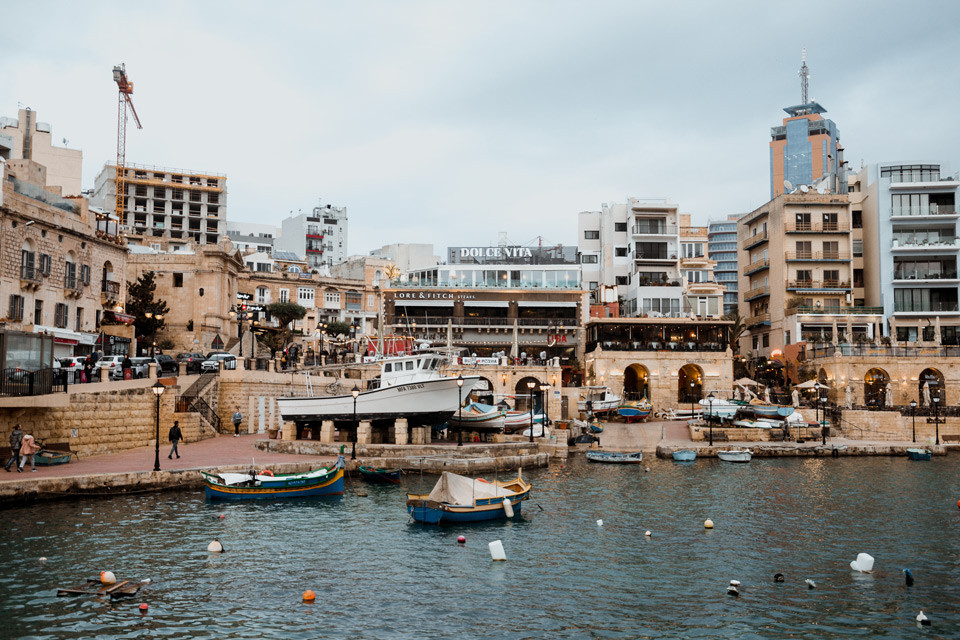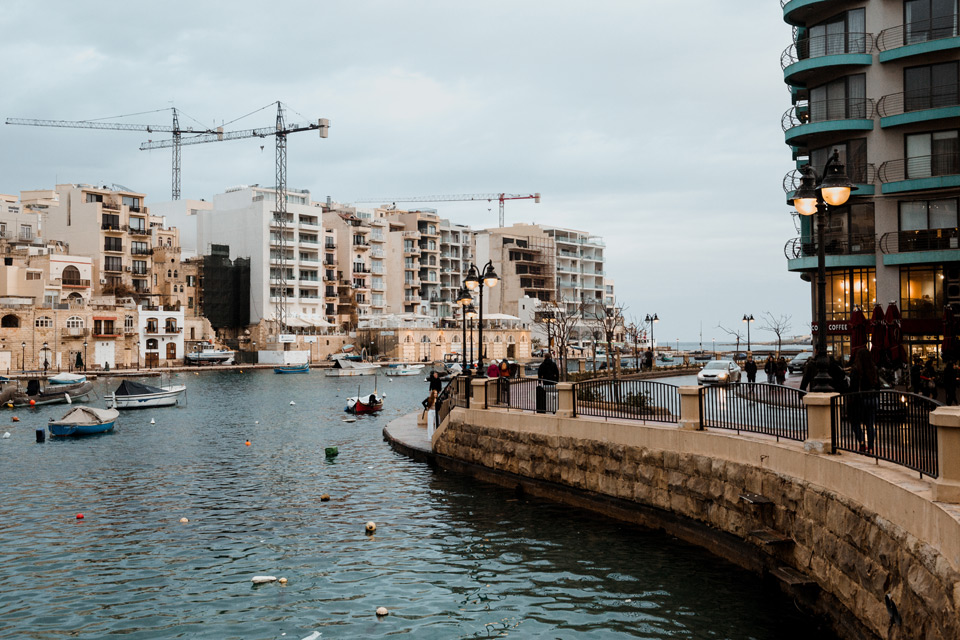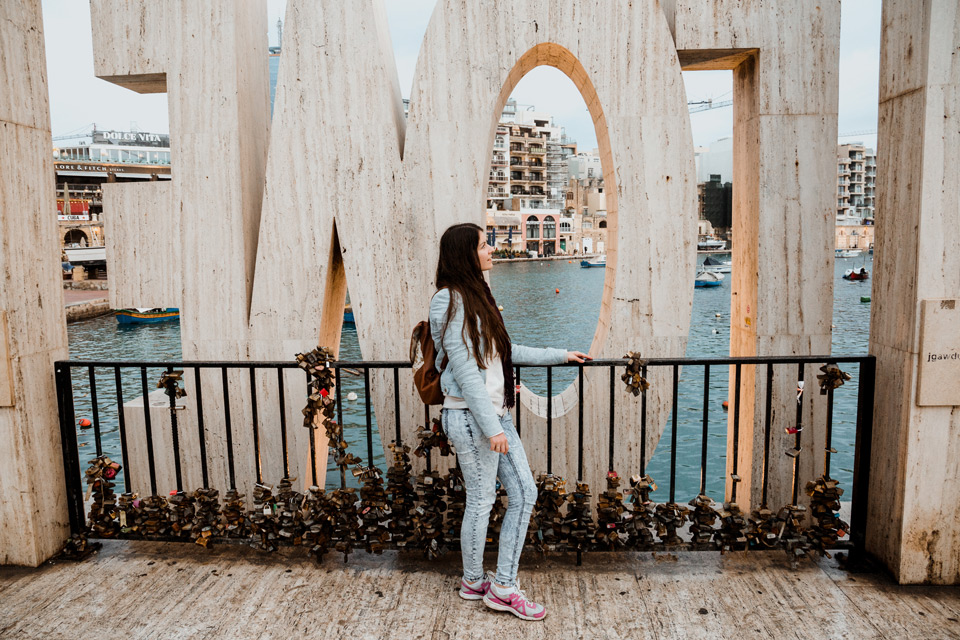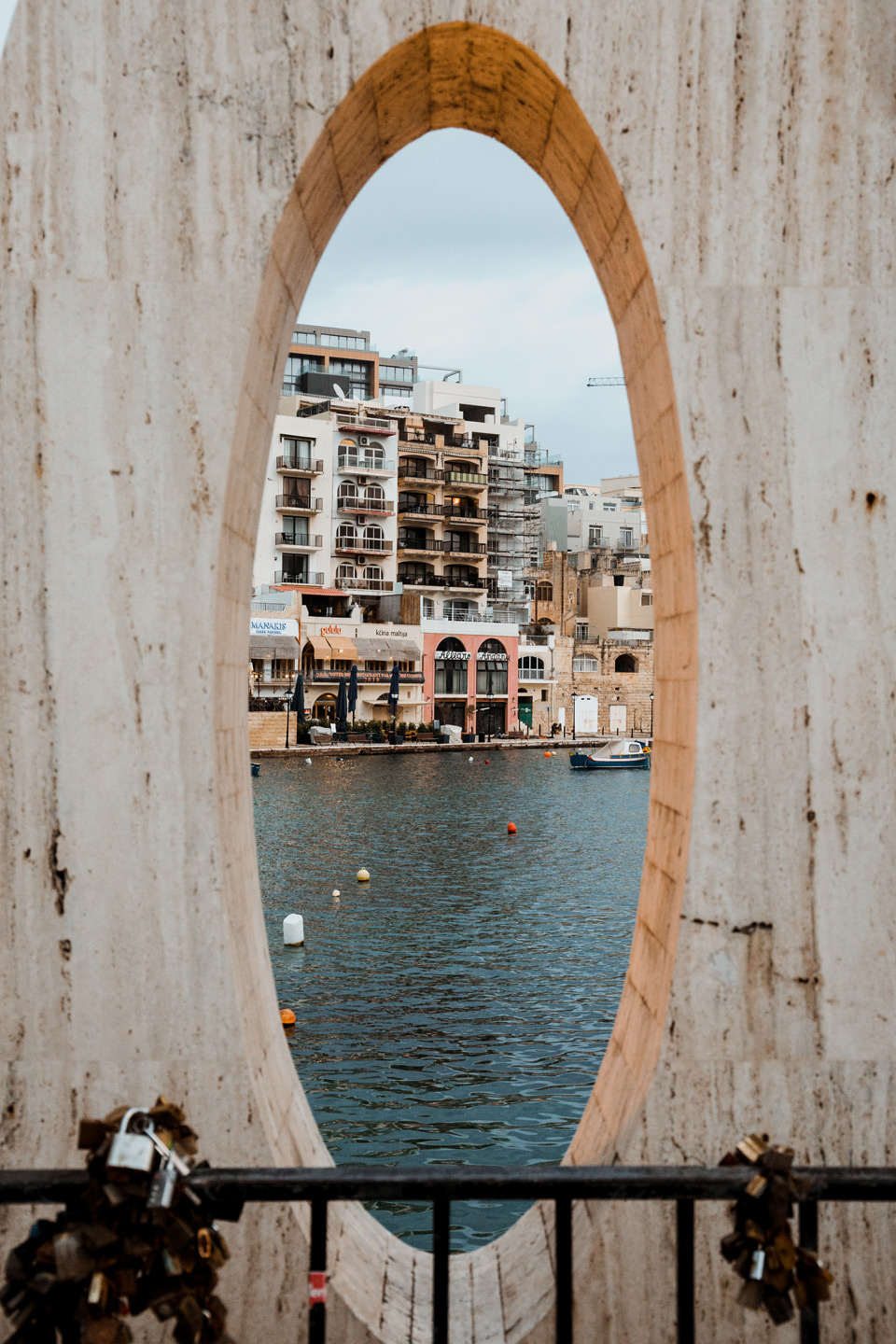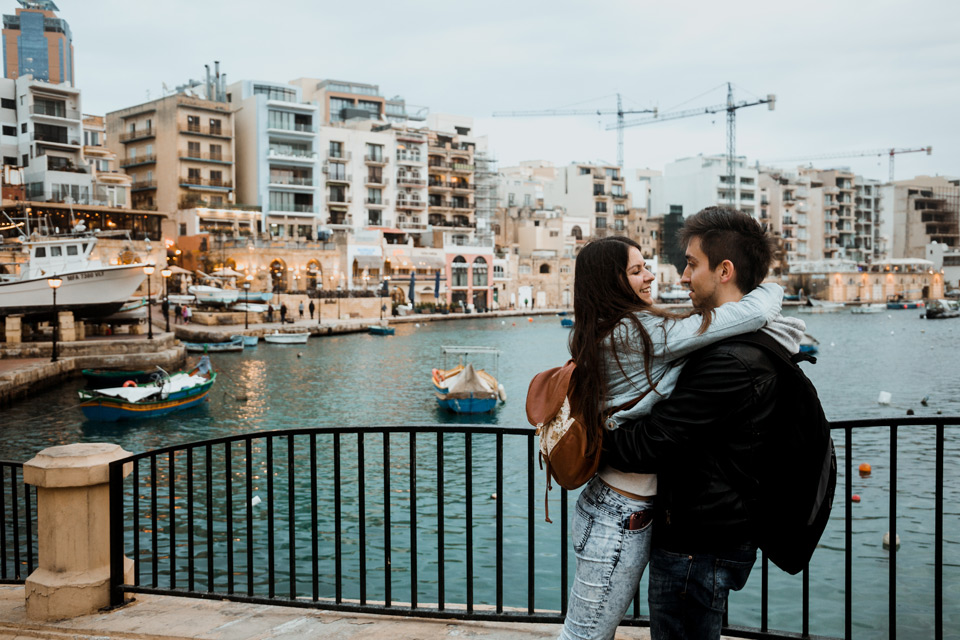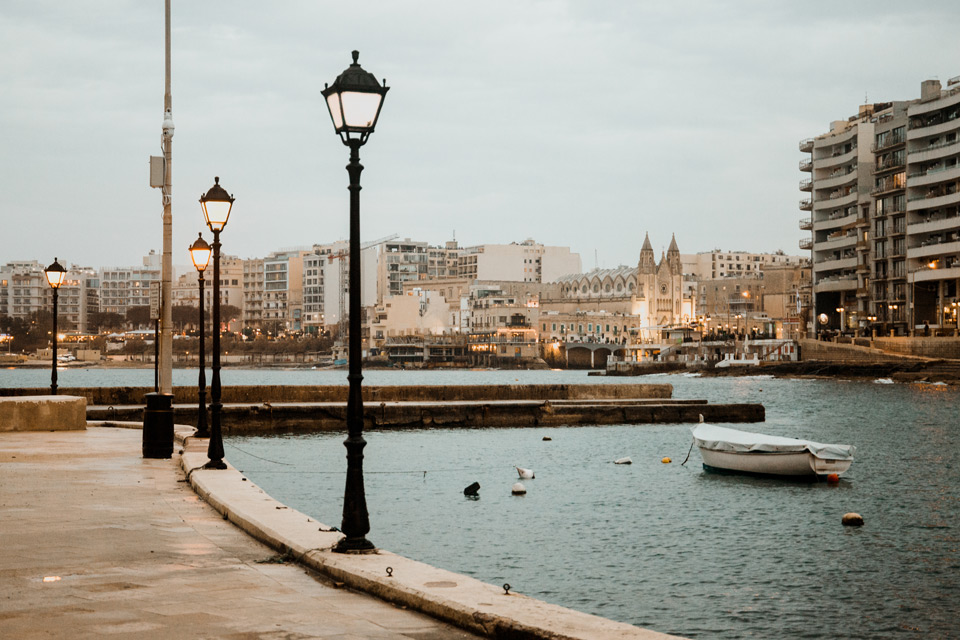 After a short walk, we look for a restaurant. Although there are many here, it's hard to find one where there would be free tables, good prices and an interesting menu. My hunger and anger are increasing, but I try to have a good attitude. We finally succeed. We order a seafood plate. The dishes were not particularly tasty, so unfortunately I will not recommend anything. From the restaurant we would have great views, because at first we got a table on the balcony with a view of the bay, but later we escaped from the smell of cigarettes inside.
After dinner, we returned to the apartment to gather strength for the next day exploring Malta.
Practical information:
The rotunda in Most is open during the following hours:

Monday – Friday 09:30 – 17:30
Saturday 09:30 – 16:30
Sunday 12:00 – 16:30

Entrance to the temple area in Mosta is free. That day, me and Wojtek didn't pay for any other admission.
St. Catacombs Paweł (St Paul's Catacombs) in Rabat are open daily from 9:00 am to 5:00 pm off-season (November-May). In season they are closed an hour later. Admission for an adult costs 6 euros, students and children aged 12-17 will pay 4.5 euros. Children under 5 years have free admission, while those aged 6-11 have access for 3.5 euros.
Map of today's route (click here):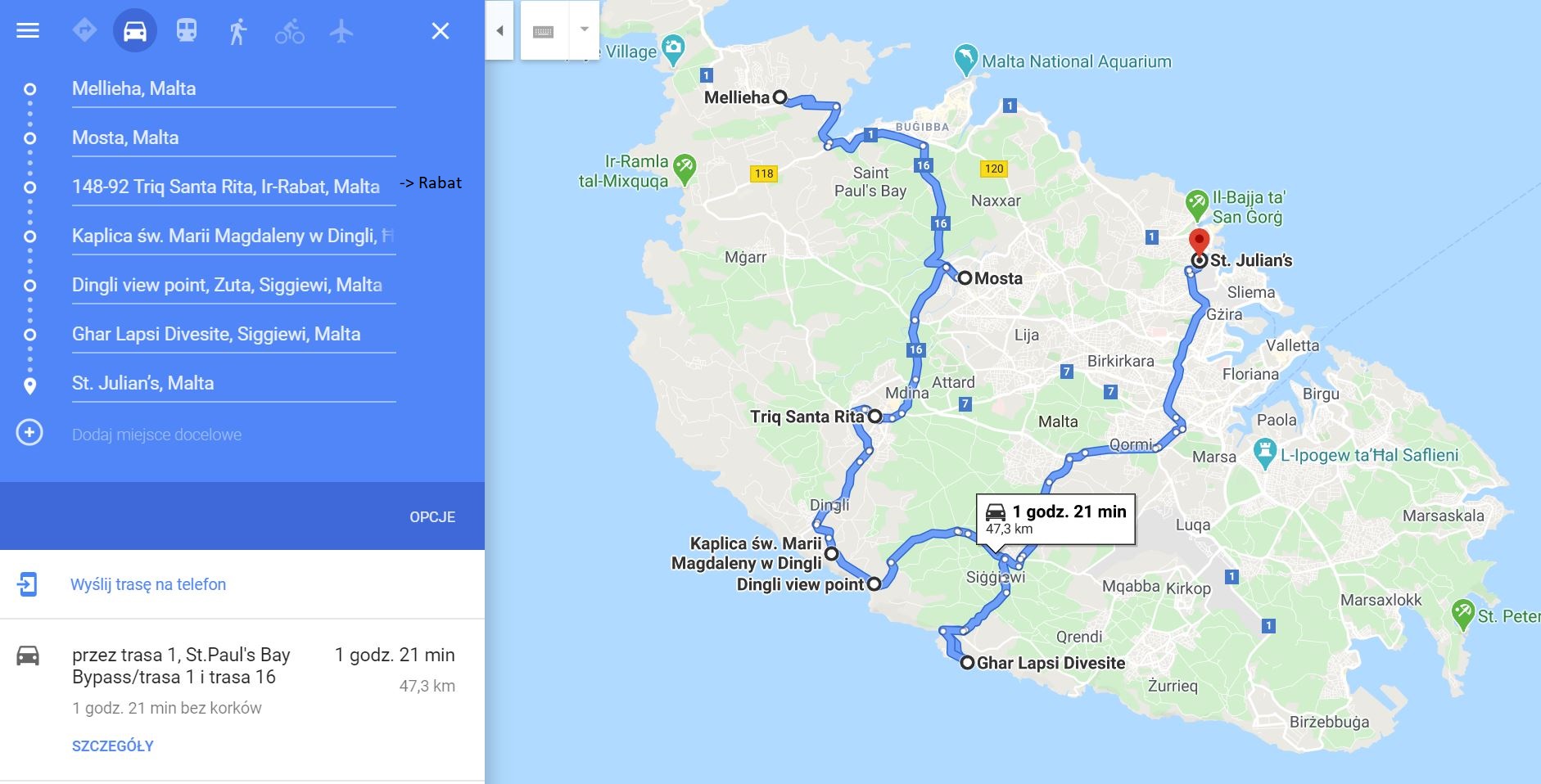 On the map I marked all the points where we stopped or left the car. Maybe I will help you with parking near attractions.
Thank you for reading the entry!
If you think it is interesting, we would be pleased if you leave a mark in the comment.
You will find more posts from Malta here:
There are direct links to the next and previous episodes below.
All our travels: Travels
We also invite you to our Instagram and Facebook fanpage, where you can be up to date with all our travels.
See you later! 🙂