Today, unfortunately, it's also cool and cloudy, but luckily it's doesn't rain. Our first goal is Blue Grotto. We leave the town of Mellieha and set off south of Malta. Along the way, we stop at the viewpoint in front of the town of Bugibba, we pass near Mdina visited yesterday.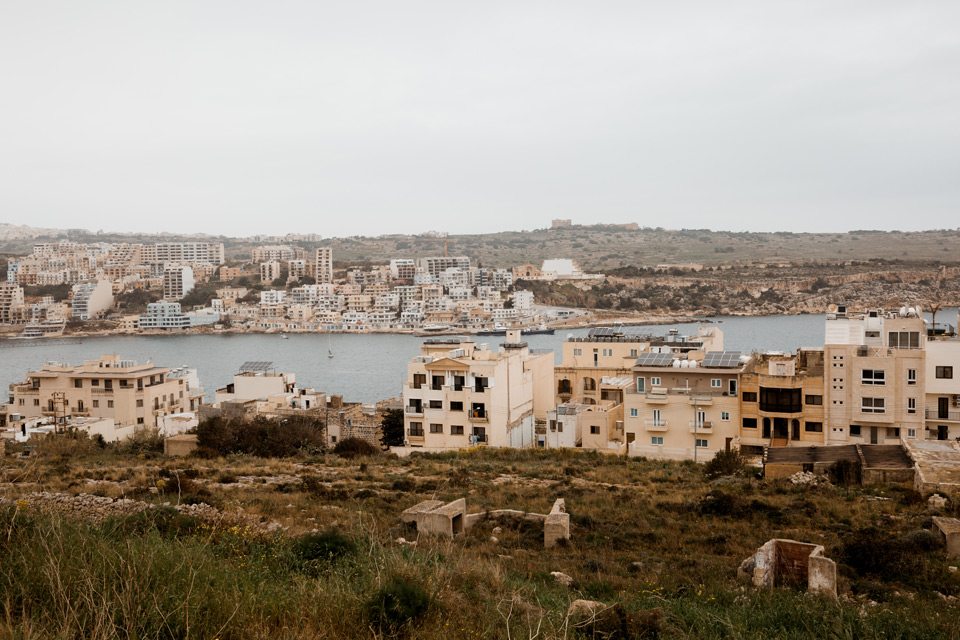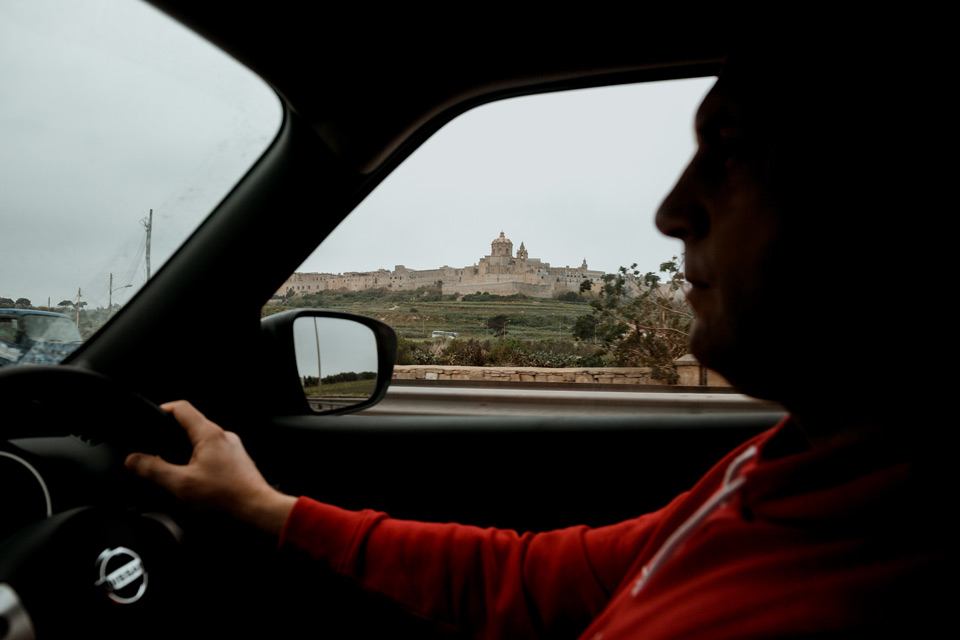 Blue Grotto – an interesting attraction of Malta
We stop at the observation deck from which we have great views of the Blue Grotto. This is where we take pictures of this famous attraction in Malta, which you will definitely see in all tourist guides around the island. Our photos lack only boats – unfortunately there are huge waves and a fairly strong wind today, so there is no chance to take advantage of the pleasure of sailing by motorboat around rock caves and caves. A pity, because we had it in the plan.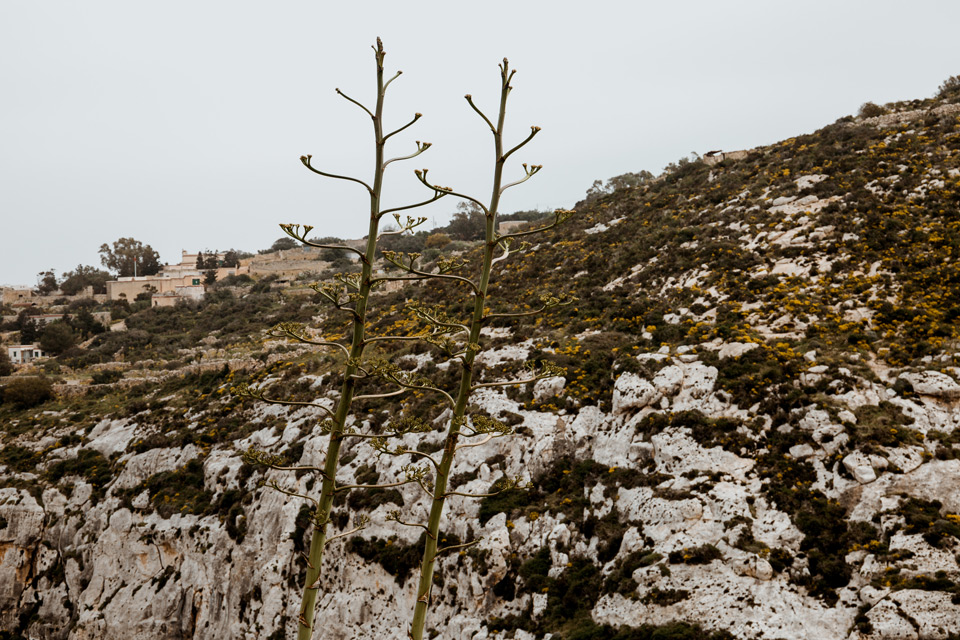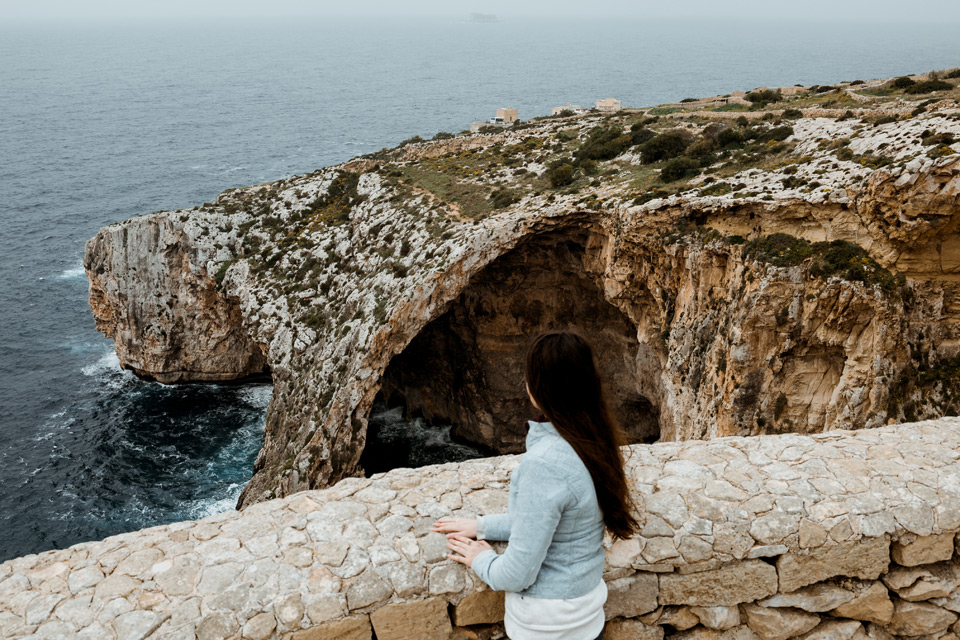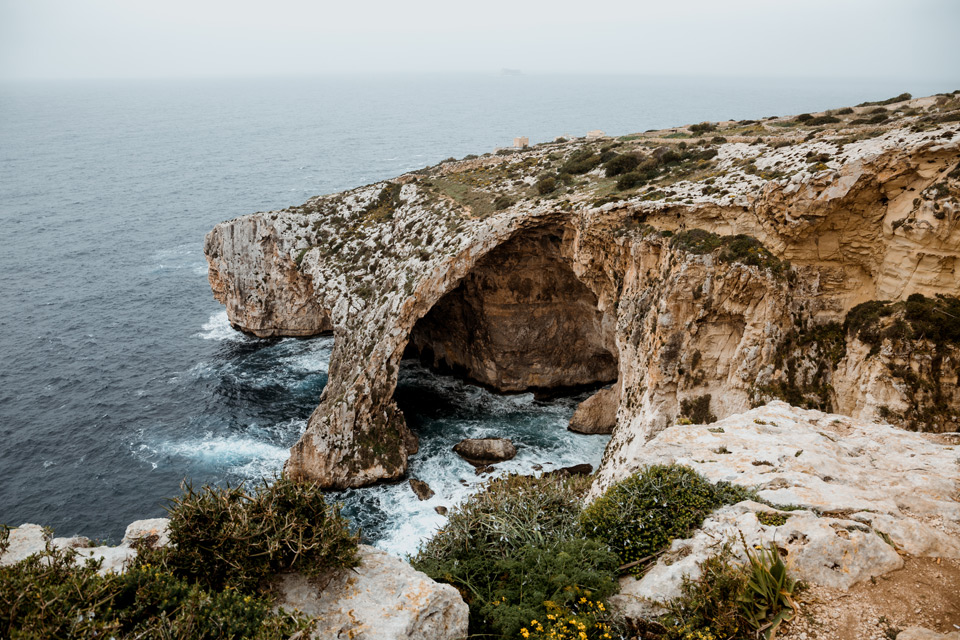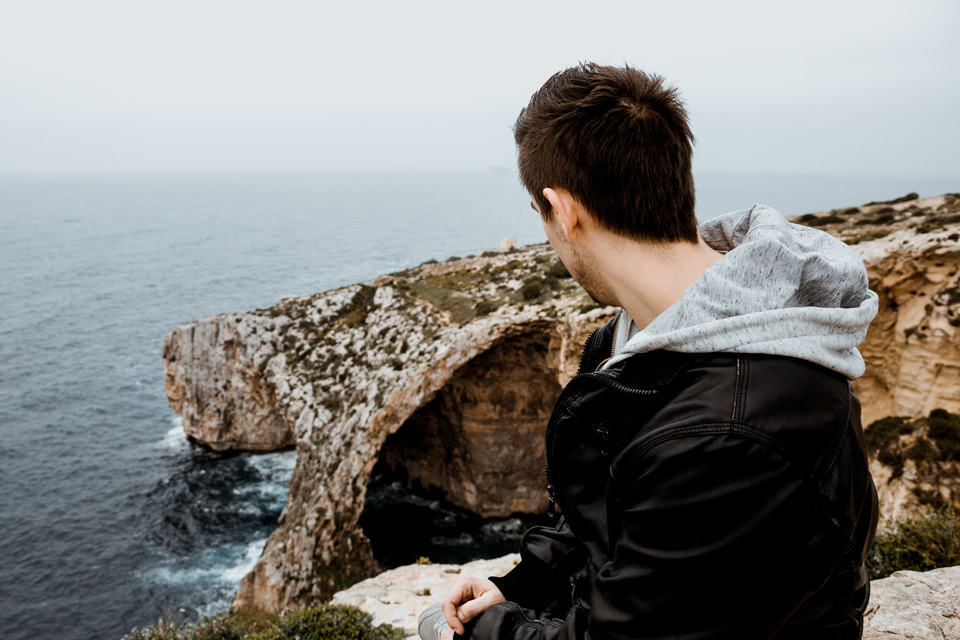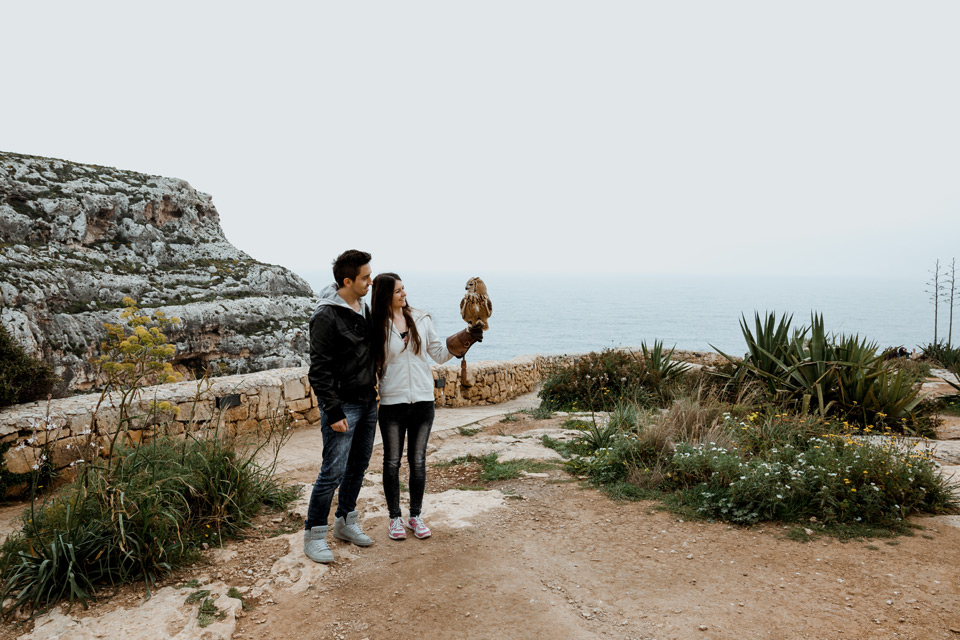 Although we already know that we have no chance to swim in a motorboat, we descend to the bay. A curved road leads down. There's a signpost beside her that says we'll get to Blue Grotto this way.
There is hardly anyone except us. We have views only for ourselves. We try to imagine this place in sunny weather. It seems to me that the place looks really interesting then, but today it doesn't impress us.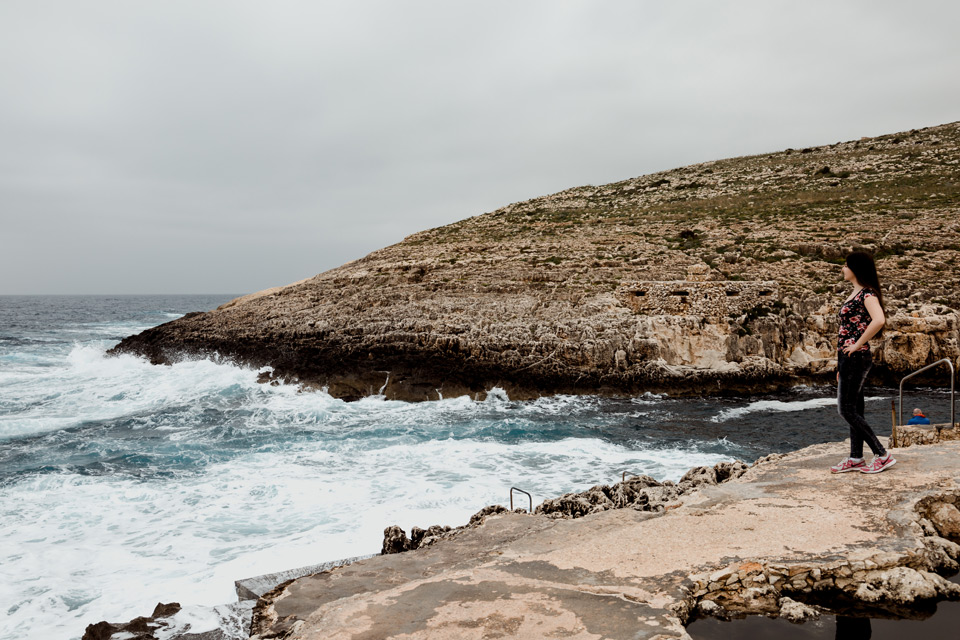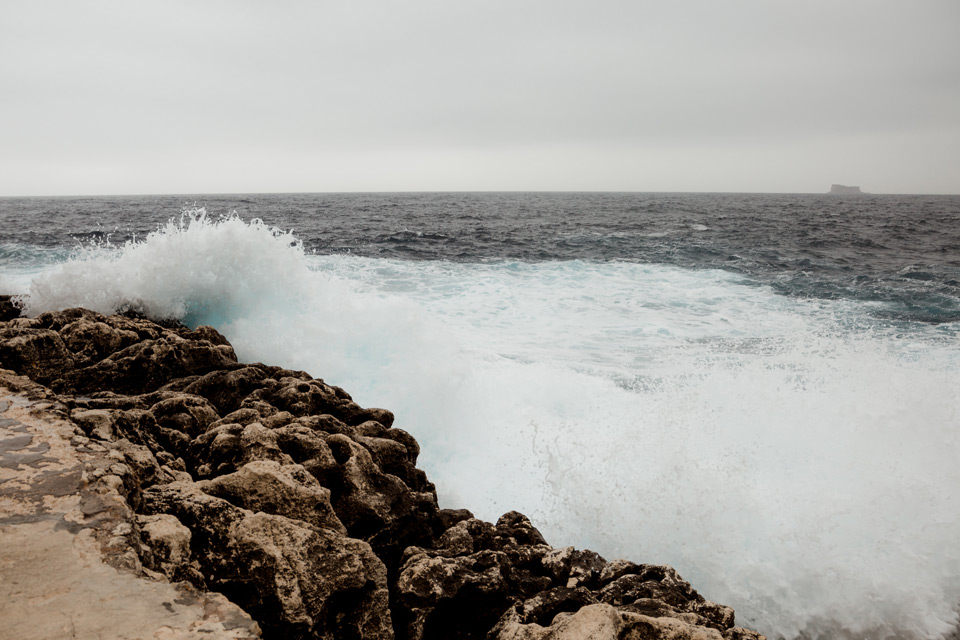 We also descend to the place where motorboats leave. Here, for the first and last time I bath in Malta! I walk along this path to the right and suddenly I notice that a big wave comes at me. I only manage to hug the rock and luckily the sea doesn't take me. It seems I'm wet from the feet to the navel. Somehow my camera is not with me and my cell phone in my pocket turn out to be quite waterproof.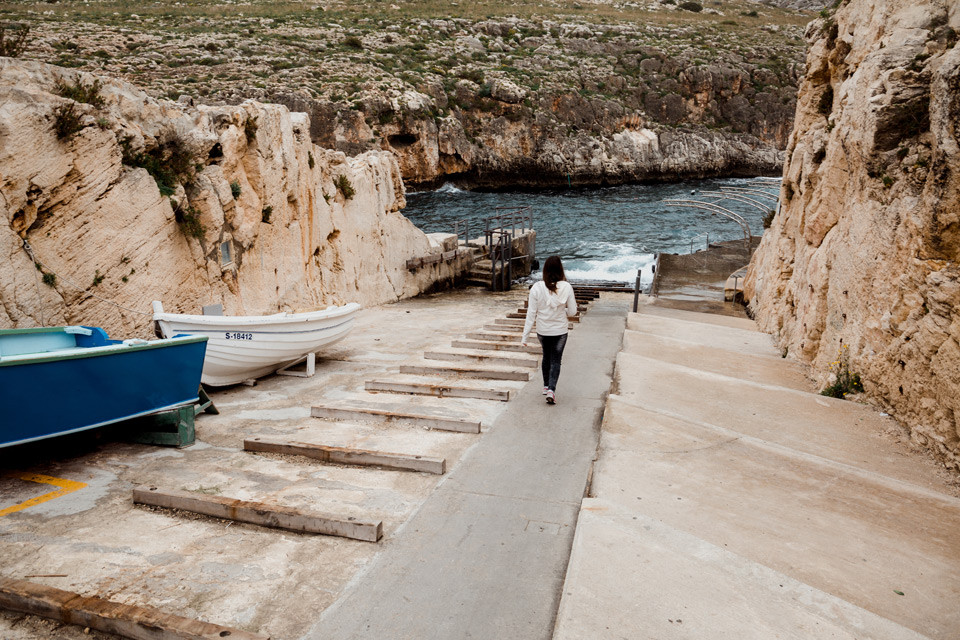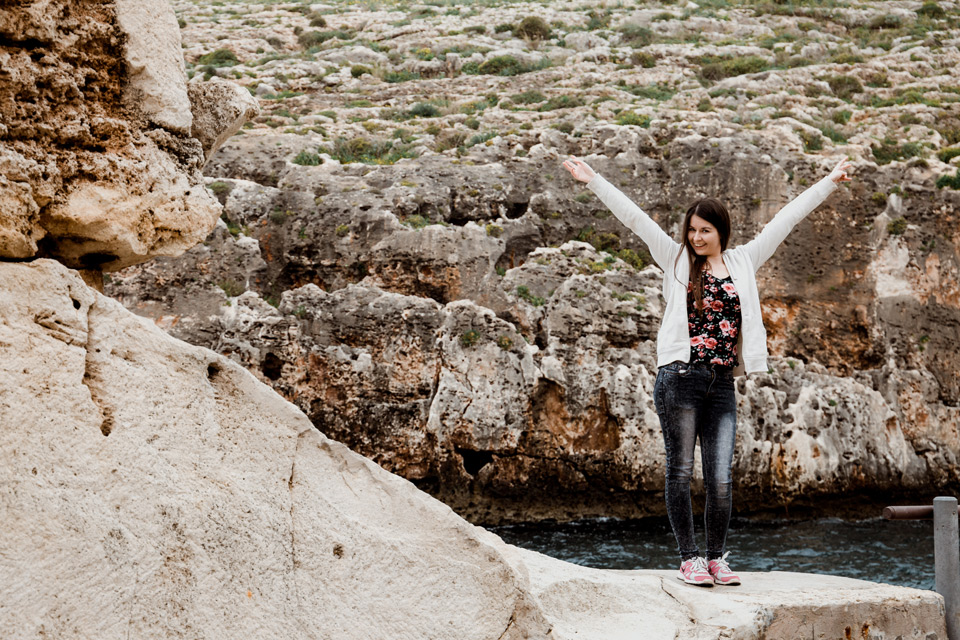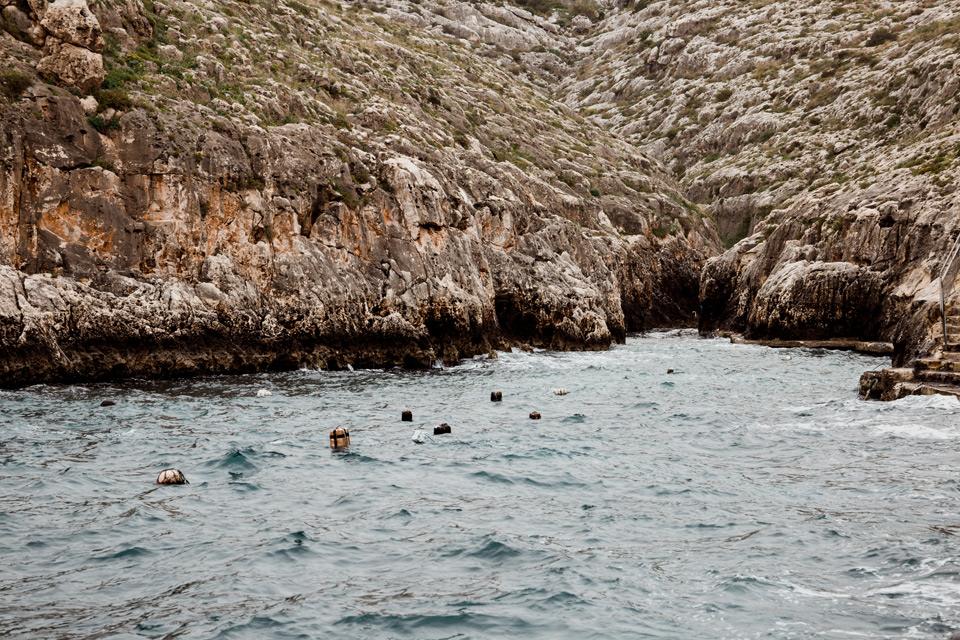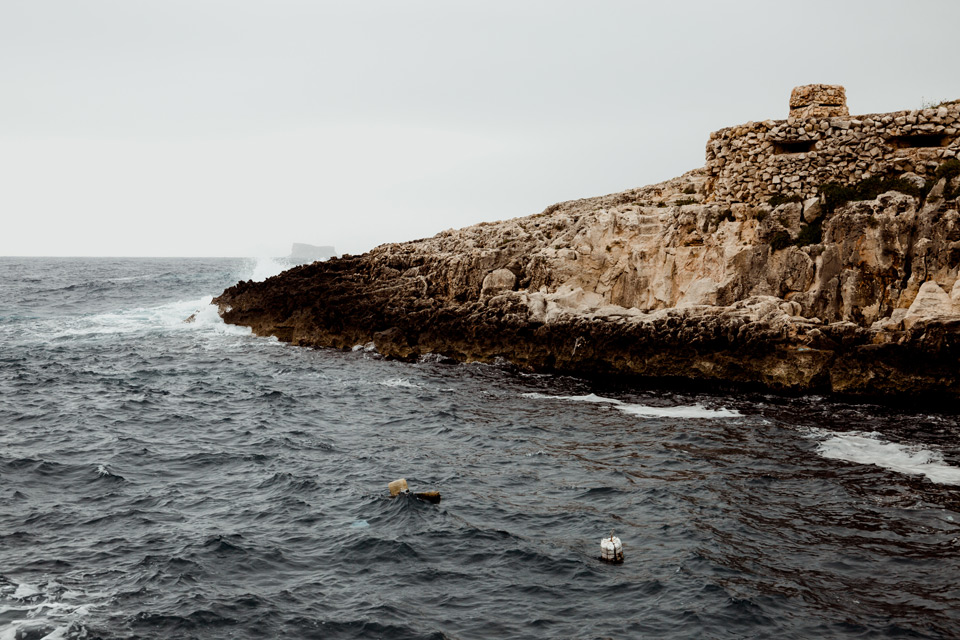 We wonder whether to come back to the apartment so that I can change after my adventure, but we decide that we would be optimists. We hope the sun comes out and I can dry out. Marsaxlokk is our next destination.
Climatic Marsaxlokk
We reach the most famous town in Malta. It's famous for such colorful boats as you can see in the pictures below. Before leaving for Malta and before any sightseeing plans, this was my association for this country – water and colorful boats. I just wasn't imagining such a gloomy weather. There was beautiful sun in my mind.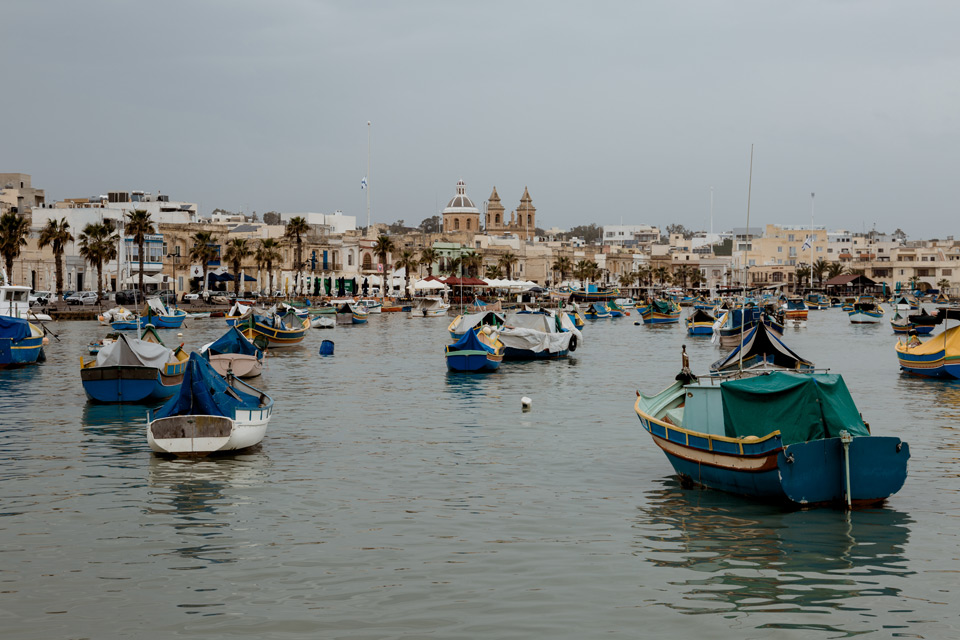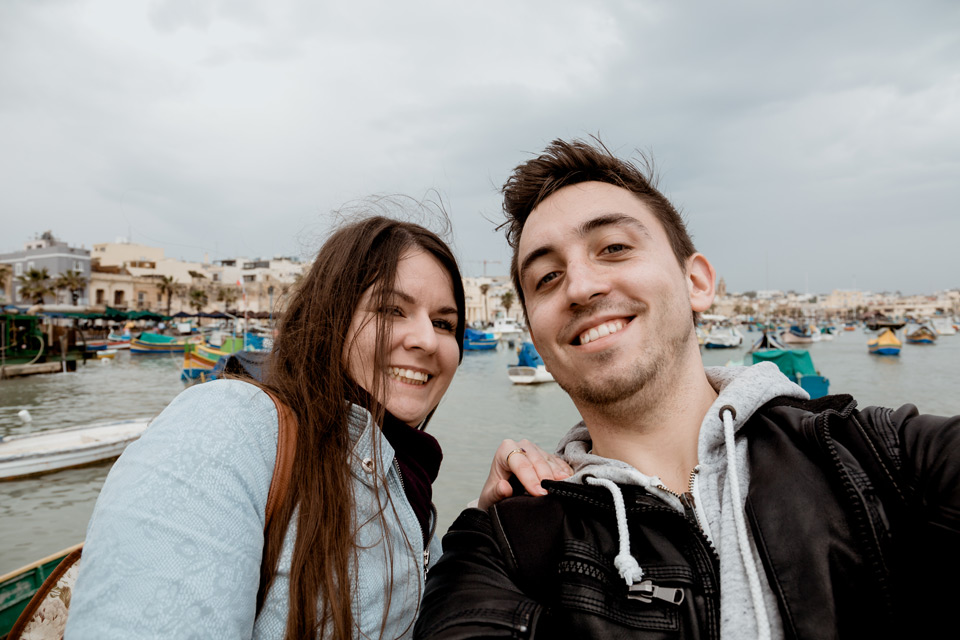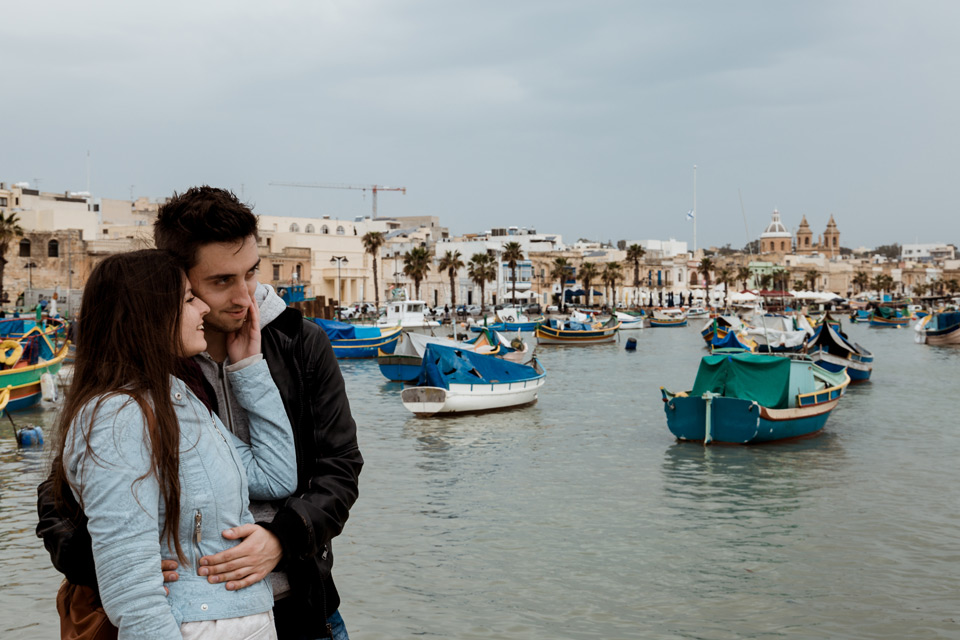 The photo-report couldn't lack the details I captured. Therefore, meet the cat, shell decoration on the wall and views from the market.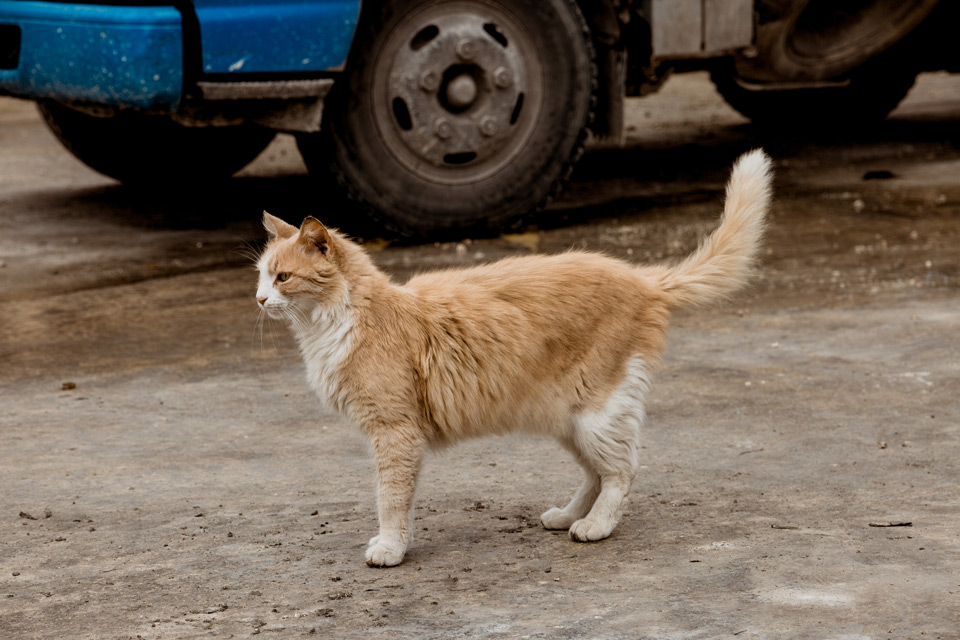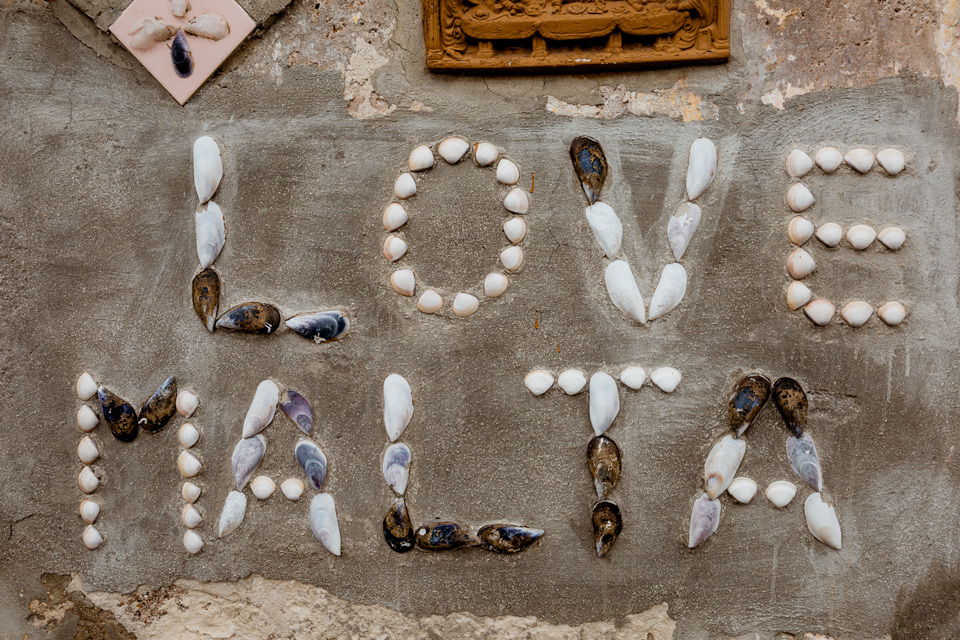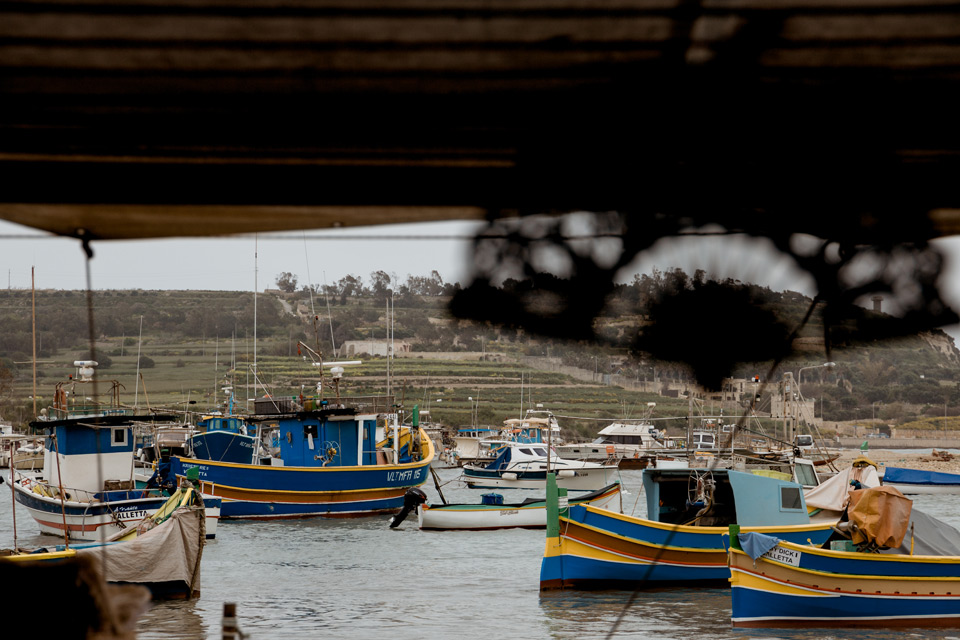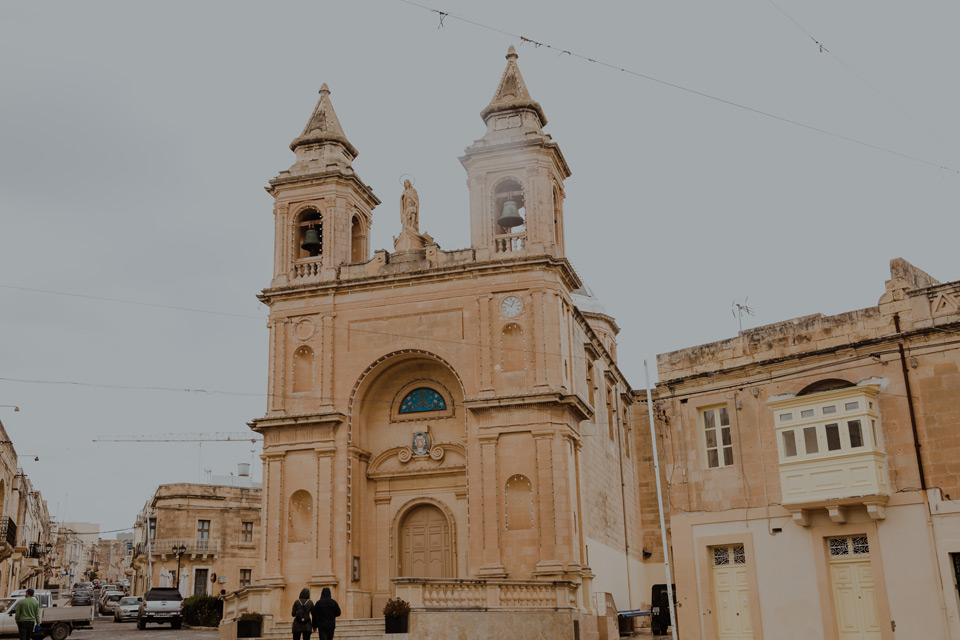 After a short walk, we reach the cafe for coffee and cake. For the first time in his life, Wojtek orders mocha-coffee with cocoa. Since then, we've been looking everywhere, because we liked it very much.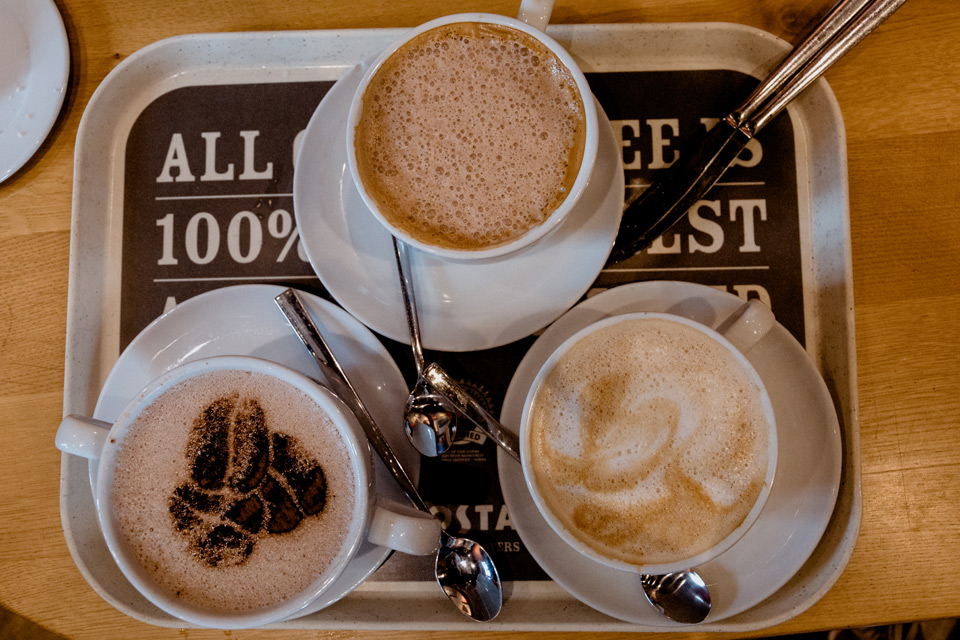 Market in Marsaxlokk
We wonder whether to come to the city during the open market, i.e. on Sunday. Apparently you can buy fresh fish and seafood, which I love. However, we give up because, first of all, the fair is very crowded and there is a great risk that it won't be possible to find a parking space in the city. Secondly, I come to the conclusion that the stands would obstruct the views of the colorful boats and take away the atmosphere. We don't regret it.
We haven't seen the market, but there are several stalls open. There is nothing interesting on them. We slowly go back to the car, and on the way we photograph a few more details and landscapes.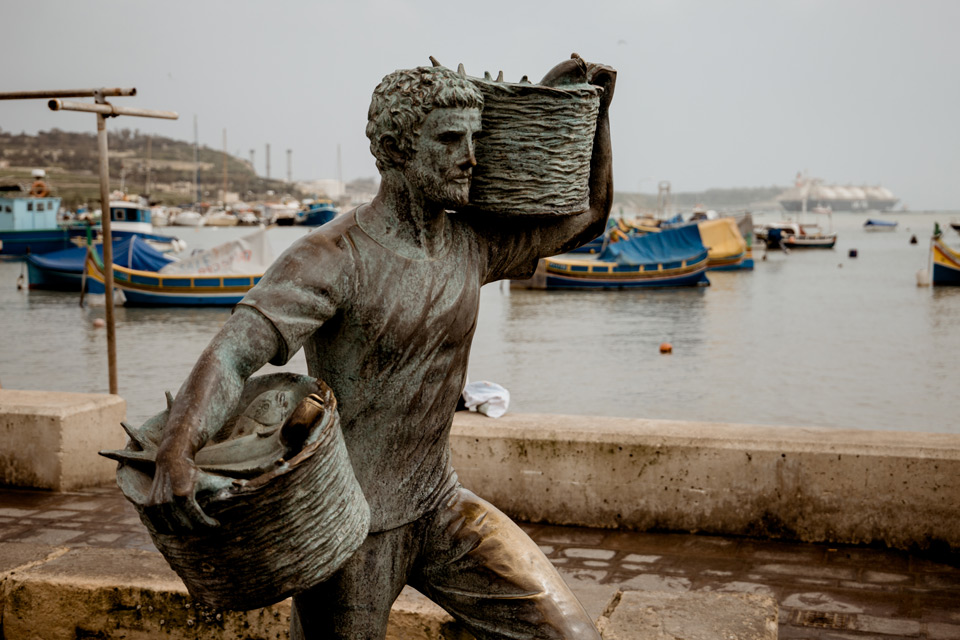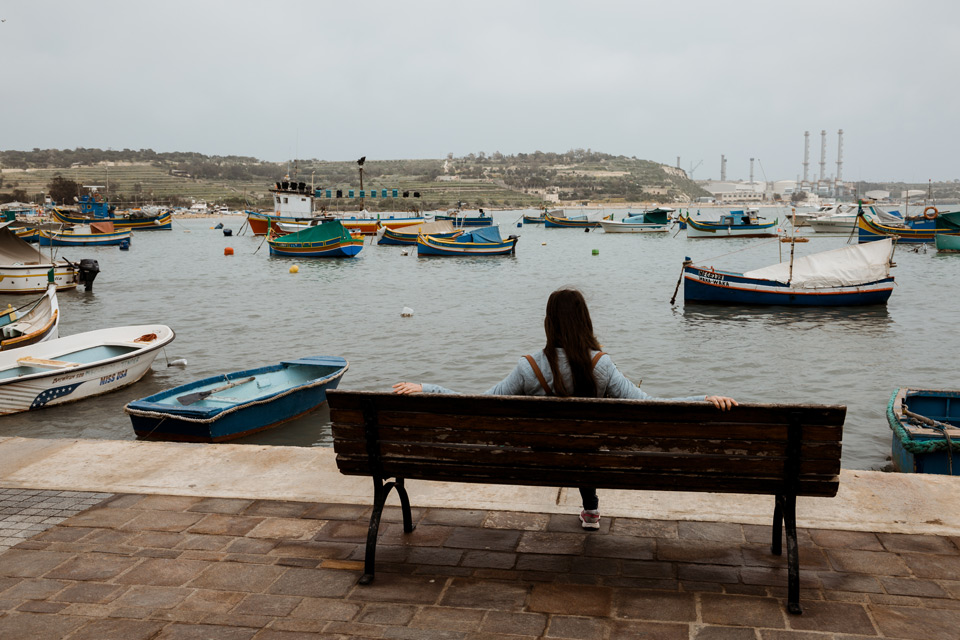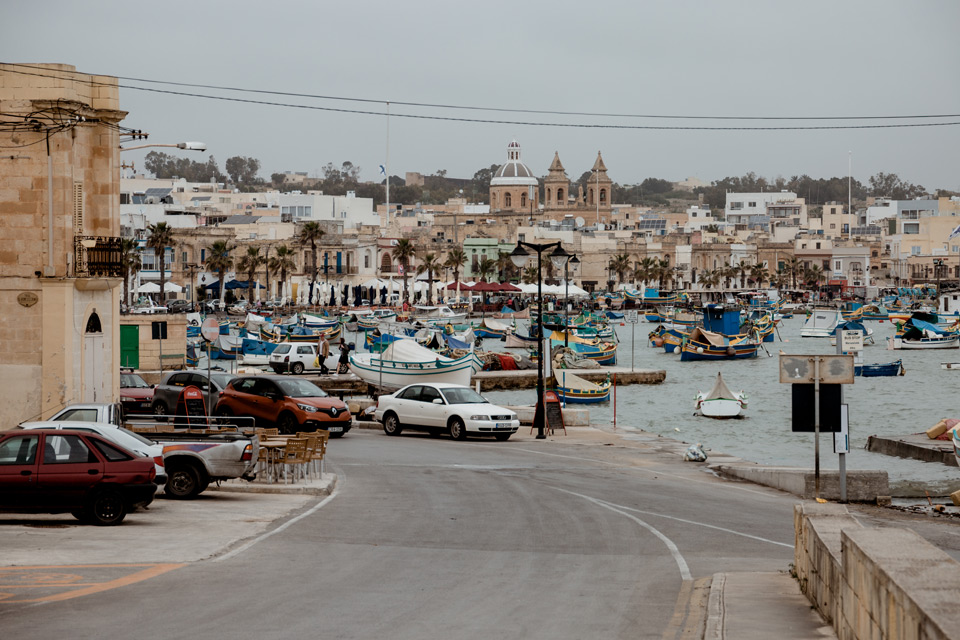 St. Peter's Pool – a little-known attraction of Malta
Thanks to the fact that I like to spend time on Google maps before traveling and set the guy in various random places, I discover a few less known pearls. That's how I discovered St. Peter's Pool. You get there by a slightly worse road, full of holes, but there is no fear and you can safely come here. You can reach to the parking at the descent to the attractions, but the entrance is quite narrow, so we leave the car a bit further along the road.
Before we go down to St. Peter's Pool, we pass a beautiful meadow along the way.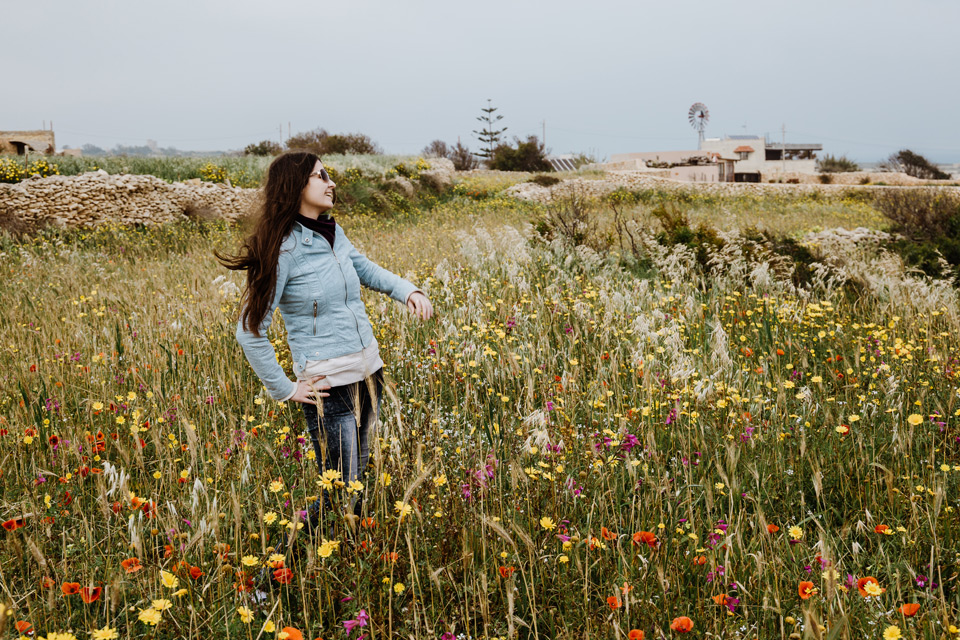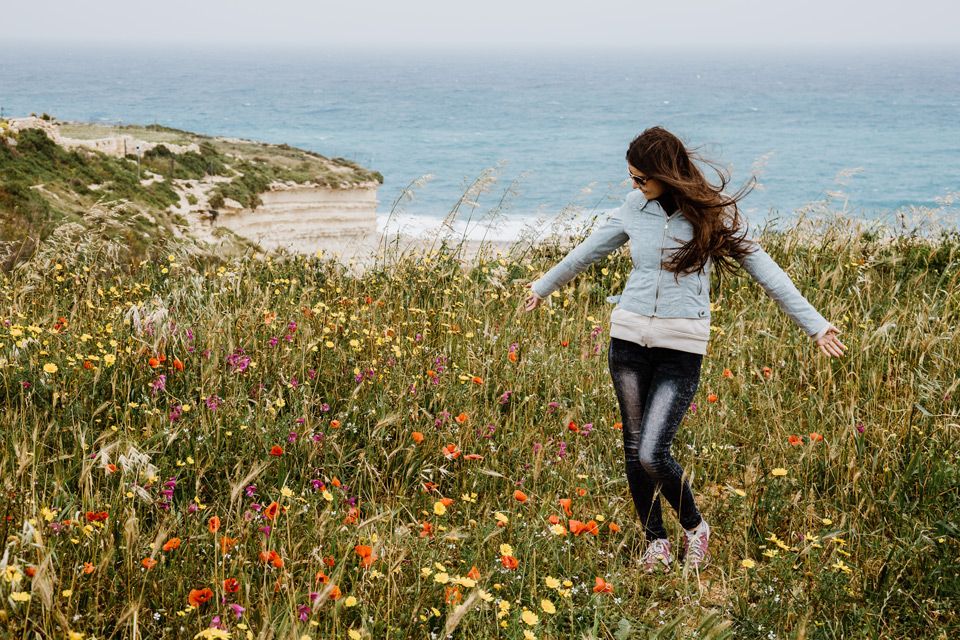 A few photos taken, that's why we go on a small path and go down. The views from the top are wonderful.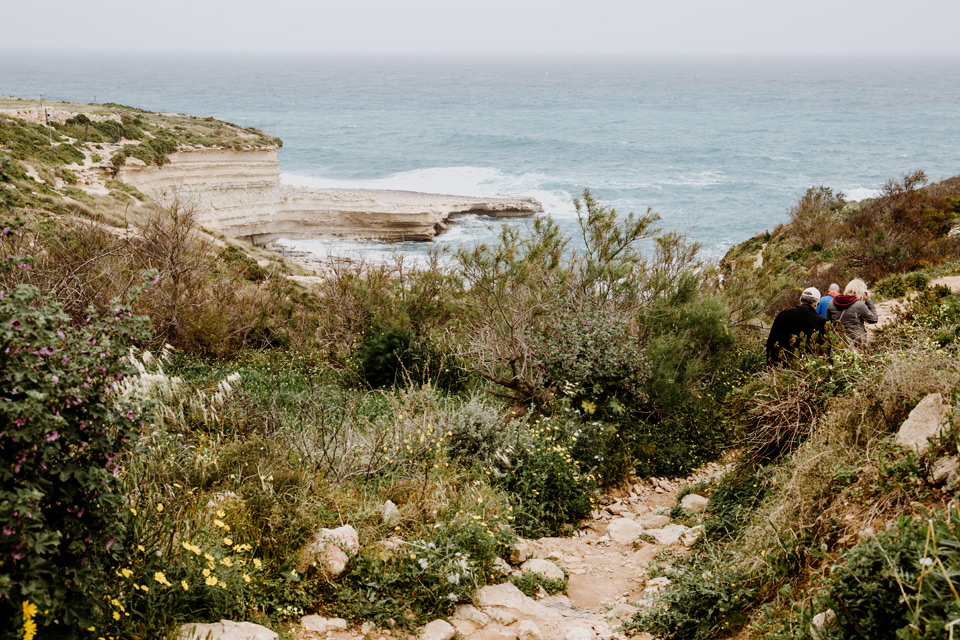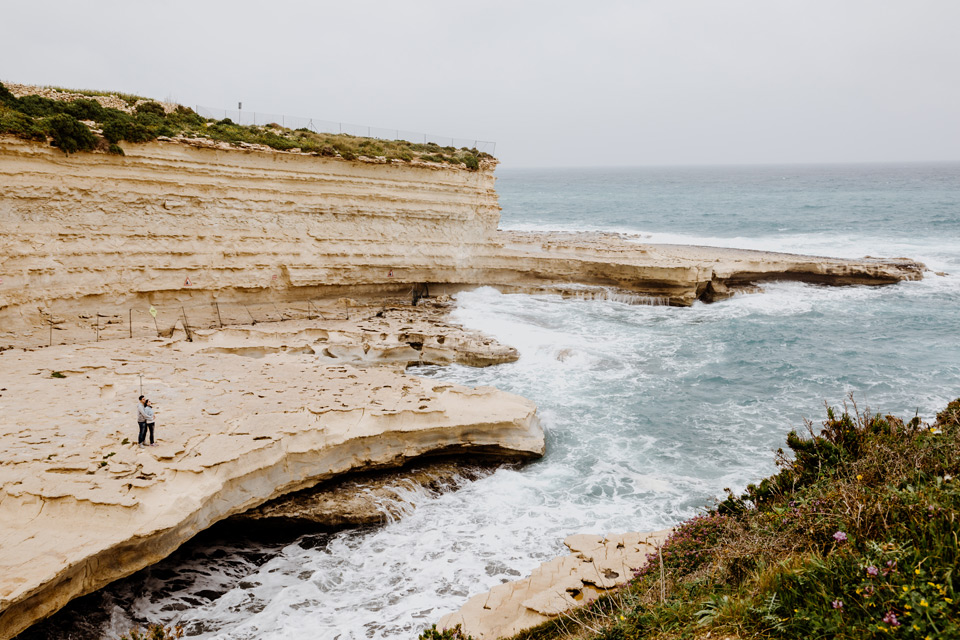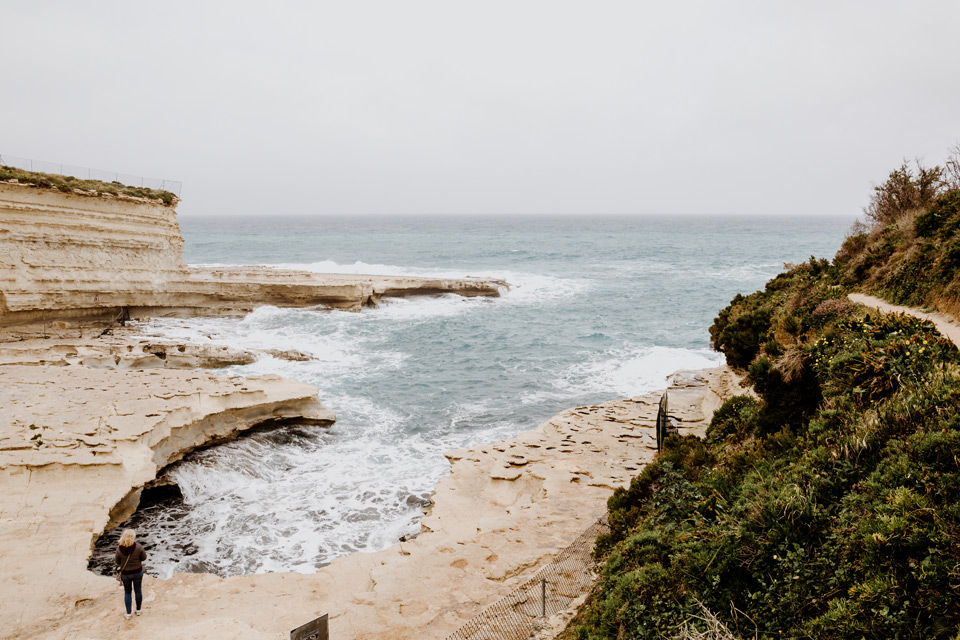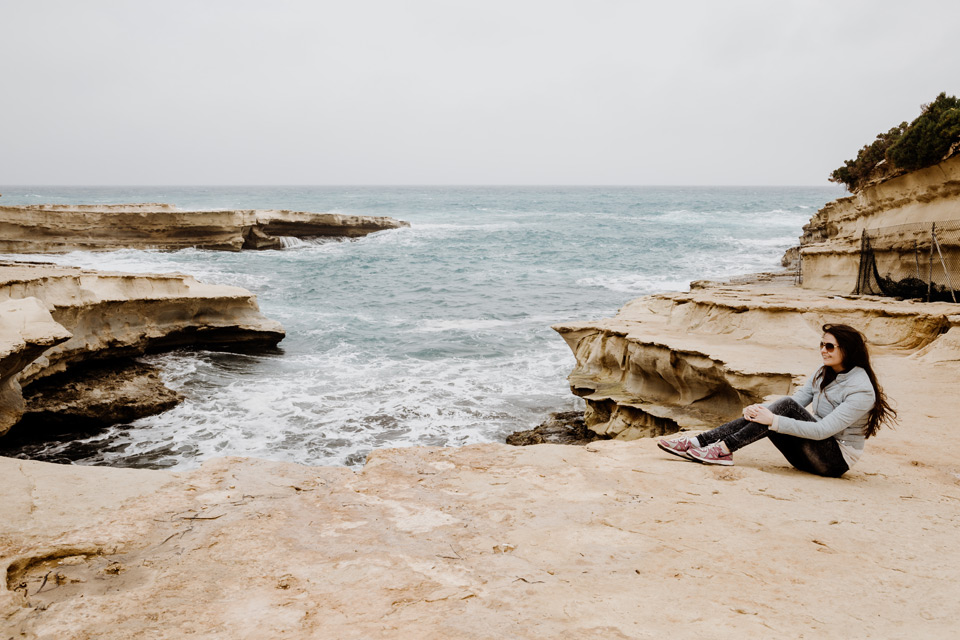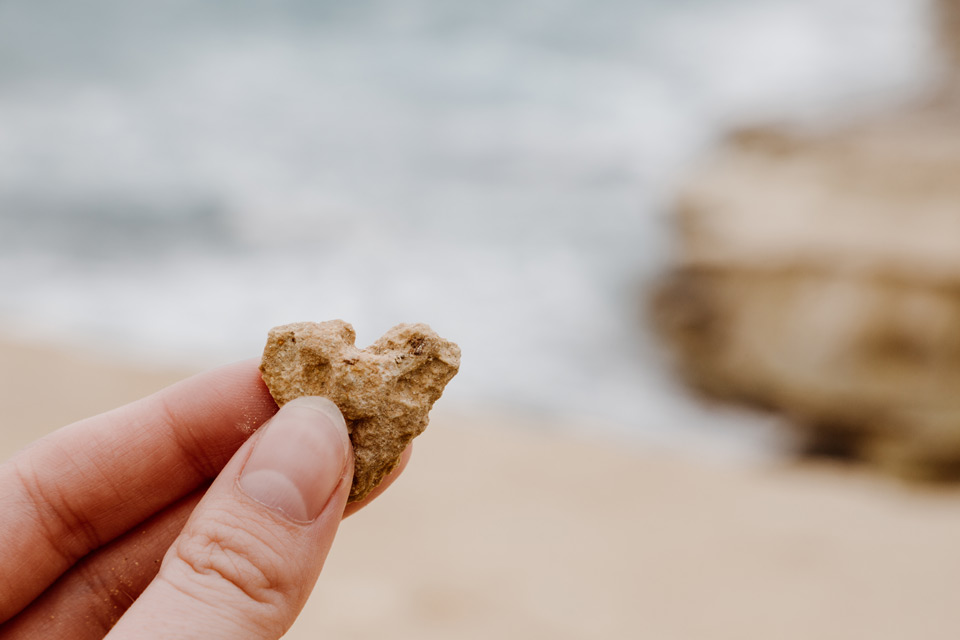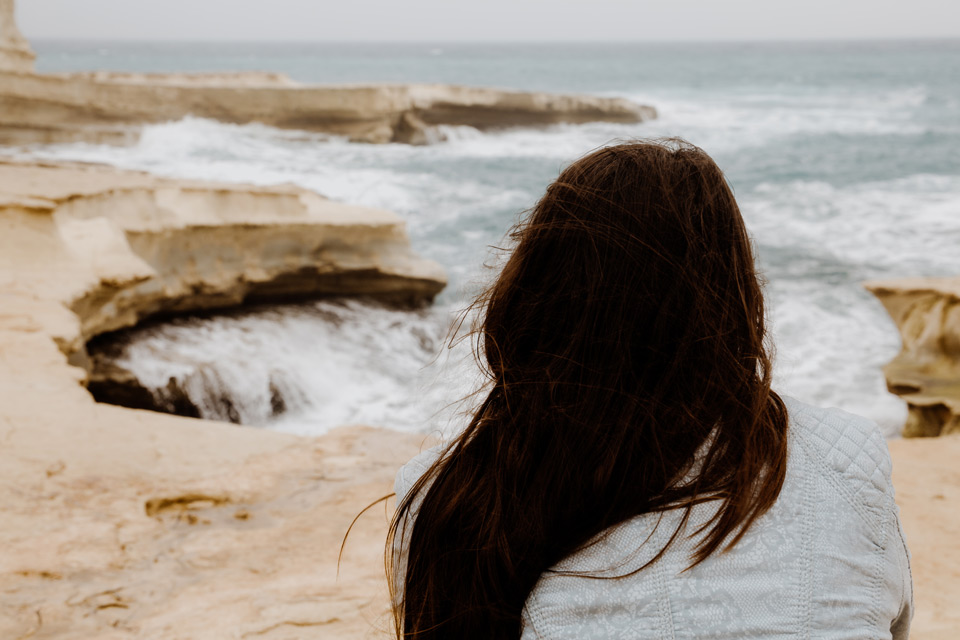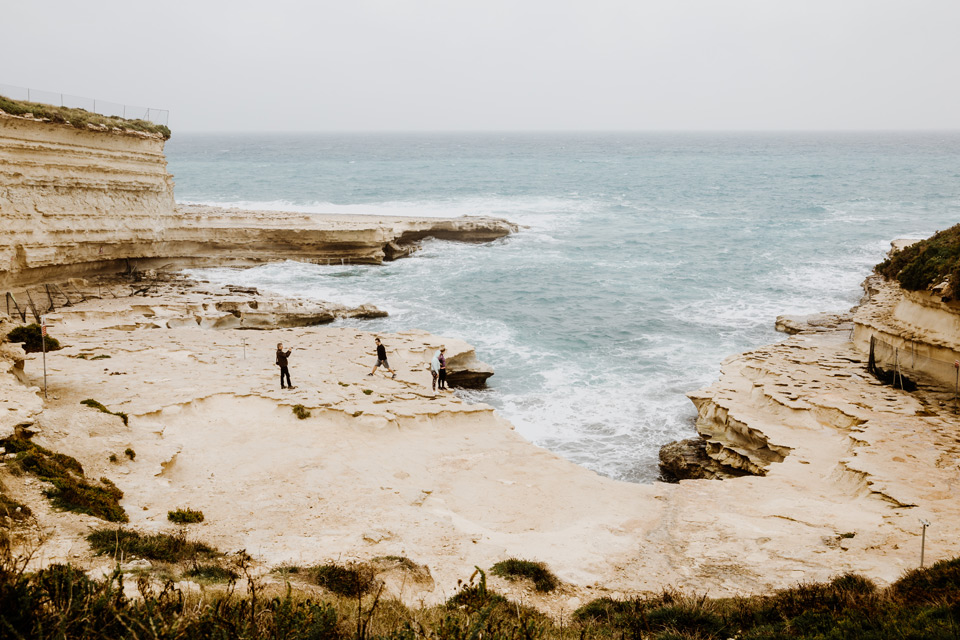 After taking a million photos and a short rest on the rock, we set off to explore the area. We find the path at the top of the cliffs and go left, i.e. to the north. After a while, new beautiful views emerge from the front. Behind us we can observe the right side of St. Peter's Pool. By the way, we discover another place that you can reach. In the distance you can see interesting rock formations and people sitting nearby them – we turn back and go right this time towards the said rocks.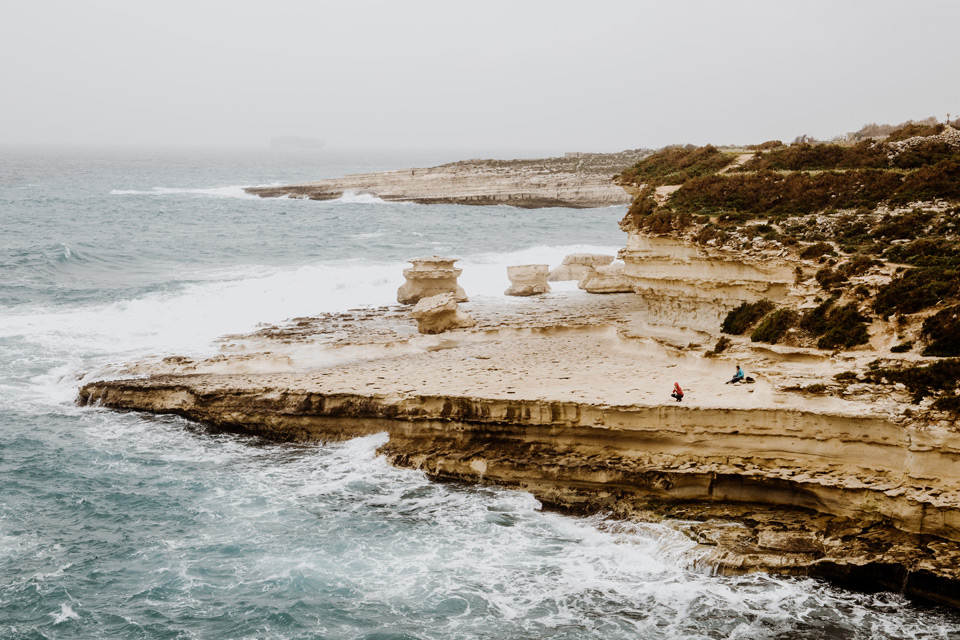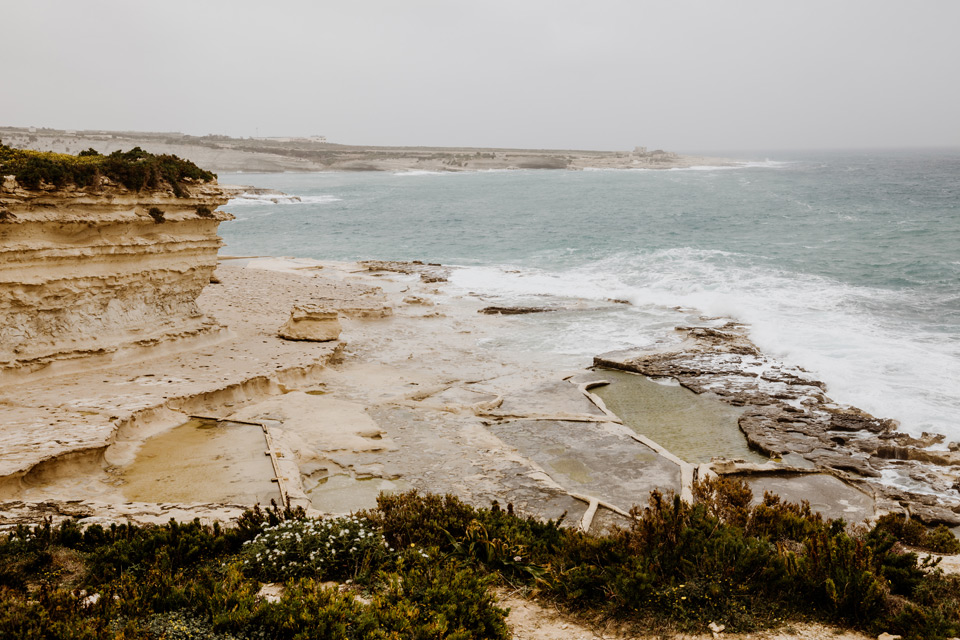 Beautiful surroundings of St. Peter's Pool
We come back over St. Peter's Pool and descend to the place we saw earlier from above. We're on a "rocky beach" – that's what I would call this place. We walk on the rock, we can go to the shore and touch the waves. The place is great. We feel like we are walking on the surface of some other planet.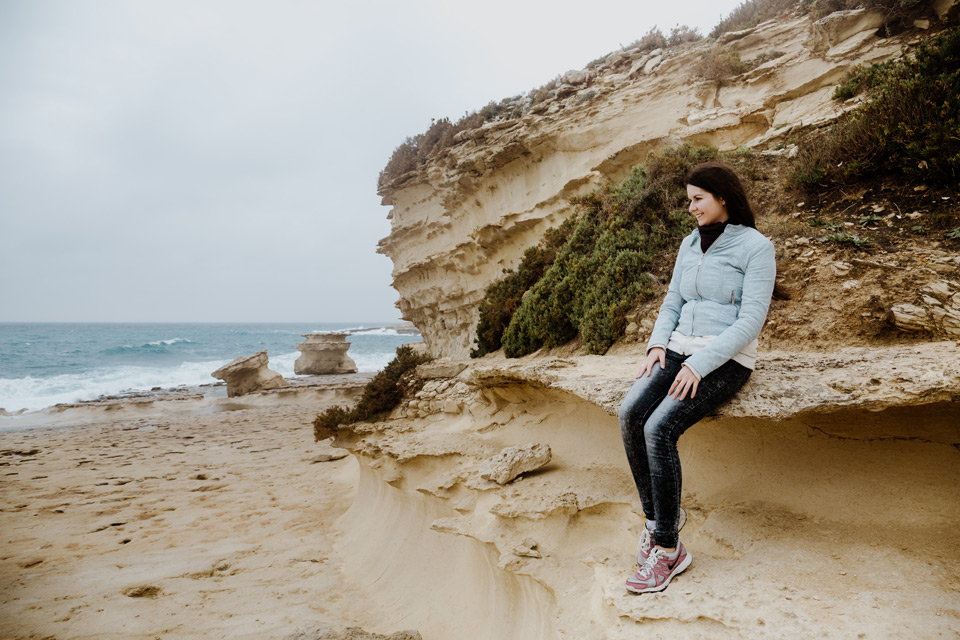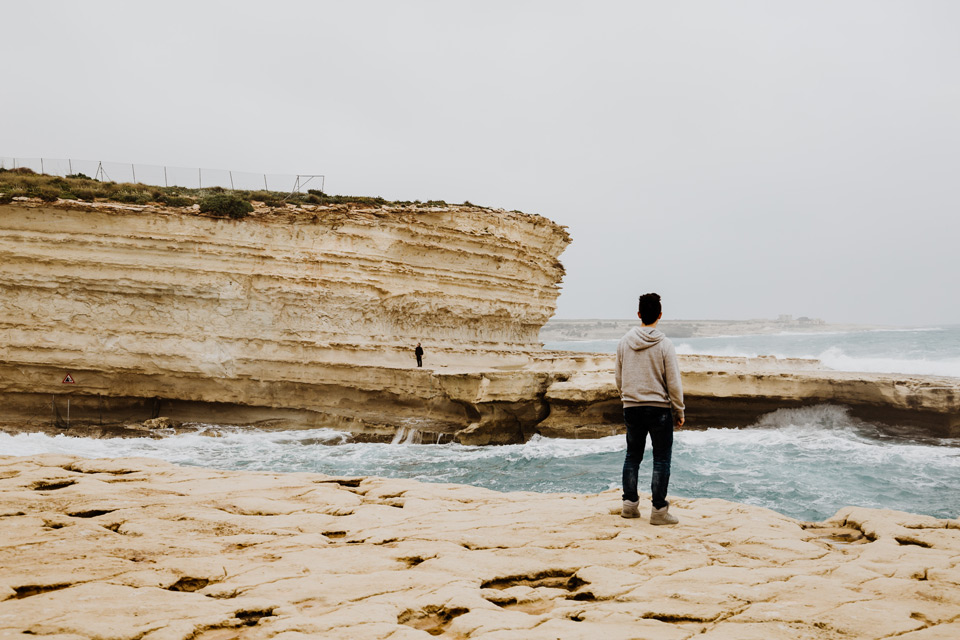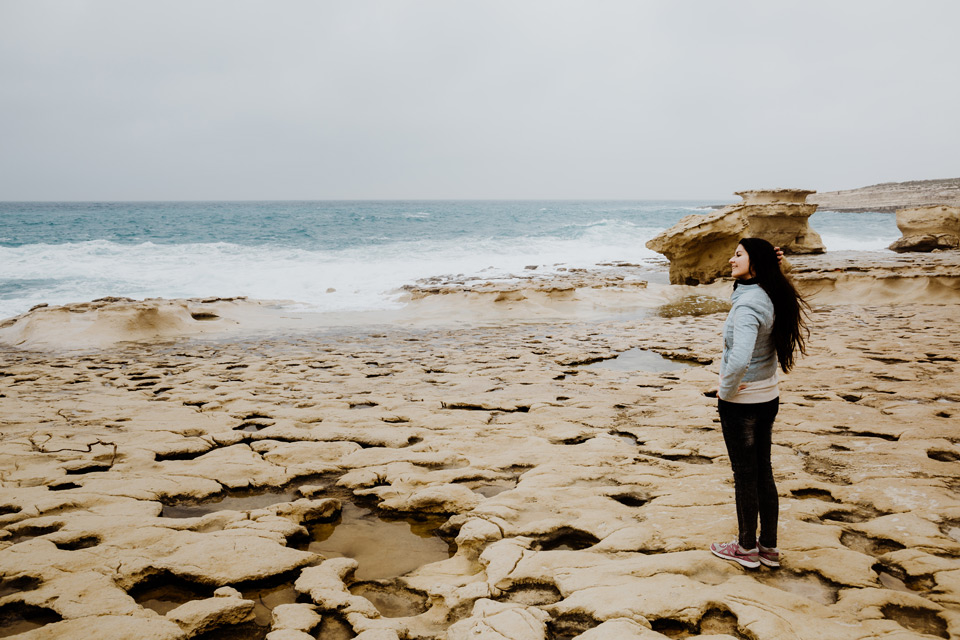 I suspect that on a calm and windless day, you can walk peacefully south along the seashore. Our comrades go a bit risky in that direction. Me and Wojtek decide to turn back and go in the same direction, but on the upper path. I already have enough for swimming in the sea today, and at the cliff we don't want to go, because there can always be some rocks breaking off and falling on our heads.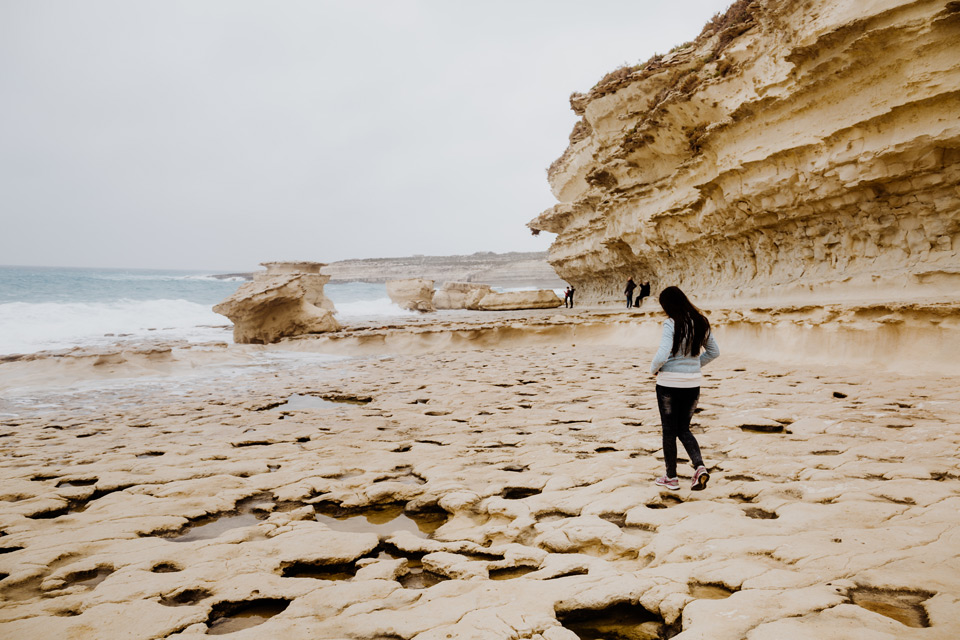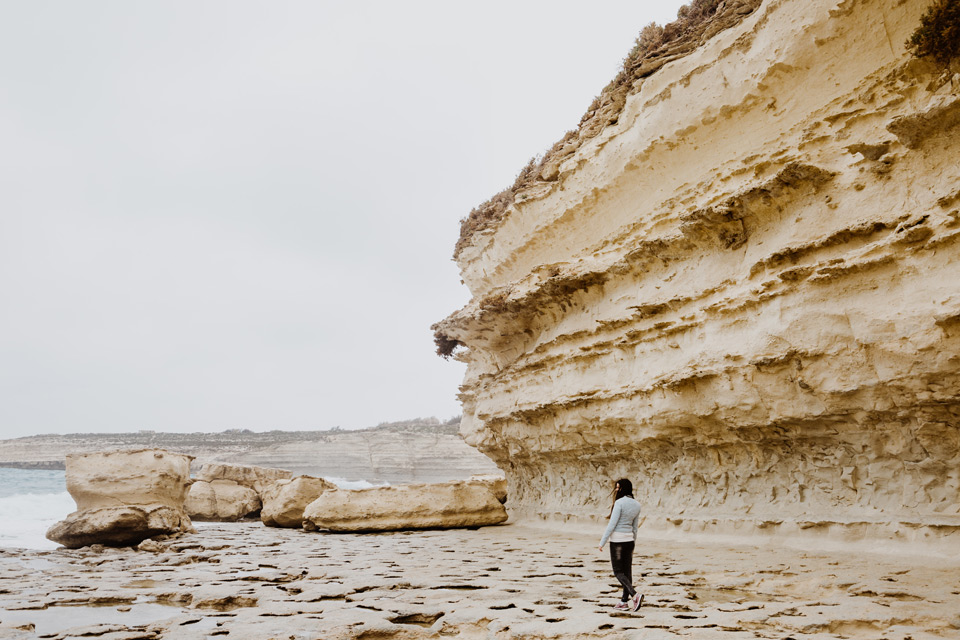 As we decided, we do so. We go upstairs. The path is narrow, so we go one after the other. After some time we see our companions downstairs. They are all good. They manage to find the path upstairs and after a while we turn back and go back to the car.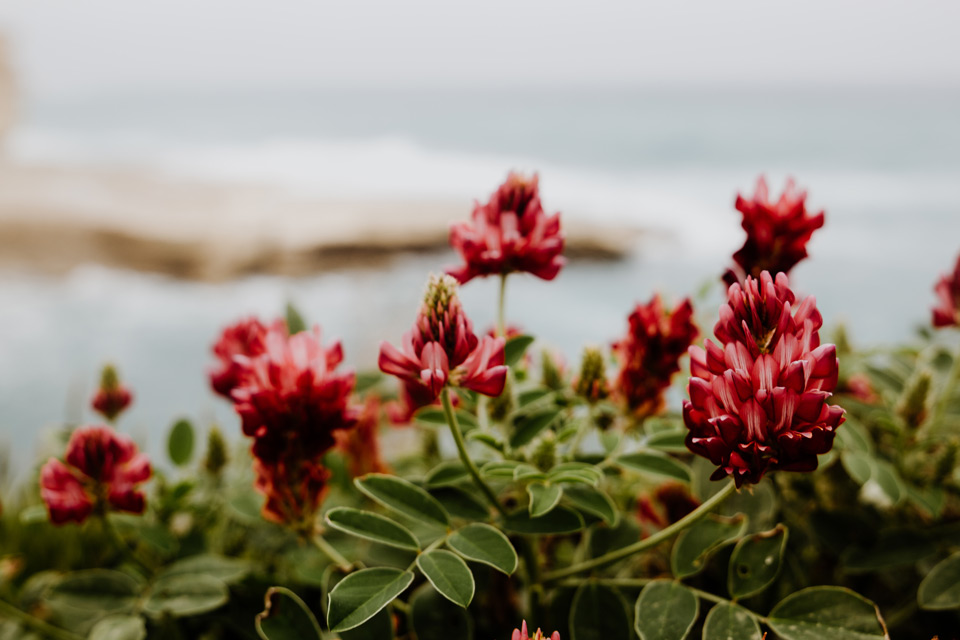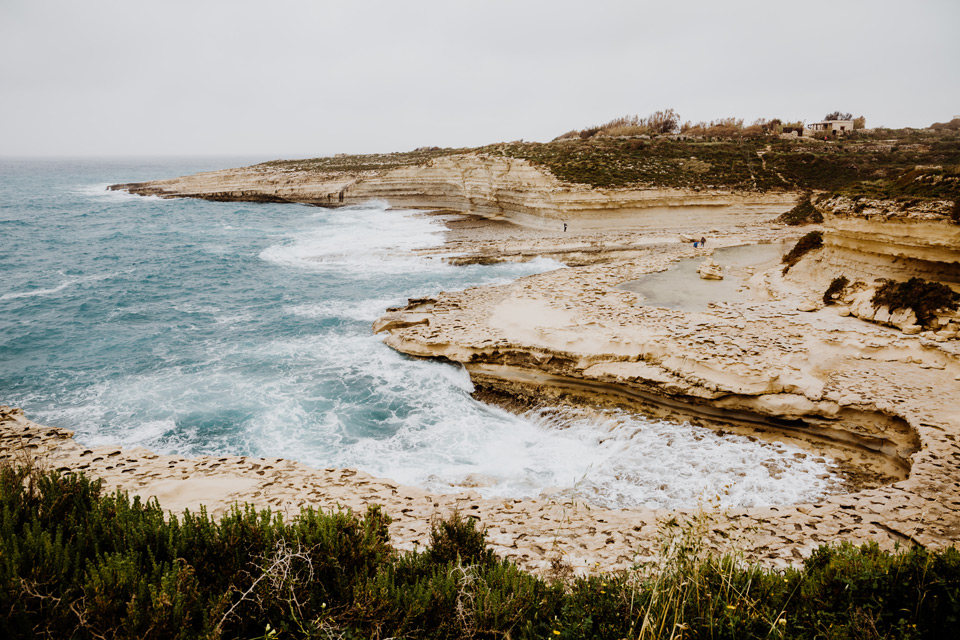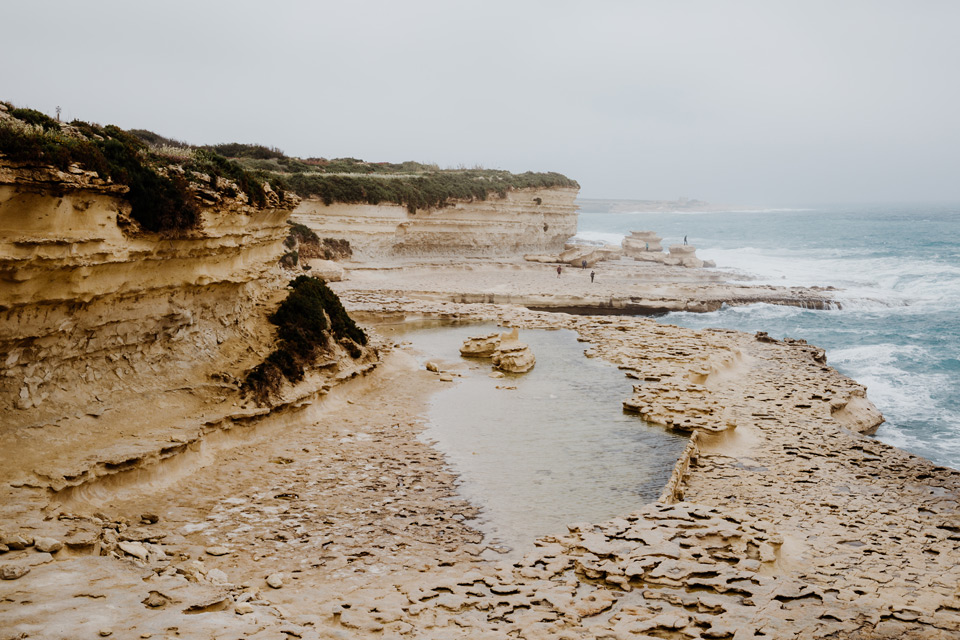 Dinner at Mellieha
In the evening we go out for dinner, or rather dinner in the town where we spend the night. We come across a special offer- two drinks for the price of one, so today we have exclusive drinks and dishes. Later we go for a short walk around Mellieha. We take night photos of the church and return to the apartment.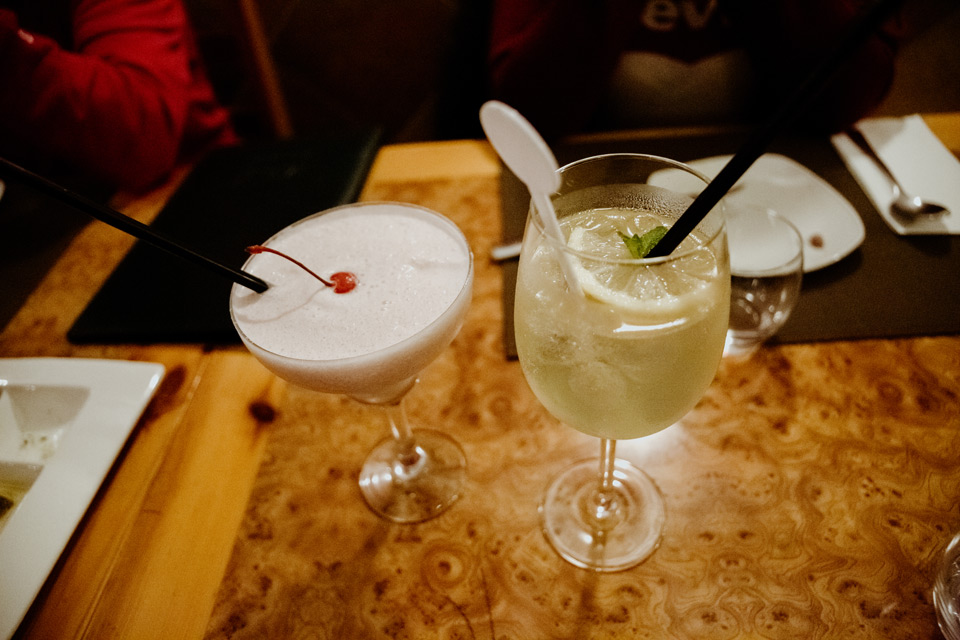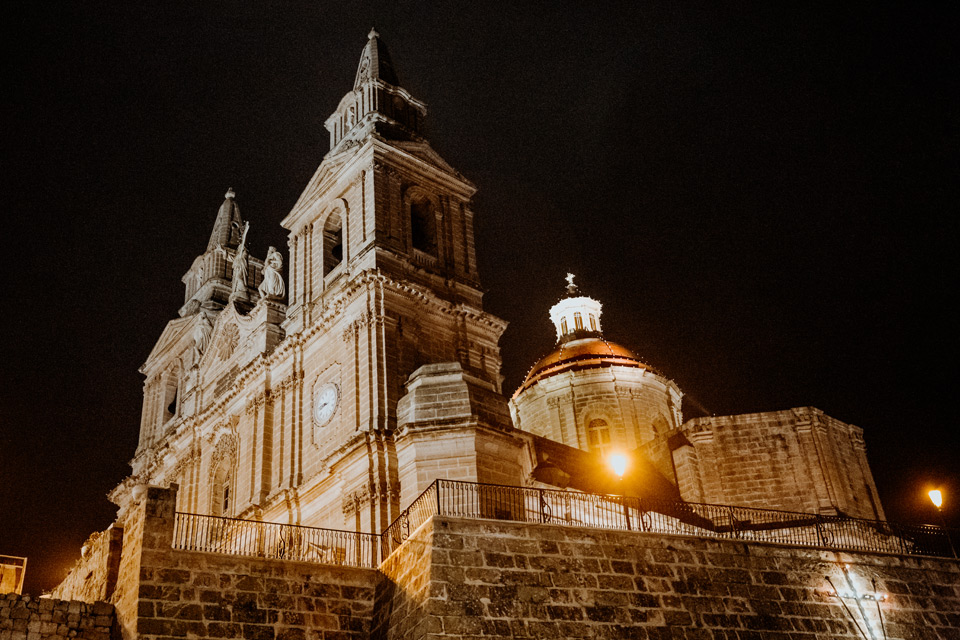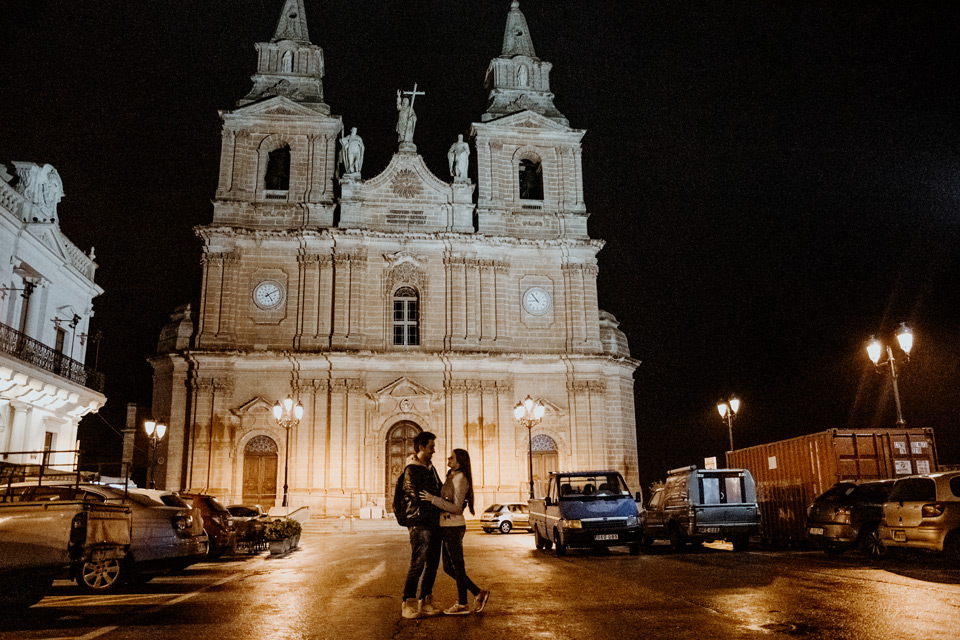 Practical information:
A motorboat trip around the rocks and caves at Blue Grotto costs 8 euros per person. It takes about 20-25 minutes. It's recommended to go as early as possible to avoid long queues, and above all at this time, apparently, the water shimmers with different colors and looks the most beautiful.
All of today's car parks were free, and we didn't pay for any tickets to attractions. Our expenses are only coffee and cakes in the cafe and dinner in the restaurant.
Map of today's route (click here):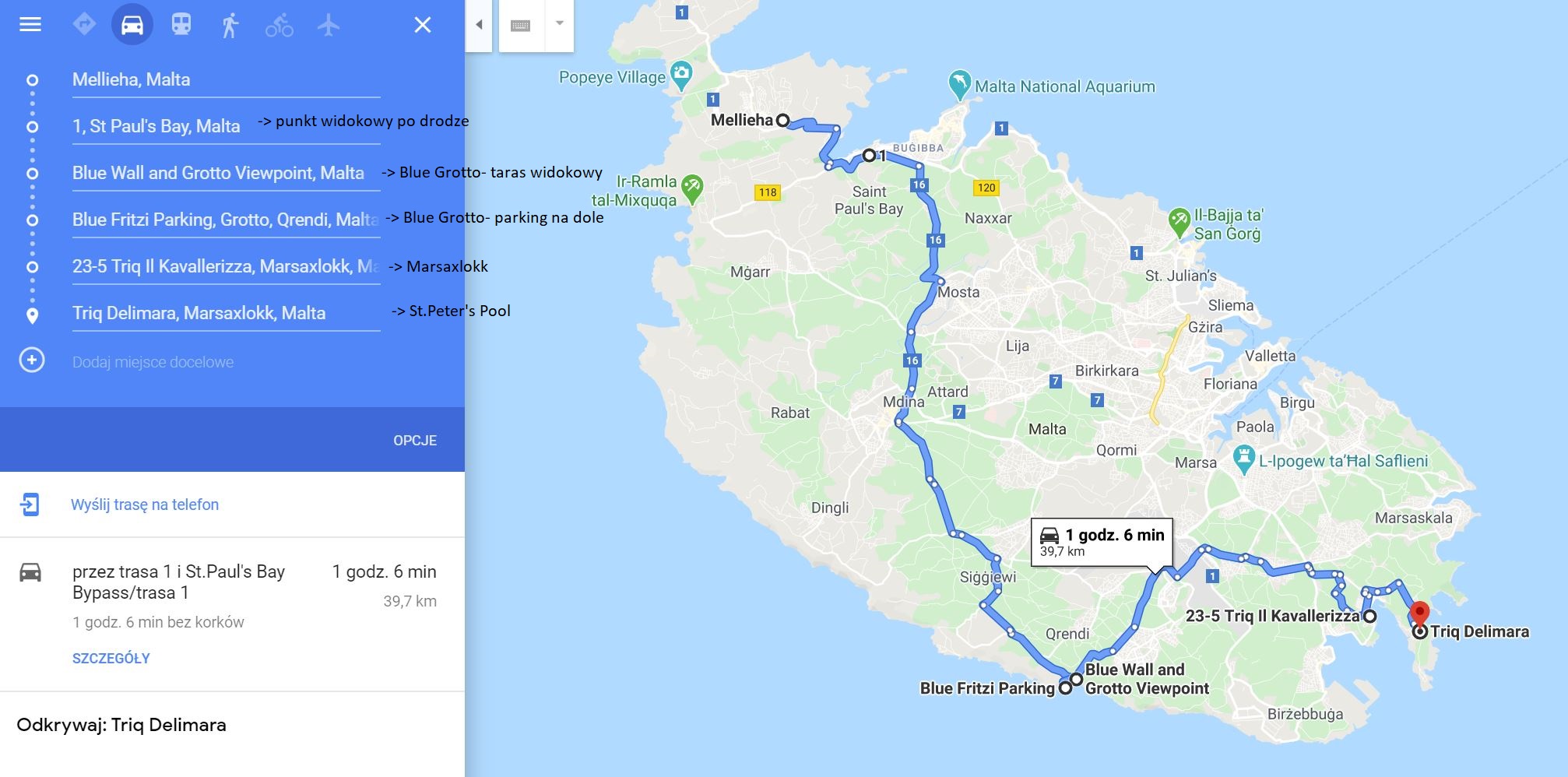 On the map I marked all the points where we stopped or left the car. Maybe I will help you with parking near attractions.
Thank you for reading the entry!
If you think it is interesting, we would be pleased if you leave a mark in the comment.
You will find more posts from Malta here:
There are direct links to the next and previous episodes below.
All our travels: Travels
We also invite you to our Instagram and Facebook fanpage, where you can be up to date with all our travels.
See you later! 🙂