The entry below is a continuation of our fifth day in Gran Canaria. The previous part can be found here.
Today's route (click here):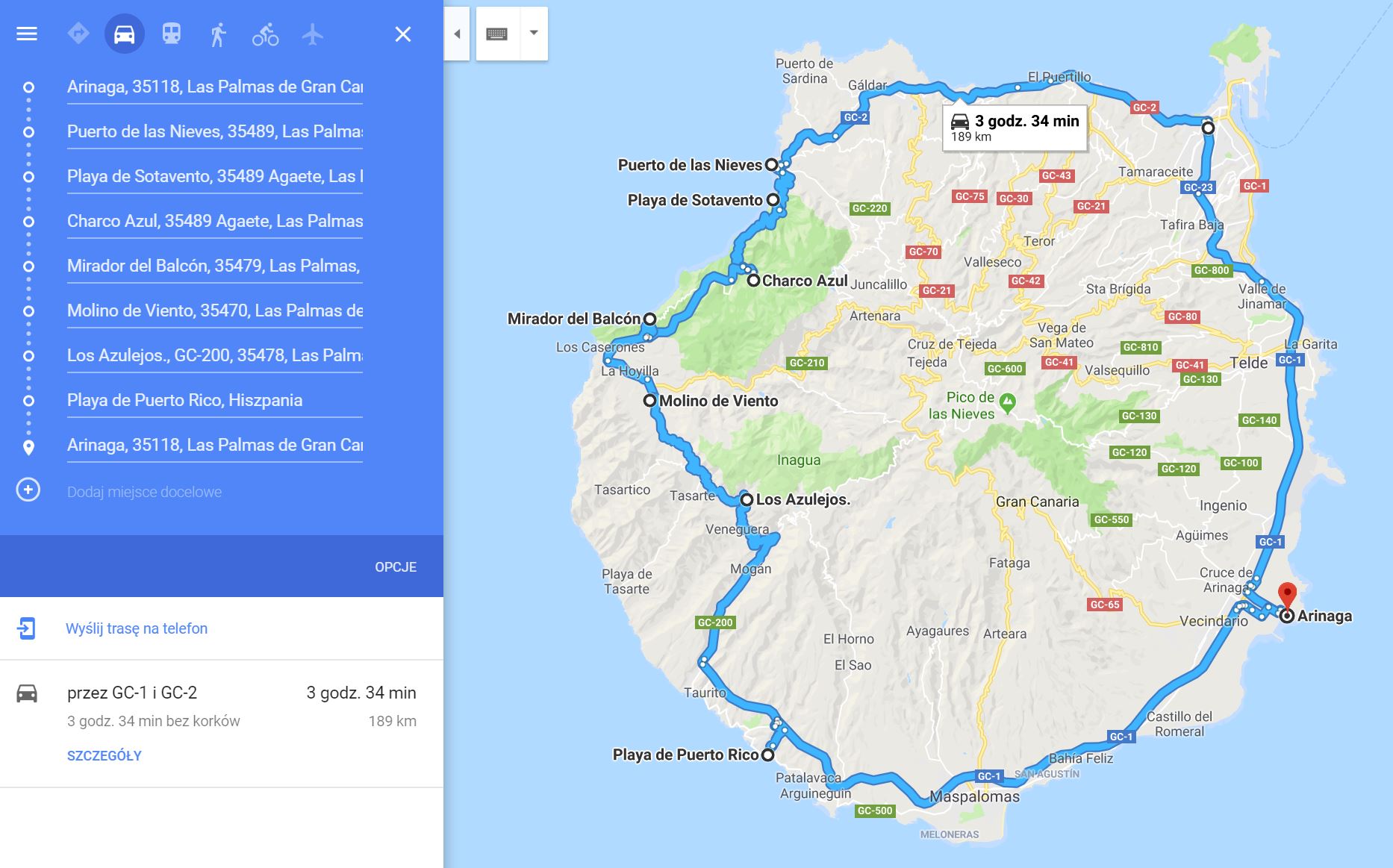 We get in the car and continue the journey along the GC-200 road to the south. After a dozen or so of turns we stop by the road, because we think that there is a small lookout point here. There is indeed some kind of plaque, but unfortunately with the text in Spanish, so we do not know what we see here. It seems to me that this is about rock formations, to which a small path leads.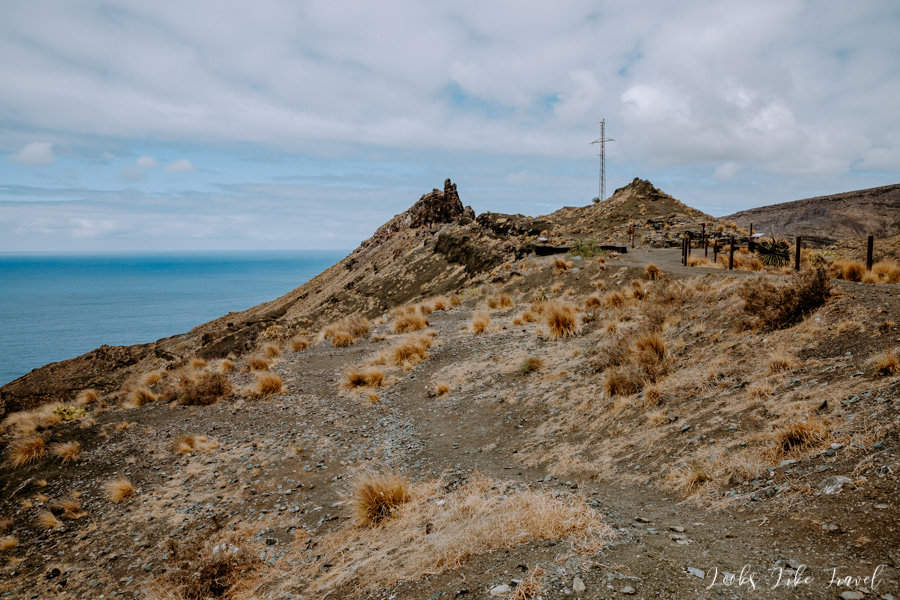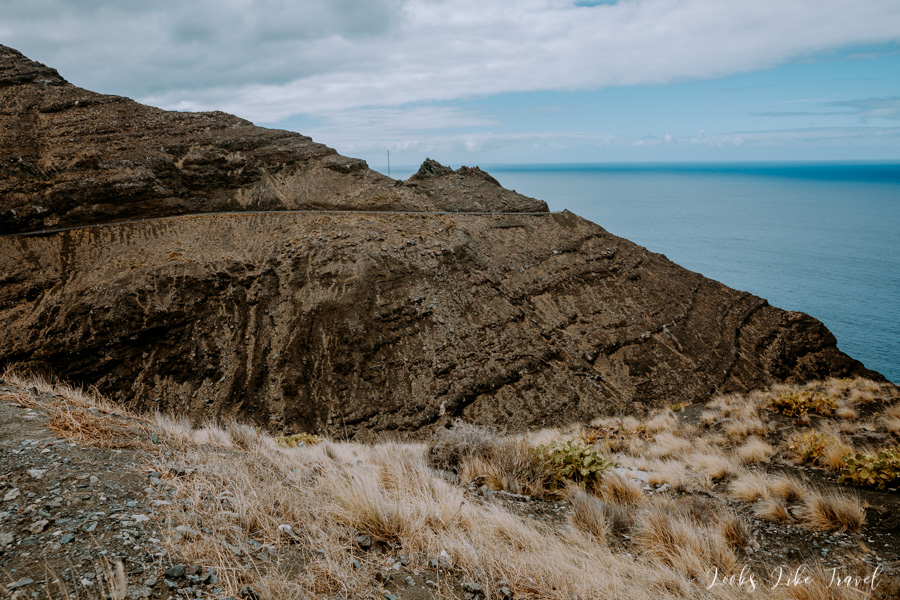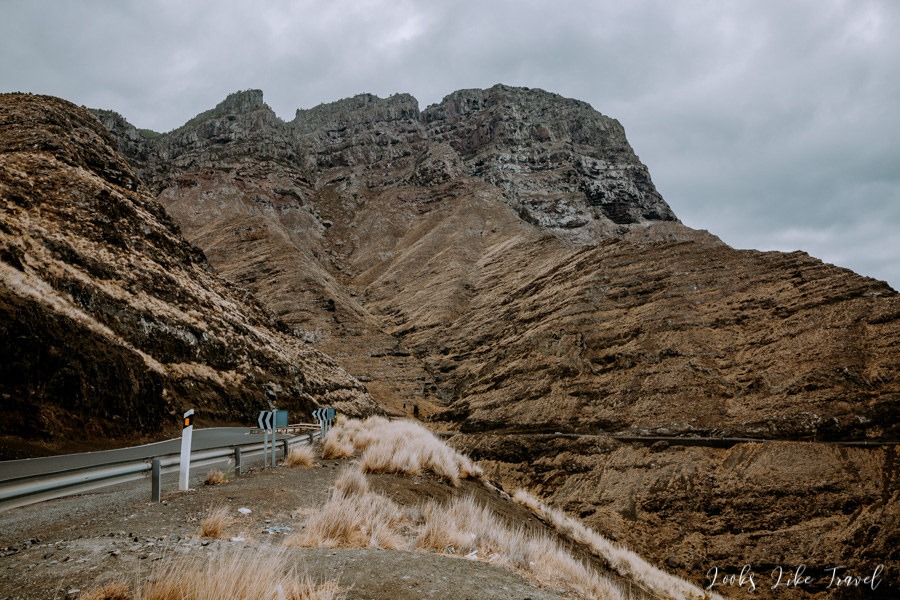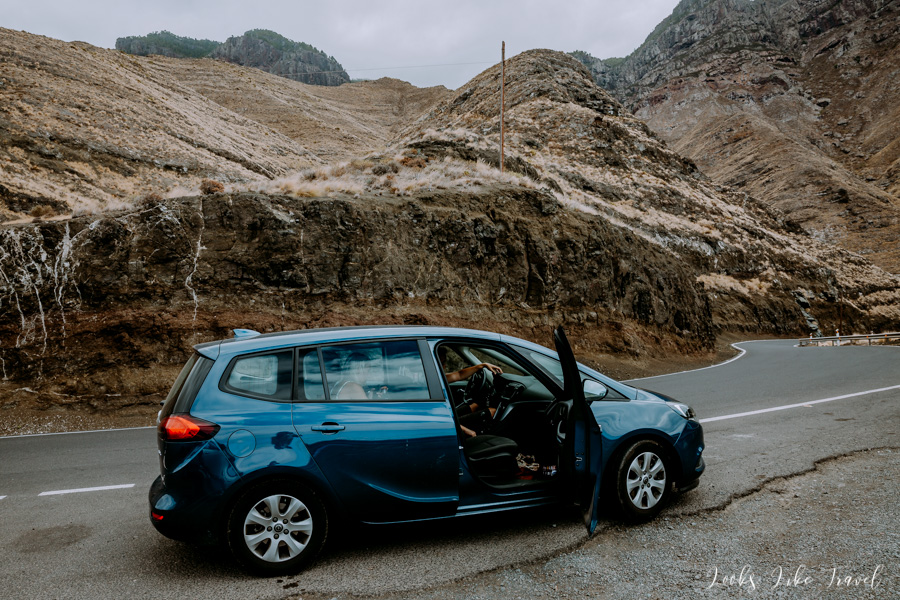 We continue along a route full of serpentines. There are more amazing natural landscapes ahead of us. We also pass the first charming, small villages.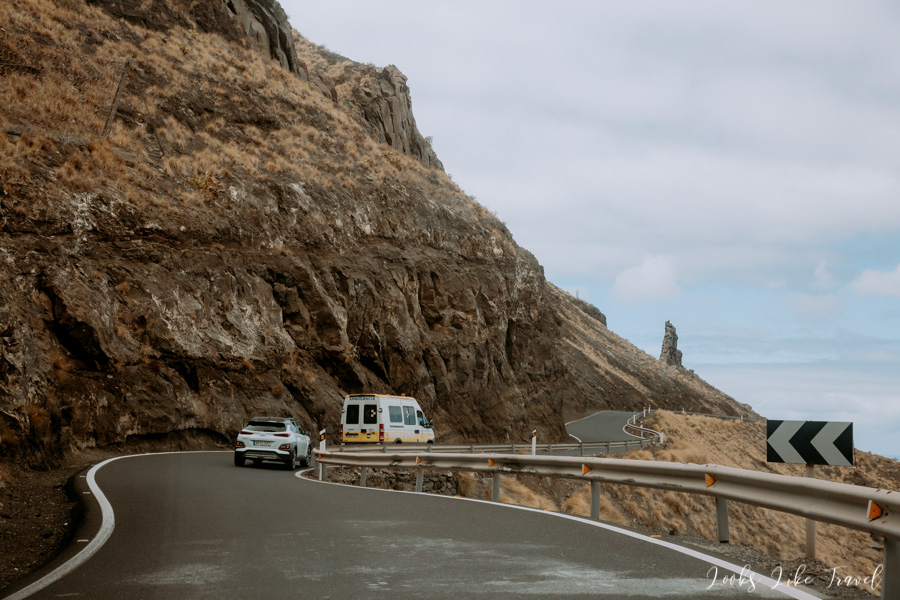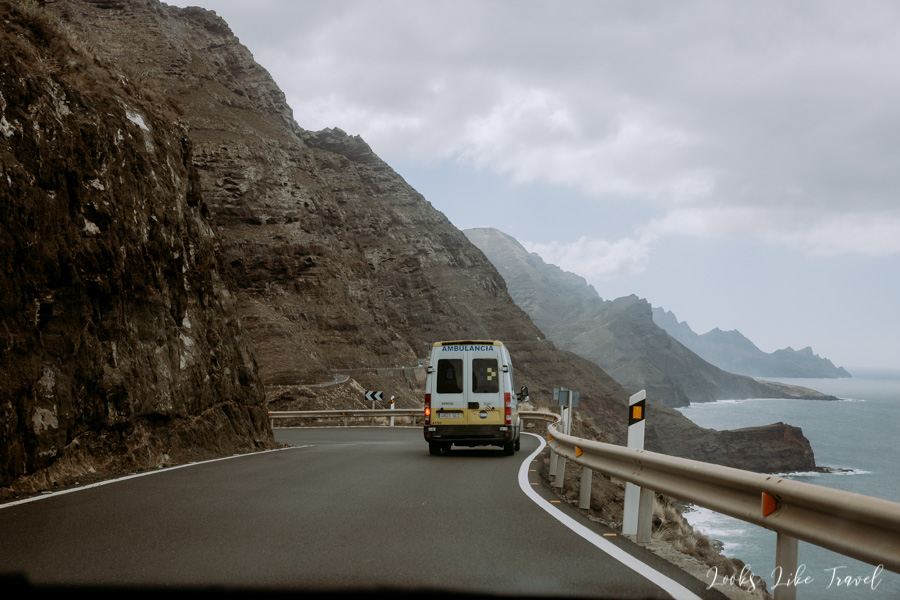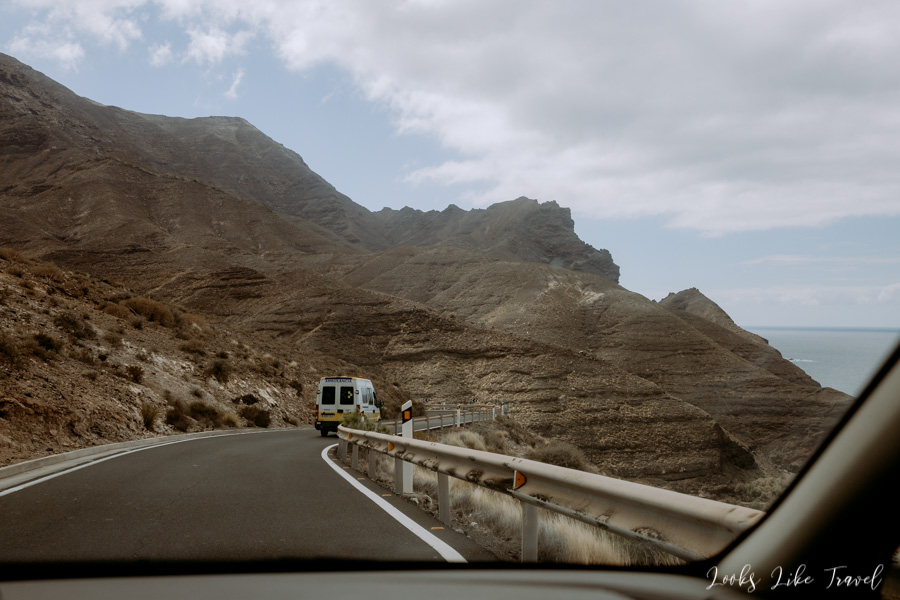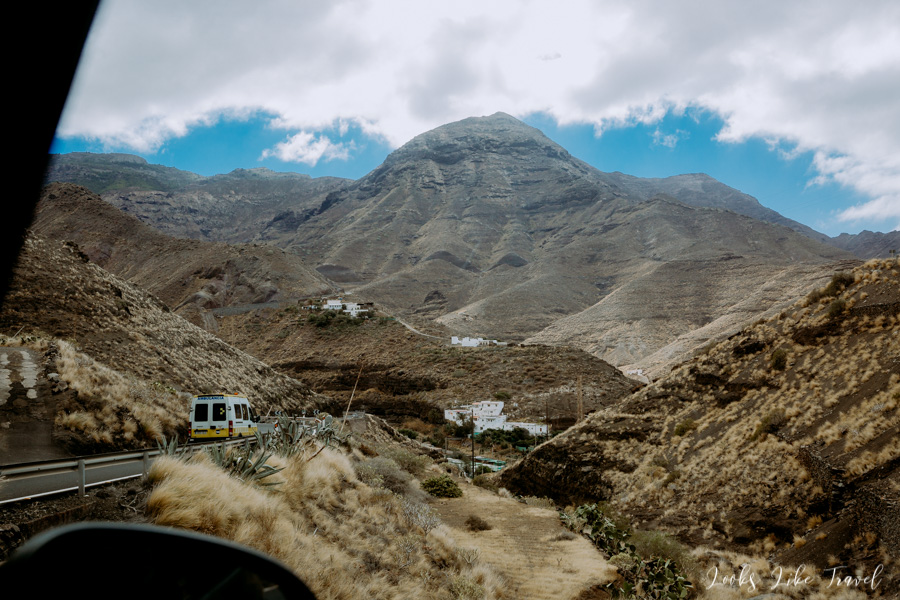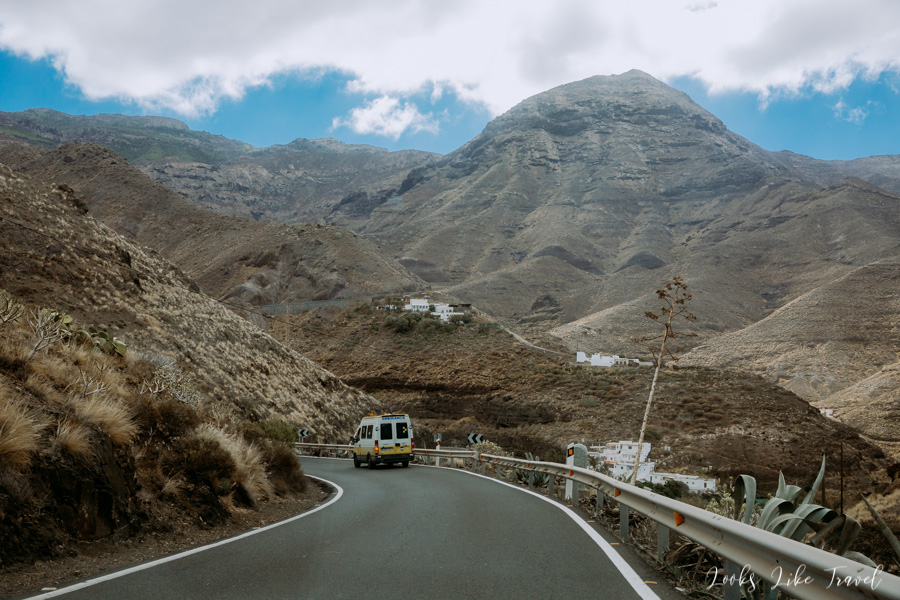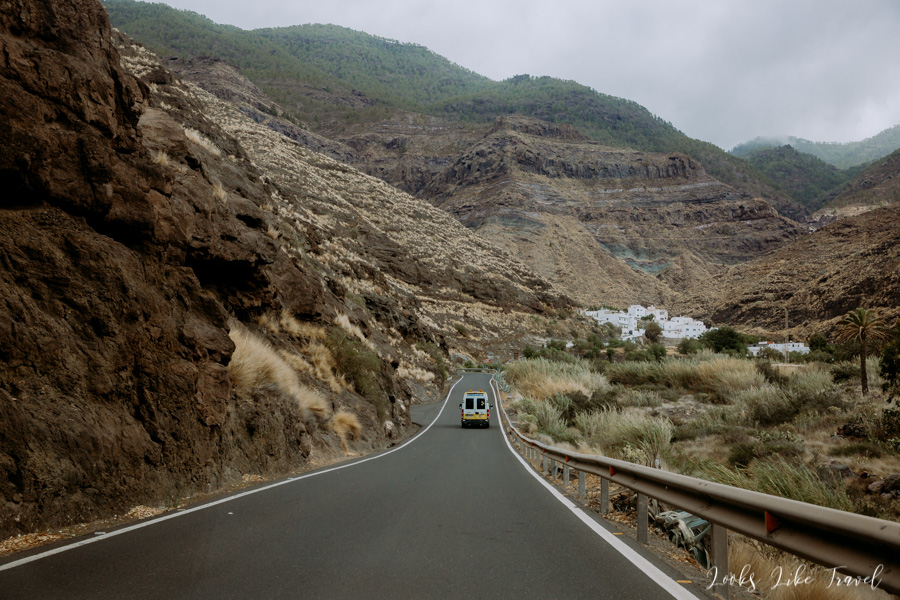 Finally, we reach our destination – the village of El Risco, where we want to see the lake Charco Azul. Only locals can enter the village itself, so I recommend to leave the car in a marked car park near the restaurant.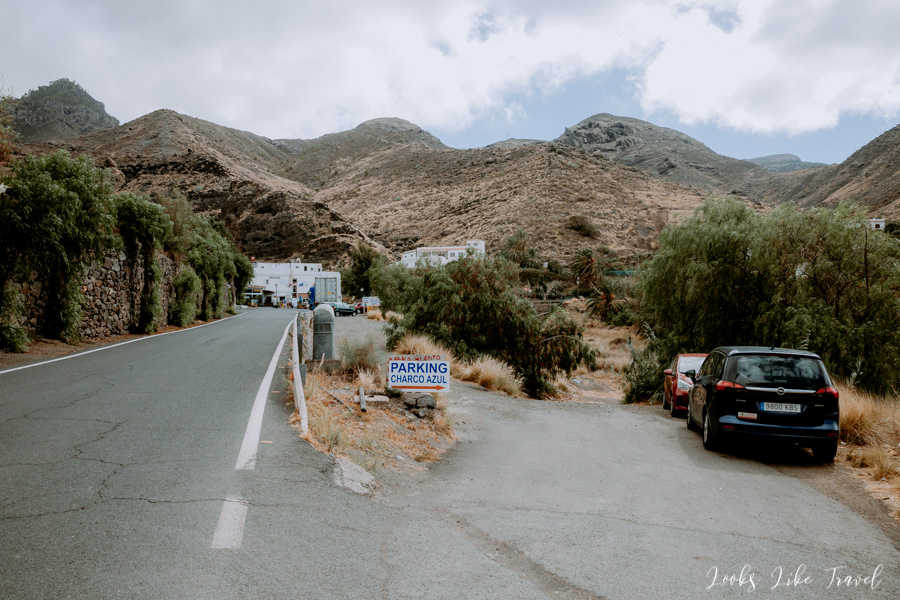 El Risco
We cross the street and go up the road to El Risco. In order to get to the right trail leading to the lake we have to go through the village. It's an advantage because it is beautiful here. Residents take great care of their place of residence. There are lots of greenery and flowers. Courtyards are well looked after. And all this on the background of nature and mountain landscapes give a great effect.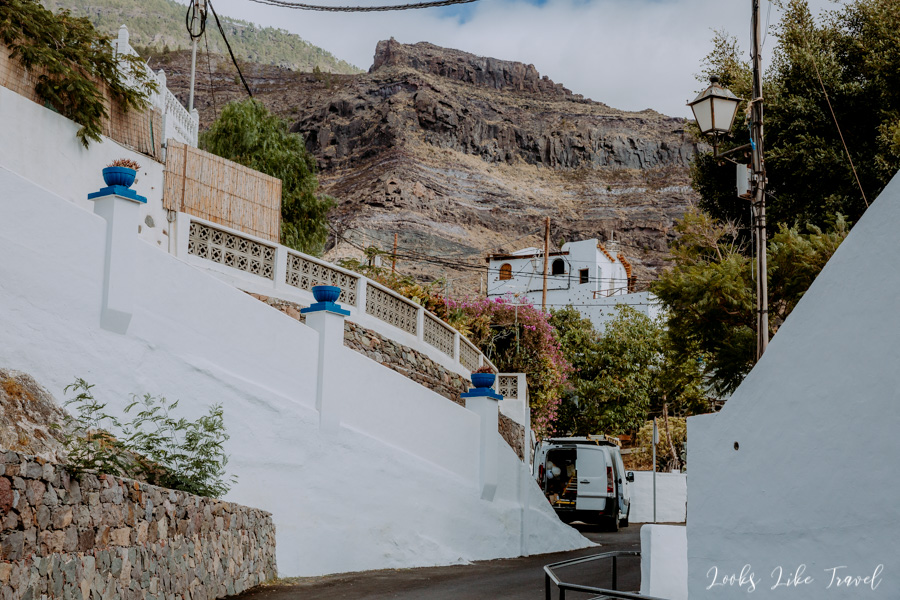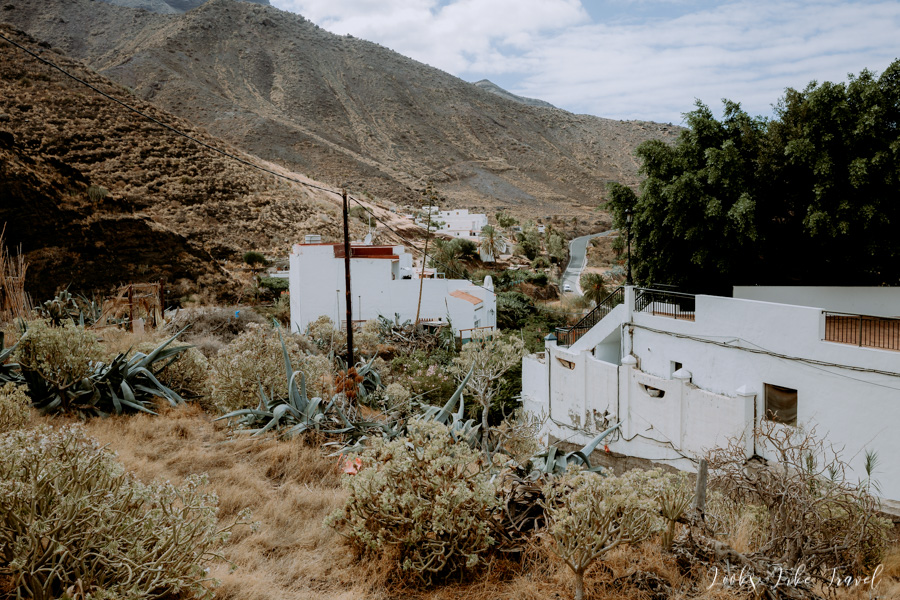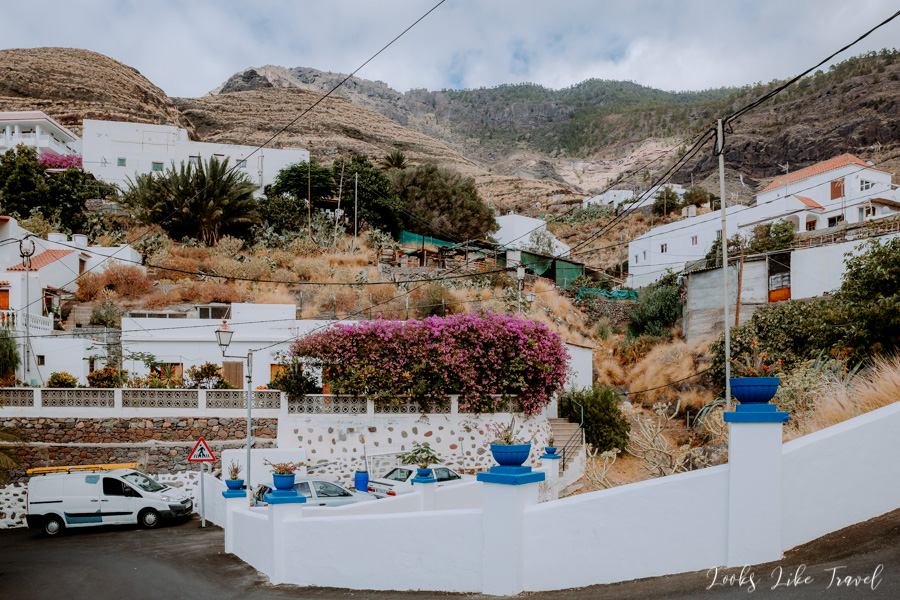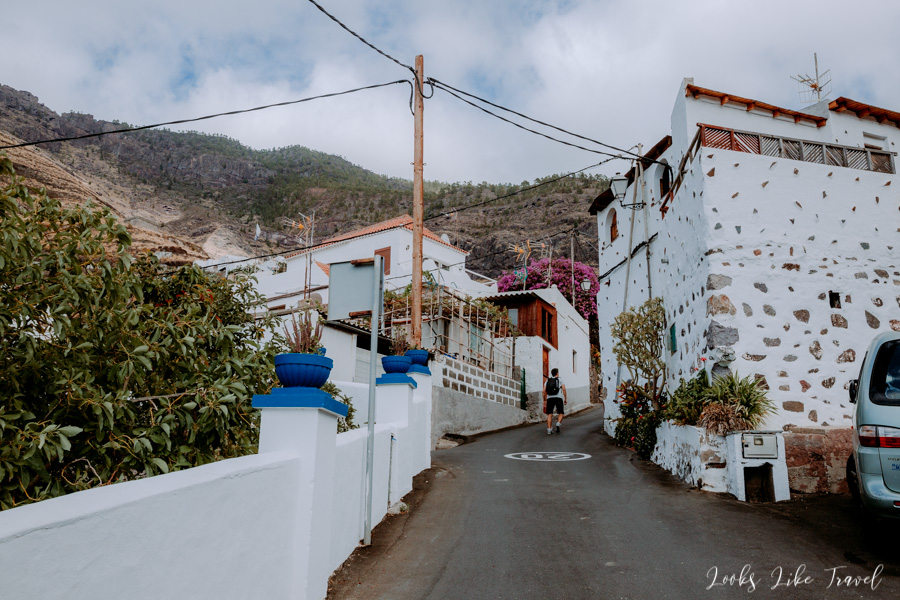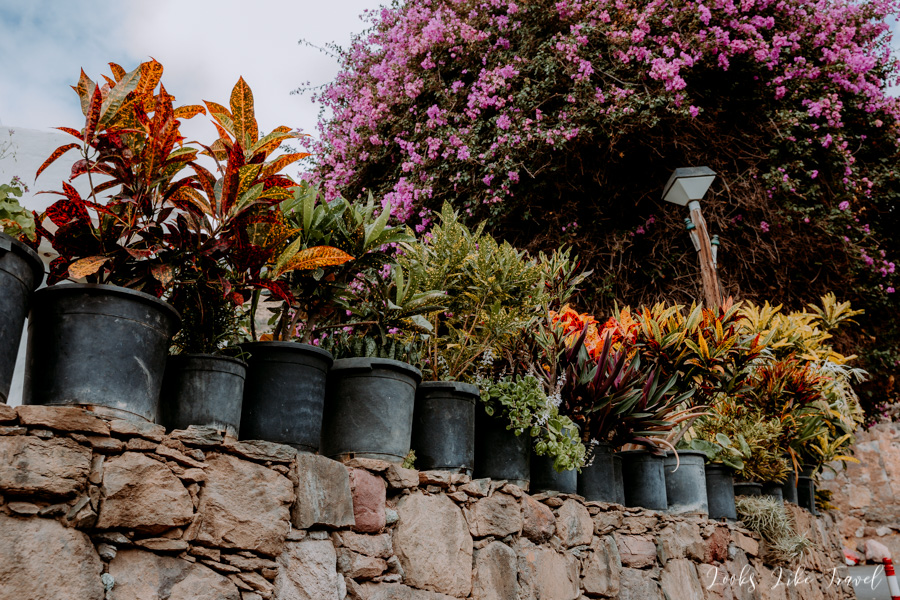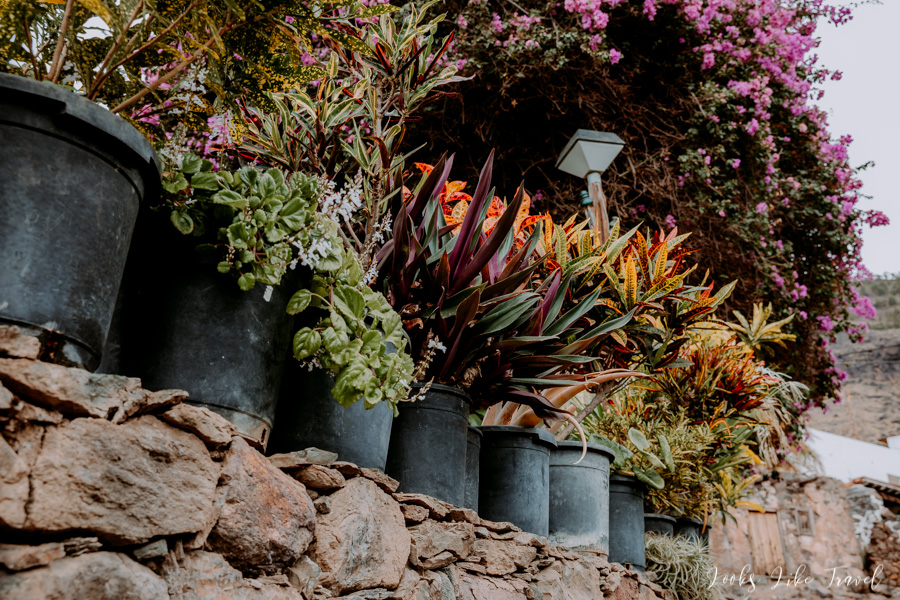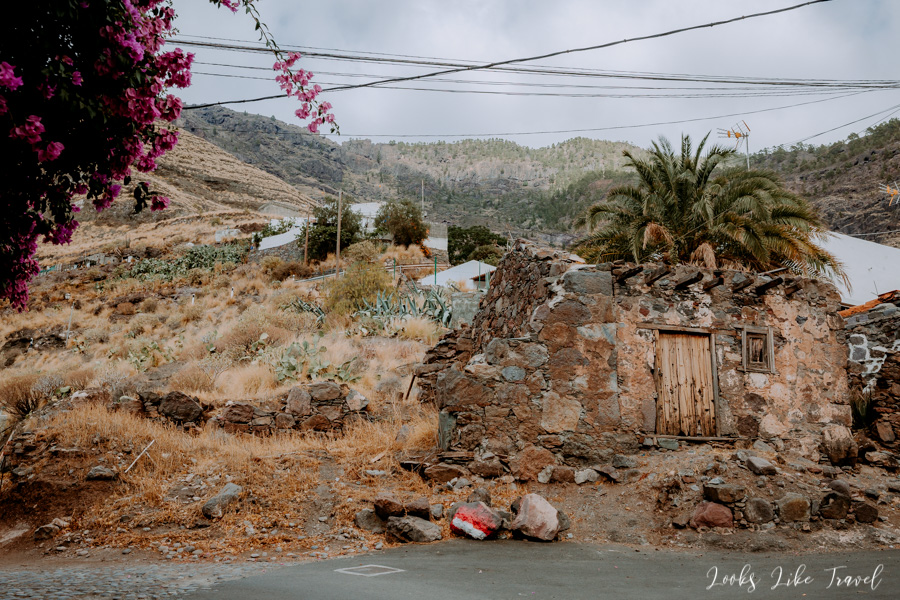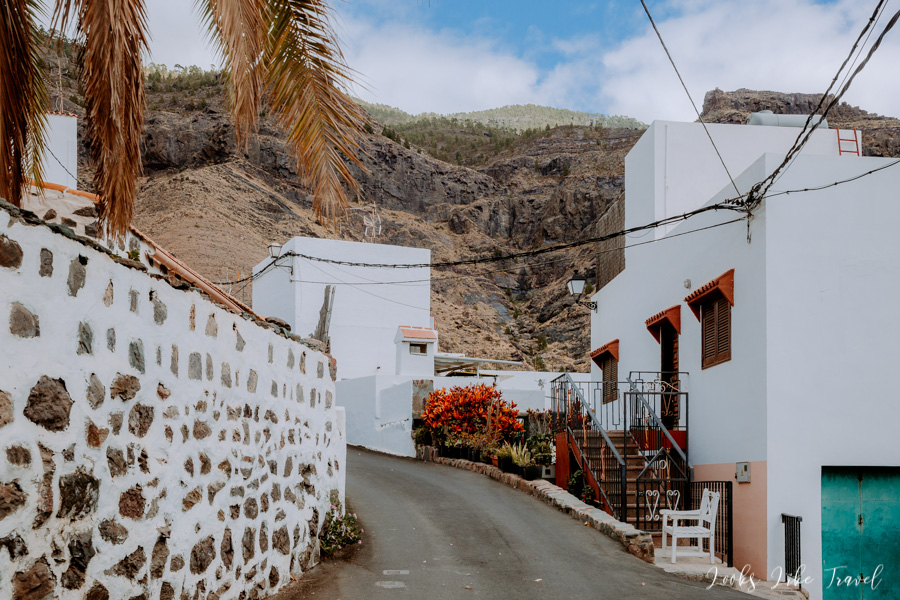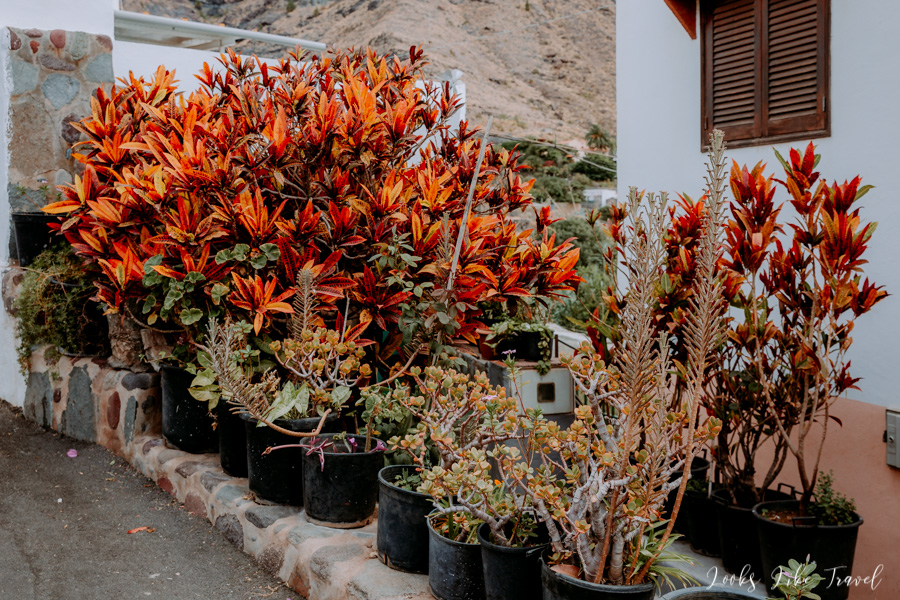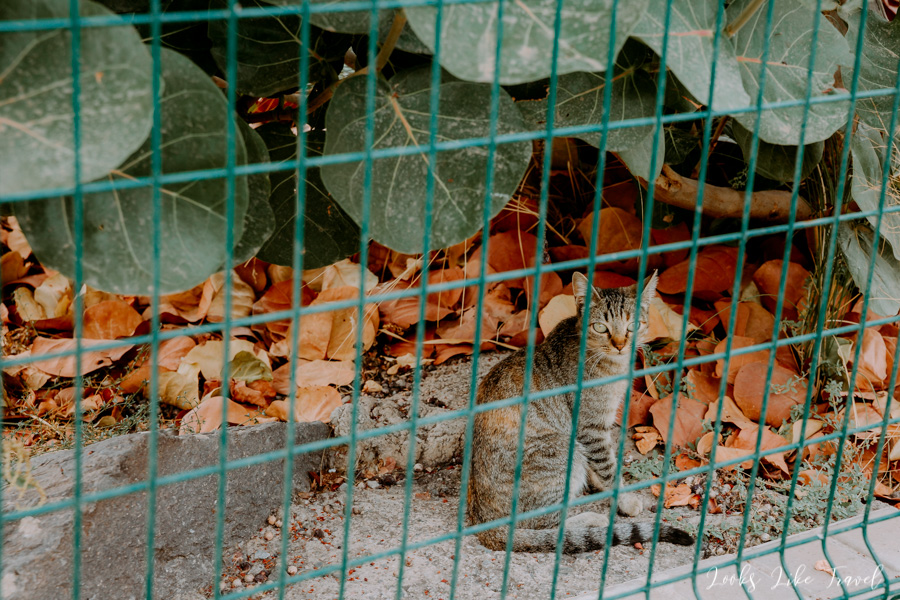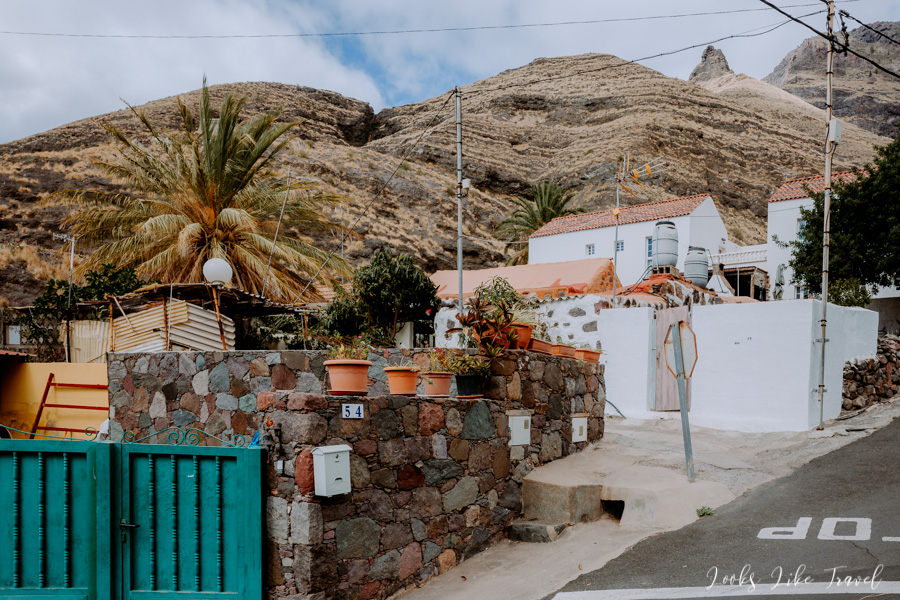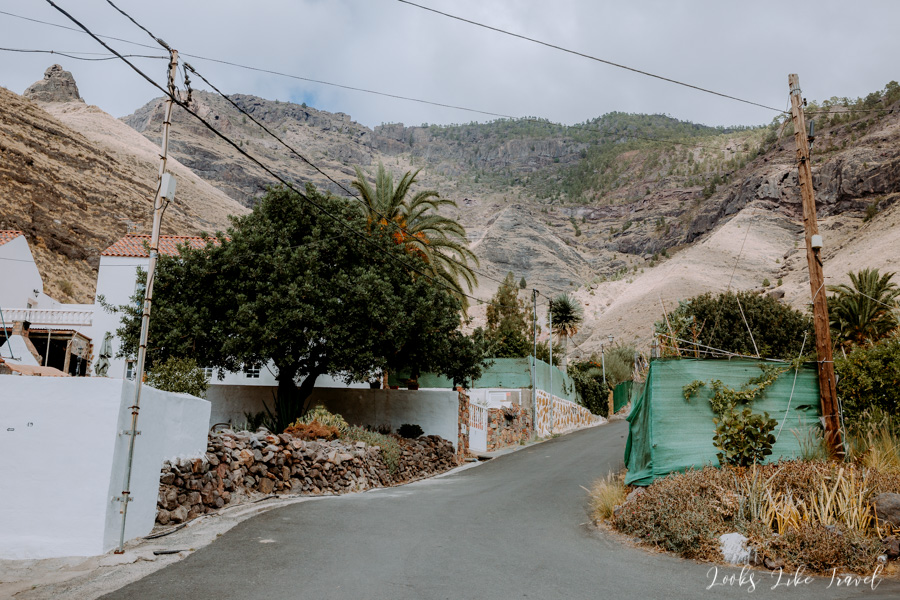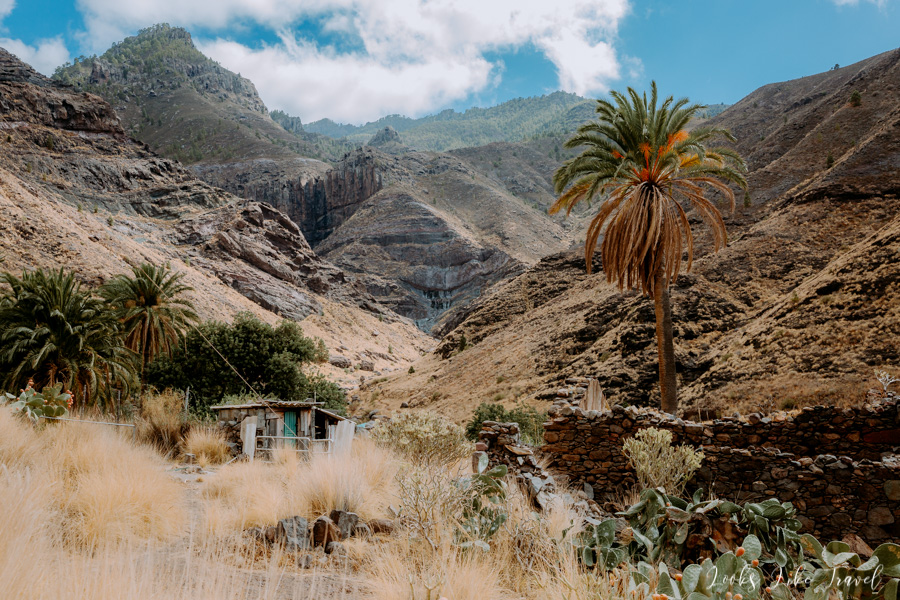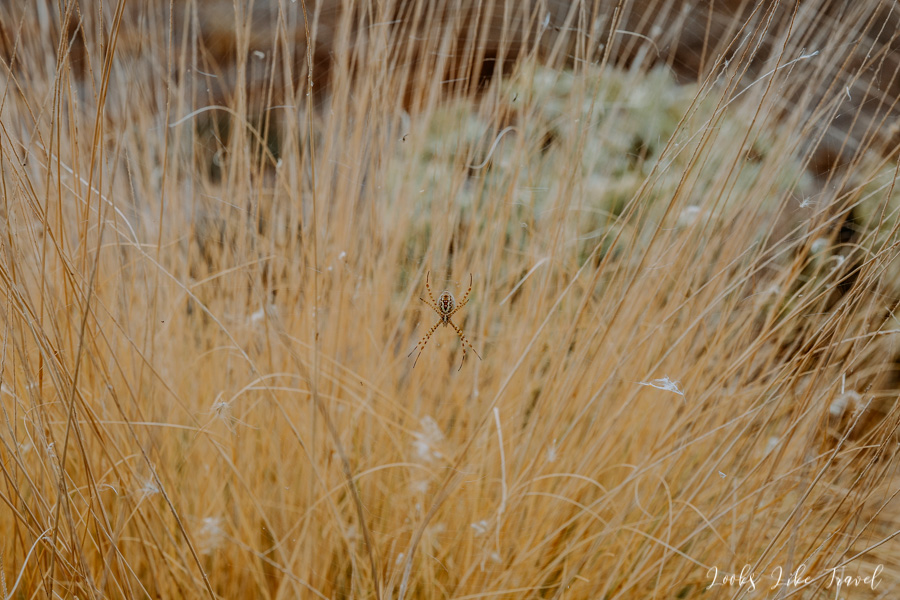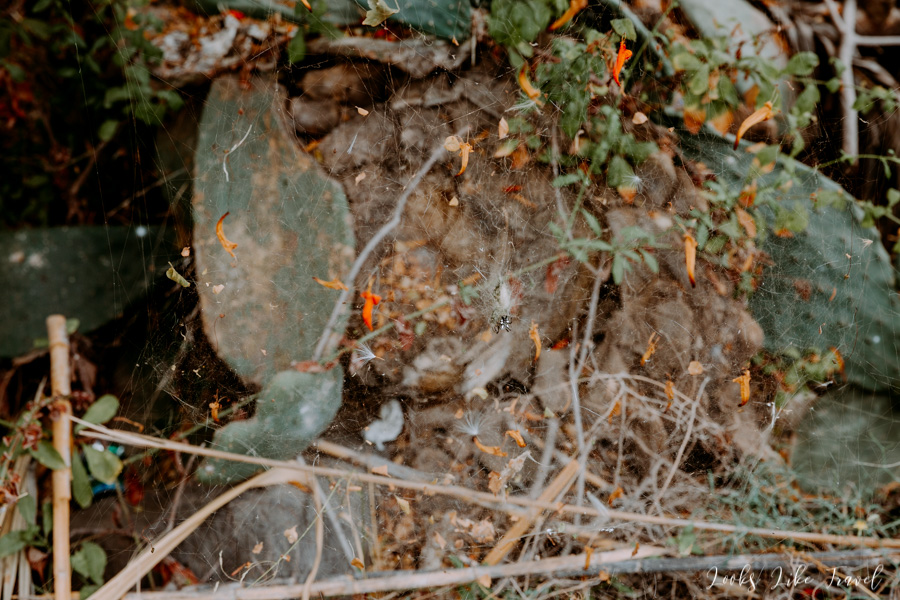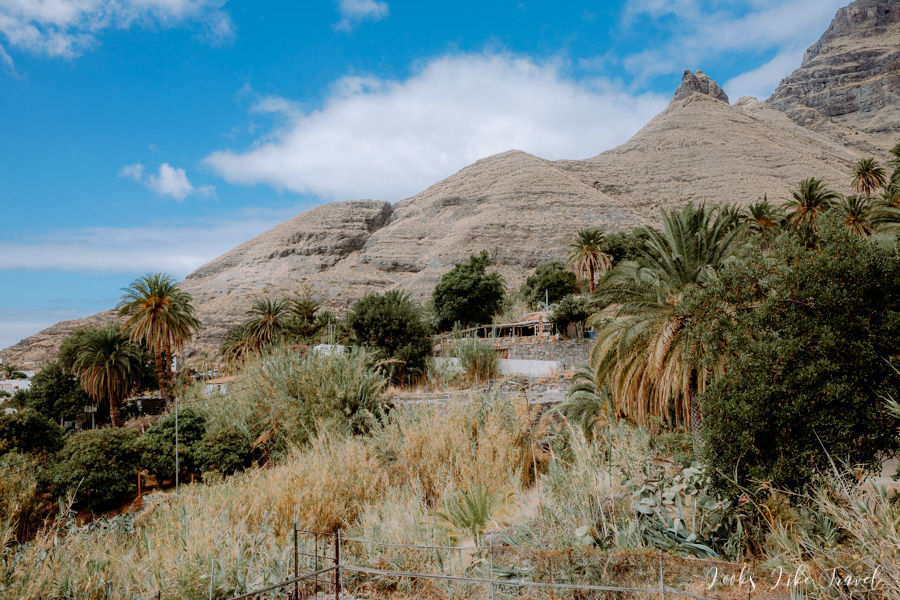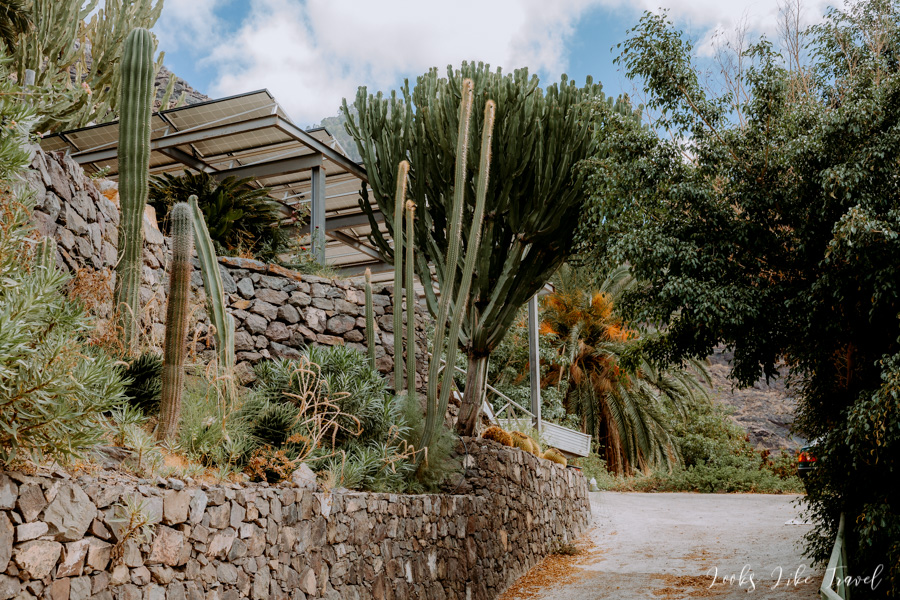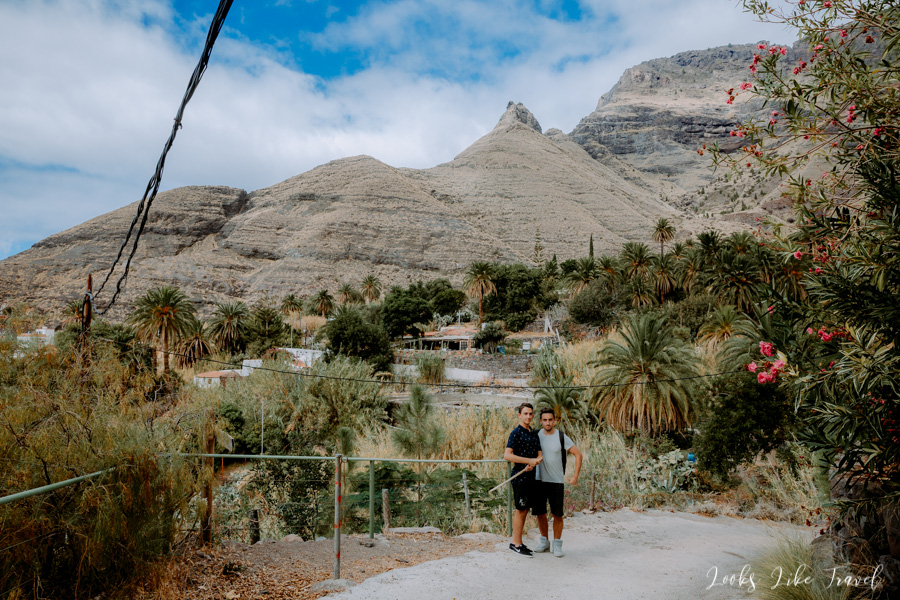 Charco Azul
In order to get to the path it is enough not to turn anywhere, go straight all the time until you see the first signpost leading to the lake. We come across the first sign right after crossing the bridge. The second and more important sign indicates that you have to turn right from the current route and go down the narrow path. We go in this direction and in a moment we are in a thicket among bushes. I am a bit stressed by every step forward, because I am afraid that a spider or a snake will bite on me.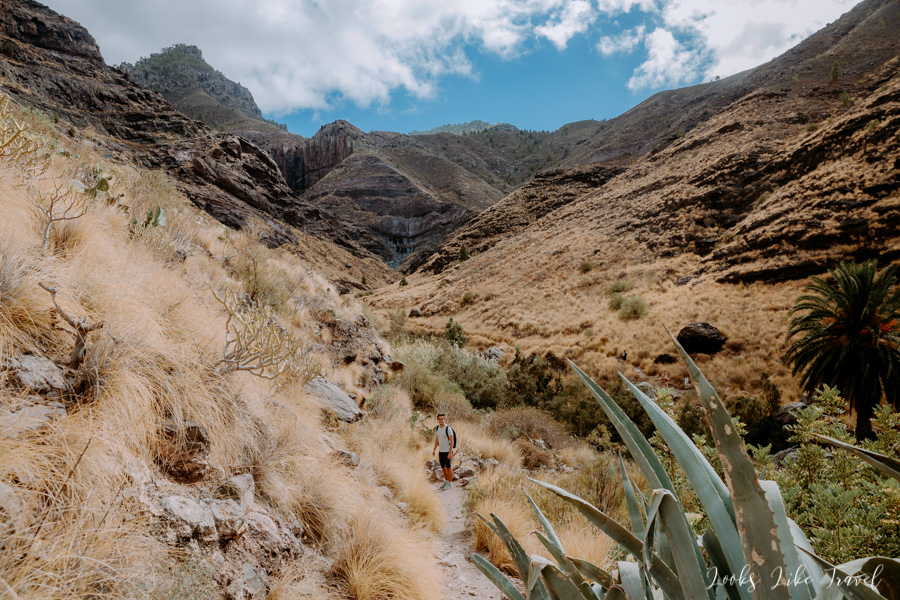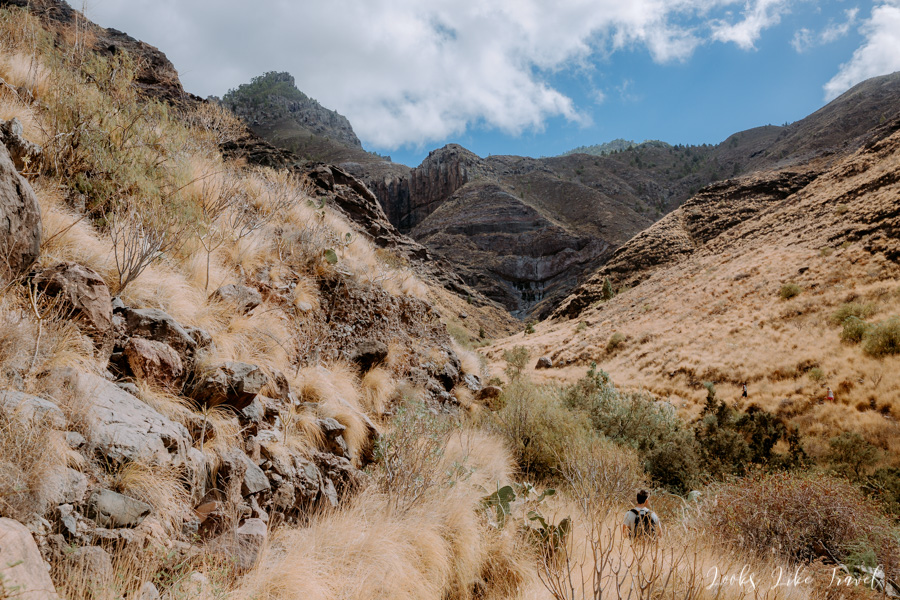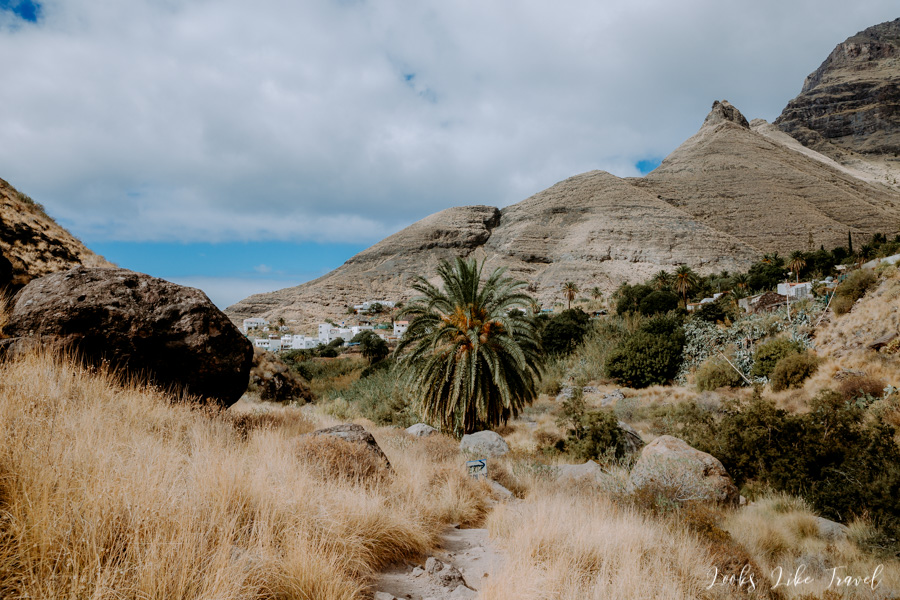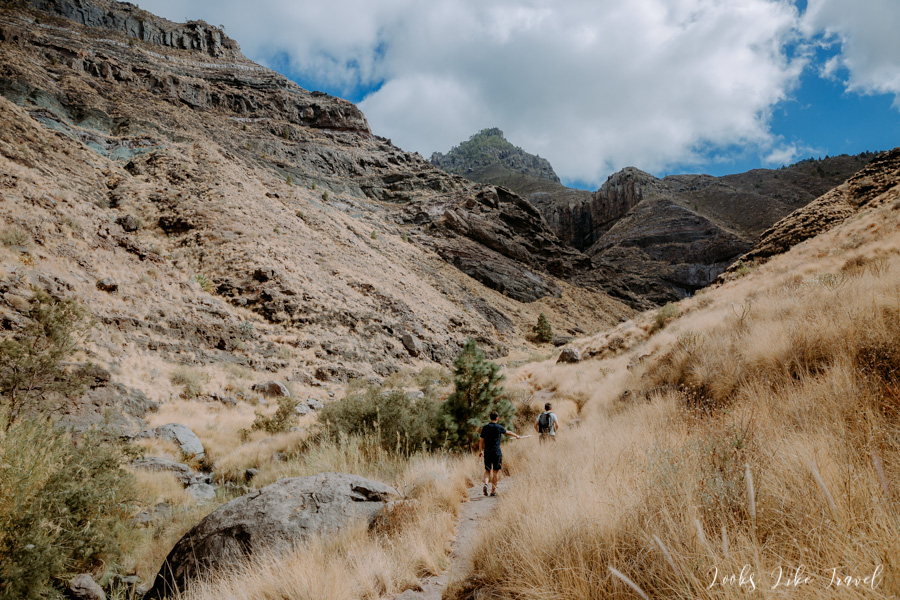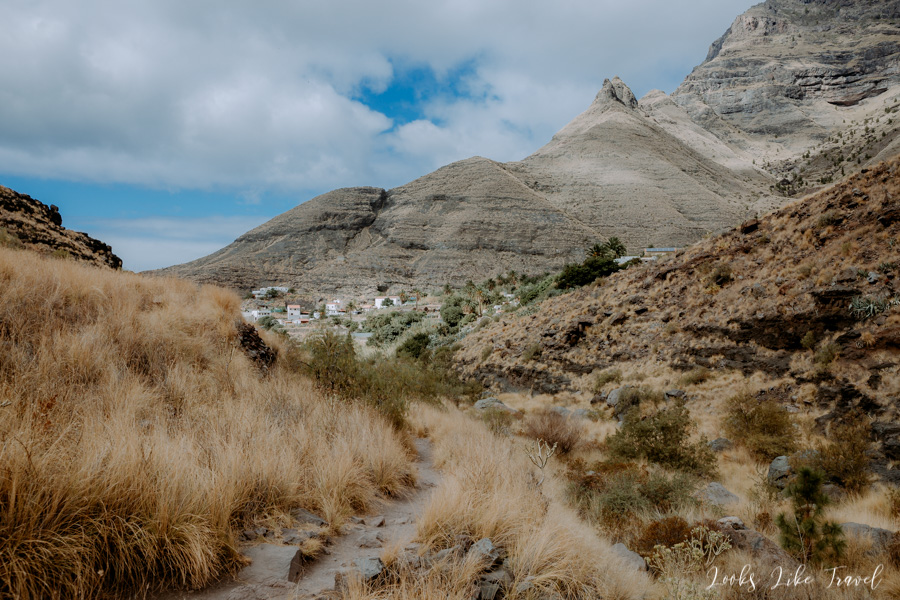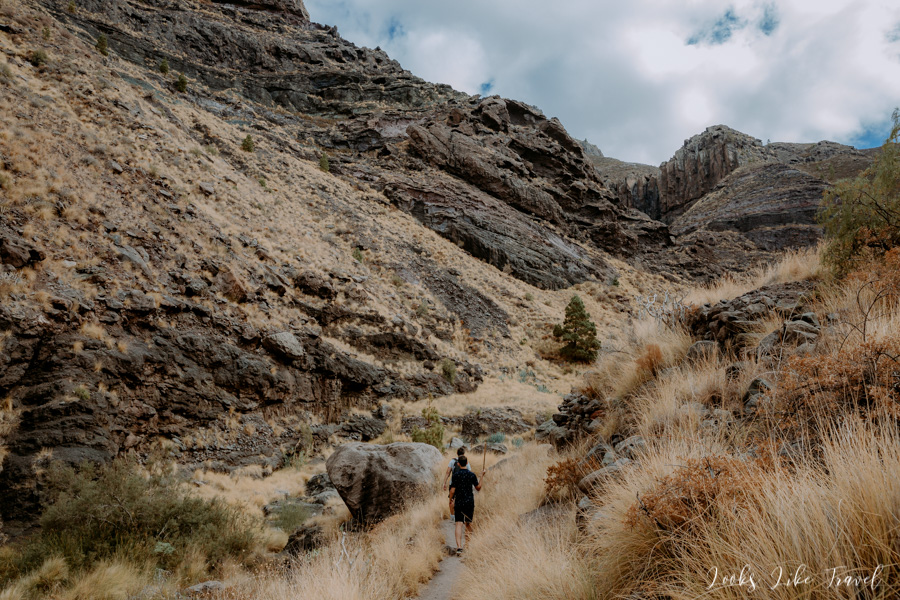 Fortunately, after some time the road widens. We also reach a place where we can see the remains of water – such white spots in the shape of flowing water on grey rocks. Unfortunately, not a trace of any liquid, only a large drought.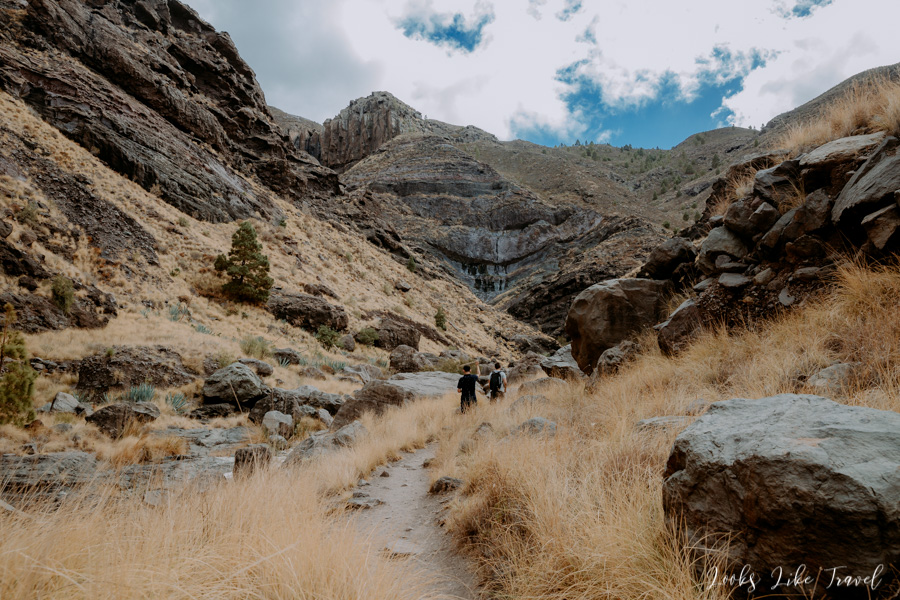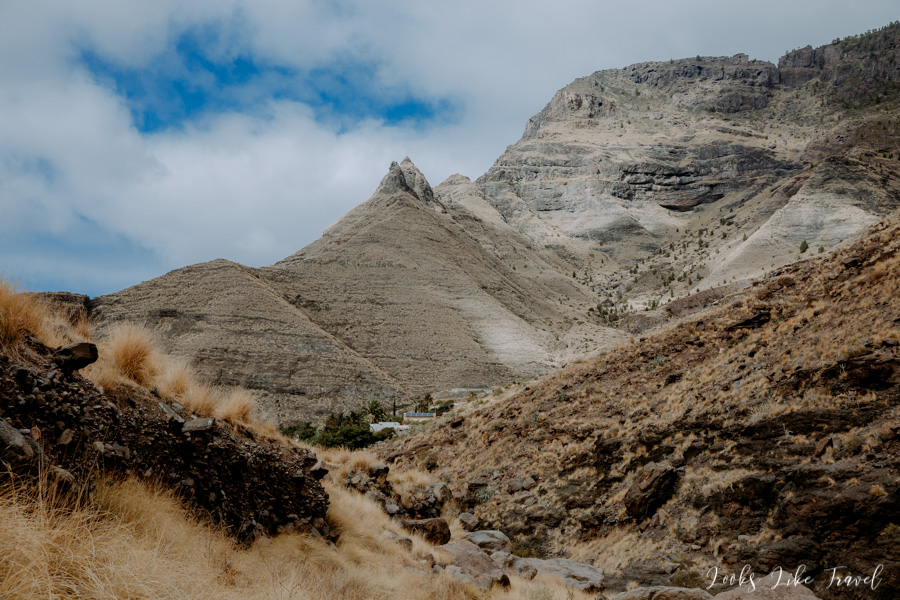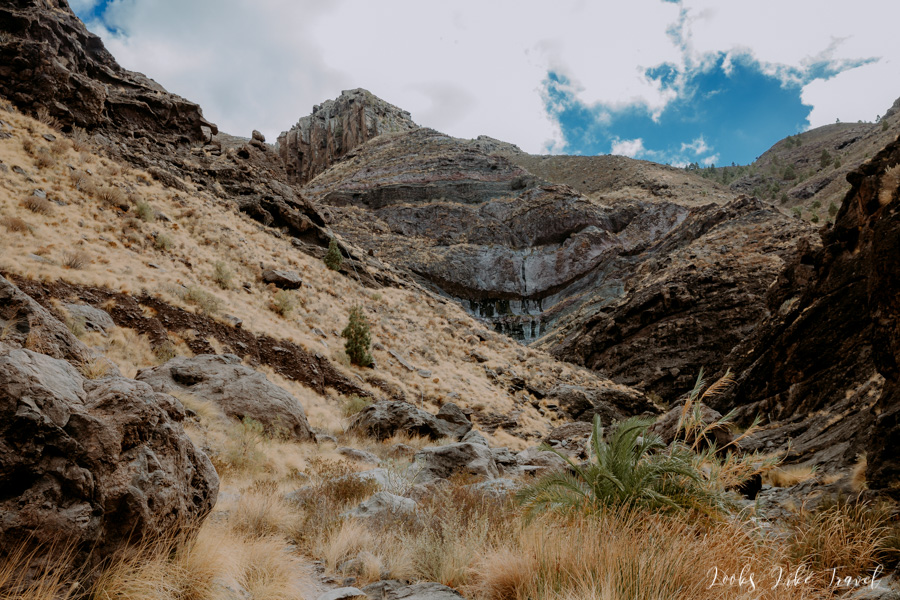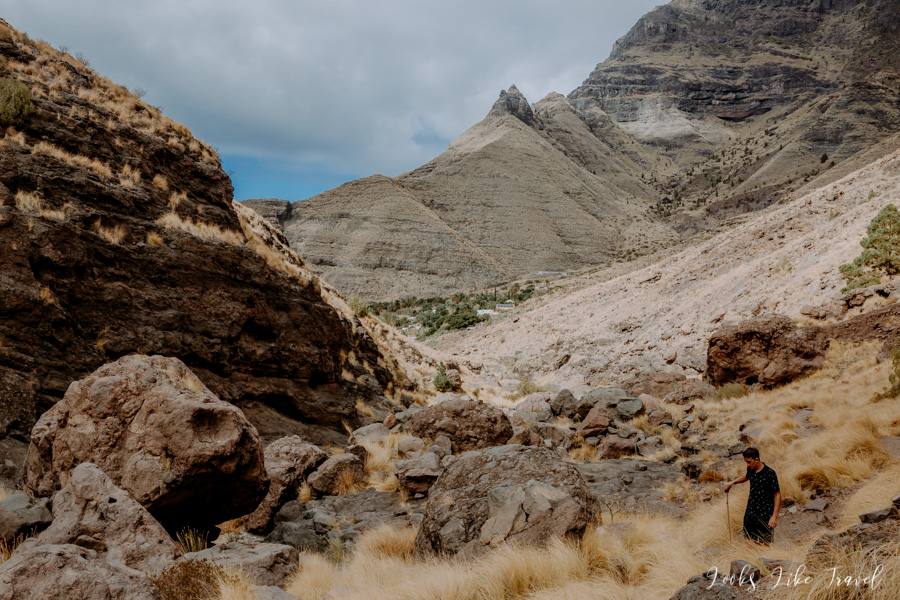 We reach the end of the route. We are sure that this is the expected lake Charco Azul. There is a bit of water, but we wouldn't call it a lake with a waterfall. We are not very surprised, because we have already noticed that it is very dry, but very disappointed. I was hoping to see a beautiful blue lagoon. This is how it is described on other travel blogs.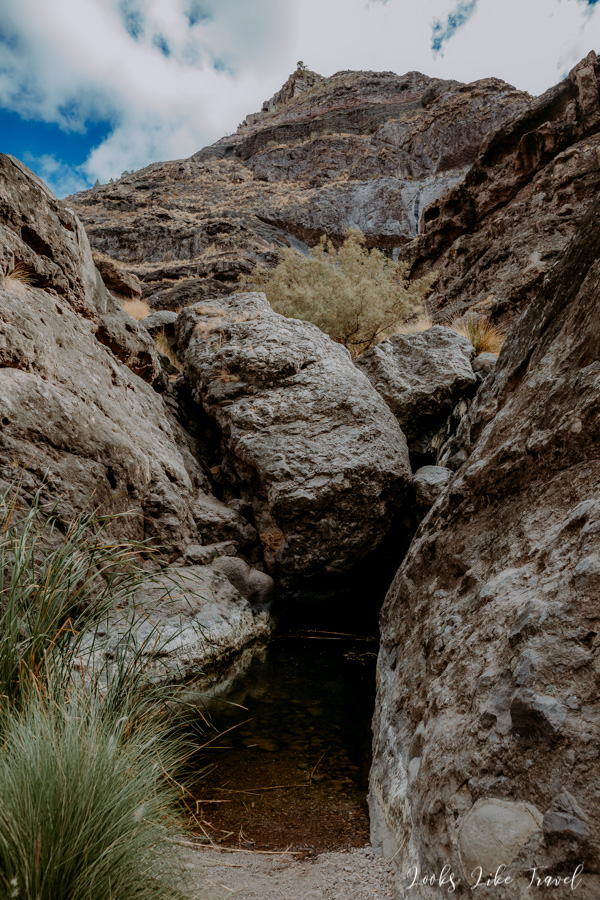 We turn back. At some point we notice two women walking behind us. We are a little surprised by this sight, because we didn't meet anyone at the "lake", so we don't know where they came from there. My parents-in-law are going a bit faster, much ahead of me, Wojtek and Tomek so I don't have much time to think about it. When we talked later together at dinner we came to the conclusion that there was probably a further part of the path, which none of us saw and which led to a lake with a waterfall. It was a bit hard to believe, because the route seemed to end in the place we reached.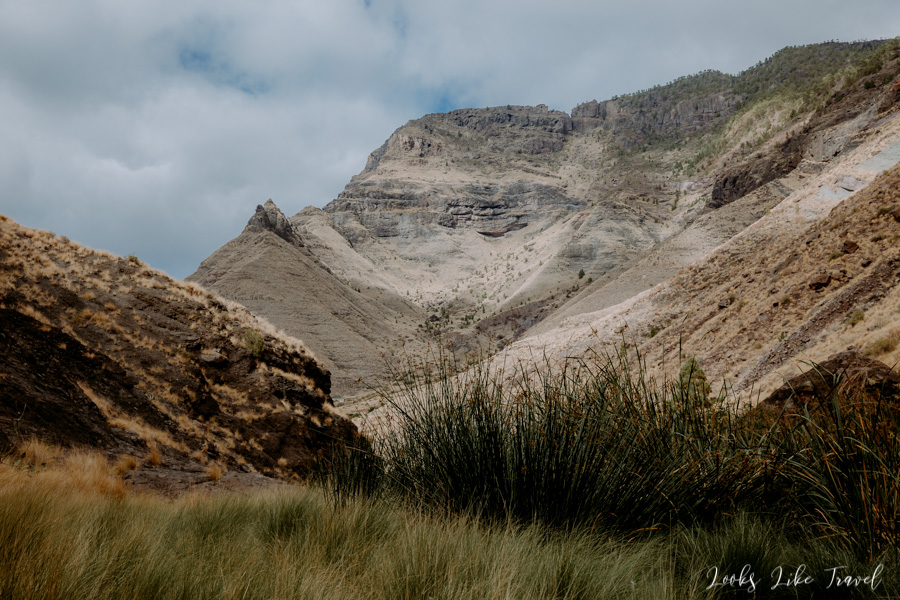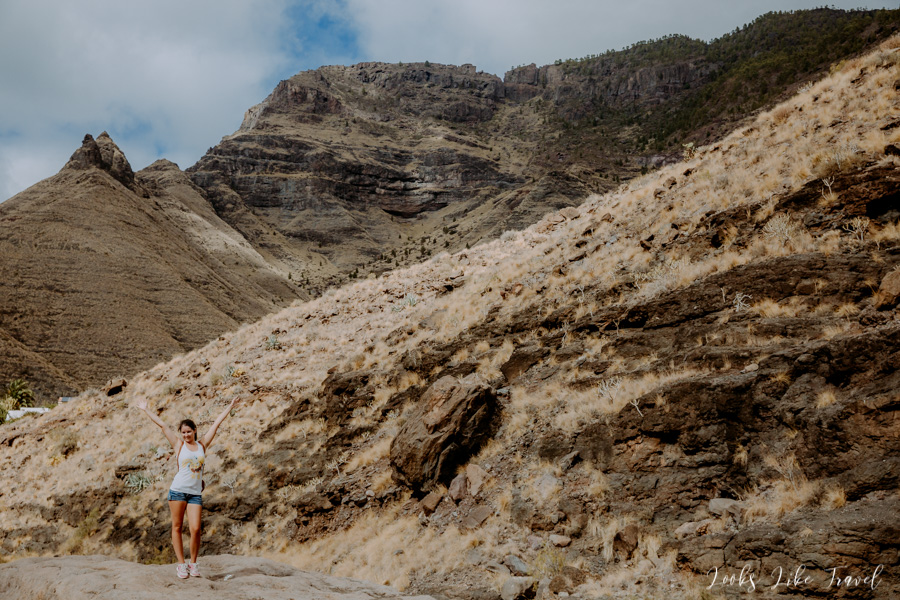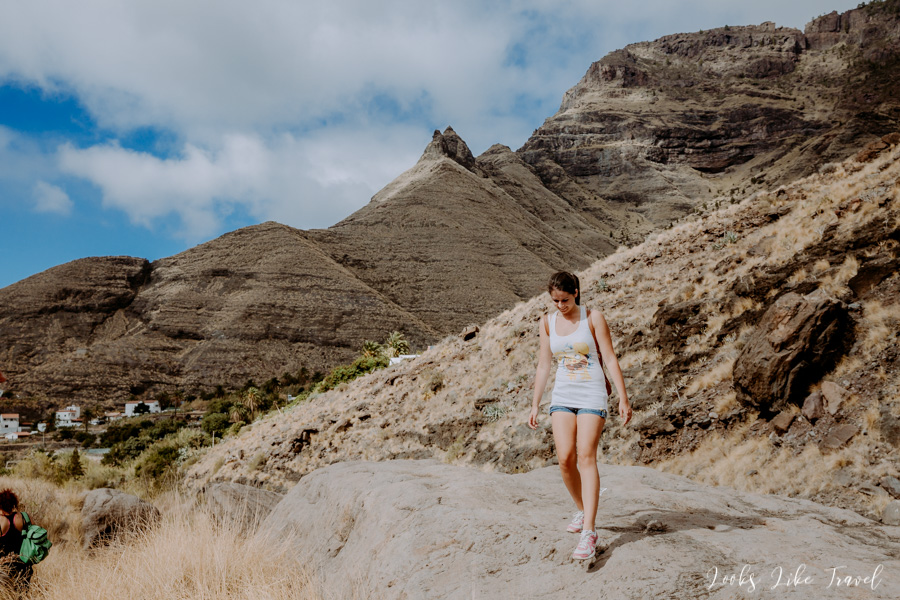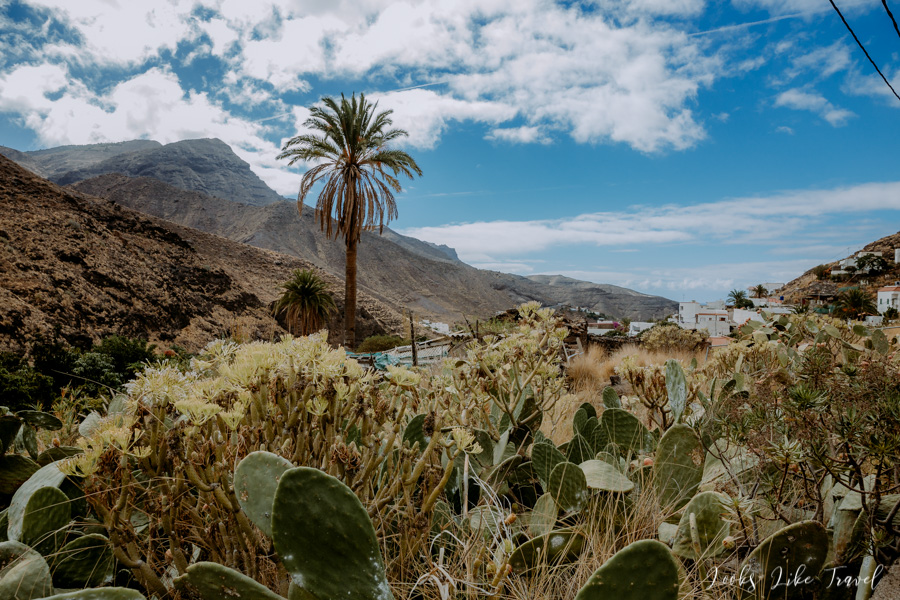 We return to the car taking the same way. Once again we pass wonderful vegetation and pass through the village. This is another chance to take great pictures.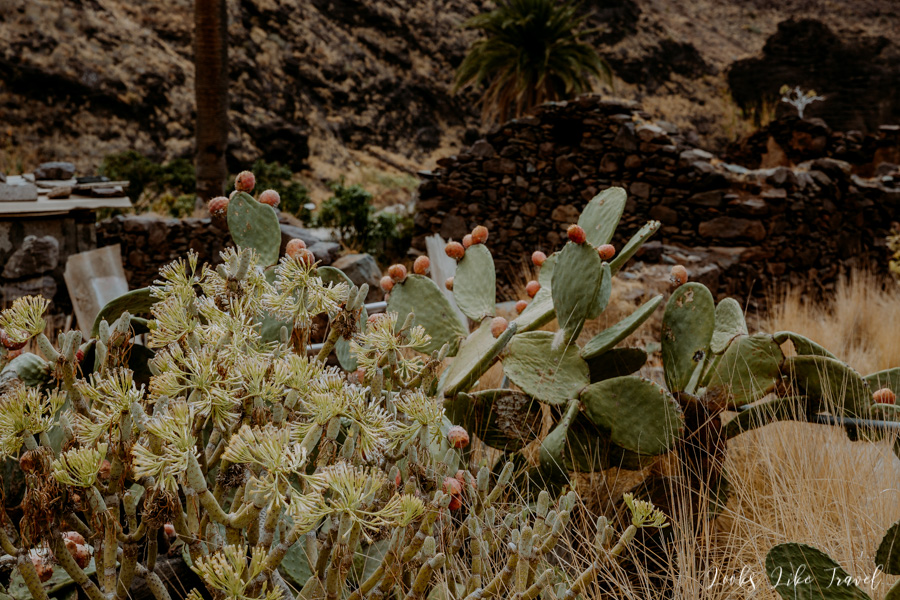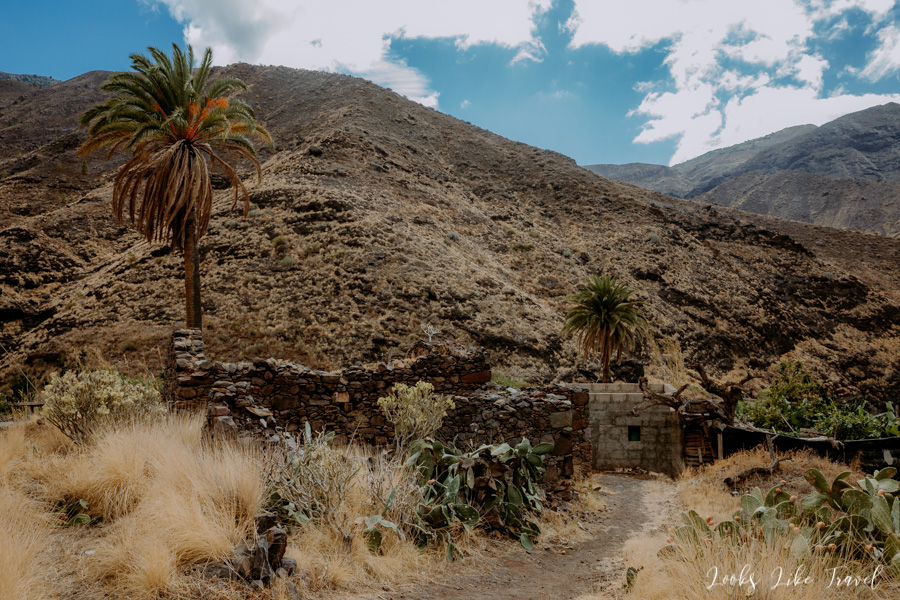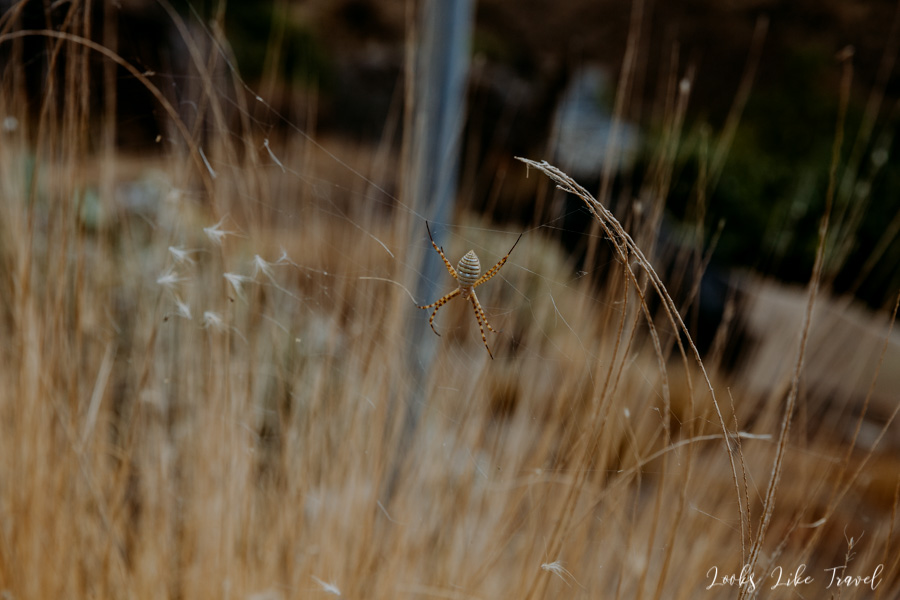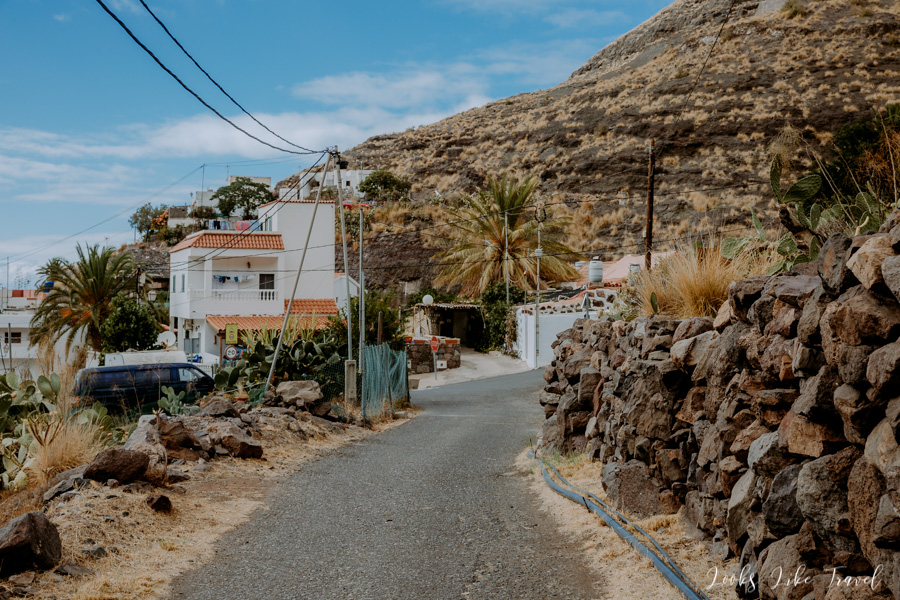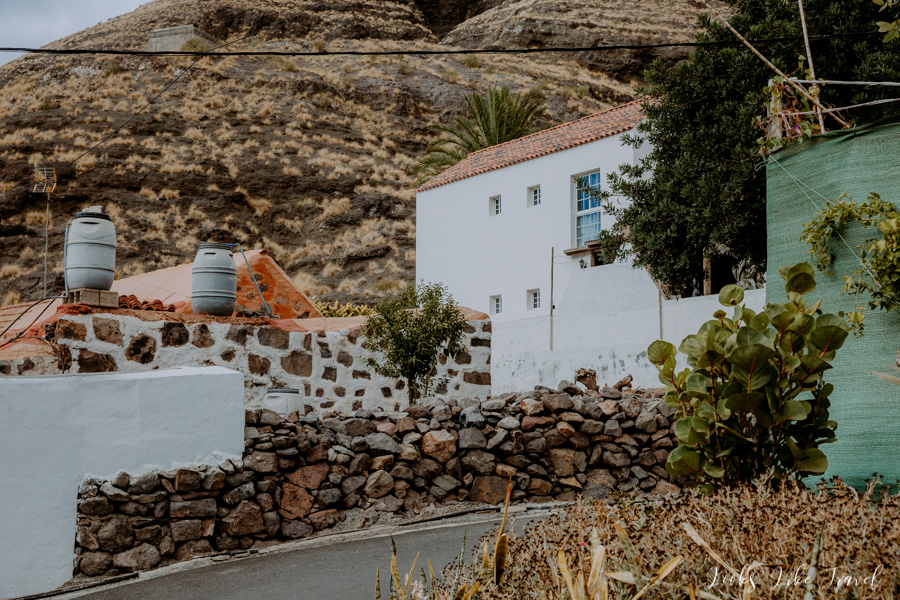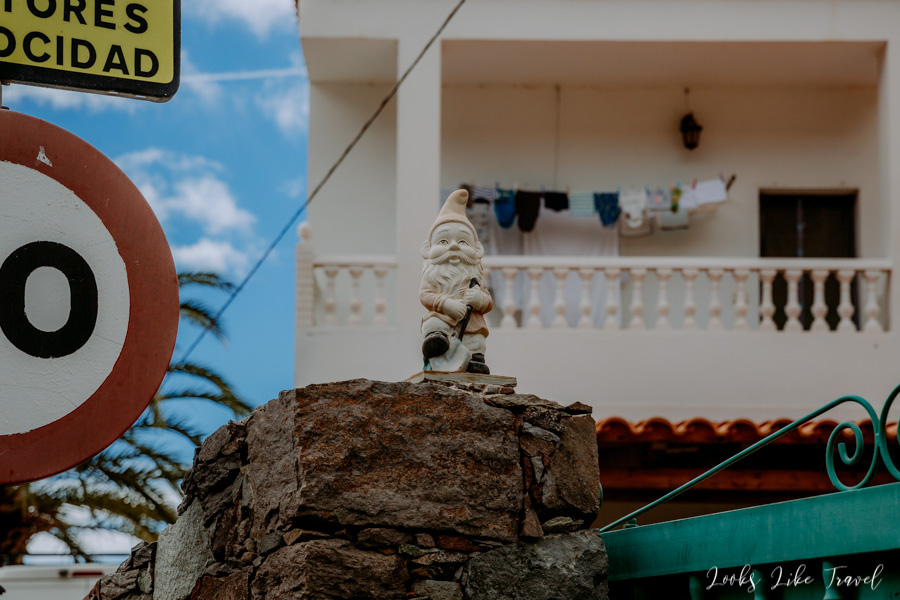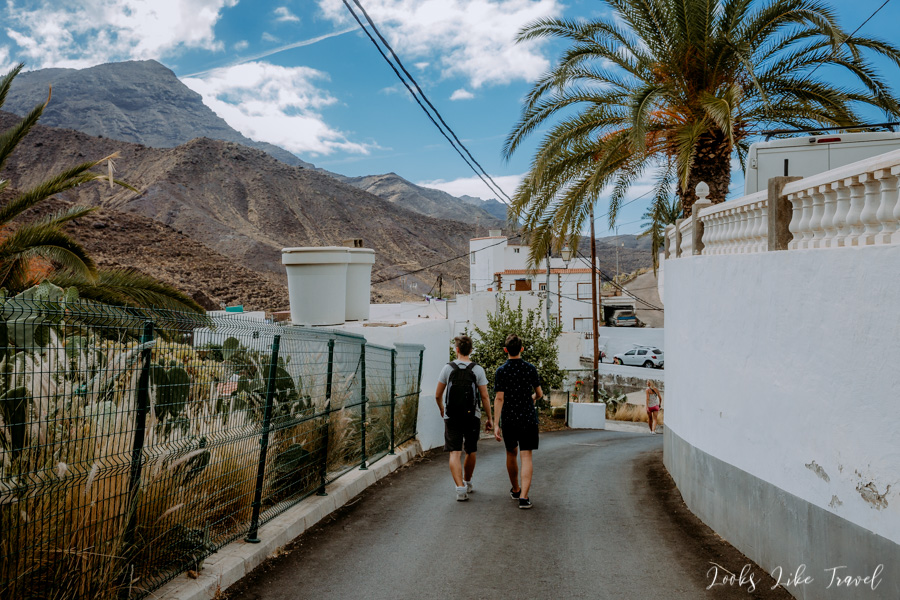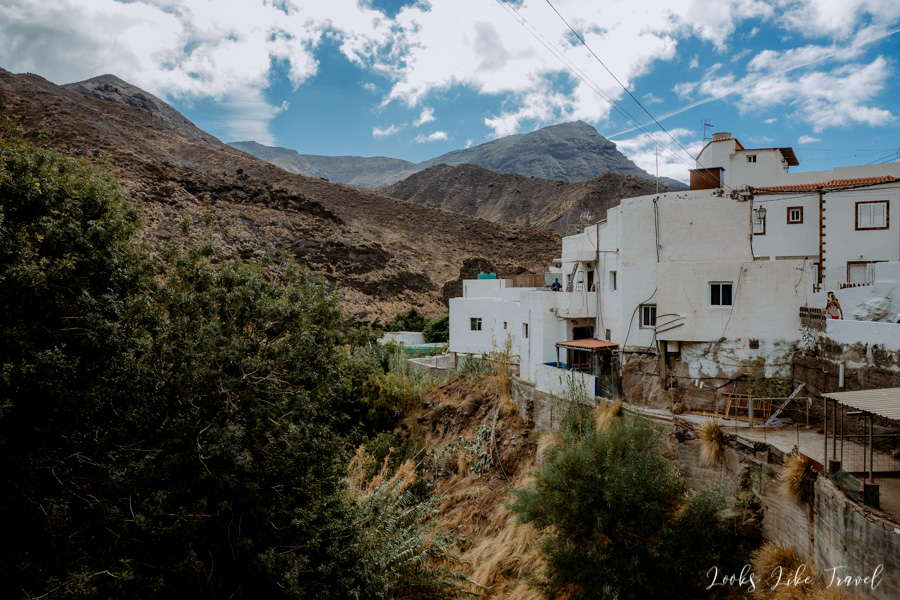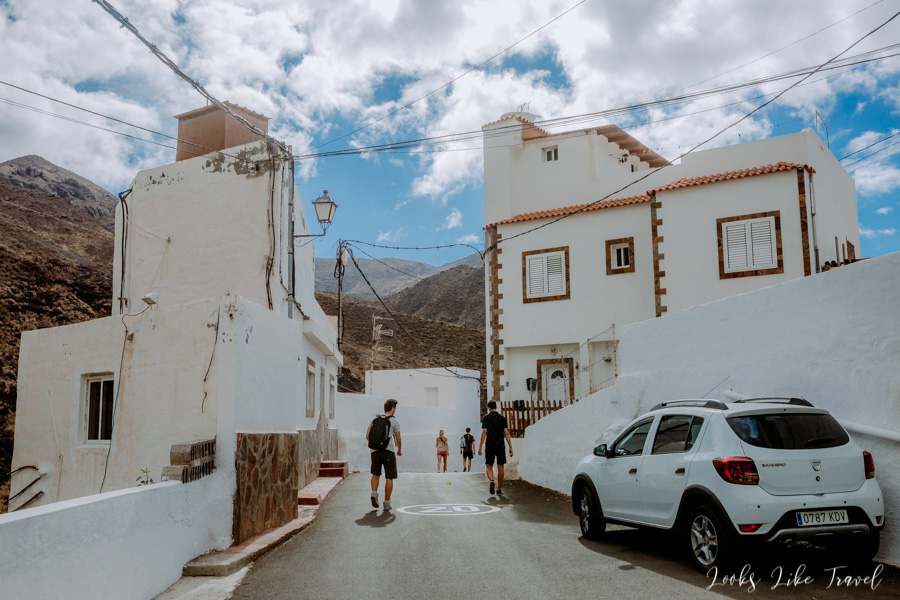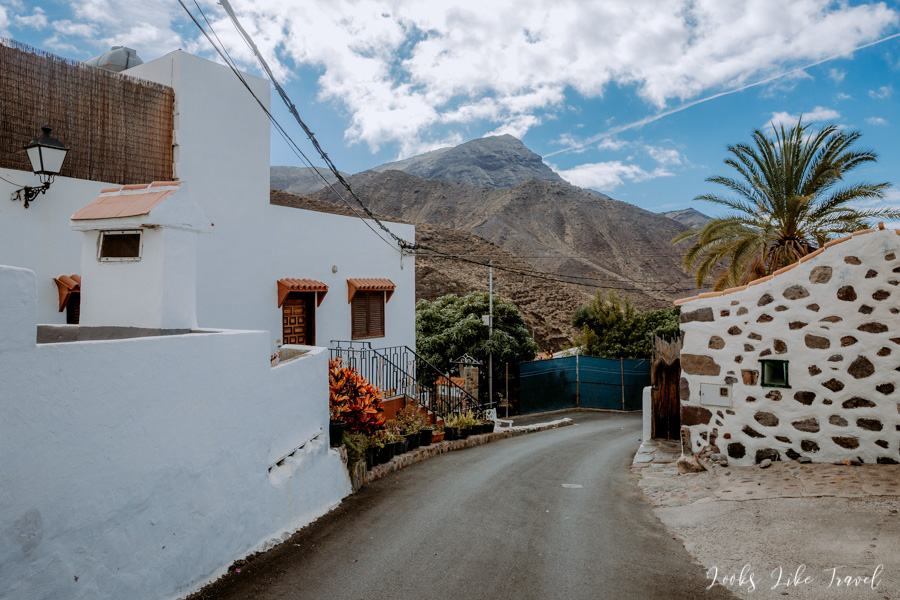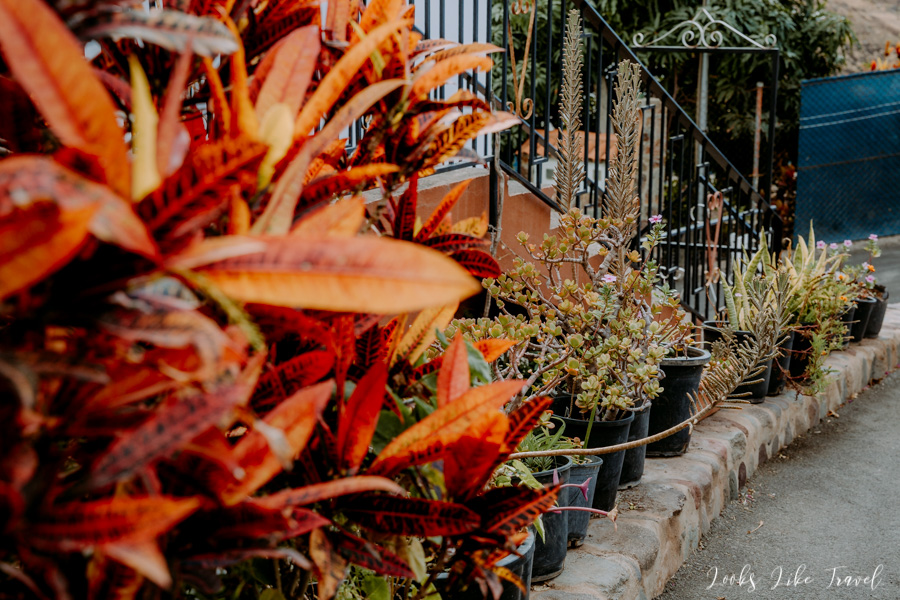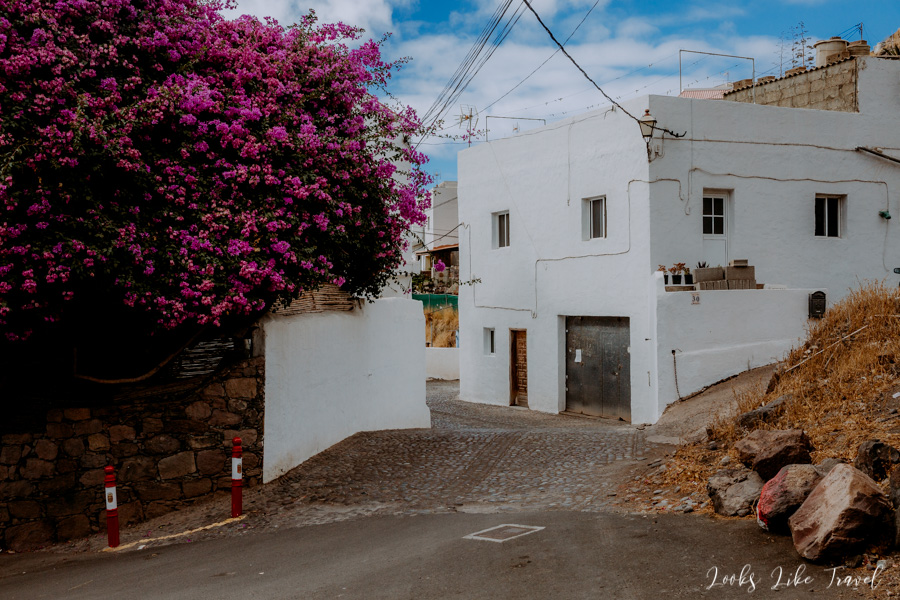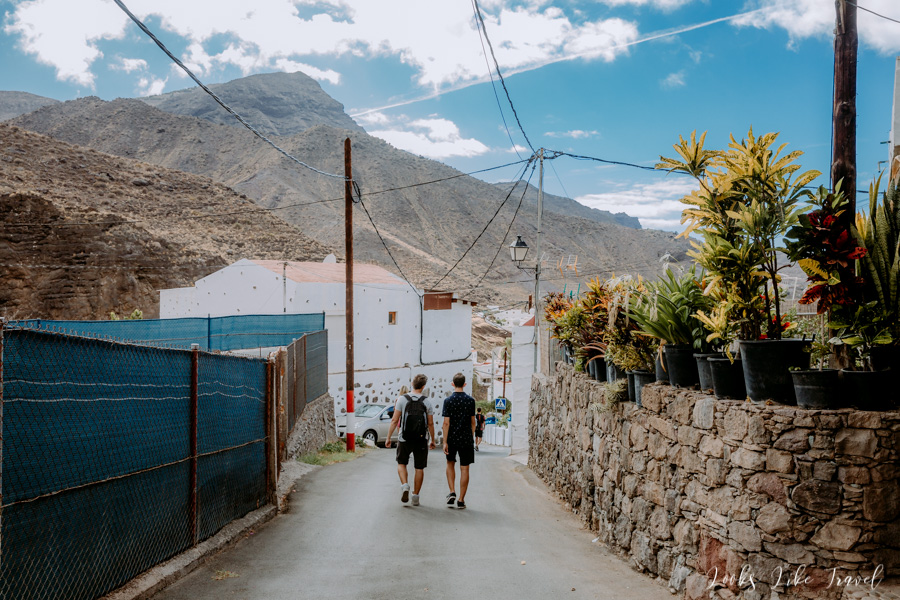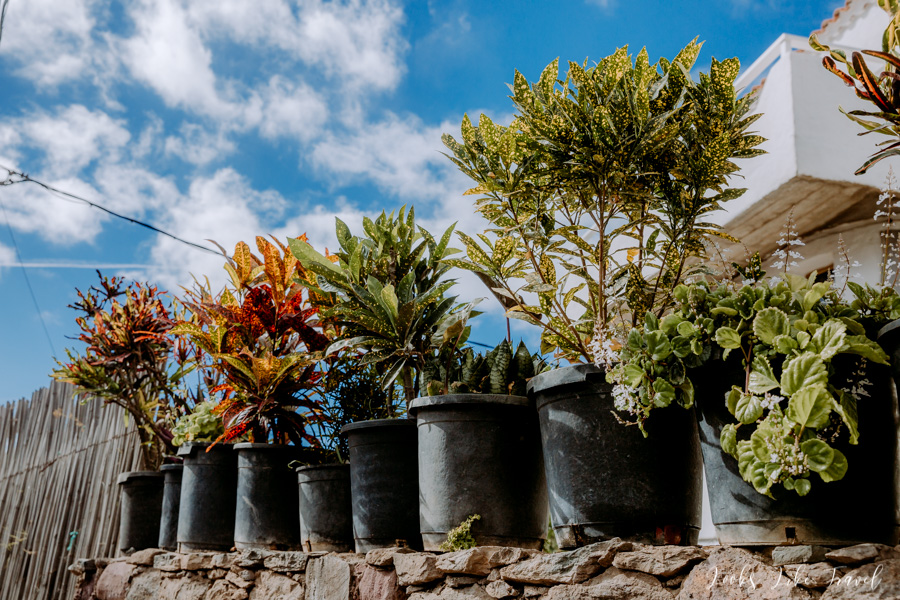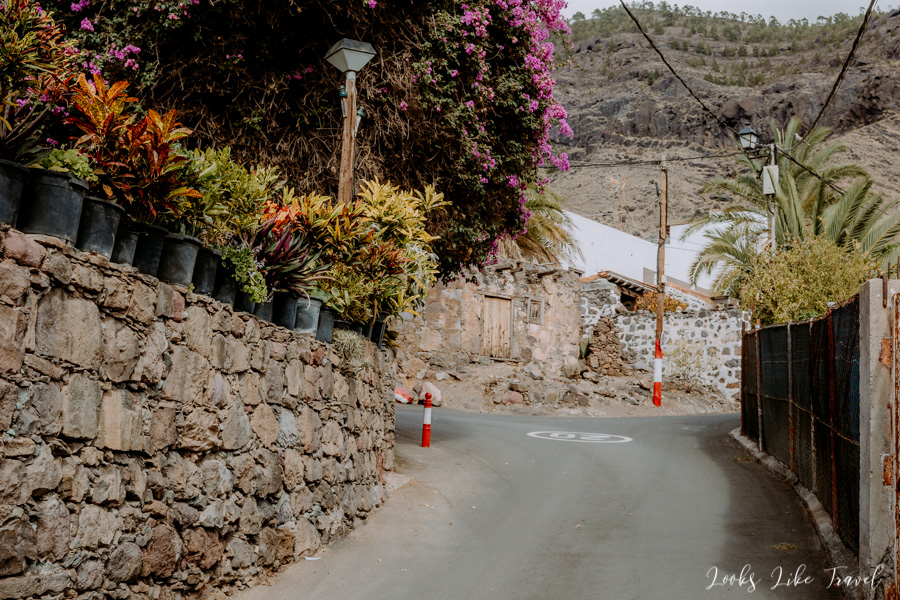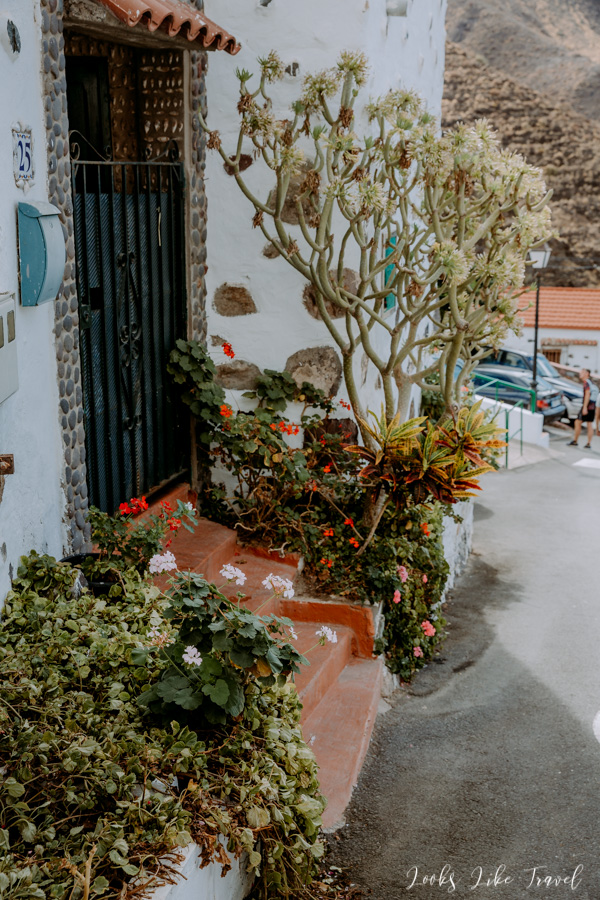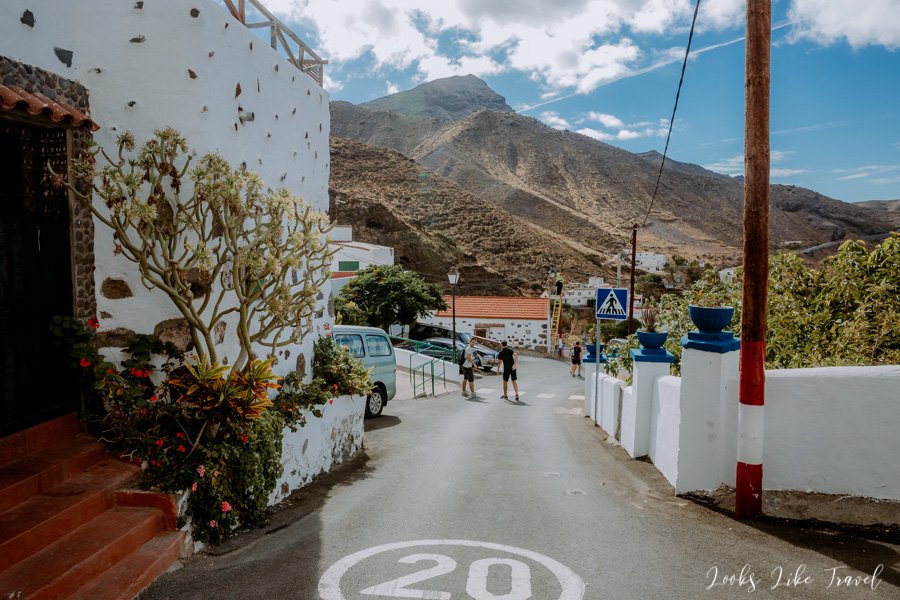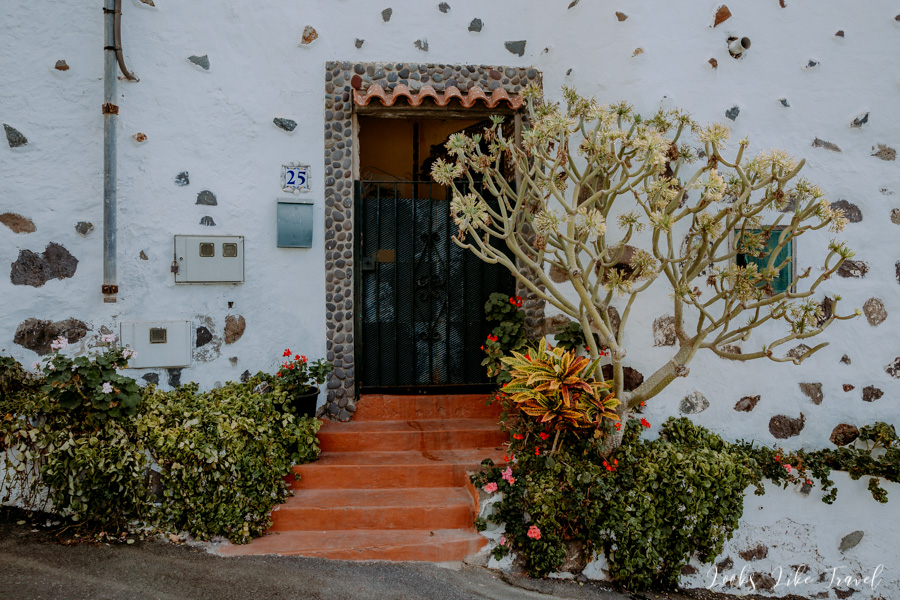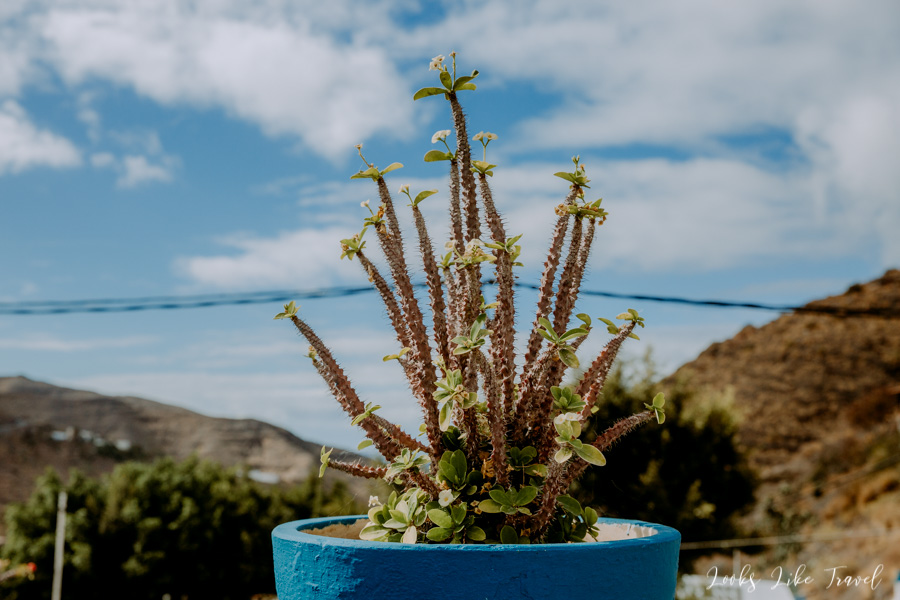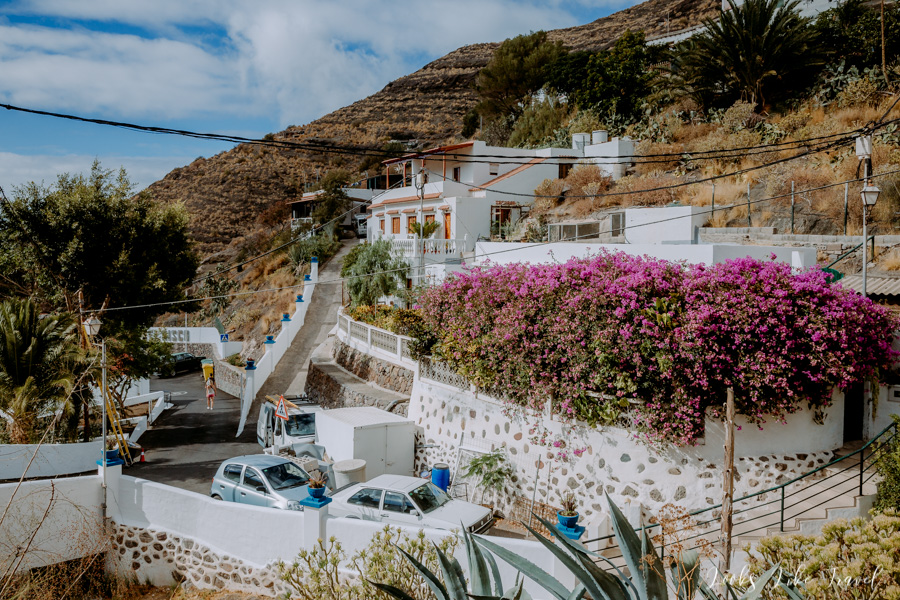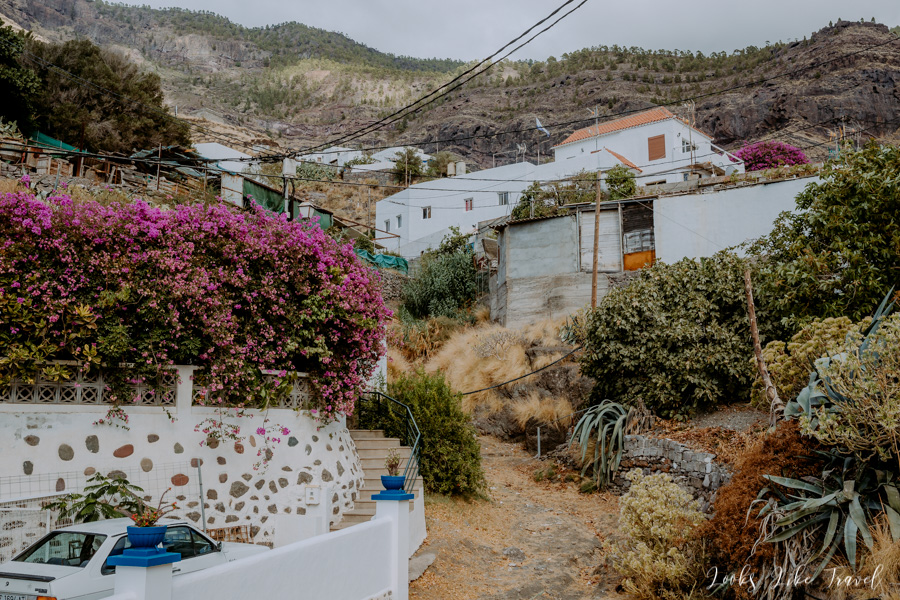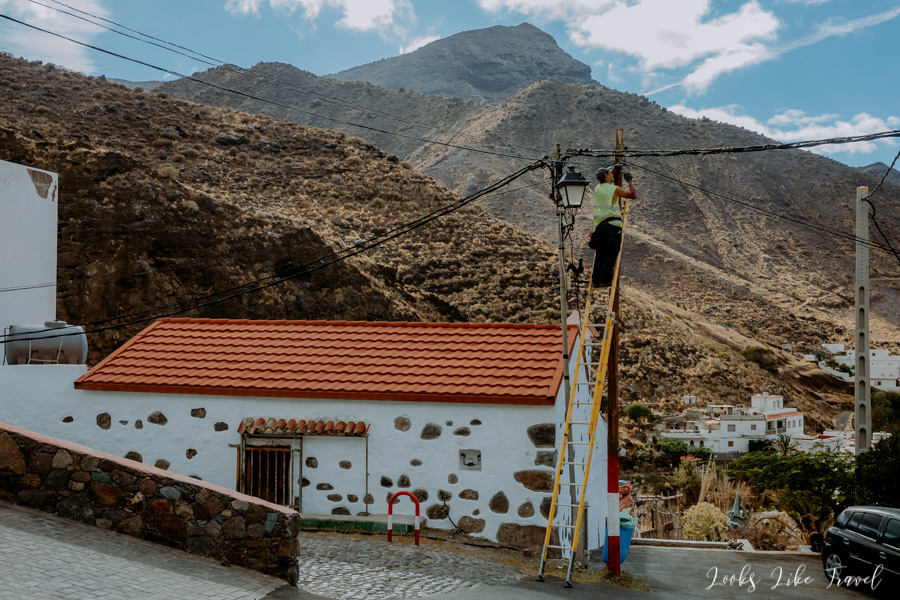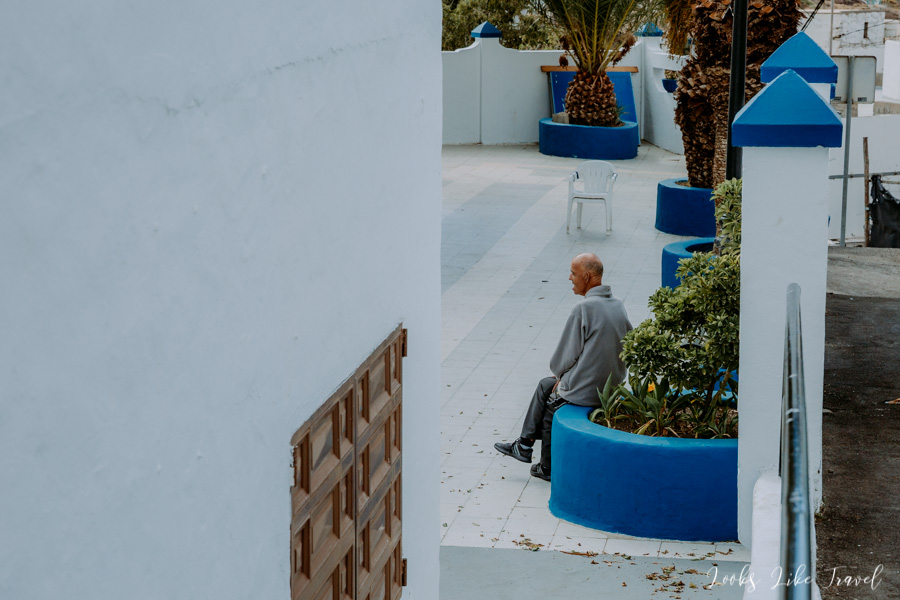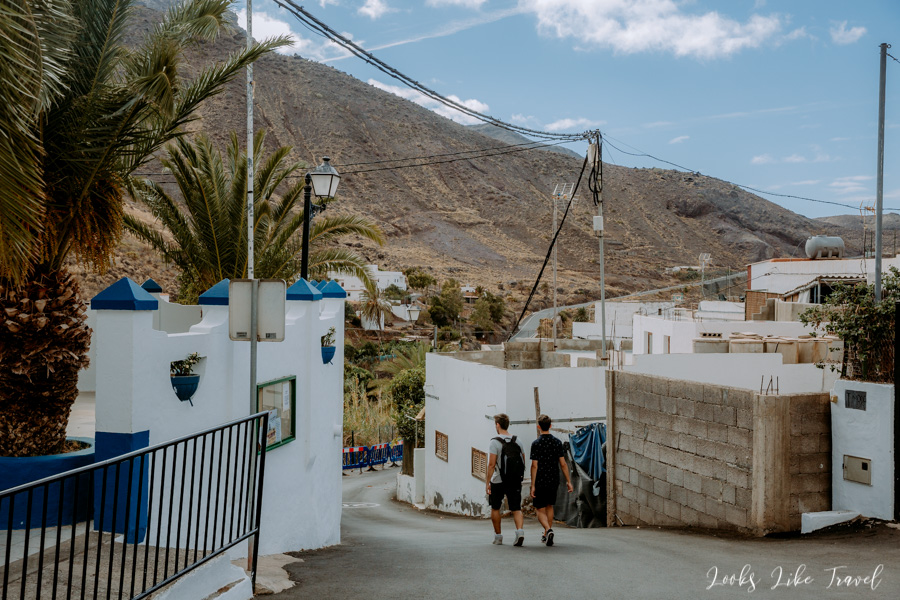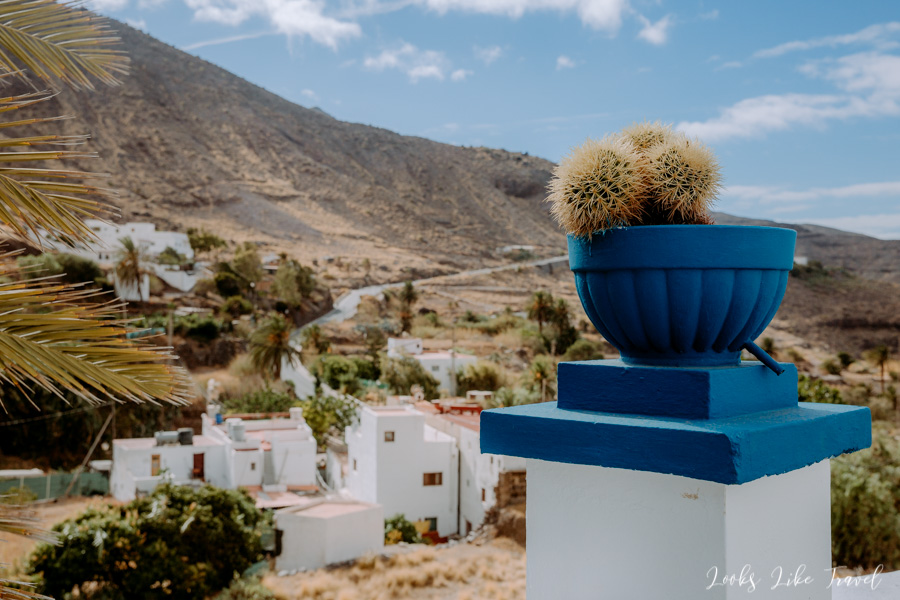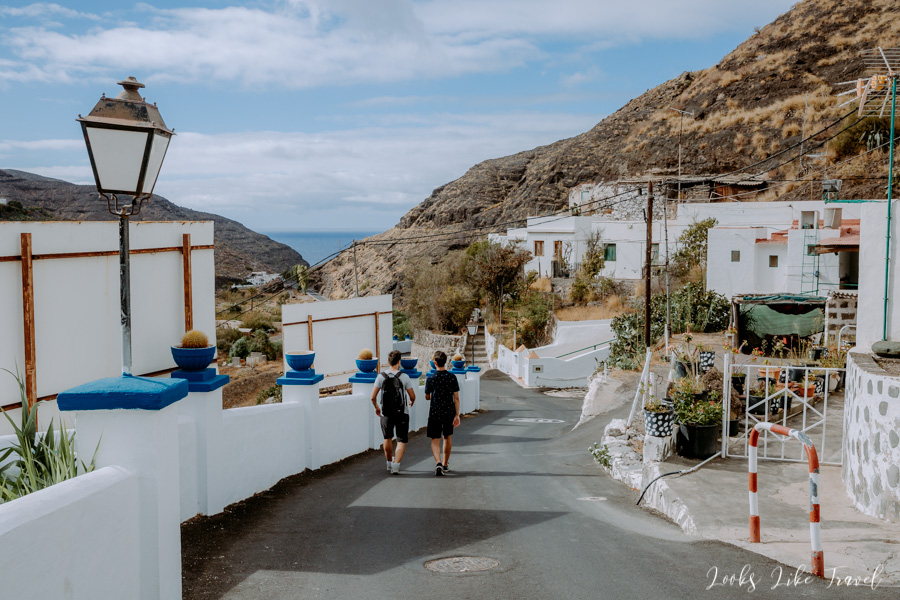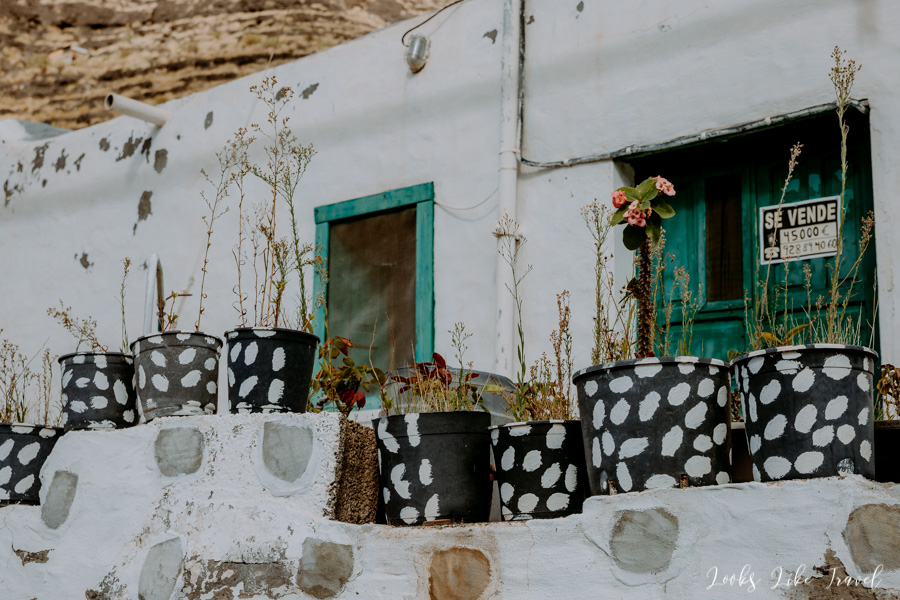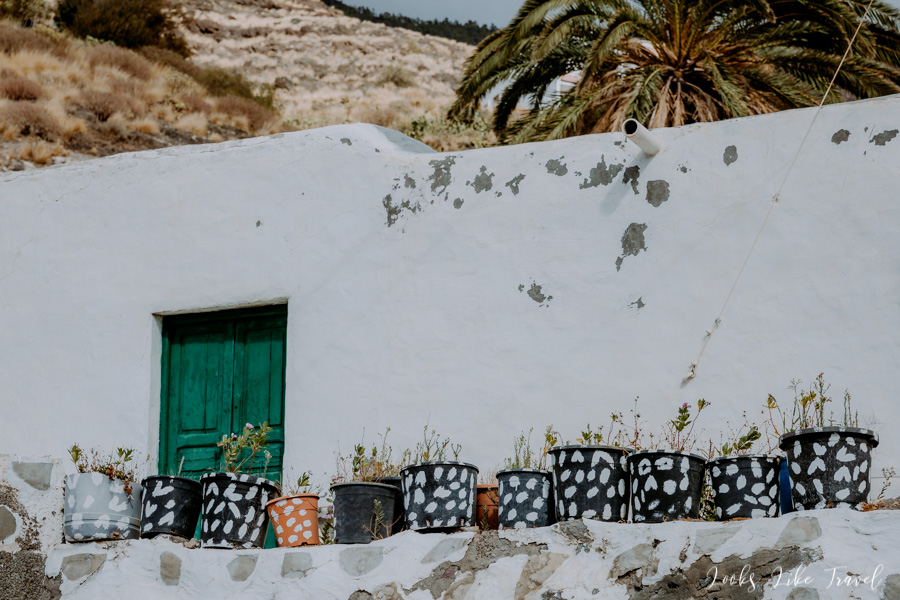 Pretty close to the car we change the route and instead of going straight ahead, this time we turn left. Thanks to that we are right next to the restaurant. I take three photos and after a two-hour trip we return to the car. According to the information I obtained, we walked about 3.75 km.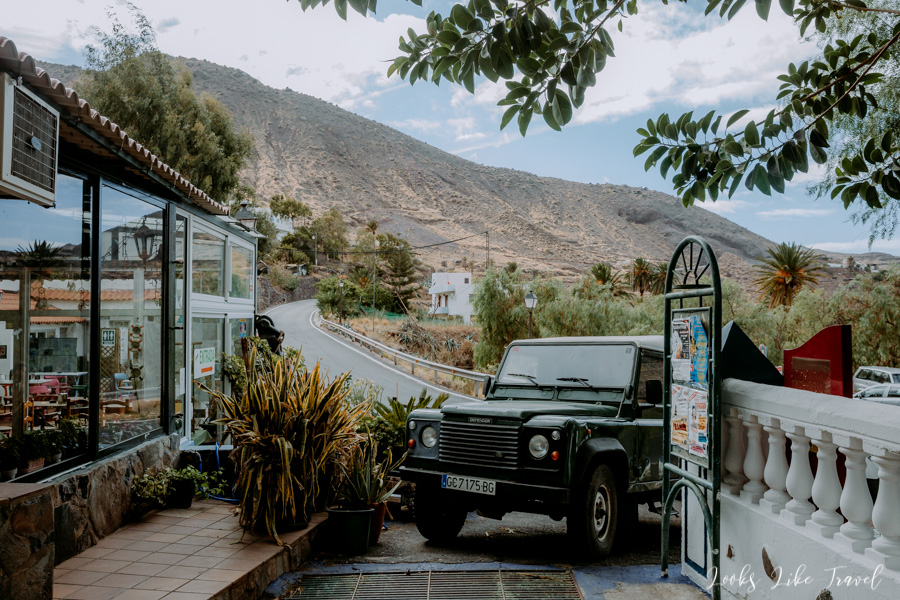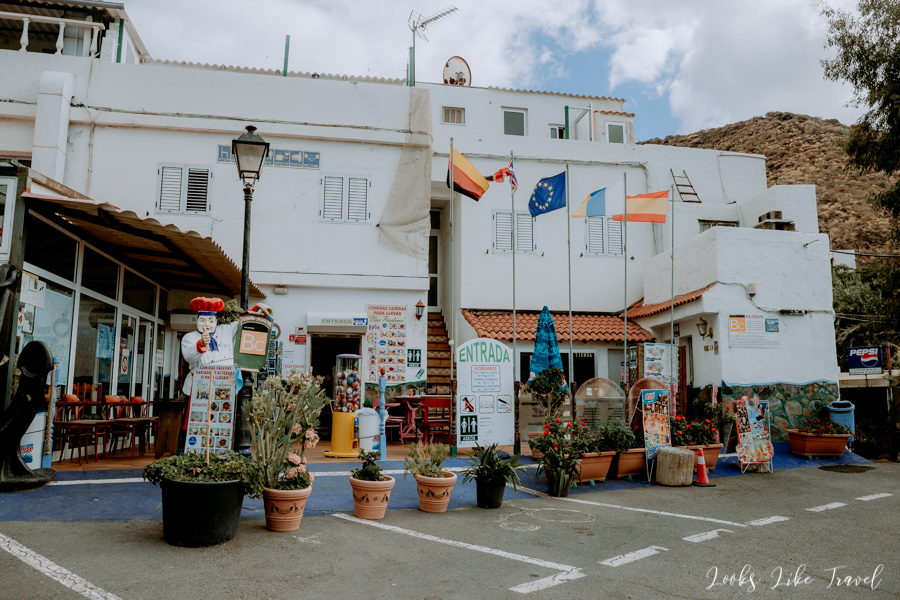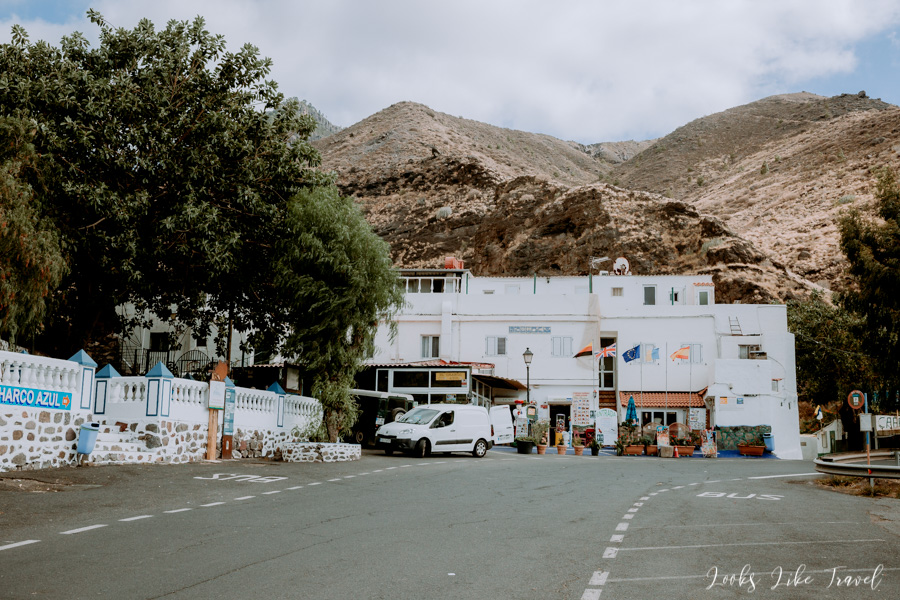 We drive further. Instead of shooting, this time I record videos. Unfortunately, after a while we have to leave the GC-200 to the GC-2 motorway, because our route's part is currently closed. We are a little bit away from the ocean and the views get worse. Fortunately, with the help of GPS, you can exit the motorway back to the GC-200 and get to the lookout point necessary to visit – Mirador del Balcon. We reach our destination and park in a small bay. You can't drive any further.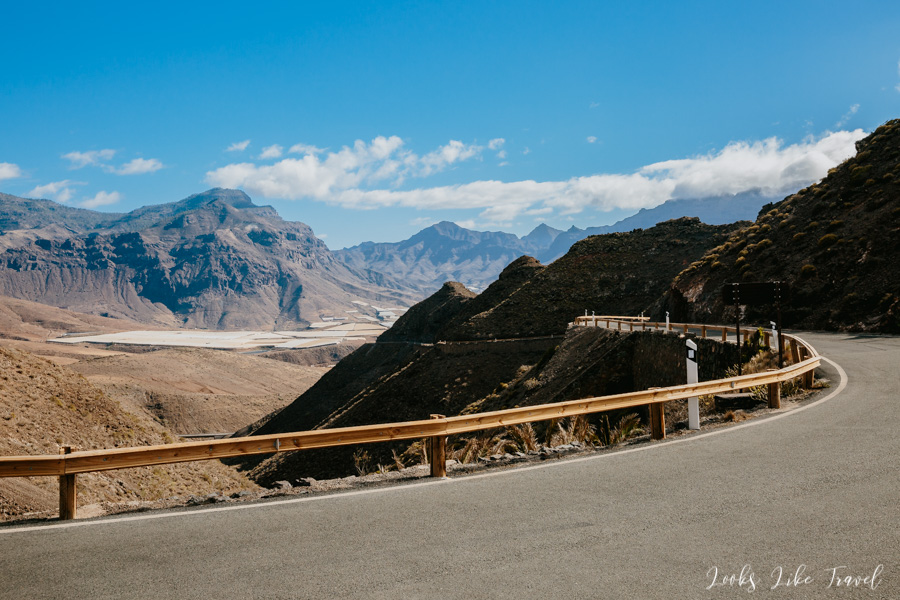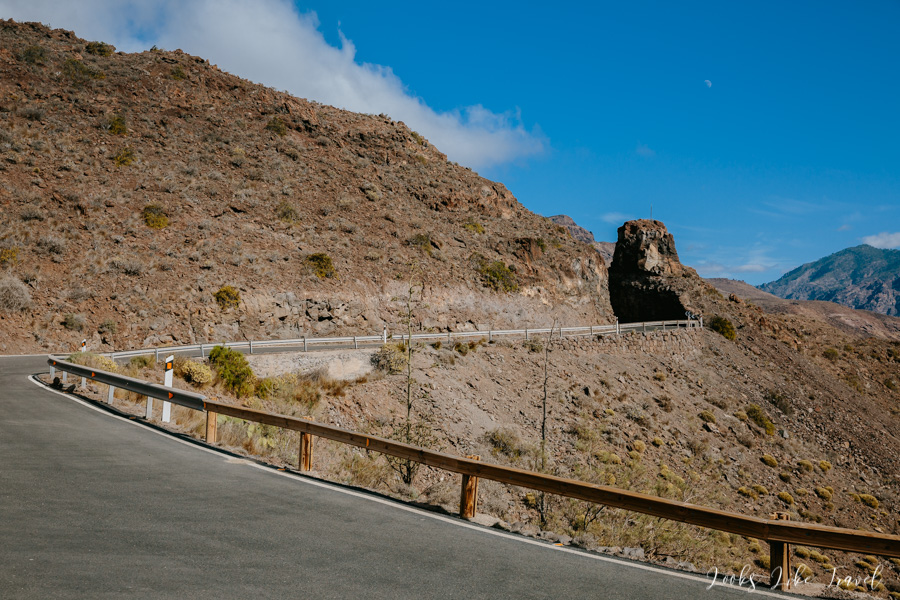 Mirador del Balcon
We go down the stone stairs to the observation point placed on the rock. Not without reason it got the name of the balcony. At the very bottom there is a very strong wind. You can rest from the heat and cool down a bit, having wonderful views of the west coast of the island. We are impressed by the long cliffs and the waves foaming at the bottom. When we look at the most visible point in the far north, we will see Punta de Sardina cape. In the west, if you are lucky, you can see the El Teide volcano rising above the clouds, located on the neighboring island of Tenerife.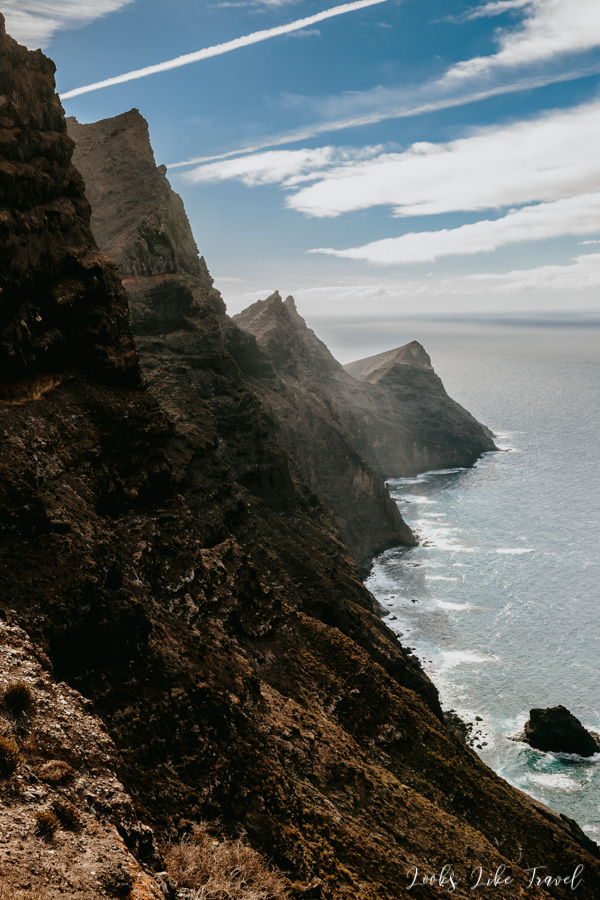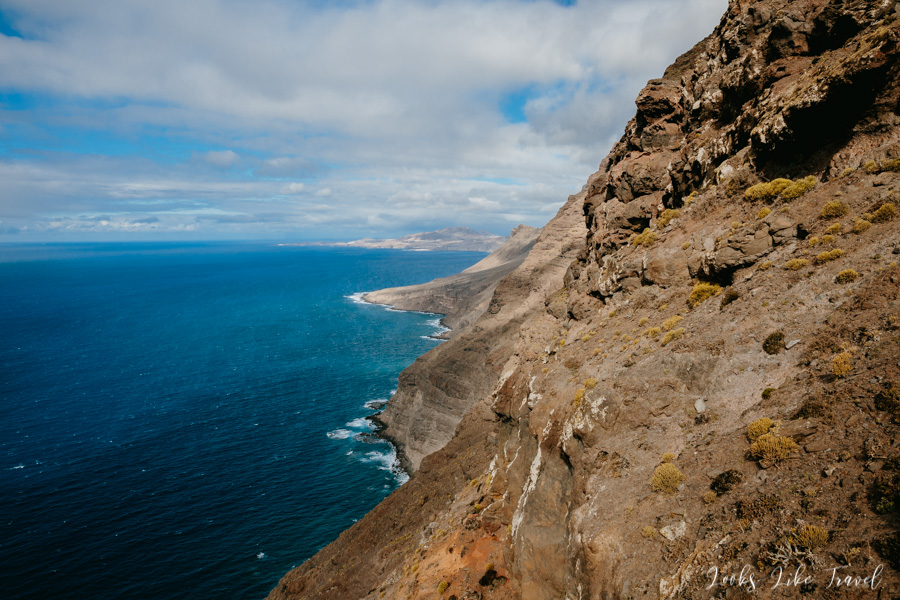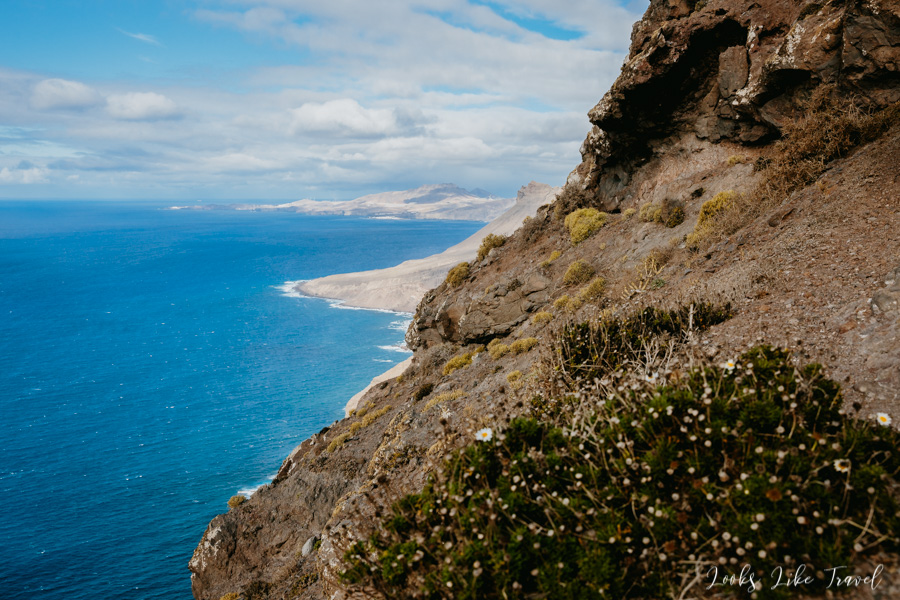 We continue our drive, because there is still some more to see. We descend from the lookout point downwards and continue to the south. The road moves further and further away from the ocean.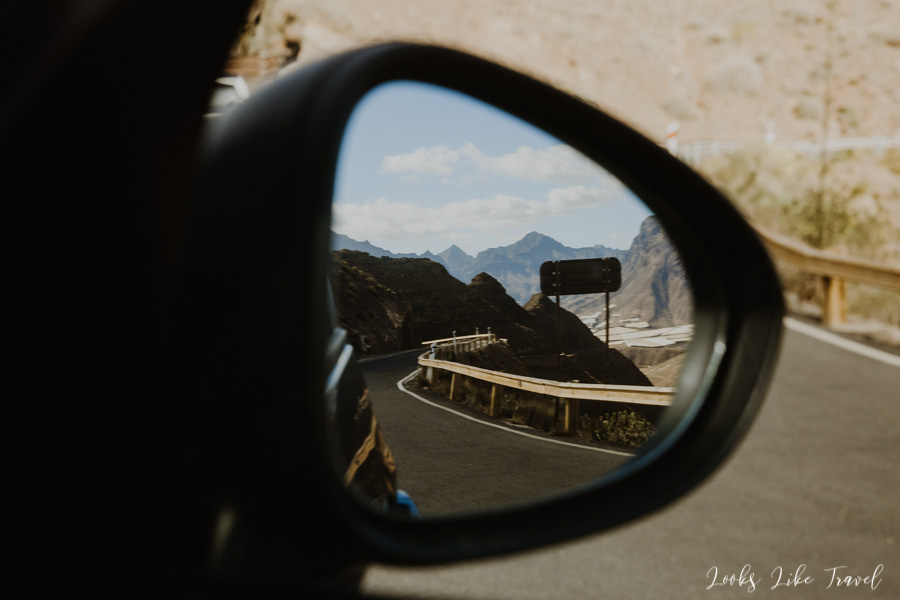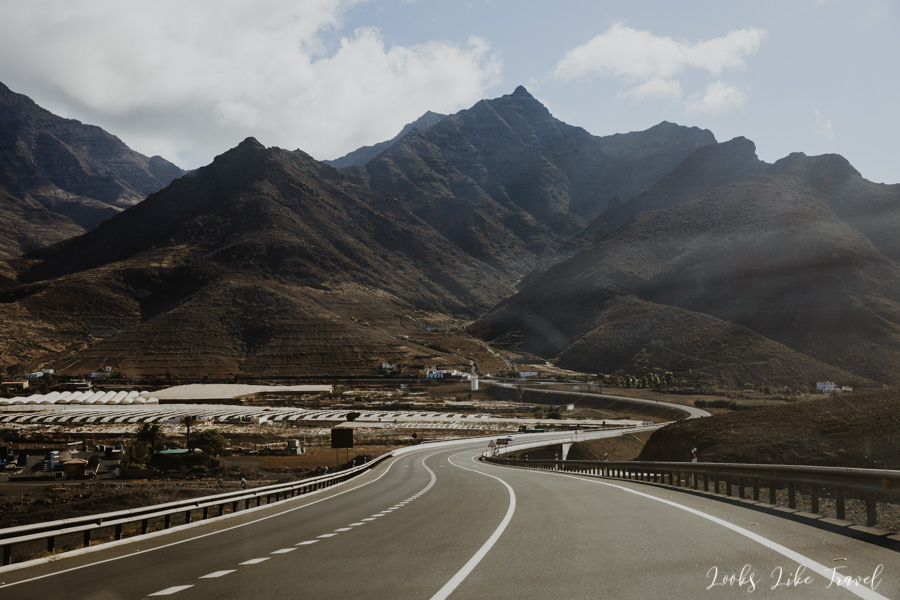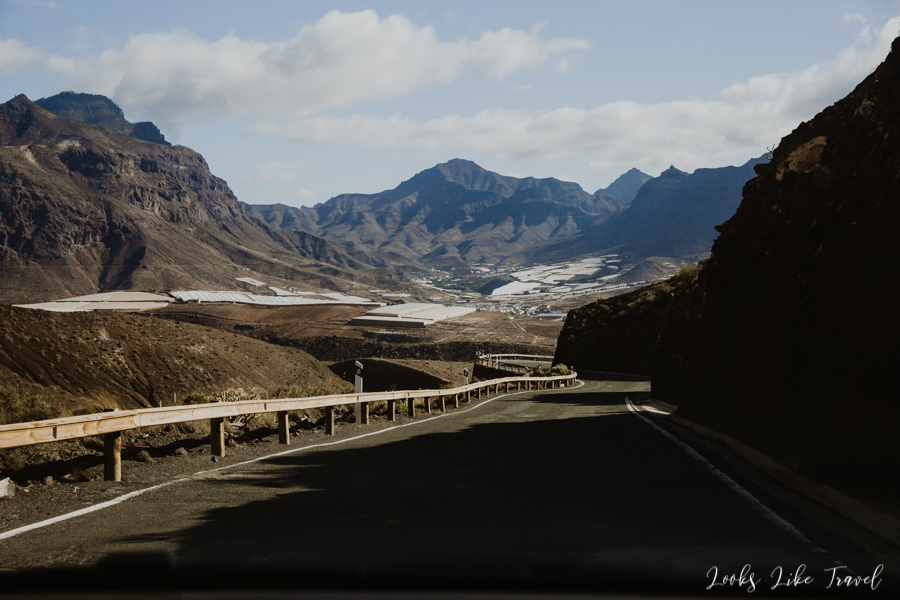 small towns at gc-200
The landscapes change a little. Now we go through a lot of small towns. They are located one after another: El Cruce, El Albercon, La Hoyilla…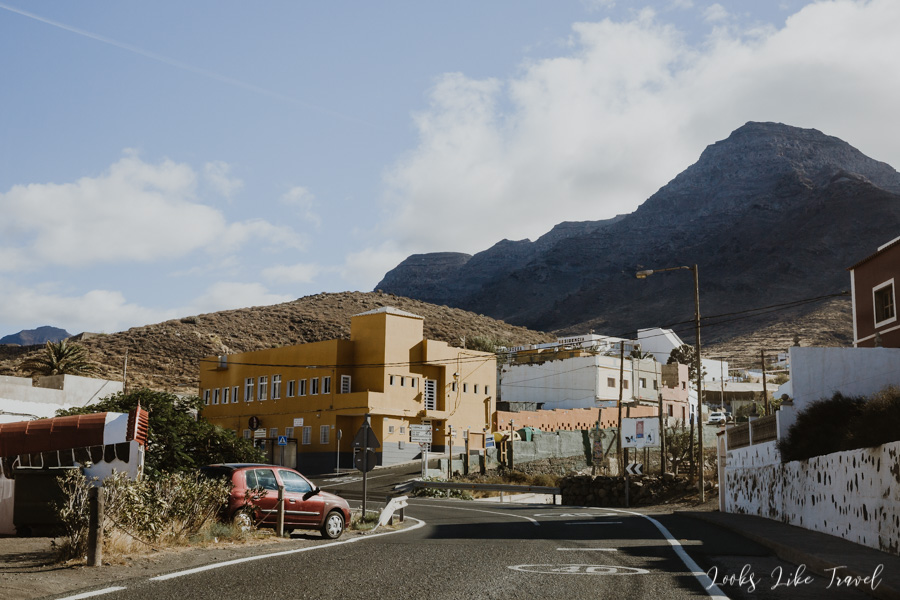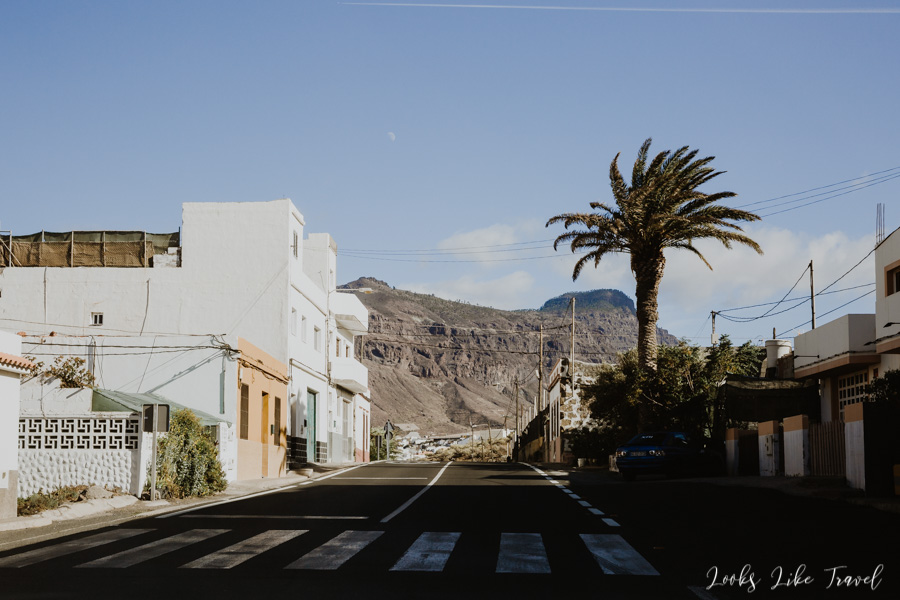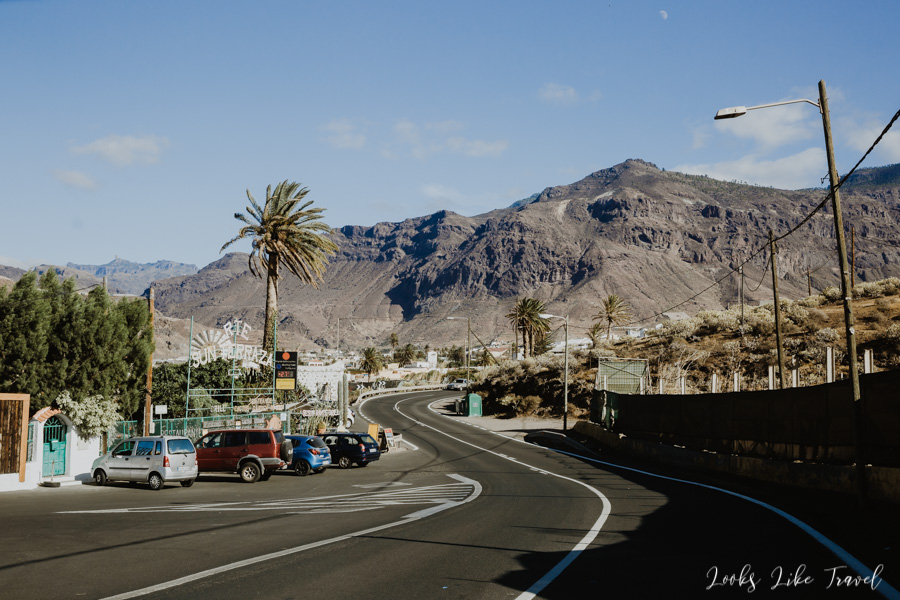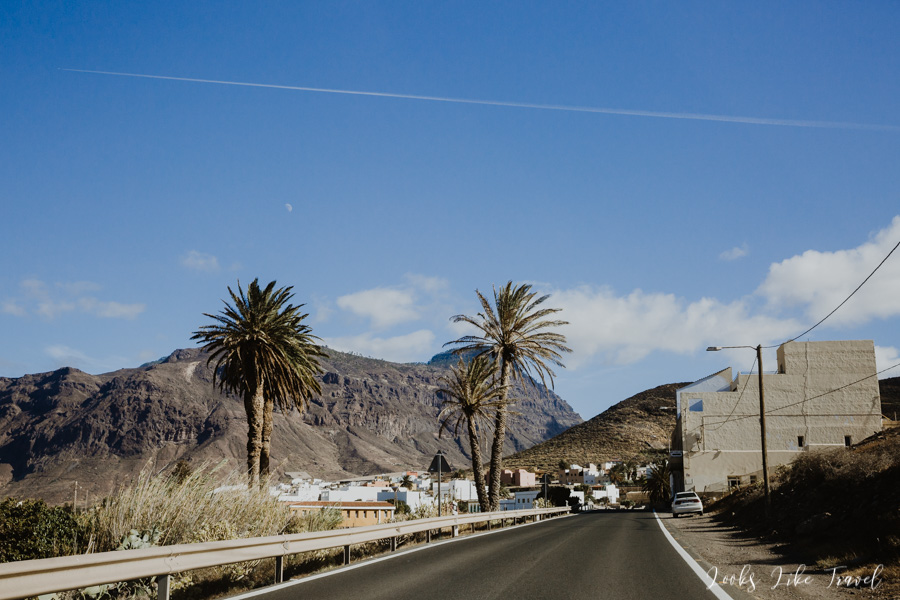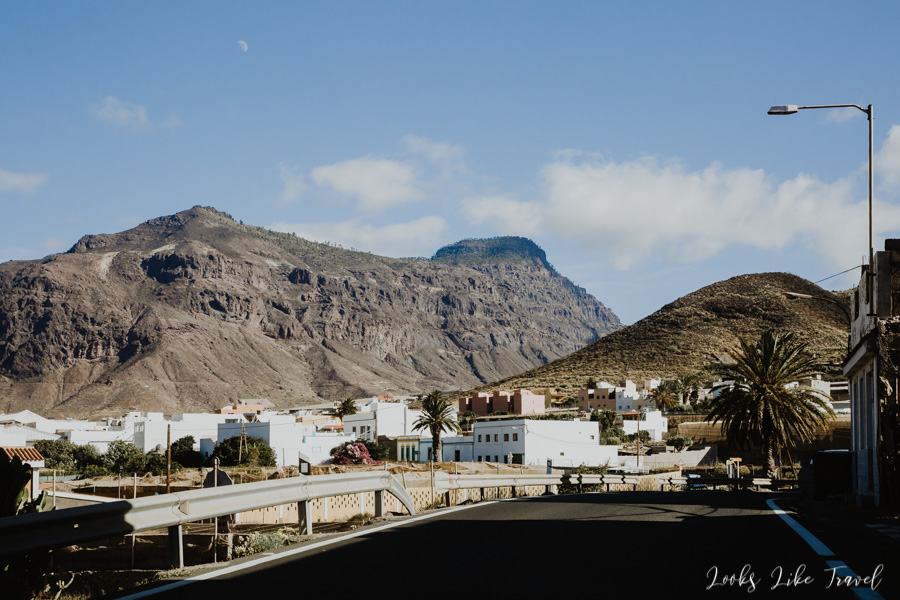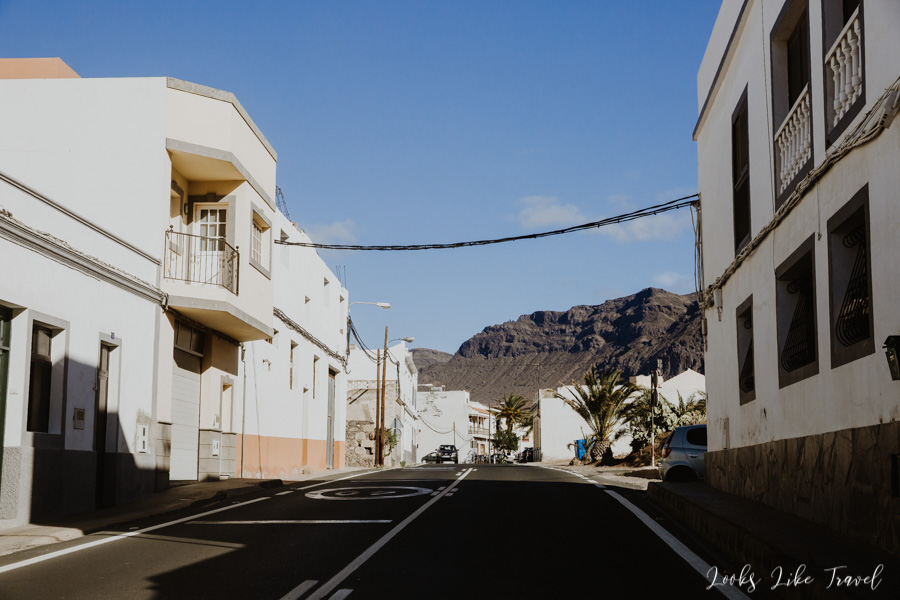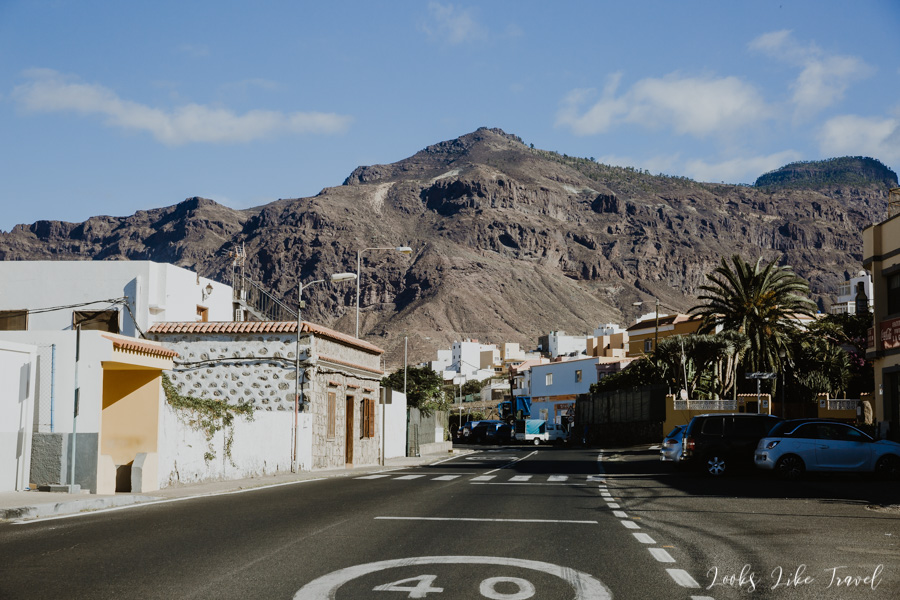 After such a number of towns it gets wild again. It wasn't a lie that the GC-200 road is worth driving. You can't miss it. Every moment has many photographic possibilities. Don't forget about a camera with charged batteries and an empty memory card! Driving on this serpentine road is something special. Although we don't go by the ocean anymore, there are completely different rocks and vegetation here, what makes the route spectacular.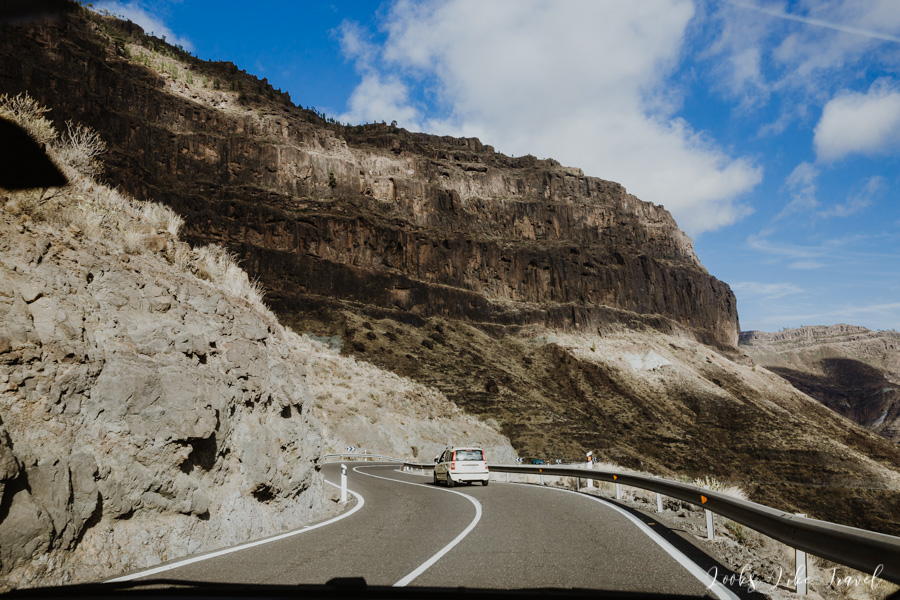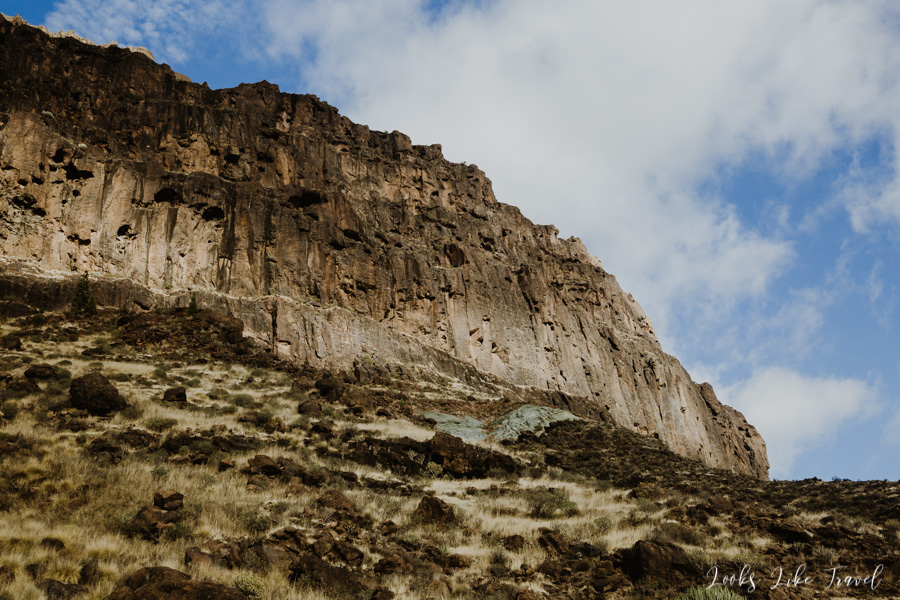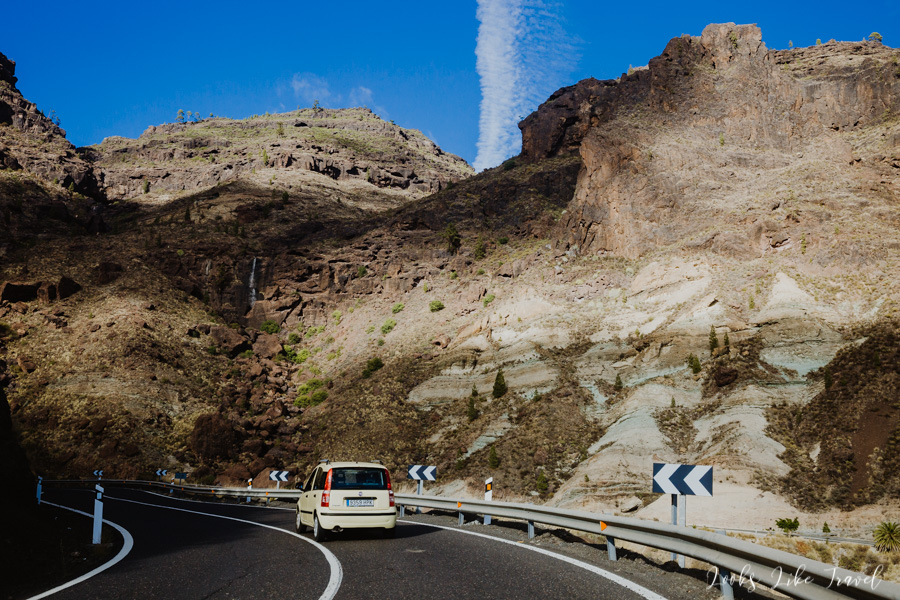 We approach our next point of the trip, which is Los Azulejos. Coloured rock formations can be seen from afar.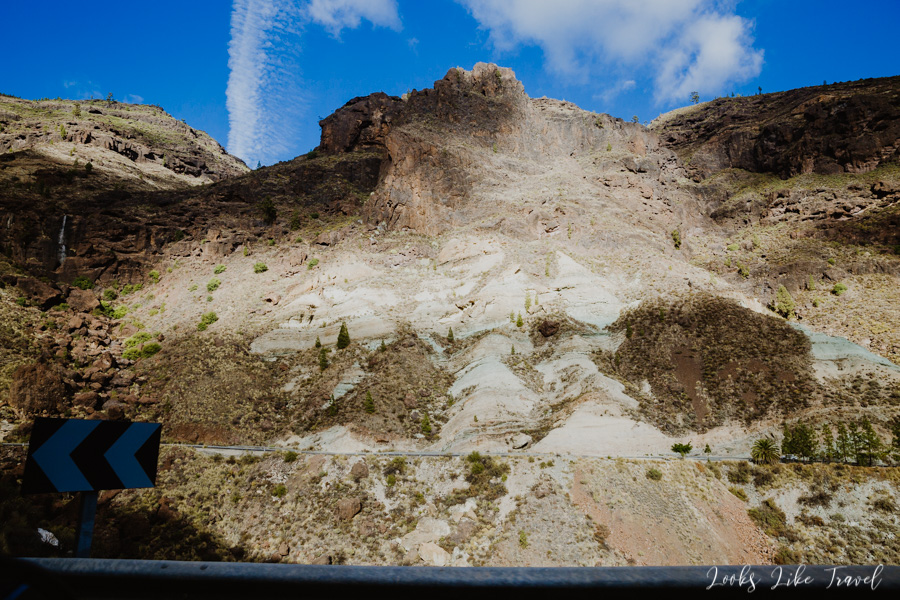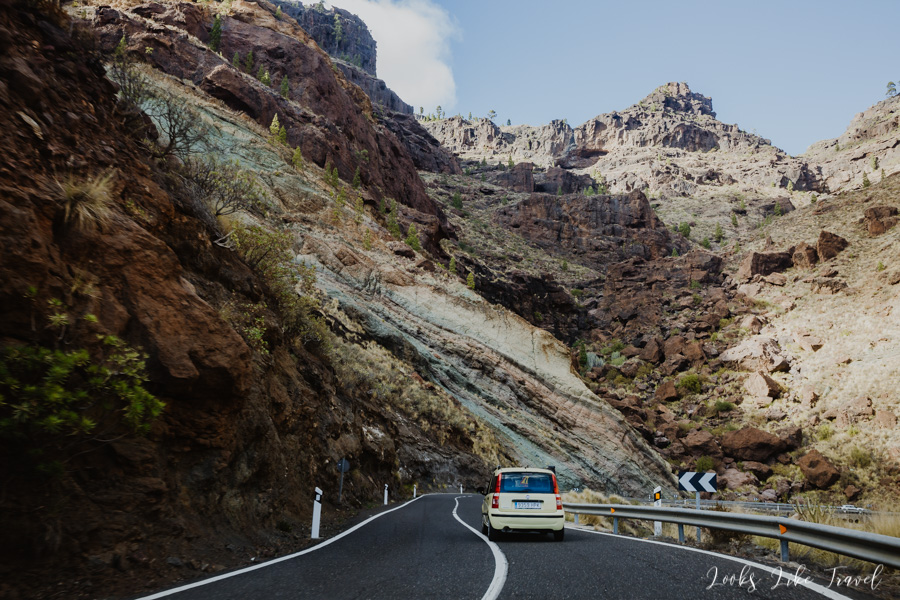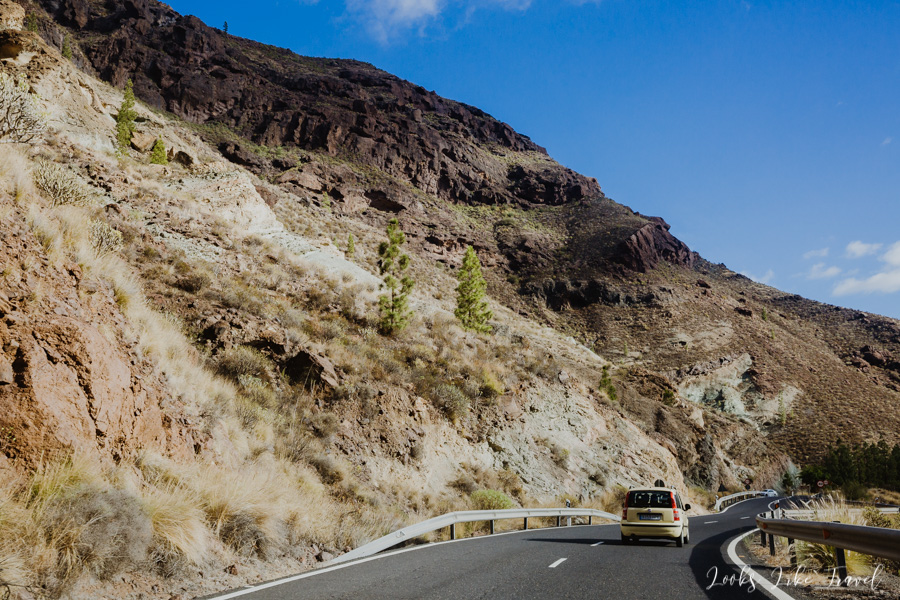 Los Azulejos
Soon we stop by the road. There is a lot of space to park a car. We leave the vehicle and photograph the area without hurrying. Los Azulejos is an unusual rock formation on the island. Its name literally means "fountain of tiles" due to the colour of the rocks resembling Portuguese tiles. These colours are caused by oxidation.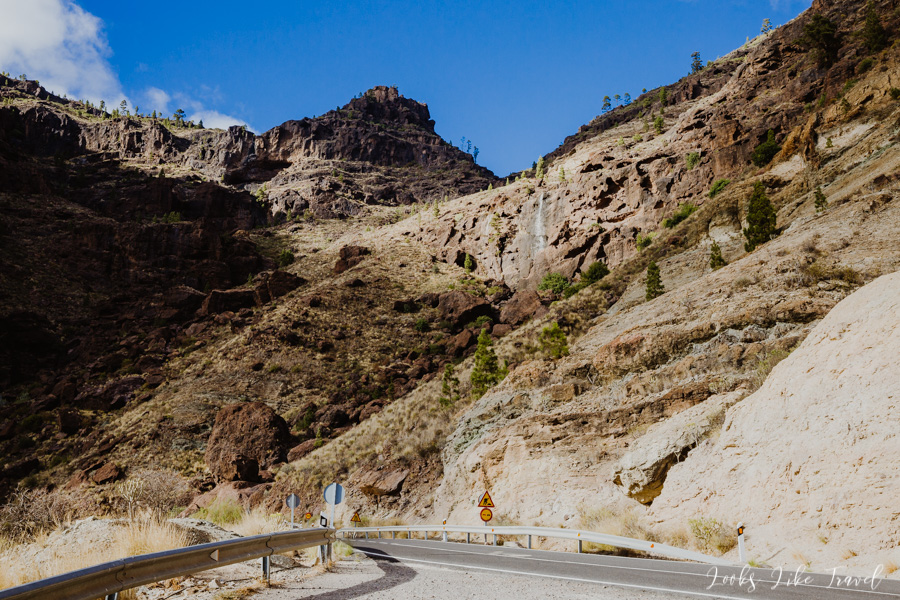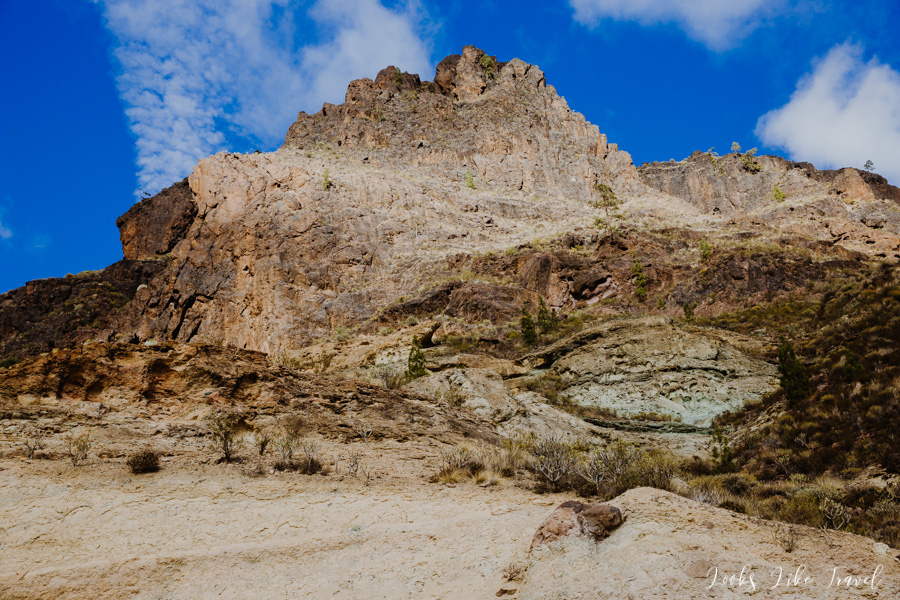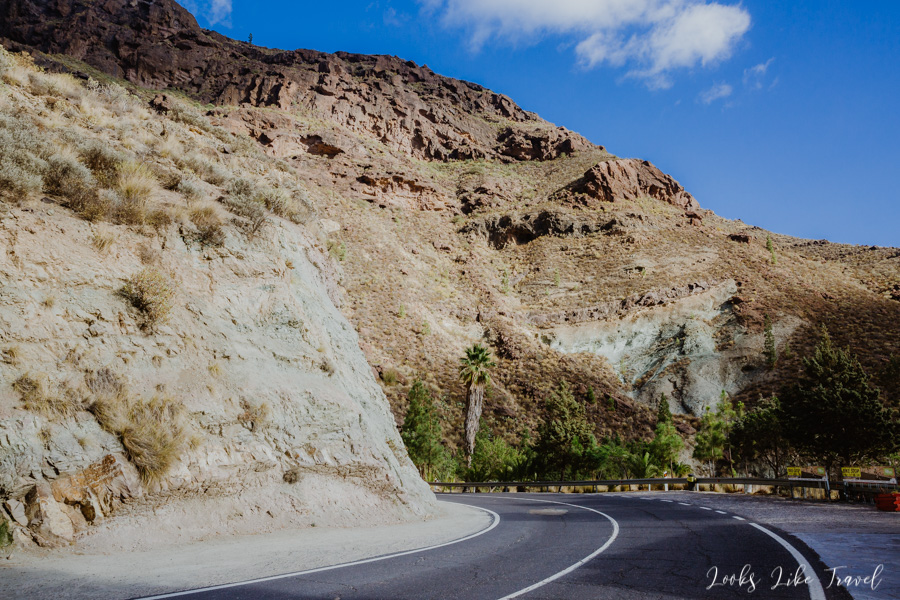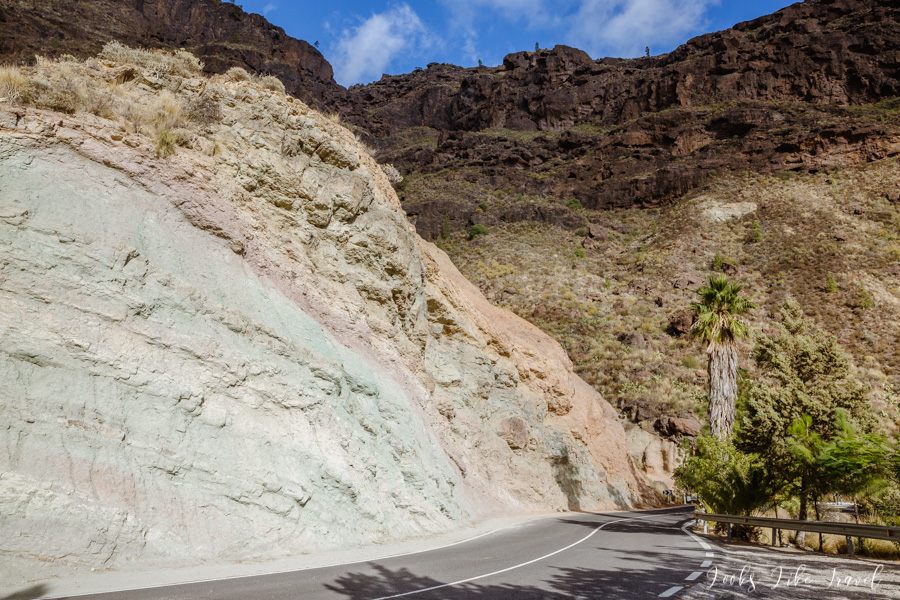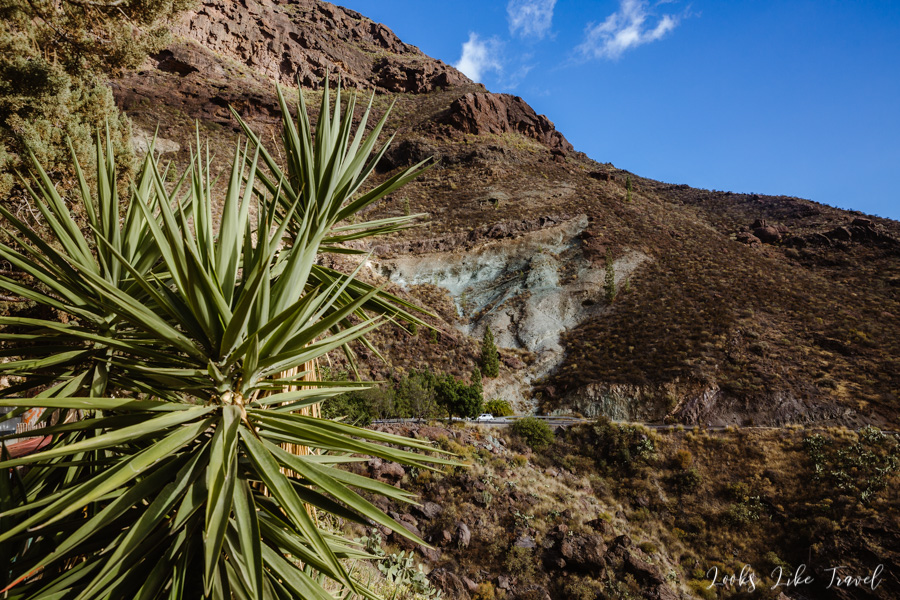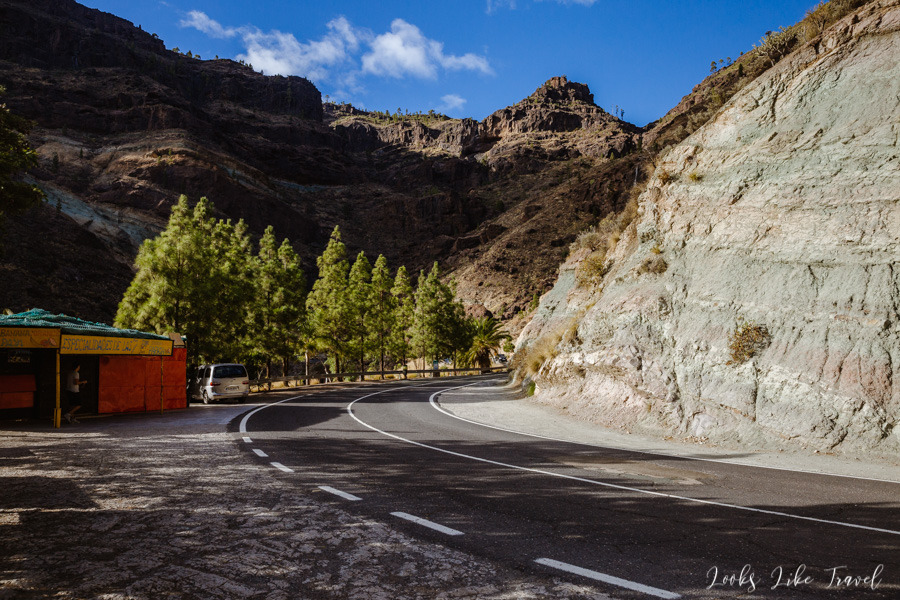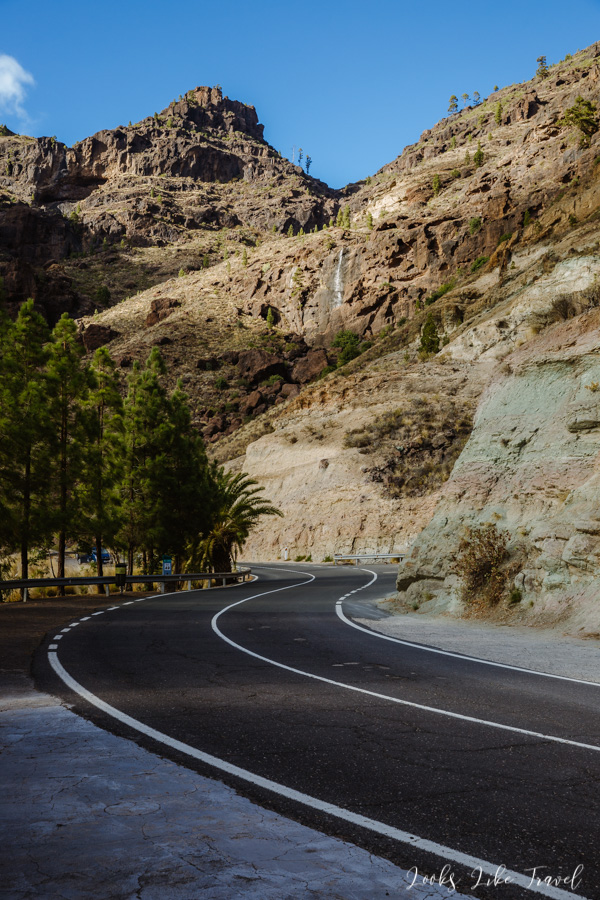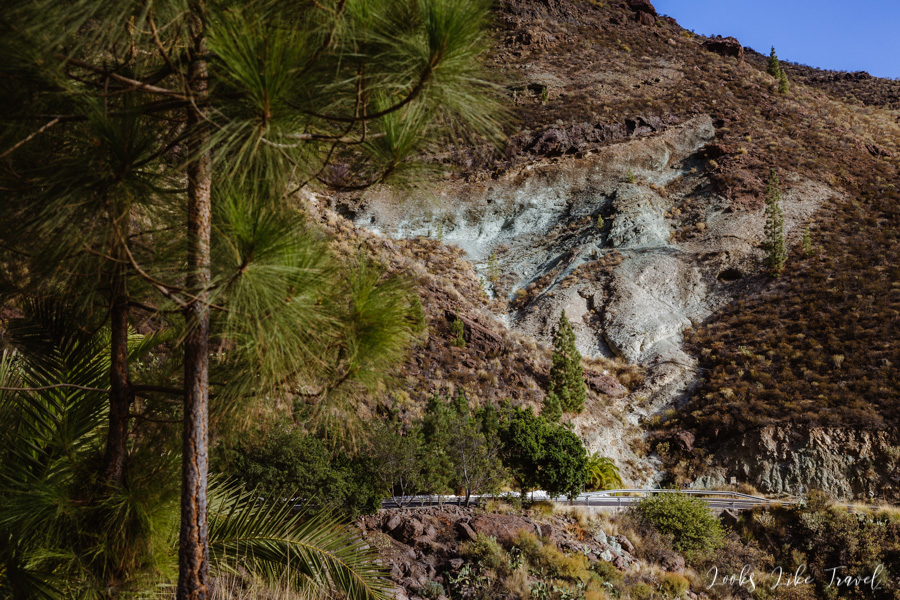 From the stopping point you can also see the magnificent landscape below the valley. The sun slowly approaches the sunset, so we can admire the great light effects.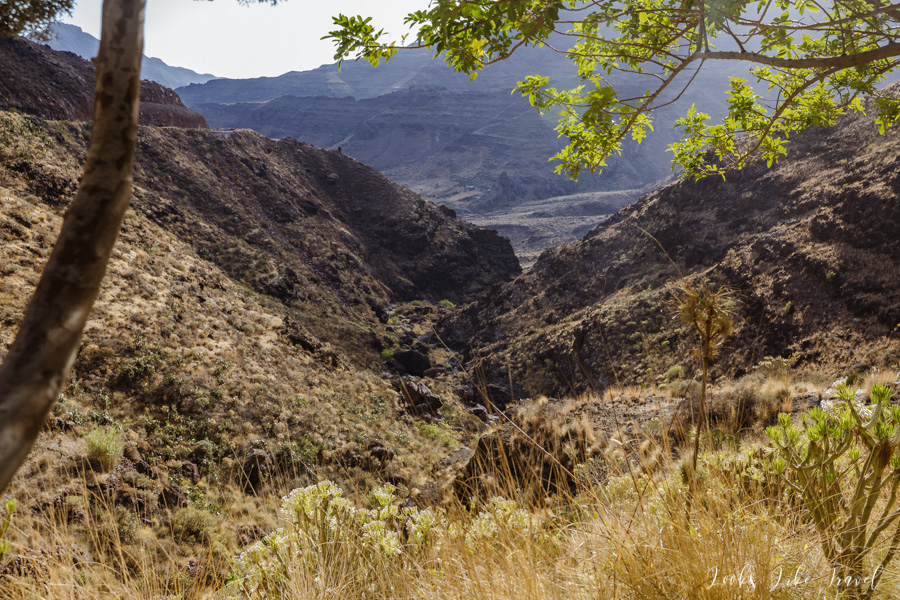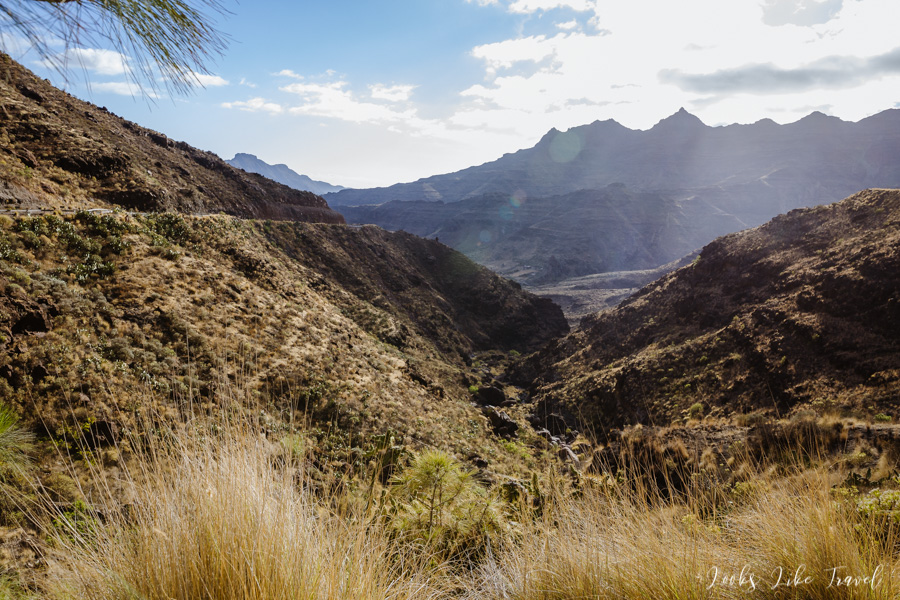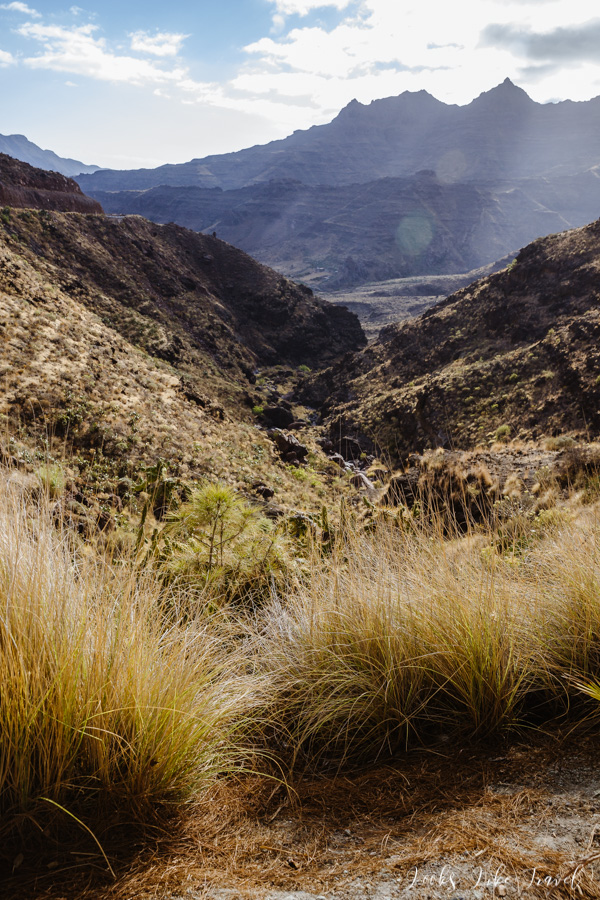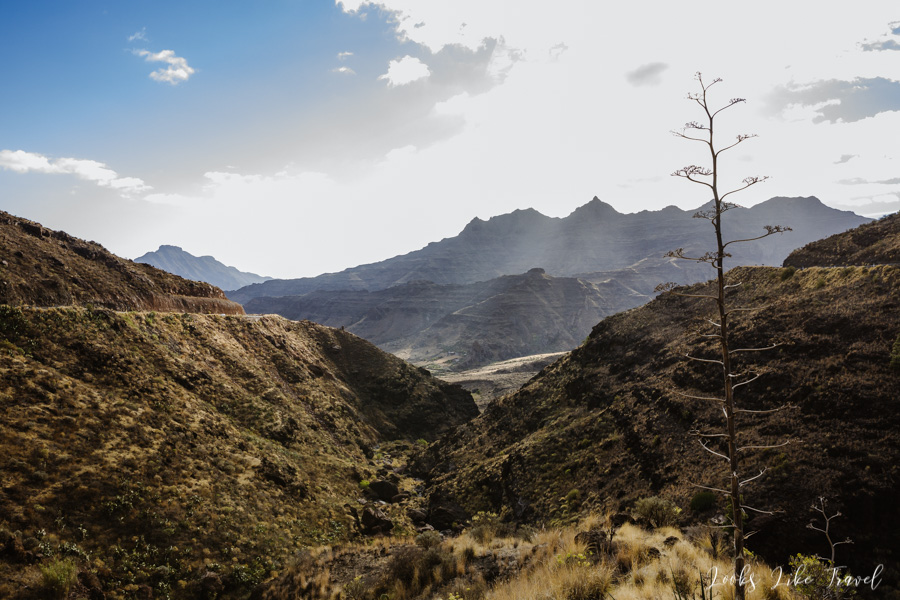 It's really nice here, but we go back to the car, because after this long day we would like to take a bath in the ocean.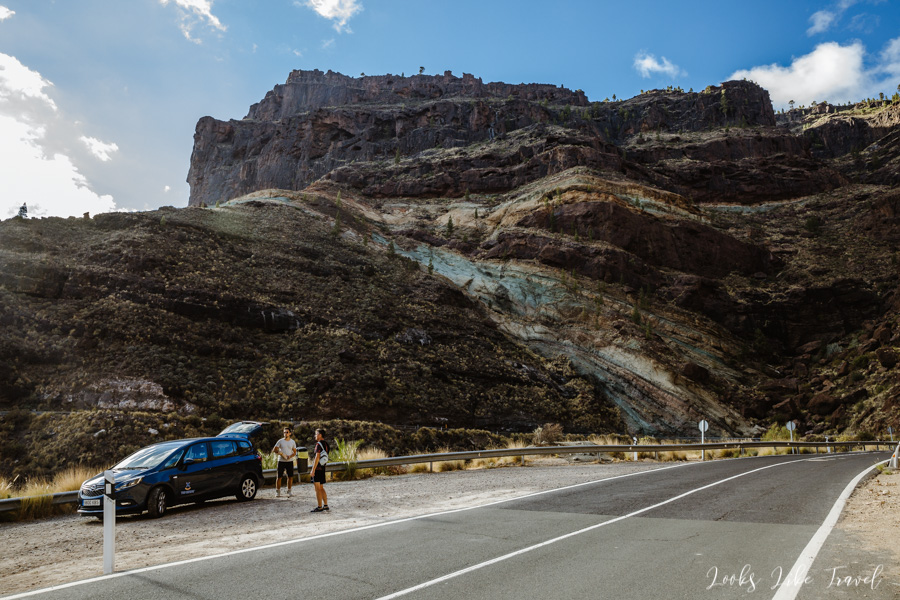 Molino de Viento
After a few dozen of turns it gets less wild and a number of very close to each other small towns begin. In one of them – El Molino de Viento there is Molino de Viento. It is a small, well-preserved mill. Very photogenic 🙂 It is located by the road itself, so it is impossible not to notice it. We do not stop, we take a picture off the car, even though it is possible to visit the windmill inside.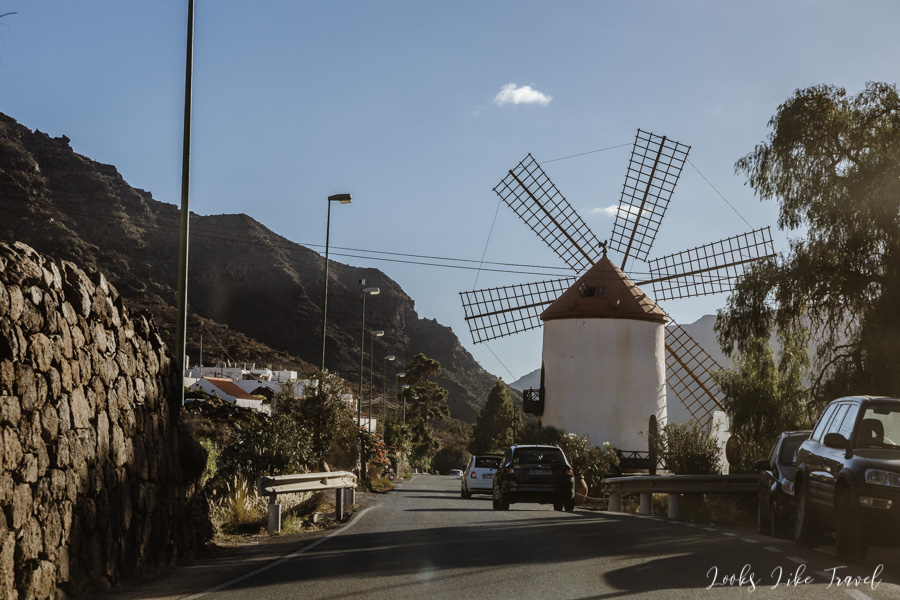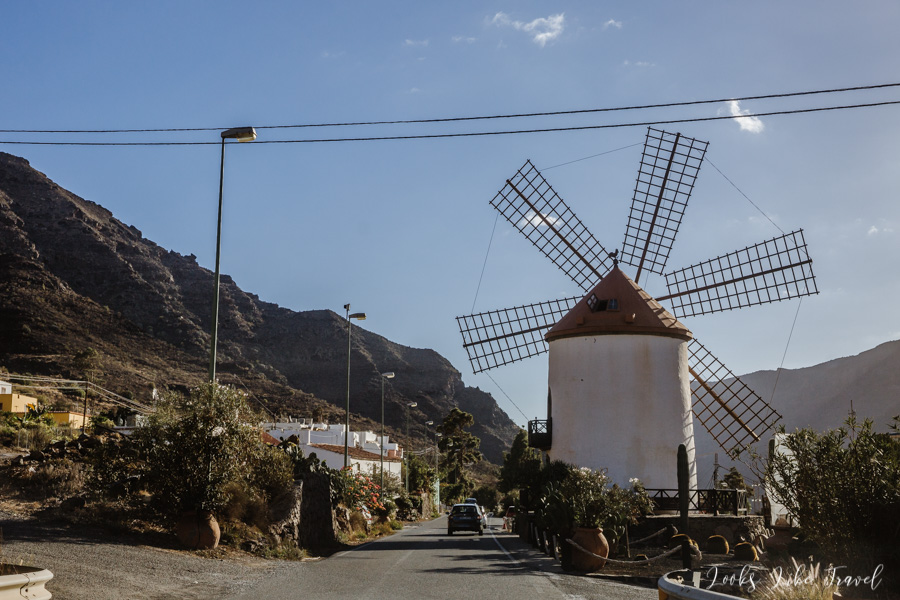 From here we've got 20 minutes to Playa de Puerto Rico. The reason for choosing this beach was that it is now closest to us apart from Amadores beach, which we have already seen and Taurito, which, however, was less praised in online guides.
Soon we arrive at the parking lot. It is paid, but the parking meters do not accept money. We ask local people, but they say that there is no need to pay, so we save a few euros. From the car park we have views of luxurious hotels and palm trees.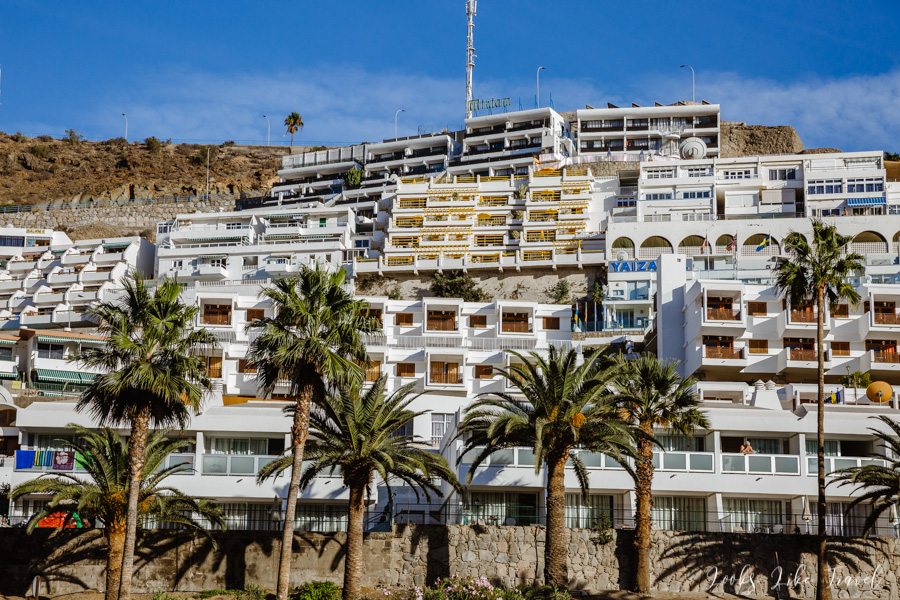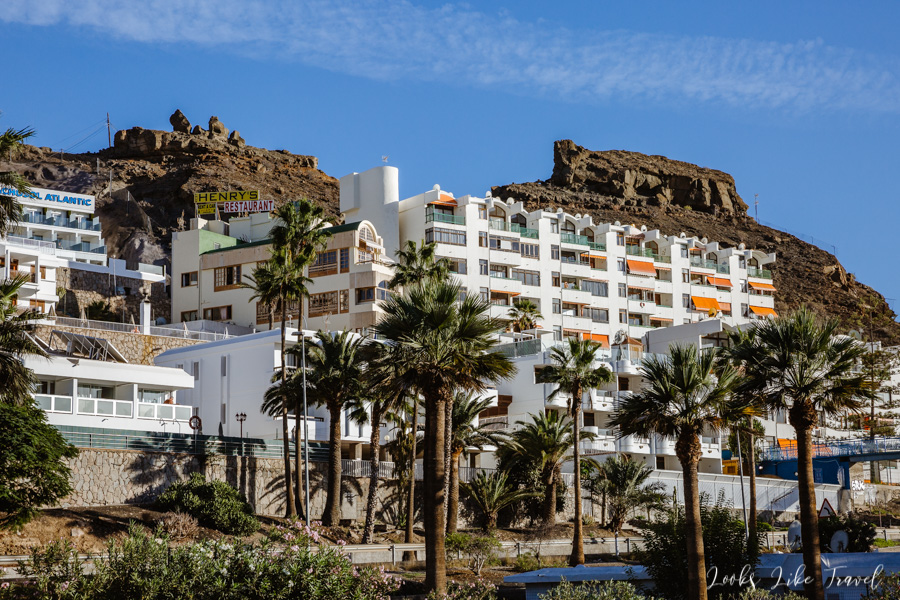 Playa de Puerto Rico
After a few minutes we reach the beach. It is almost empty and we have less than an hour to sunbathe before sunset.
Playa de Puerto Rico is not a large beach, but it has clean, soft sand, even when entering the water. There are many shops and places to eat in the area. It is quite a busy area because there are many resorts nearby and the beach itself is located between two marinas. Compared to Playa de Amadores, for example, it looks less interesting, but if you take pictures of it at sunset, you can say that it also has something in it.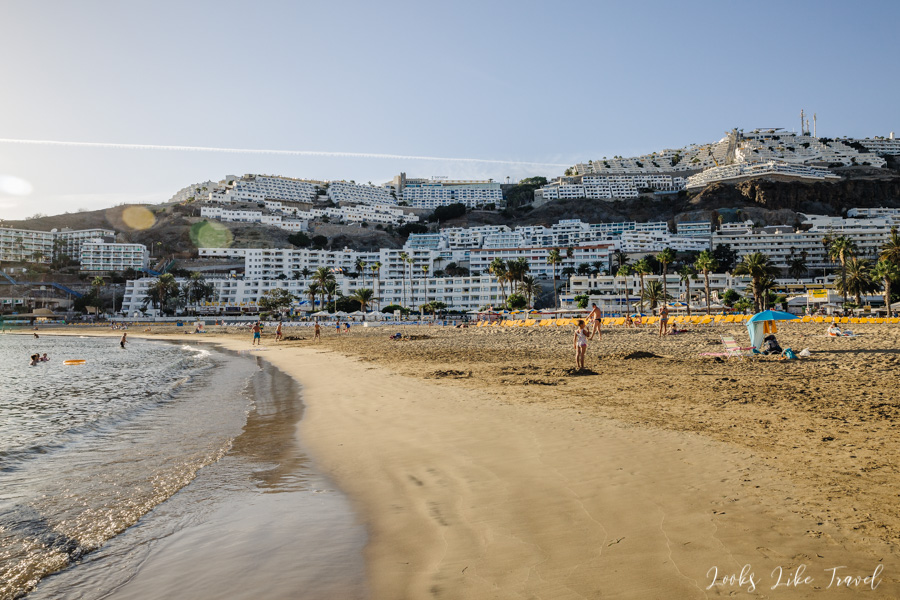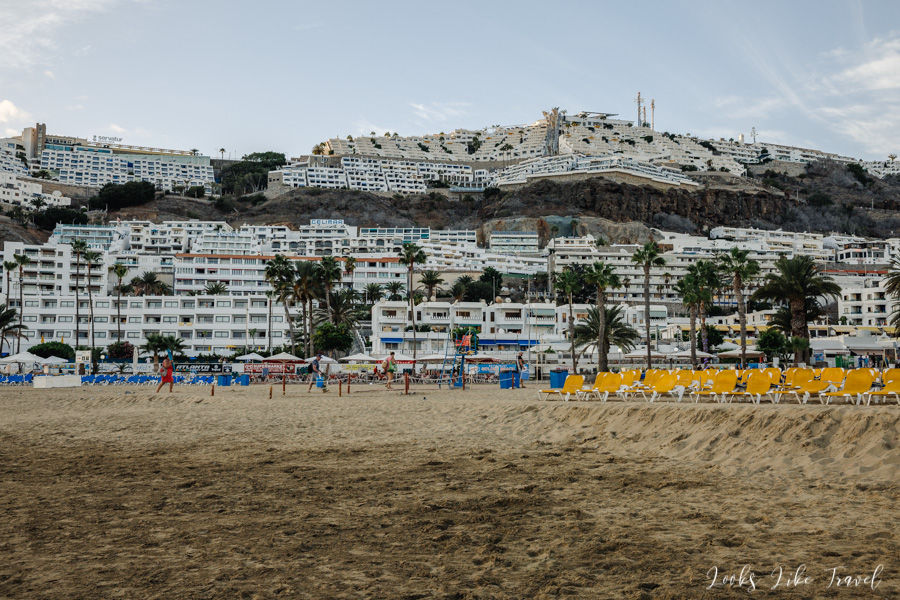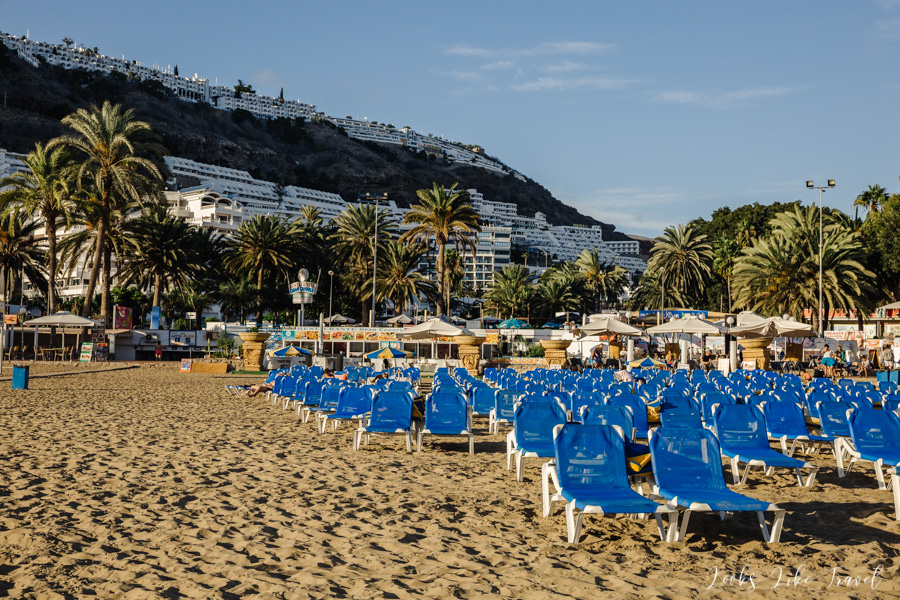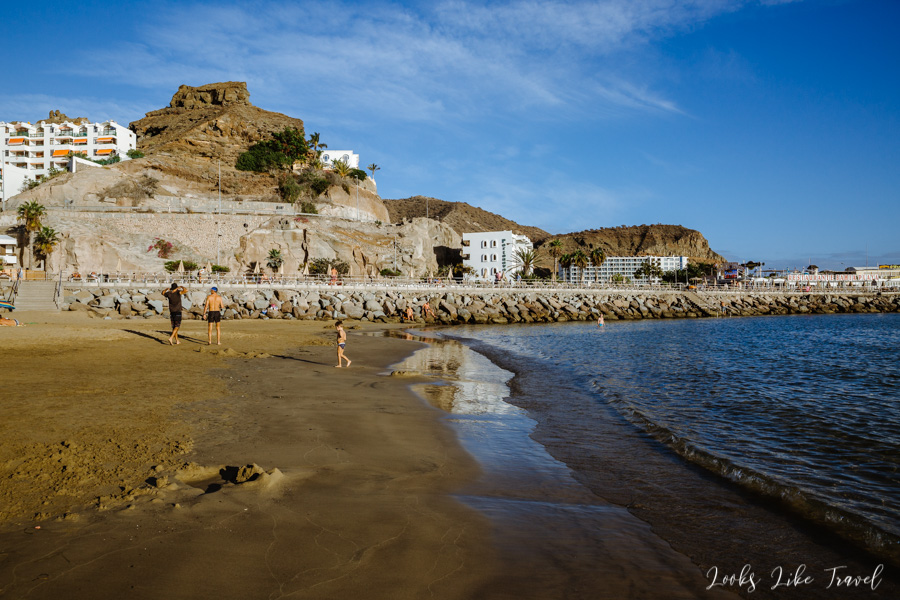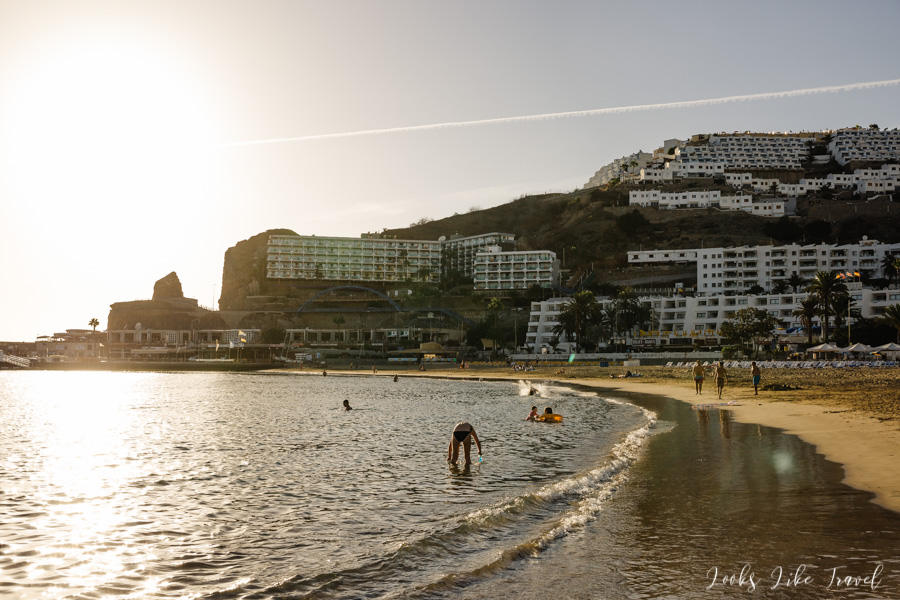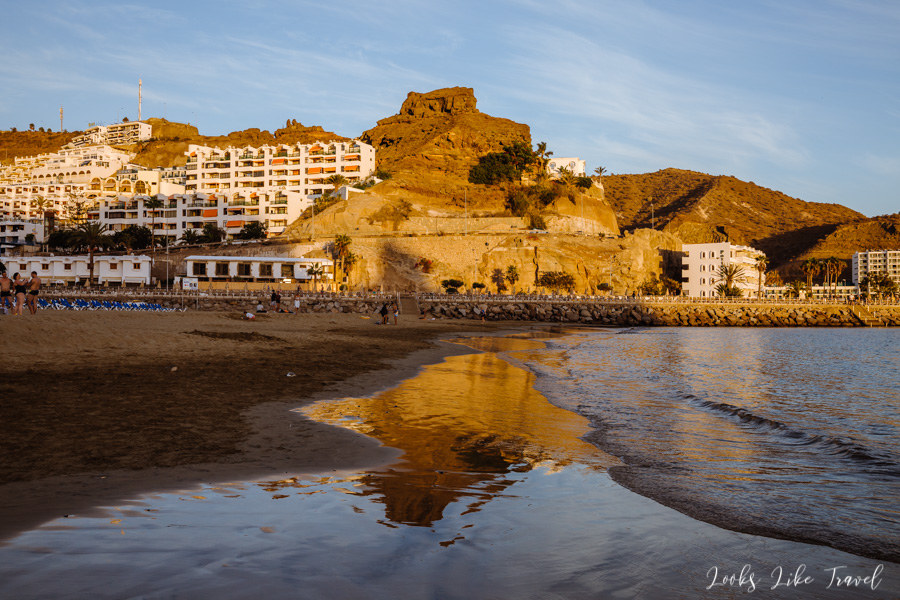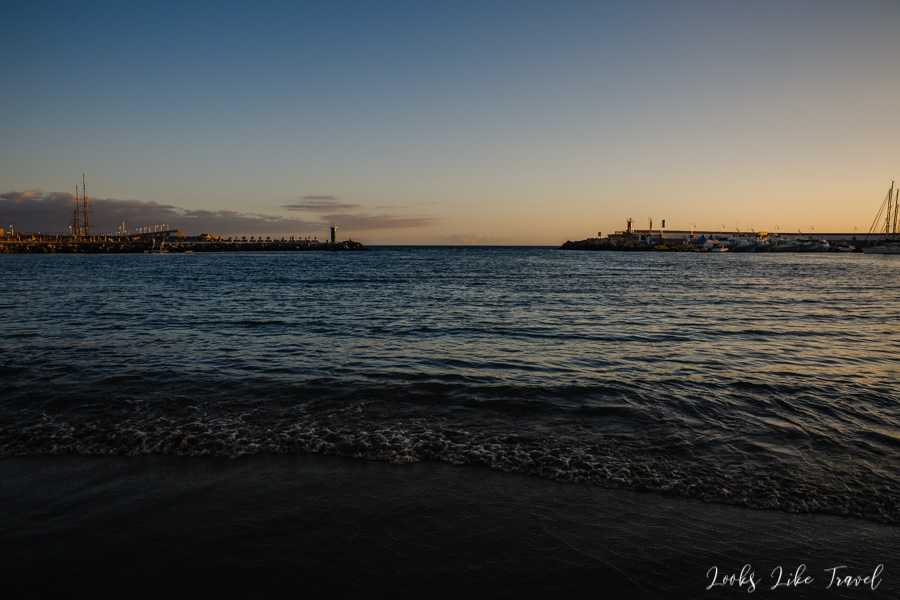 We use the last rays of the sun that day and then return to Arinaga. We eat dinner in our constantly visited restaurant. As I have already mentioned, today was my favourite day throughout my stay in Gran Canaria. I like the Barranco de Guayedra gorge with two beaches. I'm glad that I managed to discover this place because, as you know, the beaches on the island are mostly big resorts and it's hard to find something intimate. The town of Puerto de Las Nieves was also an unusual place. It is one of two places, next to the town of Tejeda, which I remember the most. It's hard not to mention the road GC-200. Revelation! How do you like it?
Thank you for reading the entry!
If you think it is interesting, we would be pleased if you leave a mark in the comment.
You will find more posts from Gran Canaria here:
There are direct links to the next and previous episodes below.
All our travels: Travels
We also invite you to our Instagram and Facebook fanpage, where you can be up to date with all our travels.
See you later! 🙂