On March 13-20, together with my husband, dad and sister, we traveled around Andalusia. Due to the fact that we wanted to see as much as possible, planning a trip took me a few weeks. Fortunately, almost everything went well and I came back with two memory cards full. I wrote "almost" because we had some adventures, including the weather, but more on that later. We saw Cordoba, El Chorro, Ronda, Pueblos Blancos (white towns), Gibraltar, Cádiz and Seville. In another entry you can see the exact travel plan with city maps. Here we will show you the most interesting monuments and attractions of Cordoba that are worth visiting.
What to see in Cordoba?
We land at the airport in Seville and rent a car there. We go to Córdoba for the night, we will visit Seville only at the end of the trip. A small hostel in the city center is our temporary home. We spend the evening with wine and sangria in our beautiful patio.
Puente Romano- famous postcard from Cordoba
We also go for a short walk to the Roman Bridge, from where you can see the city panorama.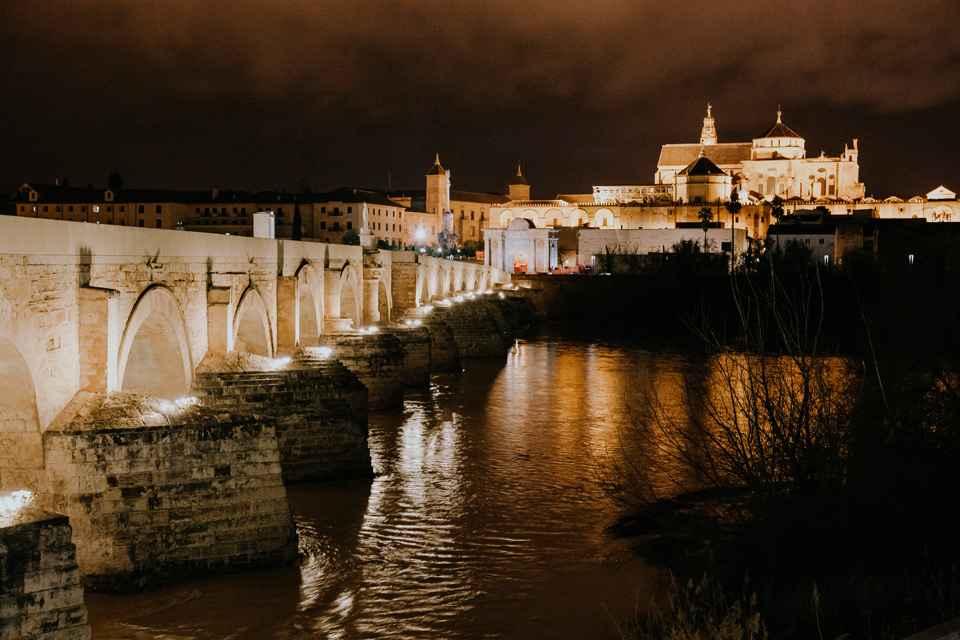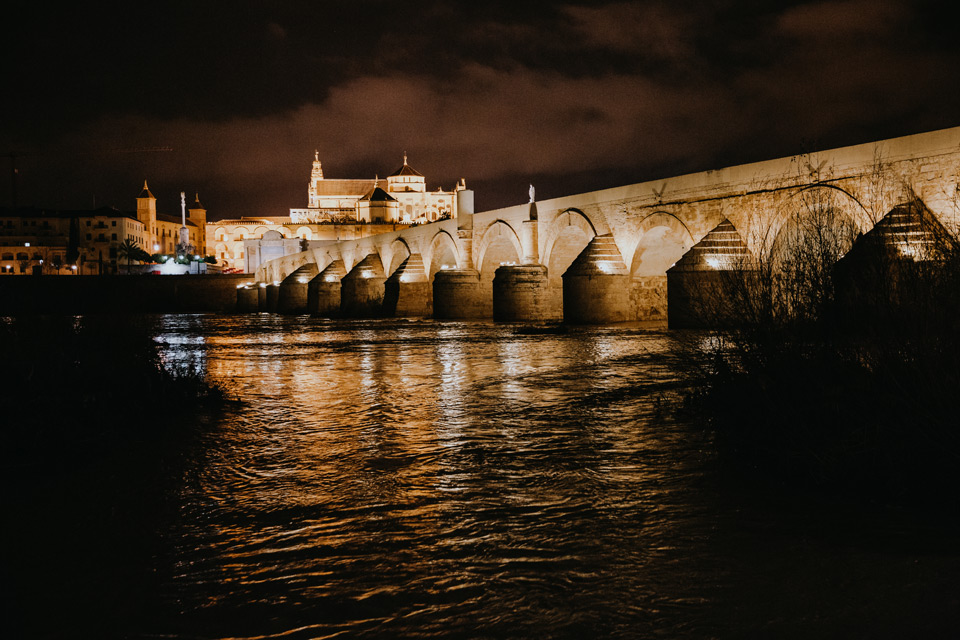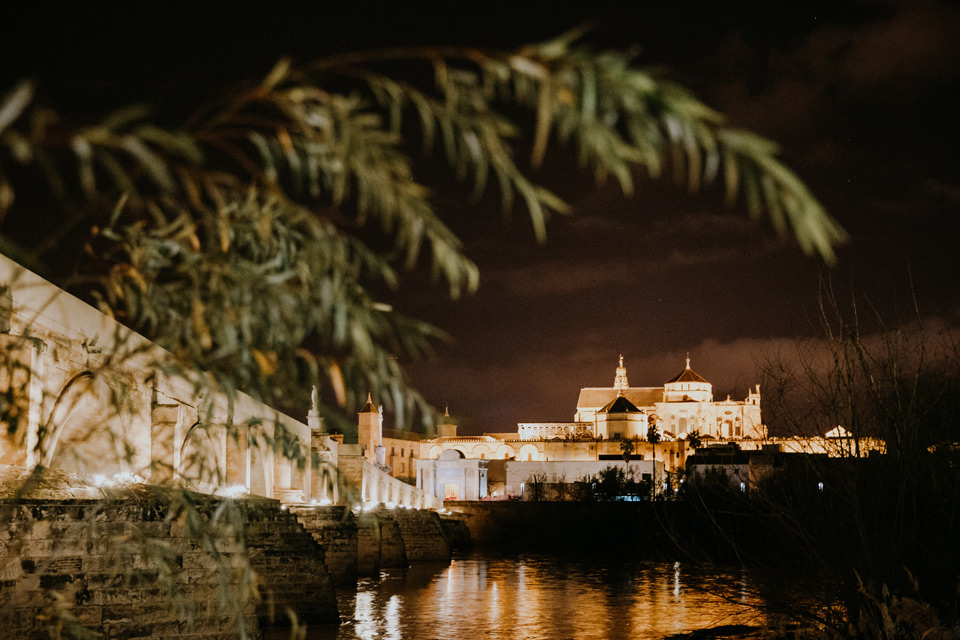 The next day we start quite early, because at 8:30 we leave the hostel. Our plan is to enter the most important building in Cordoba – Mezquita. Between 8:30 and 9:30, individual tourists can enter for free. Normally a ticket costs 11 euros, so it's worth using this option.

Mezquita – the most important monument in Andalusia?
After 3 minutes we reach Mezquita. Before we get inside, we have to go through a huge courtyard with orange trees. We look at old columns and gate decorations.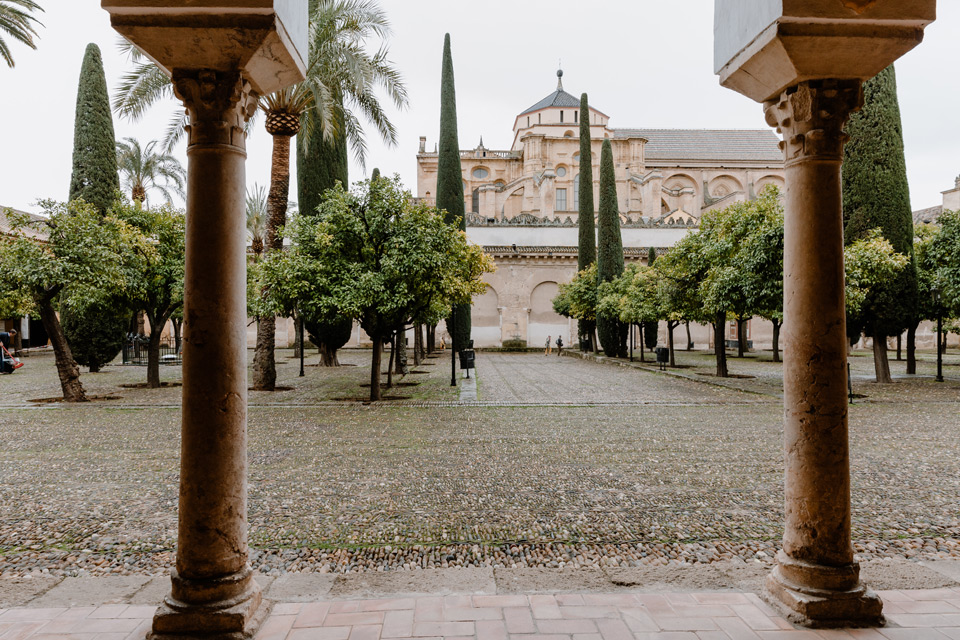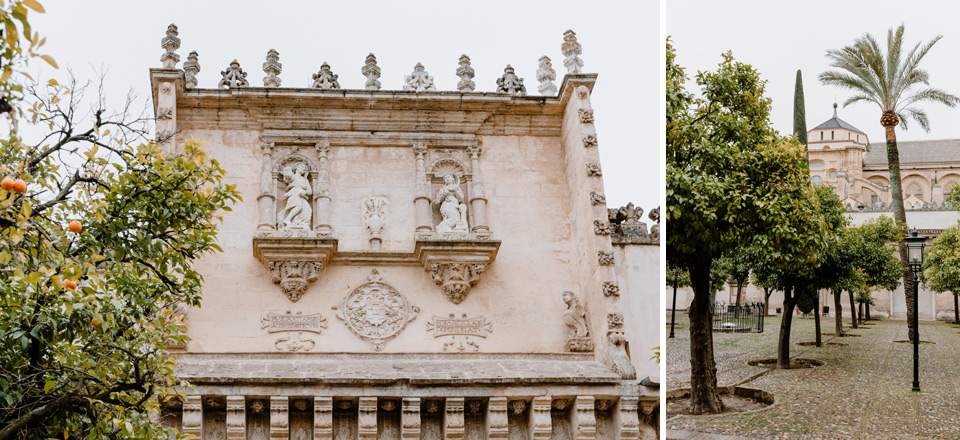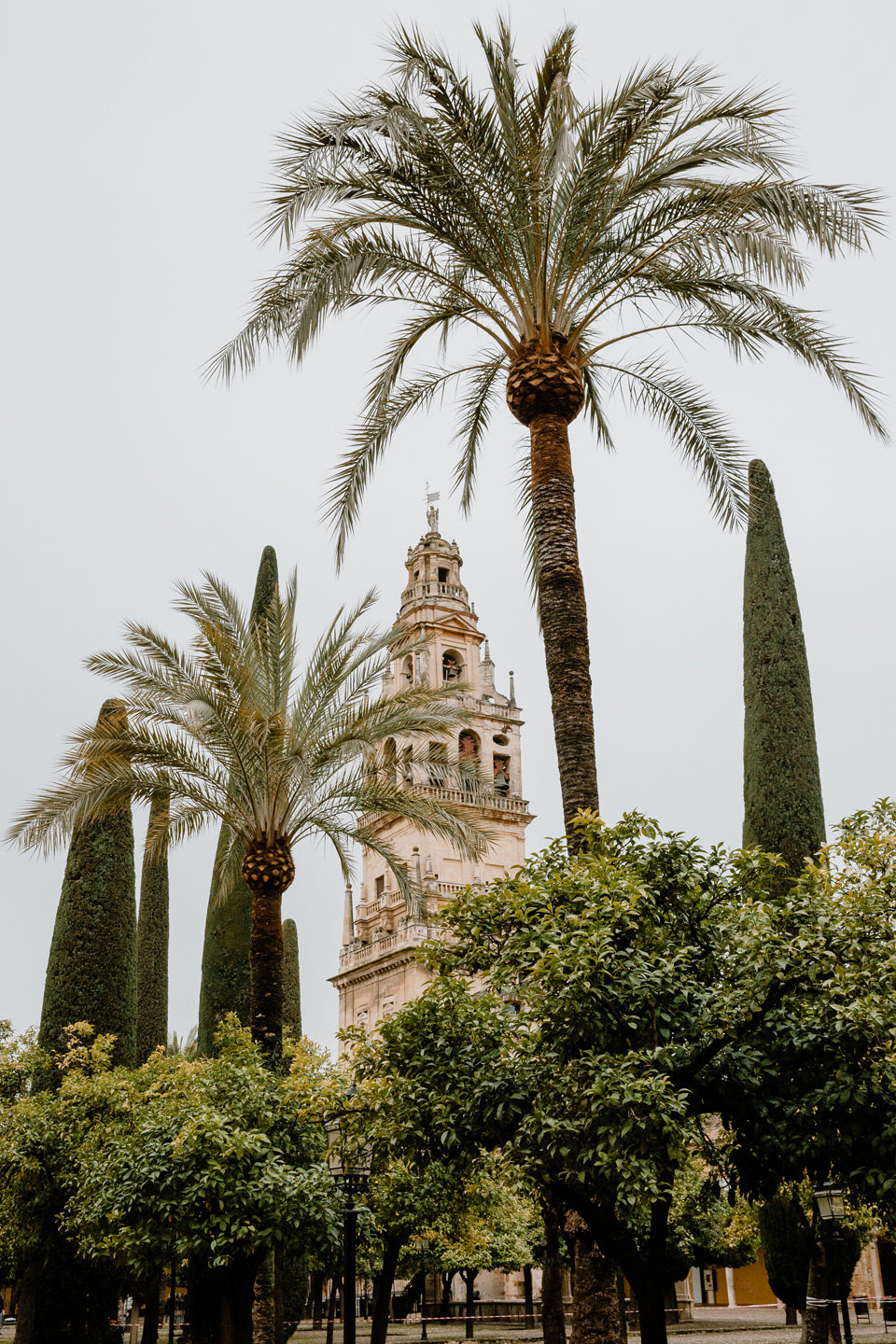 We go inside. The Mezquita is a great mosque that has been rebuilt several times and is now used as a Catholic cathedral. Its interior is filled with a forest of red and white columns. It's worth looking into the recesses and looking up, because you can then see many interesting details, including richly decorated mihrab elements and magnificent domes.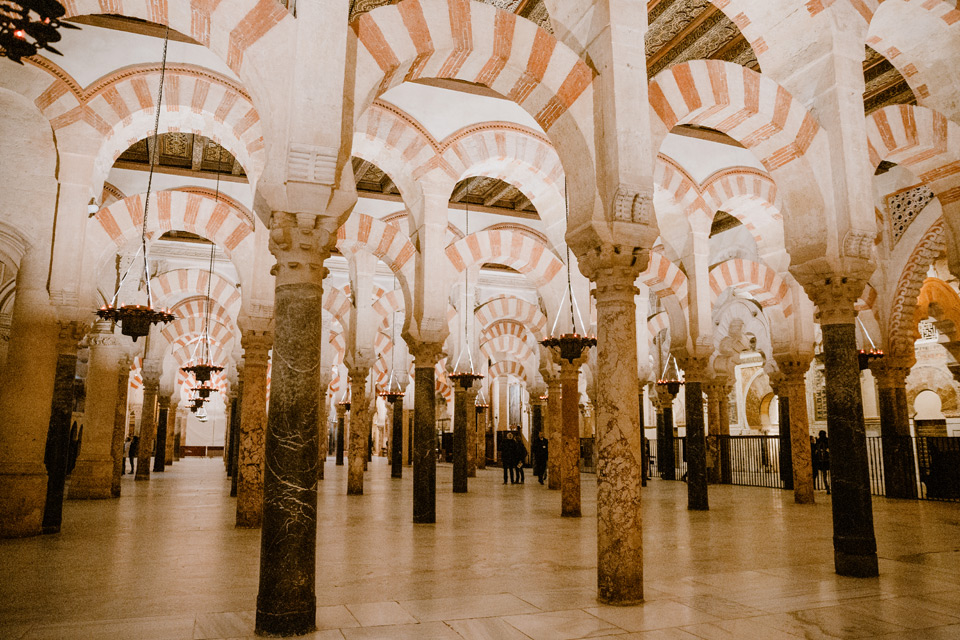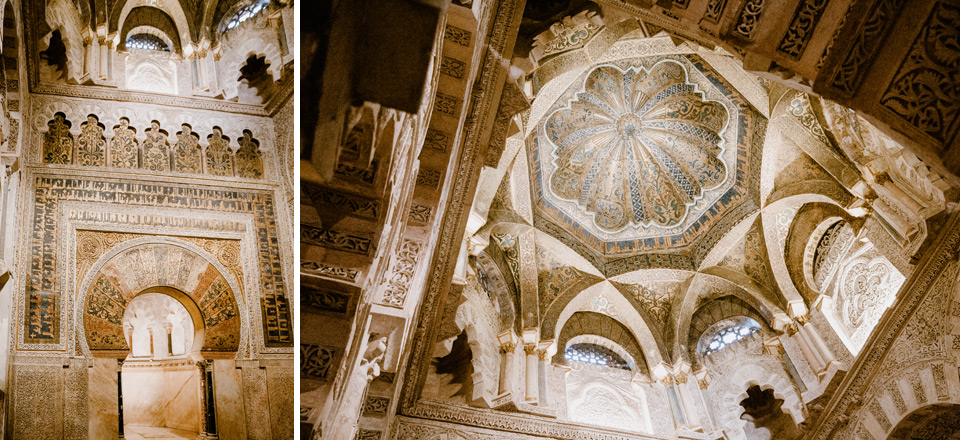 After leaving the cathedral, we walk towards the Roman Bridge on the way, entering one of the stands where Beata buys magnets. In Spain, as in Portugal, you can see ceramic elements.

In the pictures below, the Roman Bridge from the older part of the city and the small gate Arco del Triunfo.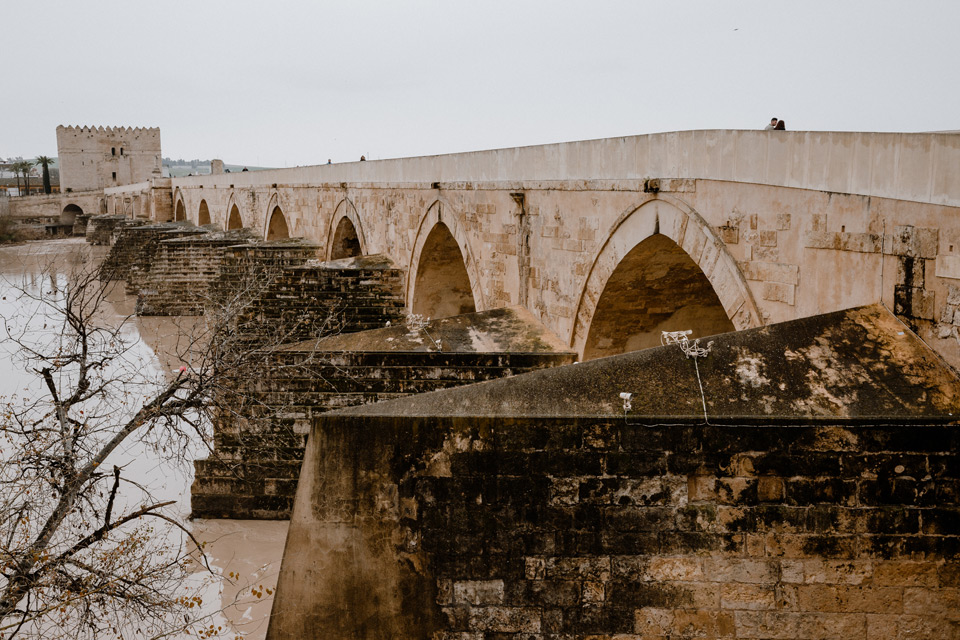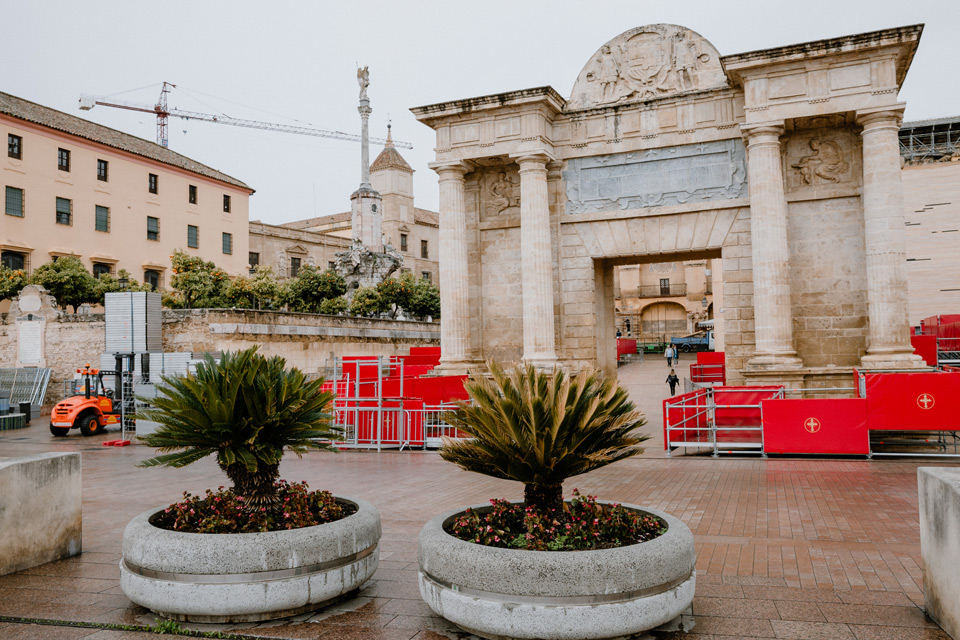 Cordoba River – Guadalquivir
We enter the bridge. We slowly walk and look at the flowing river, whose name I still can't remember – Guadalquivir. Unfortunately, the pictures are quite bleak, because the day is cloudy and it rains light every now and then. We admire the city standing on the right side of the bridge, then on the left. For me, this is the most interesting place in all of Cordoba. Most will say that the most beautiful is Mezquita, and I definitely prefer this view.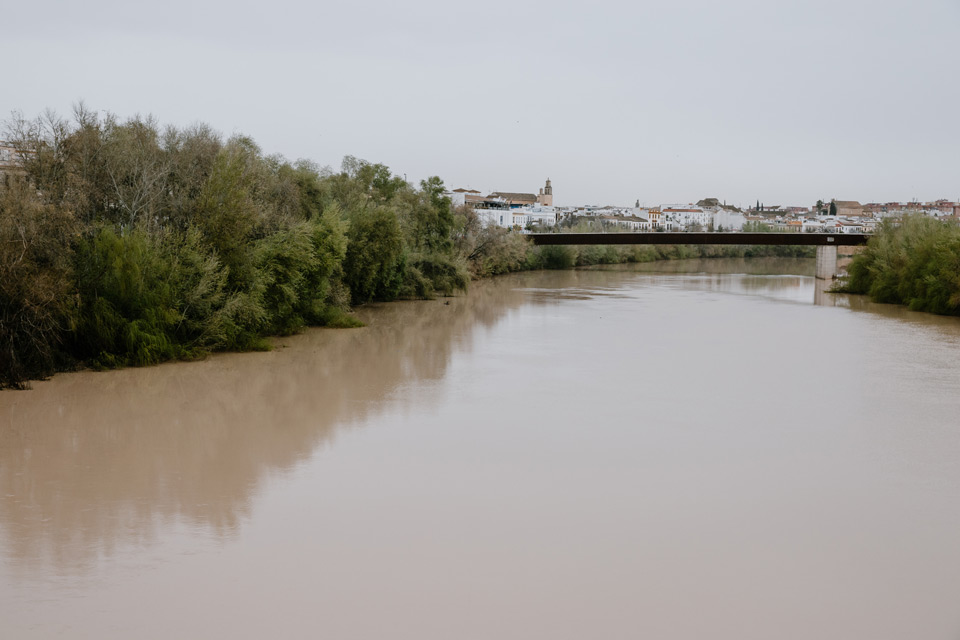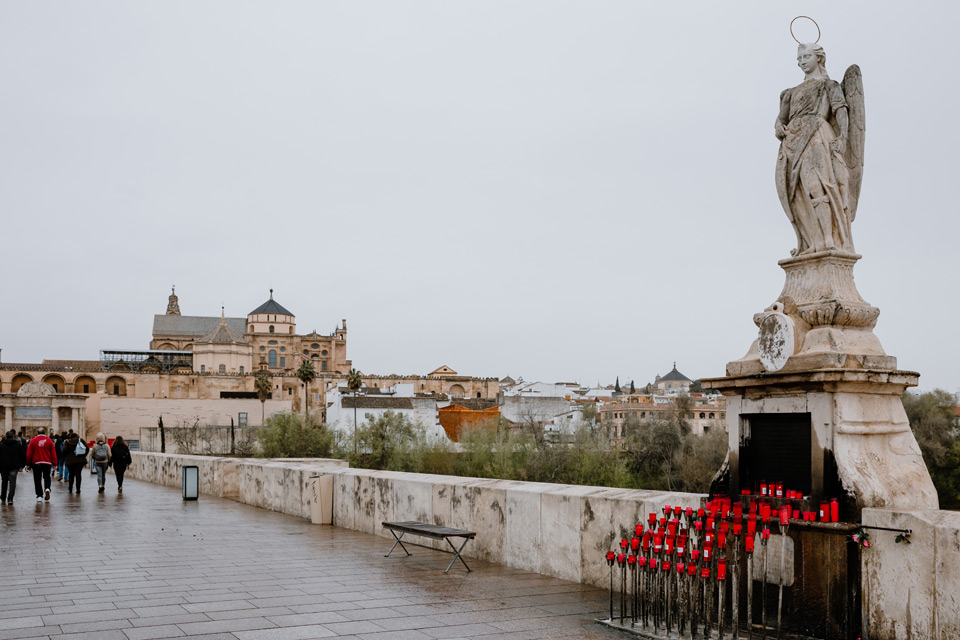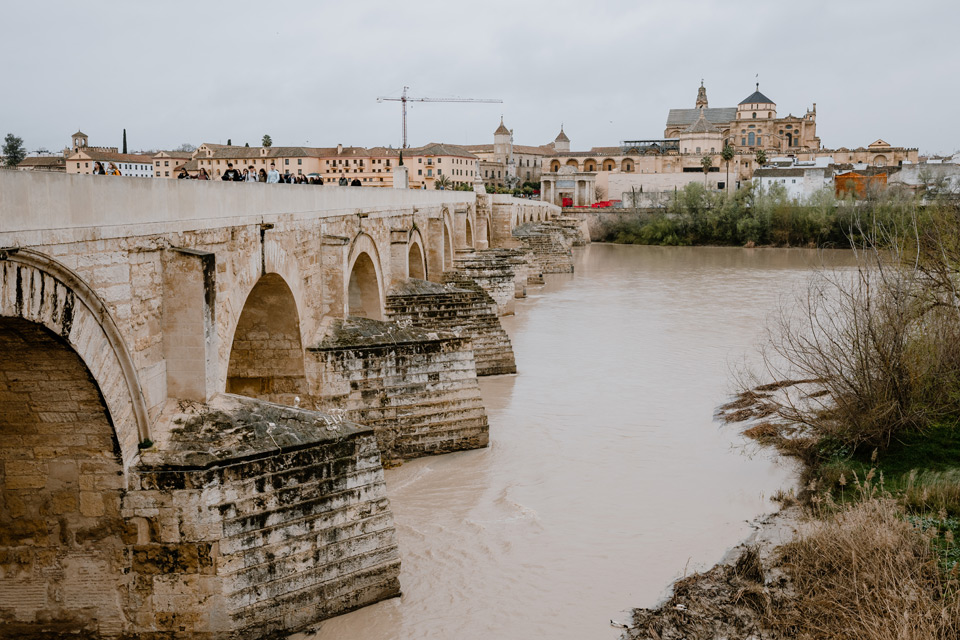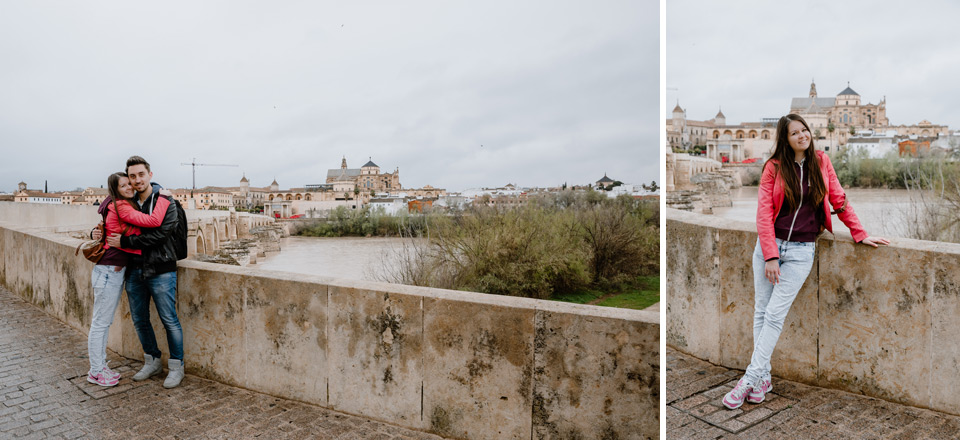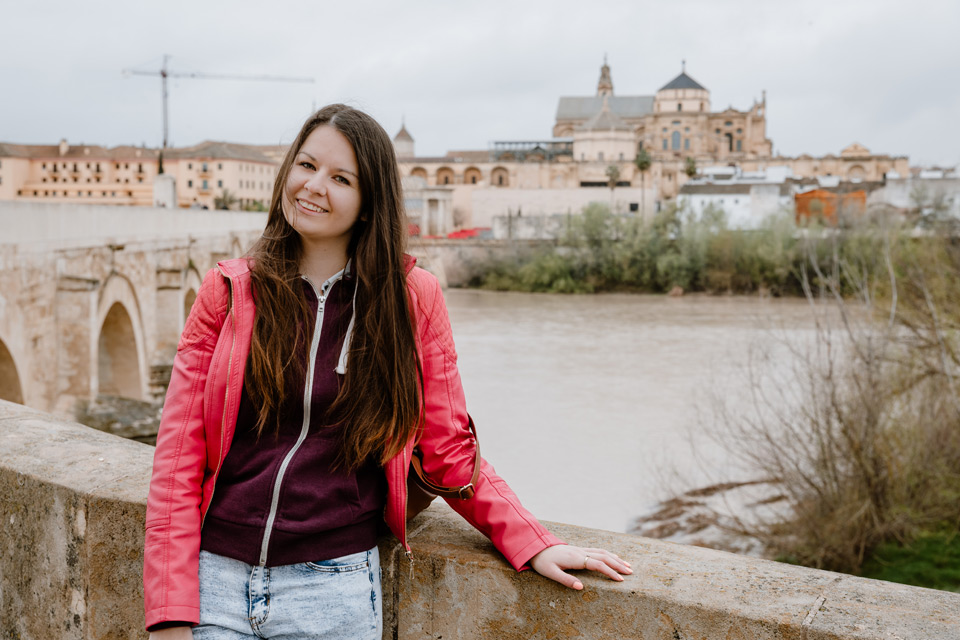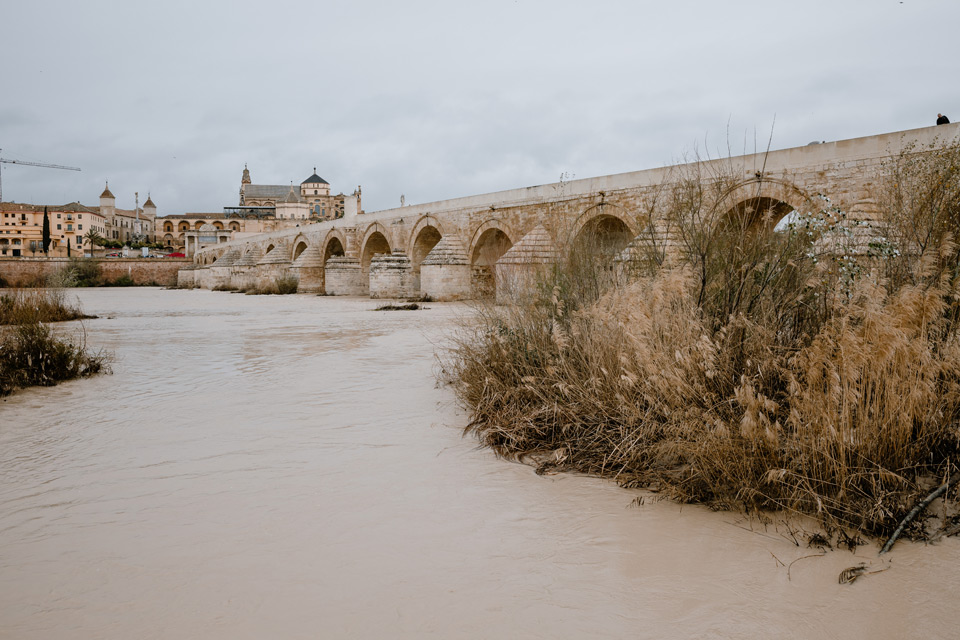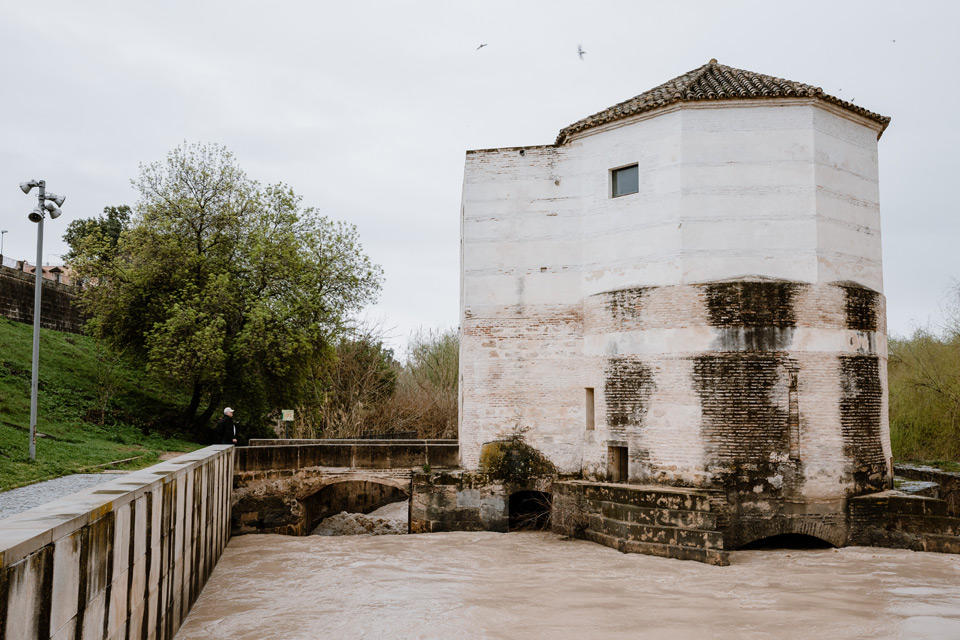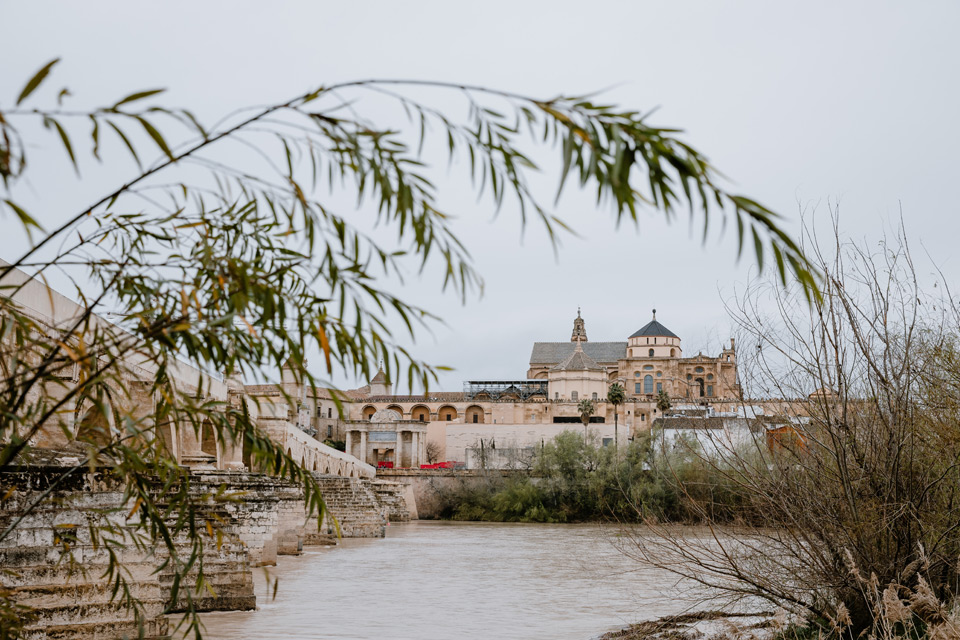 Torre De Calahorra
At the end of the Roman Bridge stands Torre De Calahorra – the building where the museum is now located. Earlier it served as a defensive fortress. Entrance to the interior is paid.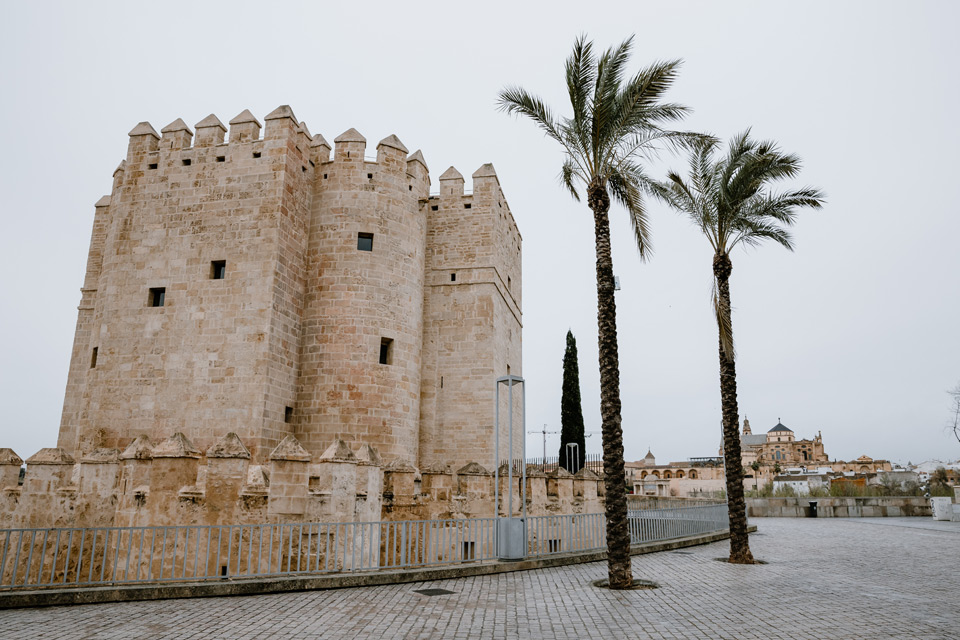 the famous Alcazar and its gardens
Instead, we enter Alcazar – the Castle of Christian Kings. This place is visited not because of the building itself, but because of the beautiful gardens that are next to it. While walking around the castle, it is worth climbing the Torre de los Leones and see the panorama of the city.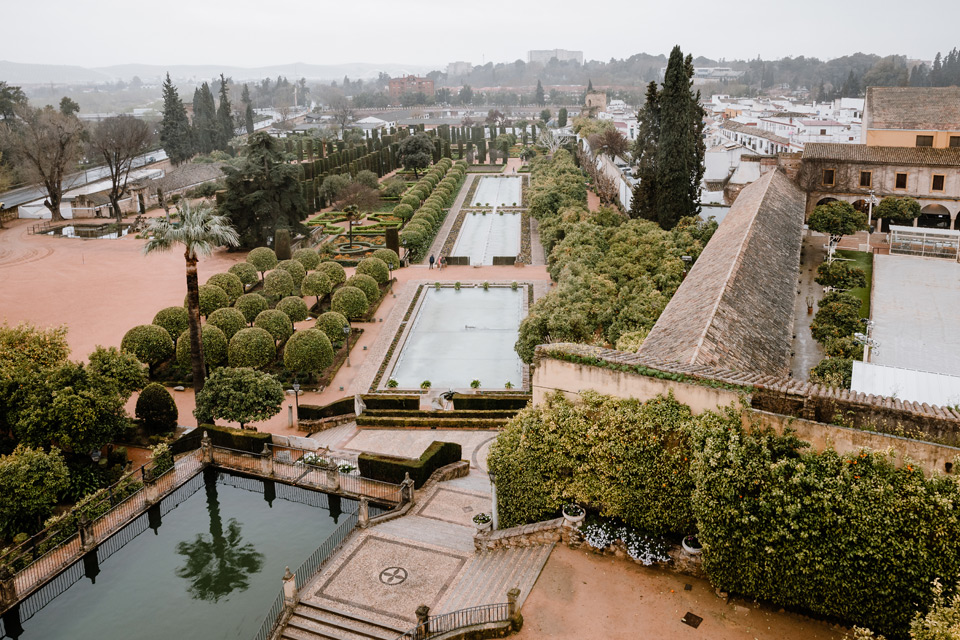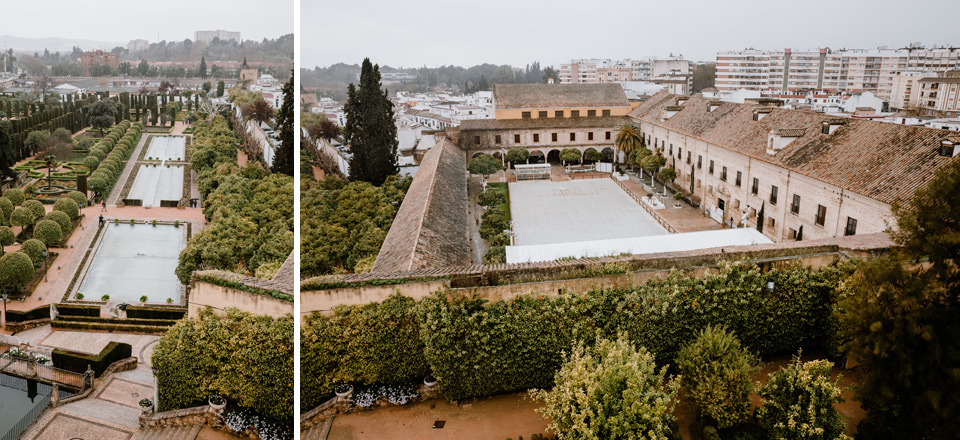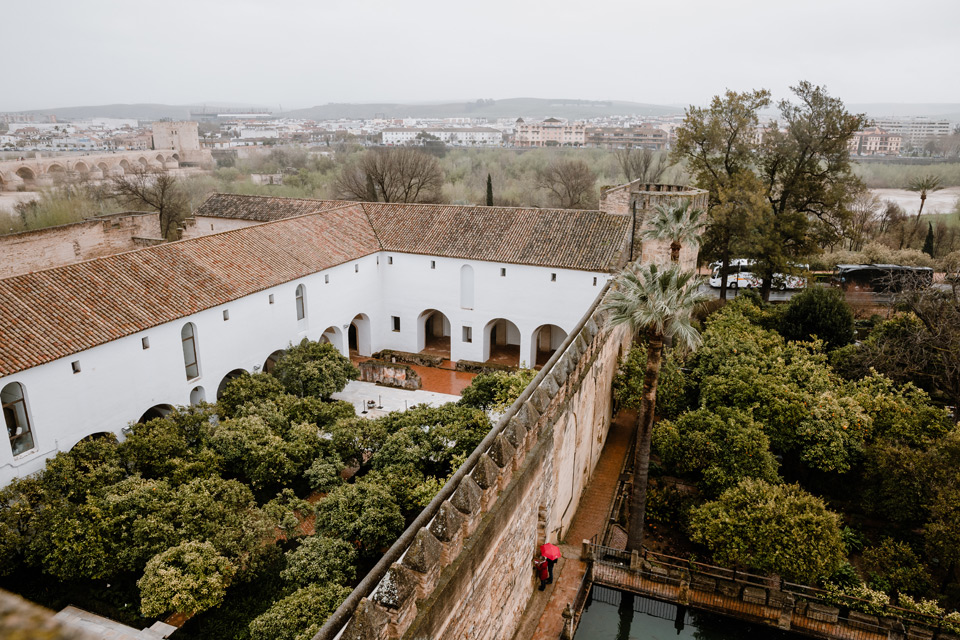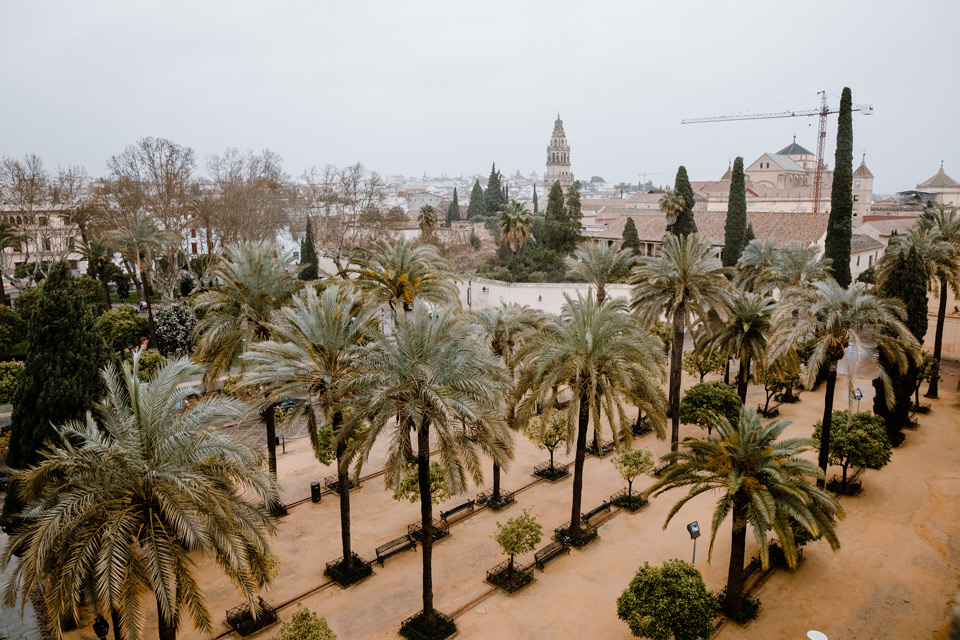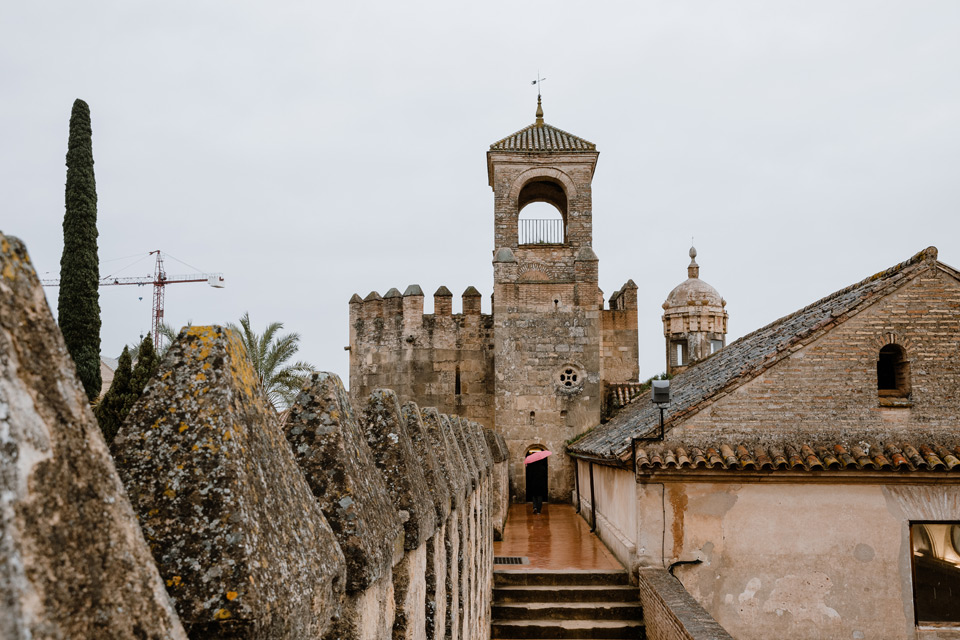 We descend to the gardens.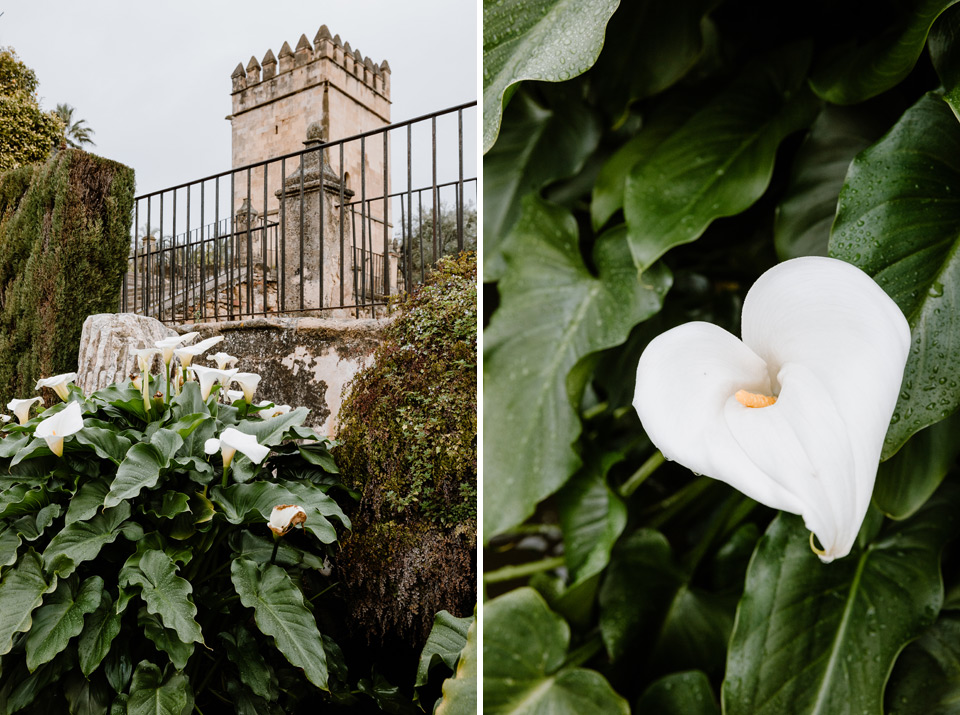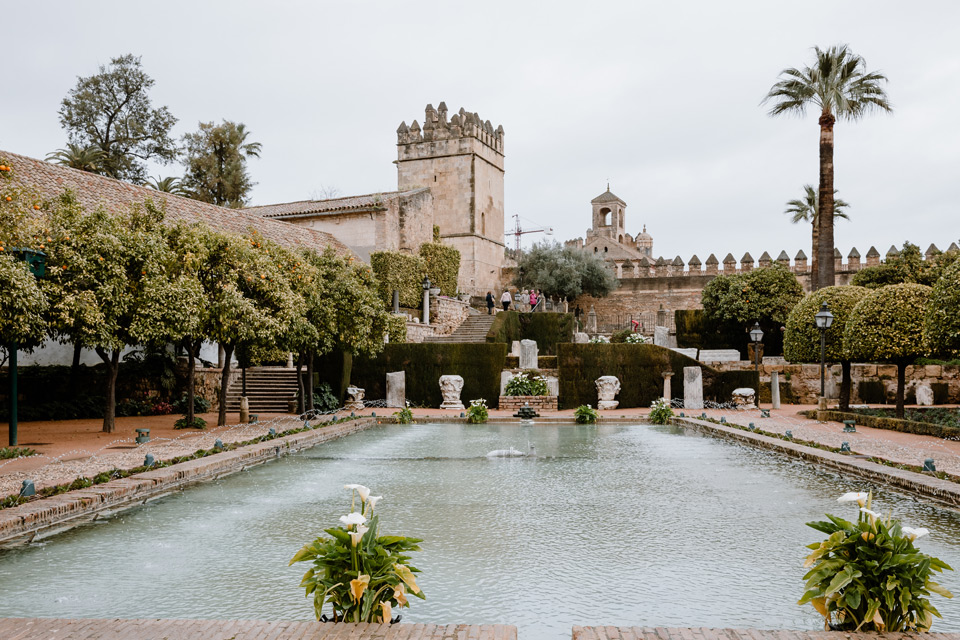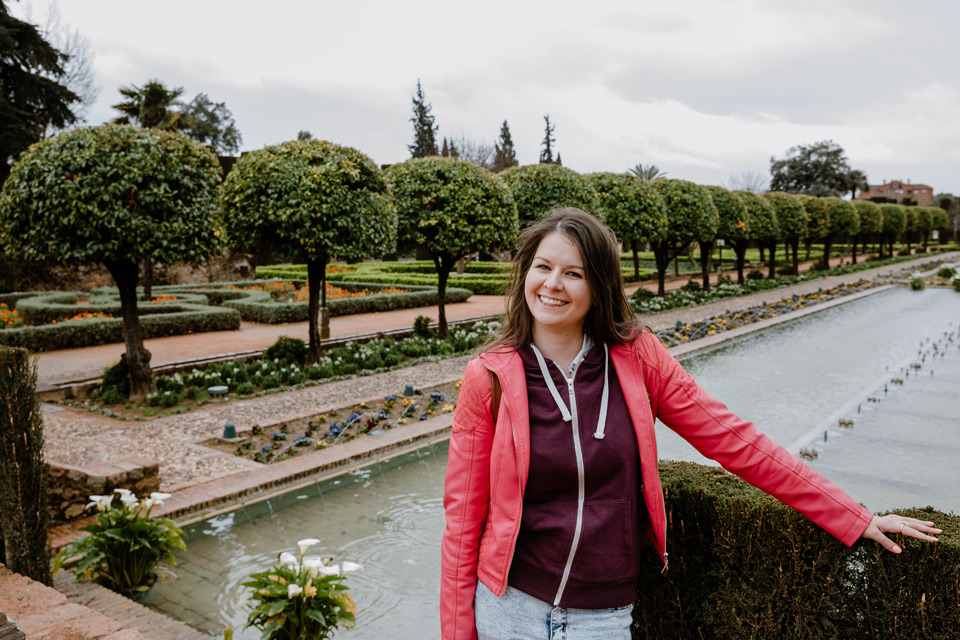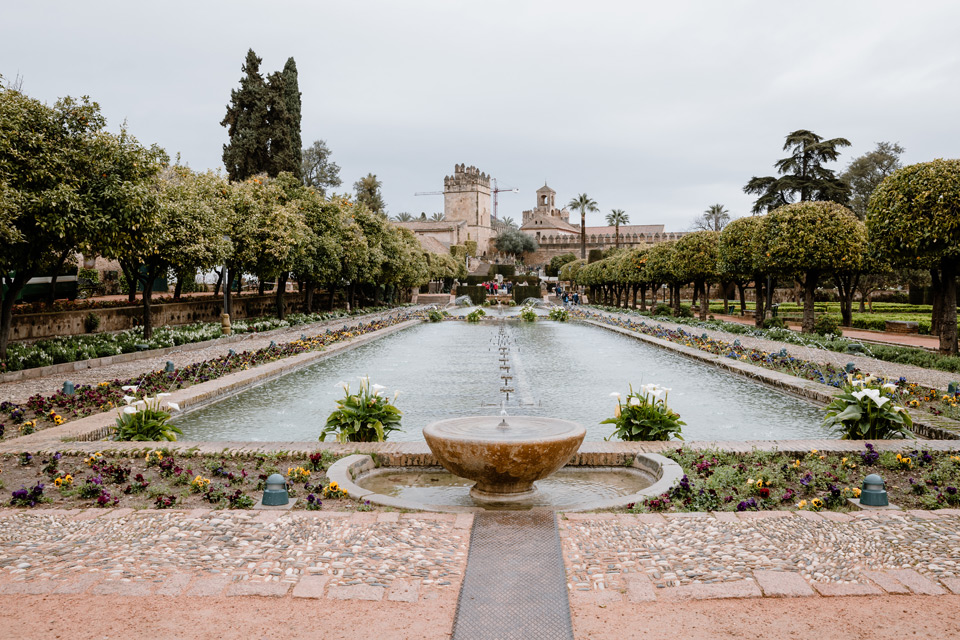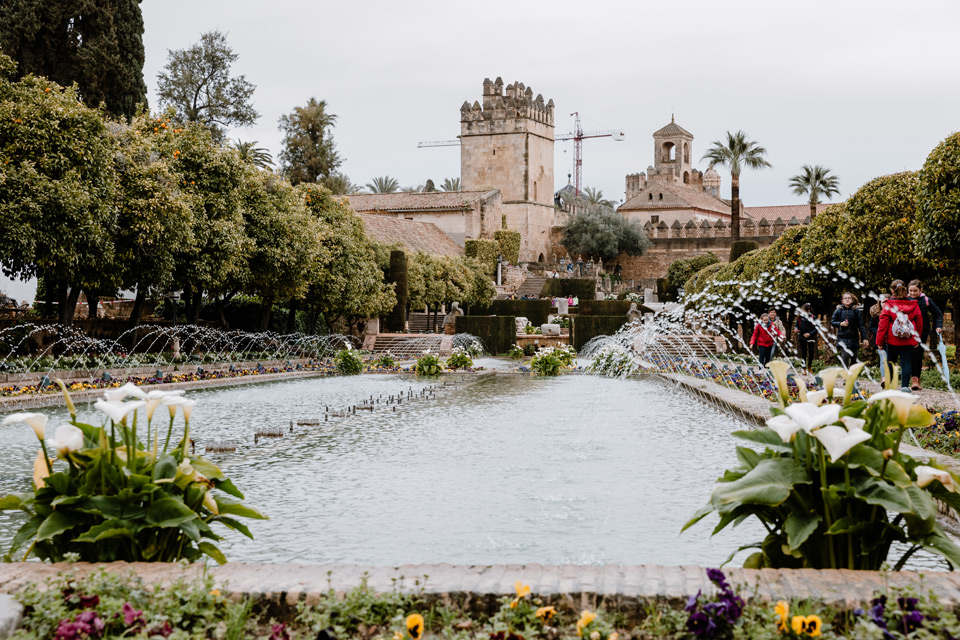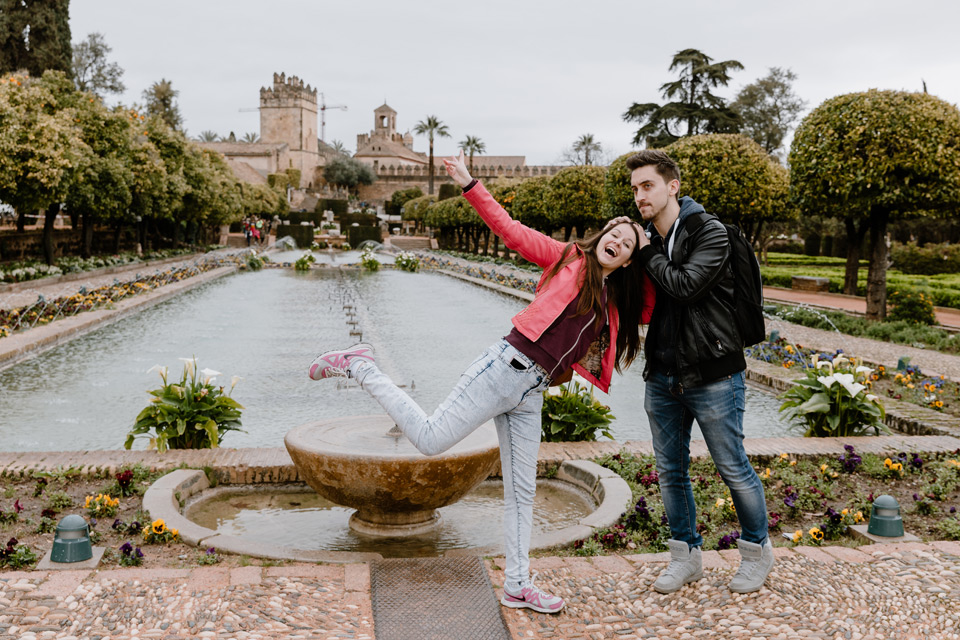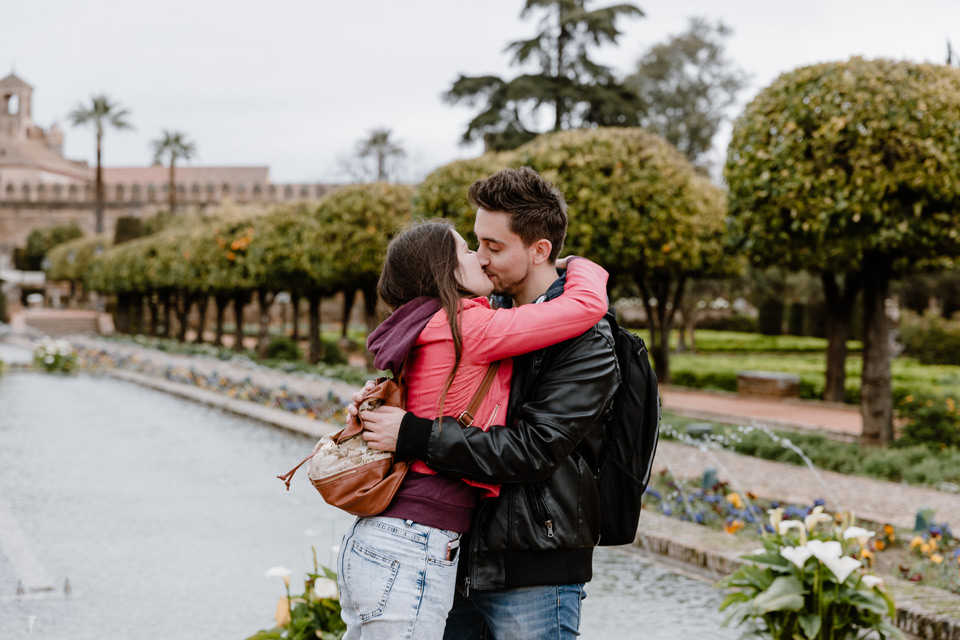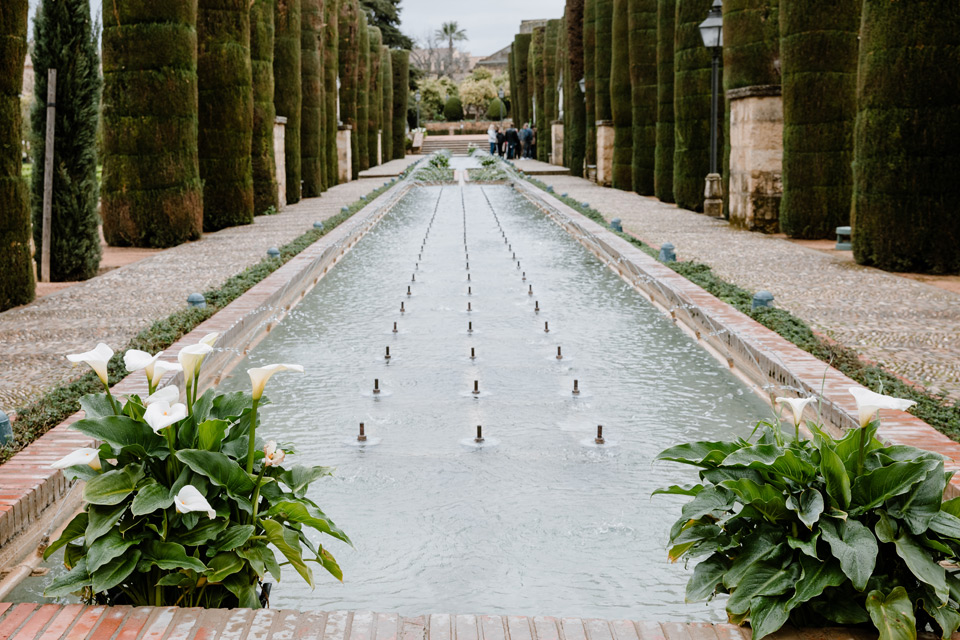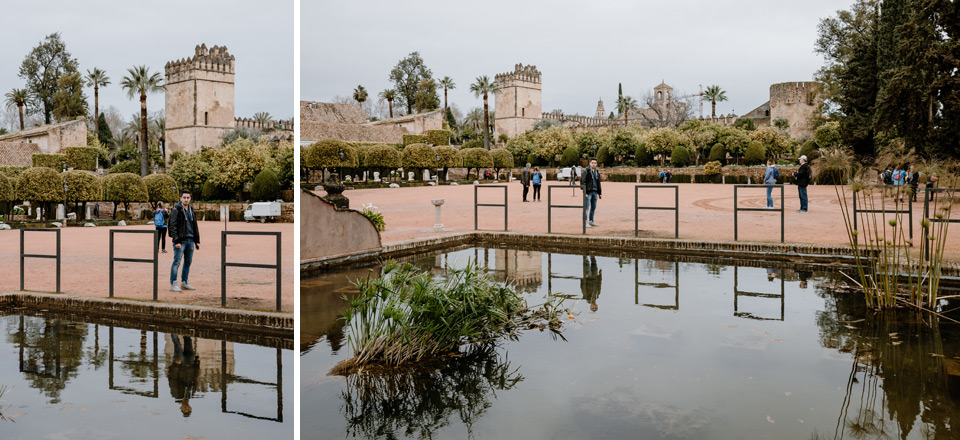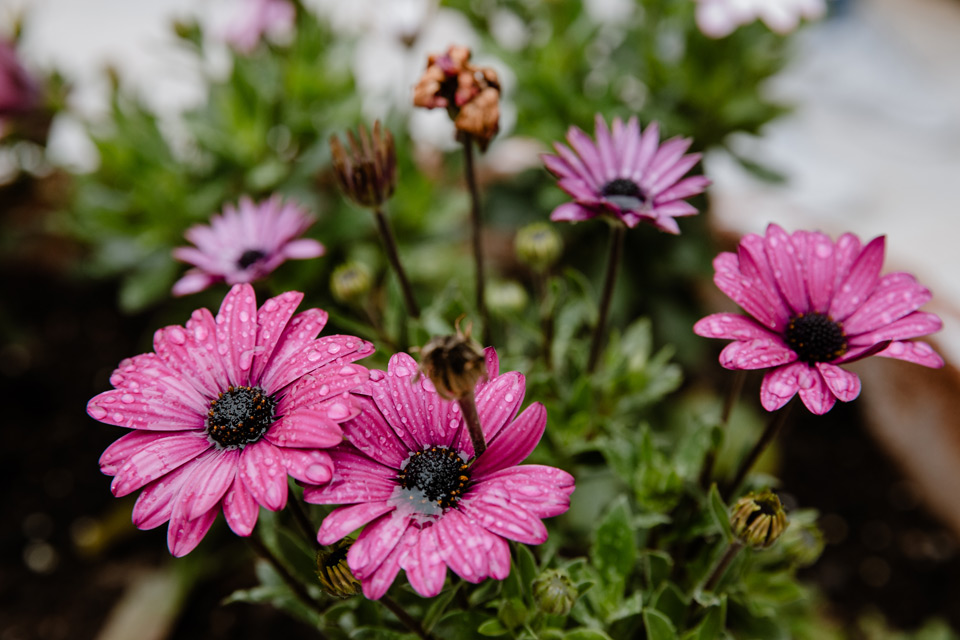 After visiting the castle, we return for a moment to the hostel for a short rest, on the way passing through Puerta de Almodovar. The most important monuments have already been visited, so we don't have to hurry.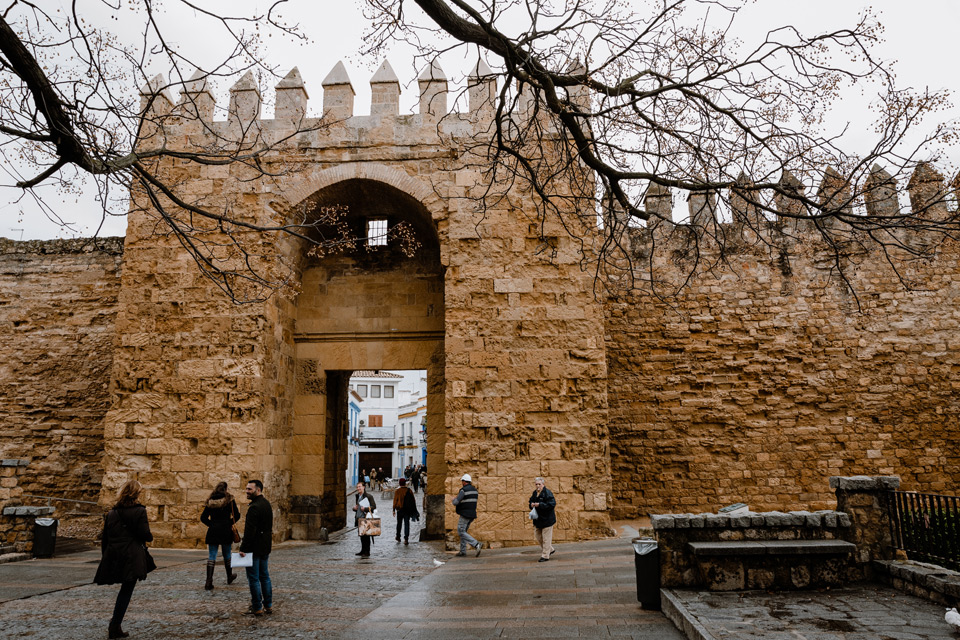 After resting, we head towards the city walls again, but don't go through the gate. Instead, we turn left.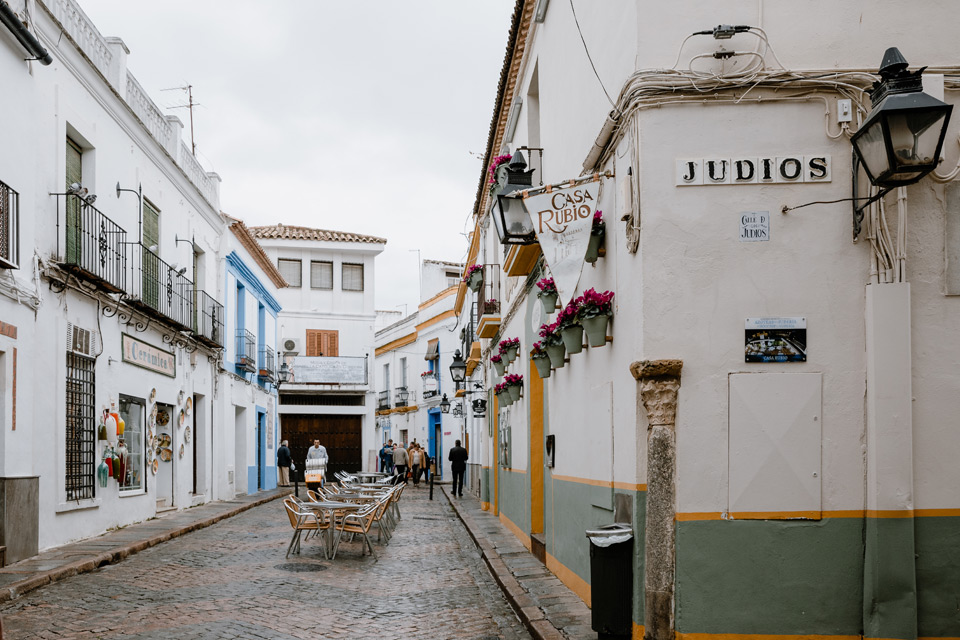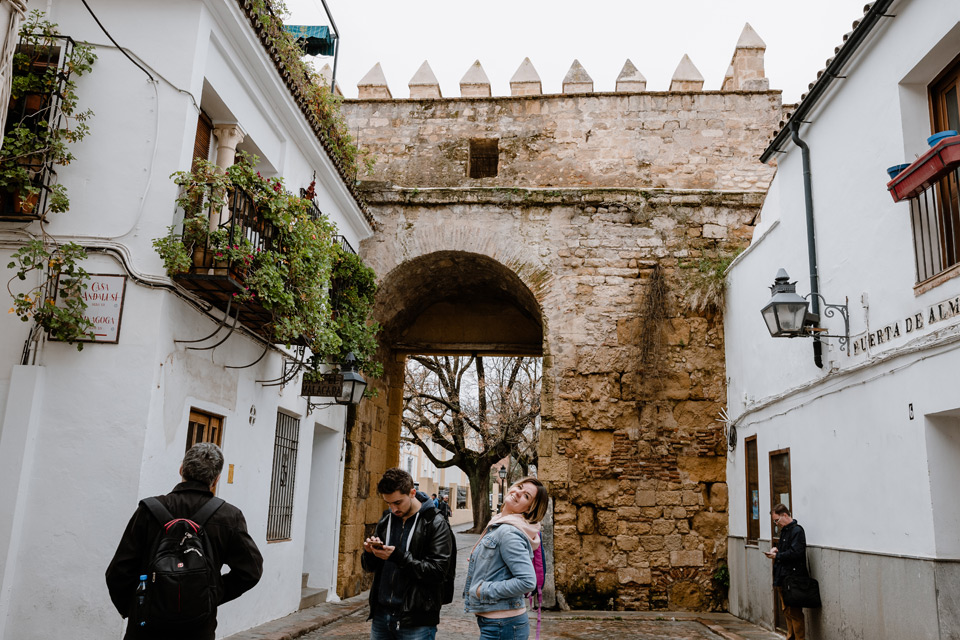 Museo Taurino de Cordoba
We go along the narrow street of Calle Judios. We pass by the Arab buildings: Casa de Sefarad and Sinagoga, but the renovation is underway and we don't look inside. Quite by chance we come across the Museo Taurino de Cordoba. We watch a small patio and come across a black bull guarding a tall palm tree.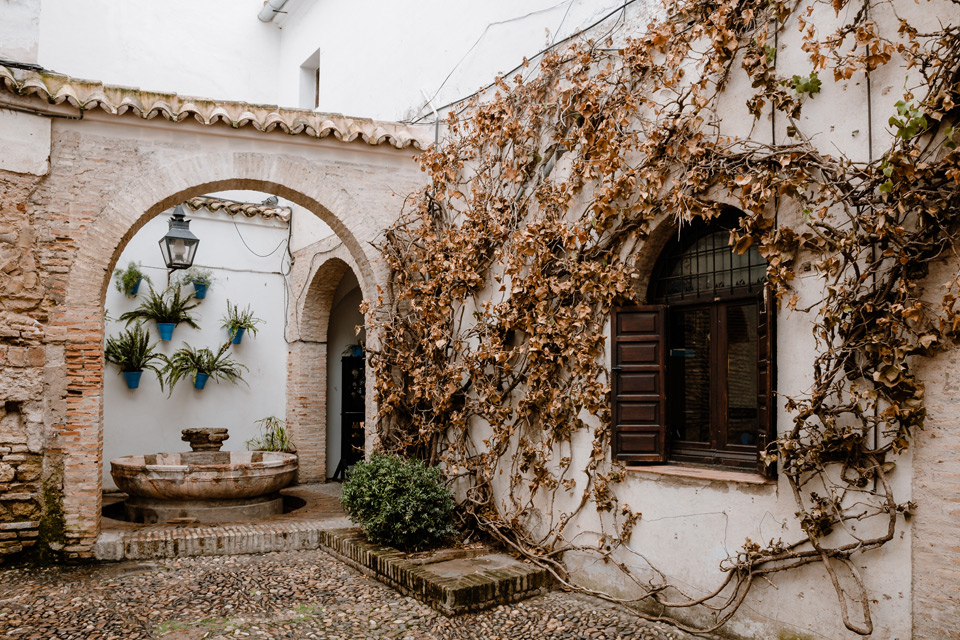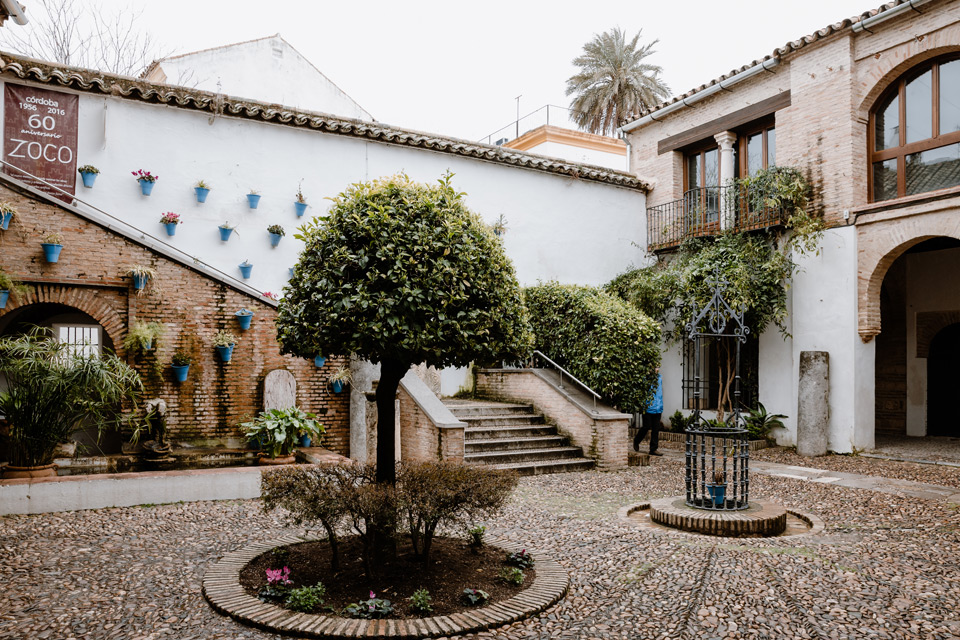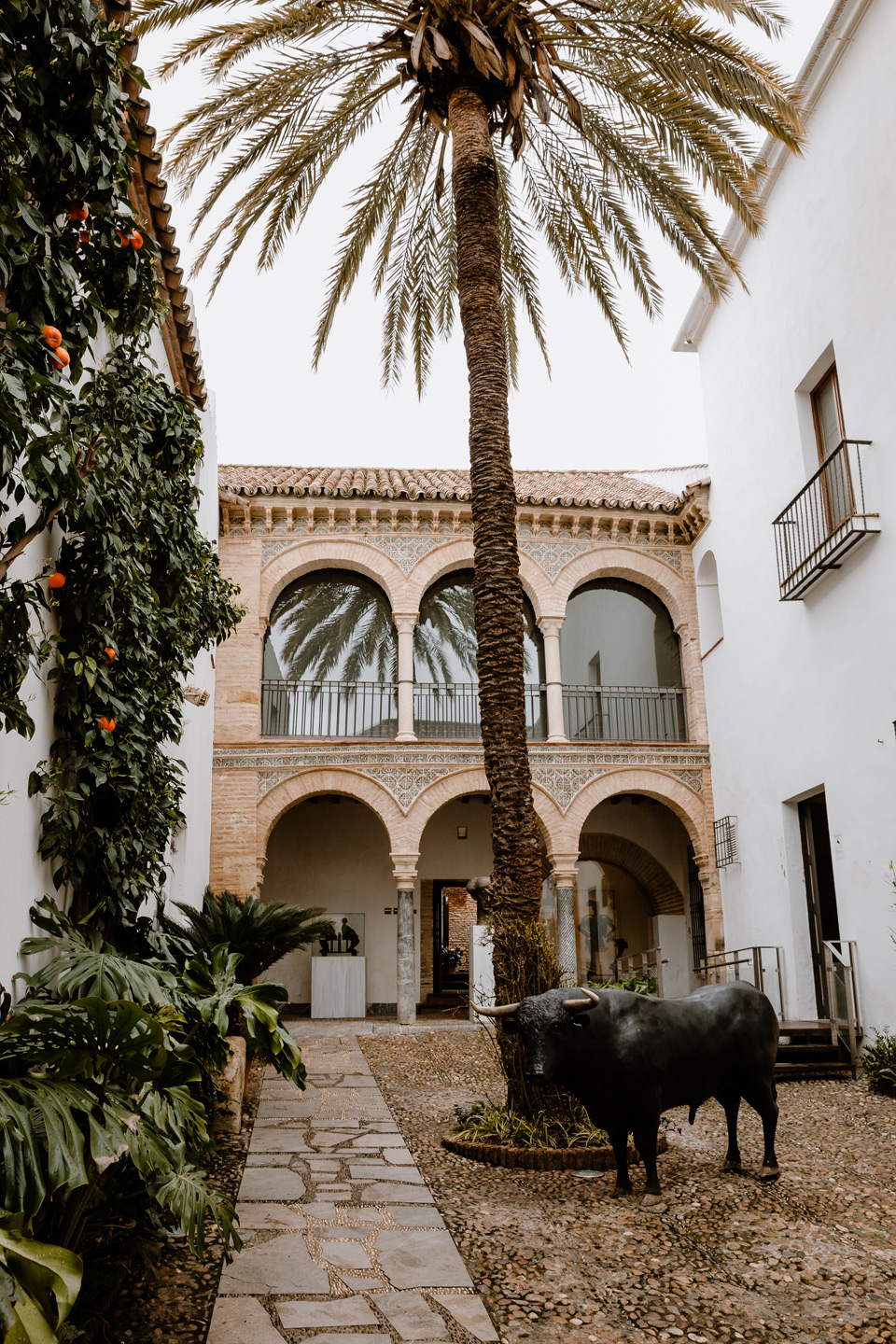 We look into the gift shop…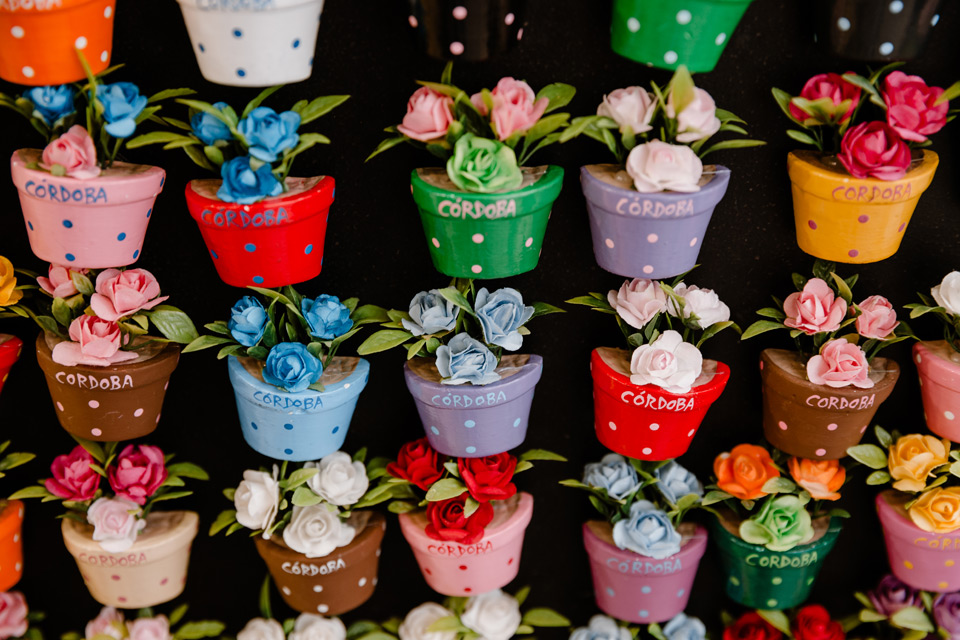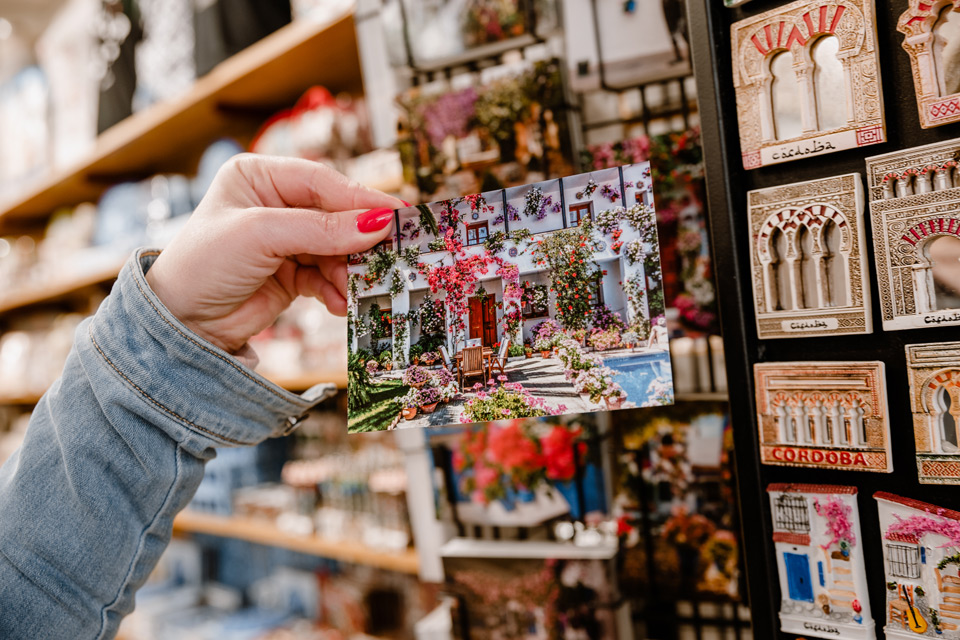 …and continue walking along the streets of Cordoba. We pass through a tiny square.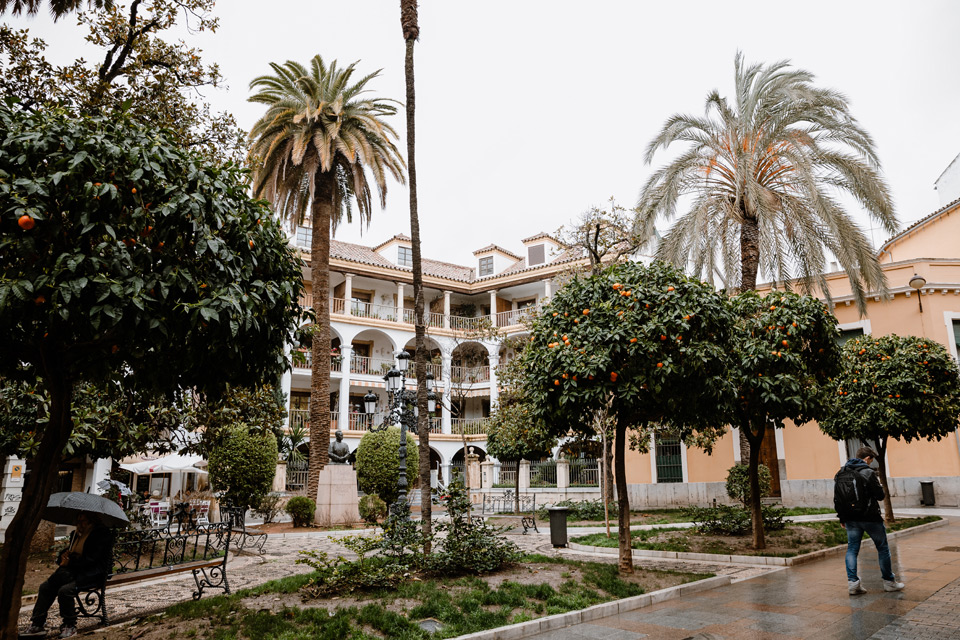 Plaza de las Tendillas – the most beautiful square in Cordoba
Then we go out to the big square – Plaza de las Tendillas. Here there will be a lot of photos.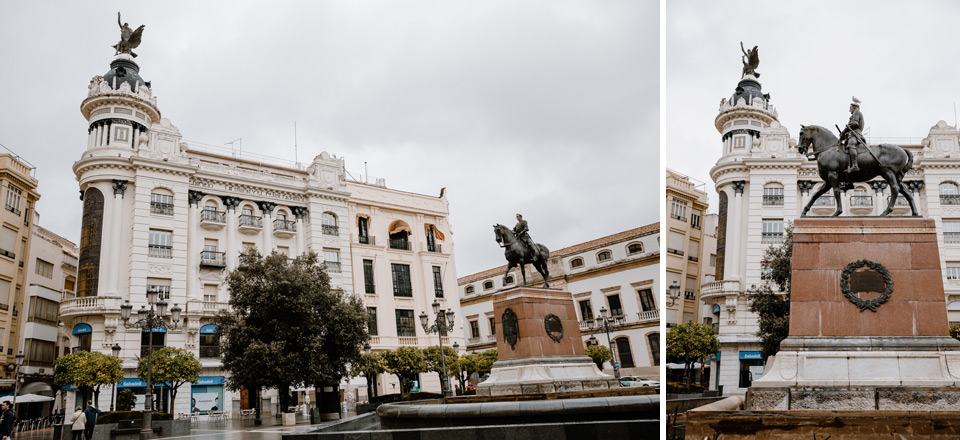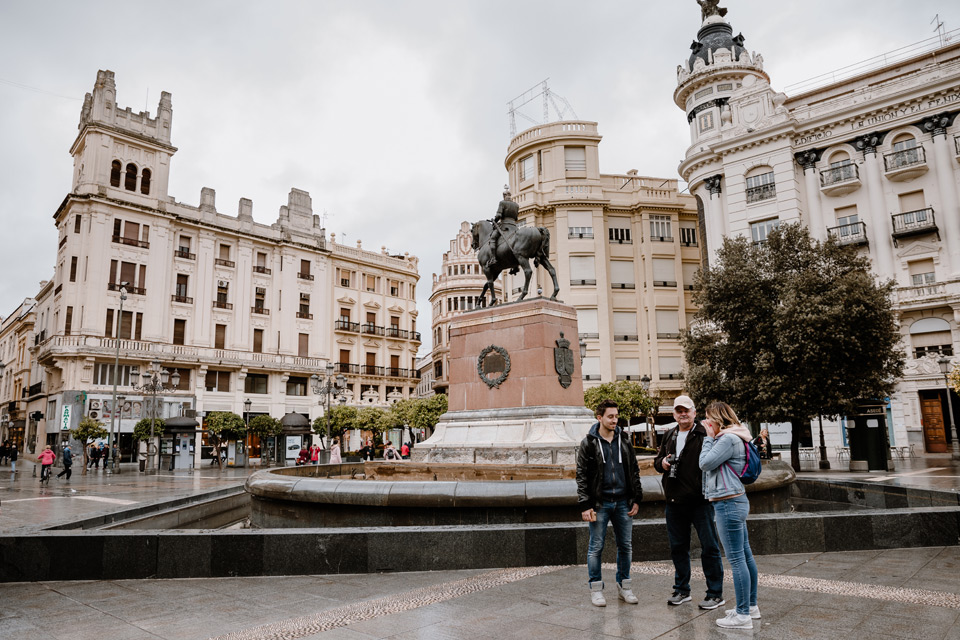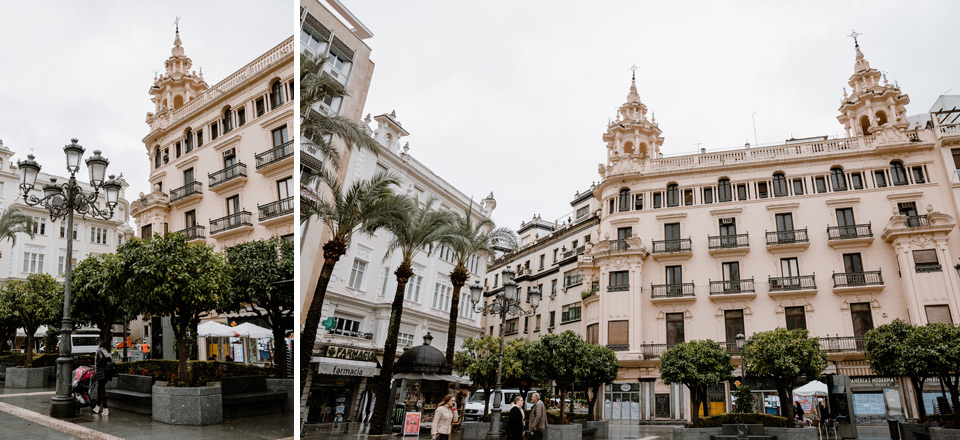 Templo Romano
To the east of the square are the ruins of an ancient Roman temple – Templo Romano. Now only columns are left.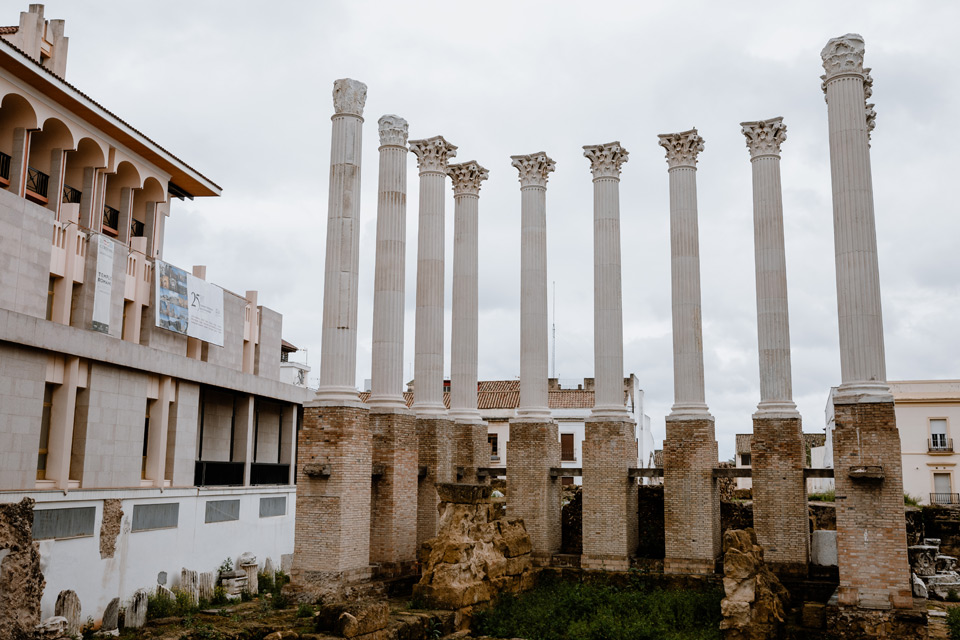 Iglesia de San Pablo
Right next to it is the Catholic church of San Pablo. It's covered by a high gate.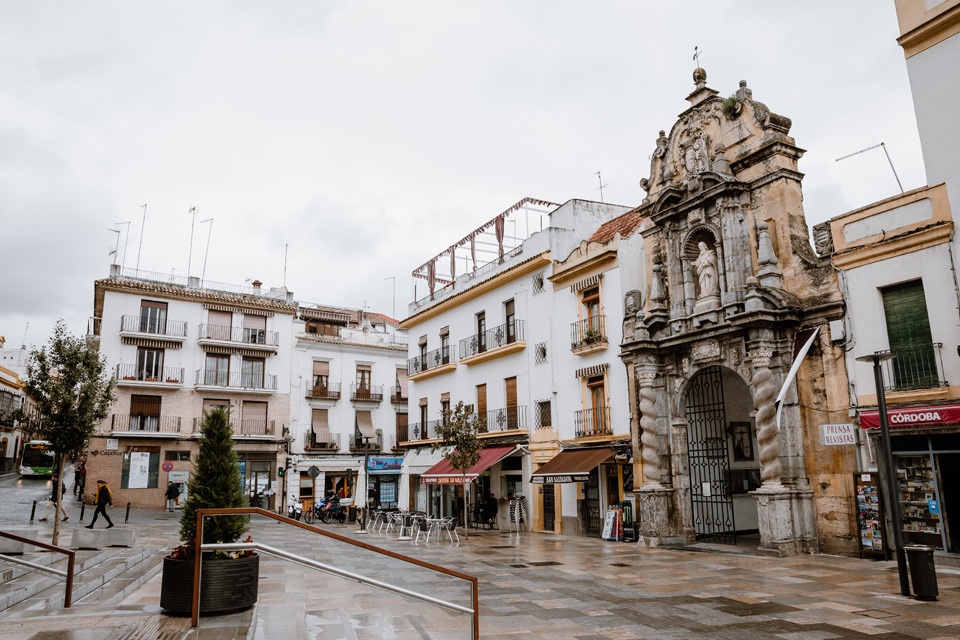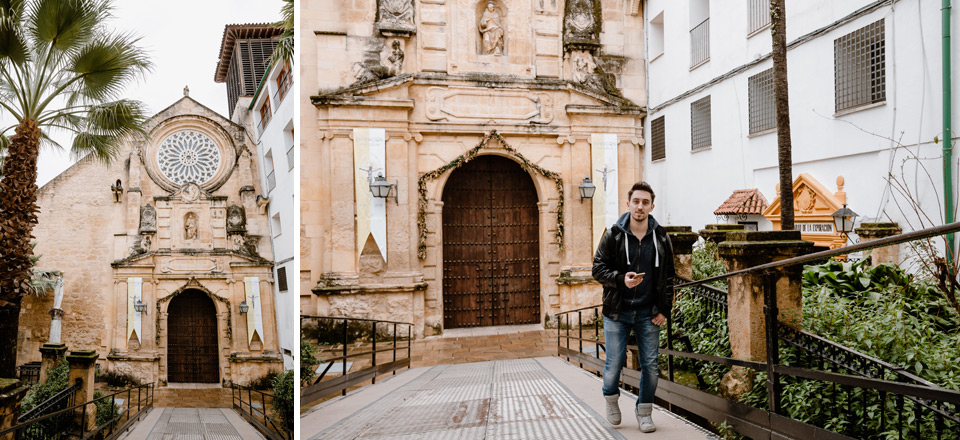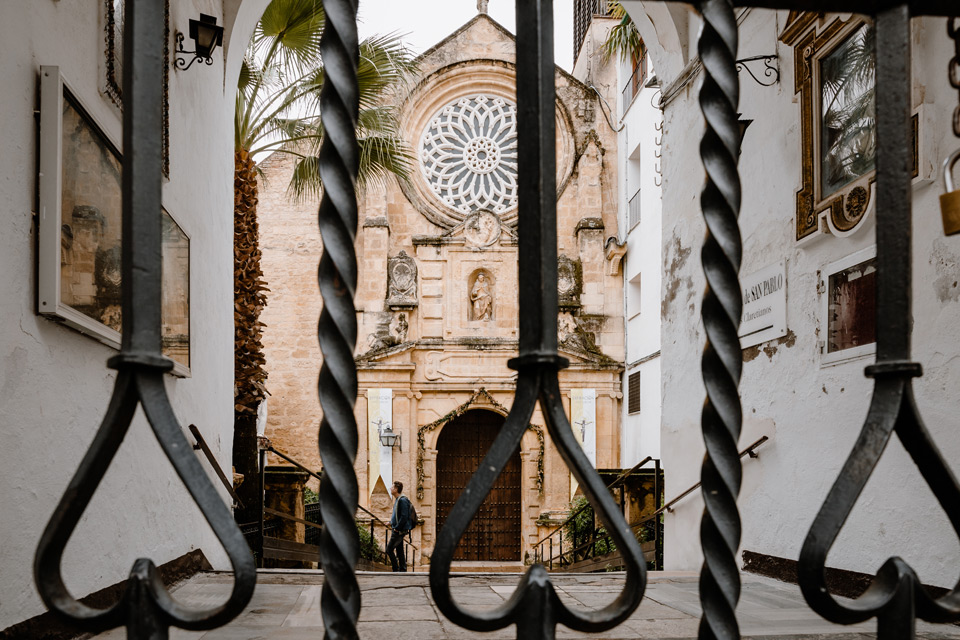 Juderia- Jewish quarter
Walking through the streets of Córdoba we can certainly notice the cultural diversity that once prevailed here. We will come across not only elements of Arab culture, but also remnants of Jews. One of the most beautiful places in the city is the Jewish district called Juderia.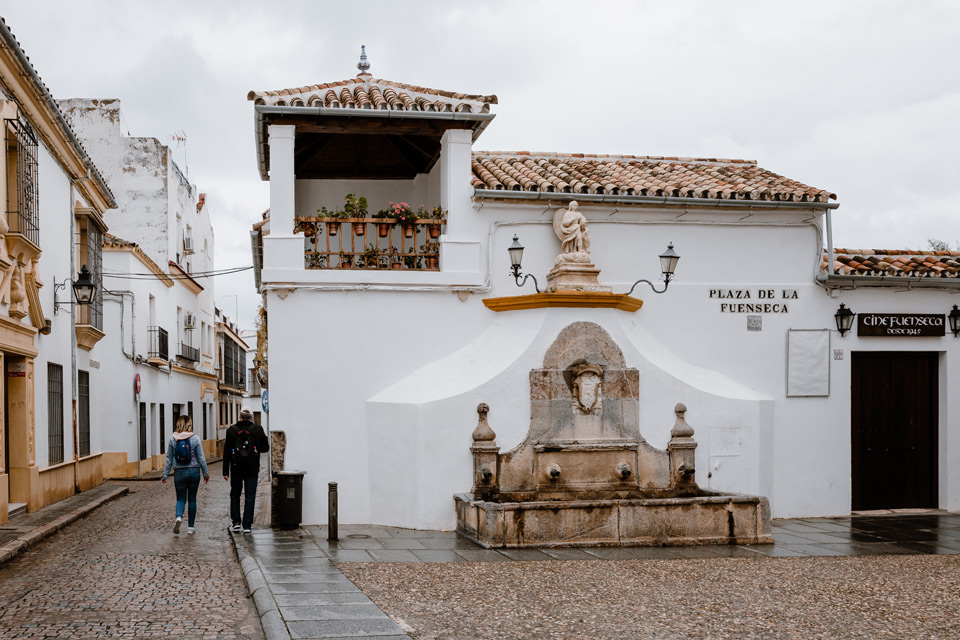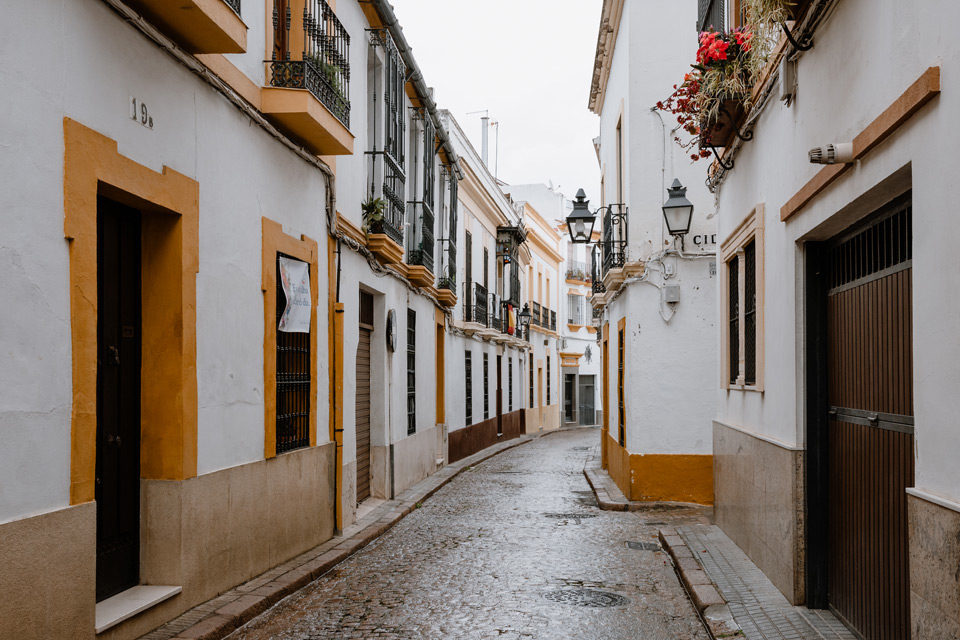 It's worth delving into small streets and looking into nooks and crannies. Thanks to this, we discovered many beautiful, small patios.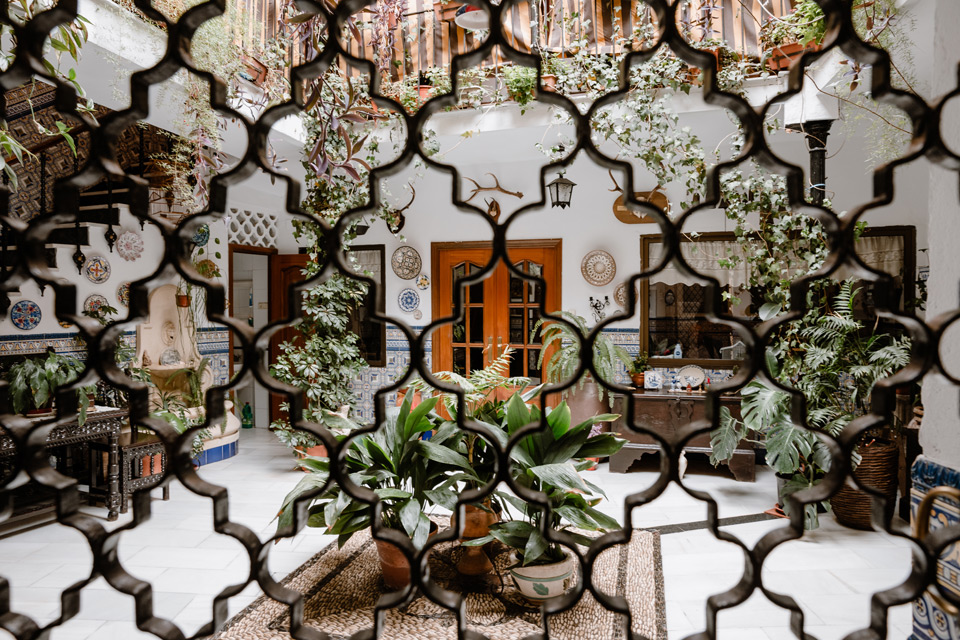 Palacio de Viana- free attraction of Cordoba
Speaking of patios, it's worth going to the Palacio de Viana. Before leaving, I read about this place, but gave up because of expensive tickets. However, it turned out that from 14:00 to 17:00 admission is free for visitors, as guy from our hostel told us. As a result, we visit very nice, diverse gardens where you can sit and relax. I suspect there is more vegetation here in the summer and the patio looks even nicer.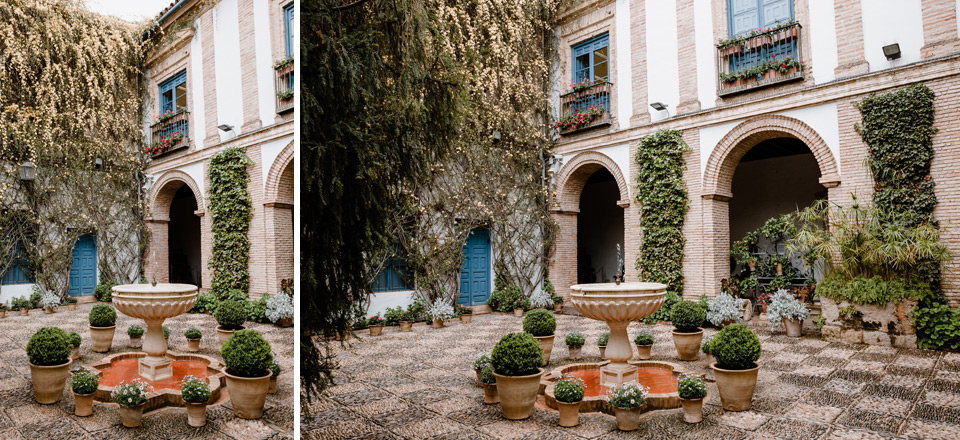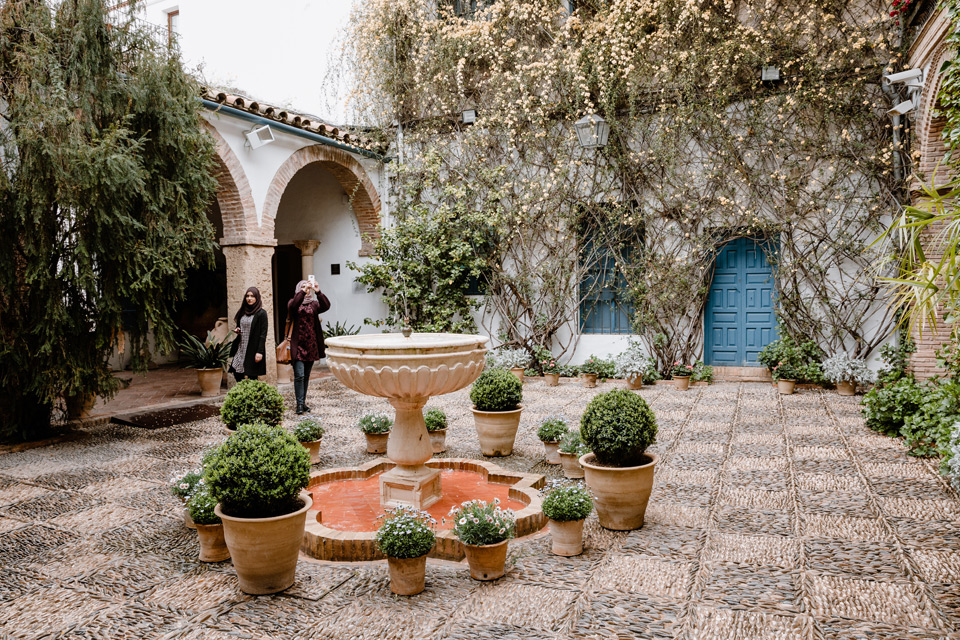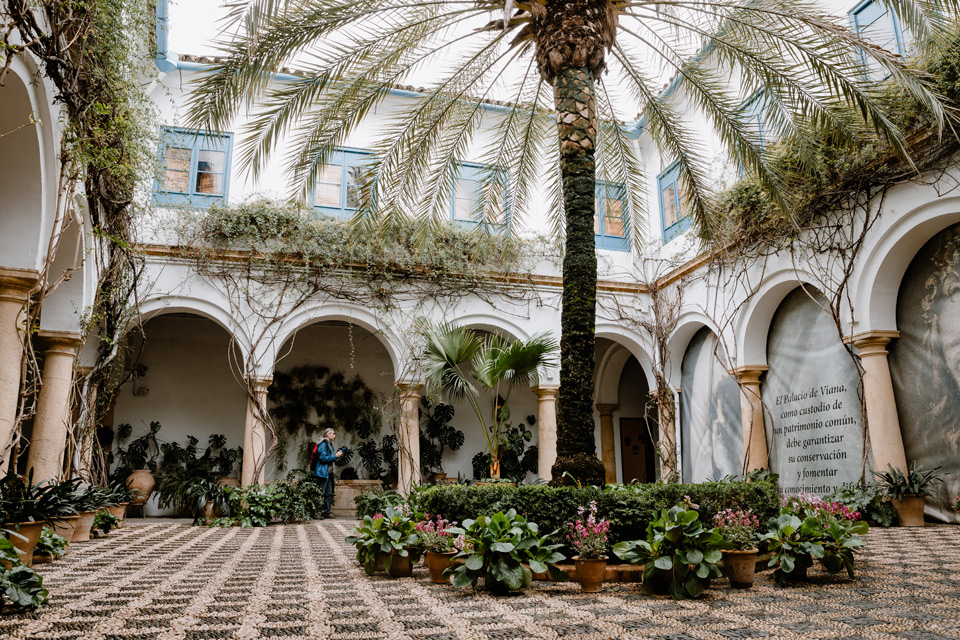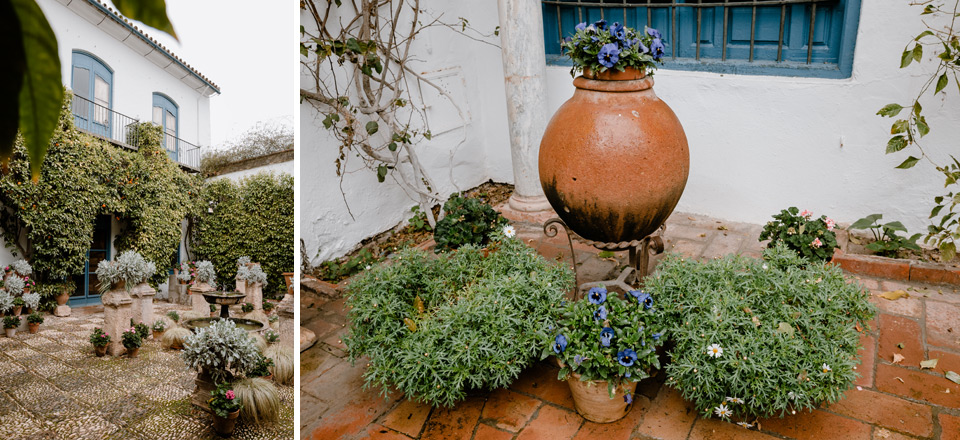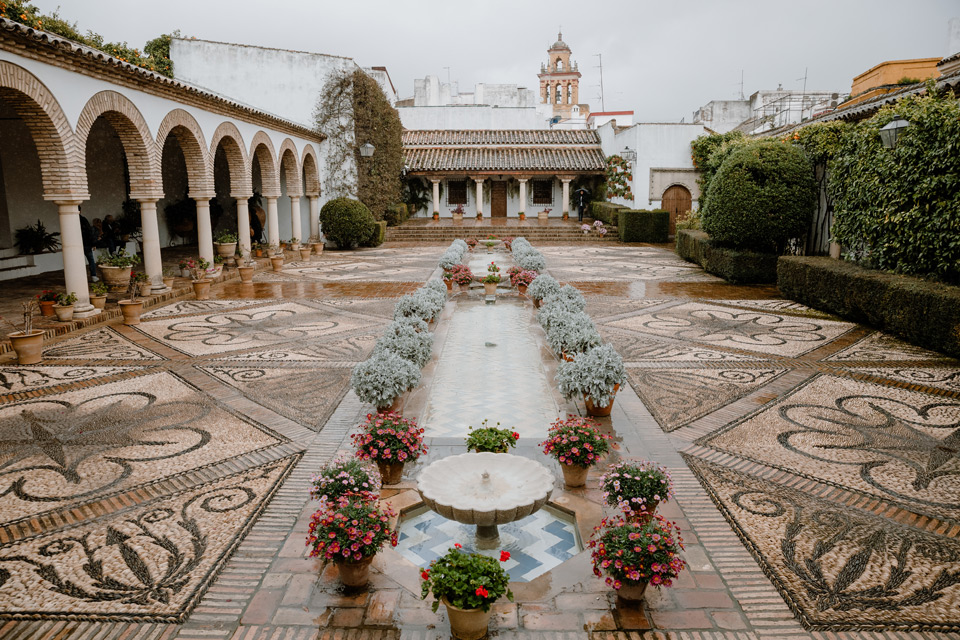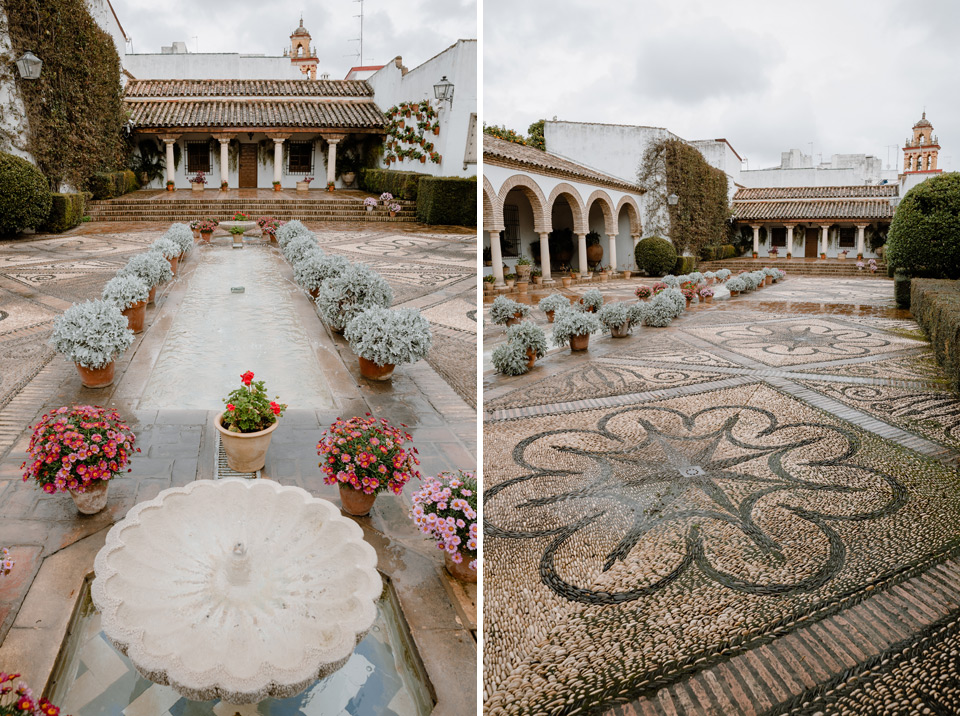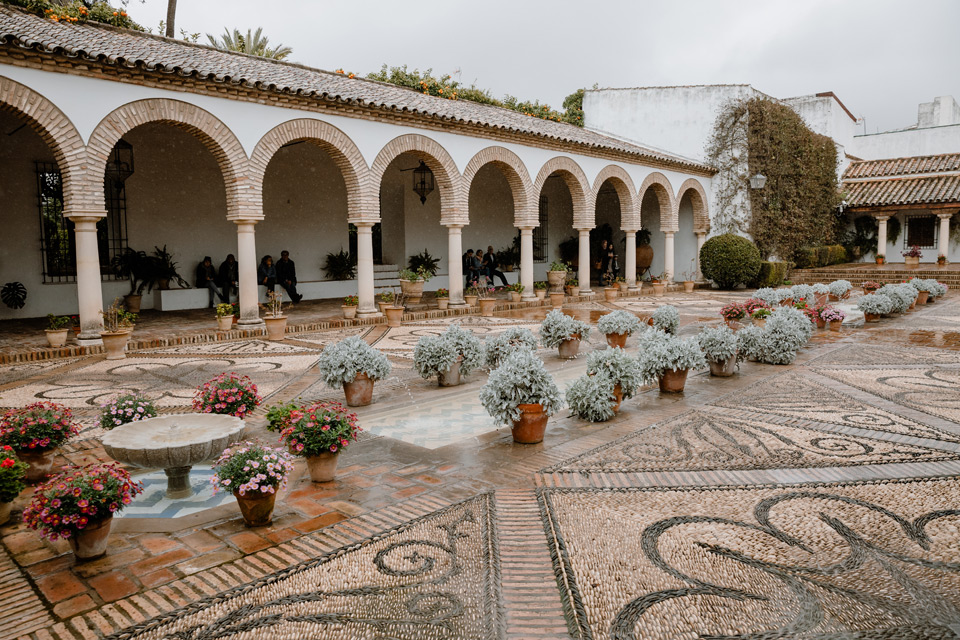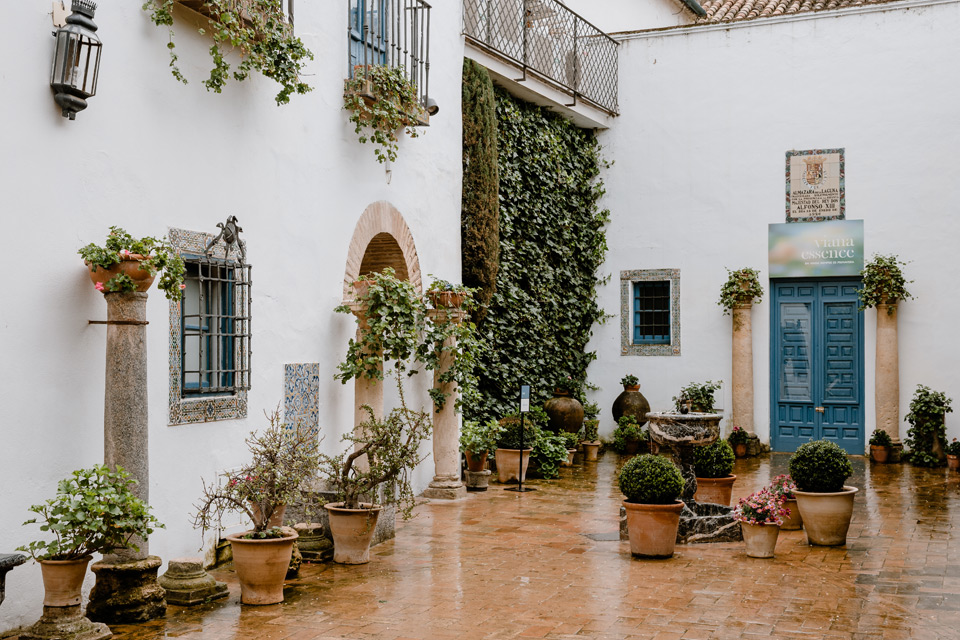 Iglesia de Santa Marina de Aguas Santas
I admit that the further route around Cordoba wasn't planned and I led my little trip based on what monuments are marked in google maps. In this way we came to the church de Santa Marina de Aguas Santas, where we spent some time because it started to rain. I used this moment to eat my second or third breakfast.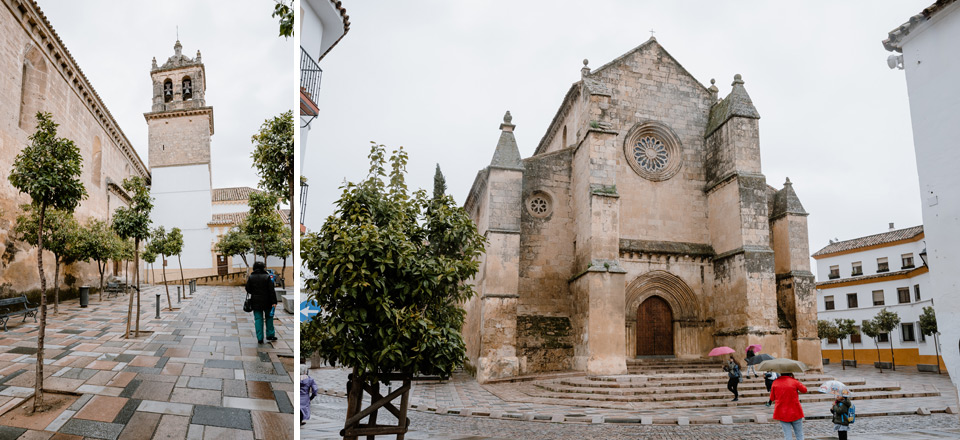 You will surely wonder where the lady taking care of flowers is. The answer is: on the Plaza Puerta del Rincon. They don't write about it on blogs, so it was a nice discovery.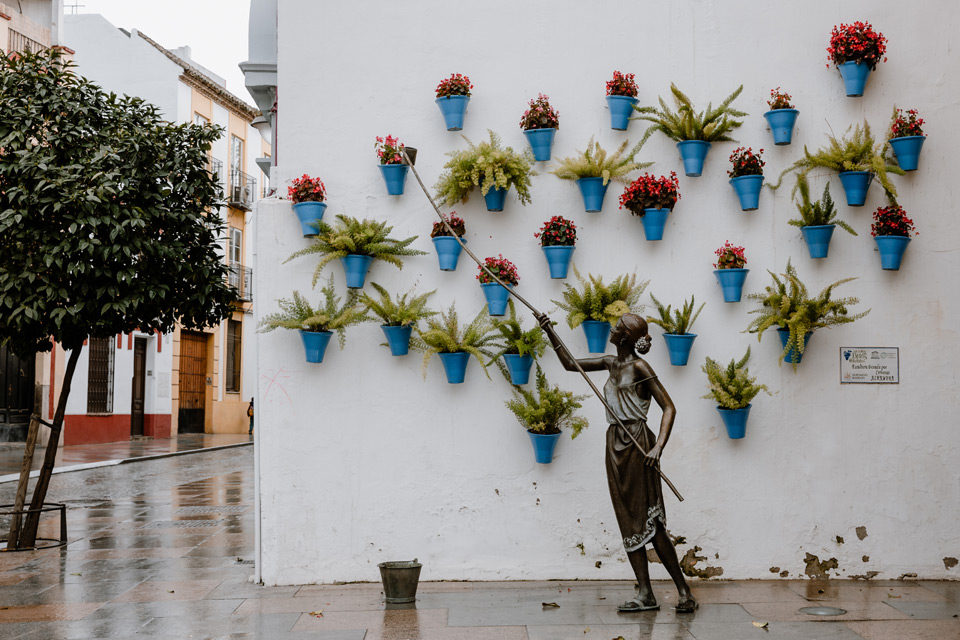 Jardines de la Merced- a small park
I was curious what's in the large, green area marked on the map, that's why we enter the park Jardines de la Merced. The park is actually quite small, with a fountain in the center. You can let this place go.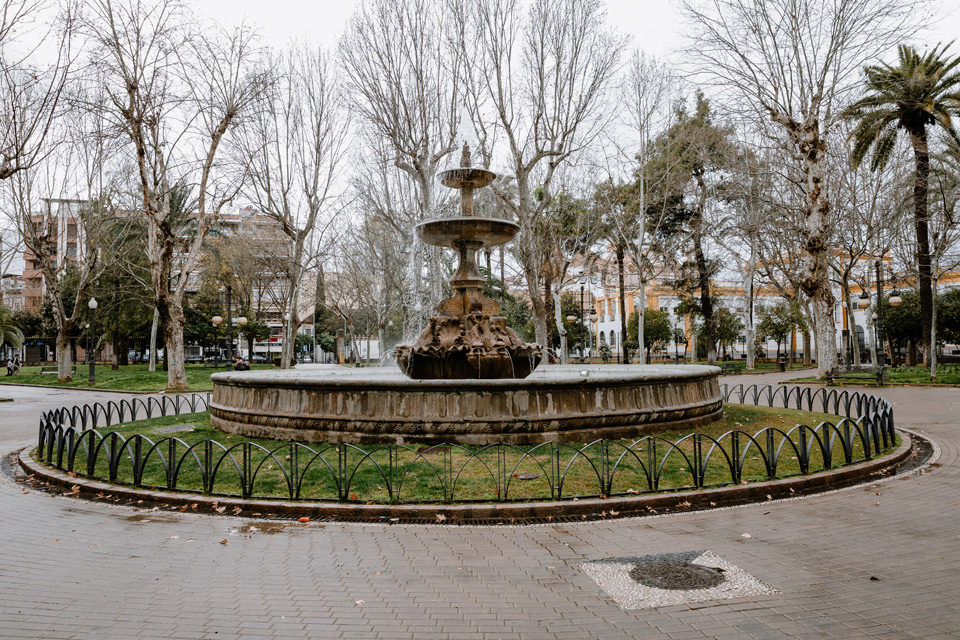 Palace of la Merced
Right next to the park stands a quite nice building – Palace of la Merced.

Plaza de Capuchinos – horror climate in Cordoba
Nearby there is the square with the interesting name Plaza de Capuchinos. It sounds quite cheerful, but I don't like the atmosphere of the square and associate it with the cemetery. I am a bit frightened by such places. The cross with bent lamps adds a bit of horror.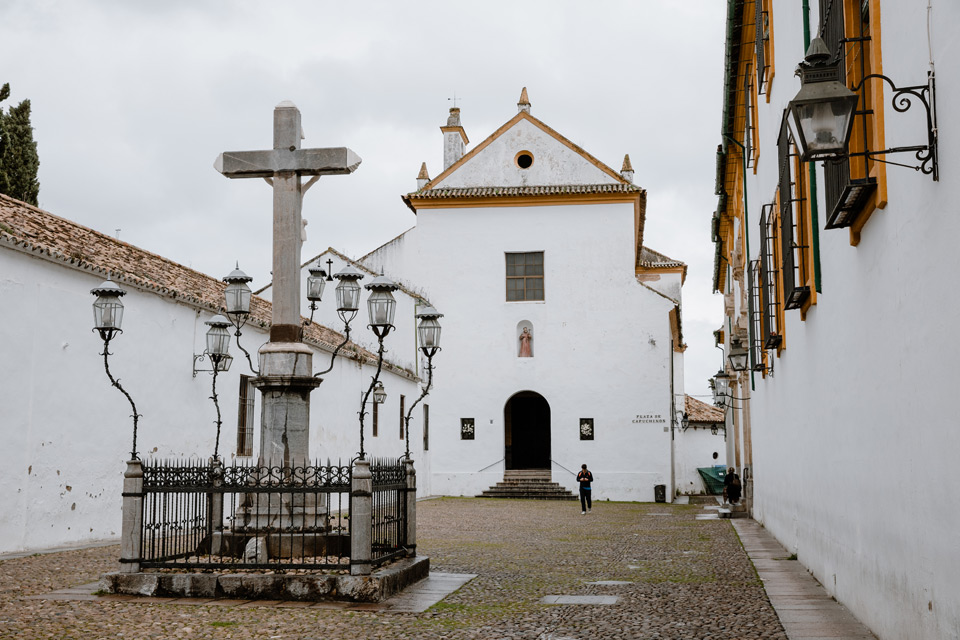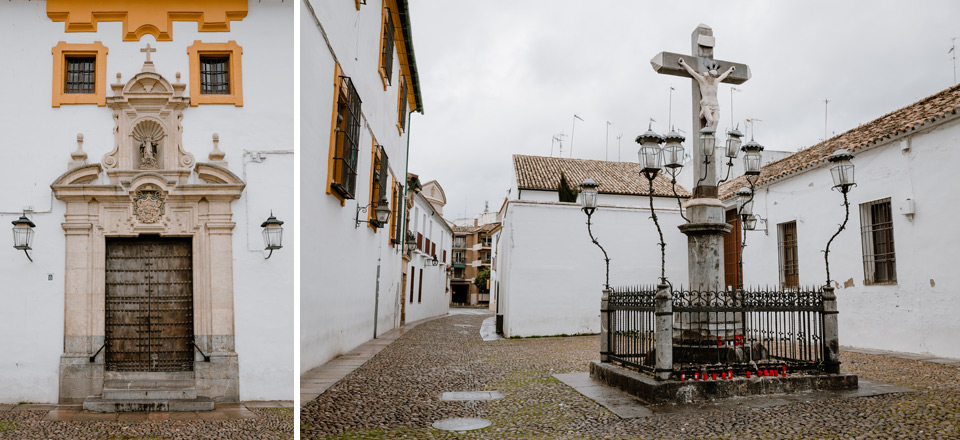 Plaza de la Corredera – typical Spanish square
We don't want to overdose narrow streets so we go out to the big square – Plaza de la Corredera. Being in Spain you will notice that there is a square next to the square. Correder Square was formerly used as a fighting arena, hence its name. I associate it with Palma de Mallorca, Mallorca, because it is very similar to it.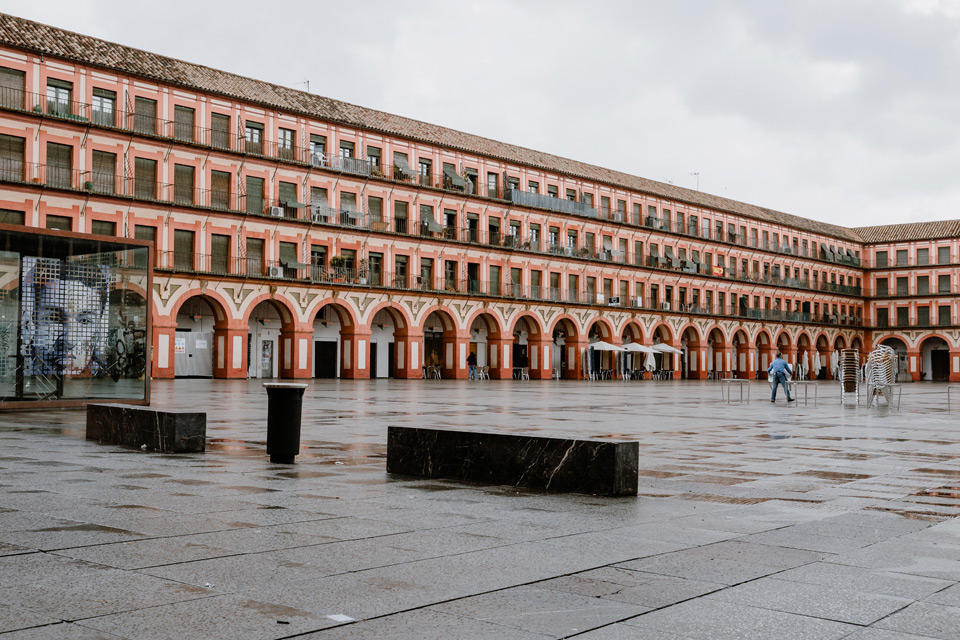 In Cordoba we passed many other monuments whose names I don't remember. Just walk and look around, and every now and then you will see something worth immortalizing in the photo. Here a small church, here a fountain, here an interesting square …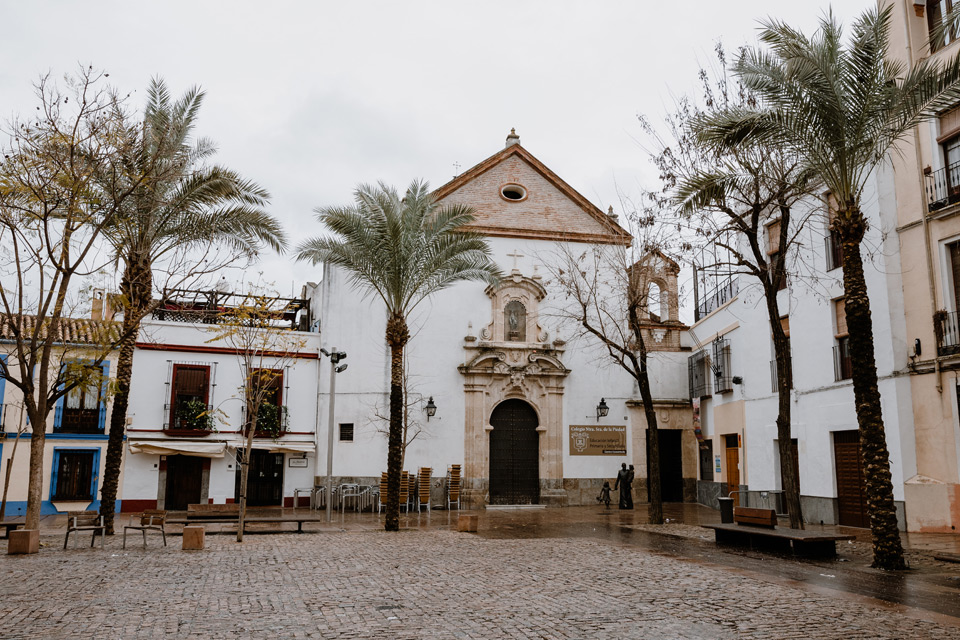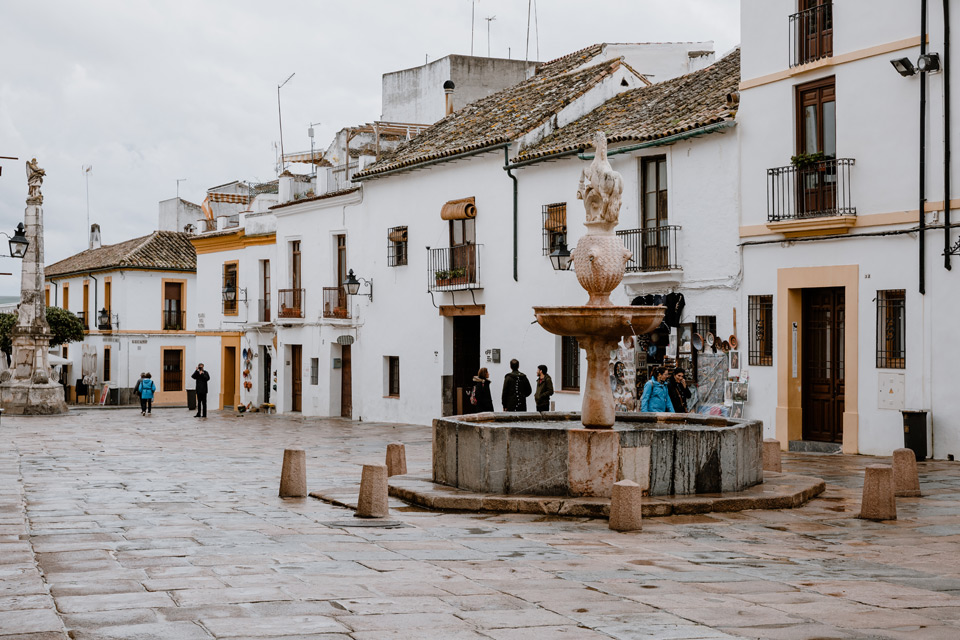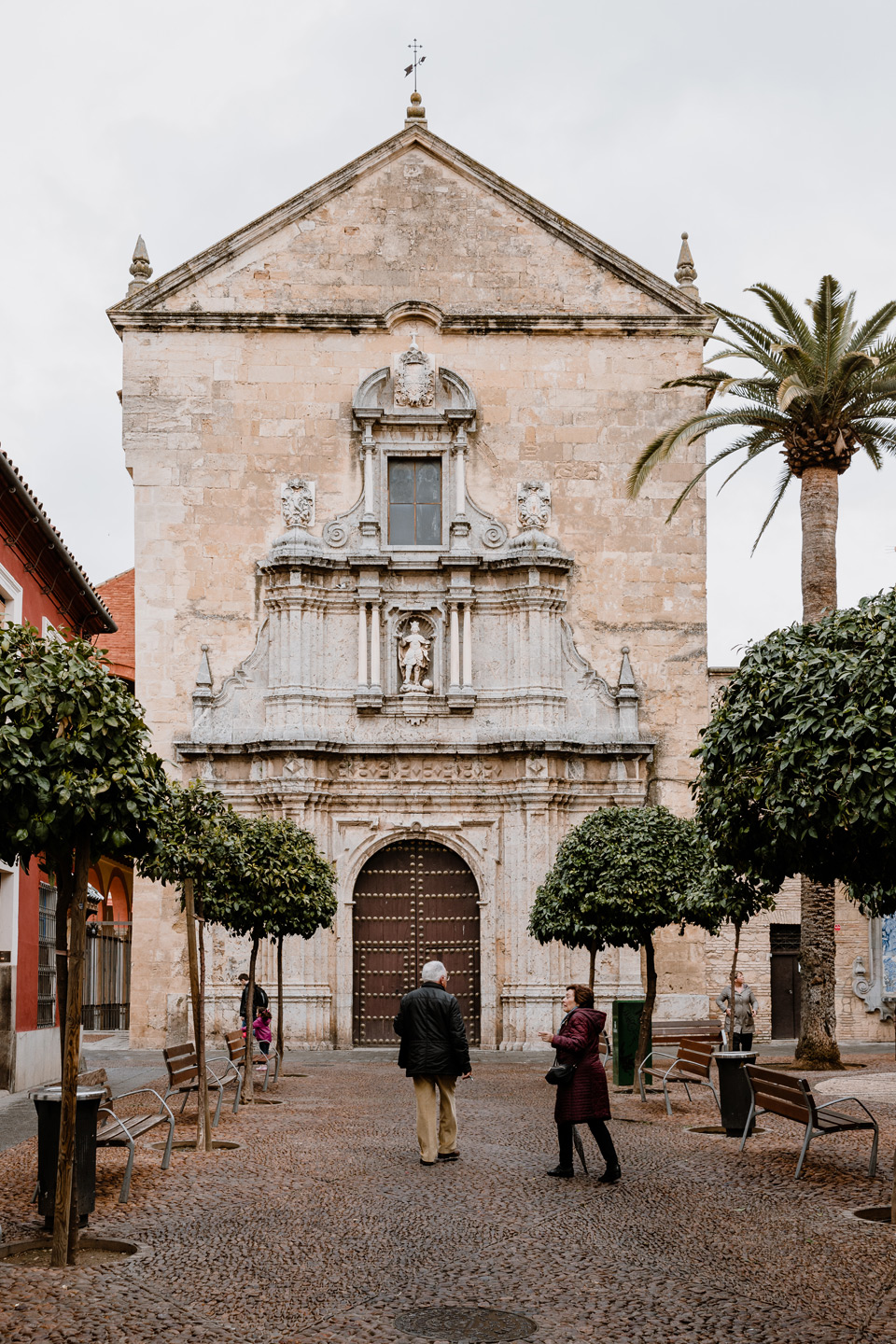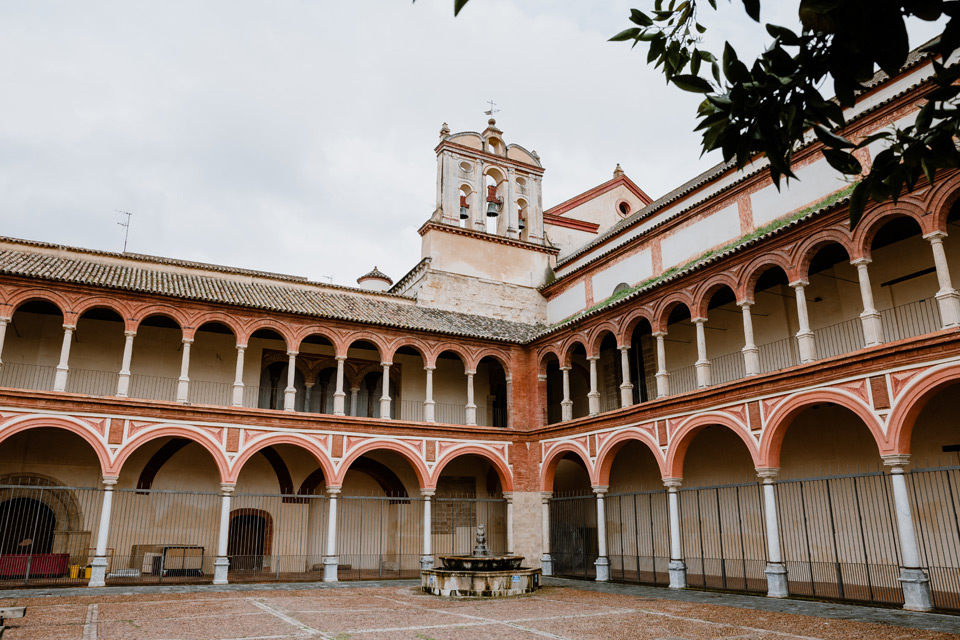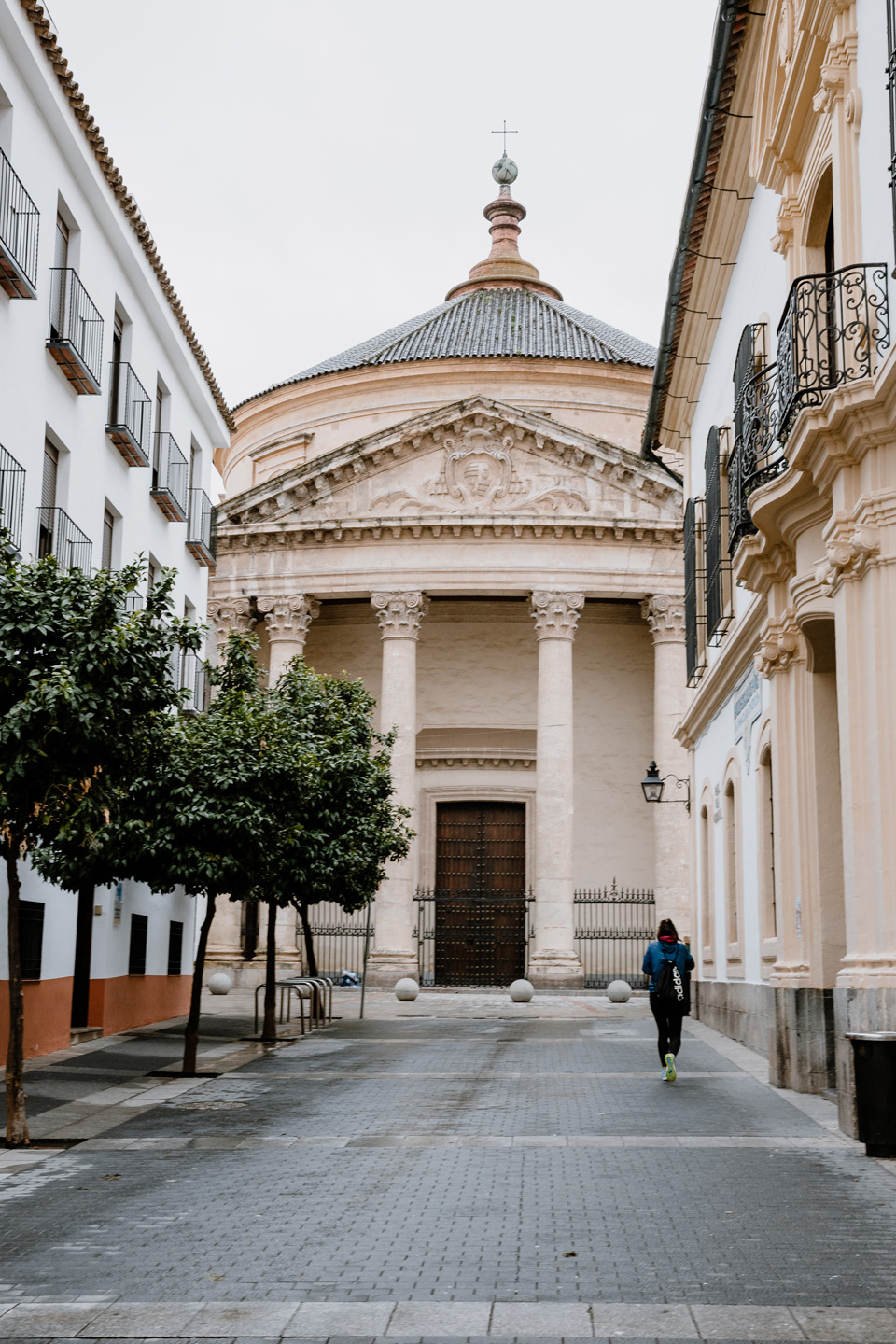 another bridge of Cordoba- Puente de Miraflores
We enter the bridge. This time not on Roman, but next to it- Puente de Miraflores. We go to the other side and calmly walk along the river.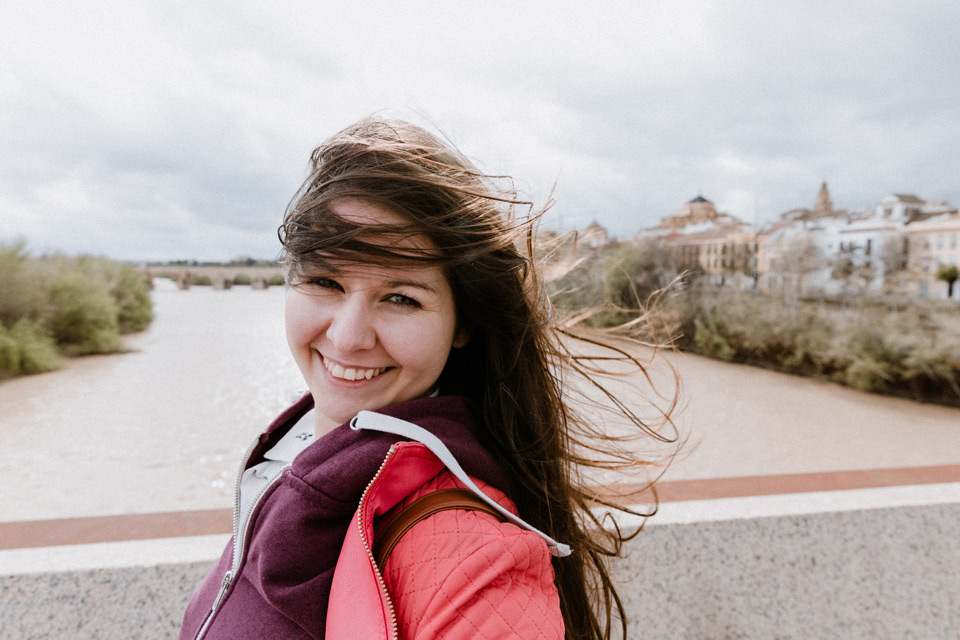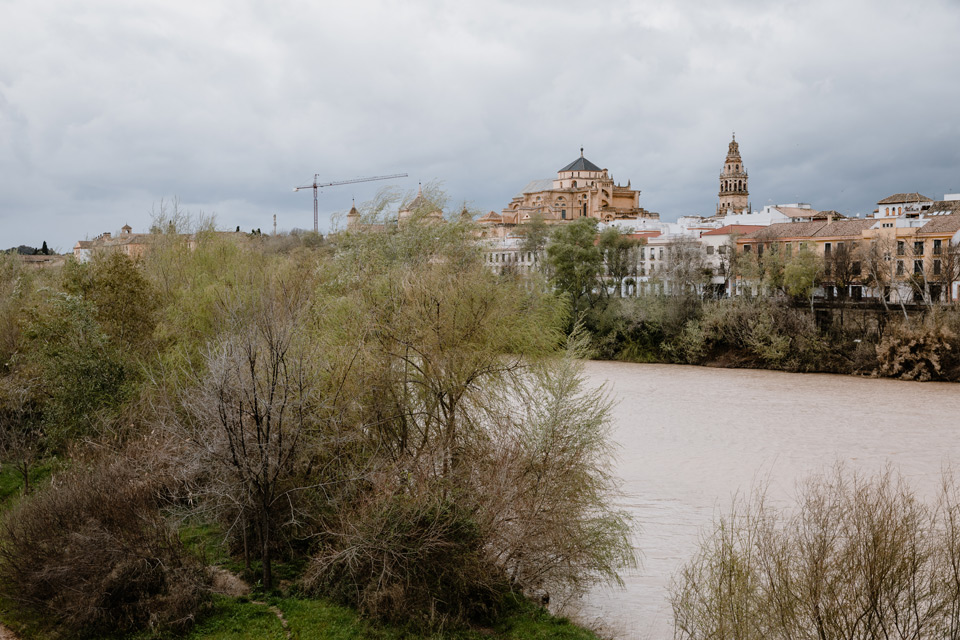 famous flower street – Calleja de las Flores
We return to the old town passing through Puente Romano. Due to the fact that we've stalled before and accidentally missed the famous Calleja de las Flores, we reach here now. The street is really nice, narrow, full of flowers, but it doesn't grow to heels from Valdemossa, Mallorca.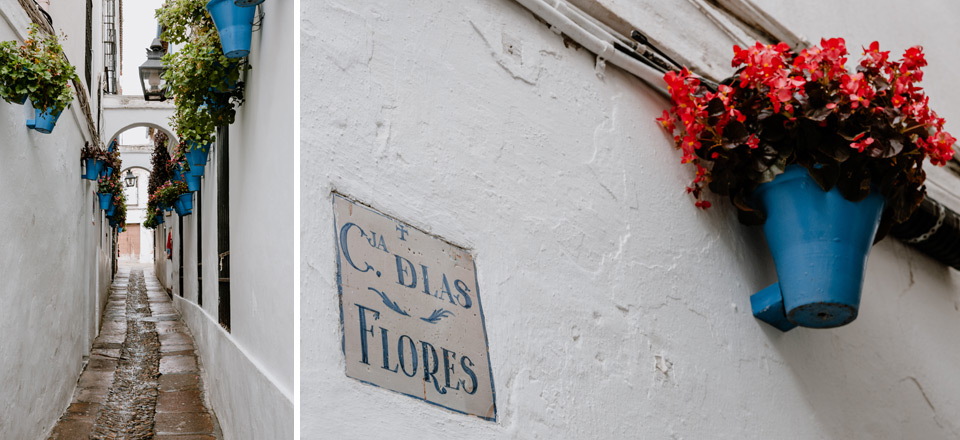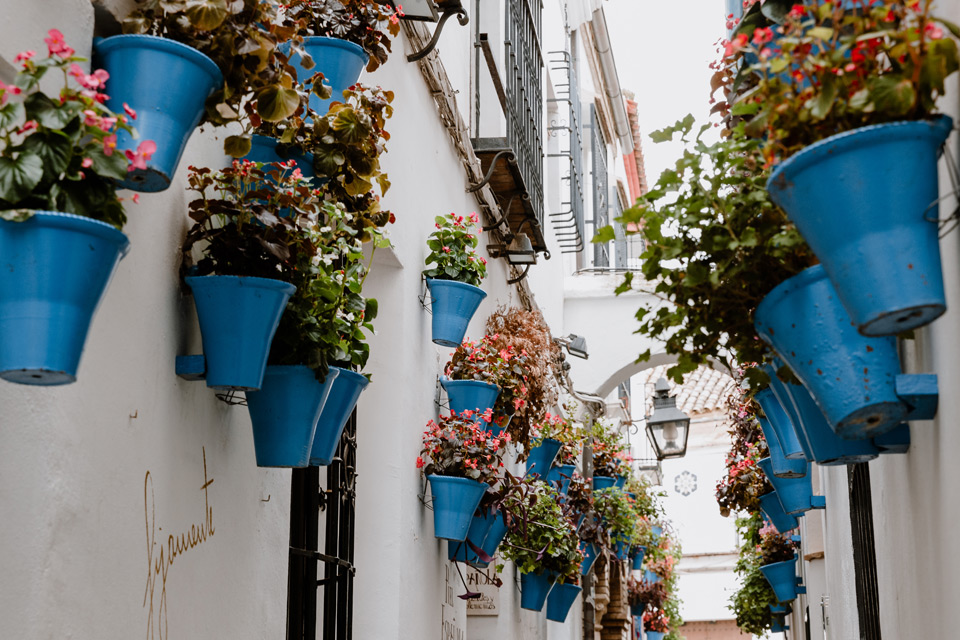 Below are the last photos from Cordoba showing our hostel patio.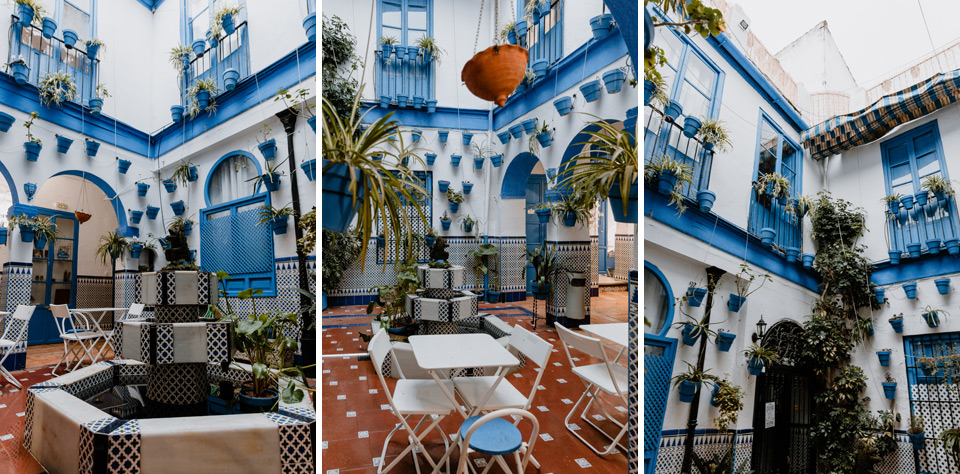 To sum up, I will write that Cordoba didn't impress me and I think that many places in Spain are more beautiful. I think that I won't come back here, but I don't regret coming here and it seems to me that everyone visiting Andalusia should come here for at least a moment. If you are not impressed by the streets, you will definitely love the view from the bridge of the city – the main postcard of Cordoba.
Practical information – Cordoba
The price of admission to Mezquita in Cordoba depends on age. For most people it will cost 11 euros. You can see current ticket prices and opening hours here. We recommend using the free entrance to Mezquita – it can be done between 8:30 and 9:30 on Monday to Friday.
Admission to the Torre de la Calahorra tower currently costs 4.5 euros. Children under 8 years old can enter for free.
Tickets to Alcazar currently cost 5 euros, for students the price is two times lower – 2.5 euros.
You can find information on prices and opening hours of the Palacio de Viana here. Every Wednesday between 14:00 and 17:00 admission is free.
Thank you for reading the entry!
If you think it is interesting, we would be pleased if you leave a mark in the comment.
You will find more posts from Andalusia here:
There are direct links to the next and previous episodes below.
All our travels: Travels
We also invite you to our Instagram and Facebook fanpage, where you can be up to date with all our travels.
See you later! 🙂