We start the sixth day in Lagos with breakfast on our Praia do Pinhão.
Praia do Pinhão- breakfast
We get here quite early. There are few people, that's why I have the perfect opportunity to take pictures. The ocean shore is quite far away at this time. To the extent that you can freely go to the beach of dos Estudantes. If you still know the bridge from that beach, it is on one of the photos below.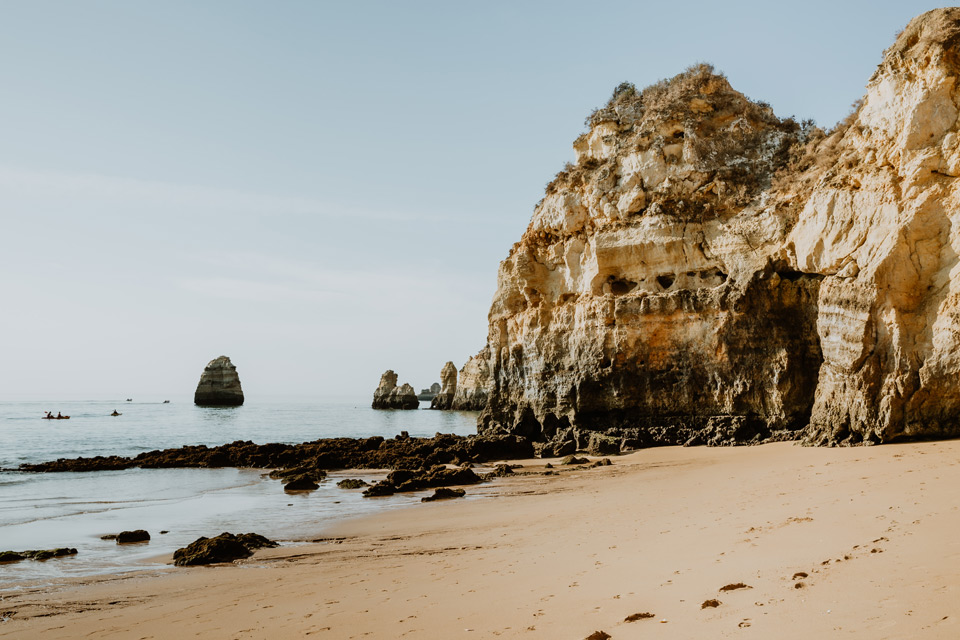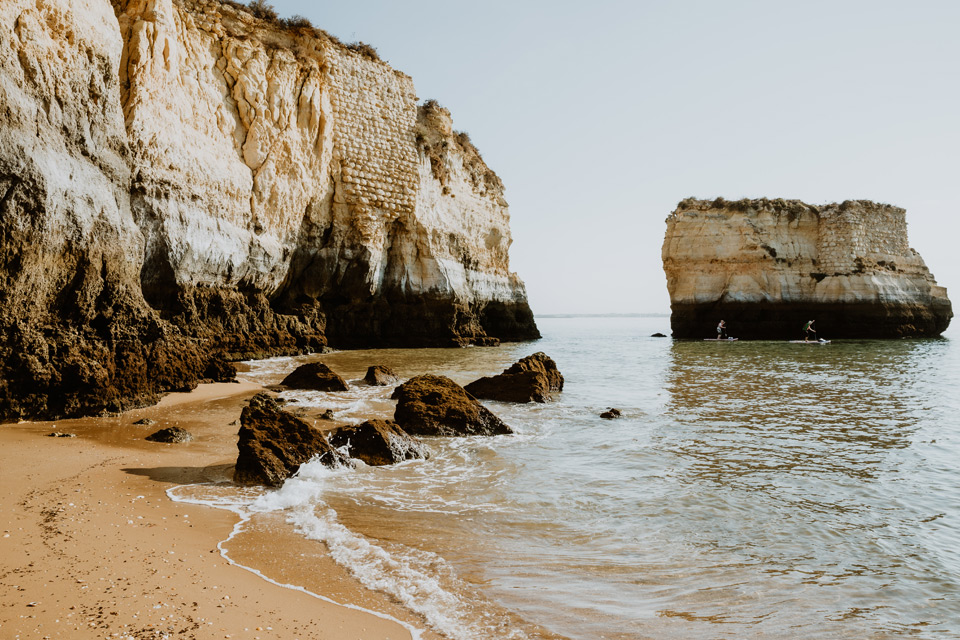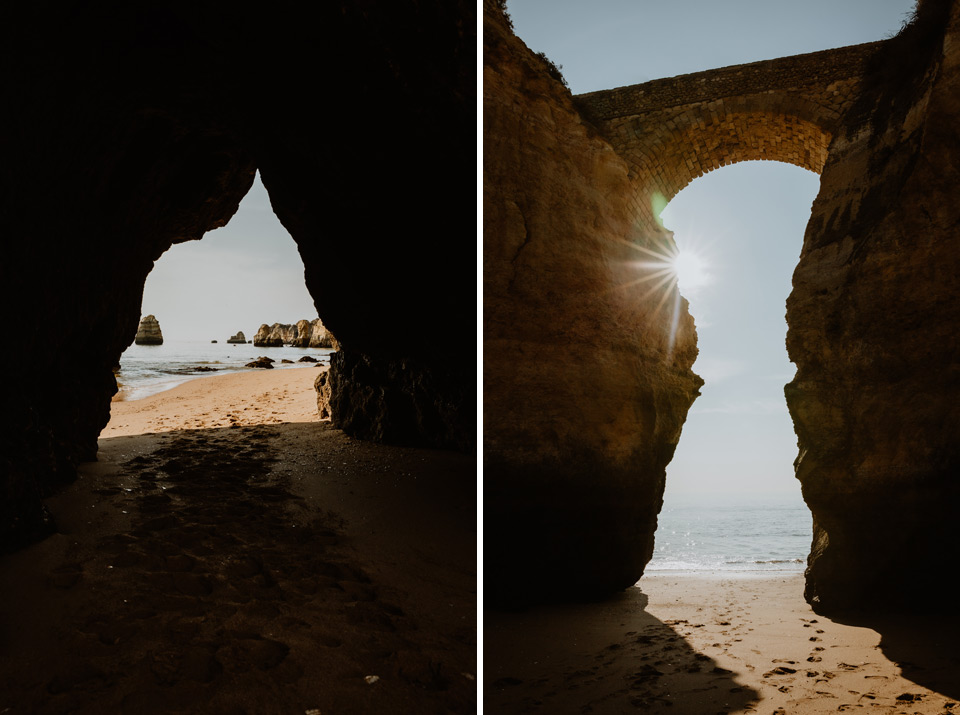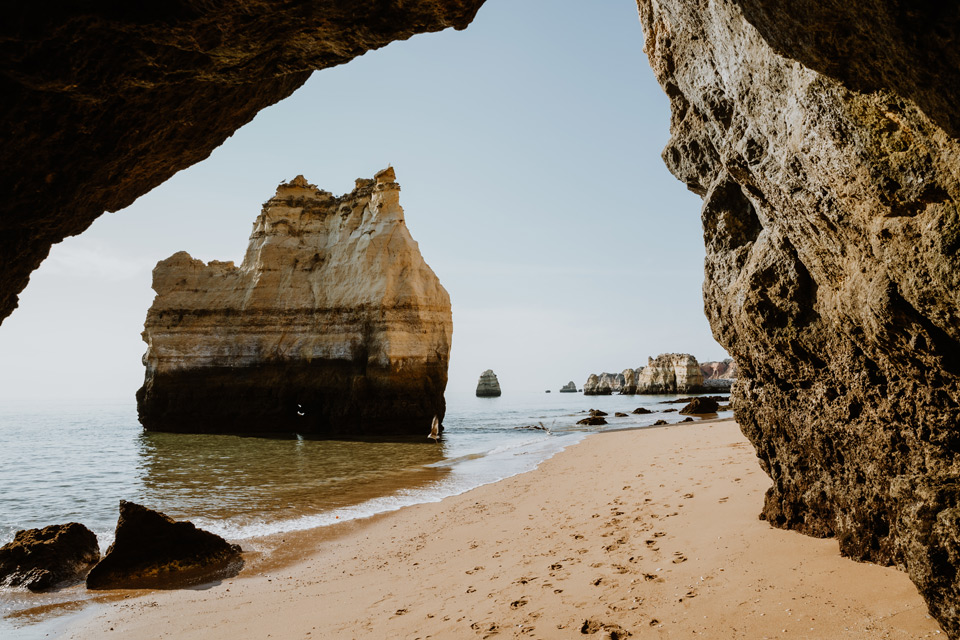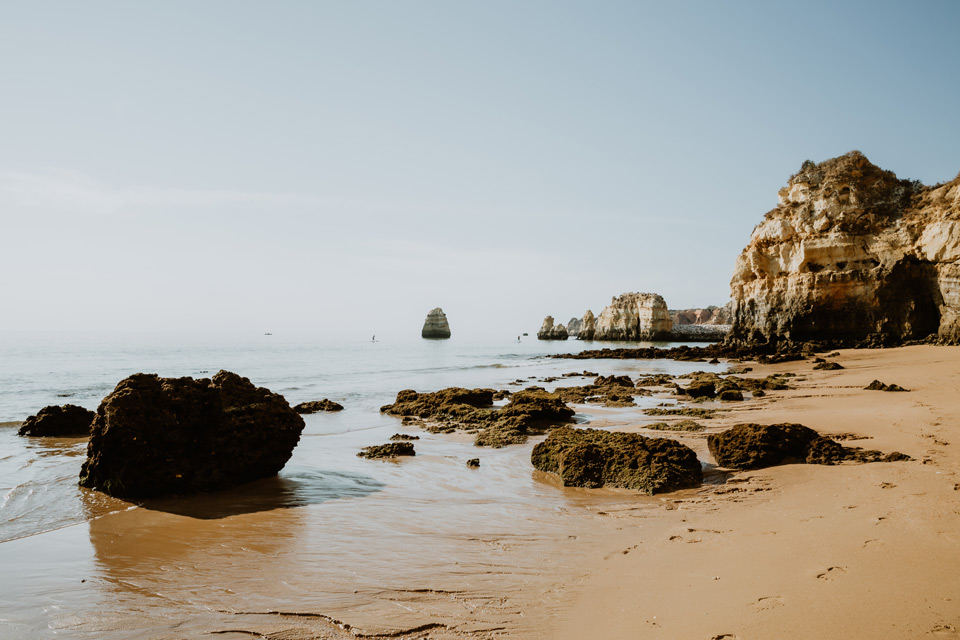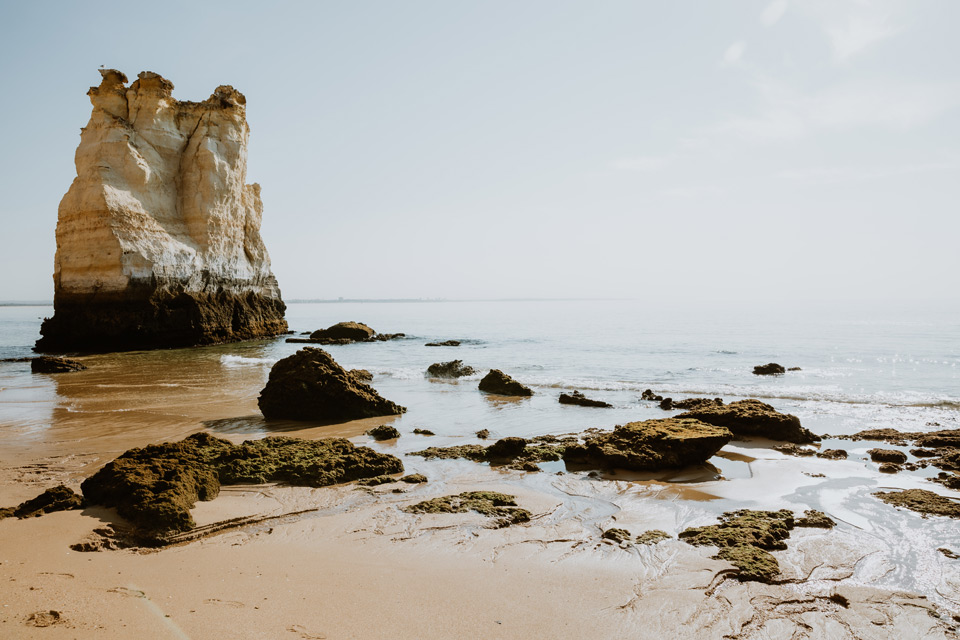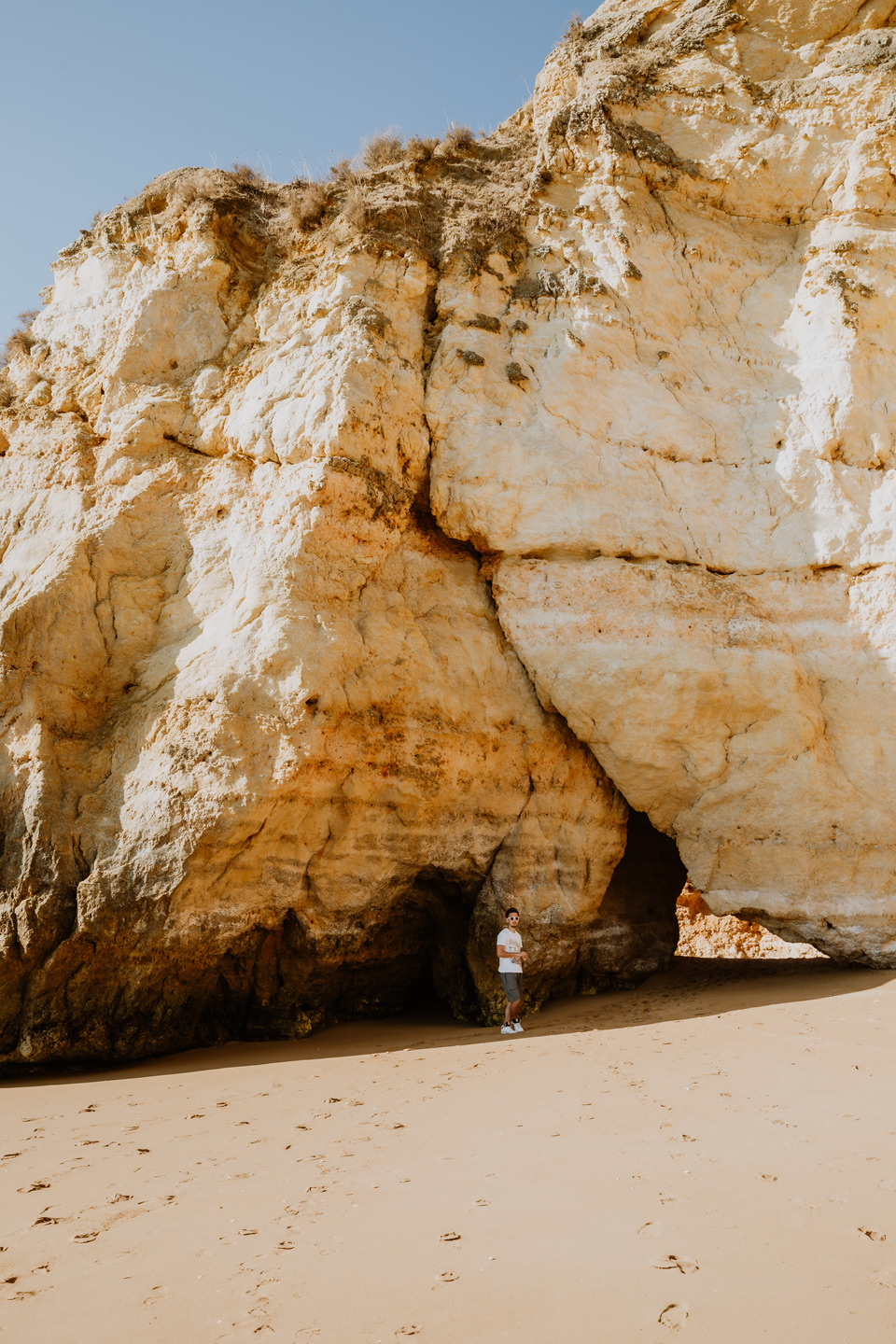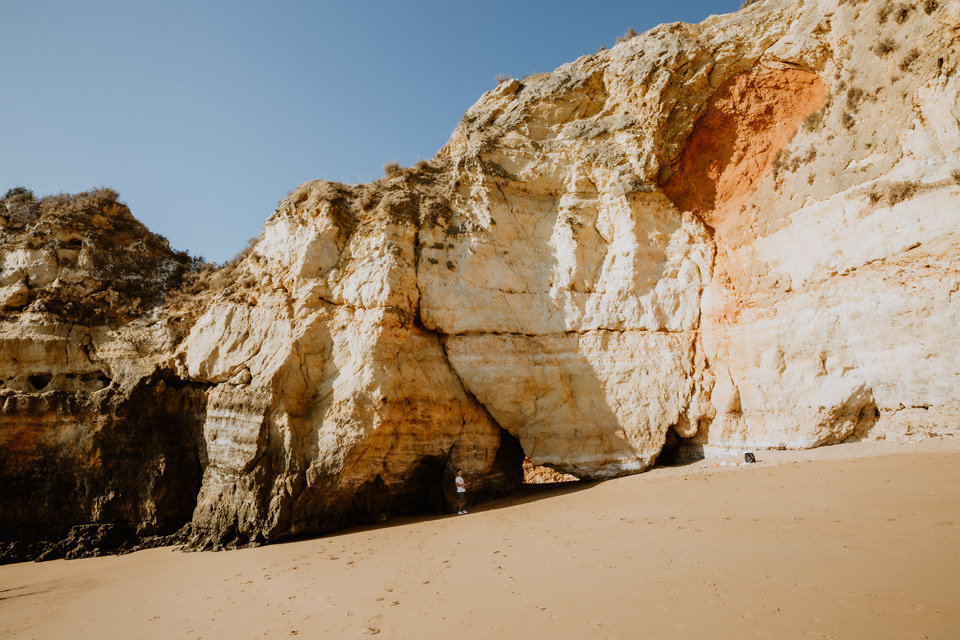 Cruise in Lagos at Ponta de Piedade
We sit on the beach until we have to go to Marina to go on a cruise. We wait a bit and reach the port almost at the last minute. However, people did not queue, so we stand ahead and wait for the ship's employee. As a result, we board as the first and sit in the place we choose. As it turns out later – not the best, because on this wrong side of the ship. We sail along the shore towards Ponta de Piedade. First we pass the old town and the center of Lagos, then successively the beaches: Praia da Batata, Praia dos Estudantes, Praia do Pinhão, Dona Ana, Praia do Camilo. Then we admire the cliffs of Ponta da Piedade with the lighthouse. We can also see Praia do Canavial, which we could not reach on foot.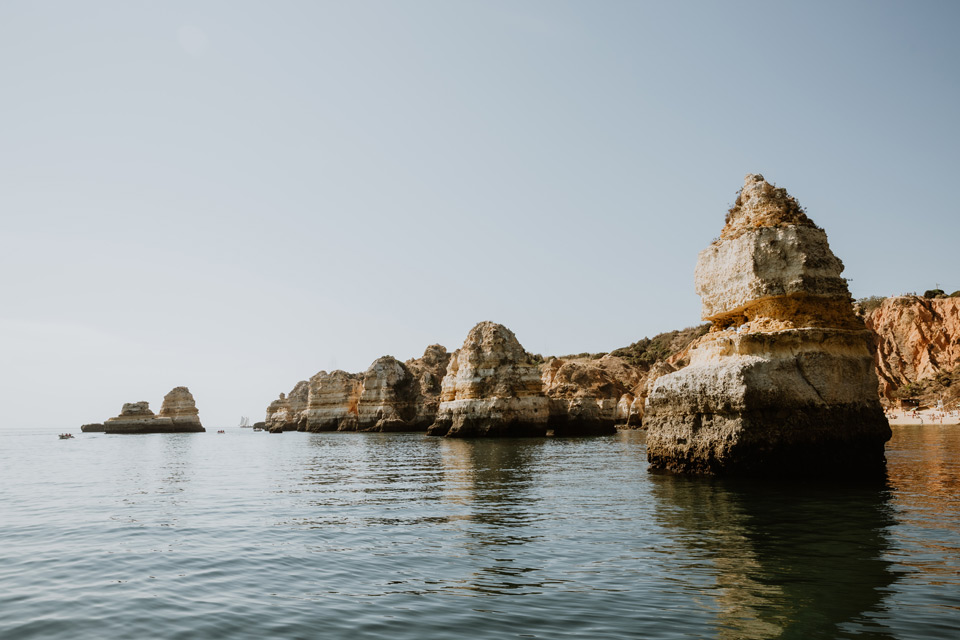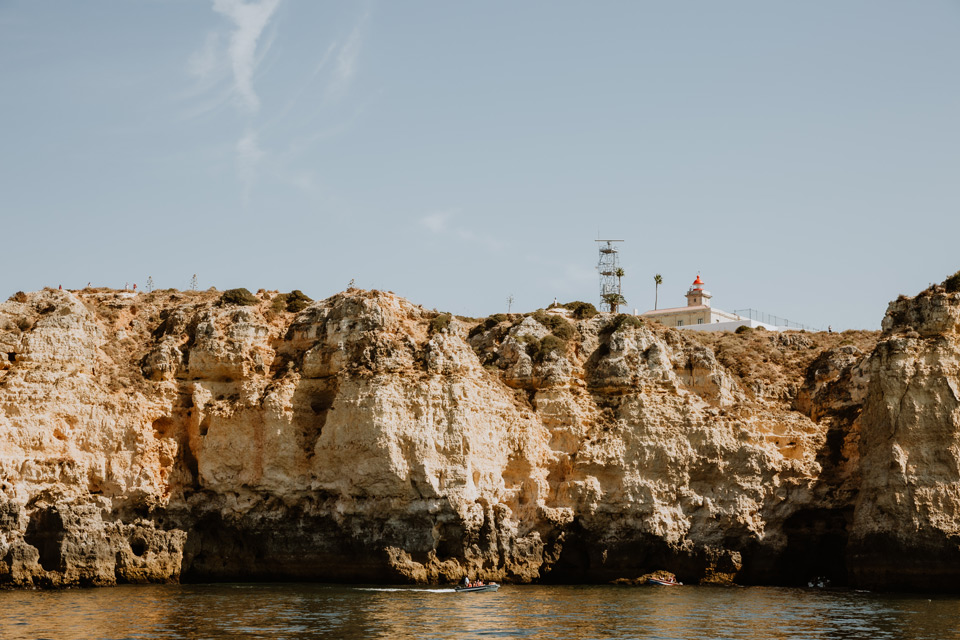 Cruise towards Meia Praia and dolphins
Photos are not interesting, besides I don't make much of them. I hope that on the way back, when we are sitting on the right side to admire the views, I will make better ones. Unfortunately, instead of sailing further in the direction of Burgau as promised in the offer, we turn back and sail on the high seas towards Meia Praia. I won't say that I am not angry, because I really wanted to see beautiful local cliffs, and meanwhile we are moving only having a view of the ocean and sandy beach of Meia Praia.
The captain swims in the opposite direction, because he learned from his informants that there are dolphins there. They can indeed be found there. However, we are unlucky, because they do not swim too close to our boat, but close to motorboats a little further from us.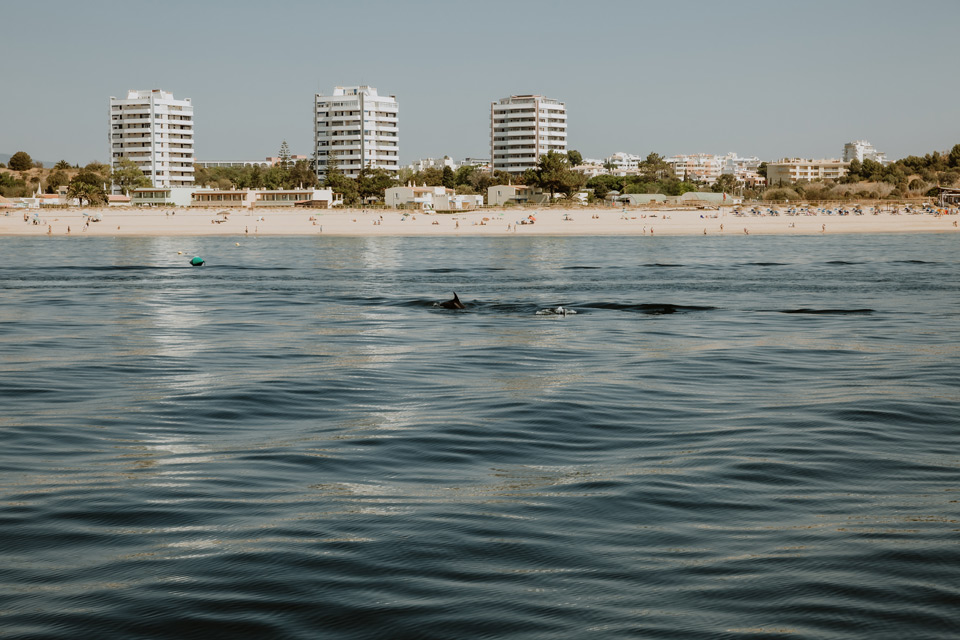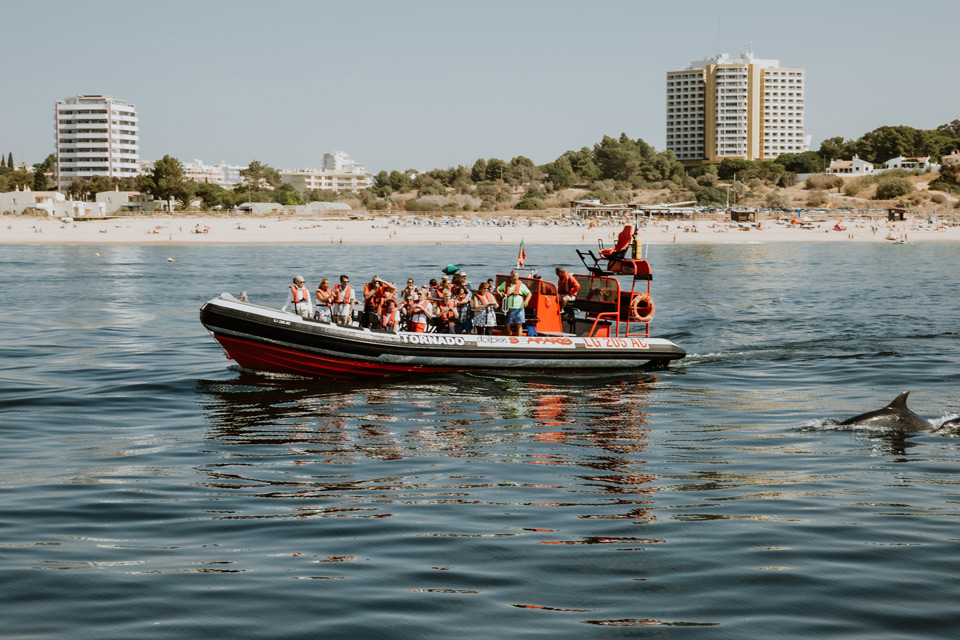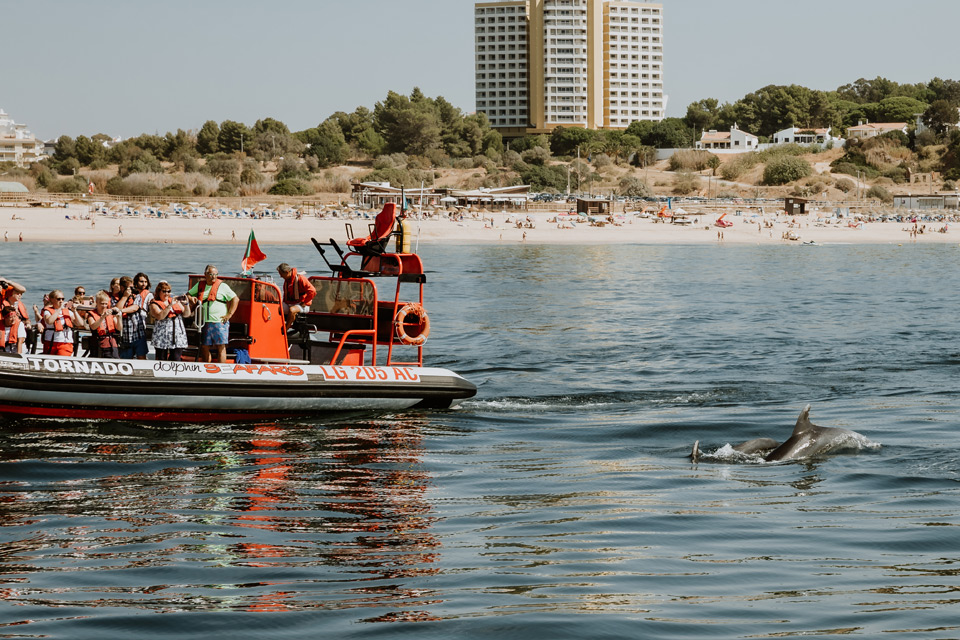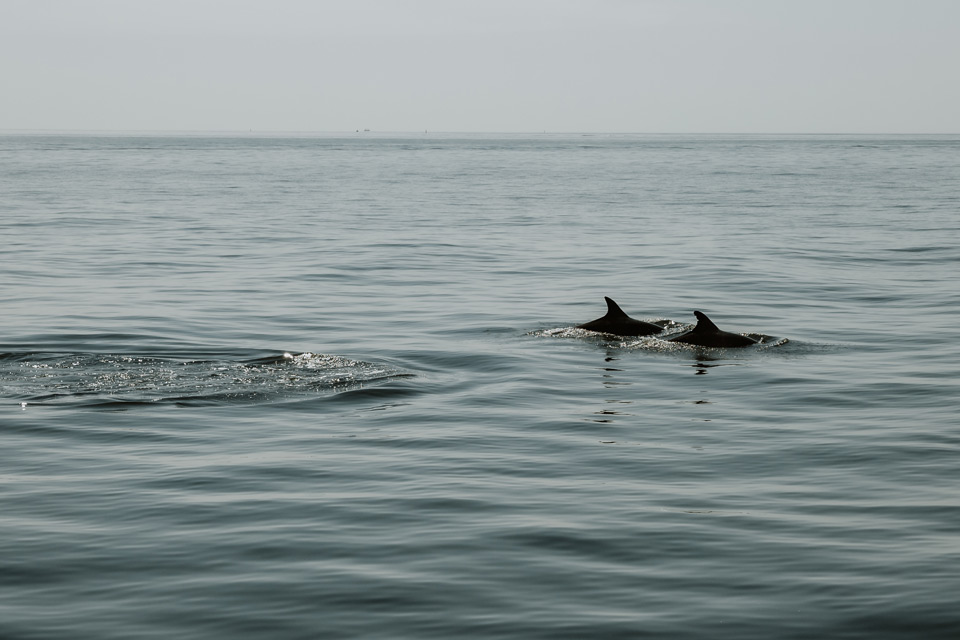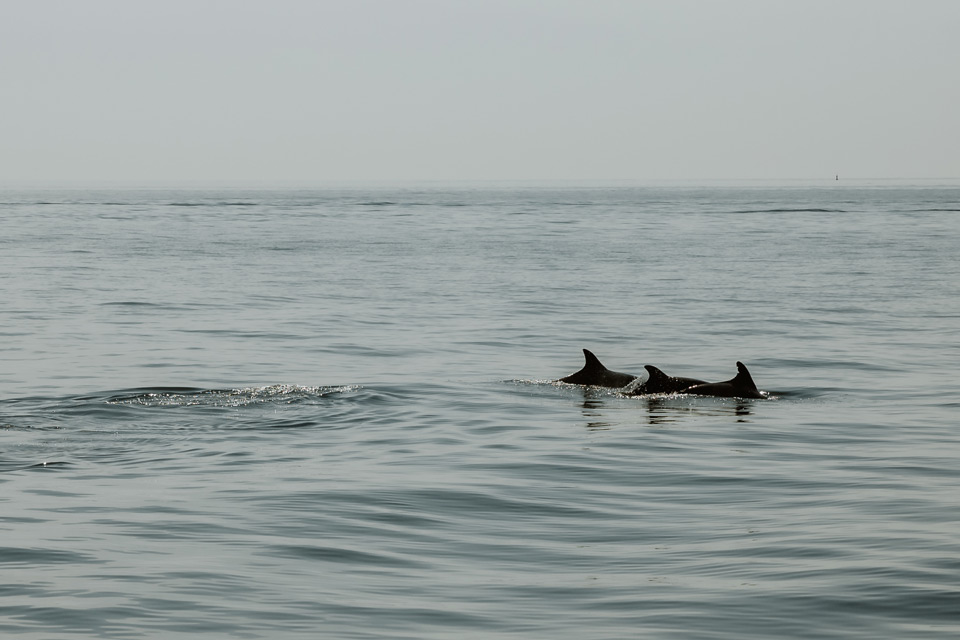 After the dolphin shooting, Wojtek takes the camera for a moment and takes some photos of me. The wind blows a little, hence the sweatshirt.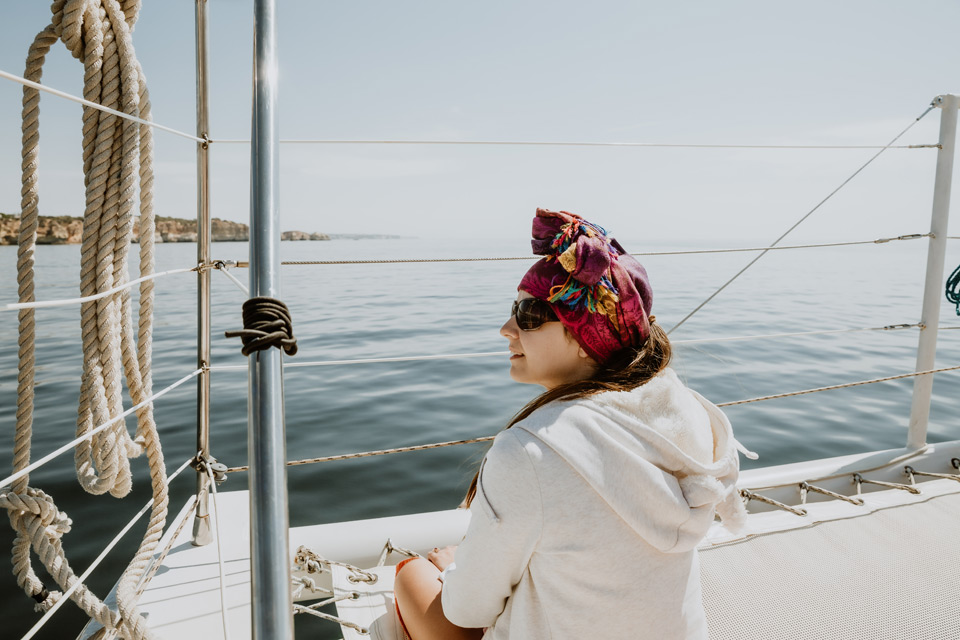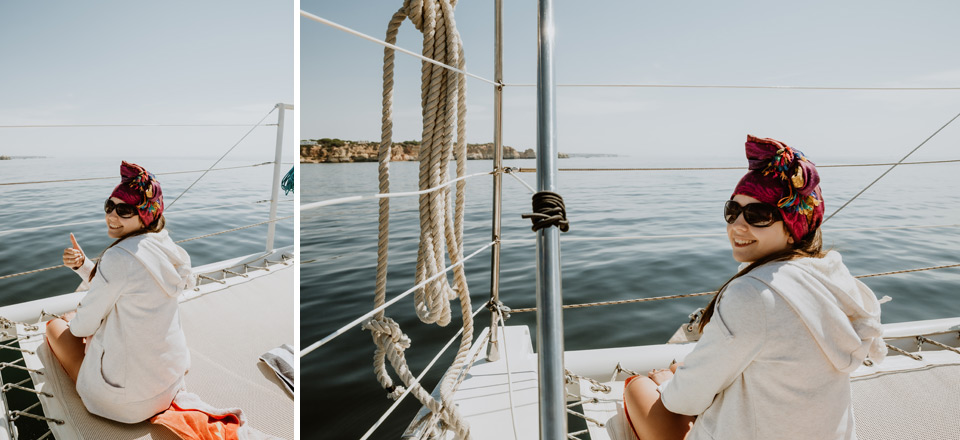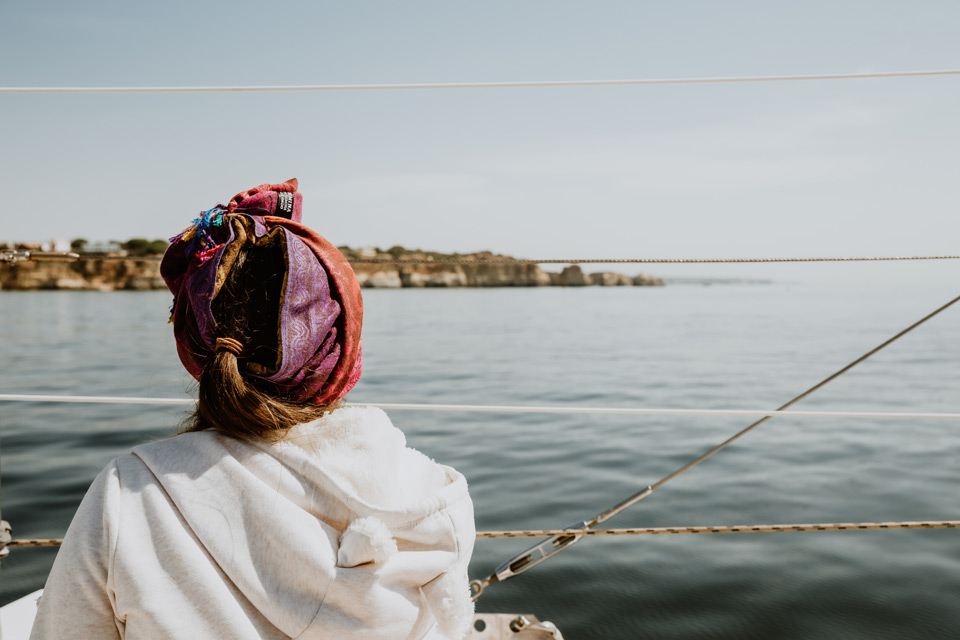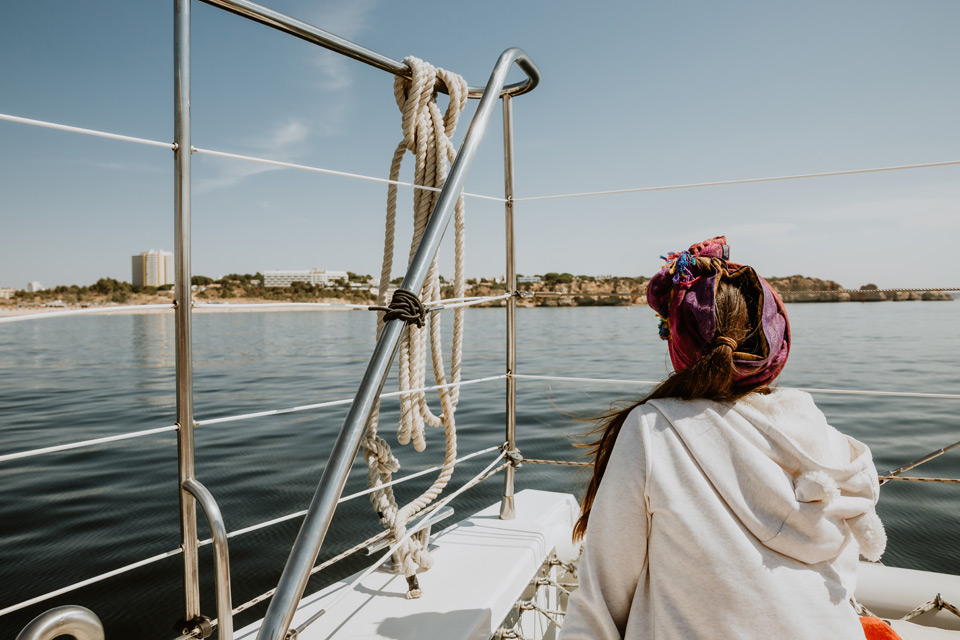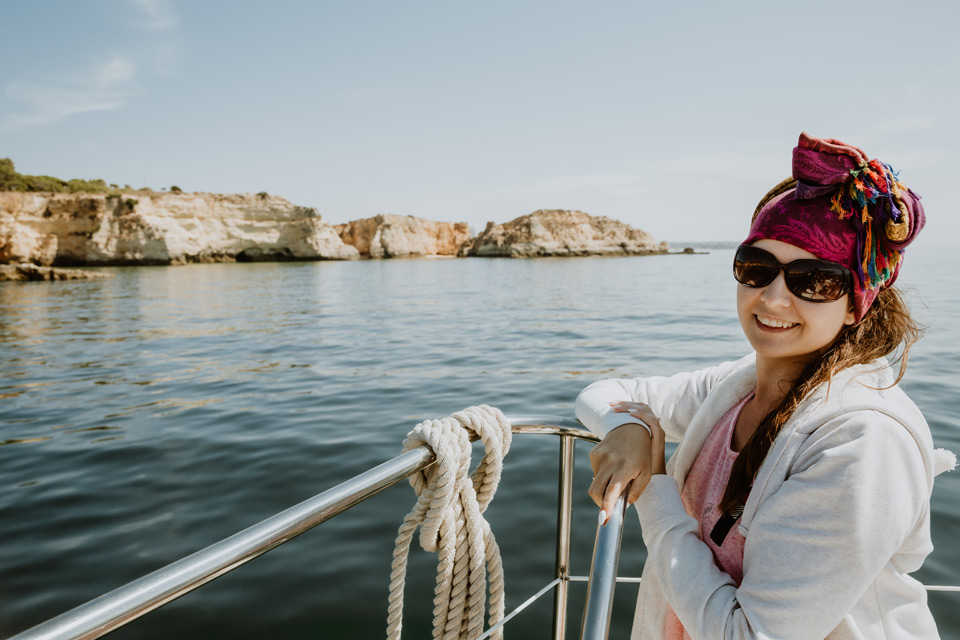 Praia de Boião
We stop east of Lagos. In my eye it is Praia de Boião. We have a 45 minute break for meals and baths. Wojtek decides to jump into the water with me. We spend nice time, we also talk to Piotr, who is Polish, moved to Portugal a long time ago and is a ship worker. I am a little jealous of these daily cruises.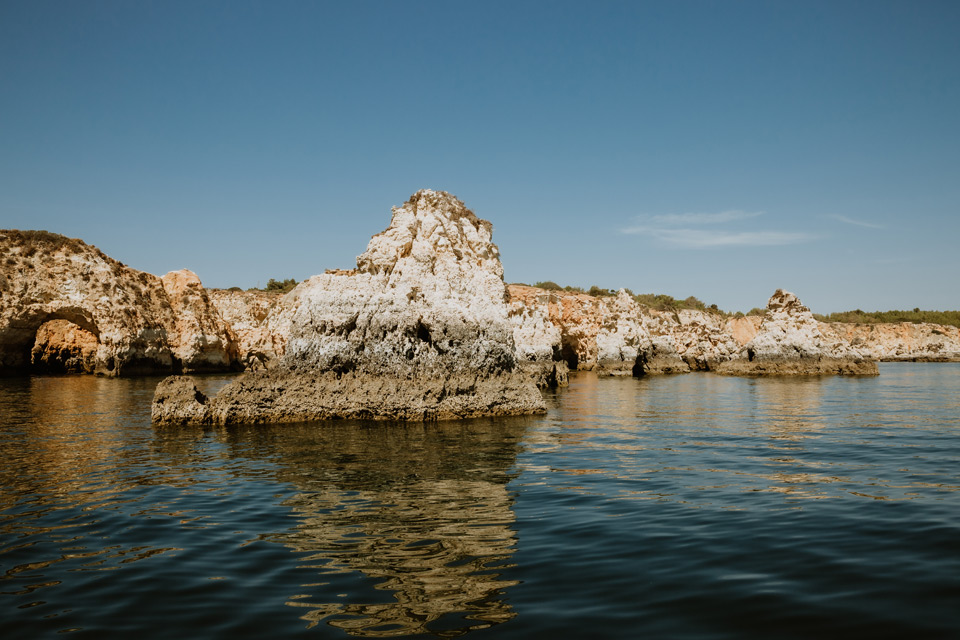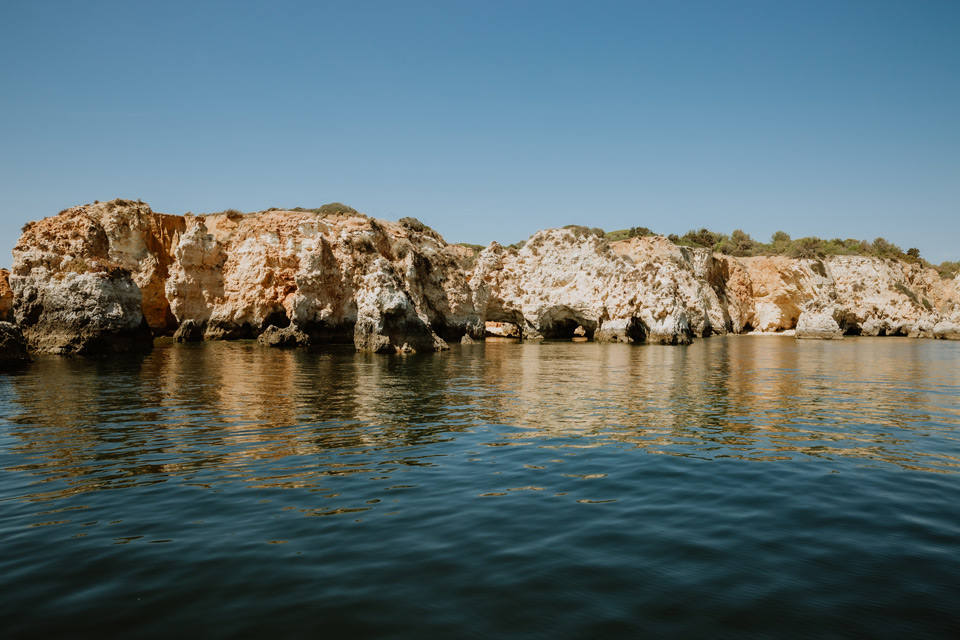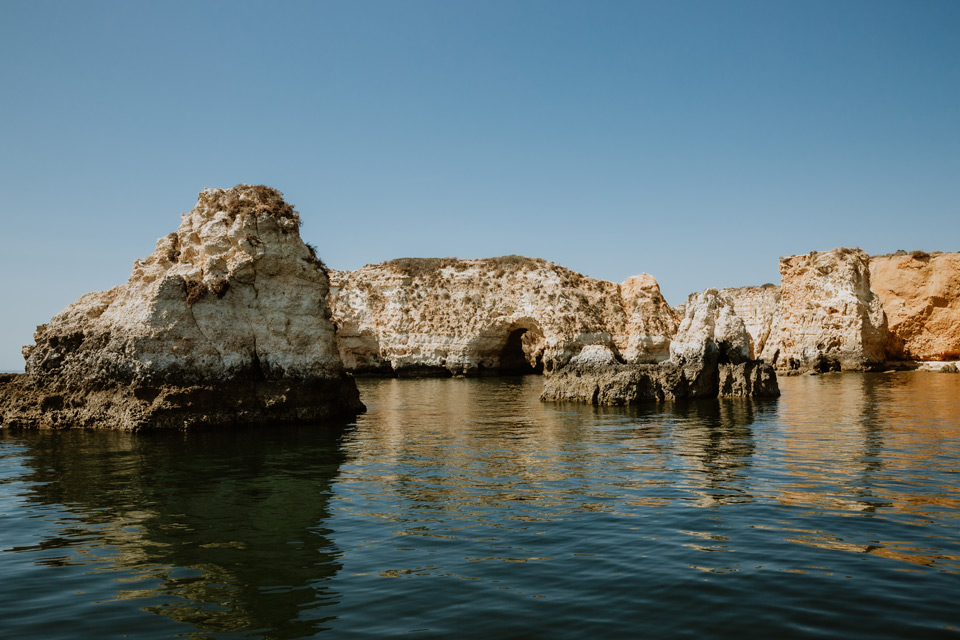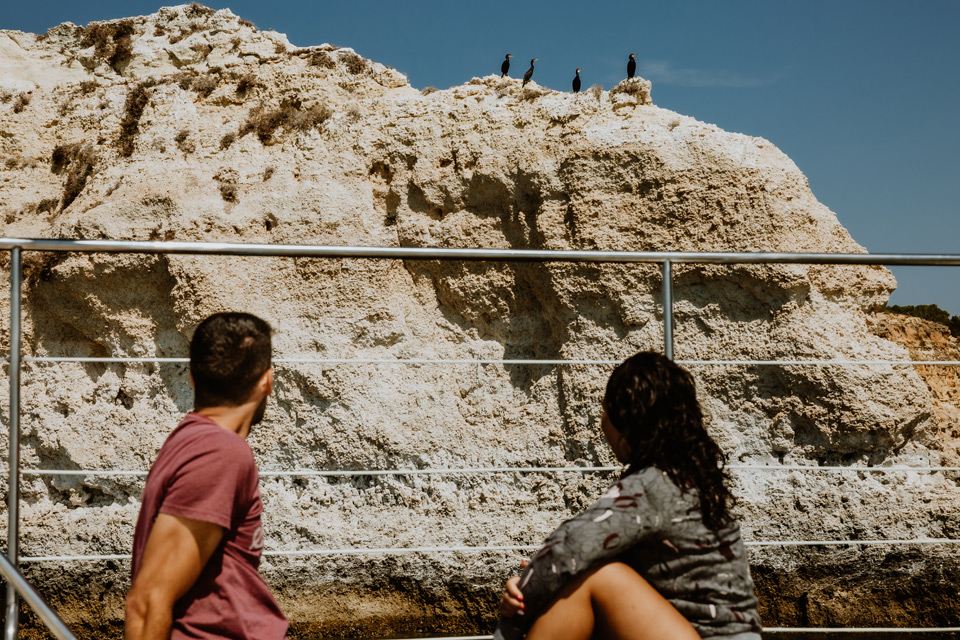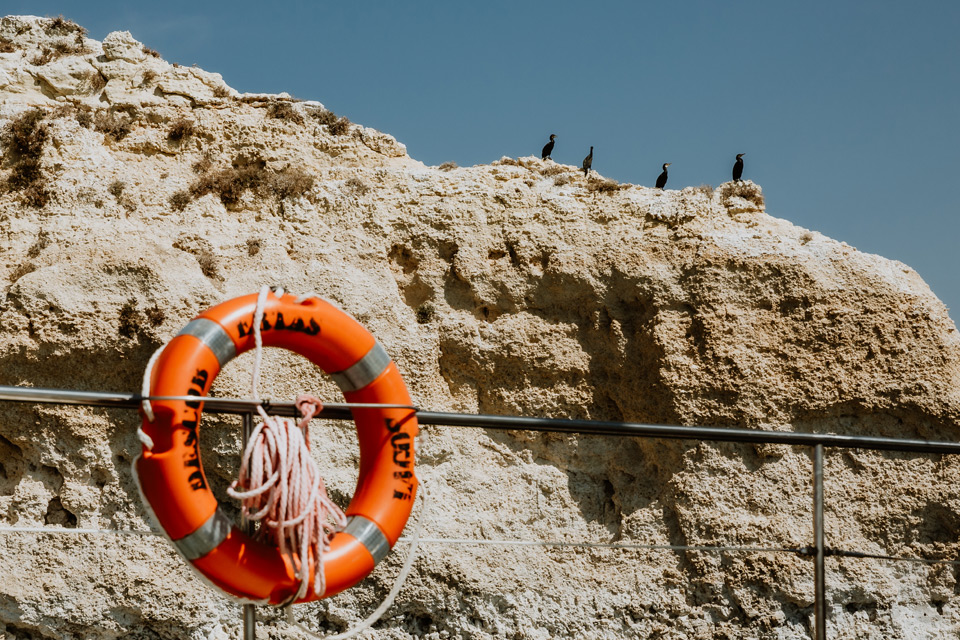 Piotr asks us if we want to lead a ship. Sure we want to. We stand at the helm for a moment and the captain is watching behind – checking if we do anything stupid. It's a shame we didn't turn the ship around to enjoy more views.
After several minutes, our cruise slowly ends. We sail back to Marina in Lagos. Along the way, we swim past the red and white and green lighthouses we visited yesterday. Finally, we also pass Praia da Batata, the promenade and the old town. We cross a movable bridge and enter the port. Finally, we take souvenir photos with Piotr.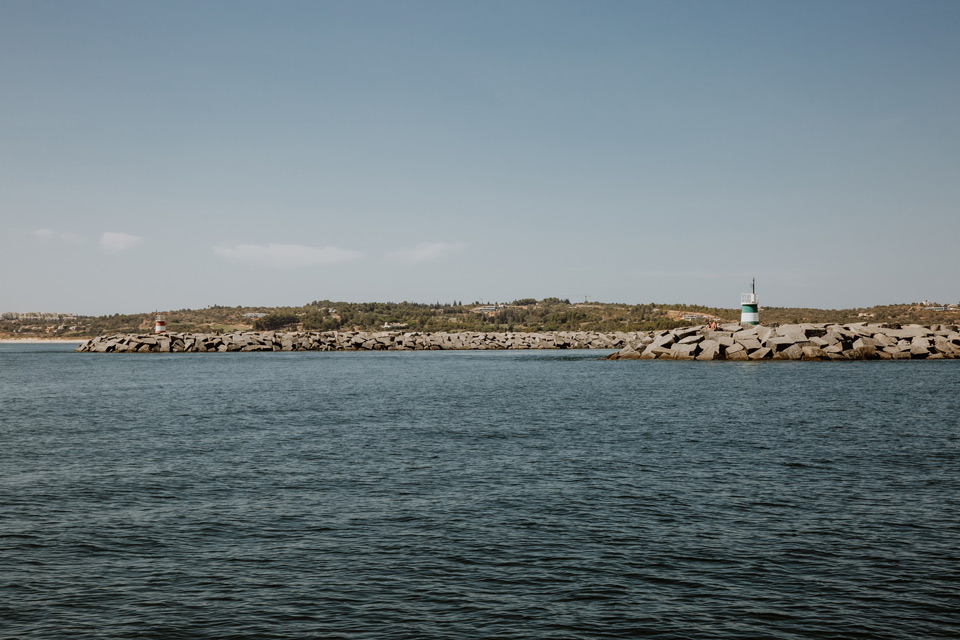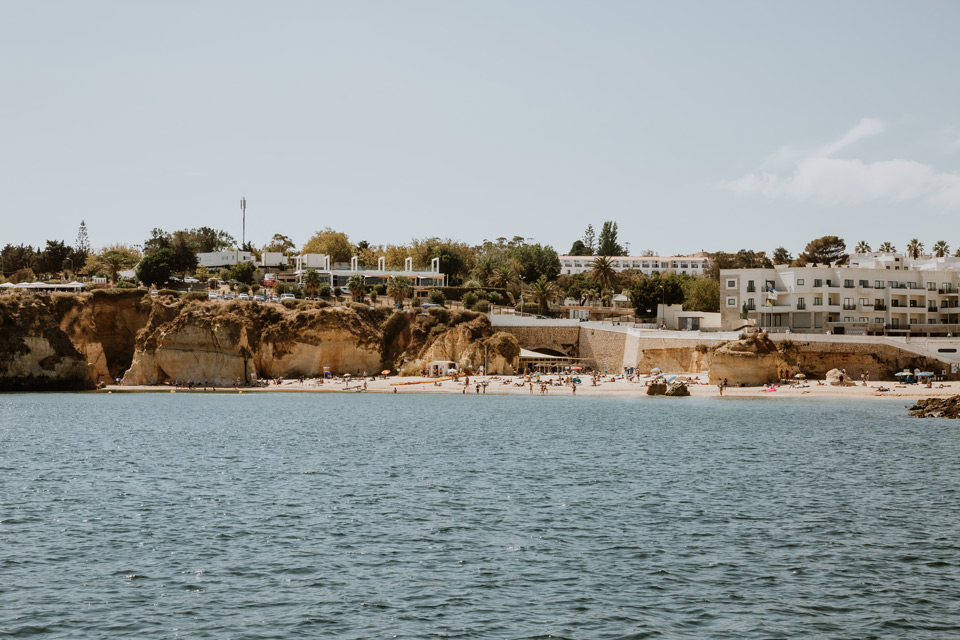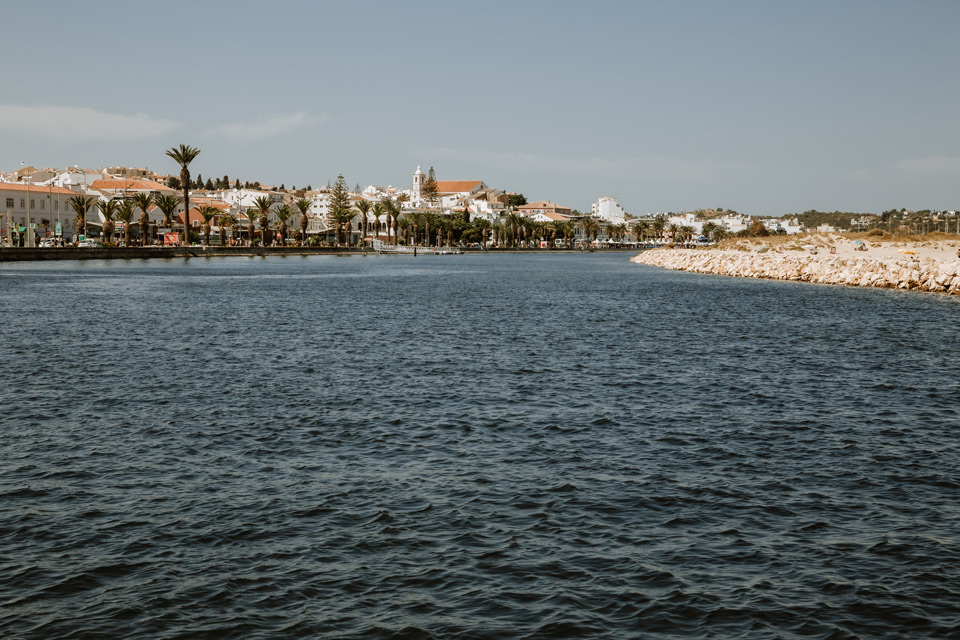 Last evening in Lagos
After the cruise we head towards Praia do Camilo. We do not photograph on the beach, we only use the last day of our stay in Lagos. We sit and watch the ocean, walk, collect shells … and think that it's great, that we are still here and in a glimpse of an eye we will be sitting on the plane and a moment later at home. In the next moment we will only be able to look at photos and remind those times…
We go the last time to the cliffs of Ponta da Piedade. We visit the east side, where we walked the first day. It's sunset.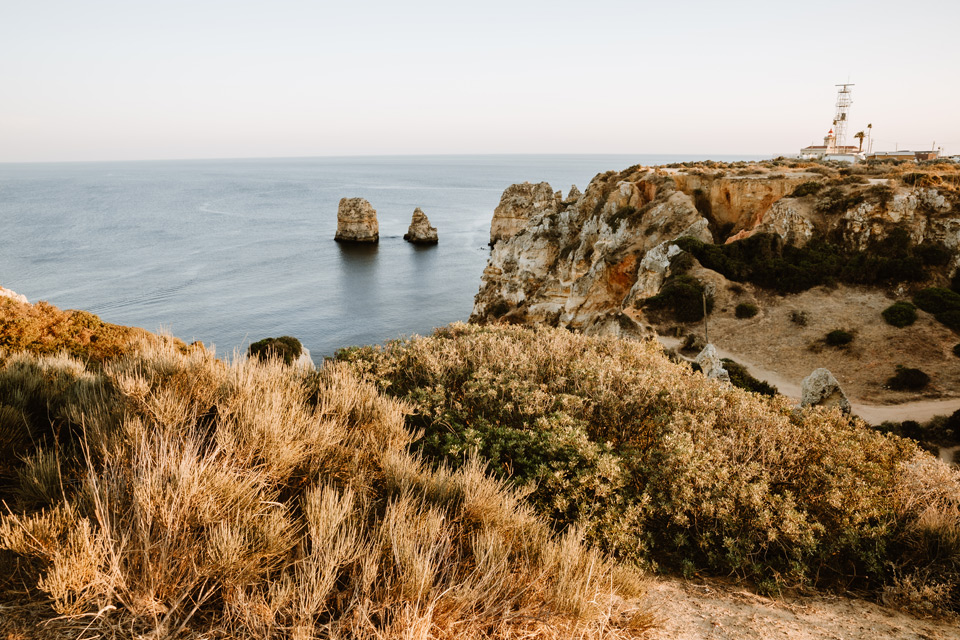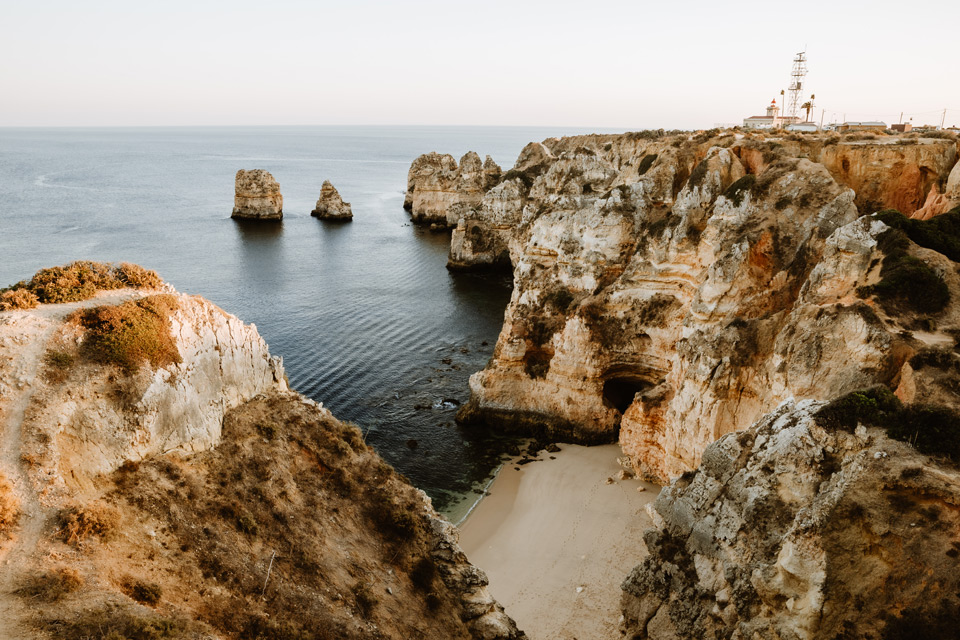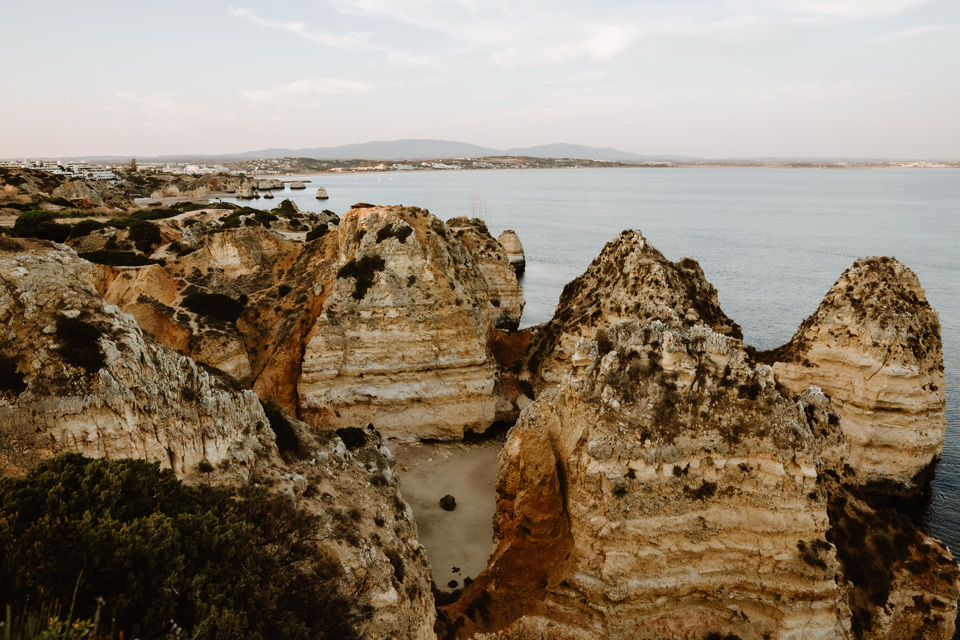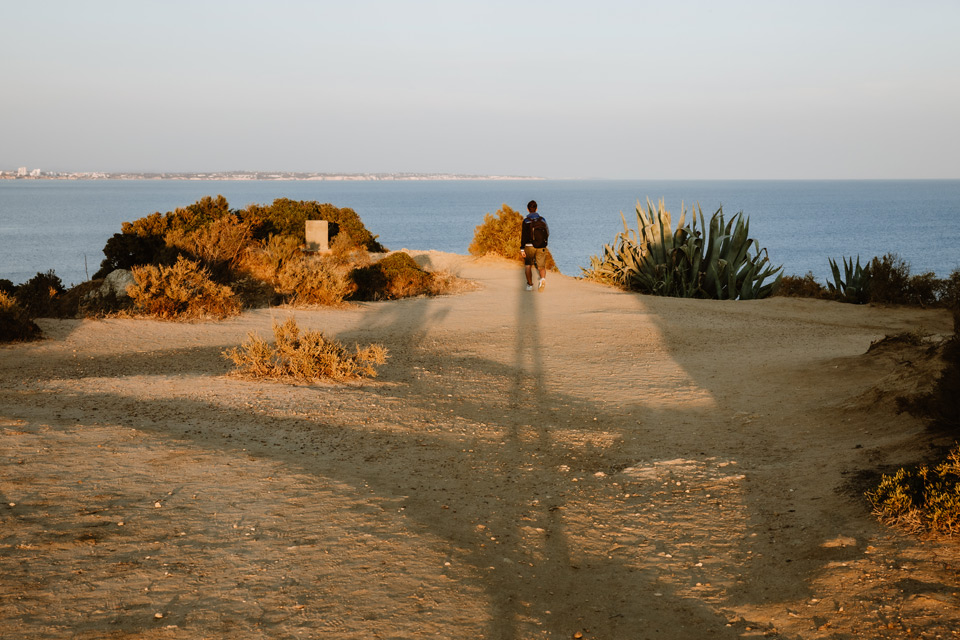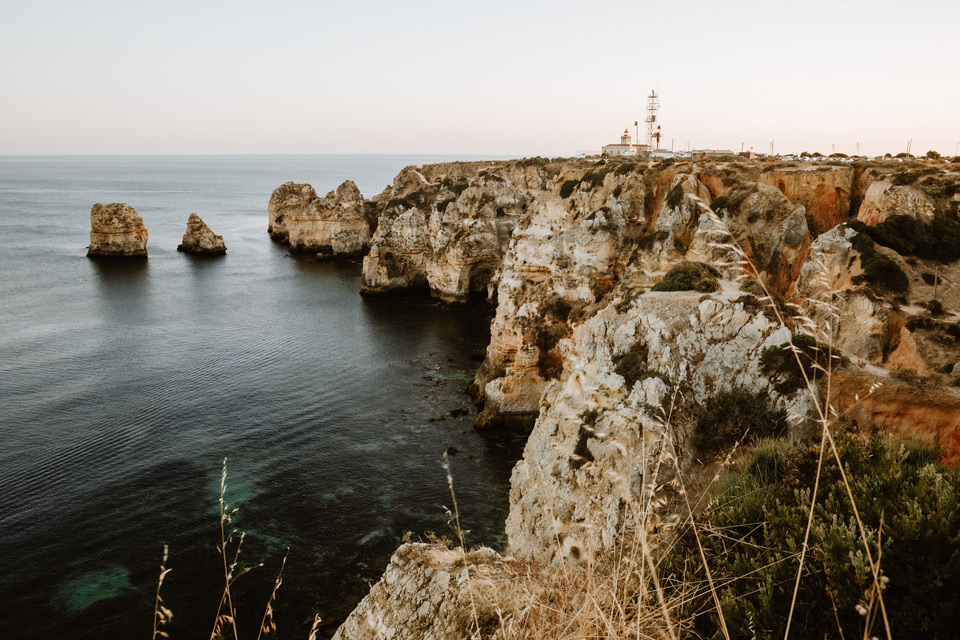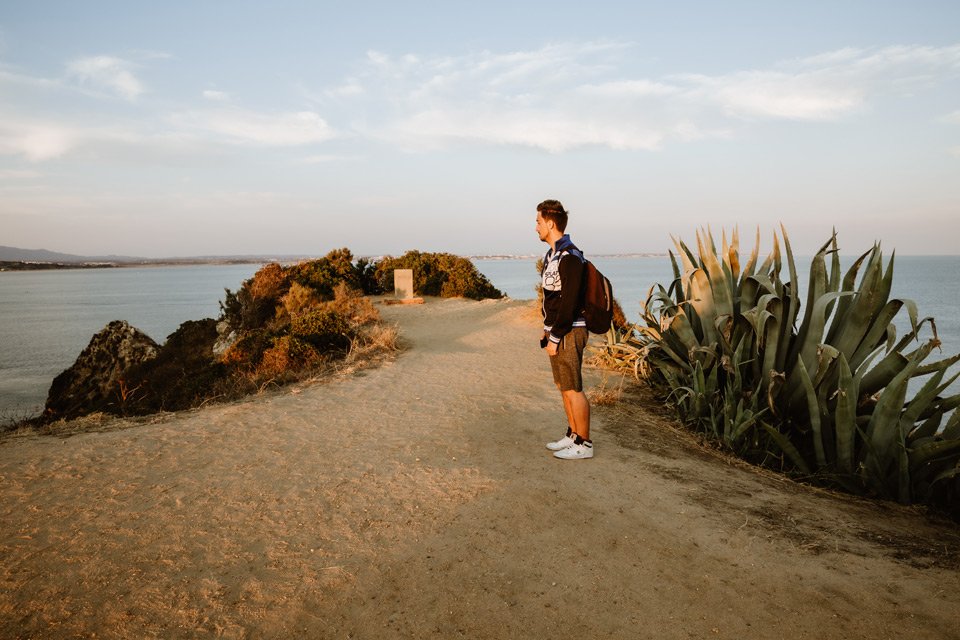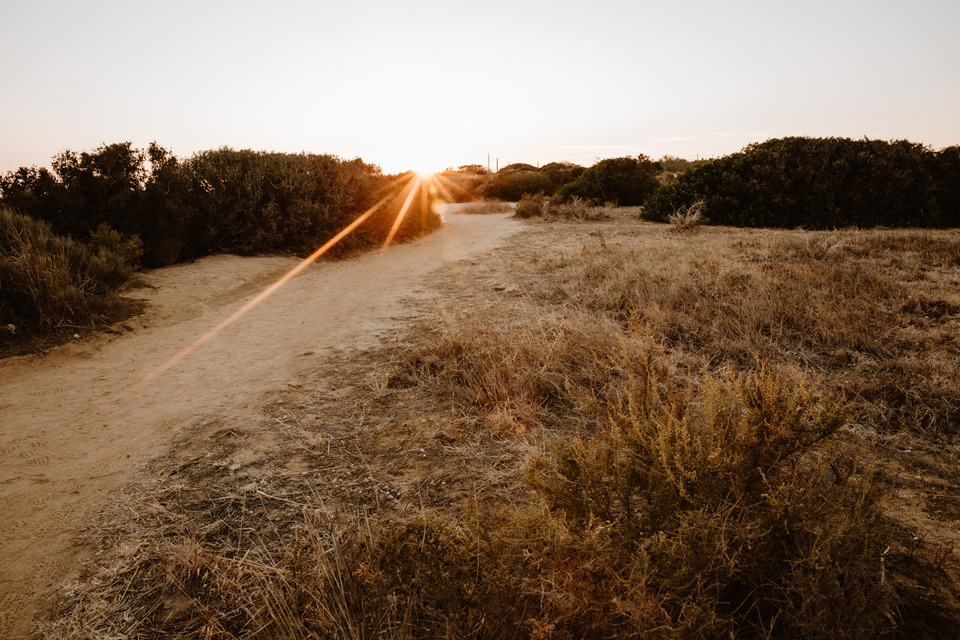 After sunset, we still have a moment to the hour for which we have a reservation at the restaurant. Near the lighthouse, we go down the stairs to the place from where motorboats float through the grottoes. It's good that the camera works great even in such darkness.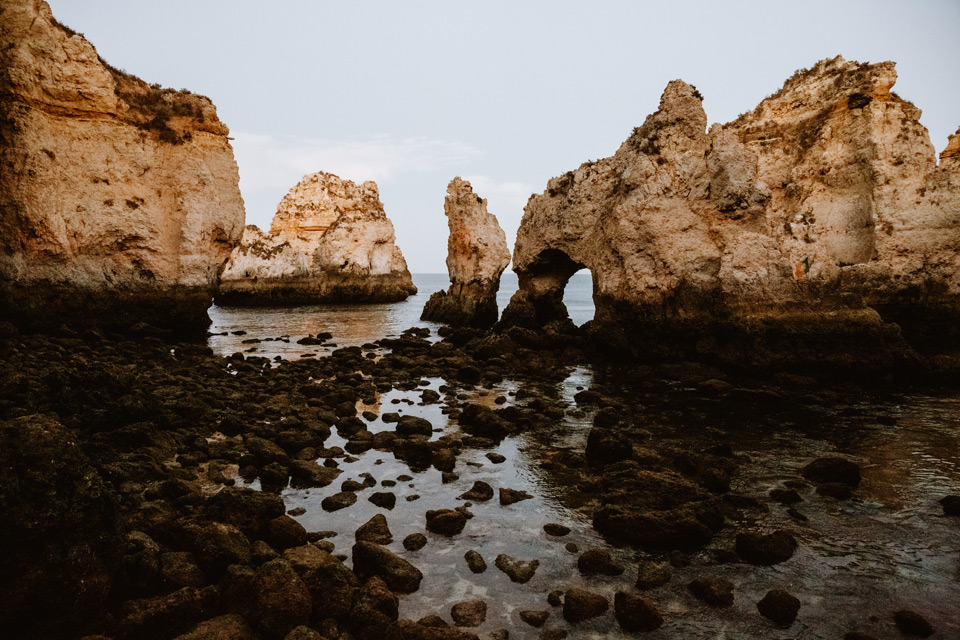 The time for dinner came quickly. Of course, we order our favorite sangria, this time 1.5 liters jug.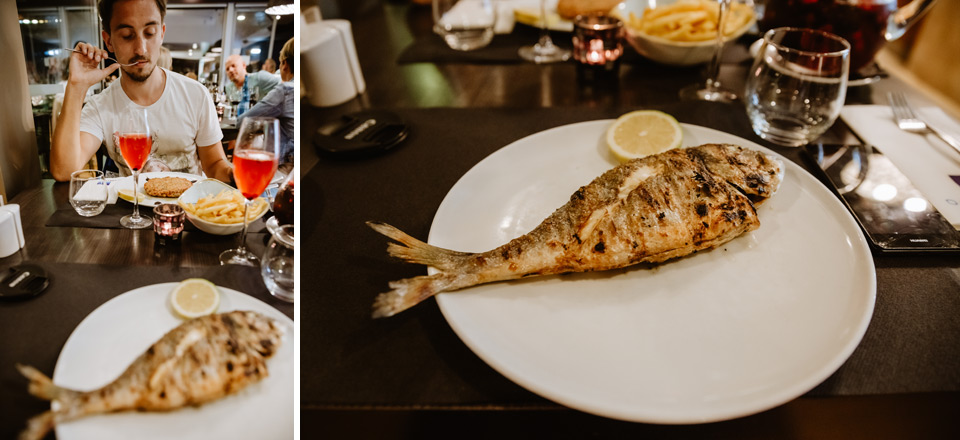 Sunrise- Lagos
The day of departure from Portugal has arrived. We take advantage of the moment, we get up early in the morning and go to the sunrise on Praia do Pinhão. Do you associate these scenes in movies where a couple in love sits huddled on the beach and their faces are lit by the rising sun? I've always dreamed of such photos, and dreams come true, if only we want them to come true.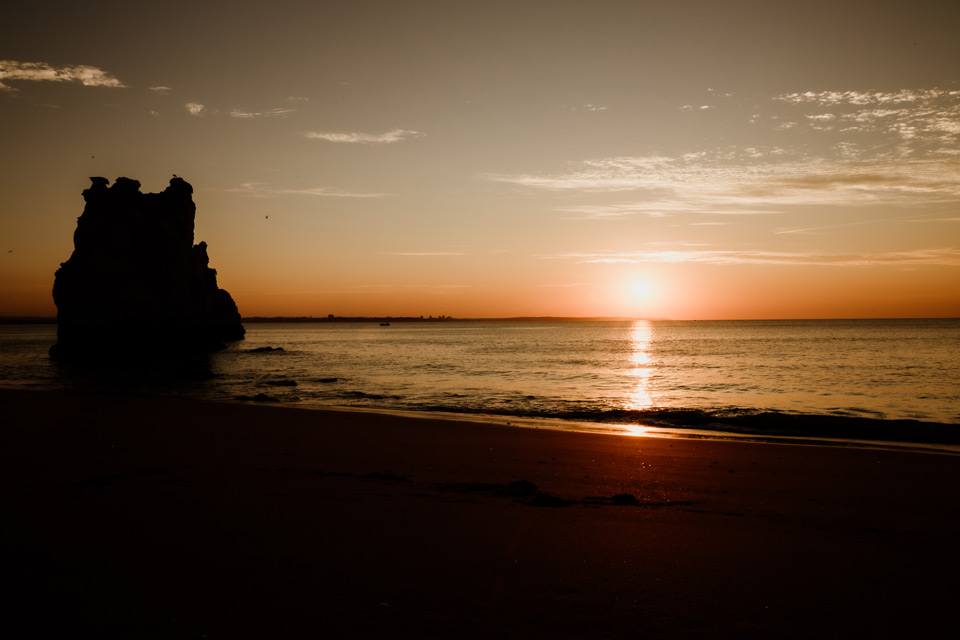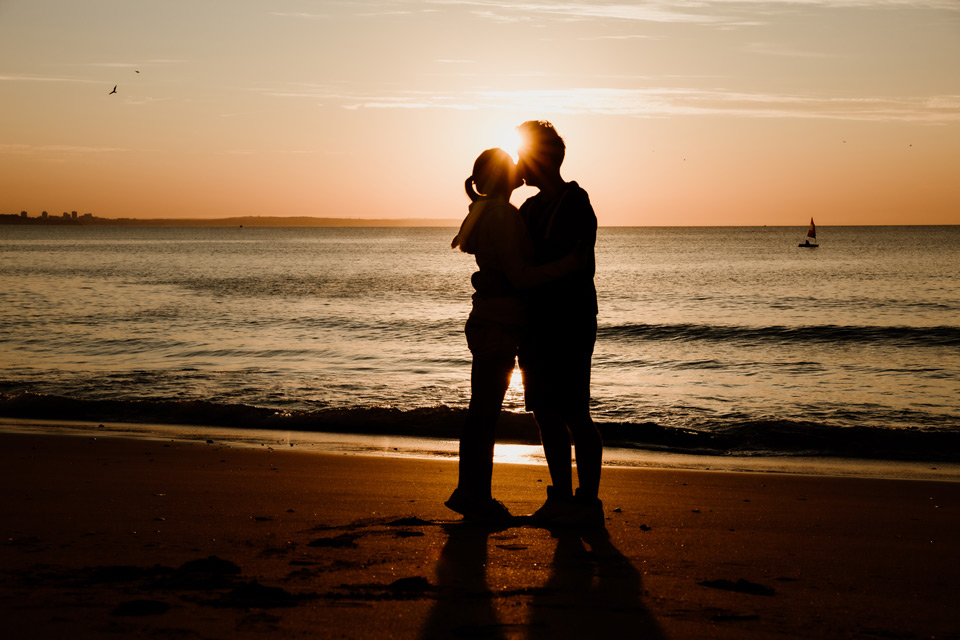 Now that we've taken some pictures, we may complete the shooting? I photograph our wedding rings. I also can't resist photographing our beloved "breakfast" beach again. Unfortunately, these are the last photos from Lagos.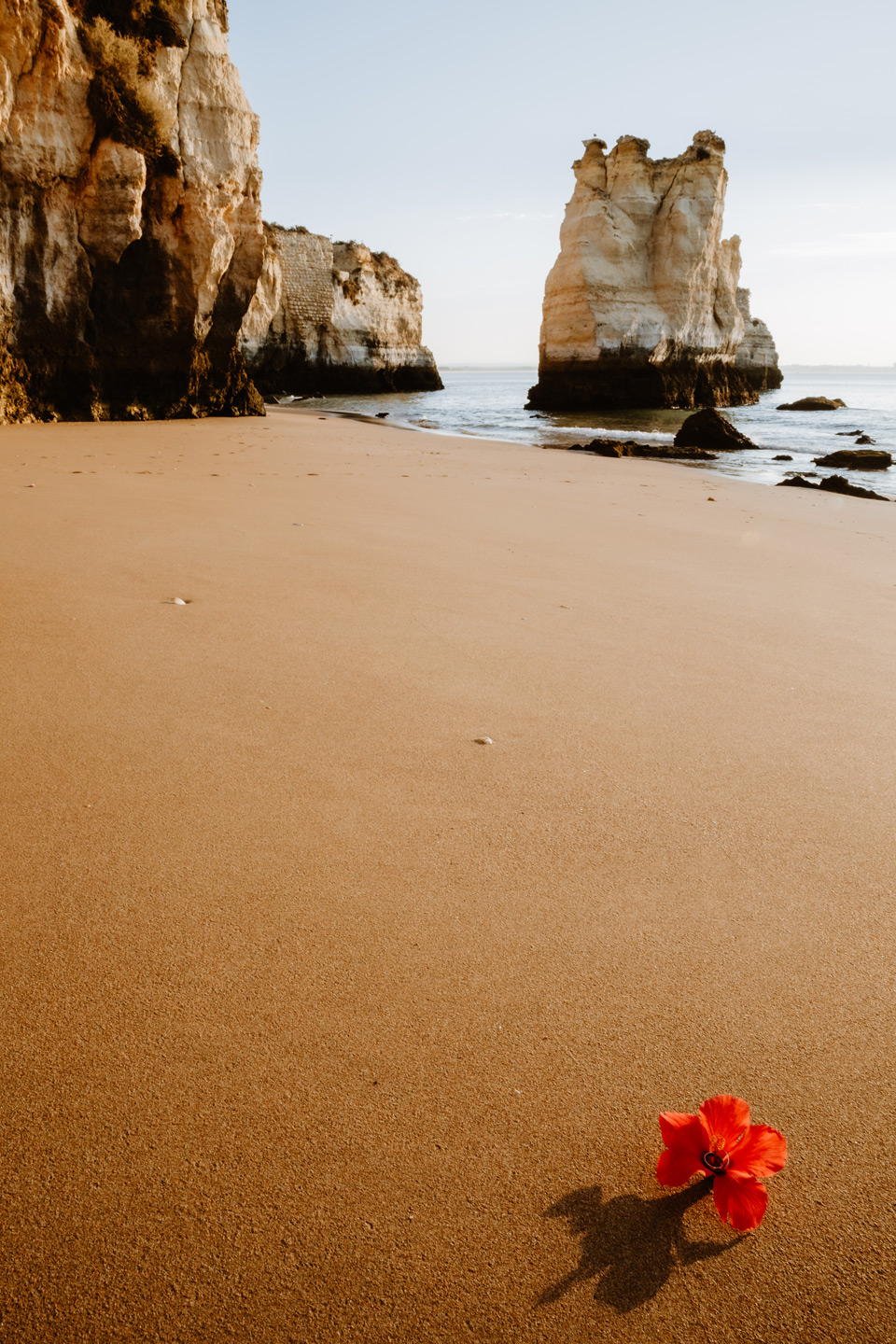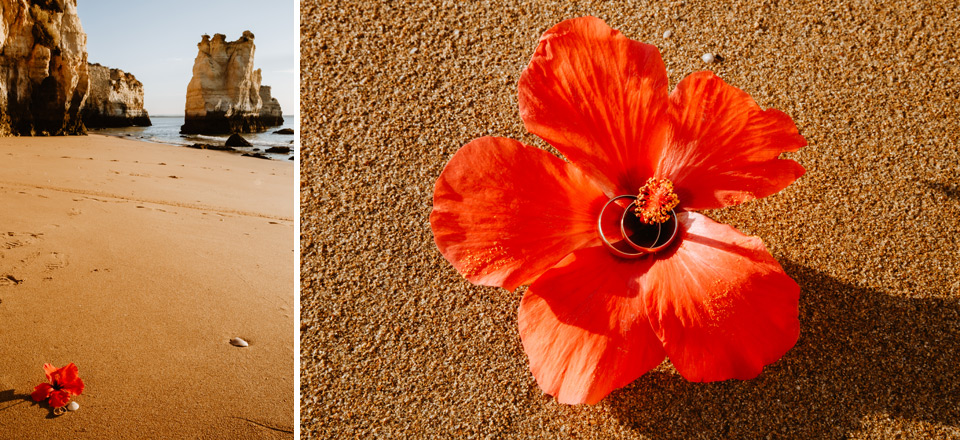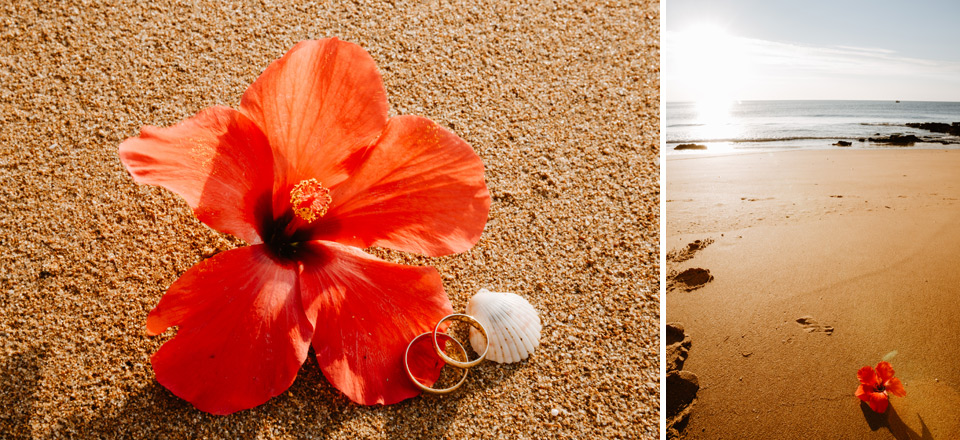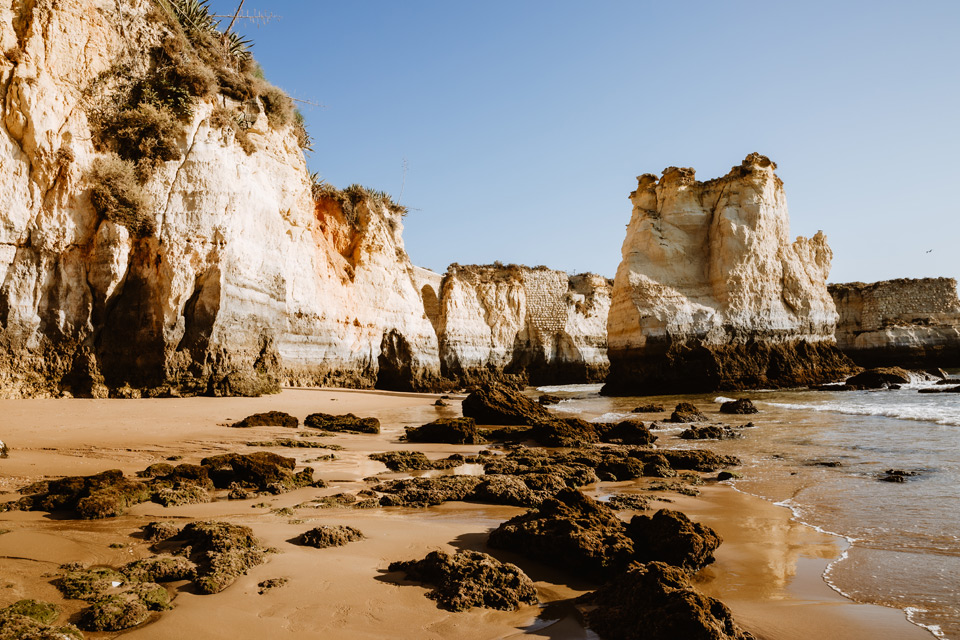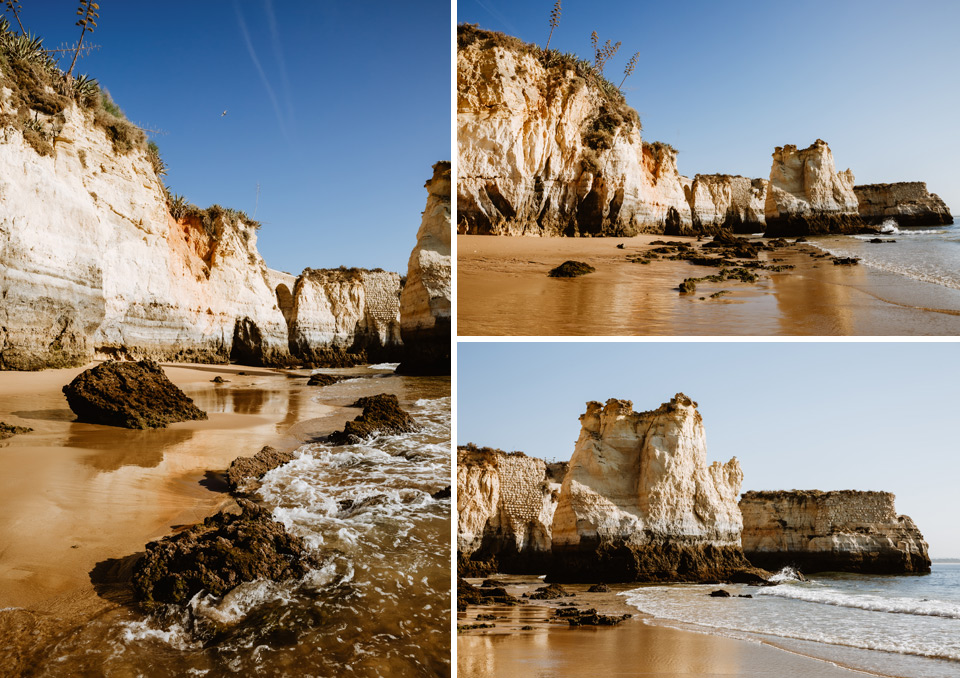 Finally, I post a picture of shells. In this regard, Portugal is the best. We haven't found such beautiful ones anywhere else.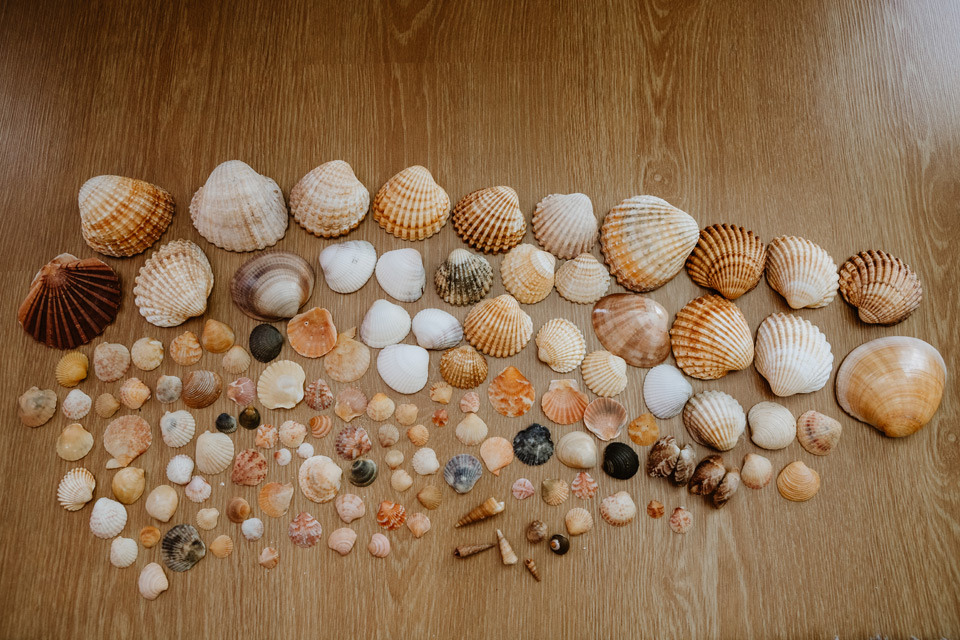 Summary of honeymoon
I hope to return to Lagos someday. I would love to go to Portugal again, but this time, to rent a car and explore the area, and preferably the entire Algarve coast. We would go to some less popular beaches and coves and visit, among others town of Sagres.
This trip was a bit lazy. Although, on the other hand, we calmly discovered all the corners of Lagos, what would not have been possible in one day. Maybe even in 3 days you wouldn't see everything, unless you resigned from swimming in the ocean or relaxing on the beach.
I will reveal that the initial plans for the honeymoon were the Greek island of Santorini. Unfortunately, the tickets were quite expensive, but I already have a cheaper plan for this trip. I hope that it will be realized soon. Maybe we would take a dress and a suit again and do a shooting there? Let me know if you would like to see these photos on our blog.
How did you like Portugal? Greetings and see you in the next report.
Thank you for reading the entry!
If you think it is interesting, we would be pleased if you leave a mark in the comment.
You will find more posts from Portugal here:
There are direct links to the next and previous episodes below.
All our travels: Travels
We also invite you to our Instagram and Facebook fanpage, where you can be up to date with all our travels.
See you later! 🙂