Taking advantage of the opportunity that we had to go to Działdowo, we decided to take another trip around our beautiful Olsztyn's surroundings. We chose Dąbrówno, about which we had never heard before. Why so? First of all, it's close to Działdowo, and secondly, it caught my eye when I browsed the route on Googlemaps. This village lies between two Masurian lakes – Dąbrowa Wielka and Dąbrowa Mała. Both of these lakes are quite large and immediately attracted my attention.
place of the Battle of Grunwald
We leave Olsztyn with a slight delay. However, It is however loose trip, so it doesn't bother me. Initially, we drive very quickly and the road goes smoothly. Only after the downhill ride to Grunwald the route get a little harder, but also more interesting and I start the photo relationship here.
We drive past Grunwald. For sure most people associate that there was a battle with the Teutonic Knights here. Even we remember it's date, although we're both not into history. We decide that we won't stop here. We don't have the desire to look at monuments in such heat. In addition, the field and commemorative monument are quite well seen from the car.
dąbrówno and dąbrowa wielka lake
After some time we reach Dąbrówno. We park near the cemetery in the shade and from here we start our walk. The first point of our trip is the city beach. Here we spend a little more time, we admire the views from the jetty of the Dąbrowa Wielka lake, then we continue the walk along its shoreline. We meet the locals here. People wondering what to see in Warmia and Mazury or looking for a peaceful place to relax can think about staying here. It is peaceful and we spend most of our sightseeing tour alone.
Dąbrowa Mała
After a short walk over the Dąbrowa Wielka lake, we pass through fields and meadows to the other side of the village, over the second lake – Dąbrowa Mała. Along this lake runs a small and narrow promenade and the coastline is much more interesting. There are many piers, benches and interesting places for photographing here. With a light jealousy I was looking at the houses standing at the promenade. People who live in them probably have an eternal holiday.
Dąbrowa Wielka from the perspective of a water bike
After about an hour and a half of a walk, we reach the car and drive to the resort in Kalbornia. It's located next to the village of Dąbrówka and it's the only water equipment rental on the Dąbrowa Wielka lake. It's a bit hard to get 2-people bicycles. There are only 4-people ones in the marina, so we have to wait for a moment until others come back from their trip. We rent a bike for an hour. It's hard for me after this time to determine if the lake is nice. Dąbrowa Wielka is really big, so we didn't sail much on its waters. Besides during our cruise, huge rain clouds gather in the sky and we have to go back fast.
Bleak weather spoiled a bit the appearance of the lake. We manage to return the bike and five minutes later it starts to rain. There was no big loss. The weather took only 10 minutes of our rental time. Here we finish our relationship with this mini journey. Just like recently, I hope that the story told with photos will appeal to you. Soon, more travel guides and more interesting places from the regions of Warmia and Mazury will appear on our blog. Have fun watching 😀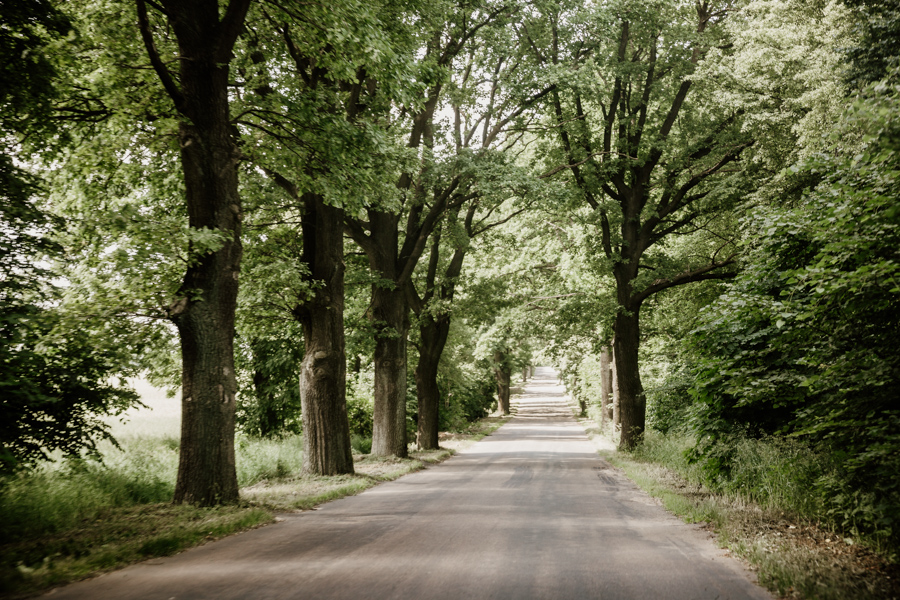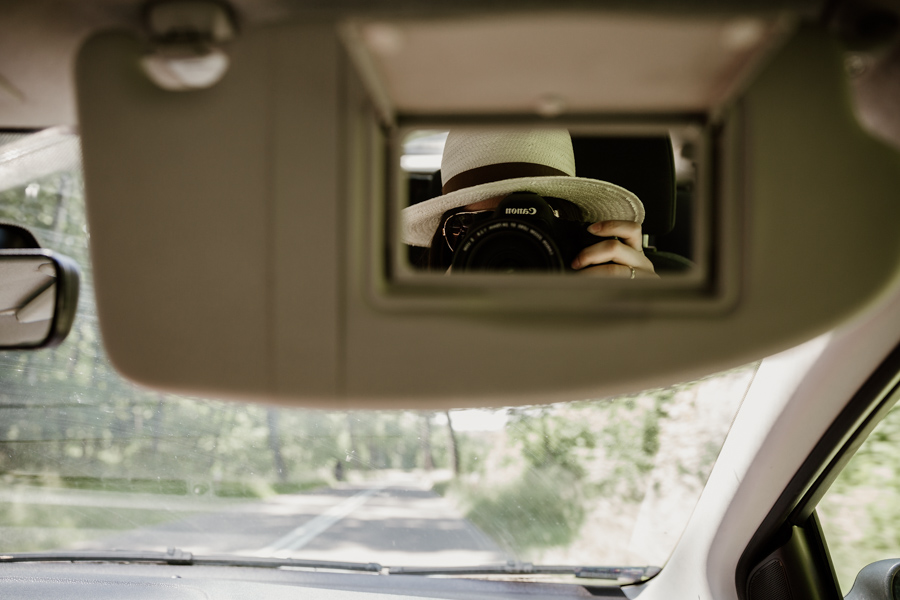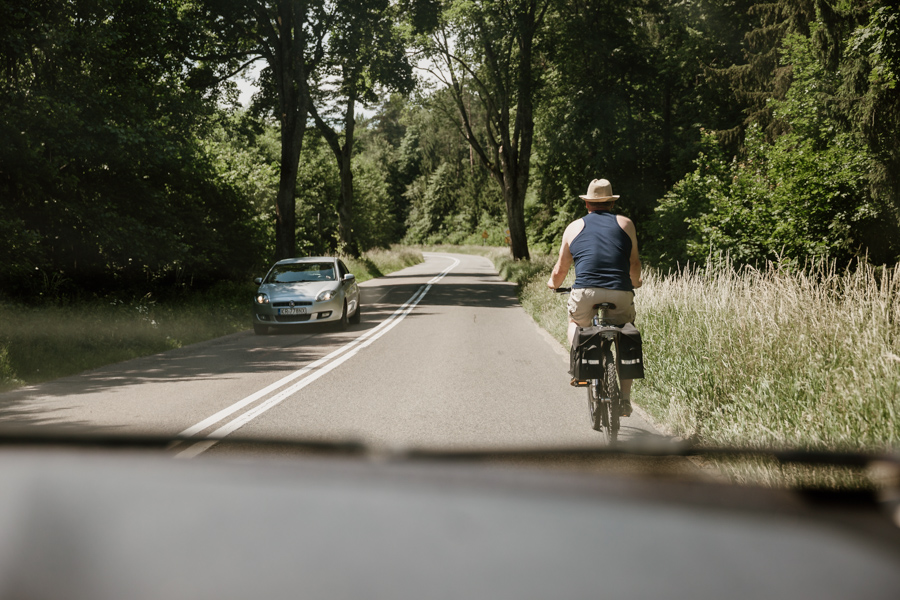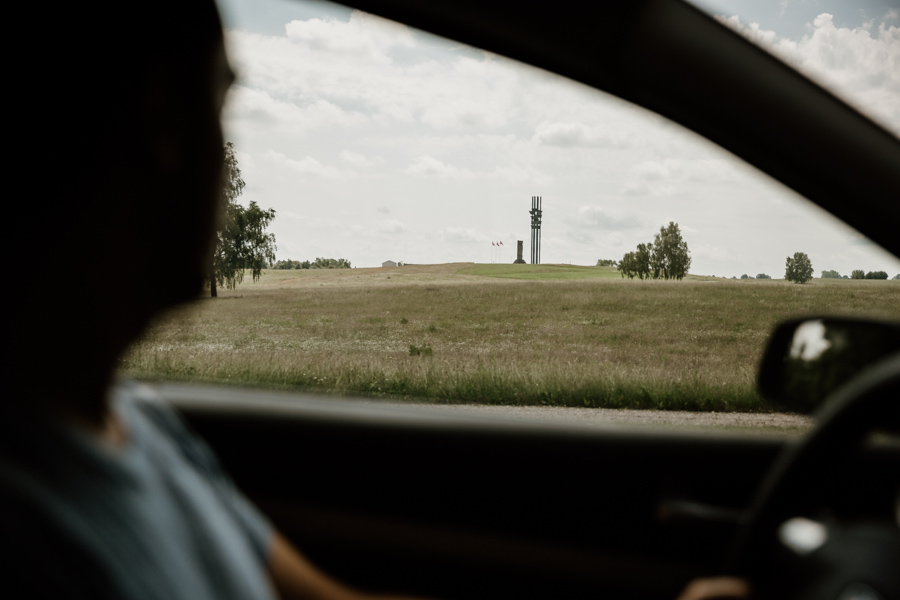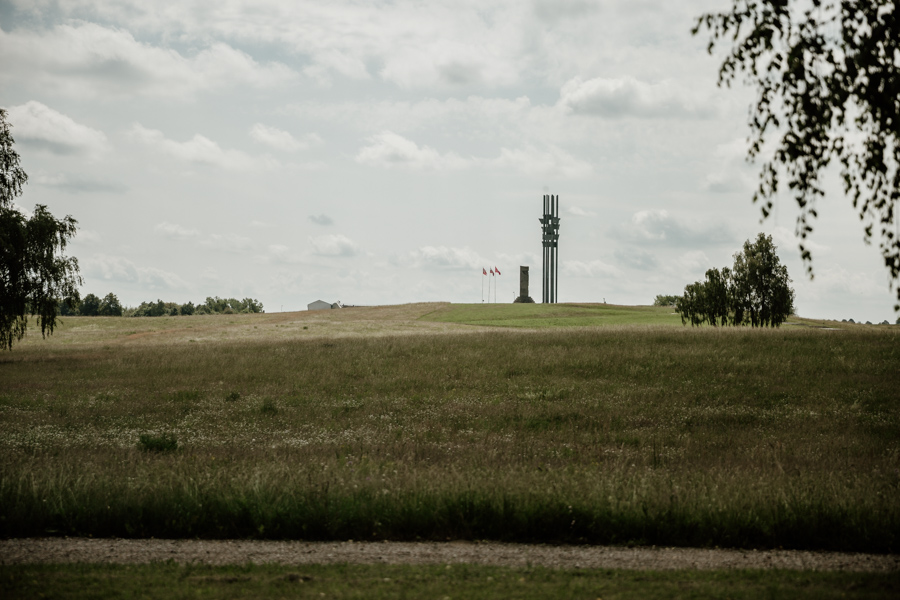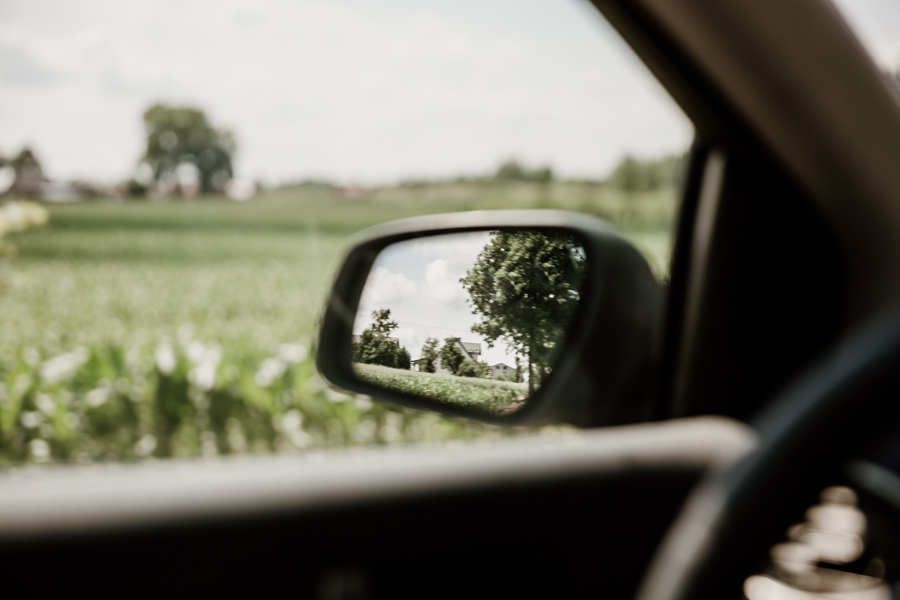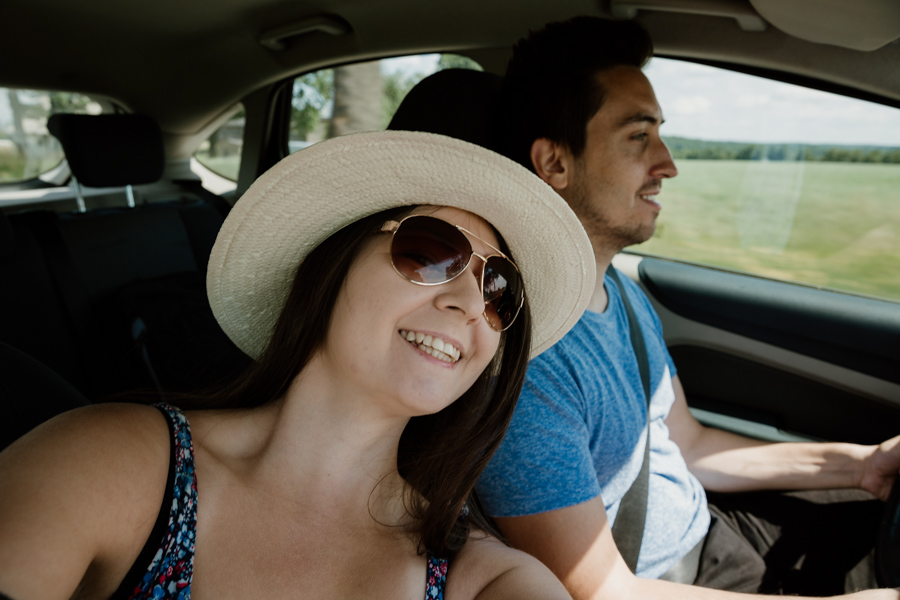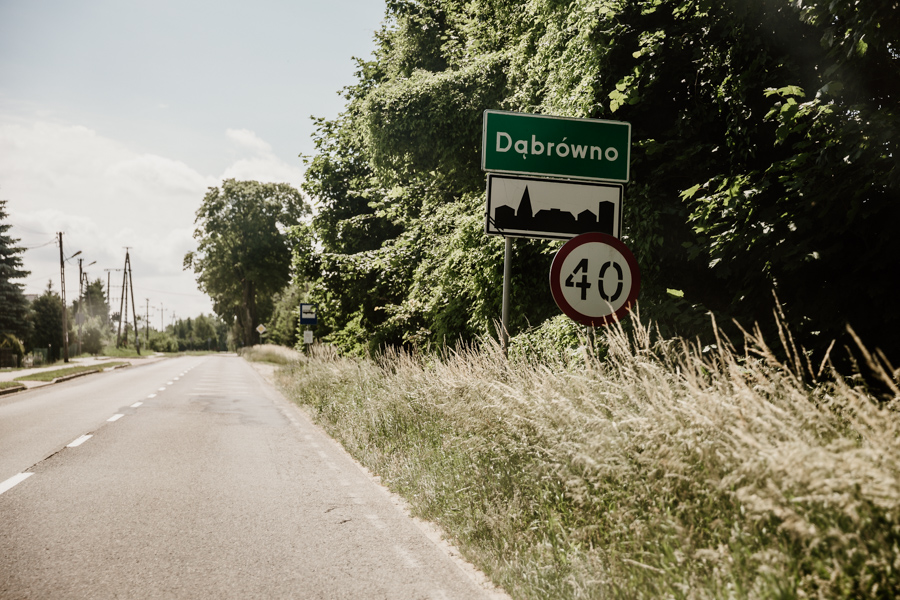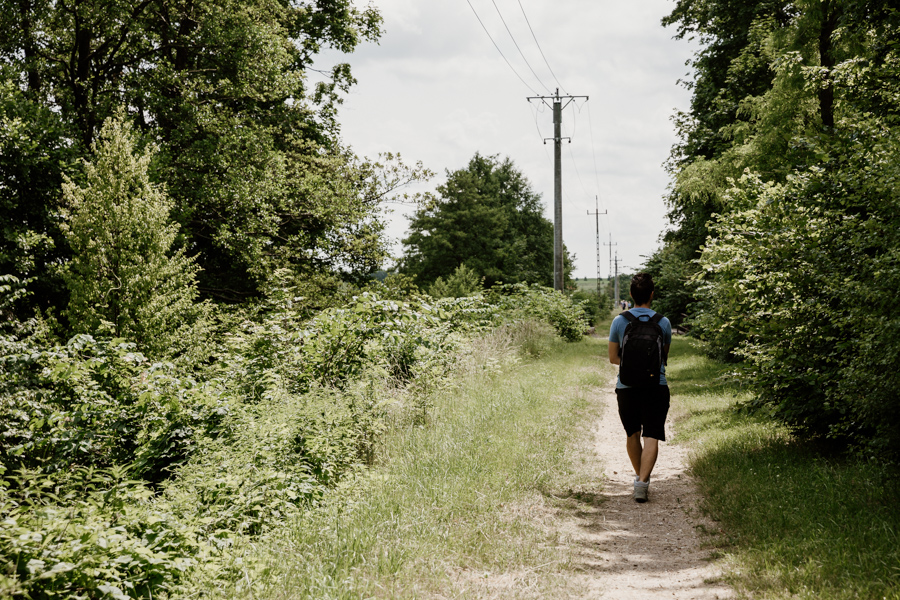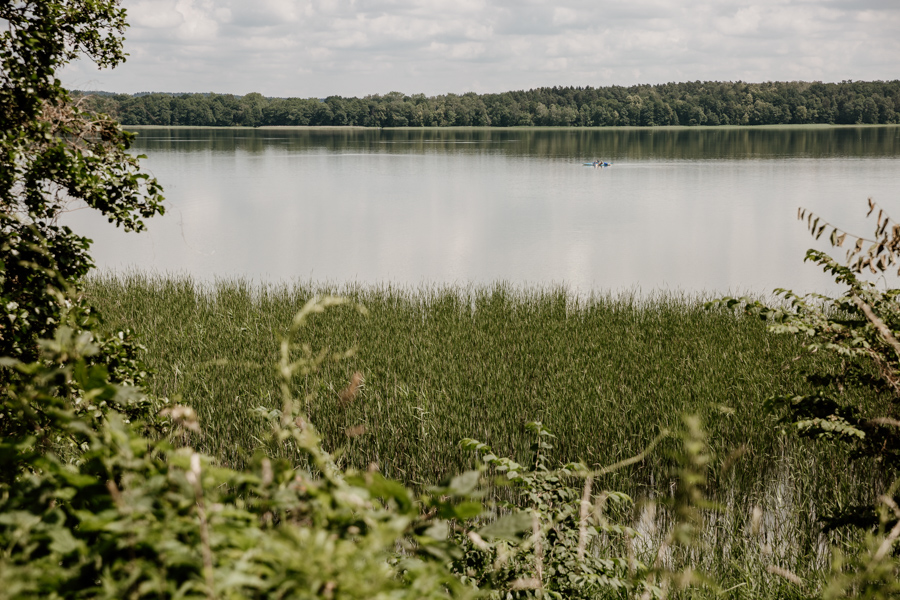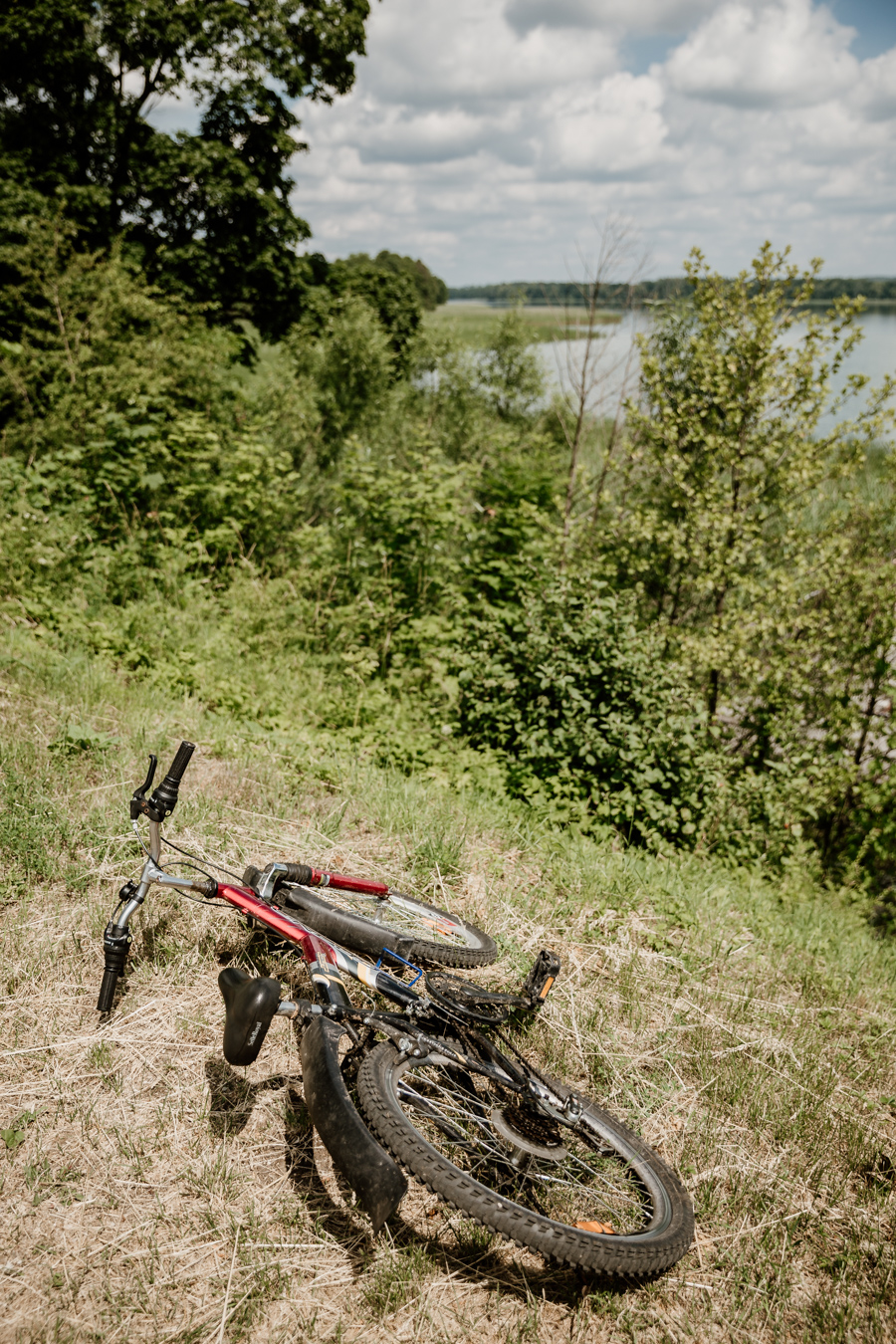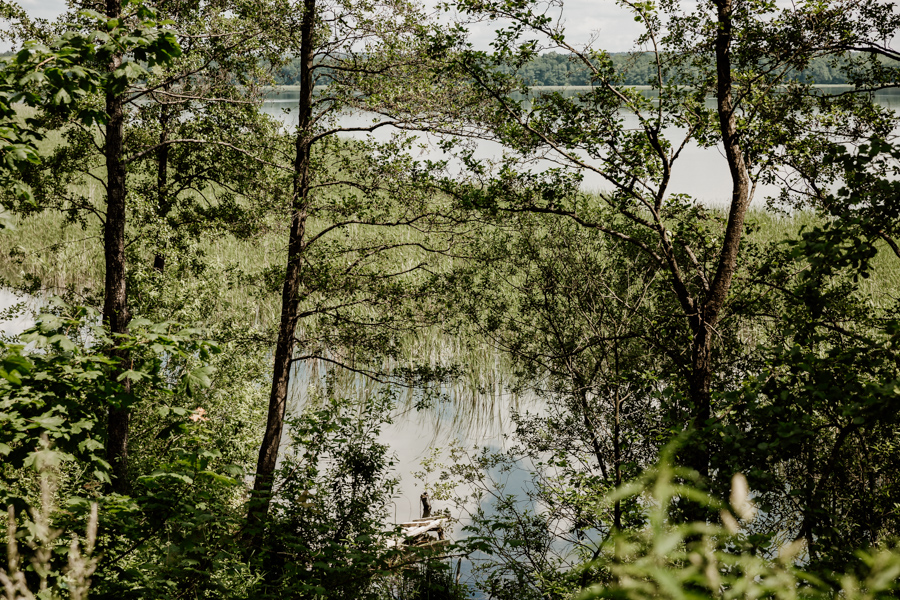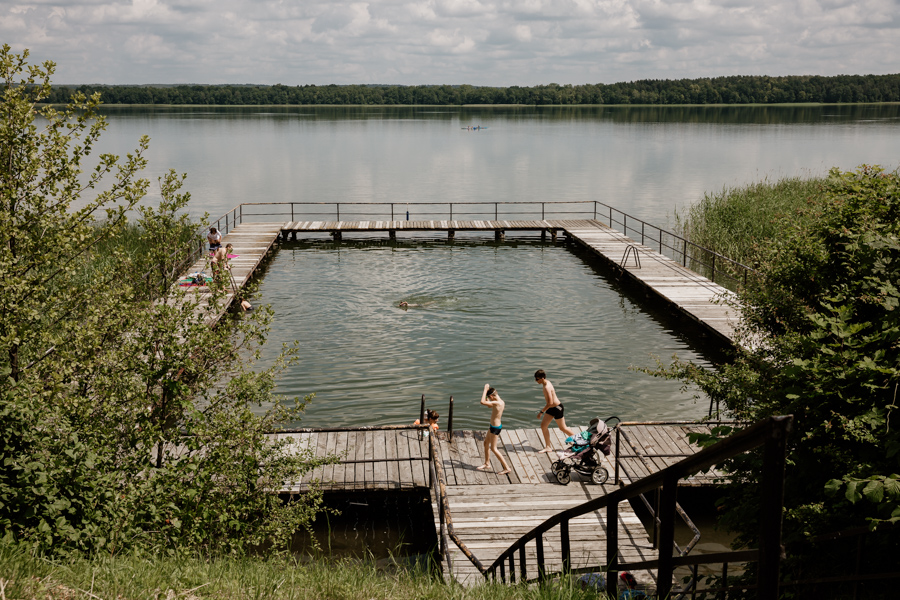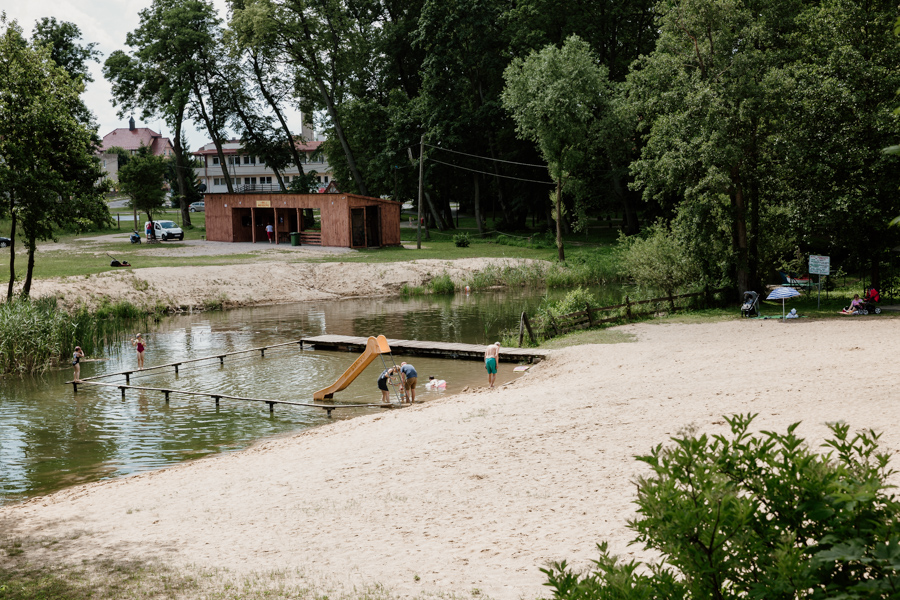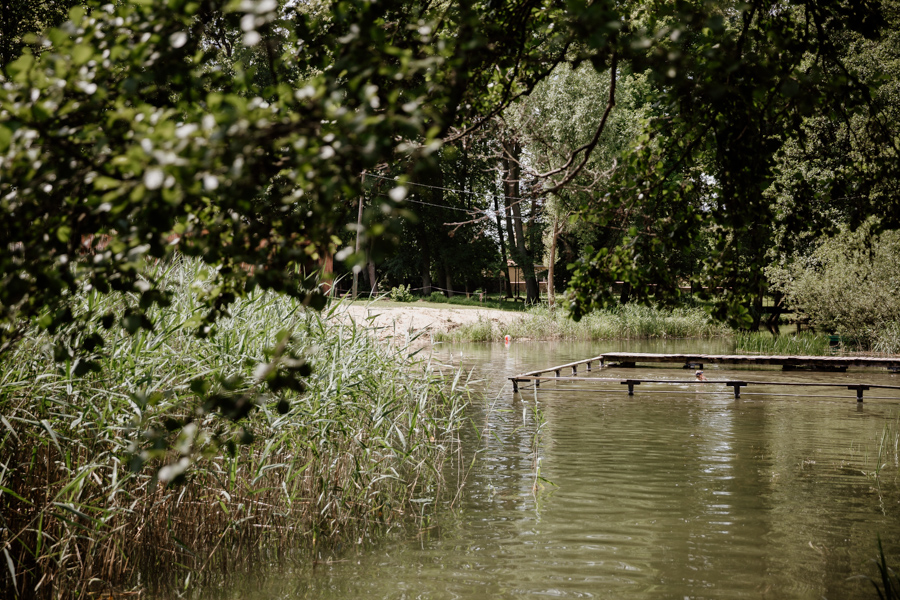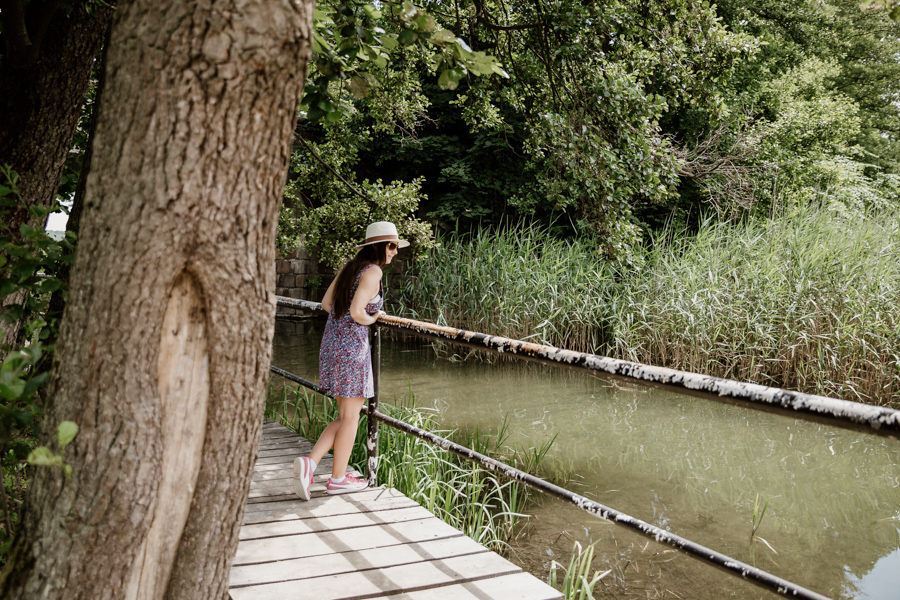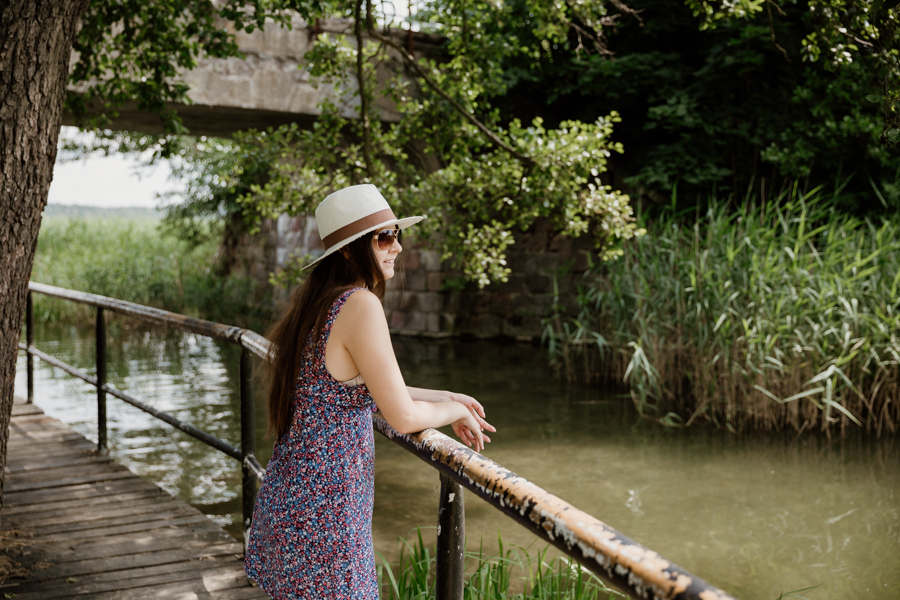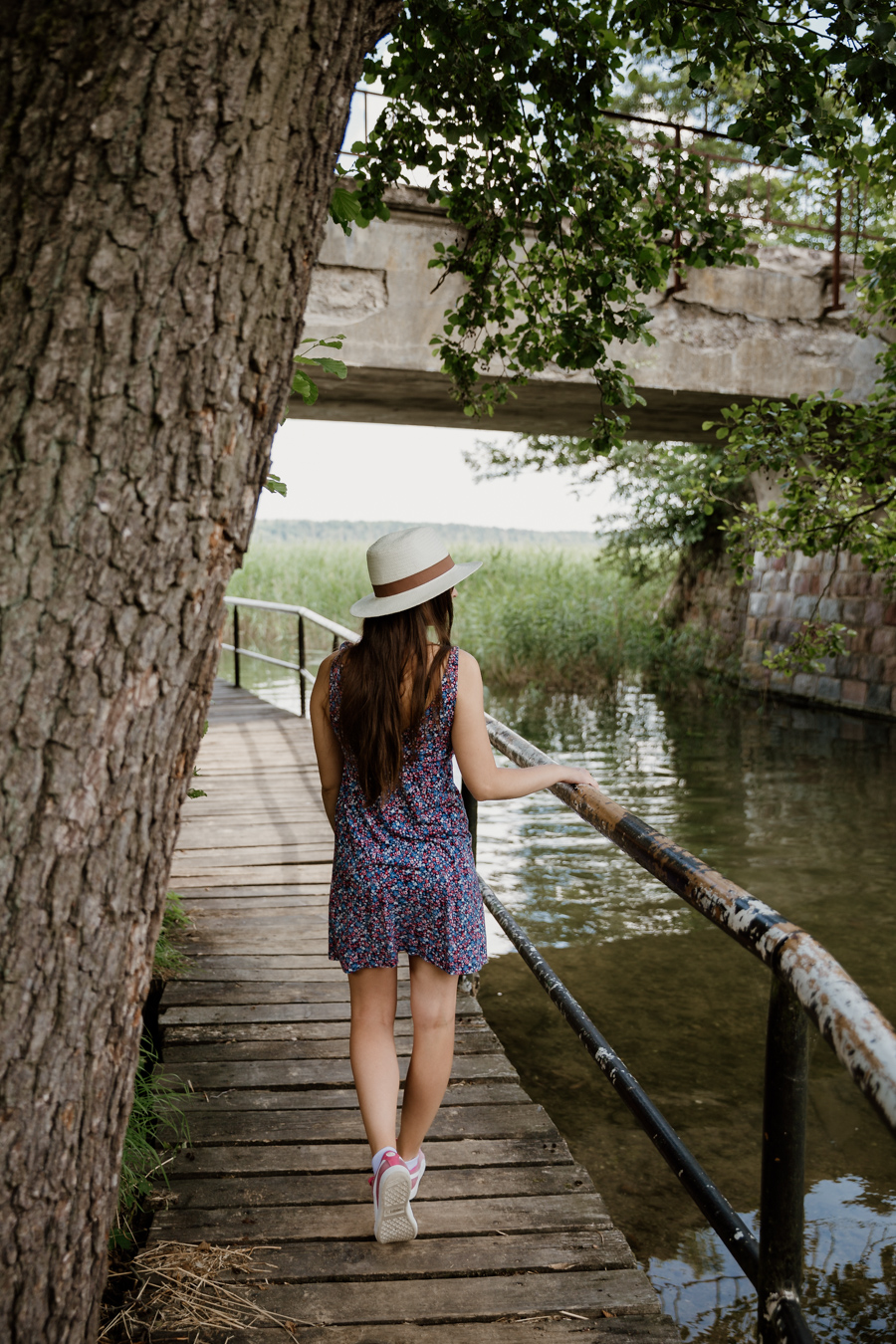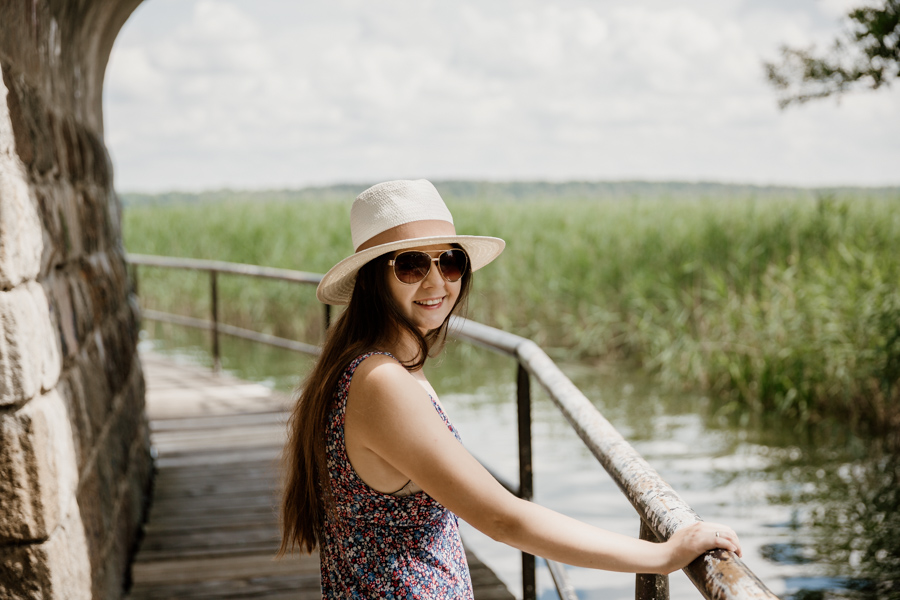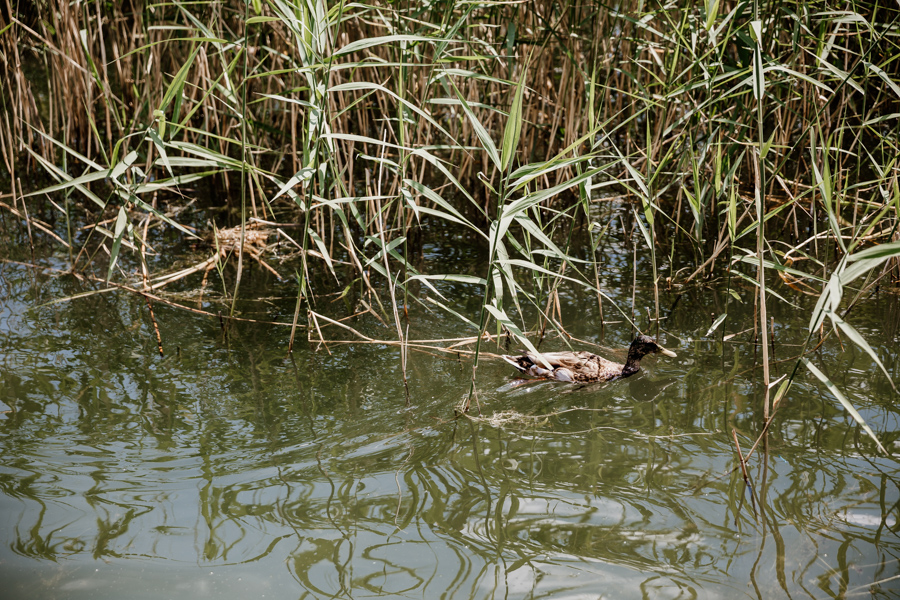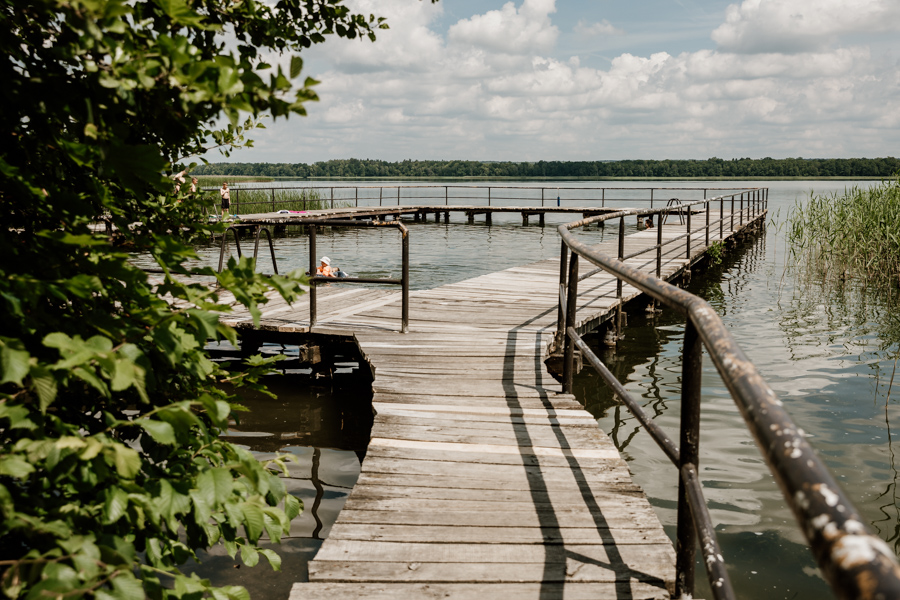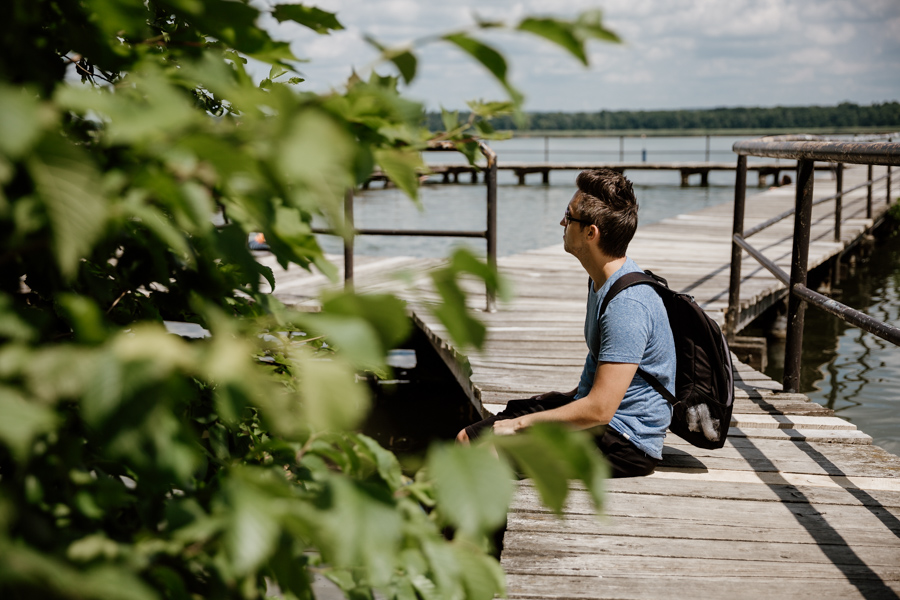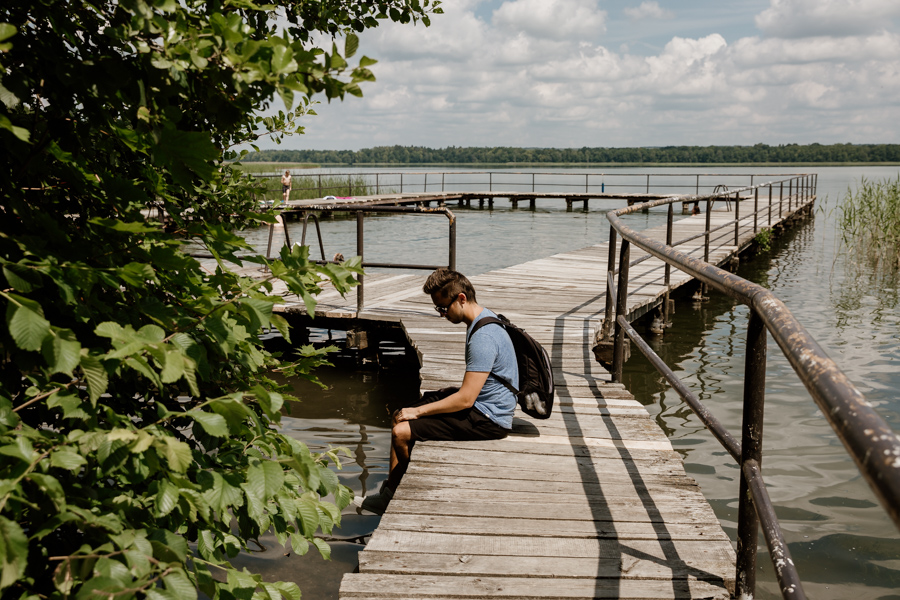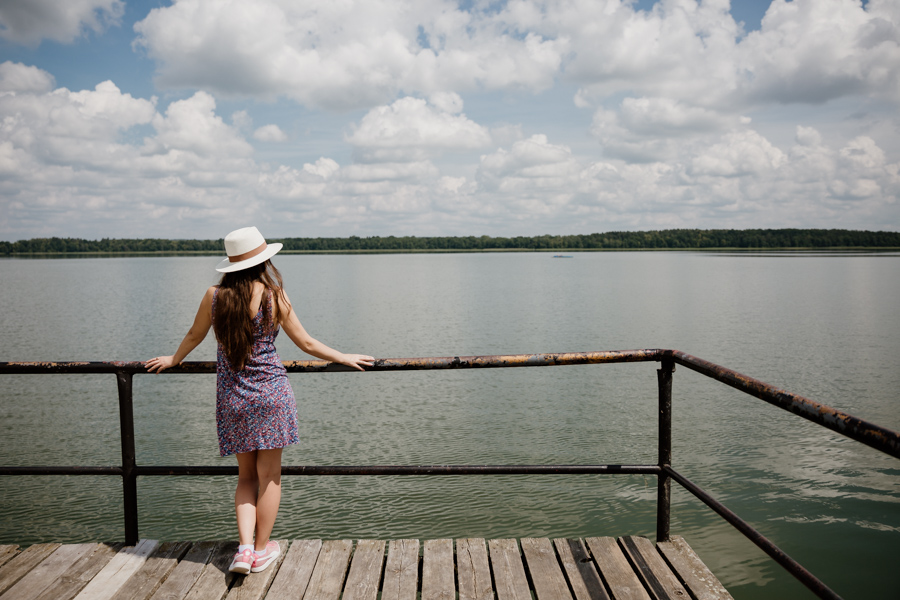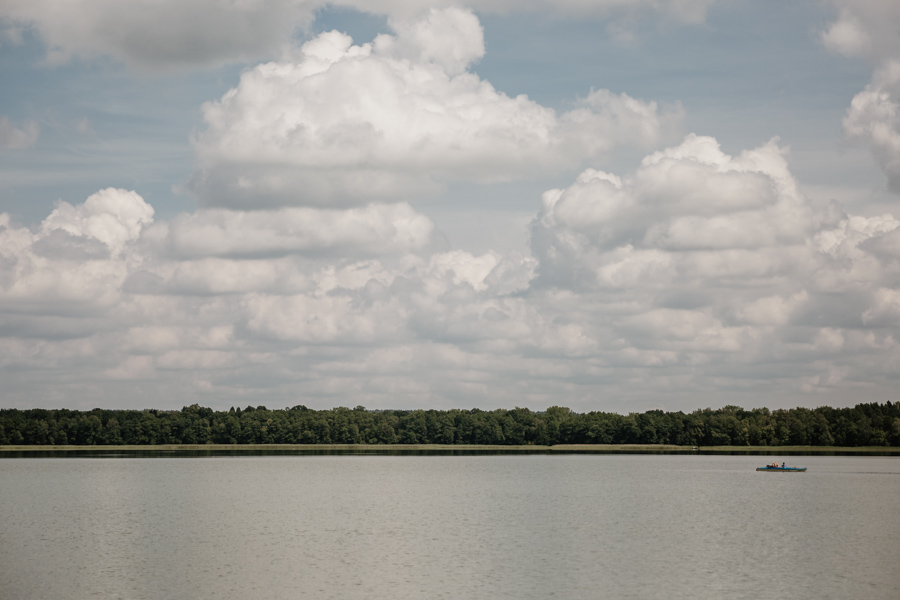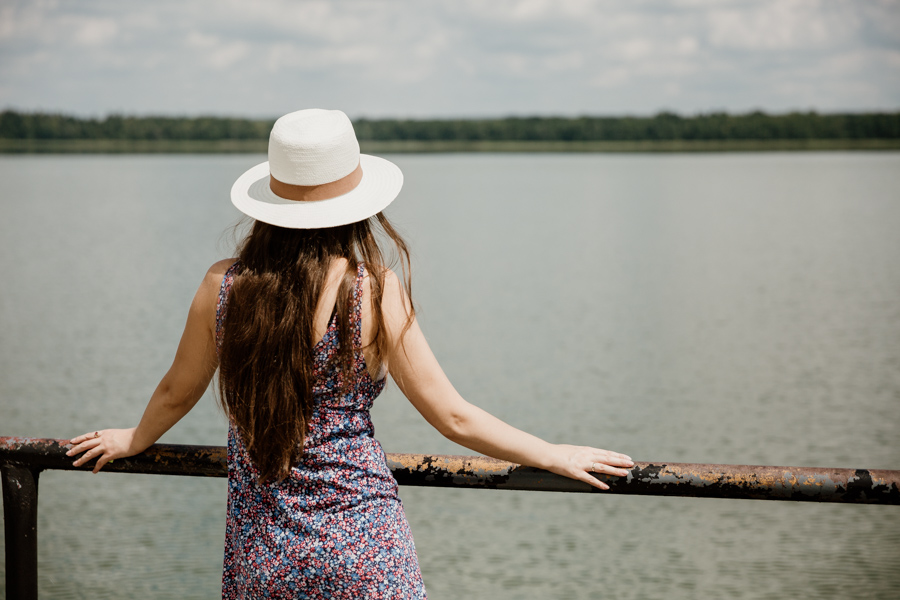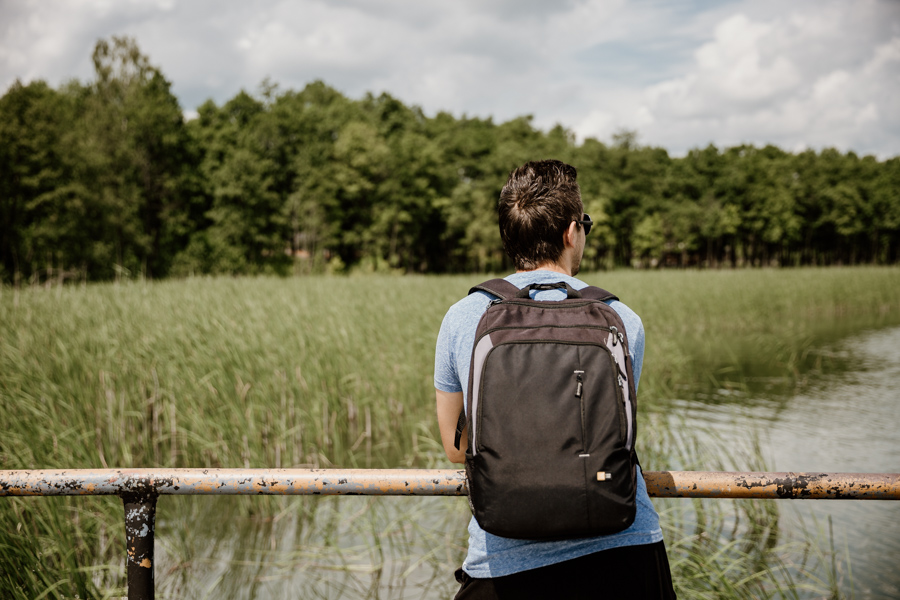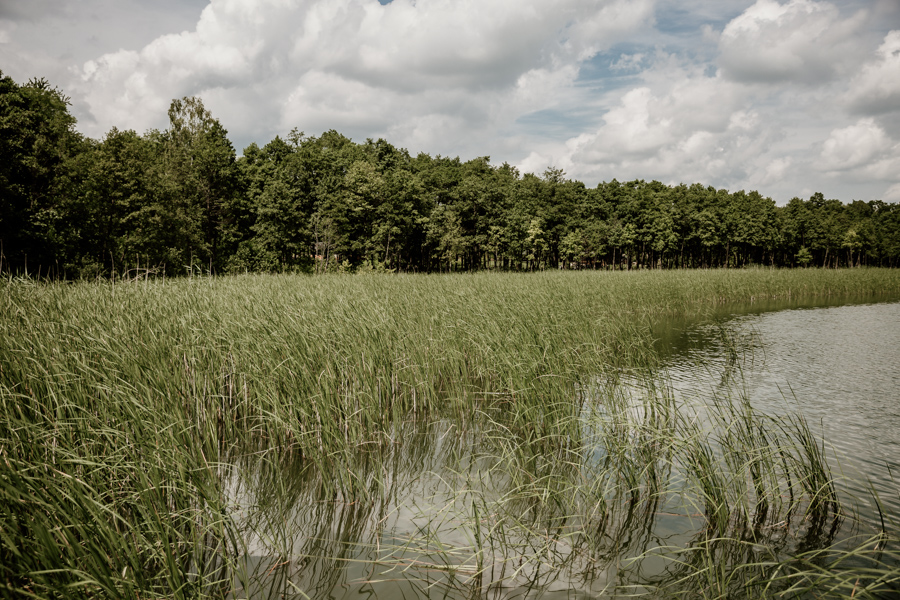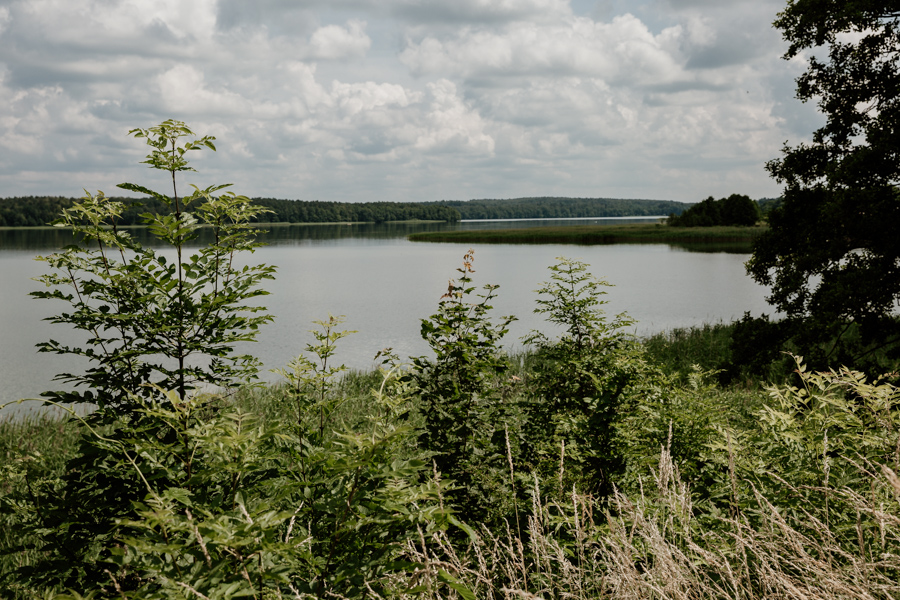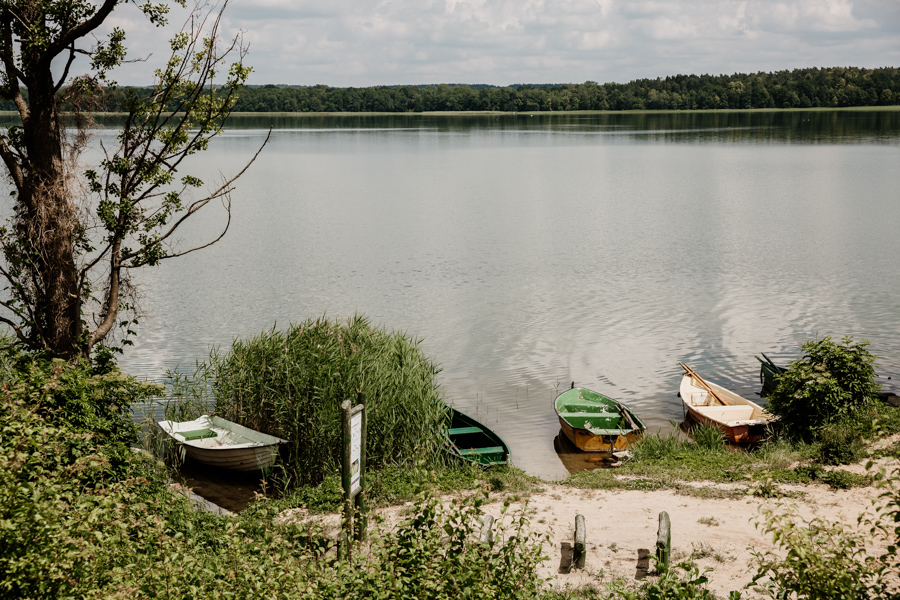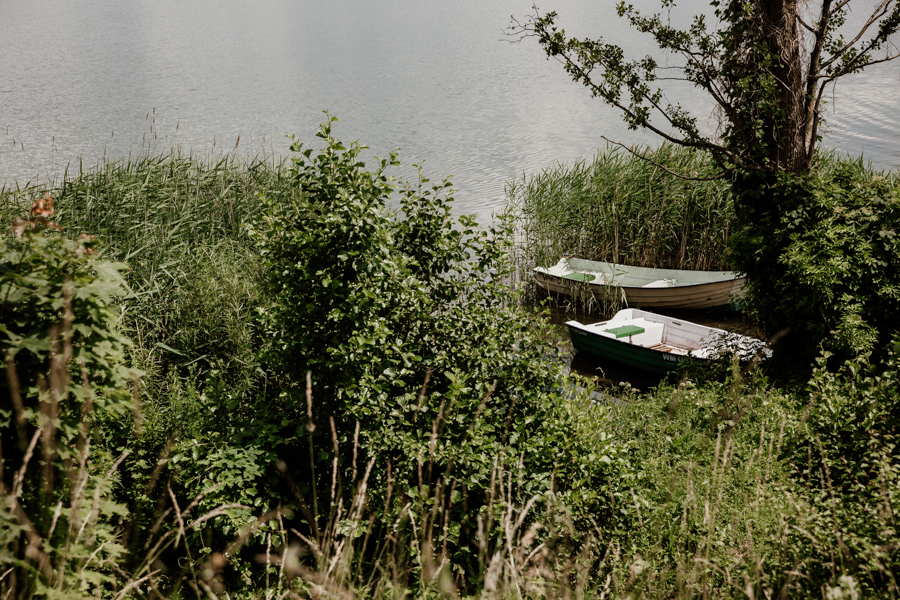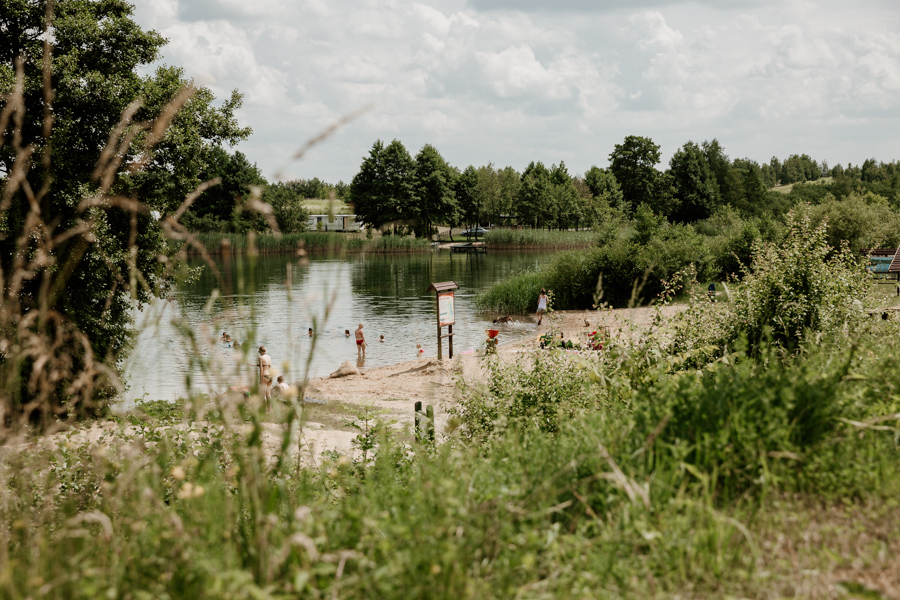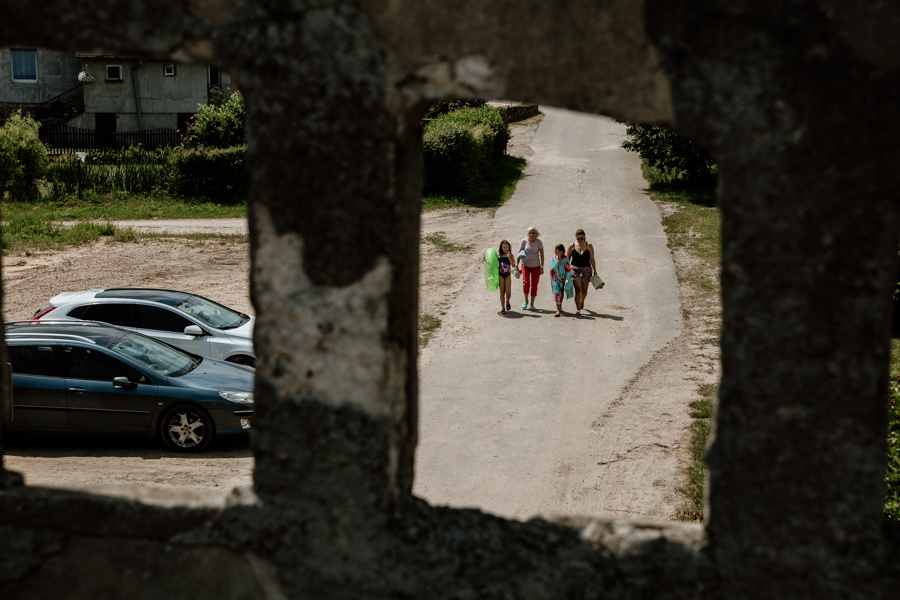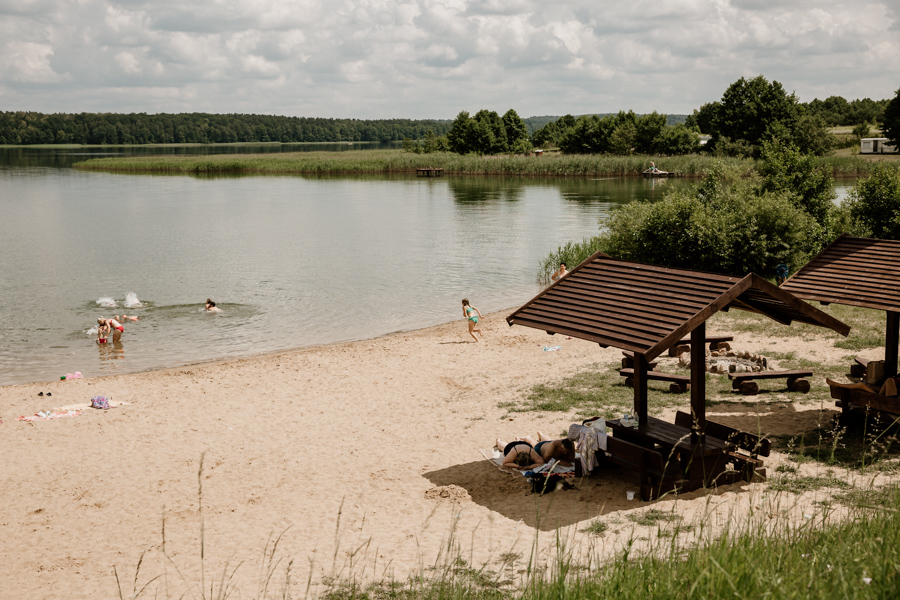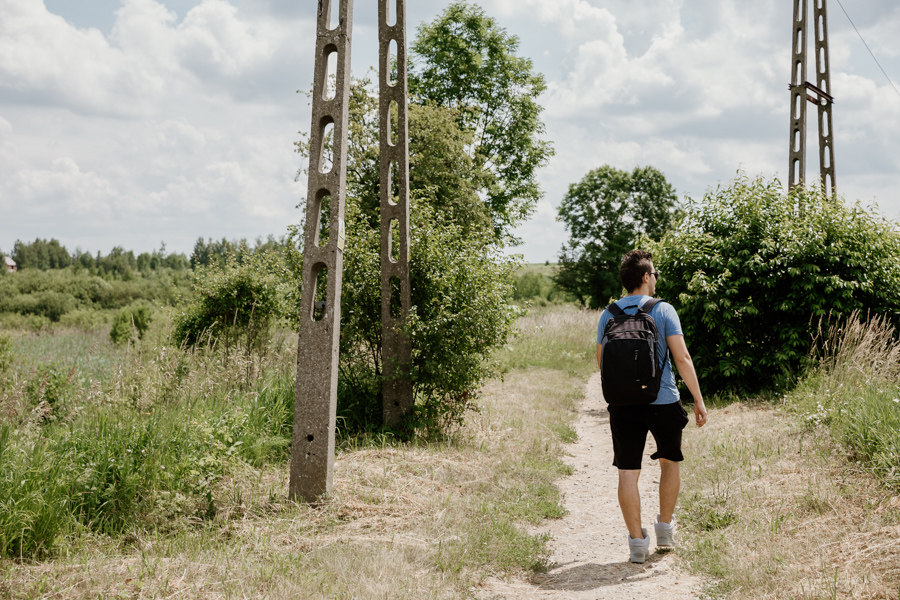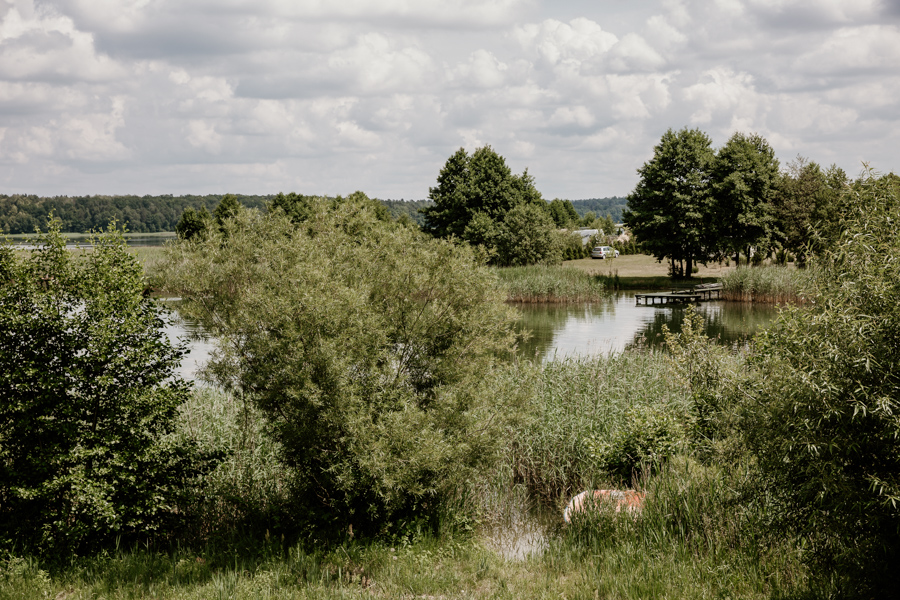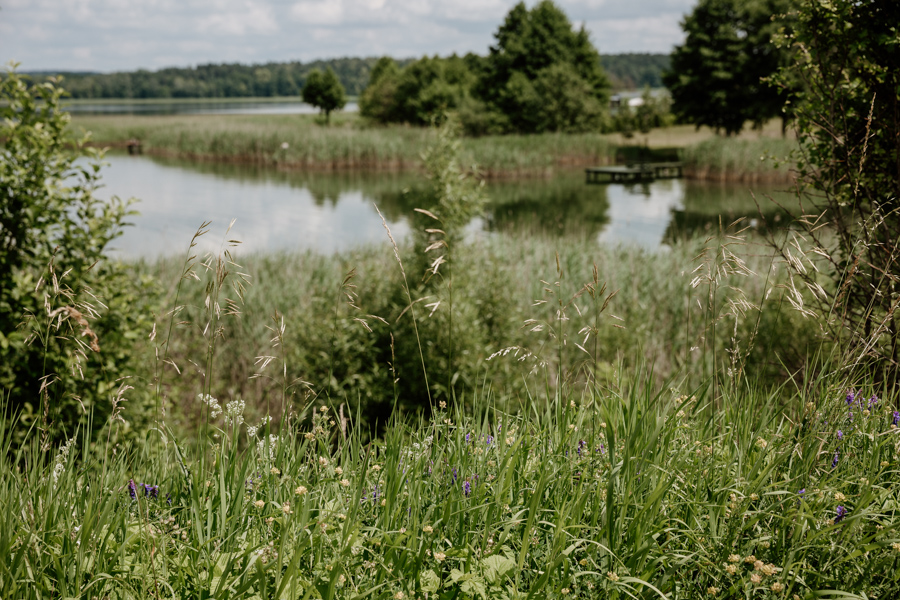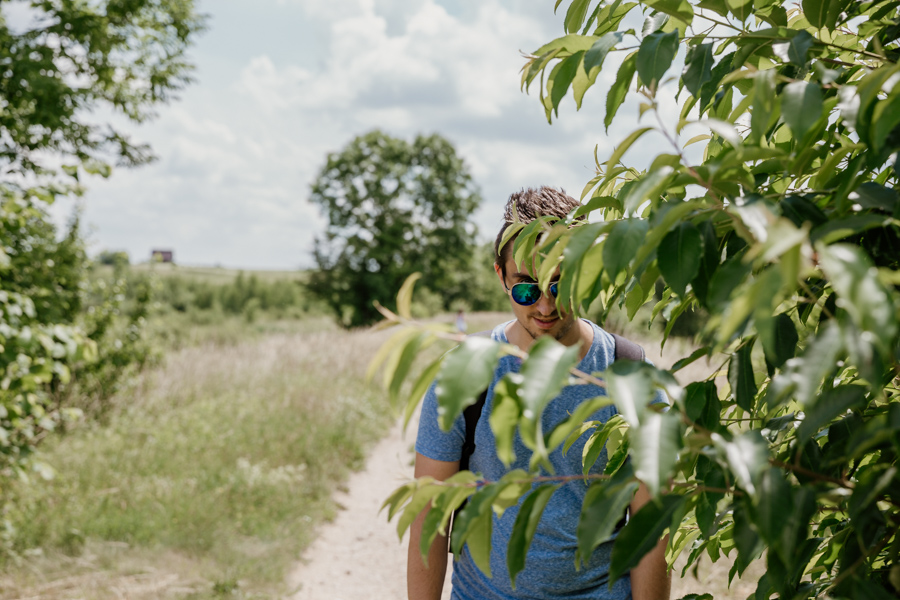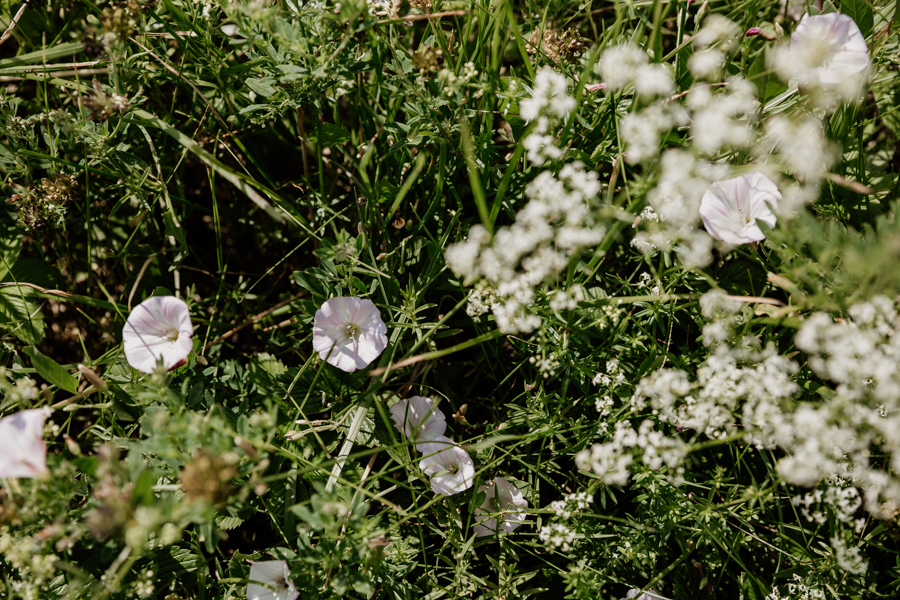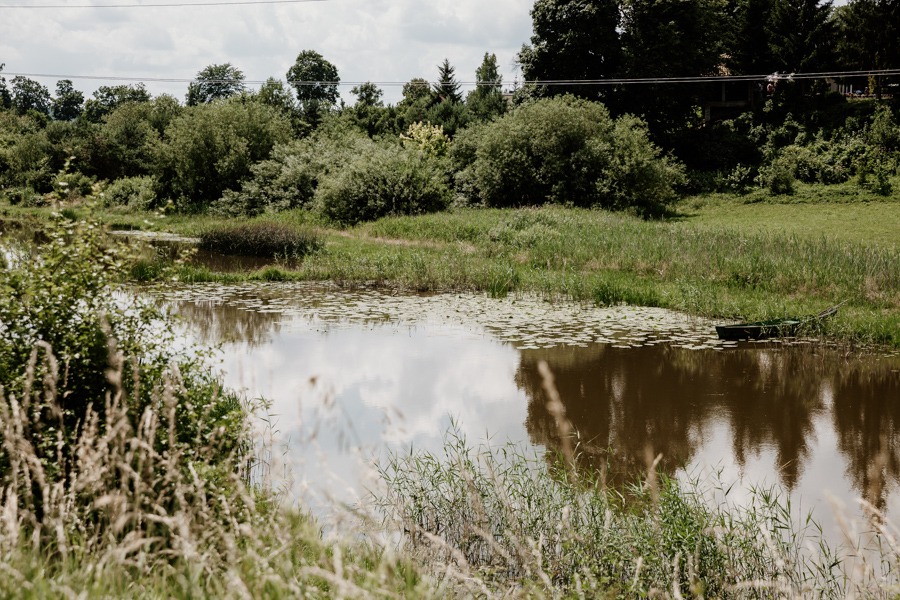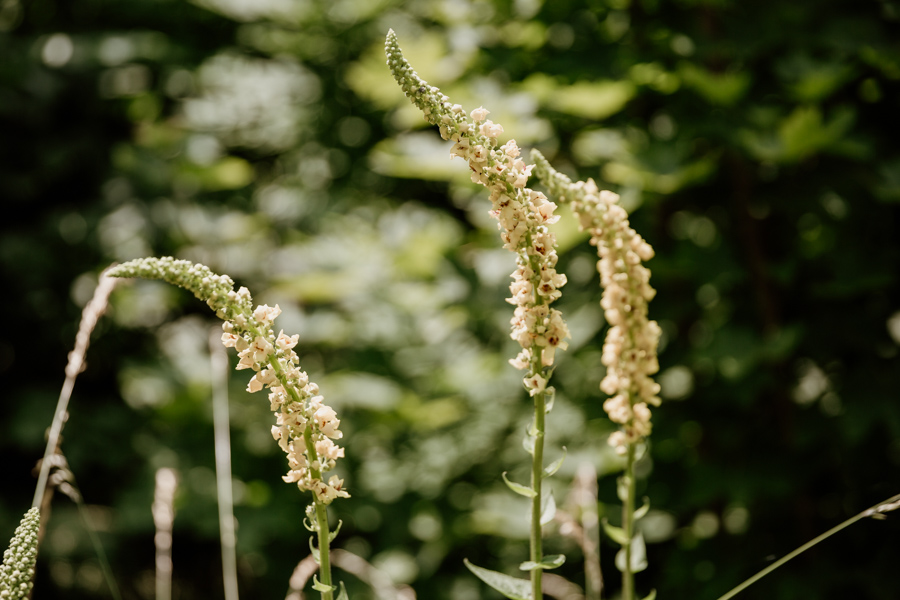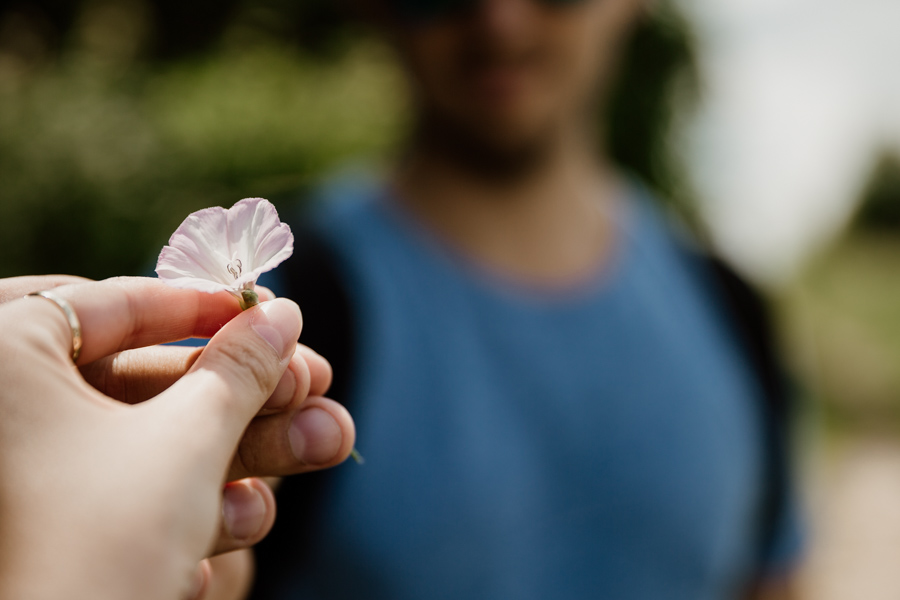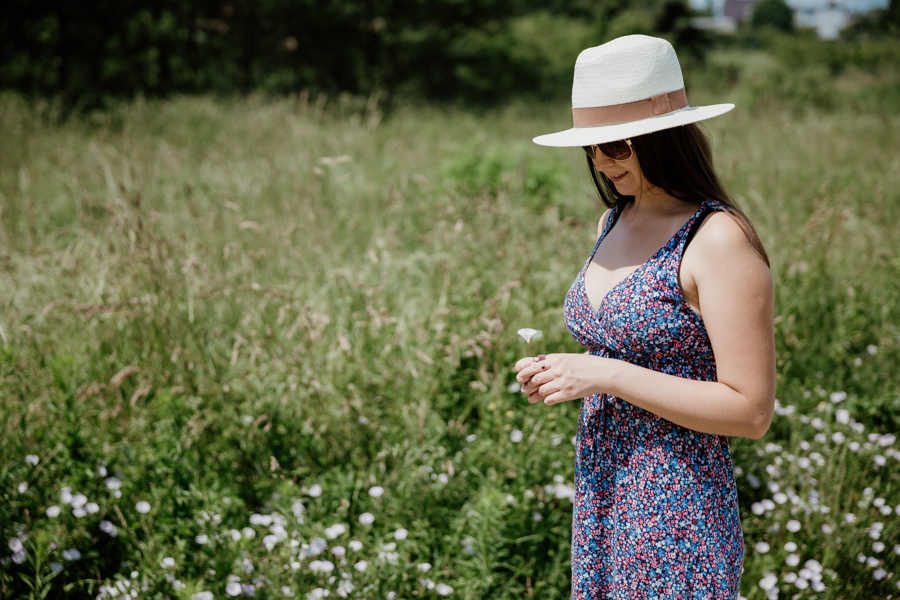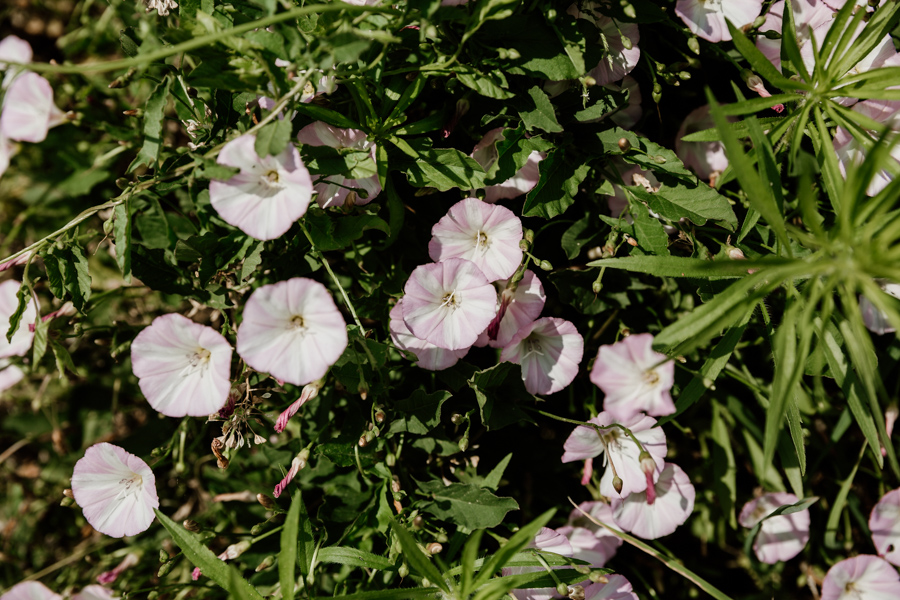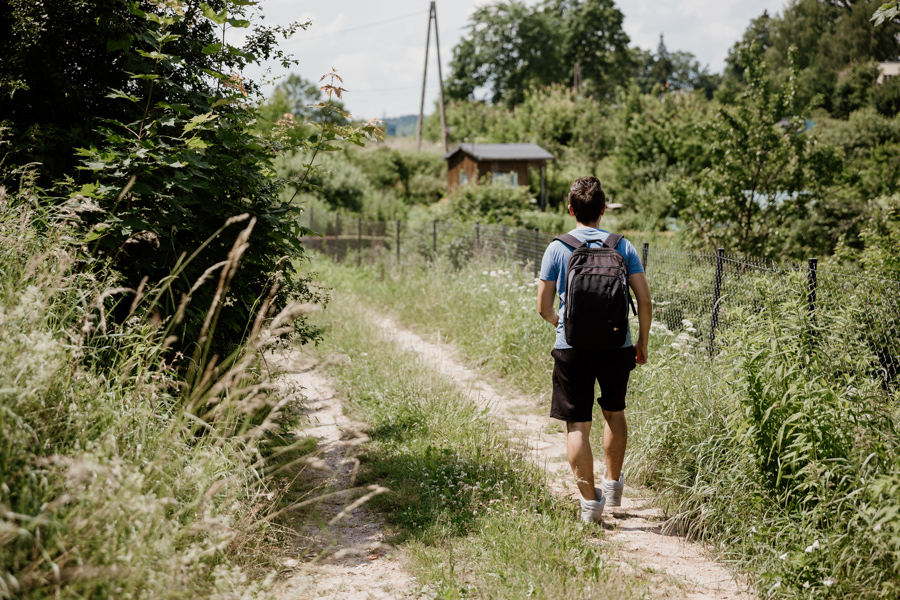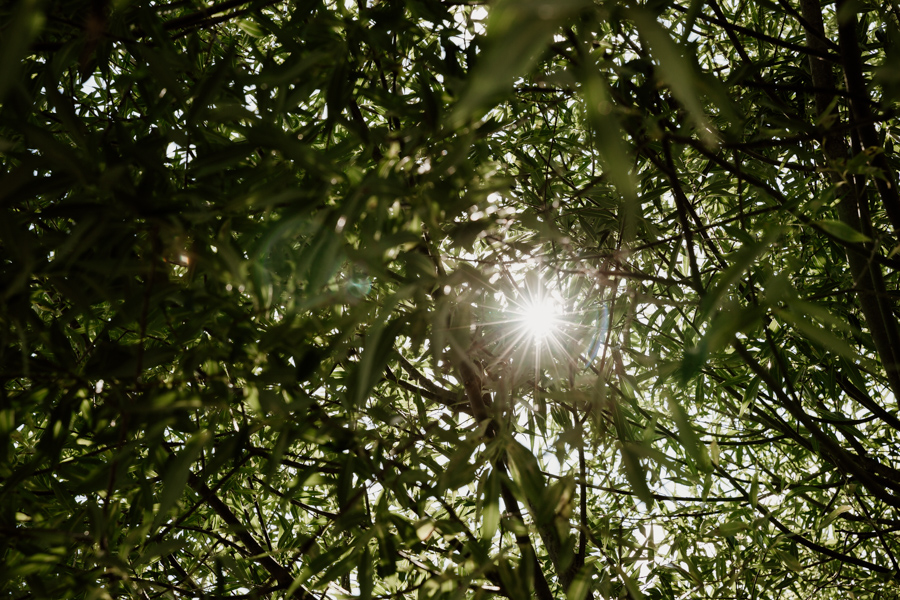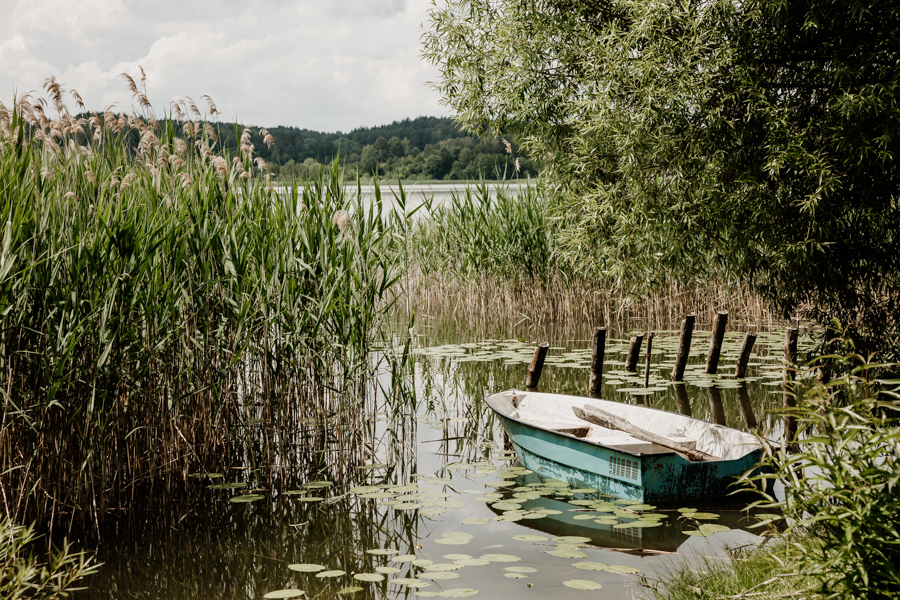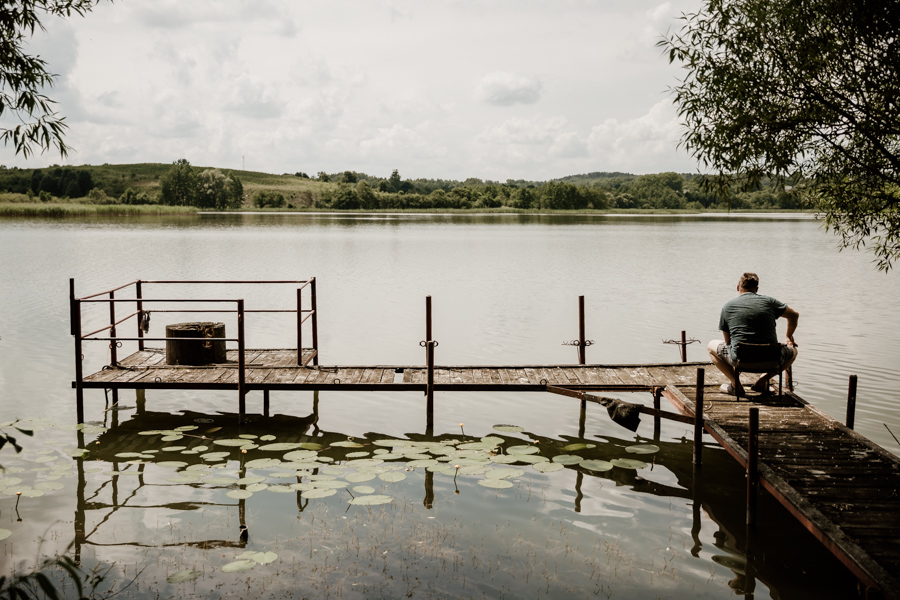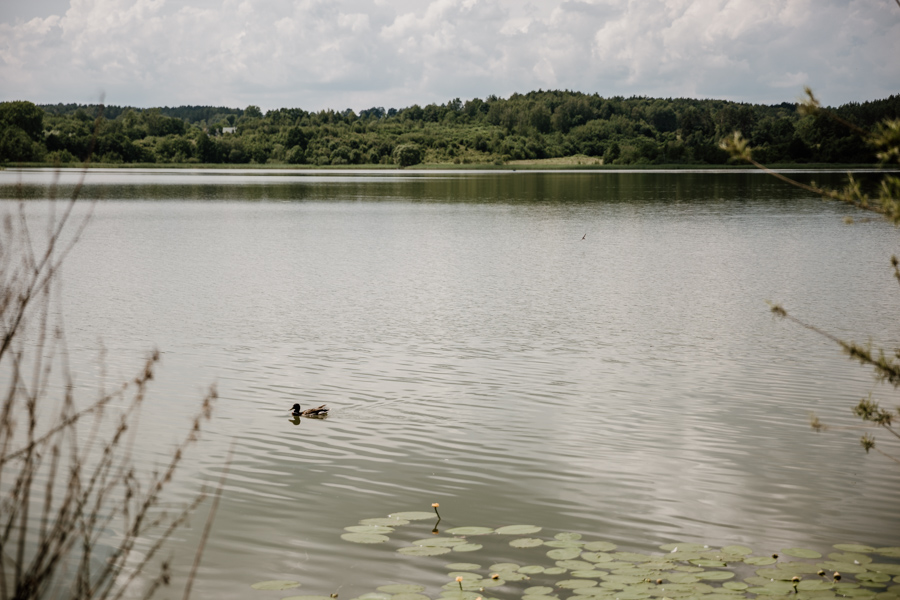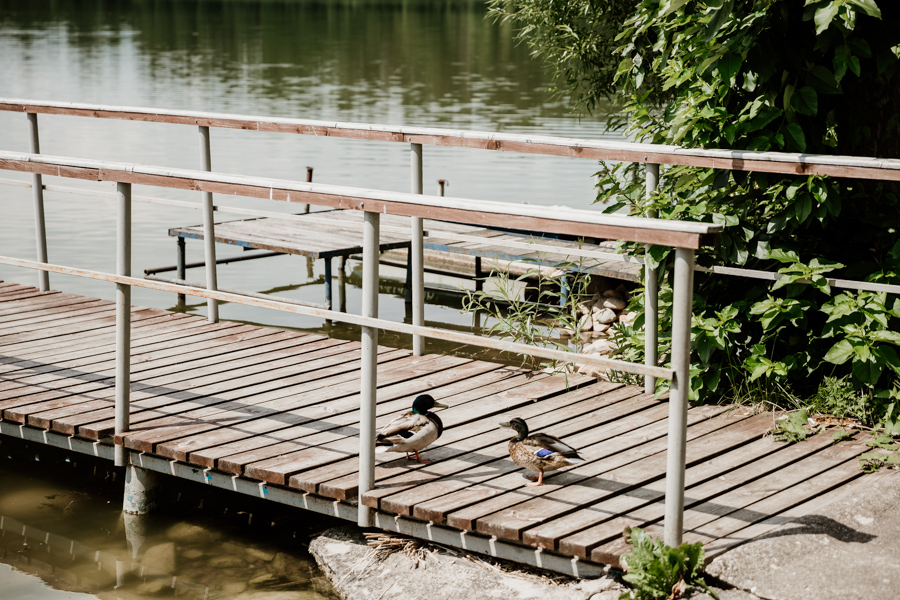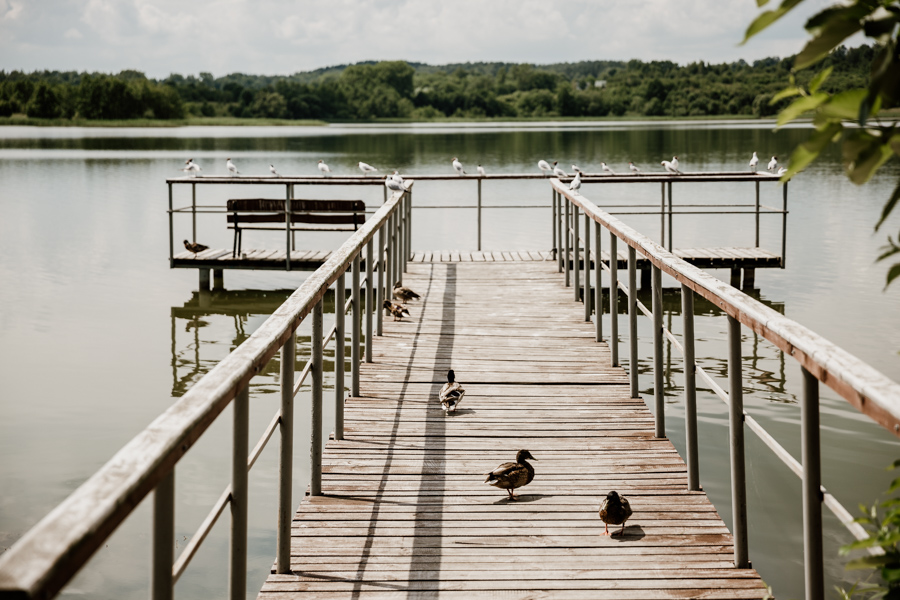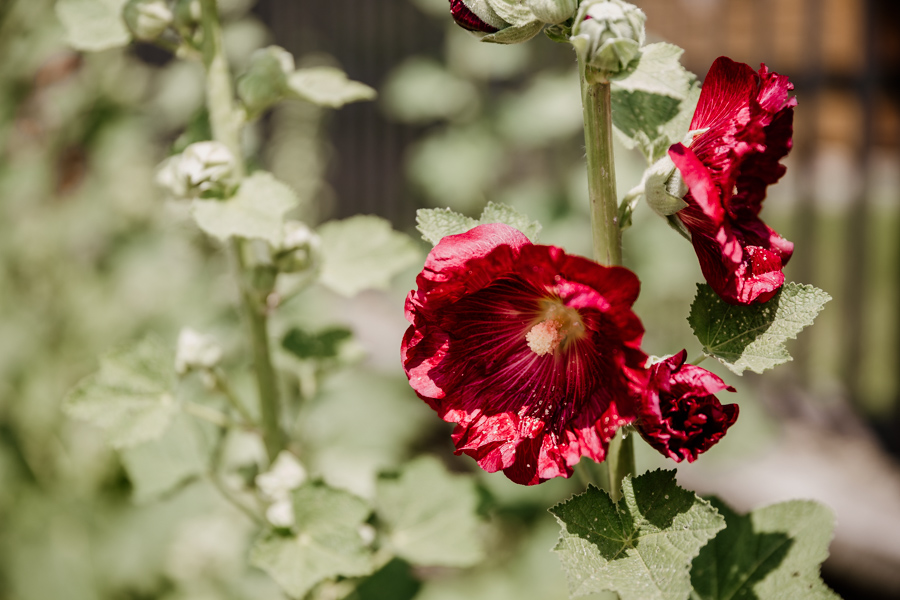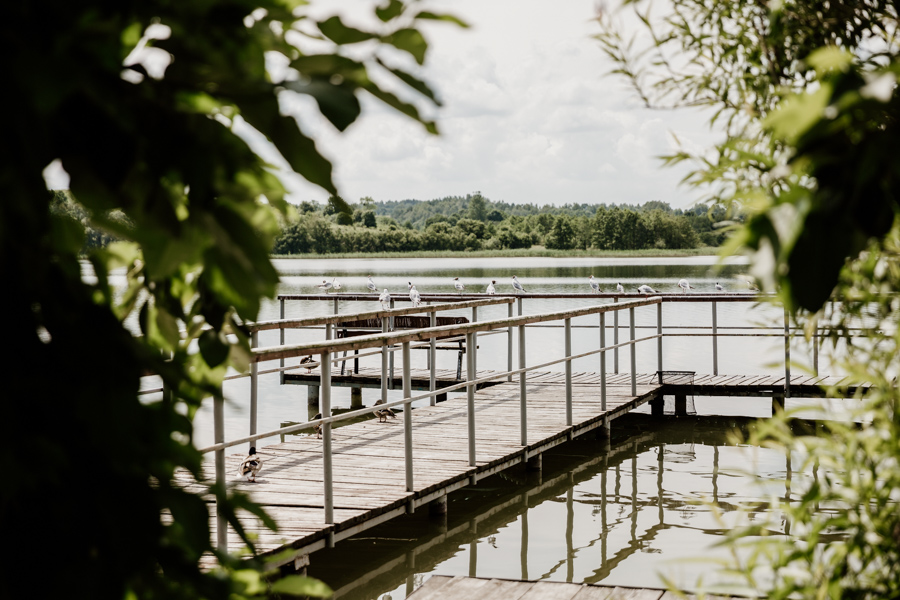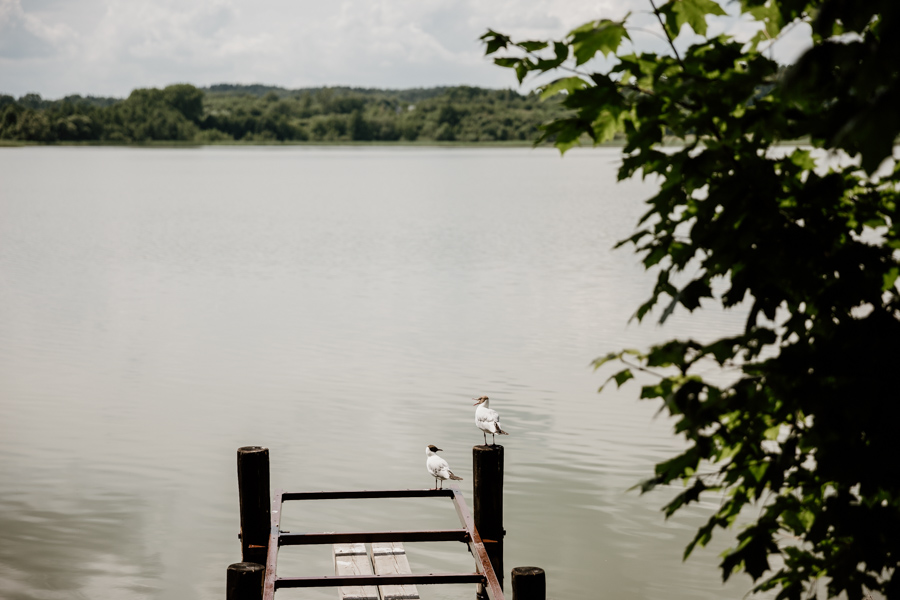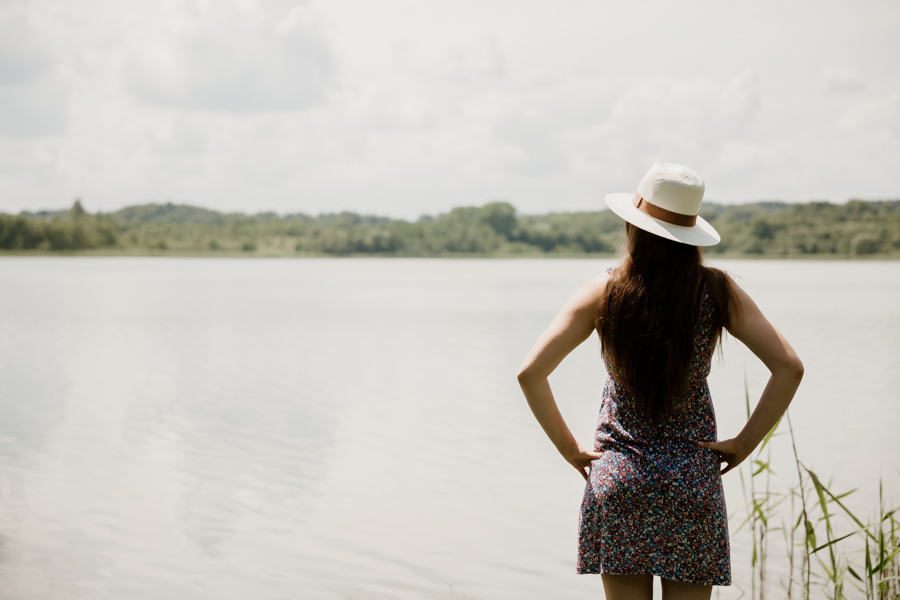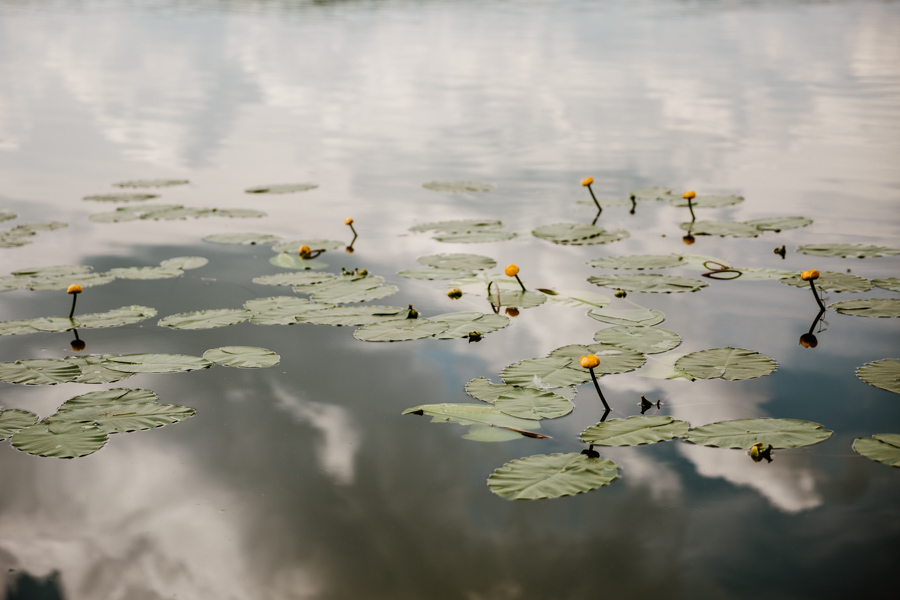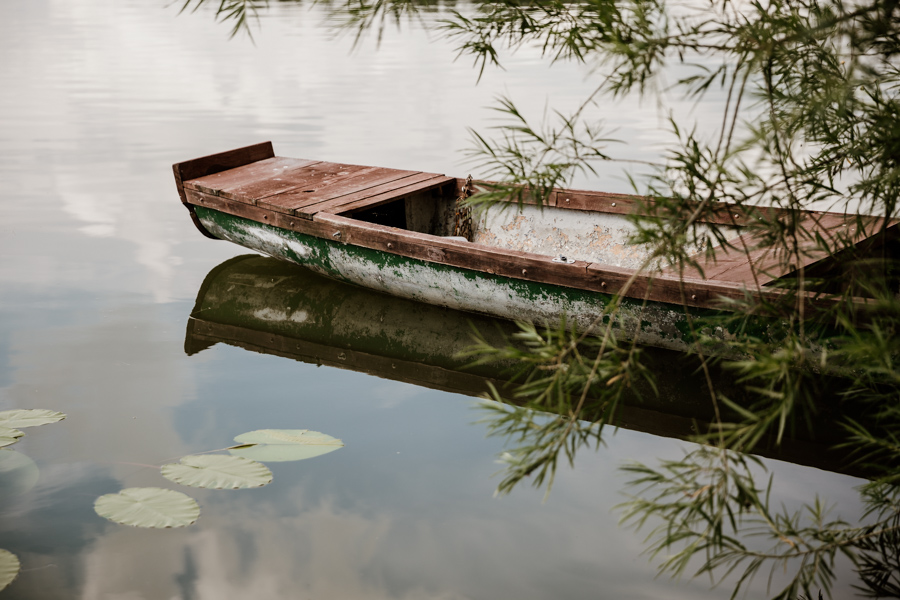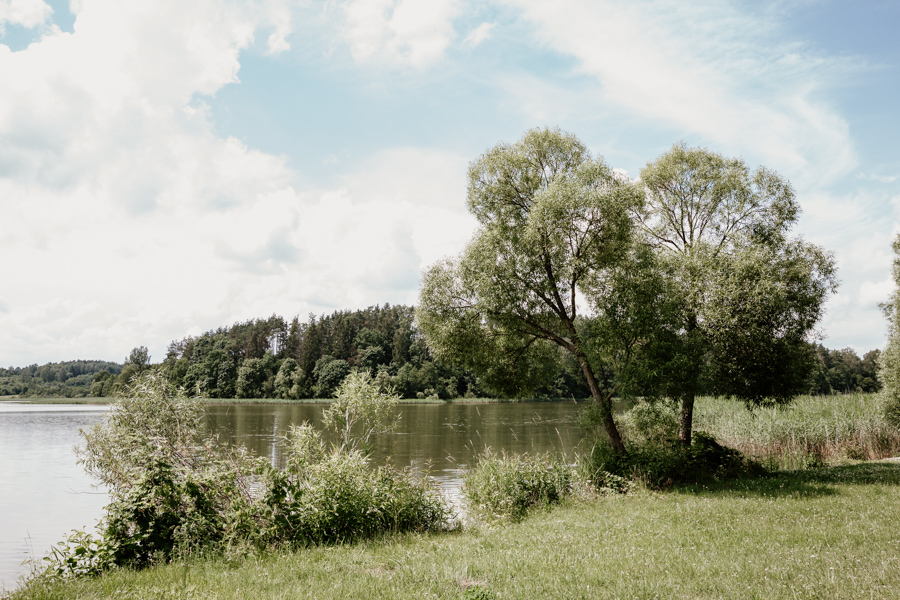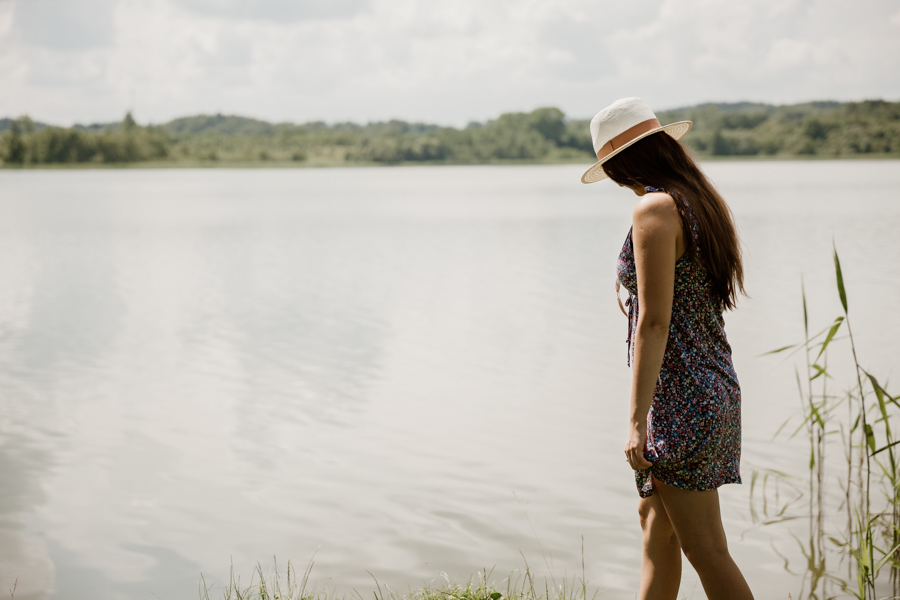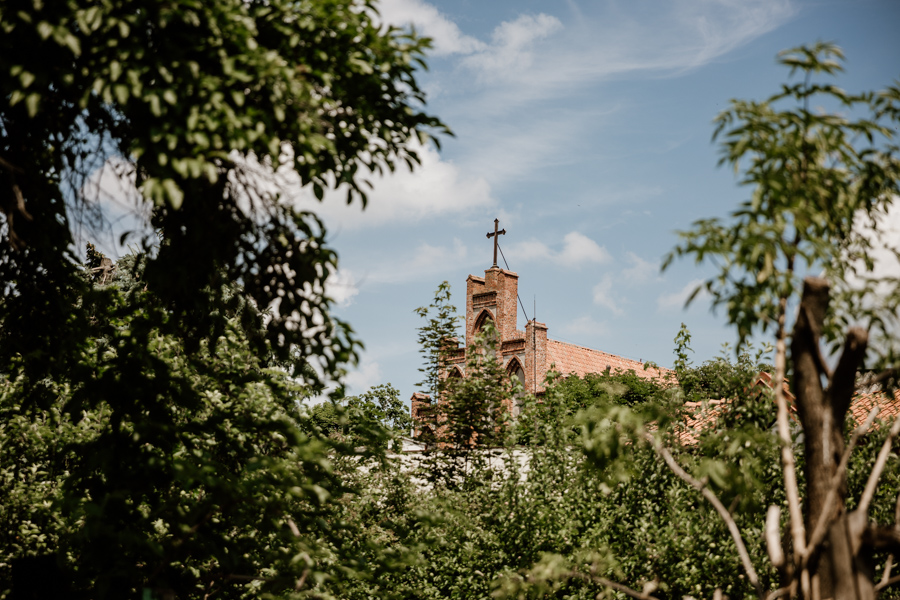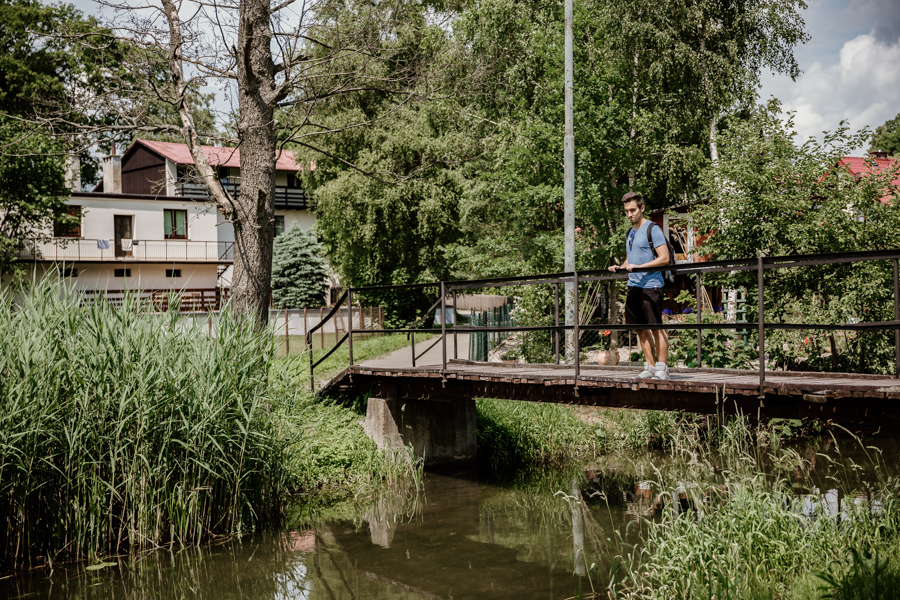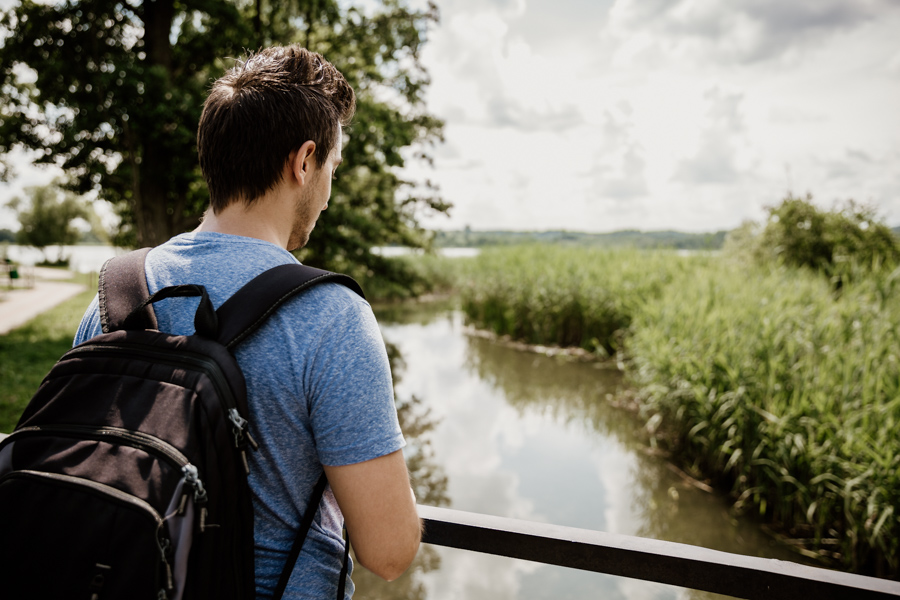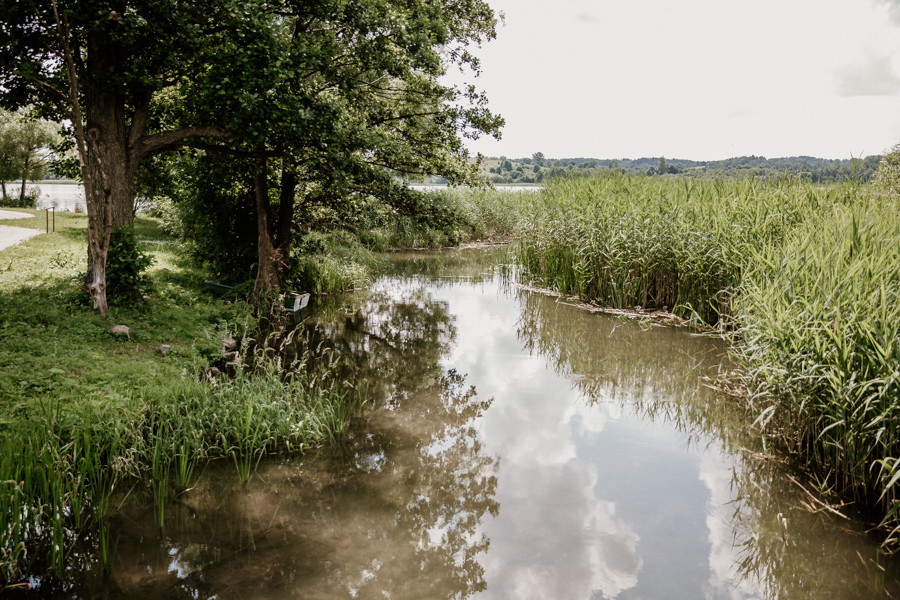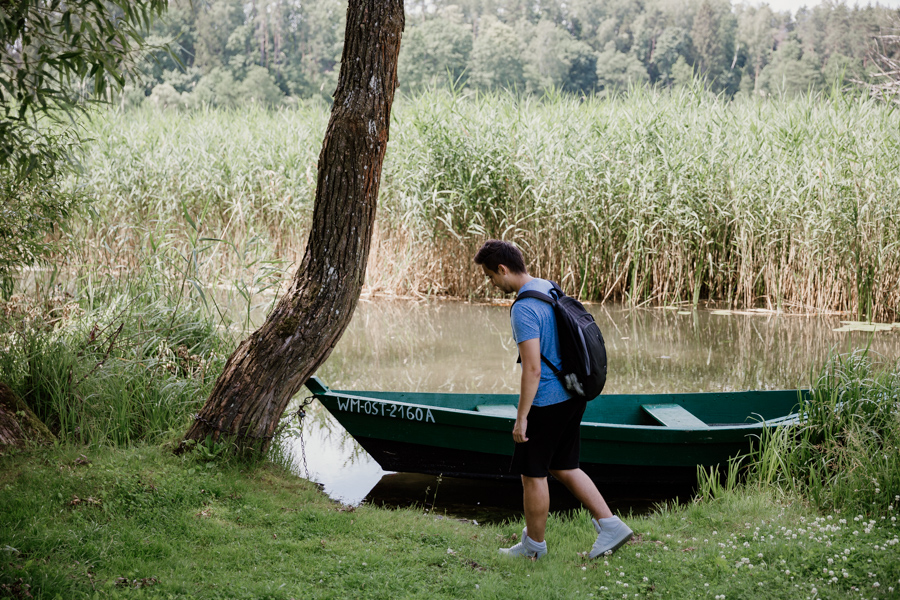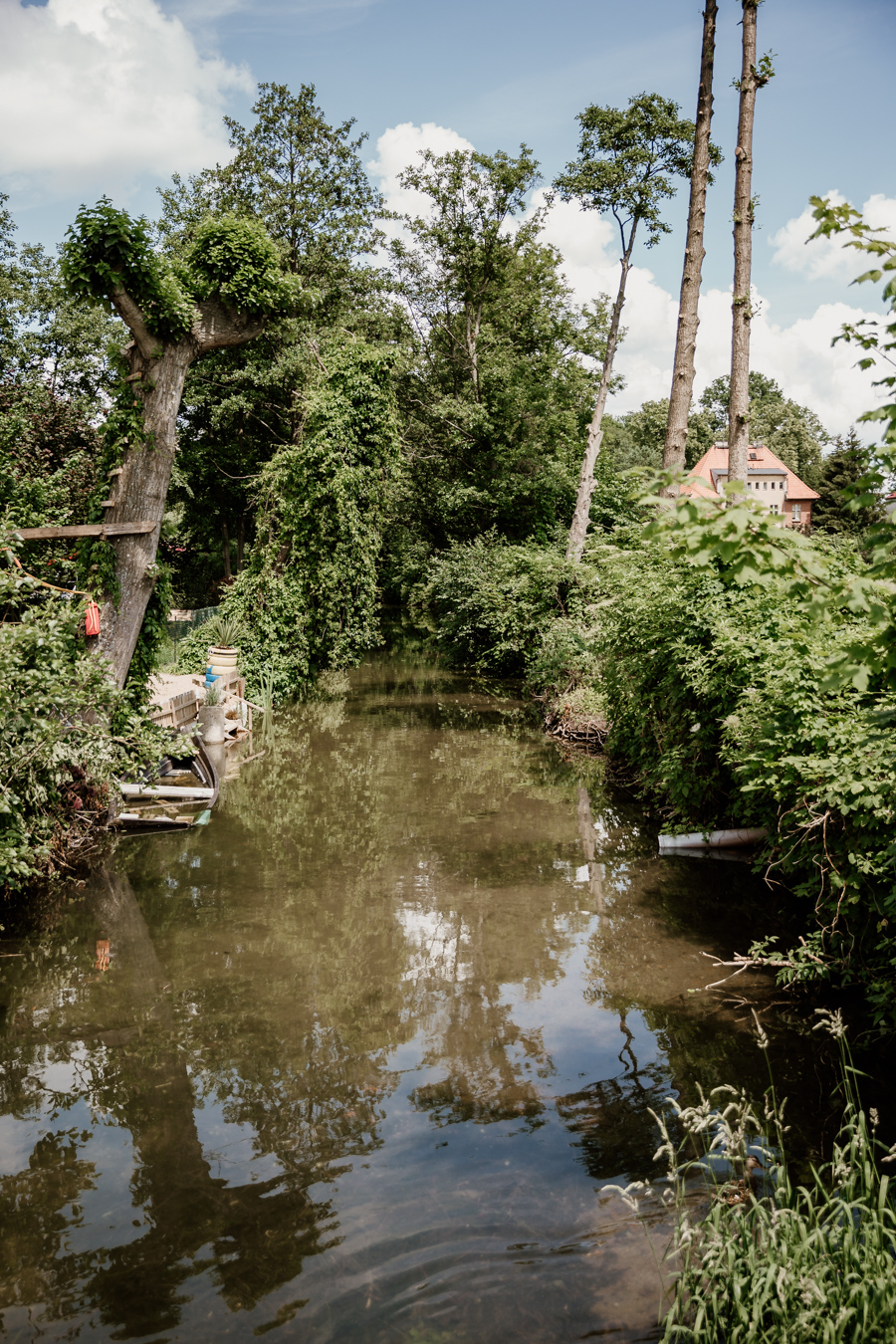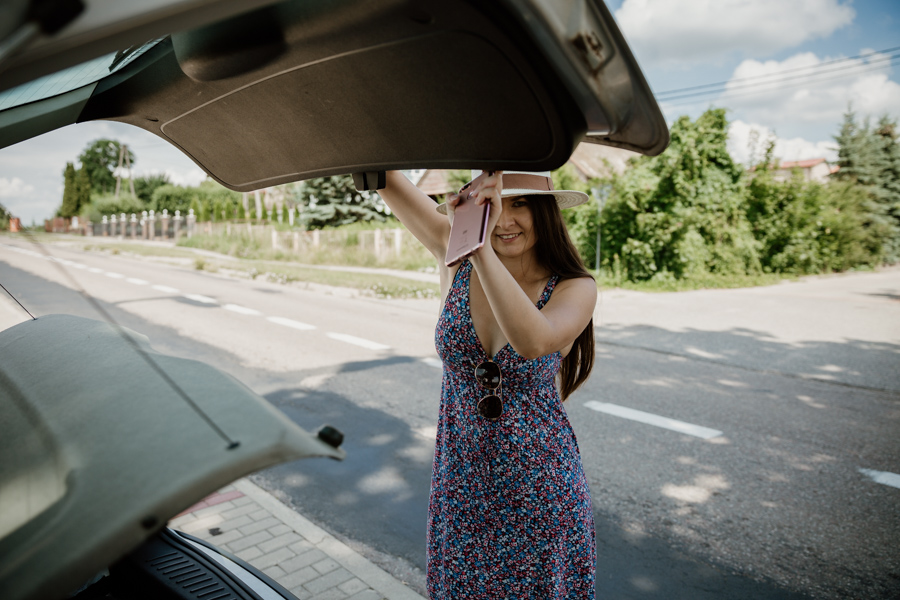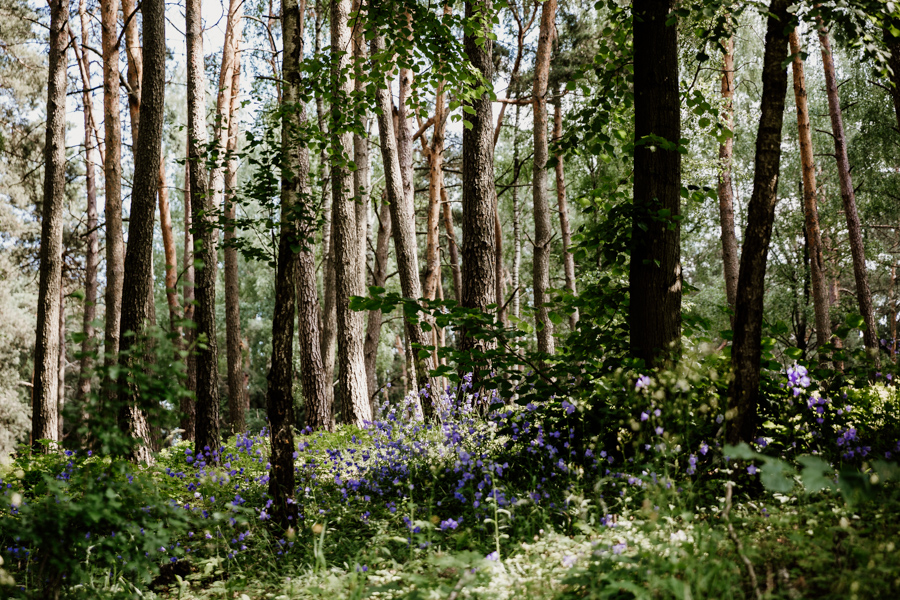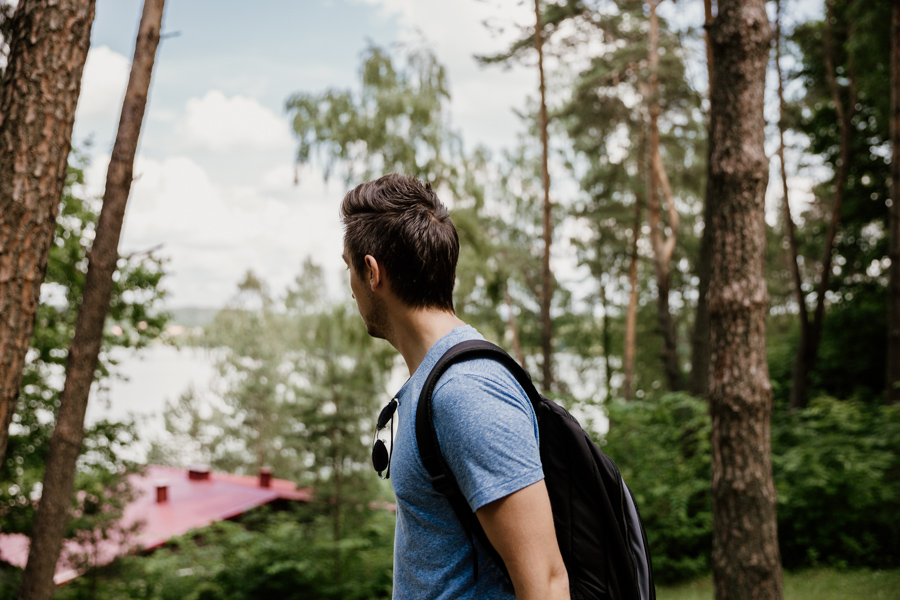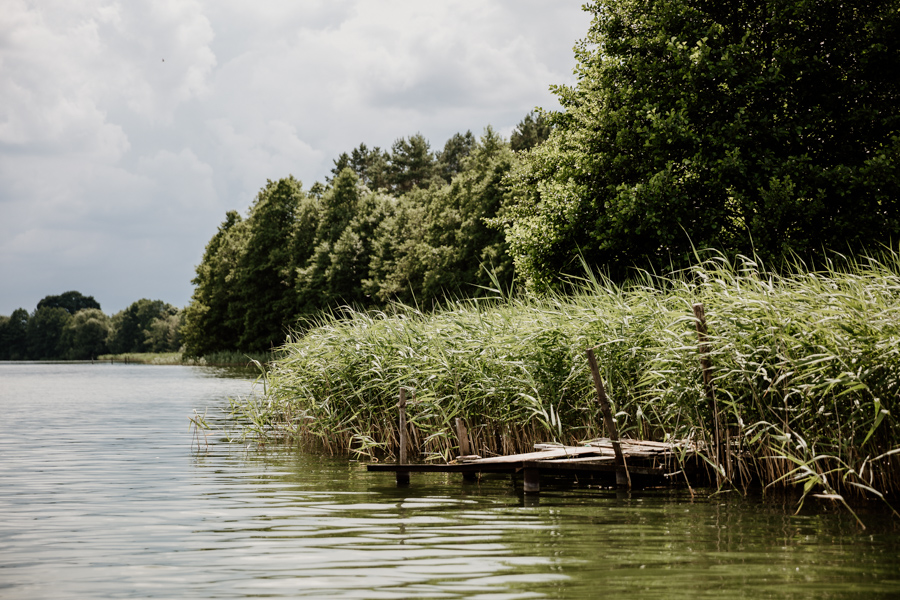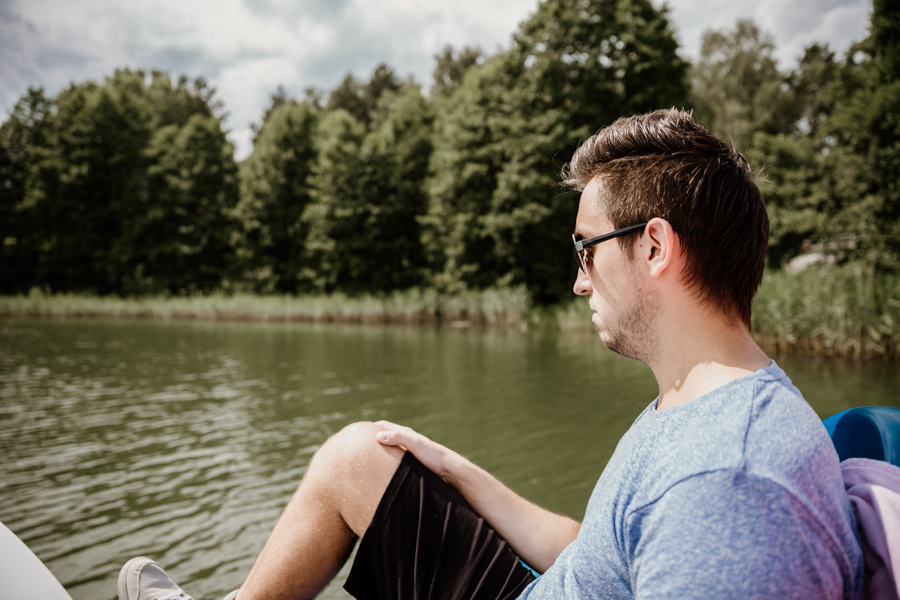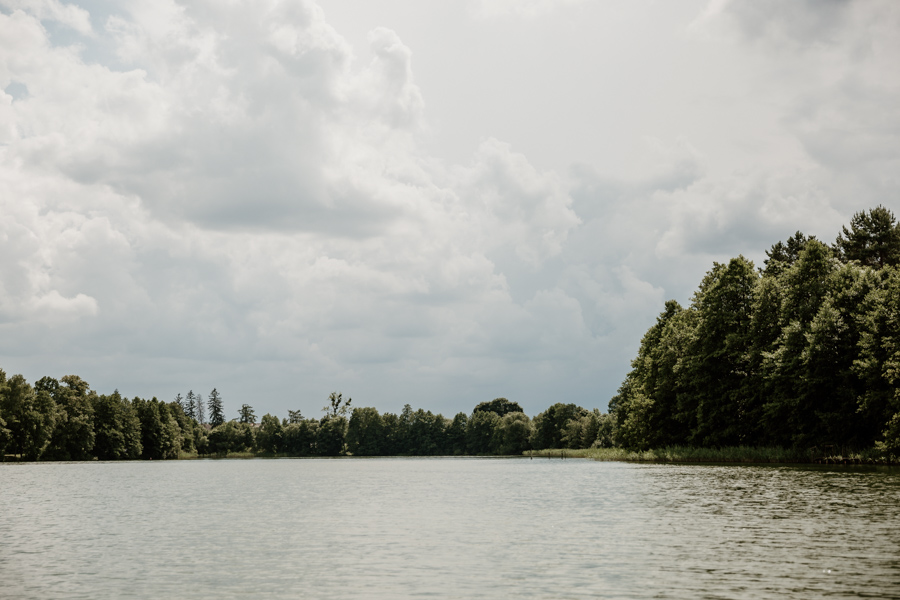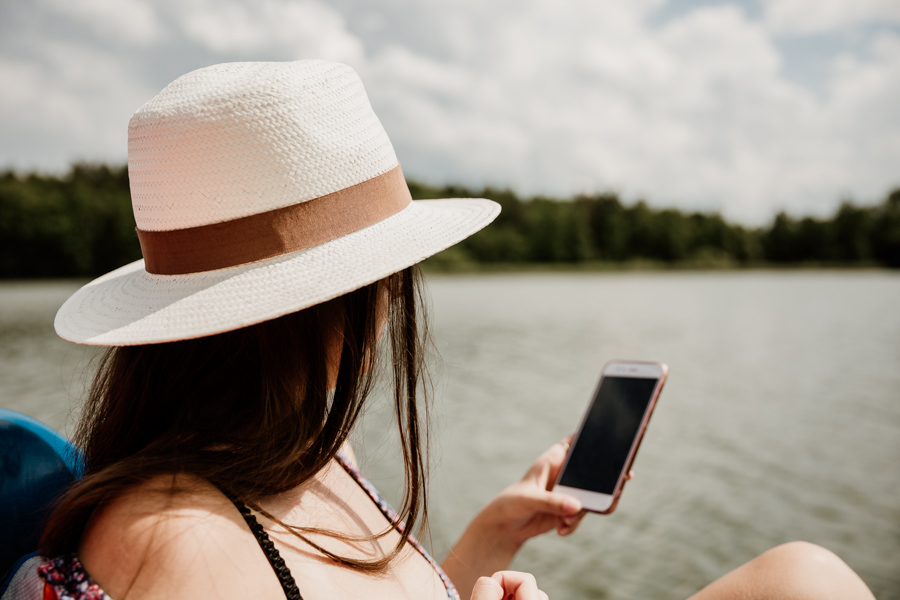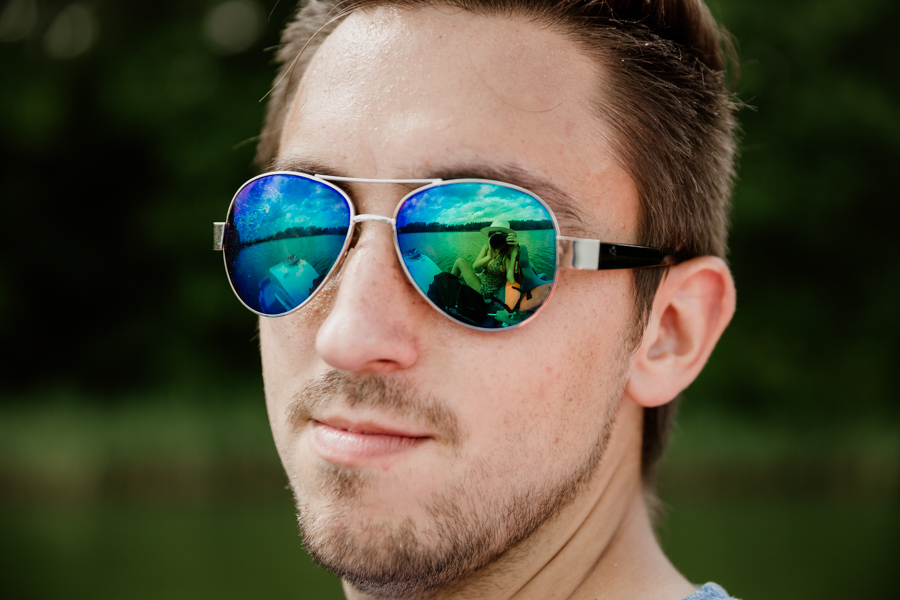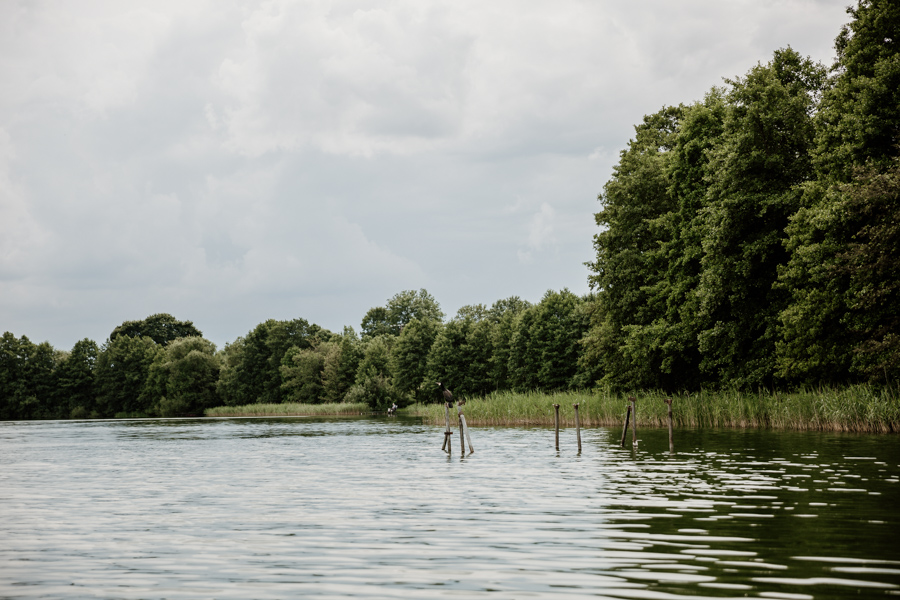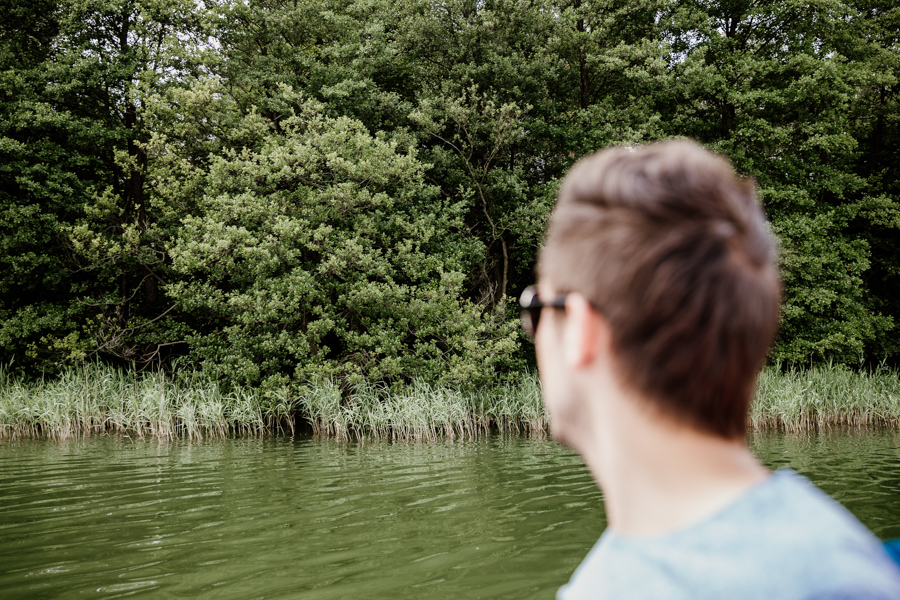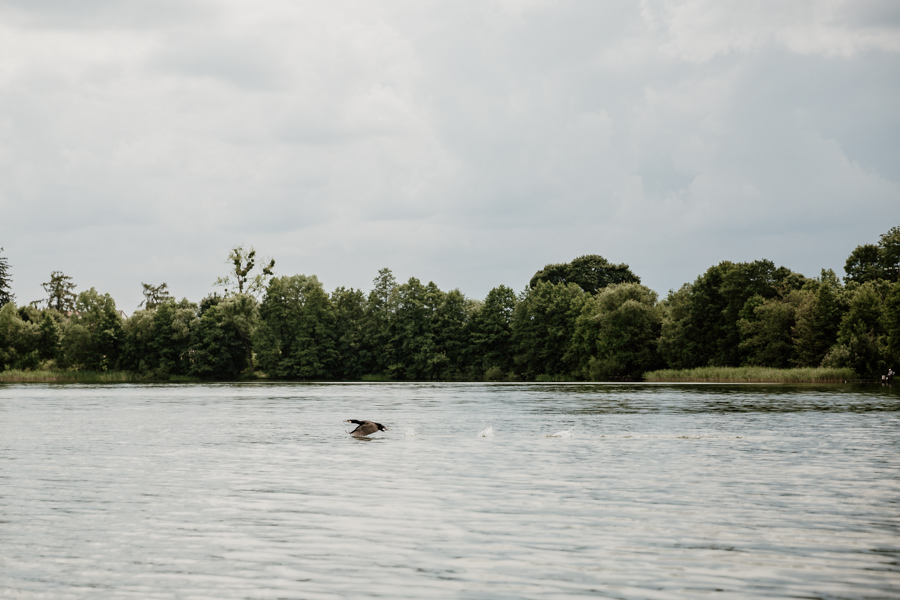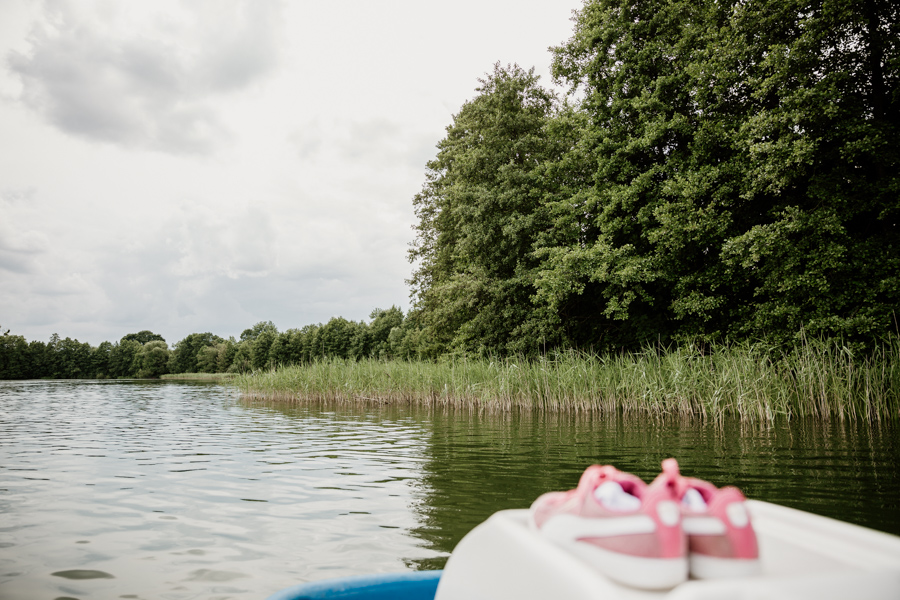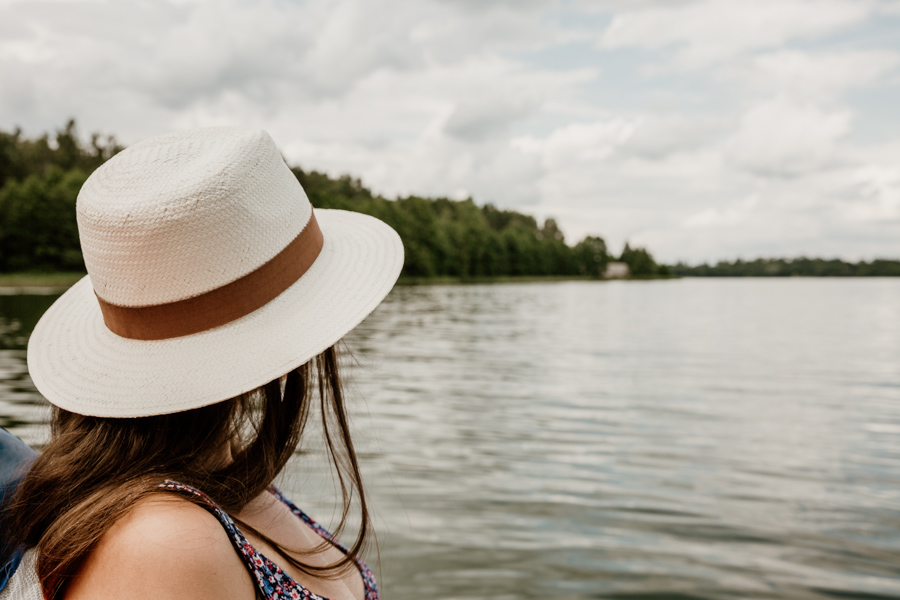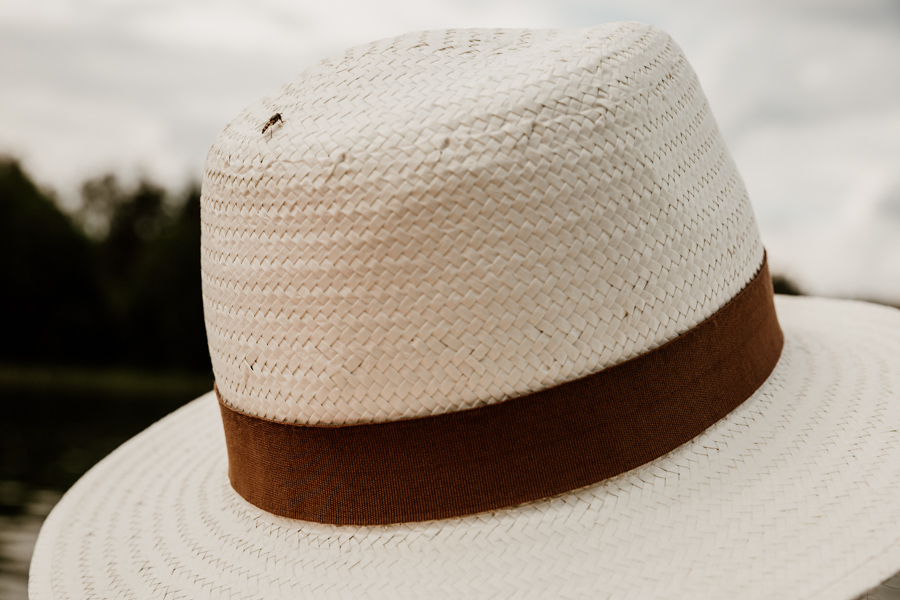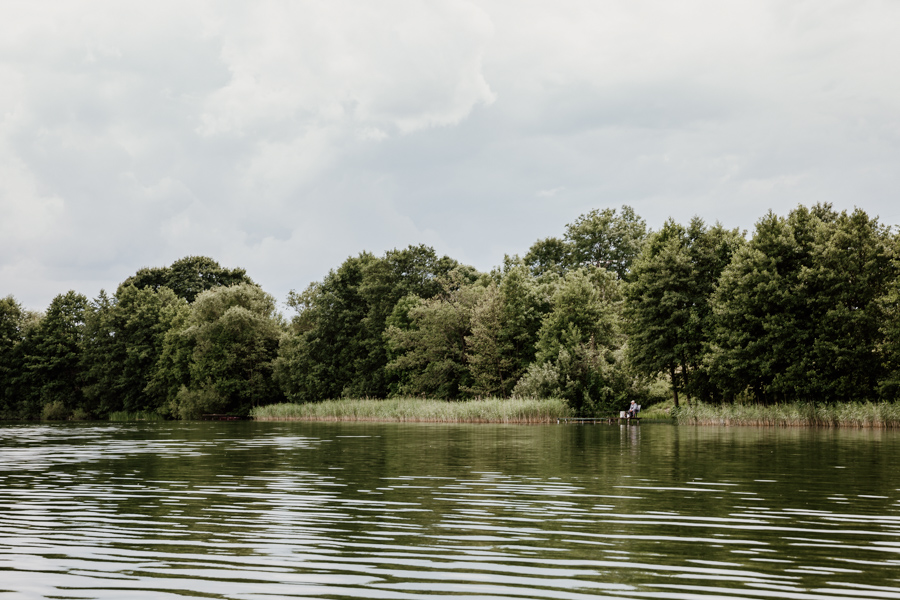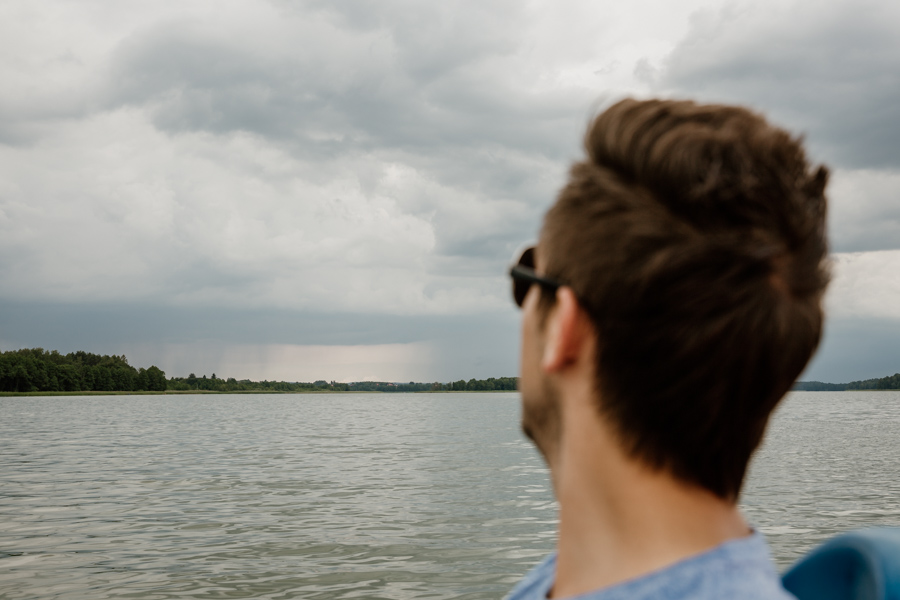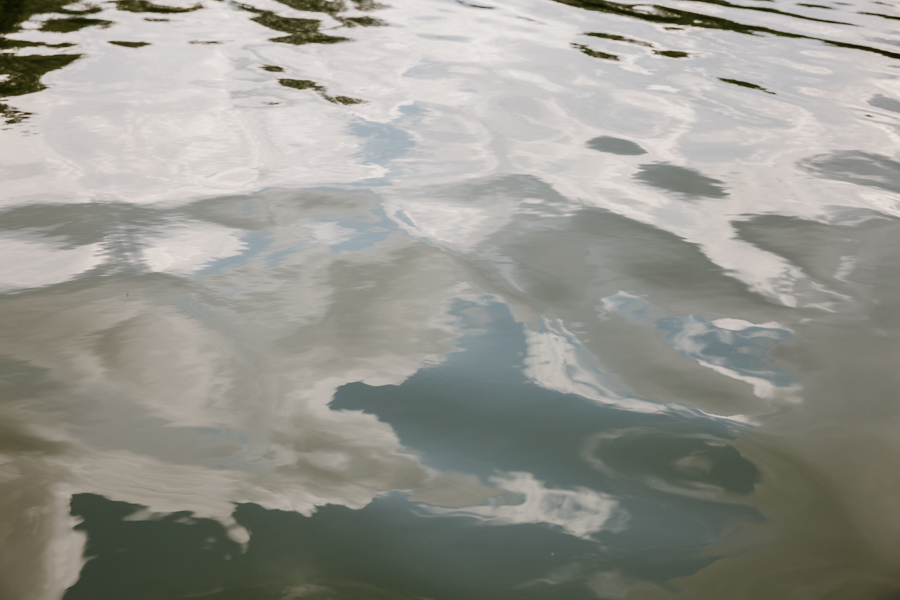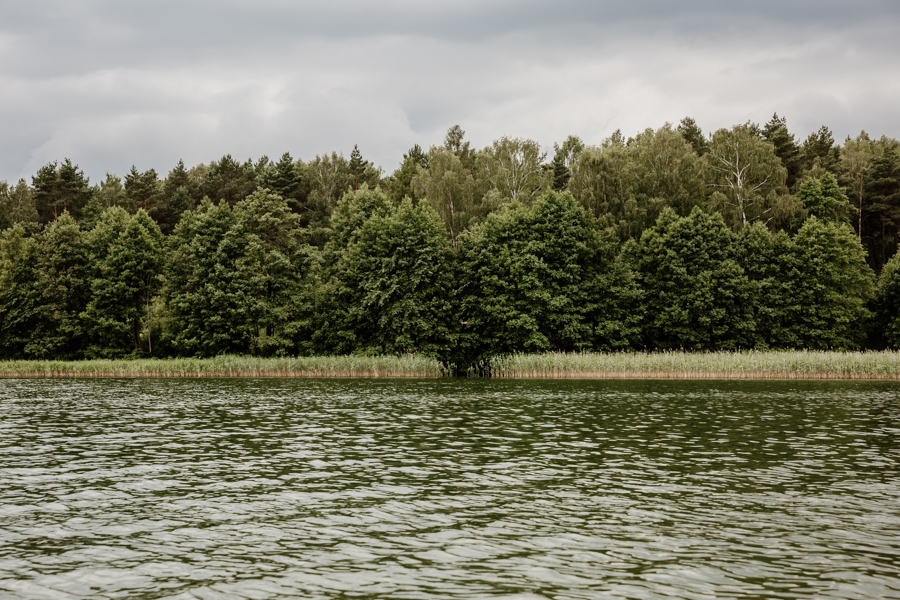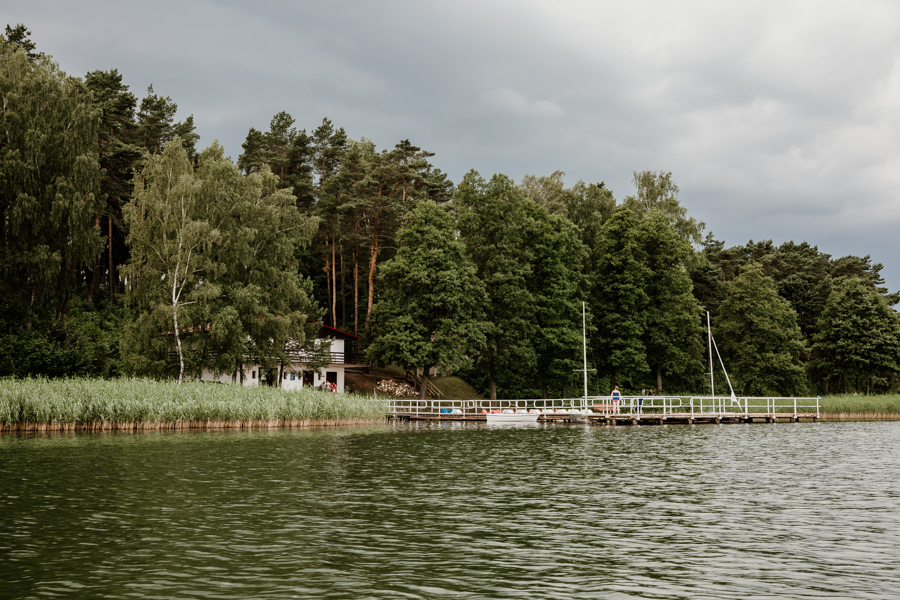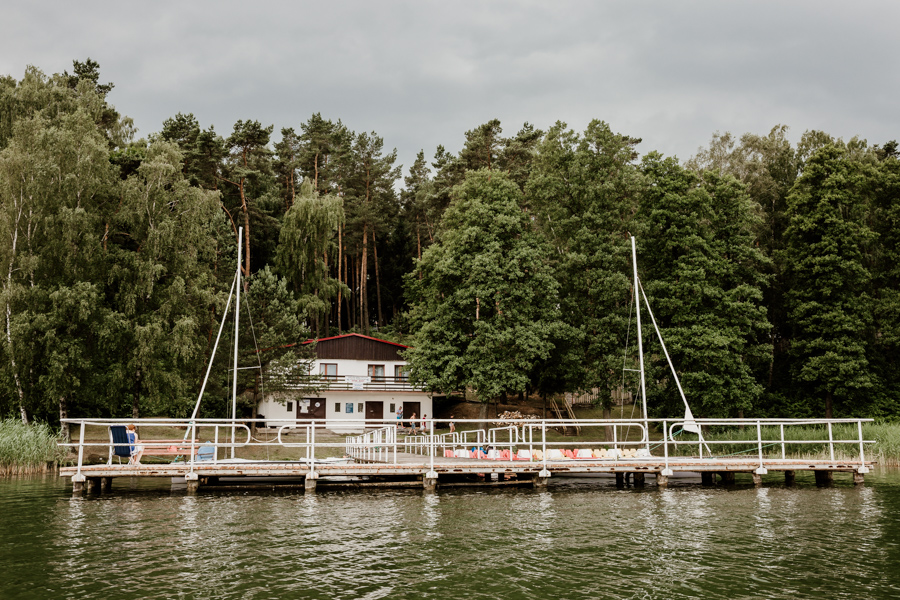 Practical information:
If you want to go to the places we described, don't plan a lot of time. It's easy enough for a weekend or even one day.
There are more lakes around Dąbrówno, such as Okrągłe, Pancer, Brzeźno, Linowiec and Staszewo. We don't know how to access the shoreline, but perhaps having more time you can try to reach them, for example on a bike. We saw several bicycle paths nearby.
58 km to Dąbrówno from Olsztyn – driving time is about 45 minutes.
10 km from Dąbrówno there is a parking lot in Stębark, where you can stop and approach the monument commemorating the battle of Grunwald. The Museum of the Battle of Grunwald is also nearby. I couldn't find the current price list. In 2015, the cost was: a normal ticket – 10 PLN, with a guide – 12 PLN; concessions – 8 PLN, with a guide – 10 PLN. We have no idea if it's worth visiting the museum because we only passed by.
In the village of Kalbornia, a water equipment rental company is located in a holiday resort. We used water bikes. We paid 10 PLN for an hour for a double bicycle, four people one is for 20 PLN.
The cost of our full-day trip is 10 PLN for a warter bike, 1 PLN for large non-carbonated water and 3.20 PLN for buns from the bakery. We took the rest of the food from home. Altogether, we spent 14.20 PLN. We don't include fuel costs, because we would have to pay them to drive to Działdowo.
Thank you for reading the entry!
If you think it is interesting, we would be pleased if you leave a mark in the comment.
You will find more posts from Poland here:
There are direct links to the next and previous episodes below.
All our travels: Travels
We also invite you to our Instagram and Facebook fanpage, where you can be up to date with all our travels.
See you later! 🙂