Welcome to my next trip report! This time I travel to Majorca – the largest island in the Balearic archipelago. I was tempted by the low price of flights – around 220 PLN (55 EUR) for return ticket. We discovered a beautiful Spanish island in a team of four – me, my dad, my sister Beata and her husband Robert. I left my husband at home to watch over business.
It's November 12. We leave Olsztyn dressed in winter jackets, it's raining. We reach Warsaw and leave the car in the parking lot and in a moment the bus takes us to the Warsaw Modlin airport. Still 2 hours till our flight so we wait. The check-in goes smoothly and the plane flies on time. We say goodbye to cold Poland. In three hours we land in Mallorca and the sun greets us! We leave the arrivals hall and pick up the car to explore the island. I navigate to the parking lot in Palma de Mallorca – we gonna reside in this city.
Palma de Mallorca – interesting places
We leave our luggage in the car and set off to conquer the island. Palma de Mallorca seems beautiful at first glance. Unfortunately, we are so exhausted by night travel that we are unable to see this city thoroughly today. We'll make up for it a few days later. I take my first photo at Plaza Mayor- a square where we have accommodation – in one of the apartments for 15 o'clock. Then we wander around the streets with no specific purpose.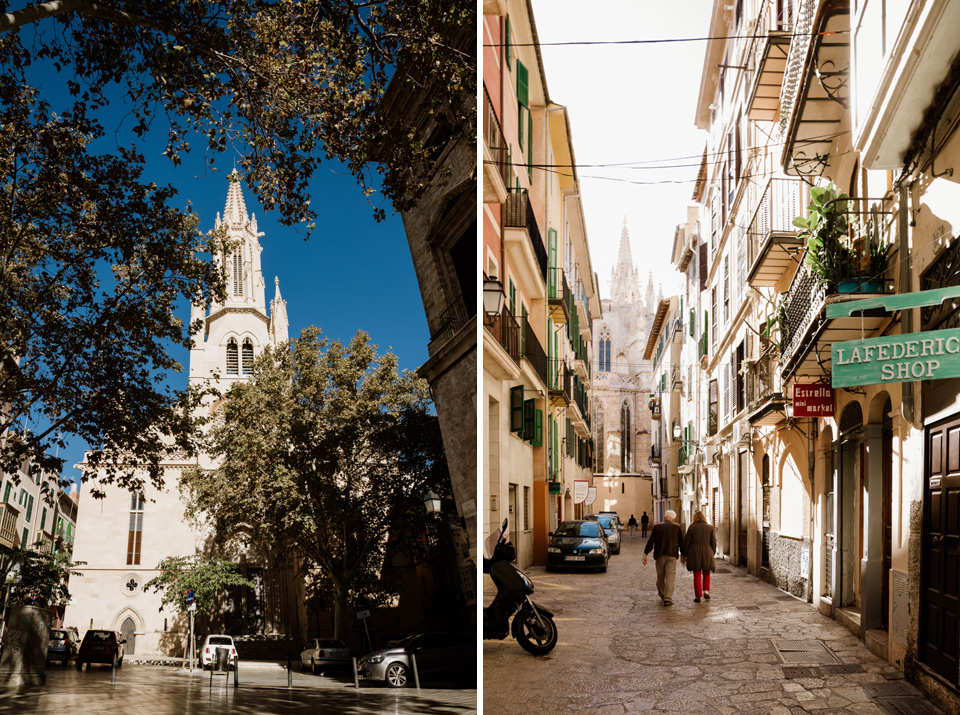 The capital of Mallorca and cathedral surroundings
We go out to the square near the cathedral. It is a place in Palma de Mallorca that attracts the largest crowds. No wonder, because the views from here are beautiful.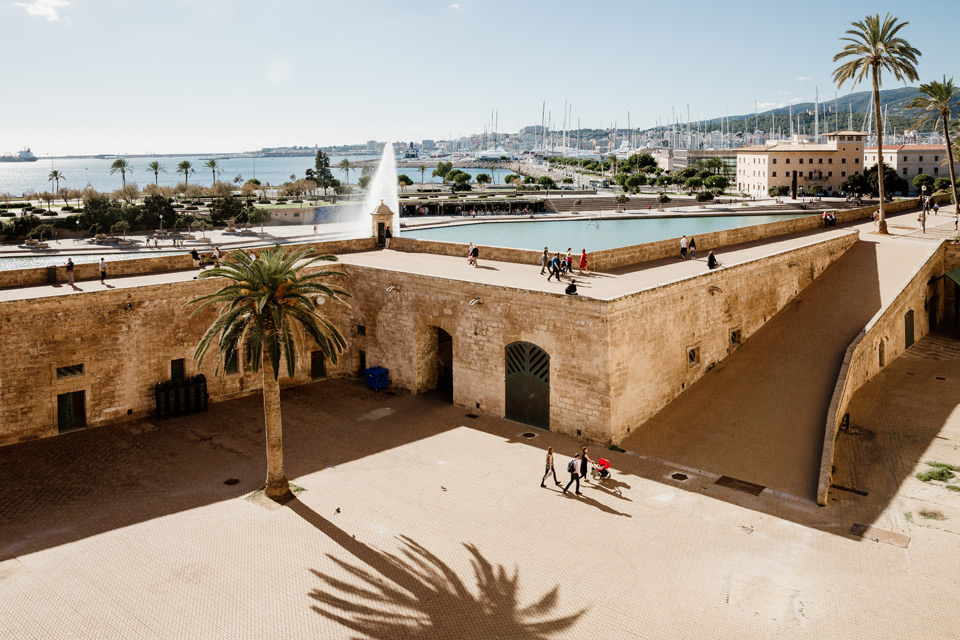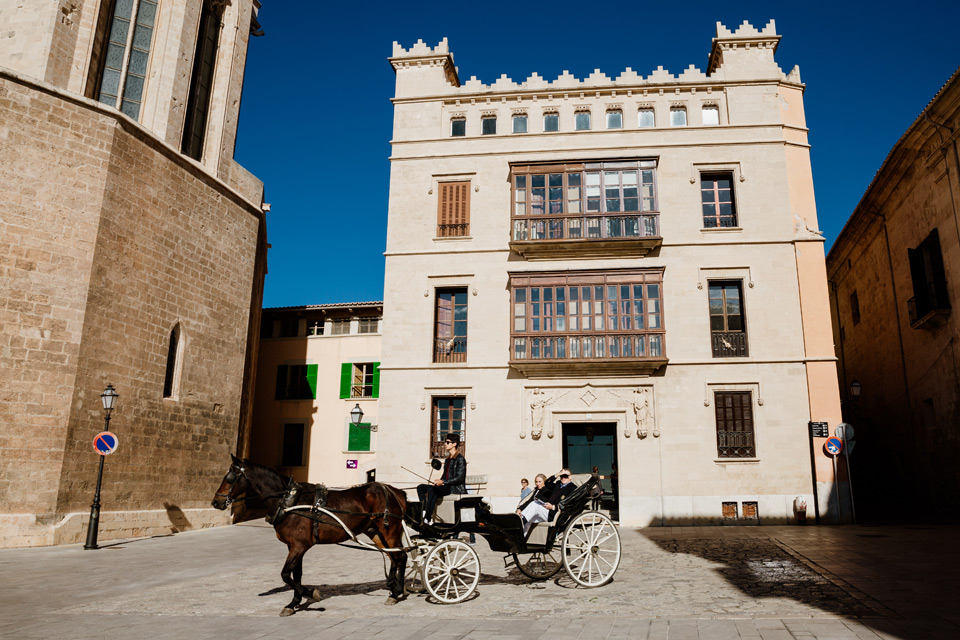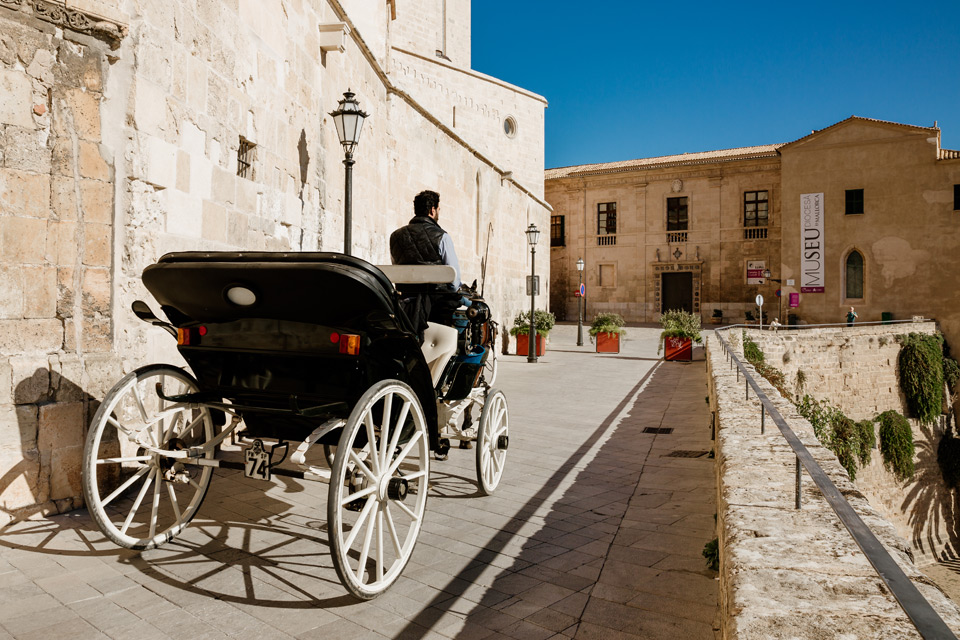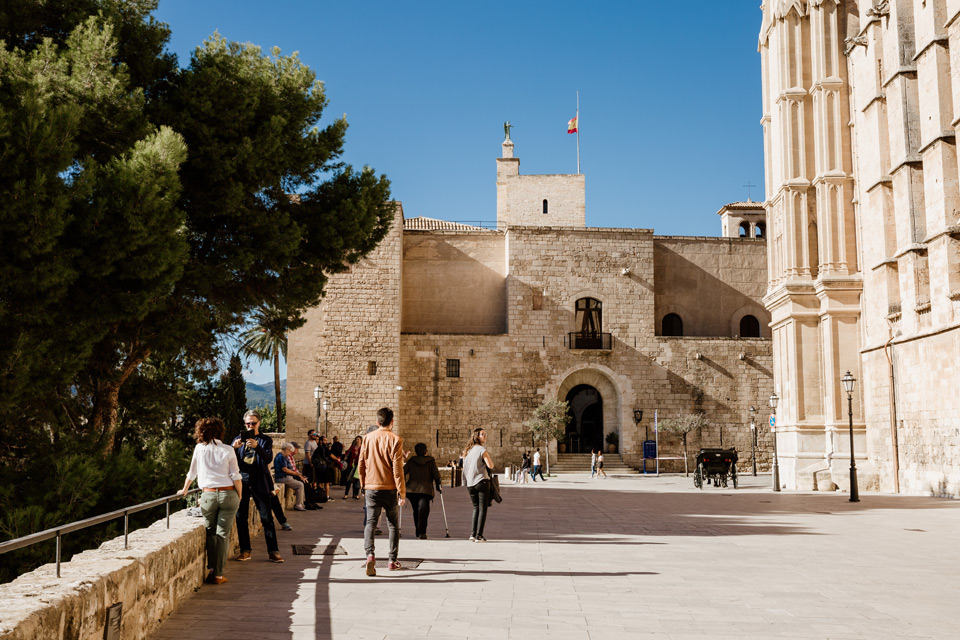 We go down the stairs towards the pond. A lot of palms in this Palma 🙂 There are also many interesting nooks and crannies. In addition, the cathedral in the background and photos come out great.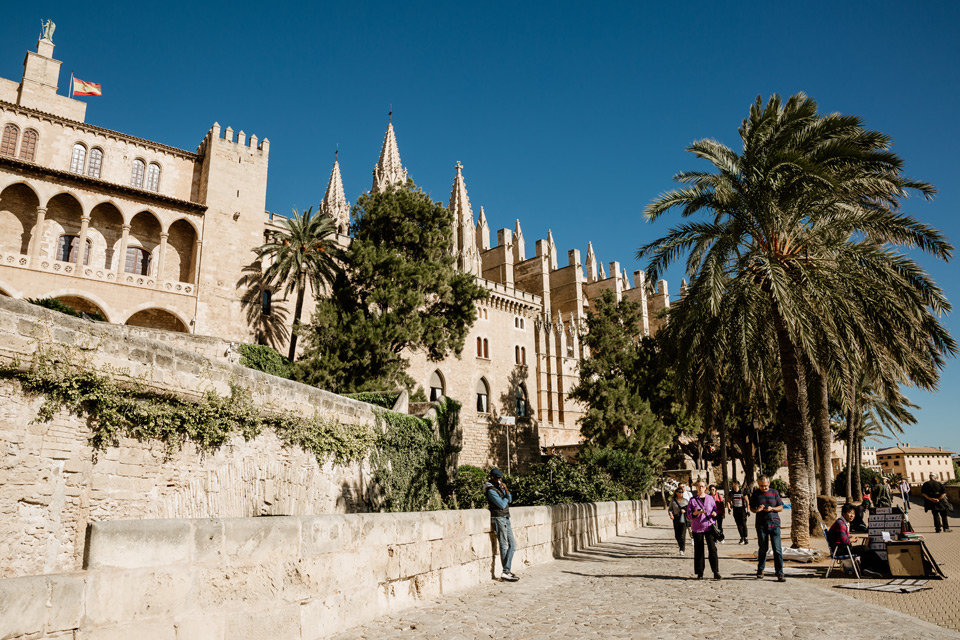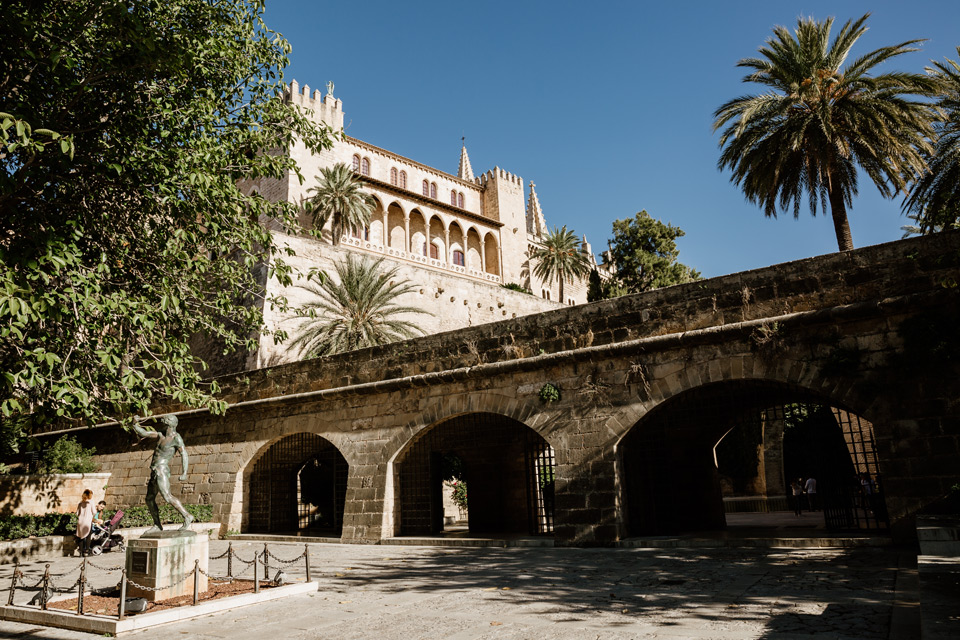 El Parque del Mar – walk around the palm trees
We still move around the big park by the cathedral. This is El Parque del Mar. A significant part of it, is a huge pond with salt water and a fountain. We walk around the promenade with many palm trees.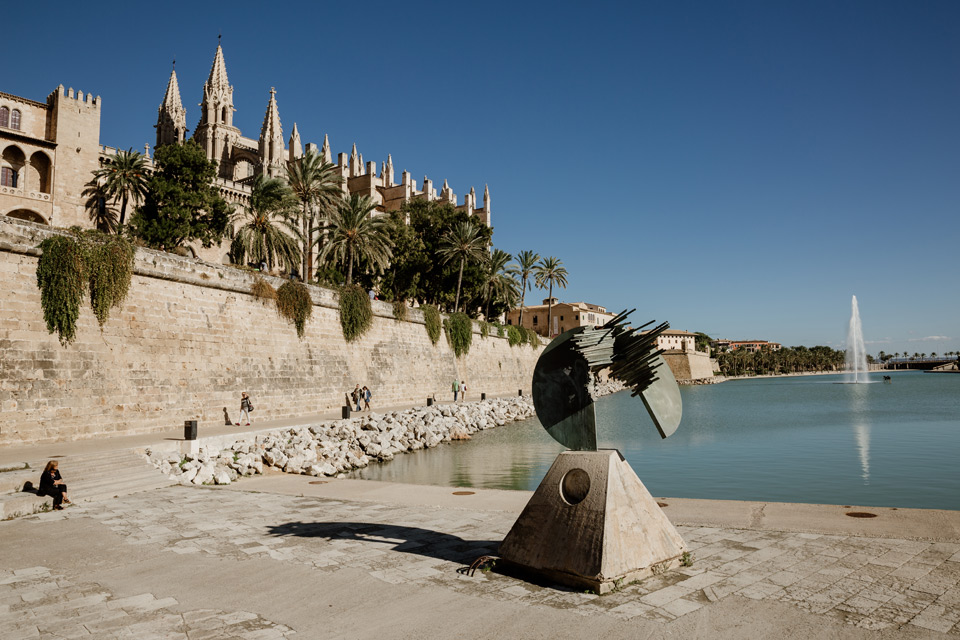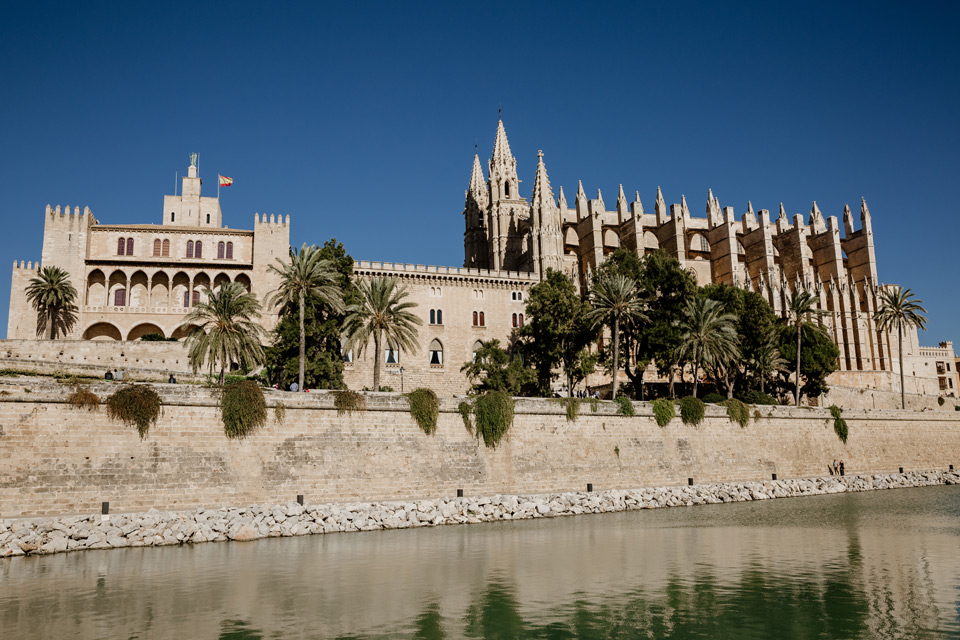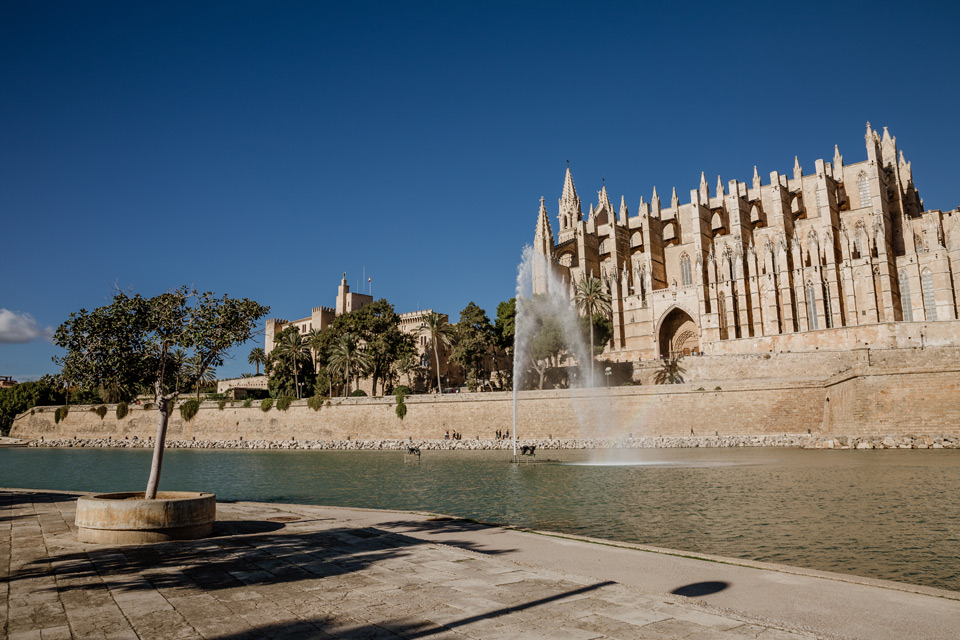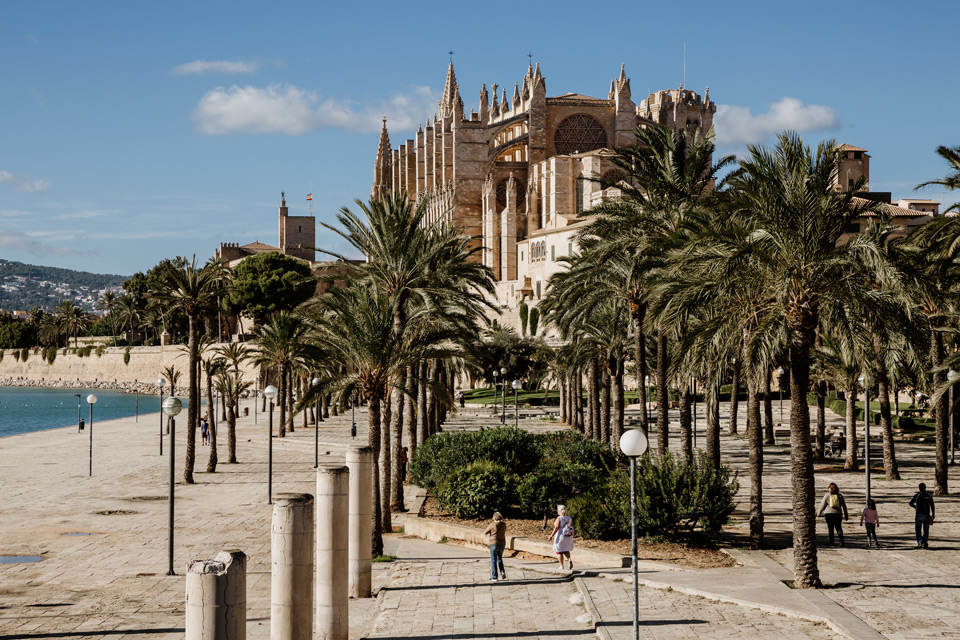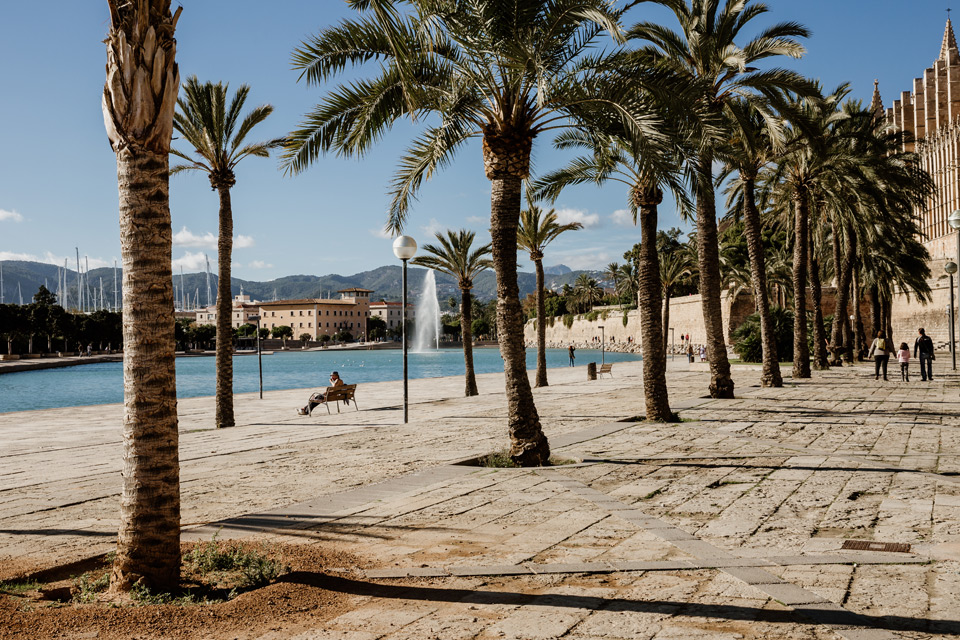 After a quiet walk we go to register in the apartment. We rest for a long time, carry suitcases and unpack. When it's dark, we go to dinner. For such a city there is a fairly small selection of restaurants. After a long search, we finally sit down and order food. For a warm-up in trying Spanish dishes- pizza. Beata and Robert order paella. Paella is a traditional Spanish dish consisting of rice and various additions, e.g. seafood. It is worth a try.
Palma de Mallorca at night
After dinner, we go to see how the cathedral looks like at night. And here I have to praise my camera, which took beautiful night photos from my hand. See for yourself.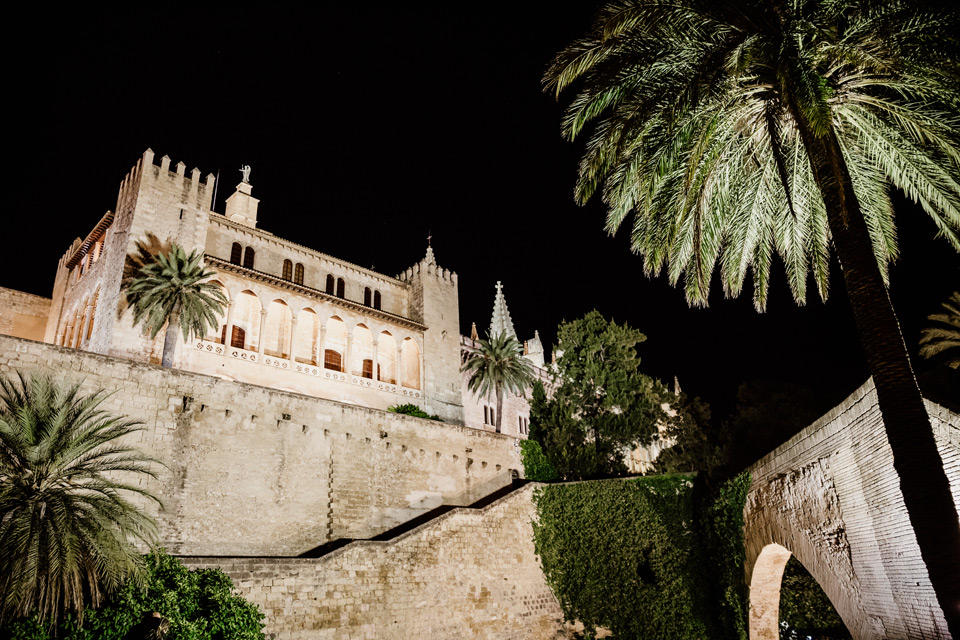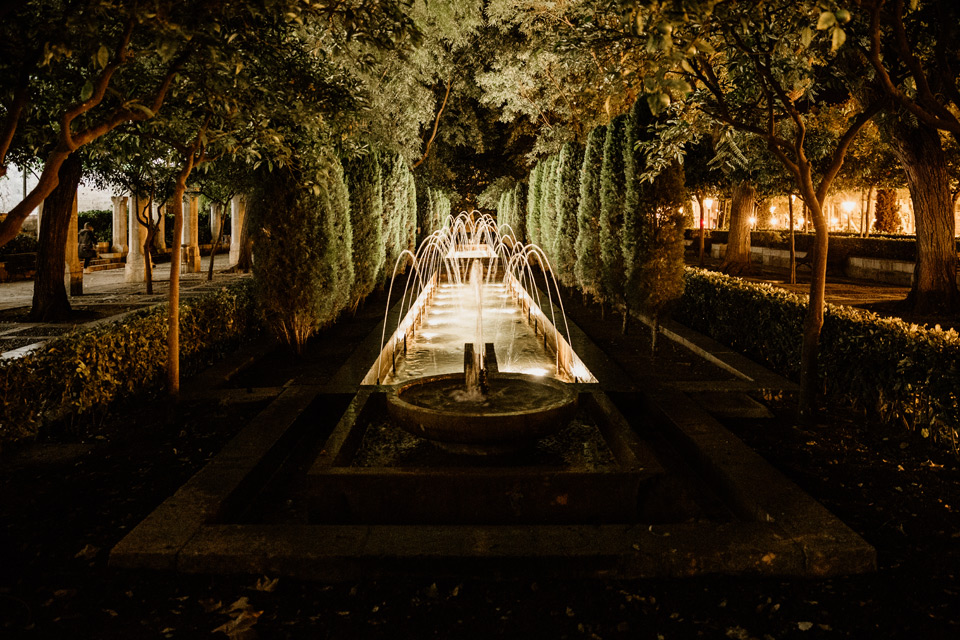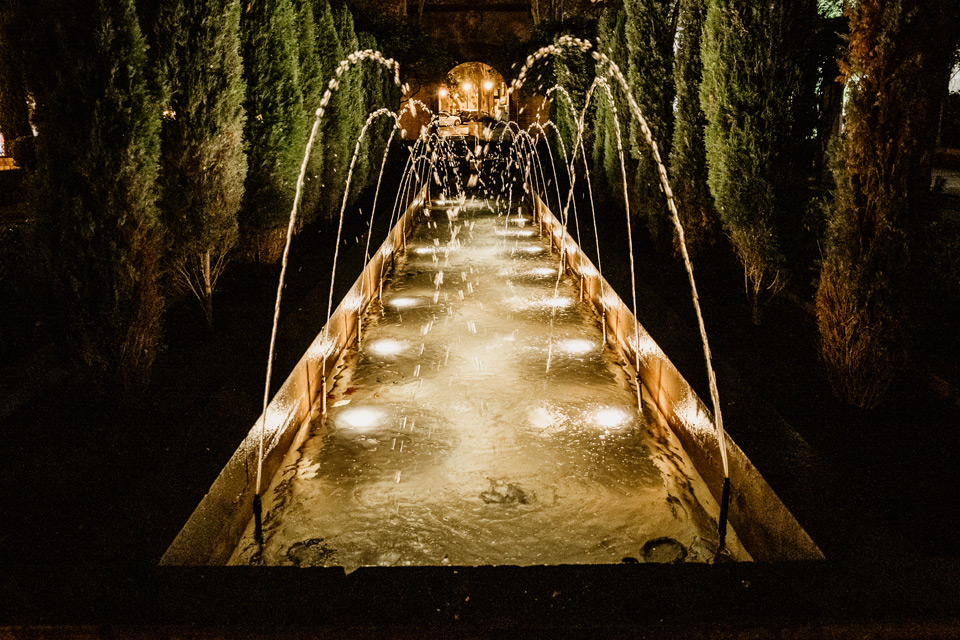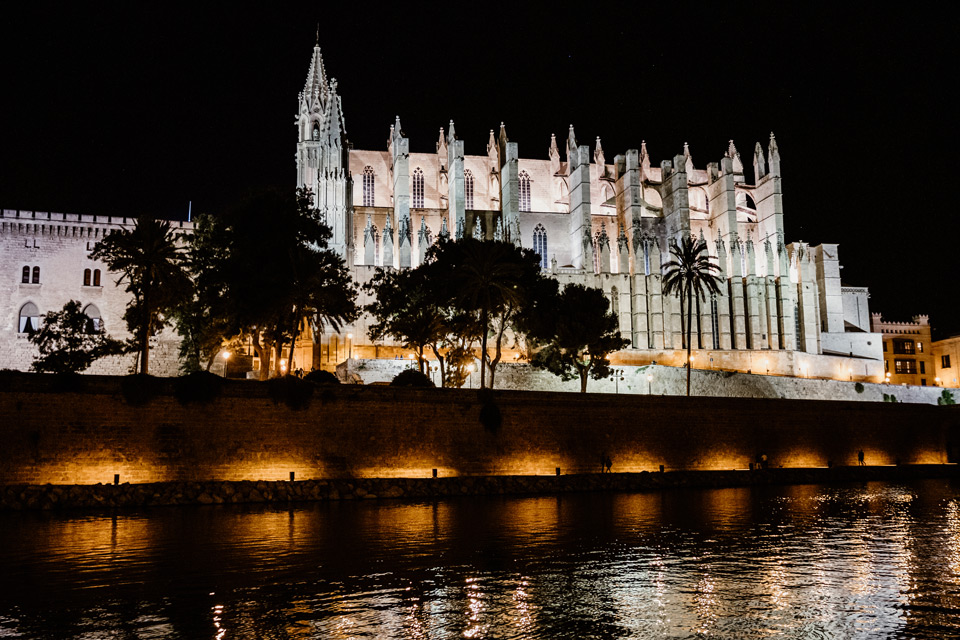 The next day we will visit much more. Because Mallorca is not only Palma de Mallorca, but also beautiful mountains, bays and towns. However, before I invite you to the next episode of the report, I will put pictures from other days of stay in Palma de Mallorca. I think there is no point in putting them in other entries.
Mallorca's most important monument – Catedral de Mallorca
On the third day we walk around the streets towards the cathedral. Being in Palma de Mallorca and not seeing Catedral de Mallorca would be a shame.

In Palma, and as we will later see throughout Mallorca, there are plenty of kittens. This one, visible in the pictures below, chose a special place to rest. It's hard not to give him a small photo session.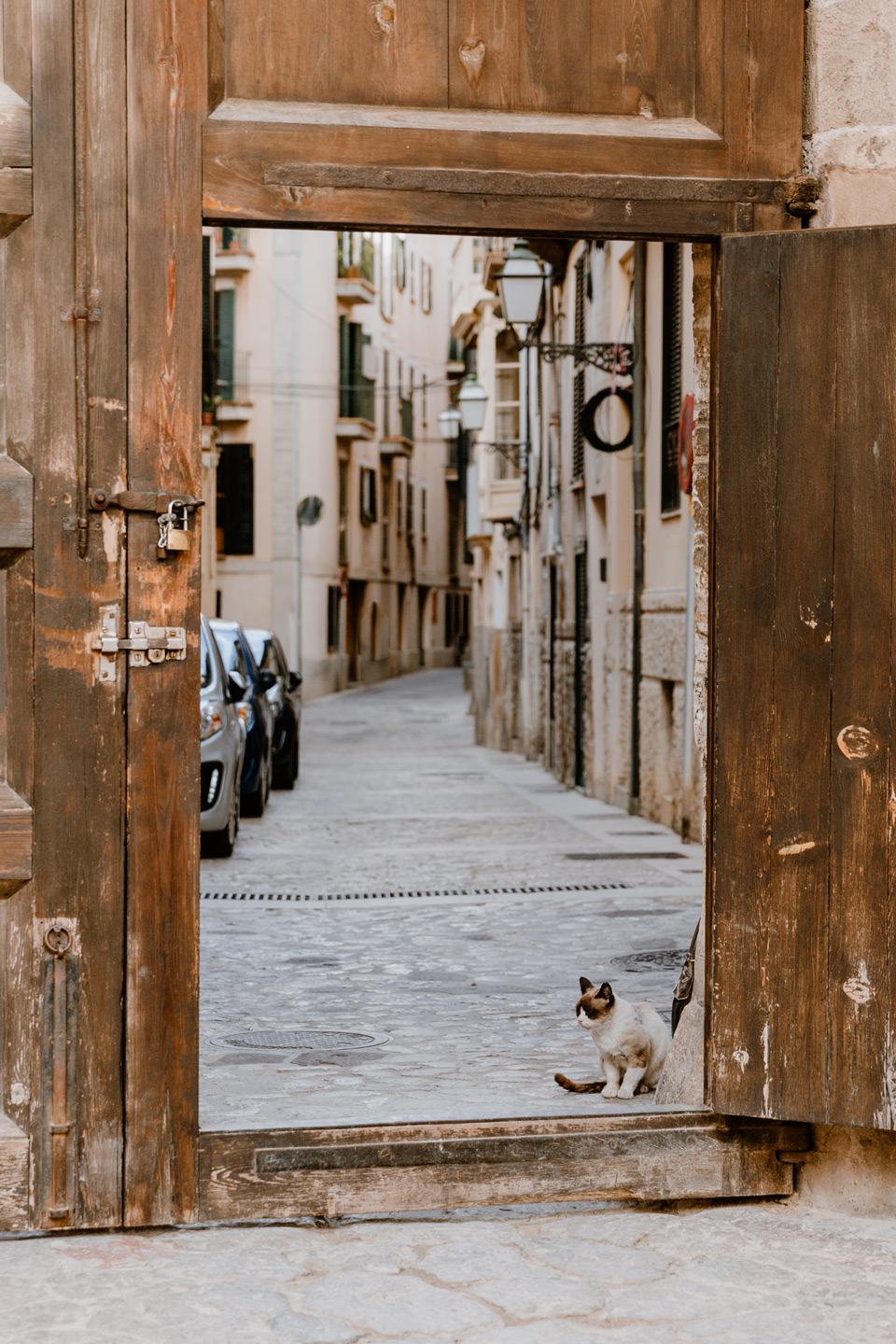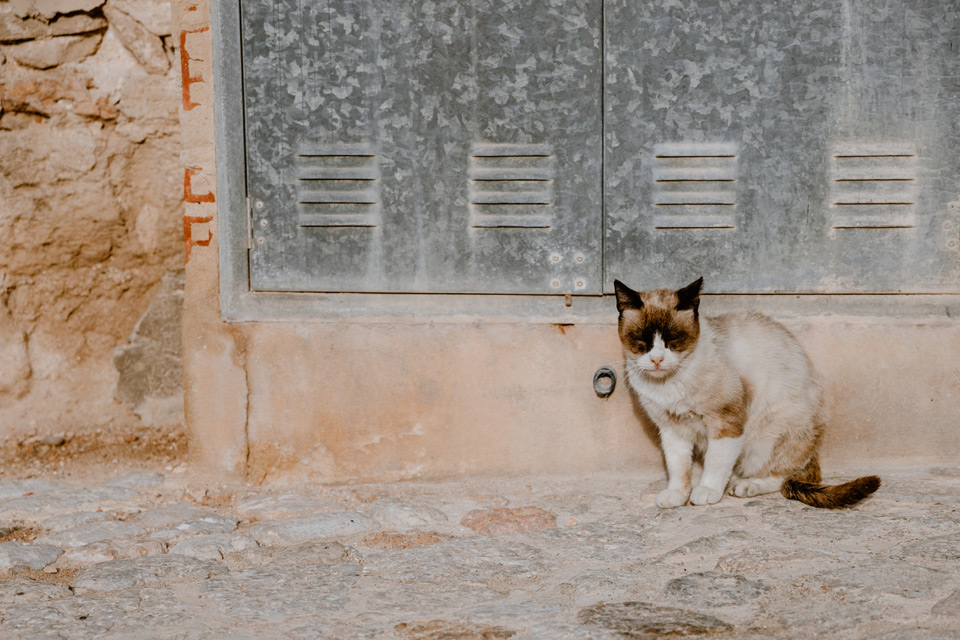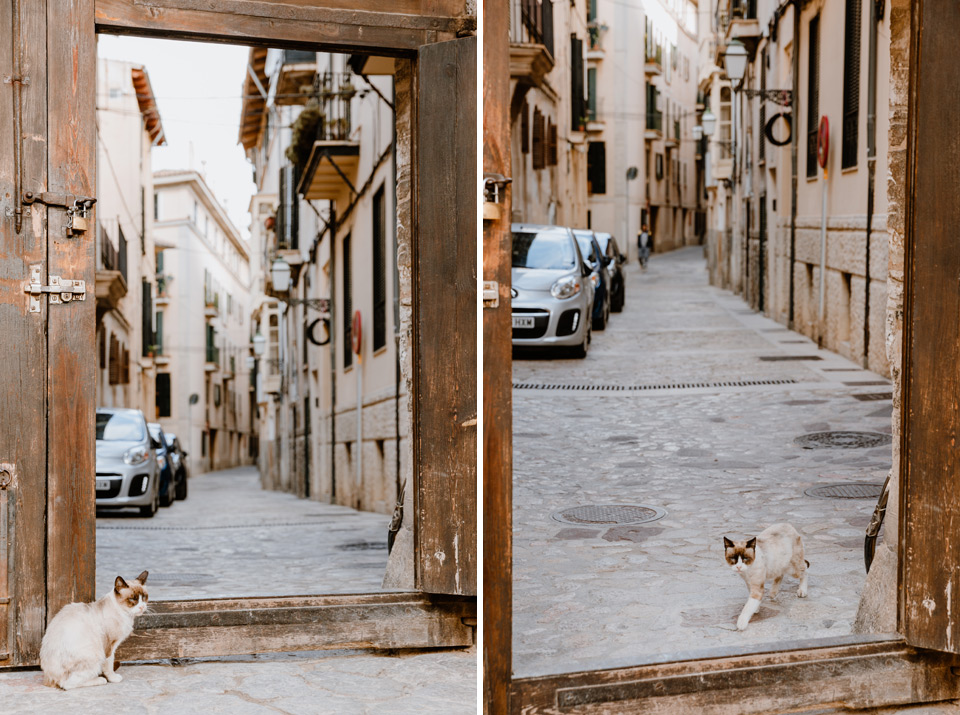 Being under the cathedral, it just can't be resisted to take more photos.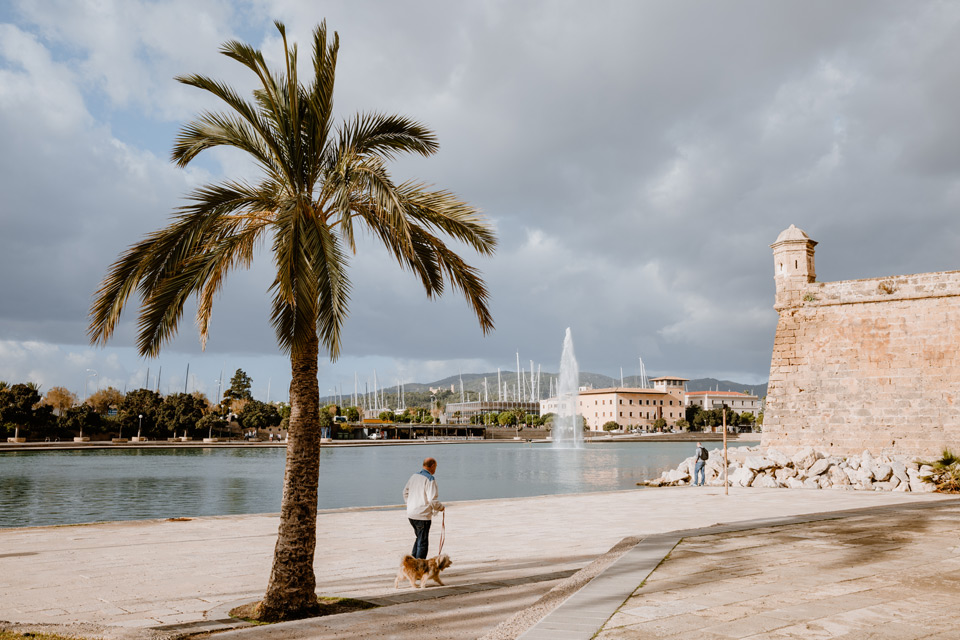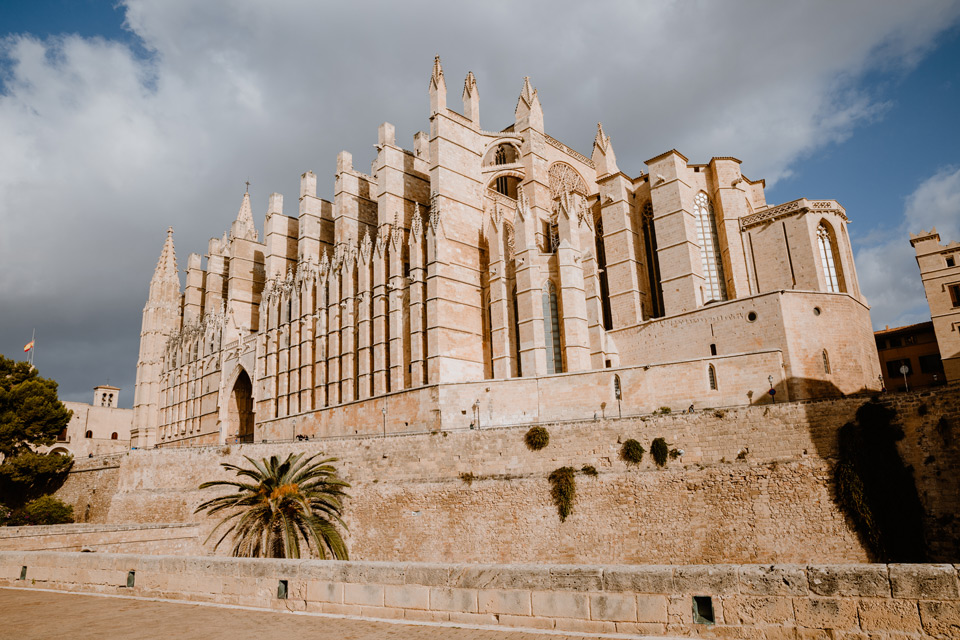 We enter the cathedral. I don't like visiting churches, but I must admit that the interior is impressive. Especially the altar.

After visiting the interior of the cathedral, we go out to a tiny courtyard with a well. We have a ticket that allows us to see the museum. However, there is nothing interesting inside, so the tour takes maybe 3 minutes. In addition, everything is described in Spanish.
Banys Arabs
We visit one more place – the Banys Arabs baths. In my opinion they are not worth visiting. There is a small garden here, from which one enters the rooms in which, apart from the vases, there is nothing else. Maybe people who are interested in history will be more fascinated. After all, the baths are from the tenth century and bring a lot to the history of Palma de Mallorca. Admission costs 2.5 euros. From what I remember, the baths are opened at 10 o'clock.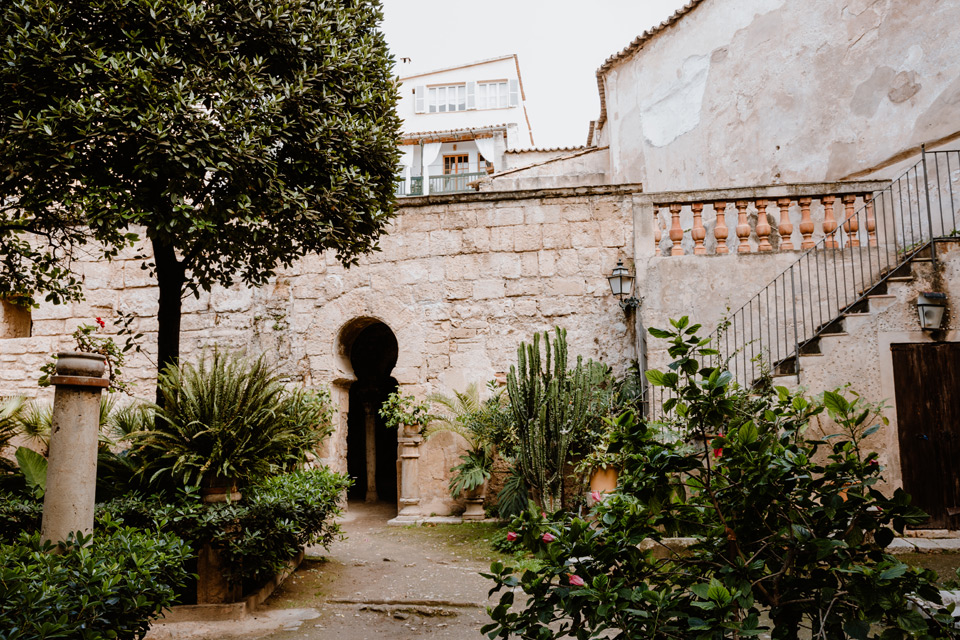 Panorama of the city of Palma de Mallorca
Let's move to the fifth day of our stay on the island. In the morning we approach the castle of Castell de Bellver. The building is visible from under the cathedral, from which there is a distance of about 3 km. We fail to get inside, because it opens only at 10 am, and we are here at 9:30. We are in a hurry this day, so we don't wait.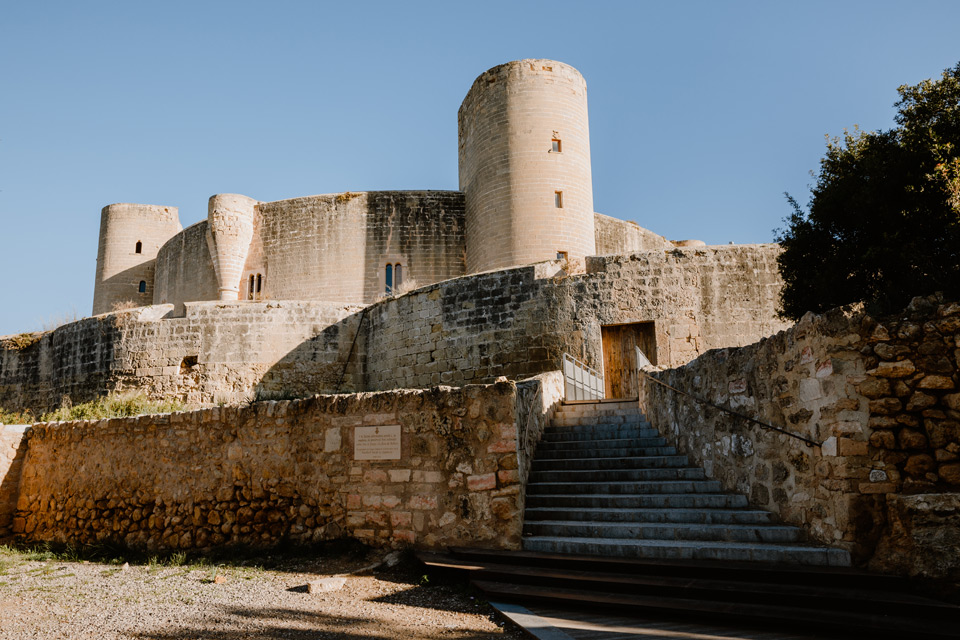 From the castle you can see a beautiful panorama of Palma de Mallorca.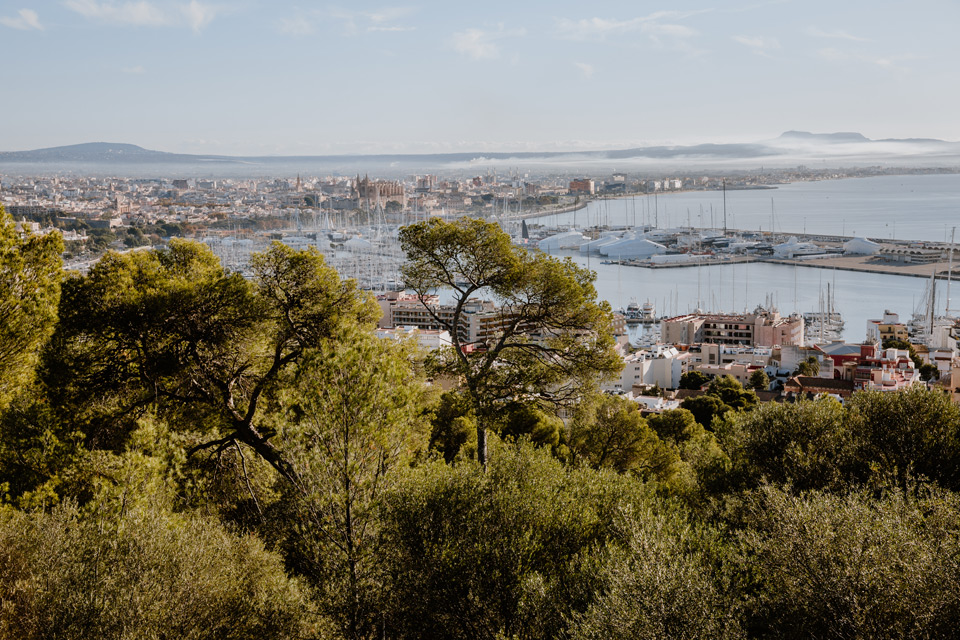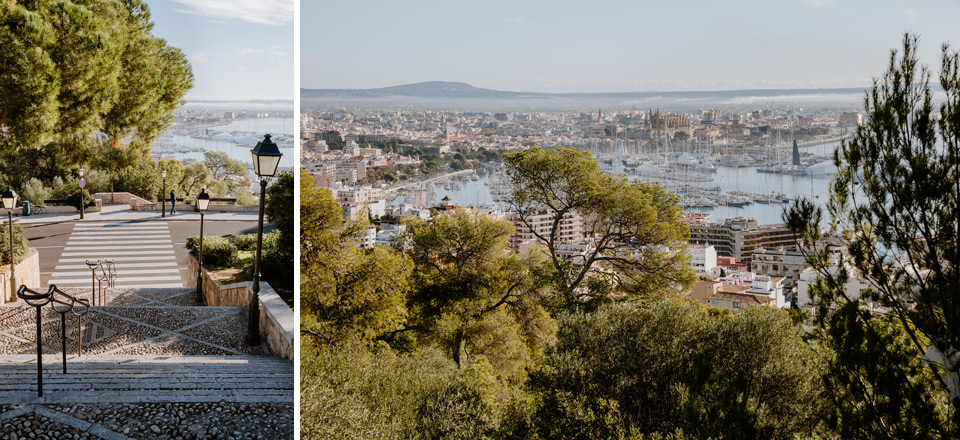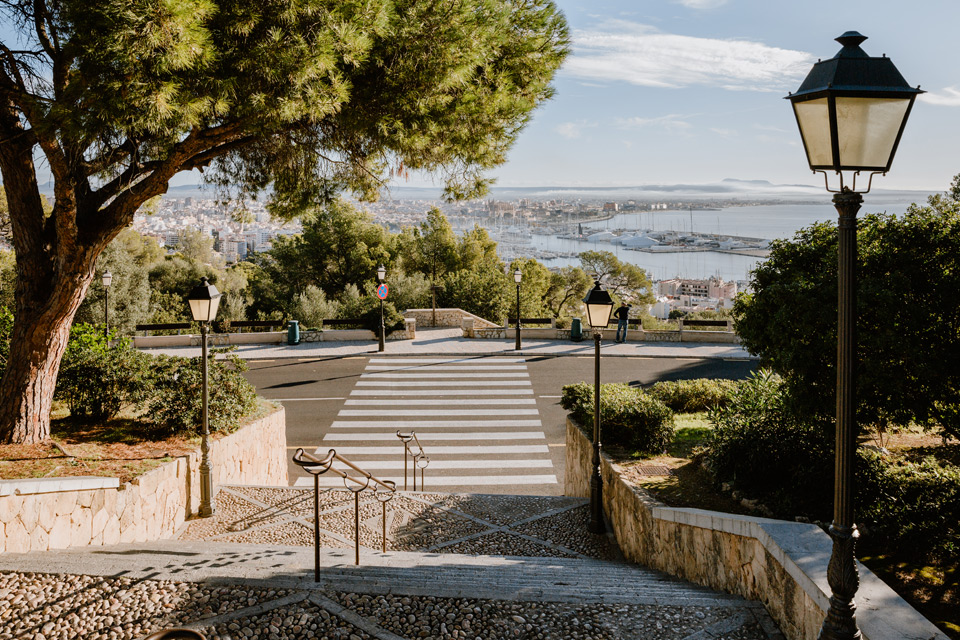 That would be it when it comes to this city. We haven't visited many places, such as the beach or the port. It takes at least two days to see the whole of Palma de Mallorca. Do not miss another beautiful portion of photos in the next posts on our travel blog!
Practical information:
Our journey took place in November 2017. All information provided was current at the time. Several things may have changed since then.
We flew to Mallorca by Ryanair on the Warsaw Modlin-Palma de Mallorca route. The ticket back and forth cost was around 220 PLN (55 EUR). Recently, I noticed a slight increase in prices on this route, but you can catch good bargains. Ryanair also flies to Palma de Mallorca from Wrocław and Kraków. Currently, it is very cheap to get to the island from Berlin. Tickets can cost even like 42 PLN (10 EUR) two-way.
We rented a car from hyperrentacar. We made the reservation about 2 weeks before arrival via the internet. A representative of the company picks up from the airport and takes a small bus to the rental office. Everything is going very smoothly, prices are low. We got a Kia Cee`d car. We paid about 70 euros for the whole period of stay (5 days). The rental required a refundable deposit of around 80 euros. We didn't take the option of additional insurance, so unfortunately I can't help with it.
Before traveling to Palma de Mallorca I found two underground car parks for 5 euros per night. It was the cheapest option. We parked on one of them called "SMAP" and it was 15 minutes walk from the apartment. Parking in the center of Palma is 3-4 times more expensive, and parking in free places is practically impossible. Our place was a bit off side the city.
The apartment was booked through Booking. The price for 4 people for 4 nights was about 1000 PLN (250 EUR). We lived in the center of the capital at Plaza Major.
Today I would choose a different place of residence than the capital of the island because of expensive parking lots or I would look for an apartment with a private parking space. However, Palma de Mallorca turned out to be a good starting point to explore the island.
Thank you for reading the entry!
If you think it is interesting, we would be pleased if you leave a mark in the comment.
You will find more posts from Mallorca here:
There are direct links to the next and previous episodes below.
All our travels: Travels
We also invite you to our Instagram and Facebook fanpage, where you can be up to date with all our travels.
See you later! 🙂