We would lose a lot if we didn't go to Gozo during a trip to Malta. The island is small, but it has a lot of interesting places to see. In the post we will show you in a nutshell what to see on Gozo. We spent two days there so we saw a lot. We will present you not only the most popular places, but also less known attractions of the island. Read this short guide, and if you want to see more photos, we invite you to our detailed coverage of the trip to Gozo. The link can be found at the end of the post.
Port in Mgarr
If you decide to go to Gozo, the port of Mgarr will be the first place you will see. Ferries come here, so from this place you will start your adventure with the island. The port is very scenic thanks to two churches on the top of the hill – Church of the Madonna of Lourdes and Church of St. Anthony of Padova.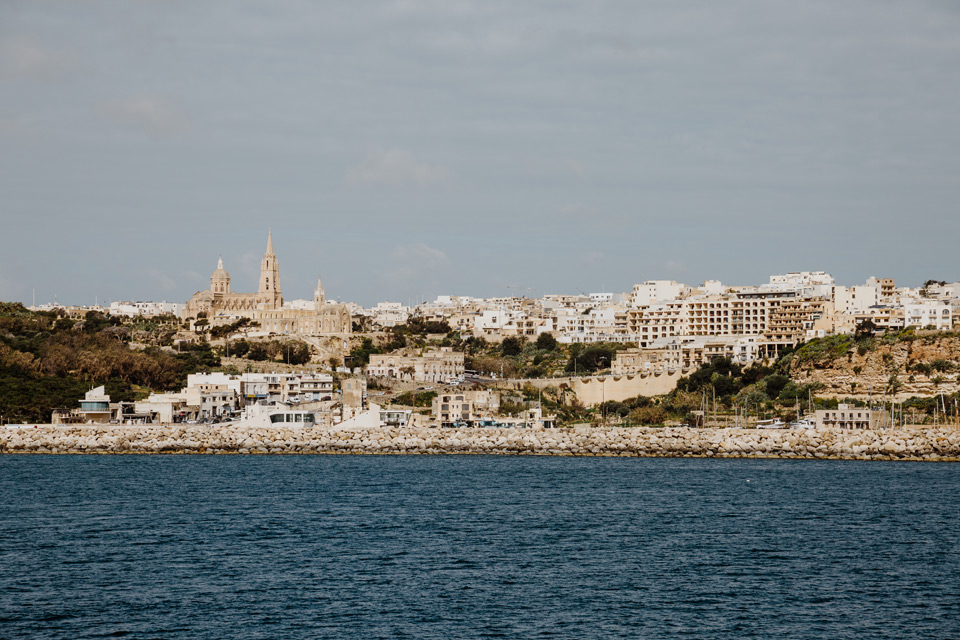 xEWKIJA- SAINT ROTUNDA JOHN THE BAPTIST
The second place we saw on Gozo is the Rotunda of Saint John the Baptist in Xewkija. The church is visible from many places on the island and in my opinion is one of the most interesting. It stands by the small, old town. Unfortunately, when we were there, it was under renovation, so we were unable to explore the town thoroughly. The rotunda looks beautiful against the rocks on the way to Mġarr ix-Xini Bay.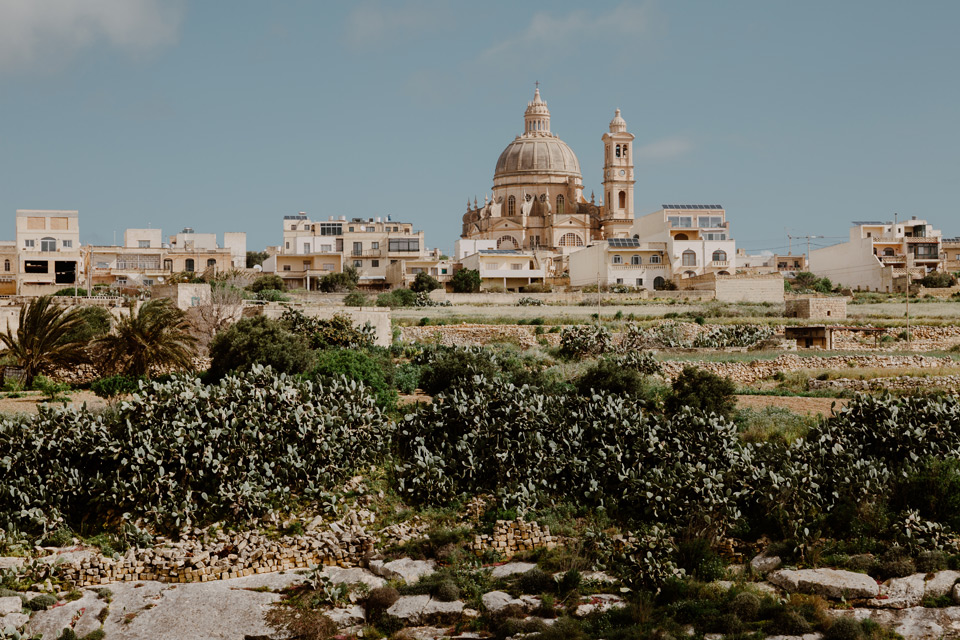 Mġarr ix-Xini
Mġarr ix-Xini is another place worth seeing on Gozo. This is actually much less known because access here is somewhat difficult. You will only get here by car or you will have to spend a lot of time to get here on foot. It's a bay located among the rocks with a small beach. You won't find many people here, so perfect for people who value peace and quiet.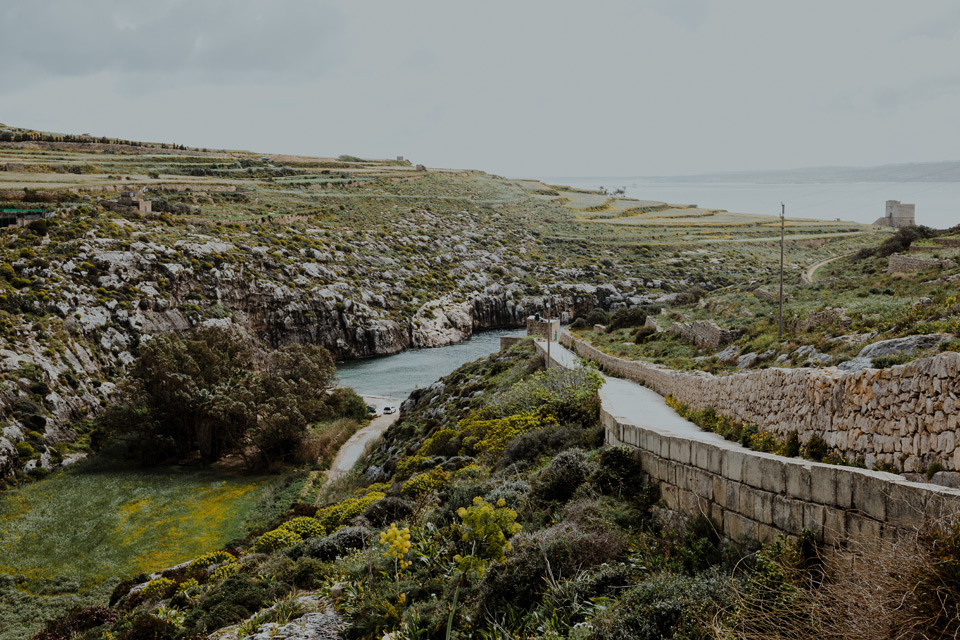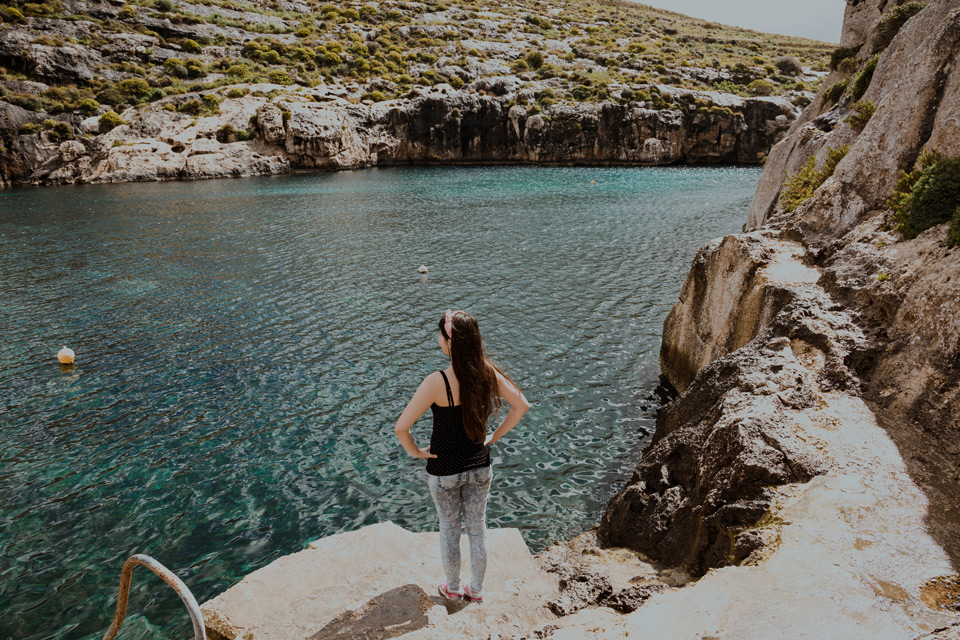 Victoria (Rabat)- capital of the island and Citadella
It's hard not to mention the capital of Gozo. On the island, it is said that all roads lead to Victoria. This is true because the city lies in the middle of the island and is the main communication hub of Gozo. It will probably take a bus from here to every corner of the island. In Rabat, it's worth seeing the main street with colorful balconies, walking around the center and taking a walk around the Citadel. From this last place, and exactly from Citadella's defensive walls, you will be able to see the entire island.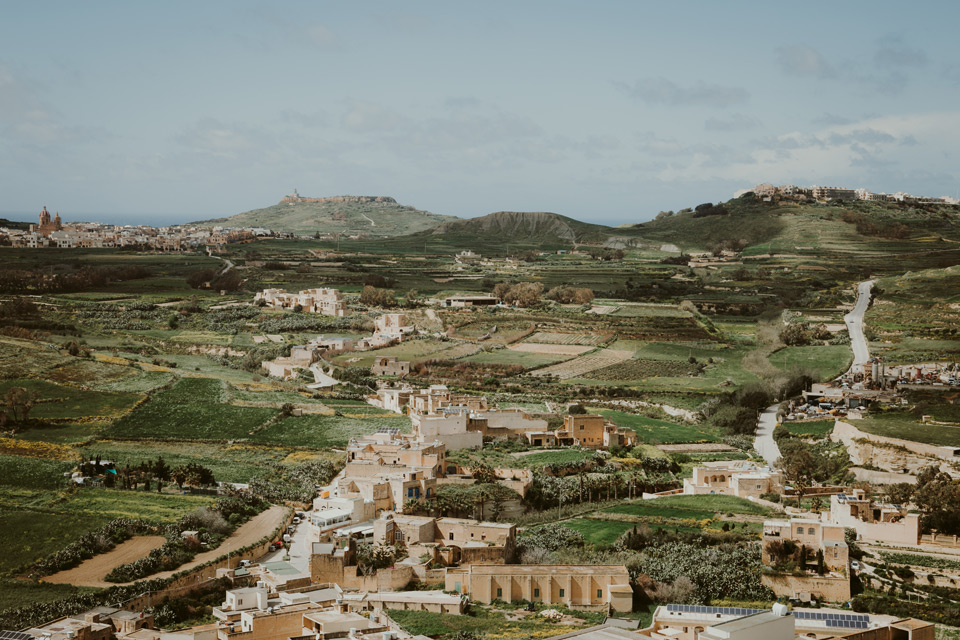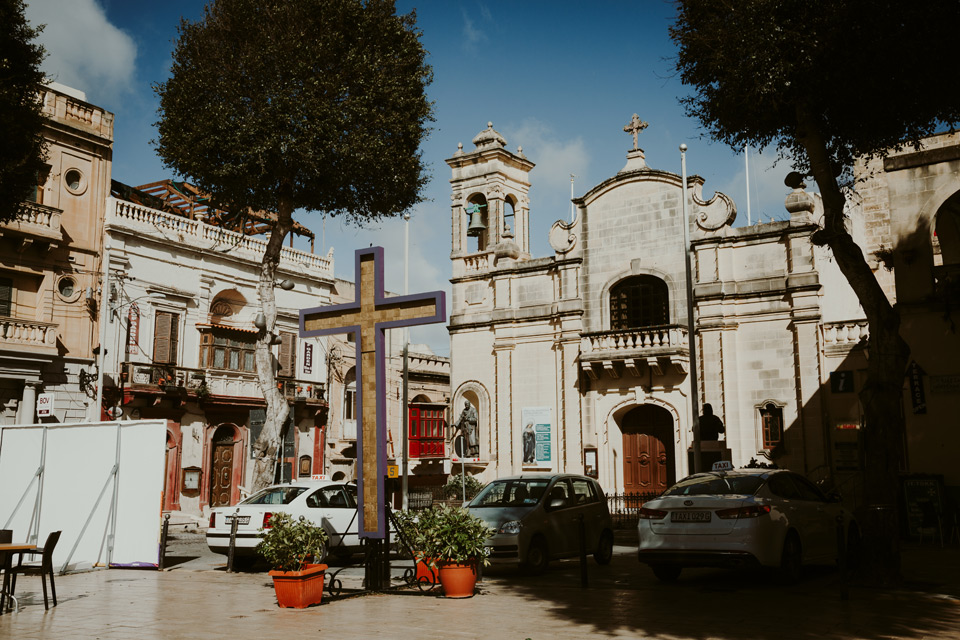 CHURCH in San Lawrenz
There is a church in San Lawrenz that is not very well known in Gozo. It's small, so it hides in the shade of other temples on the island. I really liked it, so I recommend that when visiting Gozo stop by at least for a second.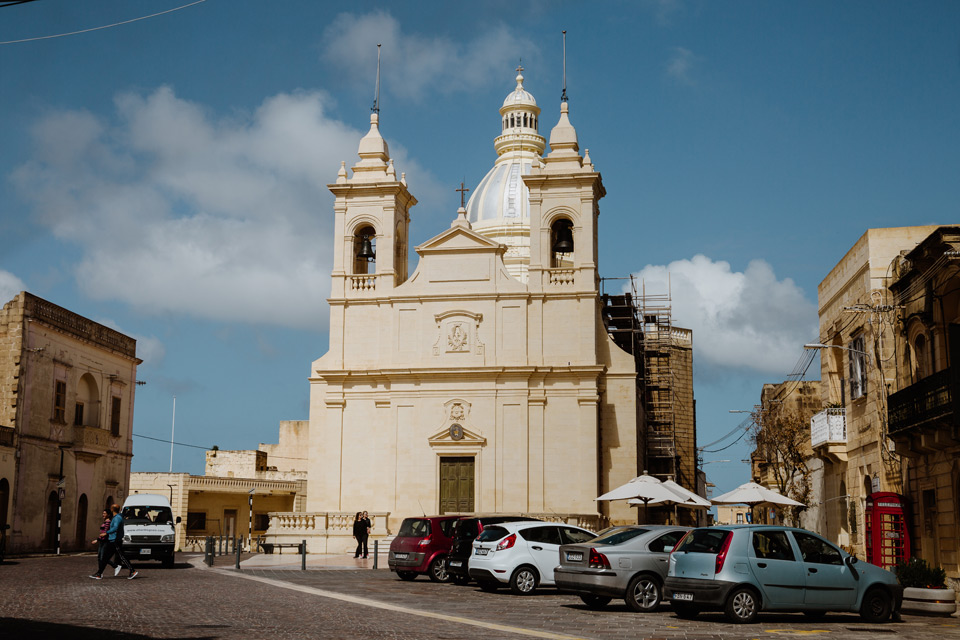 DWEJRA BAY AND AZURE WINDOW
Azure Window is a rock arch that is, and actually was, the most popular attraction of all of Malta. Try to type "Malta" in your browser and look at the graphics – you will definitely see Azure Window on some photo. Unfortunately, this attraction no longer exists, because in 2017 the rock fell during a storm into the sea. Despite this, the whole area is still beautiful and attracts a lot of tourists. In my opinion it's one of the most beautiful places on Gozo. Next to the ruins of the Azure Window, you can see the Blue Hole – an underwater cave loved by divers.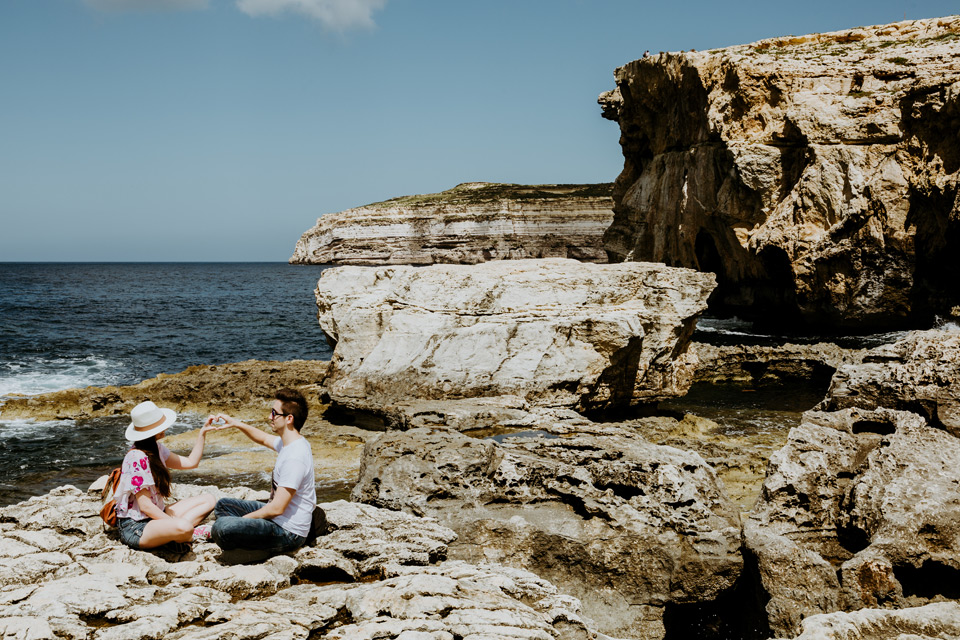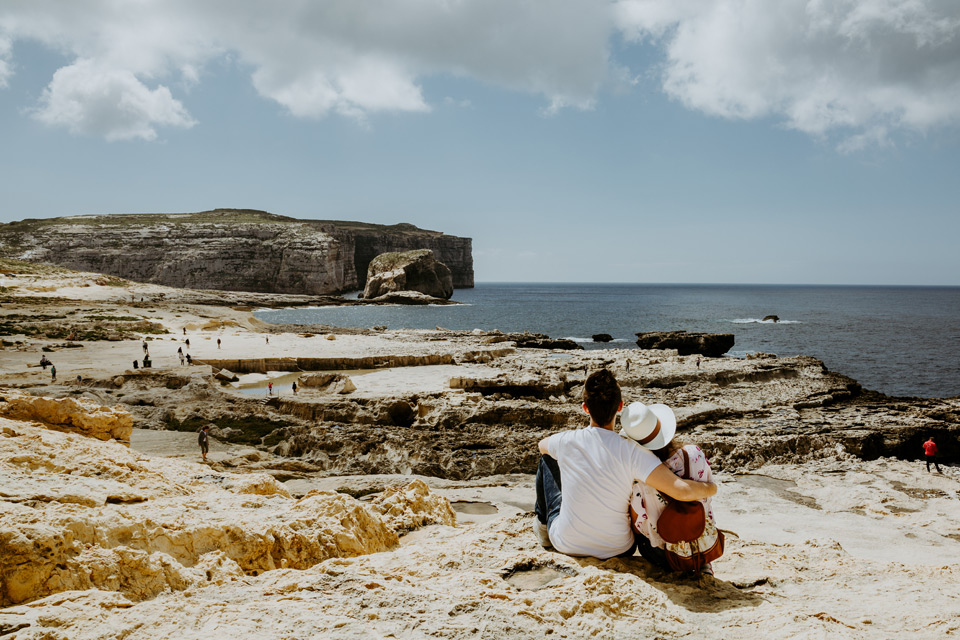 Inland Sea
Near the Azure Window there is a small lake called Inland Sea. It's quite a well-known attraction of Gozo due to the fact that from the lake you can sail by boat through a small, narrow tunnel under the cliff to the sea. Many tourists use the cruise option and enjoy wonderful views of the surroundings of Dwejra Bay.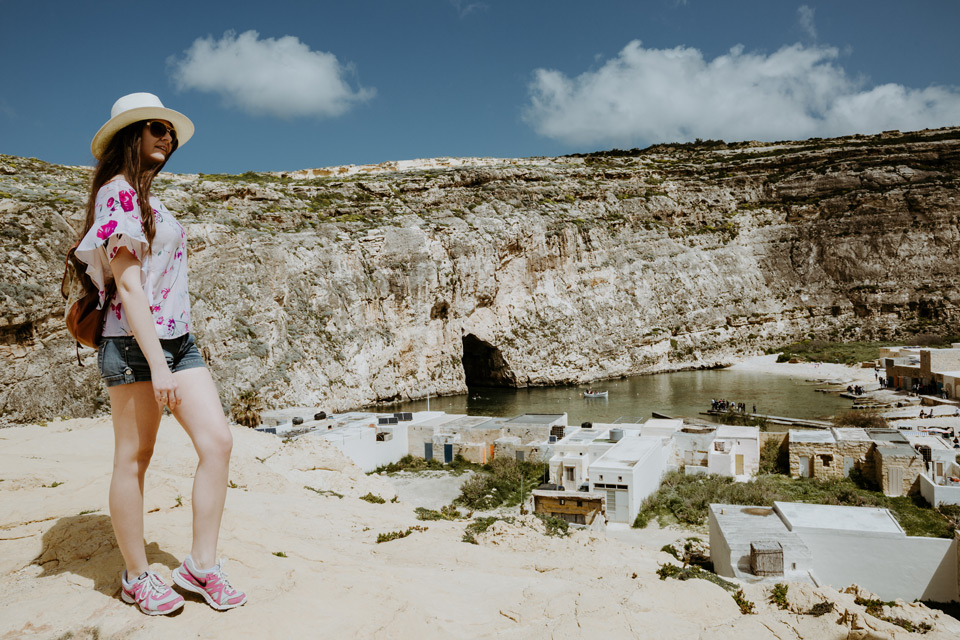 Fungus Rock near Dwejra bay
When you arrive at the parking lot at the Azure Window Ruins, your attention will be drawn to a mushroom-like rock. It's worth taking a walk along the sea shore towards it. We promise, you won't regret it. We took some of the most beautiful photos here during our entire stay in Malta. In my opinion, this is a must see on the Gozo map. If I ever came back to this island, I would definitely come back here. The area is really scenic – beautiful rocks, cliffs, rough sea and few people!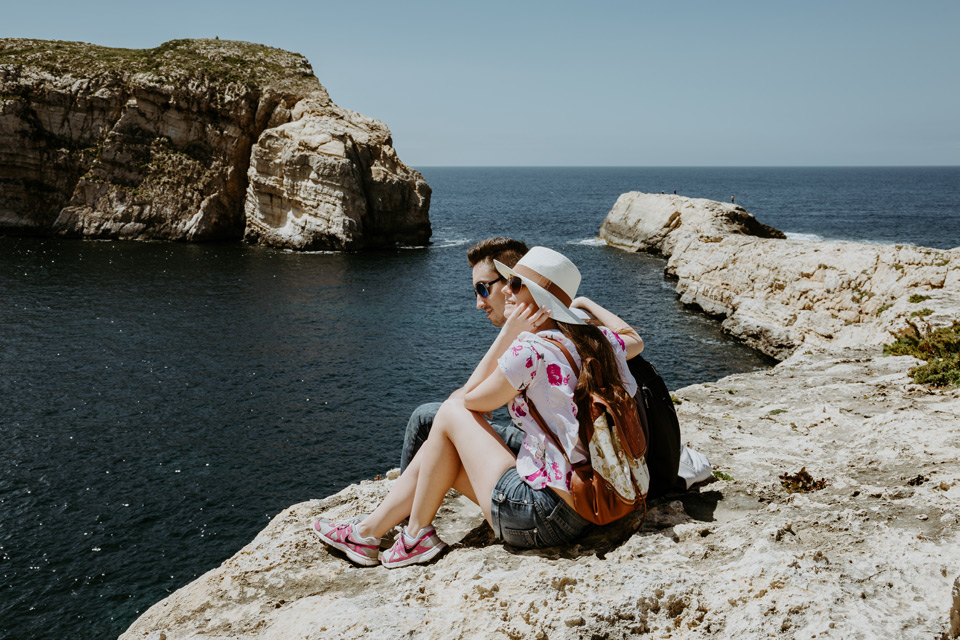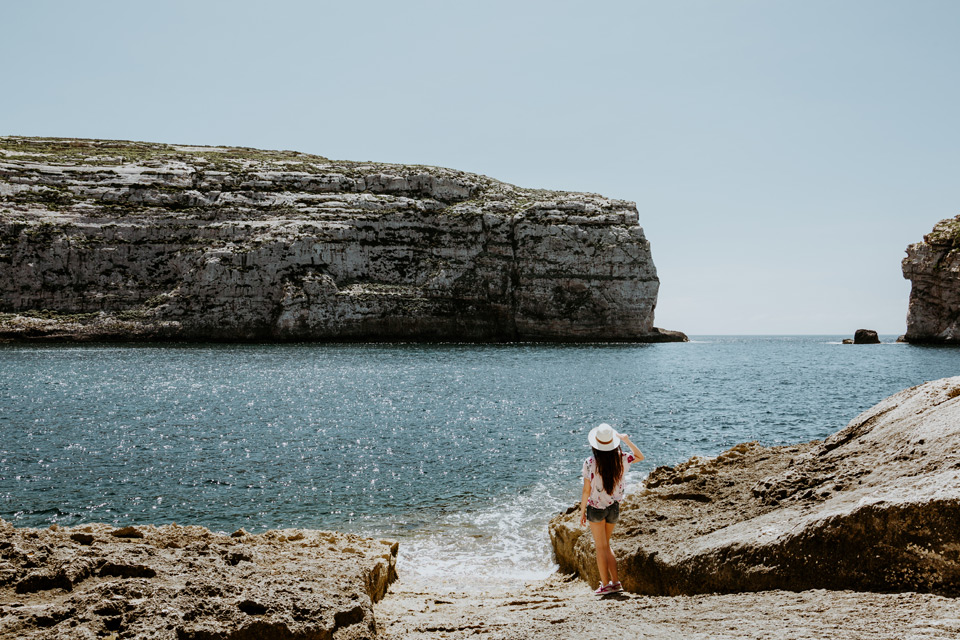 TA' PINU basilica
The most important church on Gozo for the Maltese is the Ta 'Pinu basilica. It's worth stopping under it at least for a moment and take a closer look at it. During his pilgrimage, Pope John Paul II and Benedict XVI were here. According to documented sources, miraculous healings took place here, which is why the sanctuary became popular and visited by more and more people.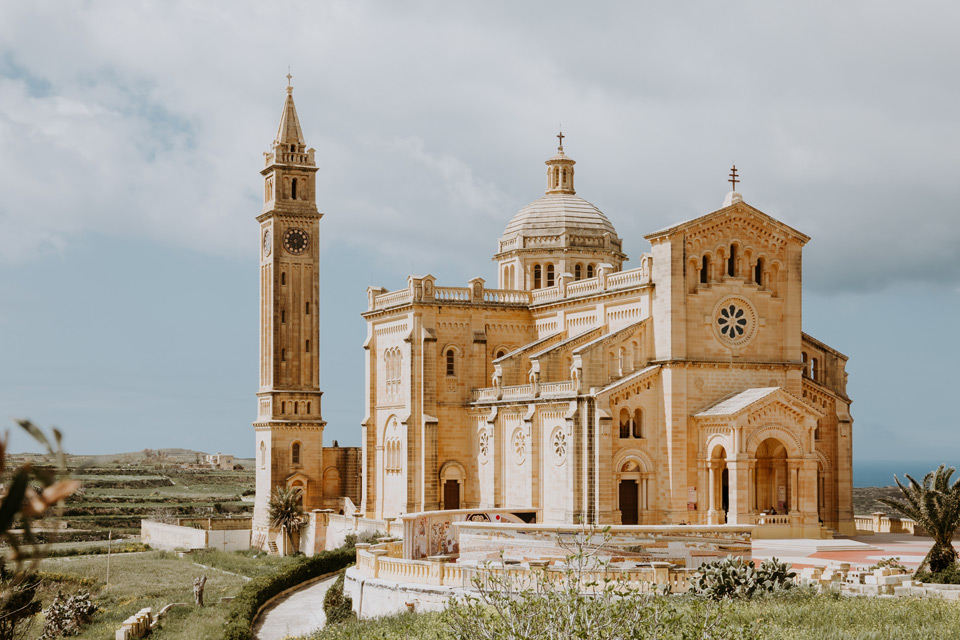 Wied Il-Mielaħ
If you have a car, an interesting option will be for you a trip north of Gozo near Wied Il-Mielaħ. On site you will see a rock arch very similar to Azure Window, but a little less interesting. There is also a window in the rock, and the color we see through it's azure. Therefore, when there is no Azure Window by Dwejra Bay, Wied Il-Mielaħ acts as a substitute for that attraction.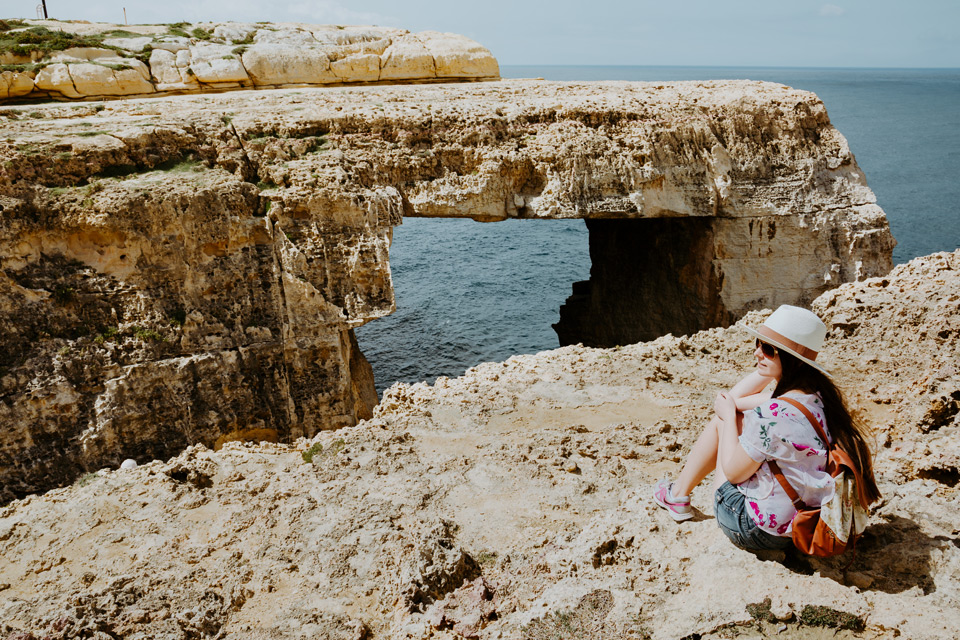 WIED IL-GĦASRI
Wied il-Għasri is a beautiful strait located near Wied Il-Mielaħ. Very calm place, hidden between the rocks. The beach on site is tiny, rocky, so we recommend taking swimming shoes. It's definitely worth swimming in the cove. It has a beautiful, twisted shape, some may resemble Norwegian fjords. A must see place on Gozo! The problem may be getting here without a car. The nearest bus stops in Żebbuġ, and it is 1.3 km from Wied il-Għasri. If you decide to go on a hiking trip, you will go downhill towards the bay, and on the way back you will be constantly marching up the hill.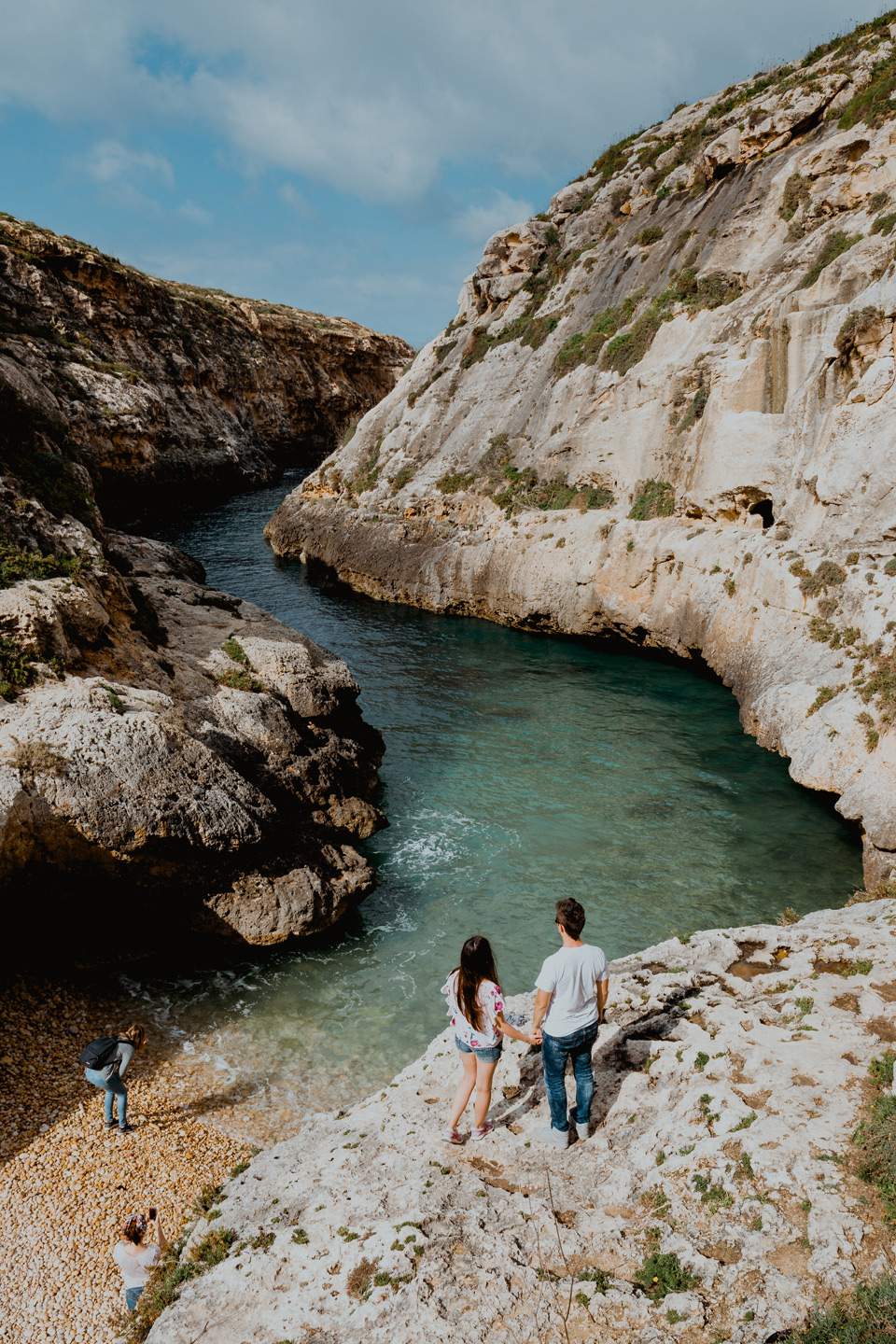 Salt Pans and Marsalforn
Salt pans are long-known salt pans in which salt is extracted. The Maltese continue to maintain tradition and take care of their "chessboards". It's worth stopping by the road and admiring views from another planet. Salt Pans on Gozo are located near the town of Marsalforn, which is also worth visiting. We were supposed to visit Marsalforn for a moment, but it turned out that we stayed here for dinner. I must admit that the town is quite interesting despite being touristic.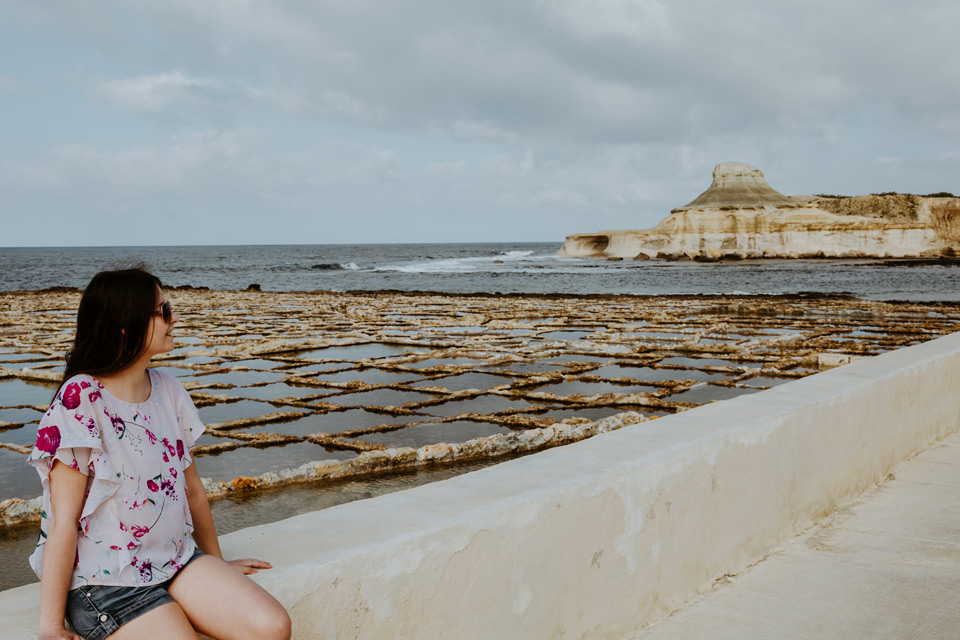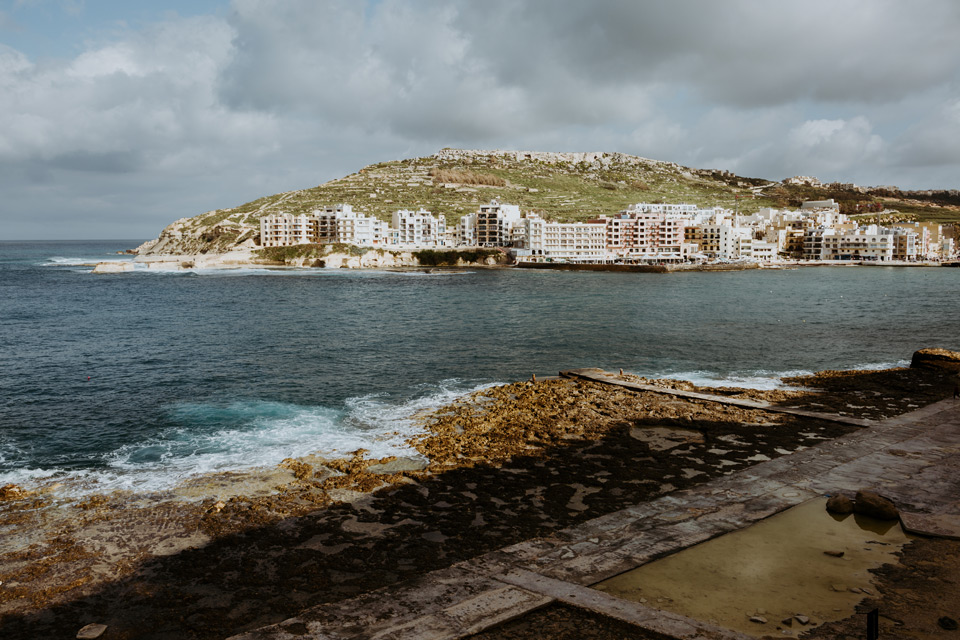 Xlendi Bay
The Xlendi bay is also worth seeing. The whole area is beautiful, so it's worth visiting every path we see near the bay. Wonderful cliffs, azure water, beautiful flowers that grow on the promenade, make us want to walk around and discover all the nooks and crannies. In this way we got to many hidden places and saw many wonderful views.
In the Xlendi Bay area, it's worth going to Sanap Cliffs and going to the Ta 'ċenċ cliffs. The coast in the south of Gozo is really wonderful, so you must see them.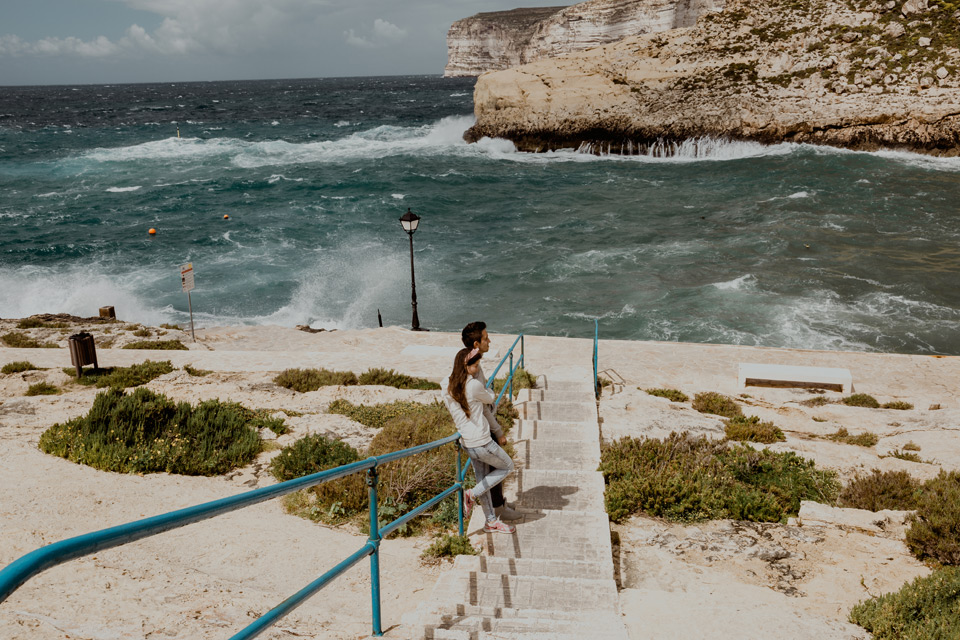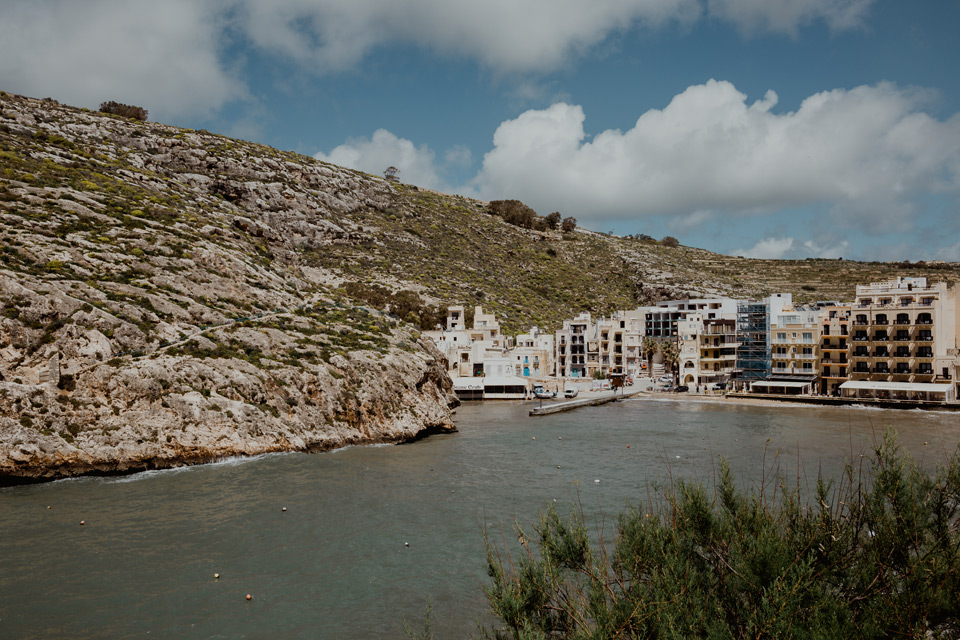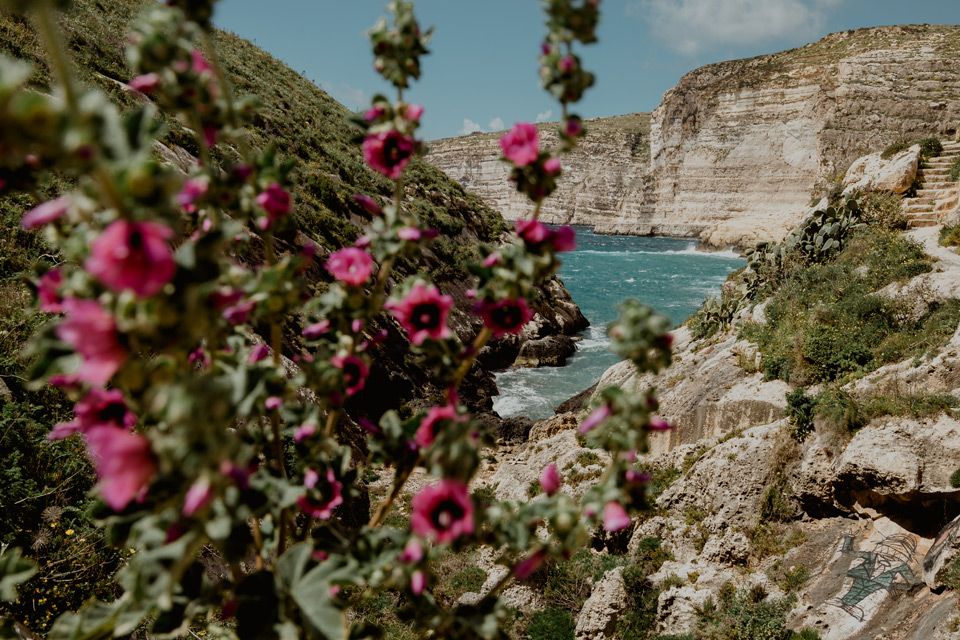 Ramla Bay and Calypso Cave
Ramla Bay is the most beautiful sandy beach on the island of Gozo. It has an unusual, dark sand – it's not yellow – it's orange. It's worth visiting because of the very scenic surroundings. It's best to go to Calypso Cave, which is a wonderful viewpoint on the beach of Ramla. You will reach the top of the hill by a small path surrounded by grass and greenery. This is a very interesting variety, because most of Gozo is rocky and gray, and here it is colorful. Grass green, orange sand and azure sea are a beautiful combination of colors. Also, do not sit on the beach, but move and go for a walk.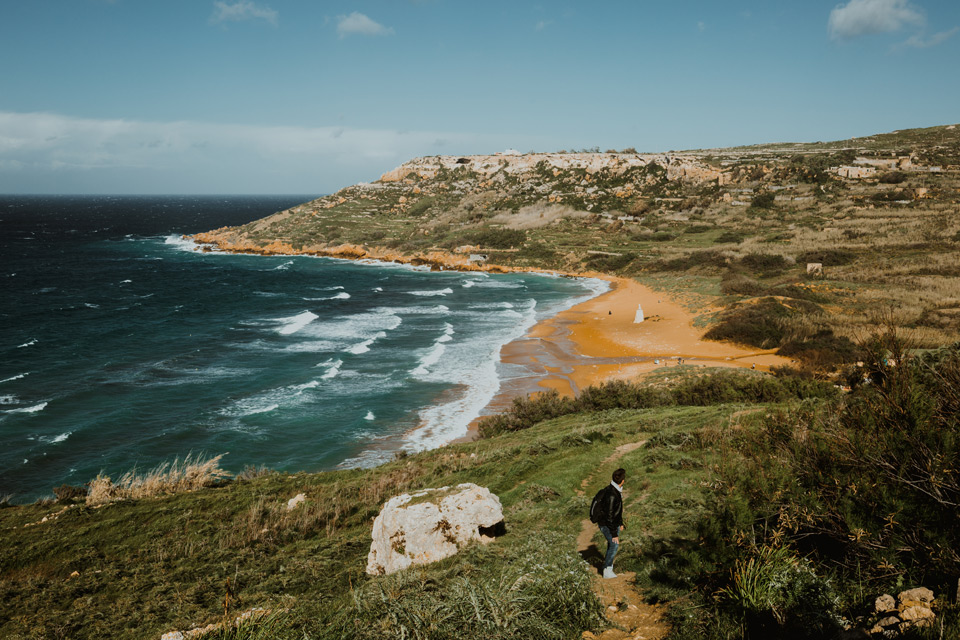 As for the most beautiful and interesting places to visit on Gozo, that would be it. We invite you to our four-part report of the journey around the island, where you will see more photos and read a little about our adventures. The first part can be found here: Gozo, part 1- travel report.
Thank you for reading the entry!
If you think it is interesting, we would be pleased if you leave a mark in the comment.
You will find more posts from Malta here:
There are direct links to the next and previous episodes below.
All our travels: Travels
We also invite you to our Instagram and Facebook fanpage, where you can be up to date with all our travels.
See you later! 🙂