Gozo is Malta's second largest island. We have heard many positive reviews about it, and on travel blogs we often read that it's more beautiful than the island of Malta. That is why we decided to spend two days on Gozo, and for the trip we chose the warmest ones from our week-long stay.
First day on Gozo
We get up earlier than usual today and with a slight supply we go to the ferry port in Cirkewwa. We position ourselves behind other cars and wait. I have a little stress, are we definitely in a good queue and are we going to Comino? However, it turns out that it's impossible to transport the car to Comino, so we don't have much choice – our car must be in a good place. After a while the ferry arrives and we set off. After a while, we pass the island of Comino.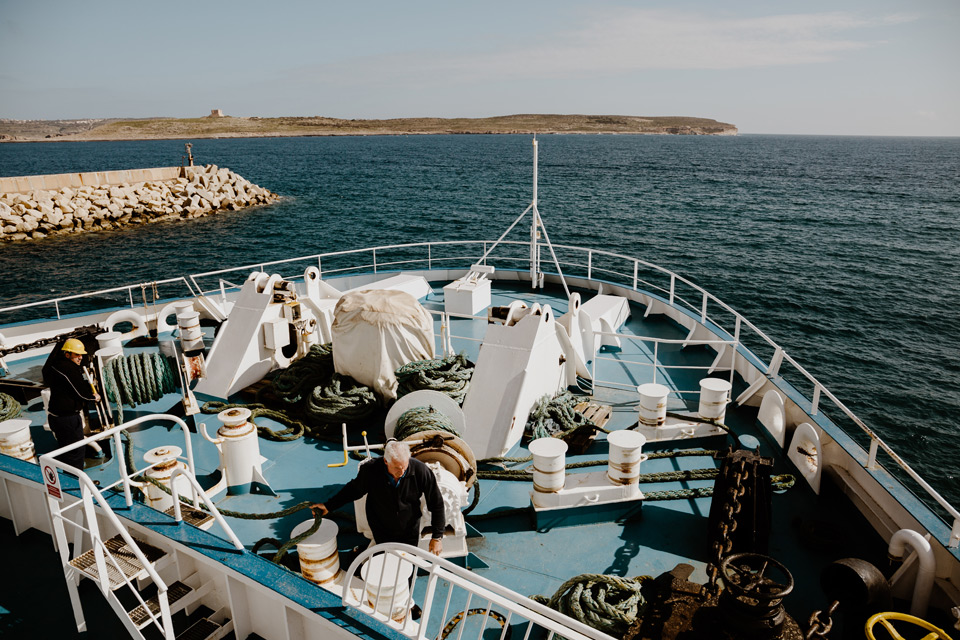 The journey pass quickly. We get closer to the port of Mgarr on Gozo. First impressions are great! We admire the views, take pictures and after arriving we go to the parking lot. There is a small problem here, because together with Wojtek, Beata and Robert we can't find the right descent and we don't remember where our car is. We run all over the ferry, finally at the last minute we look through one of the doors and on the other side we see our car! We run between the cars, jump over the barriers in the middle of the ferry and get into the car. Some already trumpet us and get impatient. We leave!
But where is my dad? We can't see him anywhere. Fortunately, it turns out that he left the ferry on foot and waits a bit further for us. We laugh at our adventures and we all set off to conquer Gozo.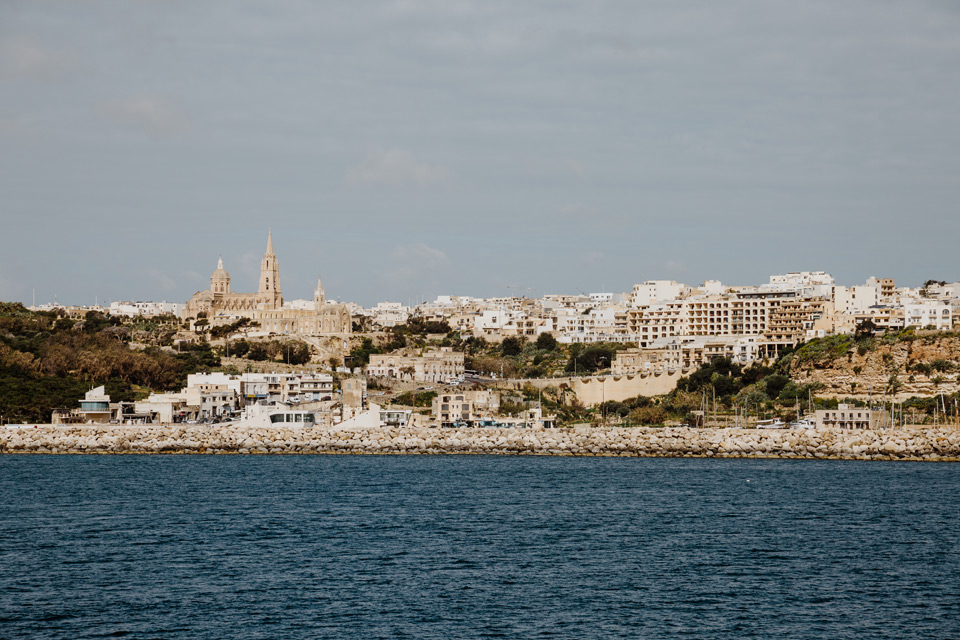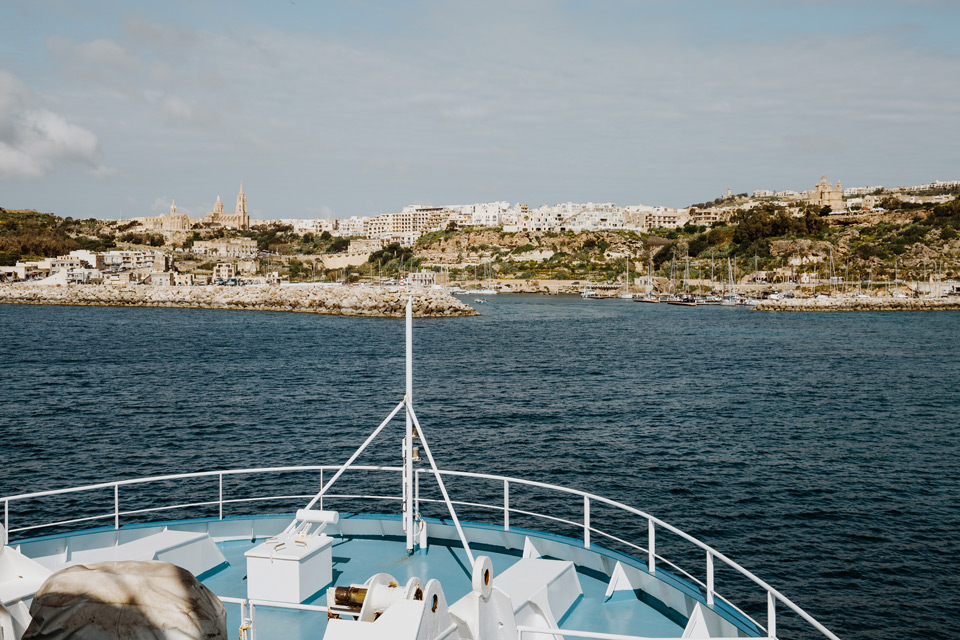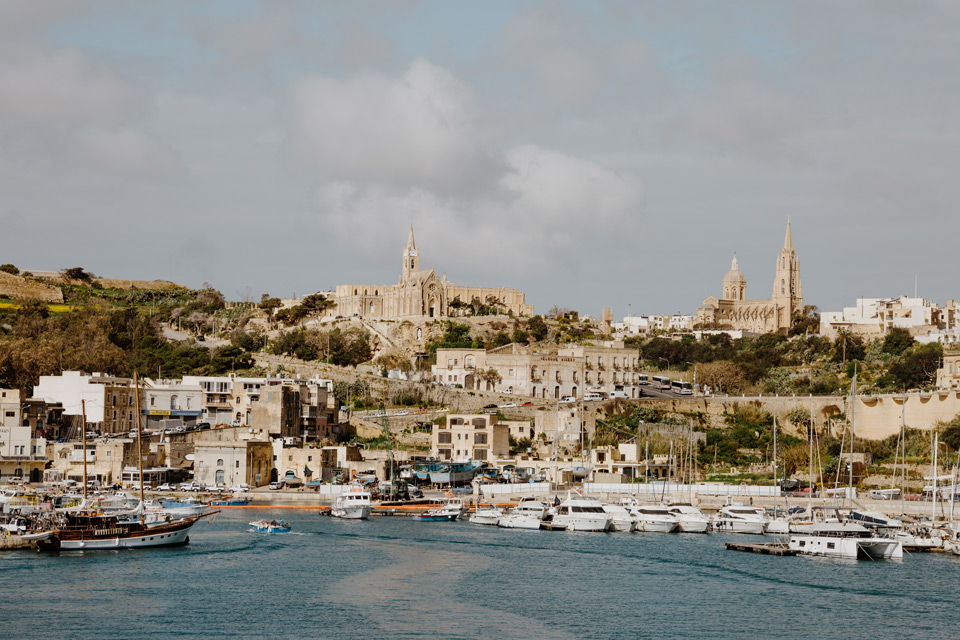 Rotunda of St. John the Baptist in xewkija
The first views of Gozo are behind us and there is a lot to see in front of us. We go towards the village of Xewkija to see the island's first attraction. You can see it from a distance. It's the Rotunda of St. John the Baptist – a huge Catholic church. We park a few hundred meters from the rotunda and go for a short walk. We go around the church, we also look into several nooks and crannies of the village of Xewkija.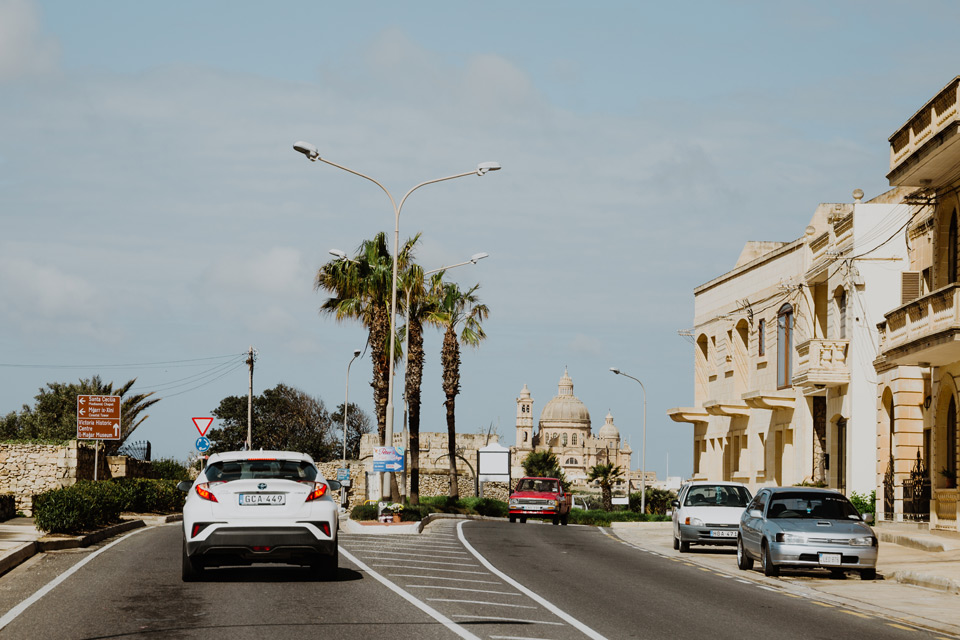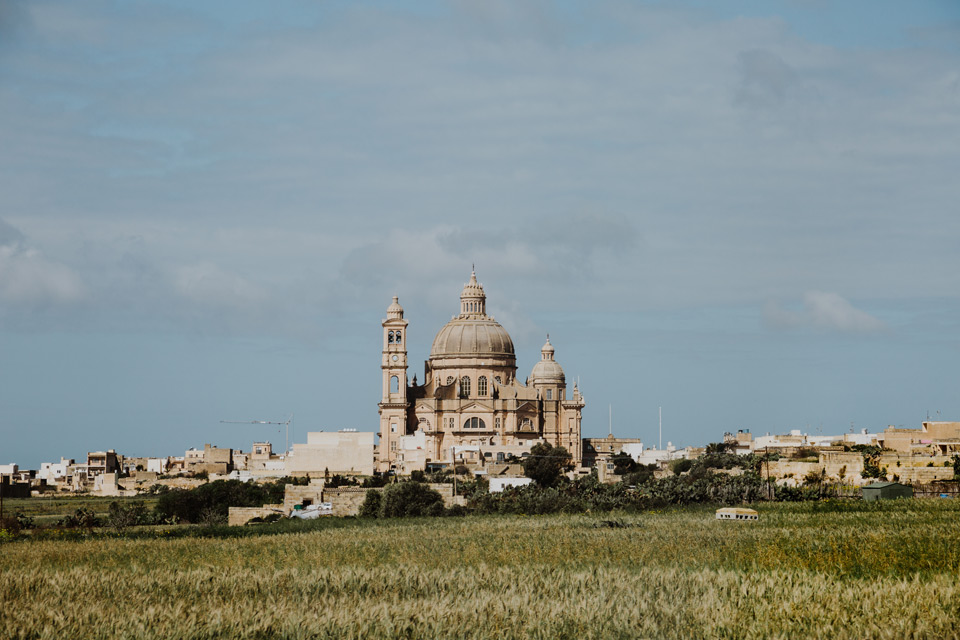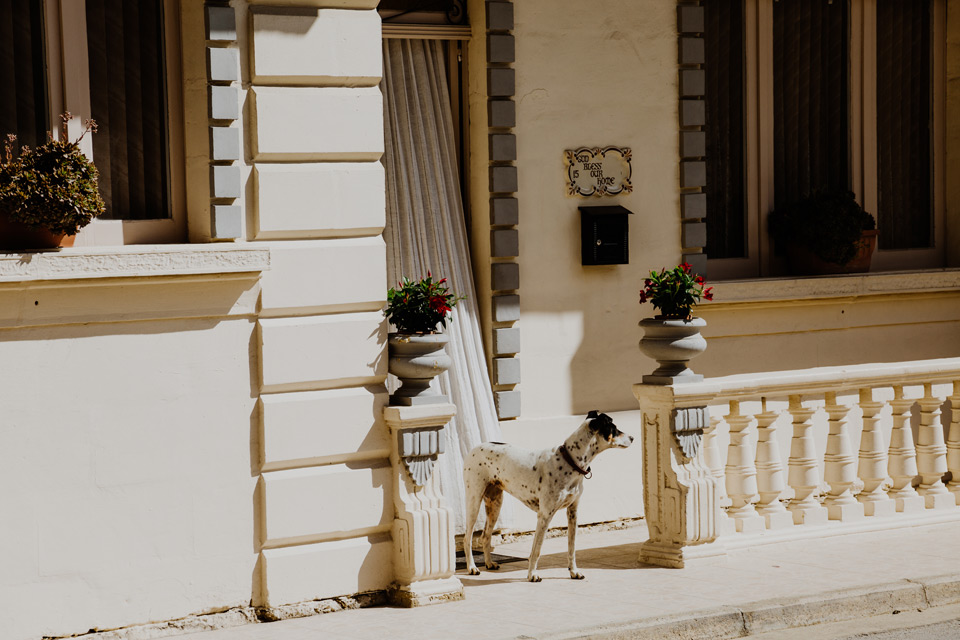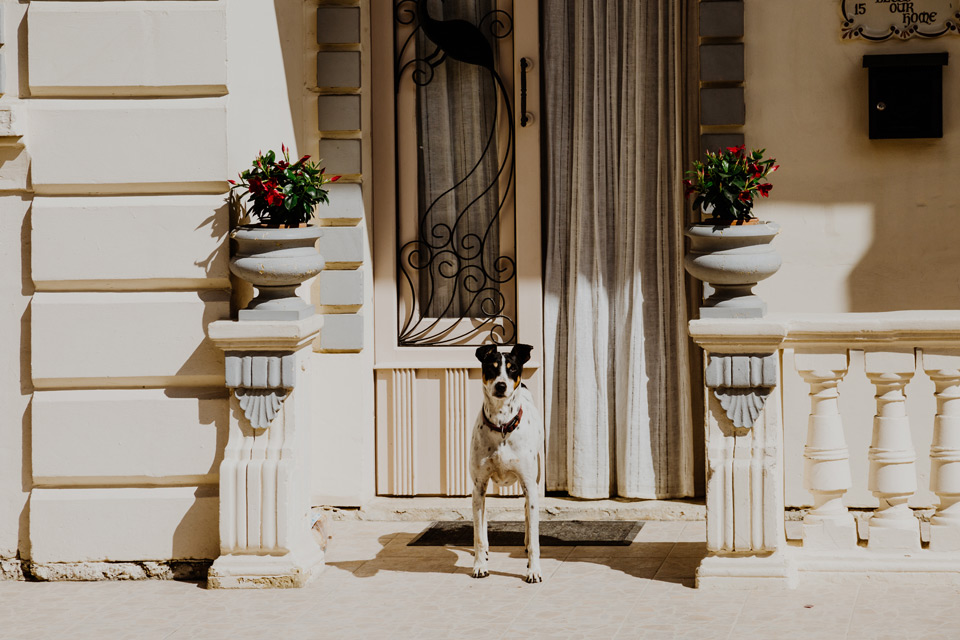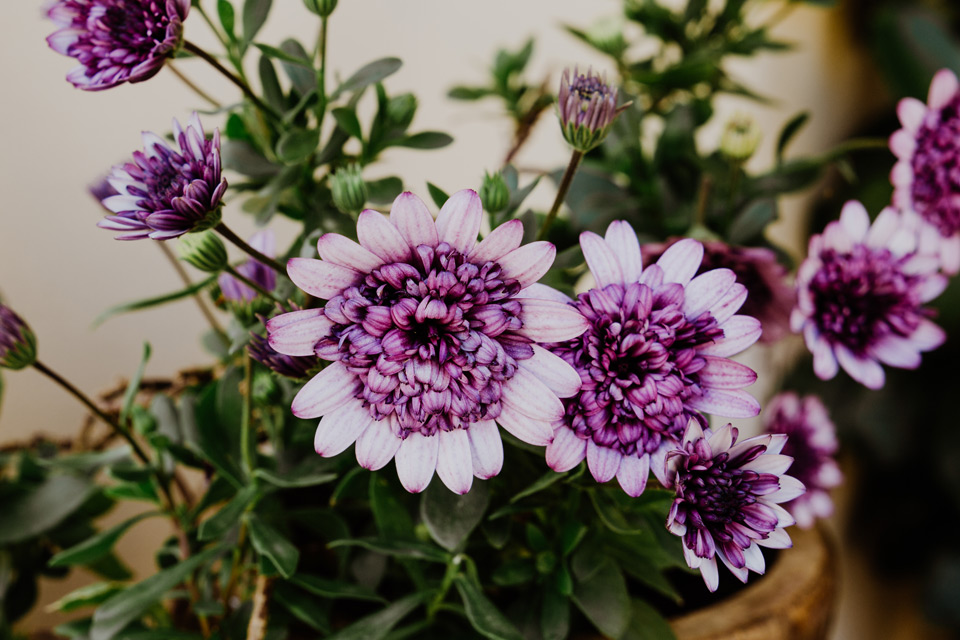 Capital of Gozo- Victoria
We pass through the capital of Gozo- Victoria, which is located in the center of the island. The main street of the city looks really interesting. However, we don't stay in Victoria today, we will visit it another time. Beautiful weather means that we want to see the sea as soon as possible, so we go further.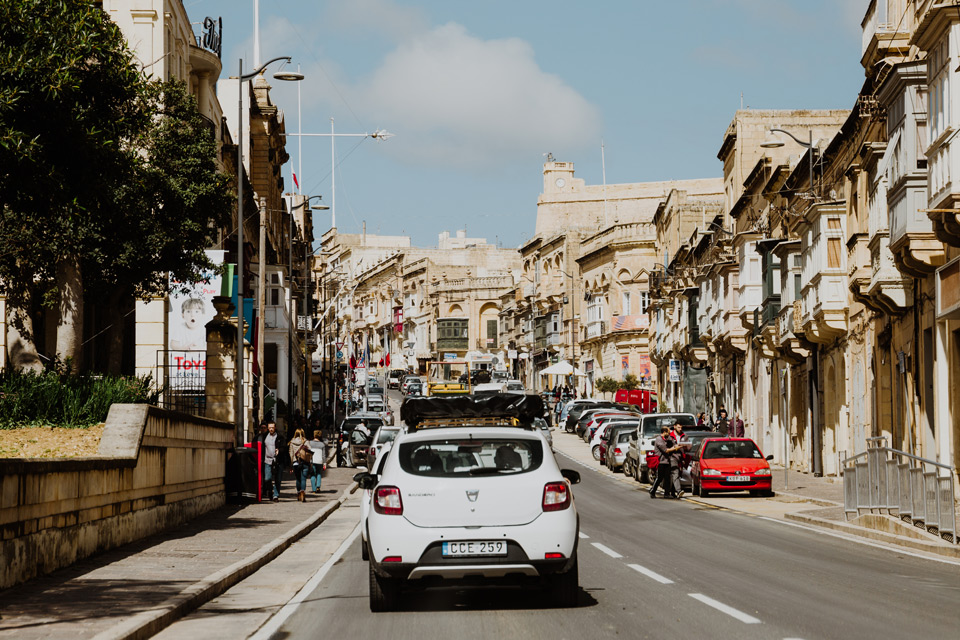 Along the way, in the distance, for the first time, we manage to see the Ta'Pinu Church. We will see it many times, also up close.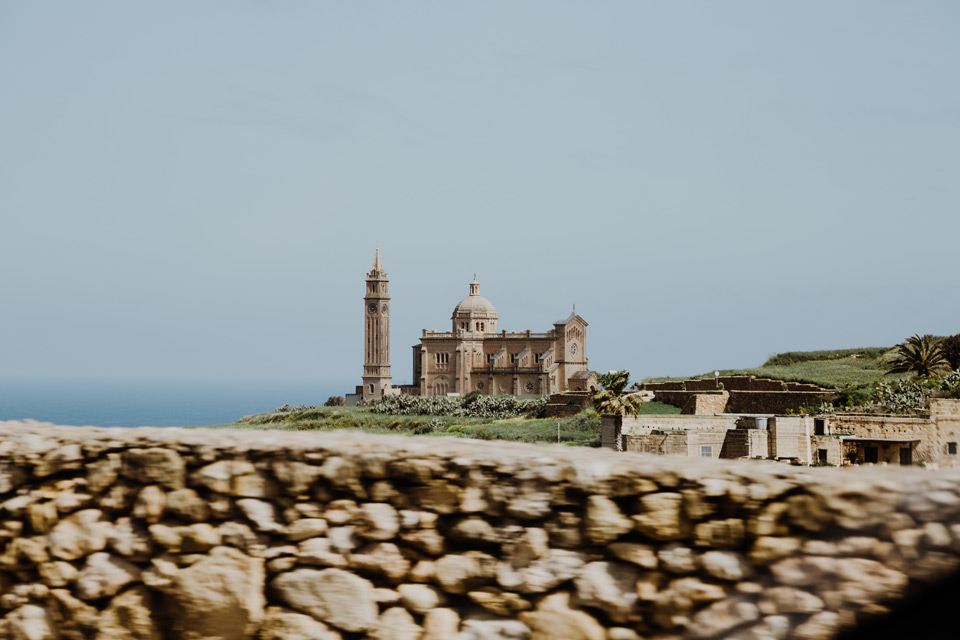 San Lawrenz and another church
You must know that Gozo is a church island. There are a lot of them here, but every other one is different and really beautiful. This is also the church in San Lawrenz. This time it's a bit smaller, but it has a charming dome and towers, and stands next to the charming old town.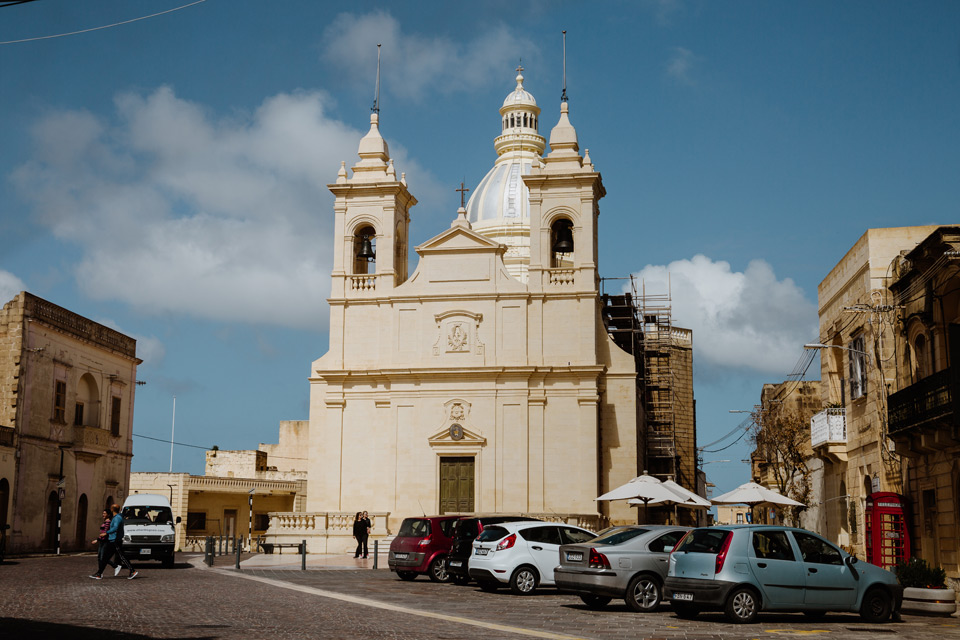 Dwejra Bay and Azure Window
After literally two minutes the sea appears. We drive down the scenic road to Dwejra Bay. This is the most famous place on the island. It's famous for the Azure Window. Unfortunately, from March 8, 2017 it can no longer be seen because it collapsed during a storm. But it's nothing, because the whole area is wonderful and it takes several hours to enjoy it and get to know all the hidden attractions.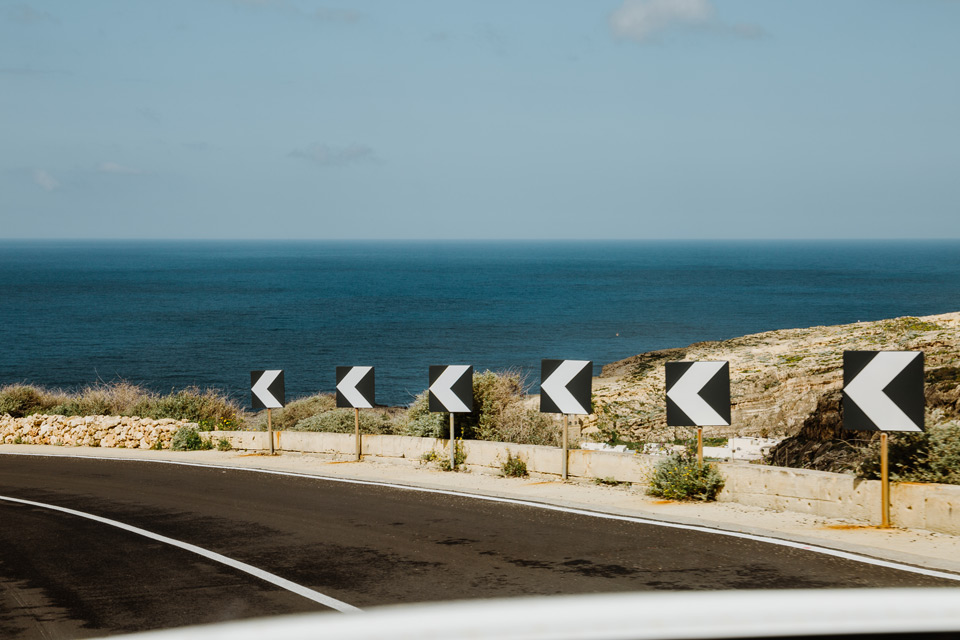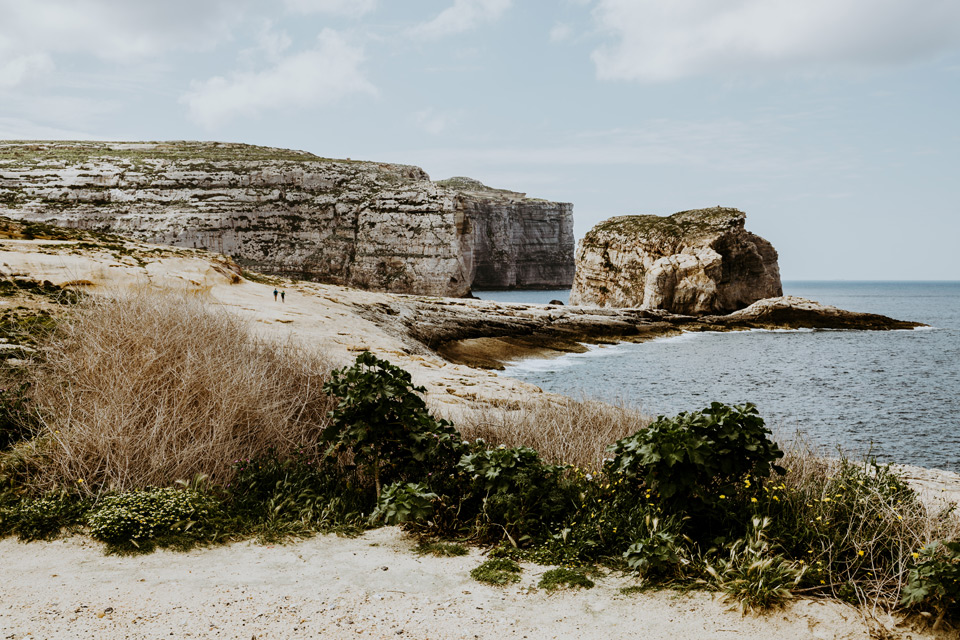 We get downstairs, we park the car in a large parking lot. It's quite early, so there are a lot of free places. We descend to the sea and walk slowly over the rocks. The area is quite interesting, has uneven ground, there are many smaller and larger holes in the rocks – some are flooded with water.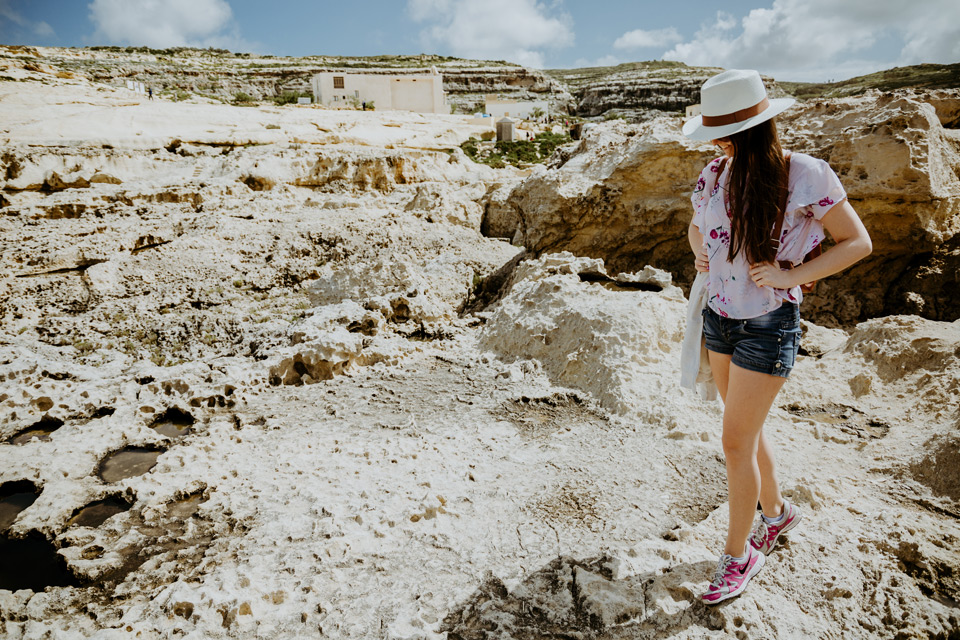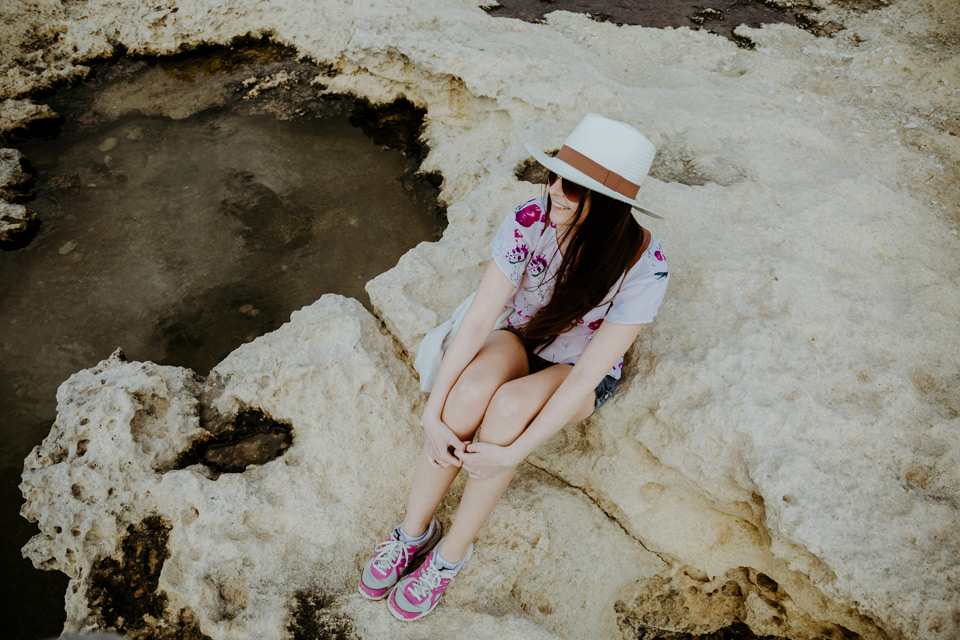 When we look to the left from the sea, we can see Fungus Rock in the distance. That's the name of a rock that looks a bit like a sea-grown mushroom.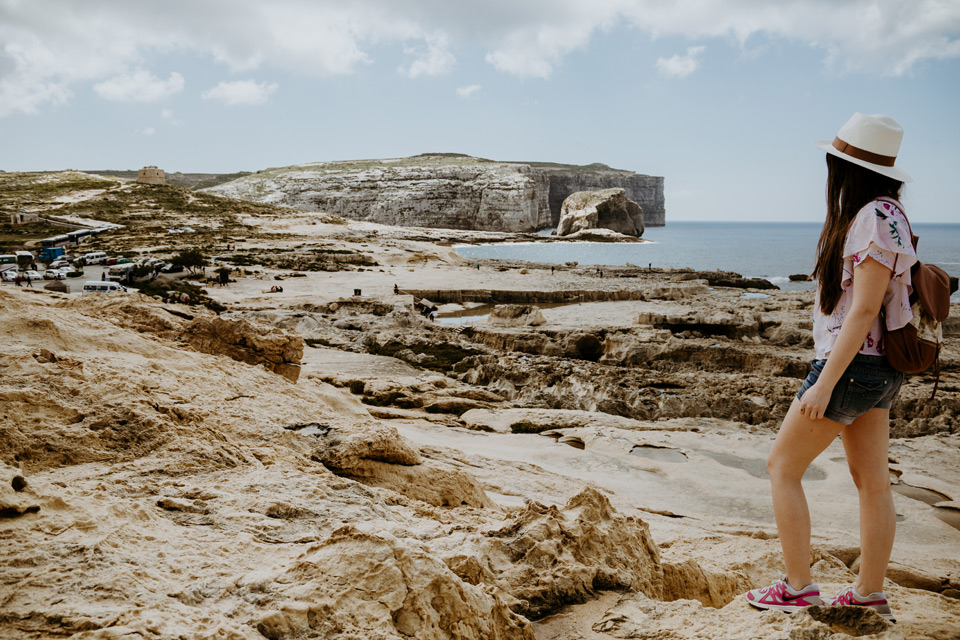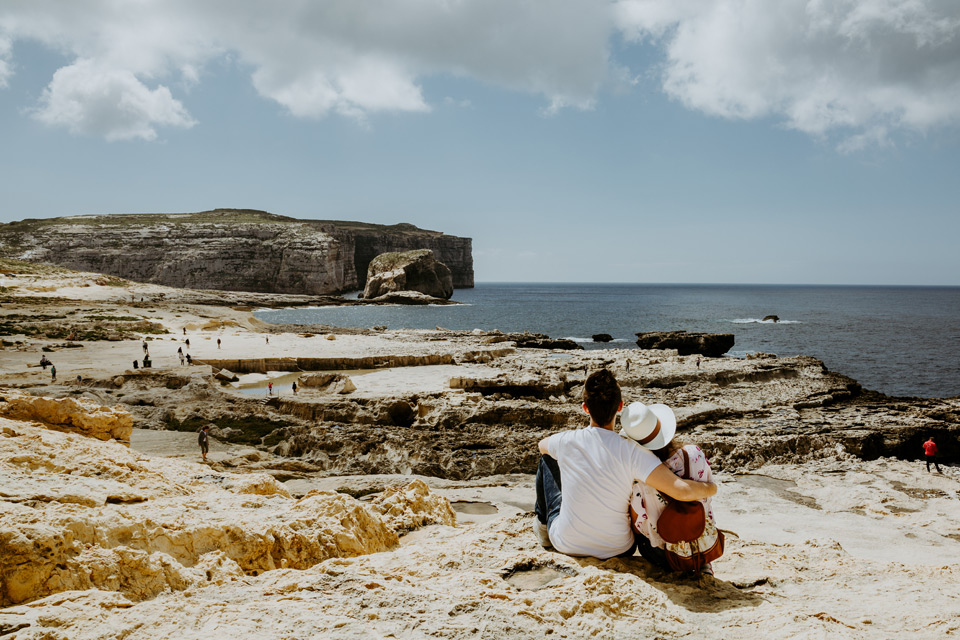 Inland Sea
Near the car park there is the Inland Sea. It's really a lake. The pictures show how people wait in line on the pier and several boats sail. If you fancy a short trip, you can take an example from them and go boating. The lake is connected to the sea by a small isthmus in the rock, so it can be an interesting experience. All we need however are top views.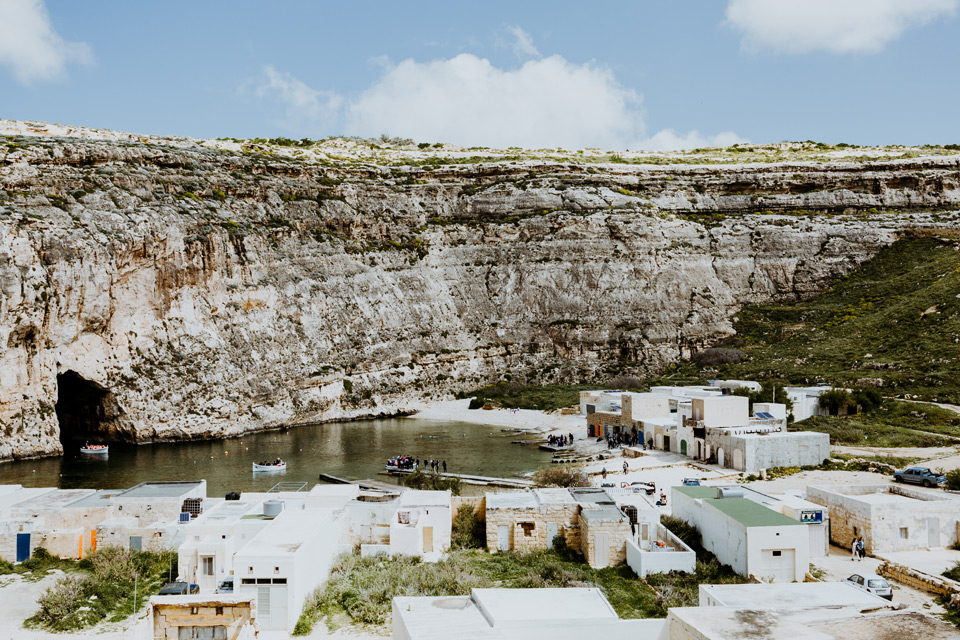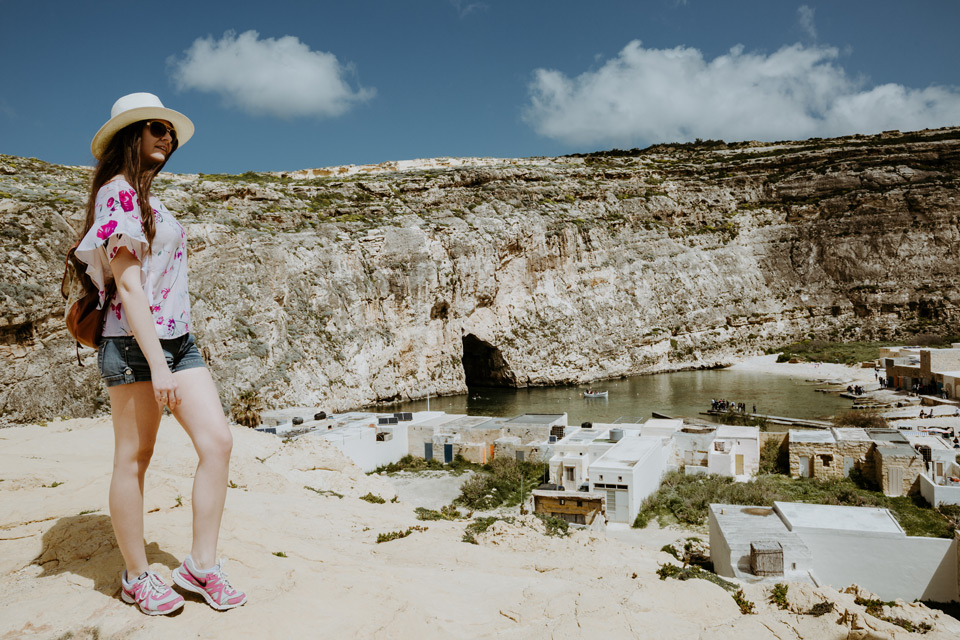 Azure Window
We come back to the rocks. I show everyone the place where the Azure Window arch was located. We ask Beata for some pictures and we laugh that I will add a bow in Photoshop. As you can see I didn't add it. I like this place as it is.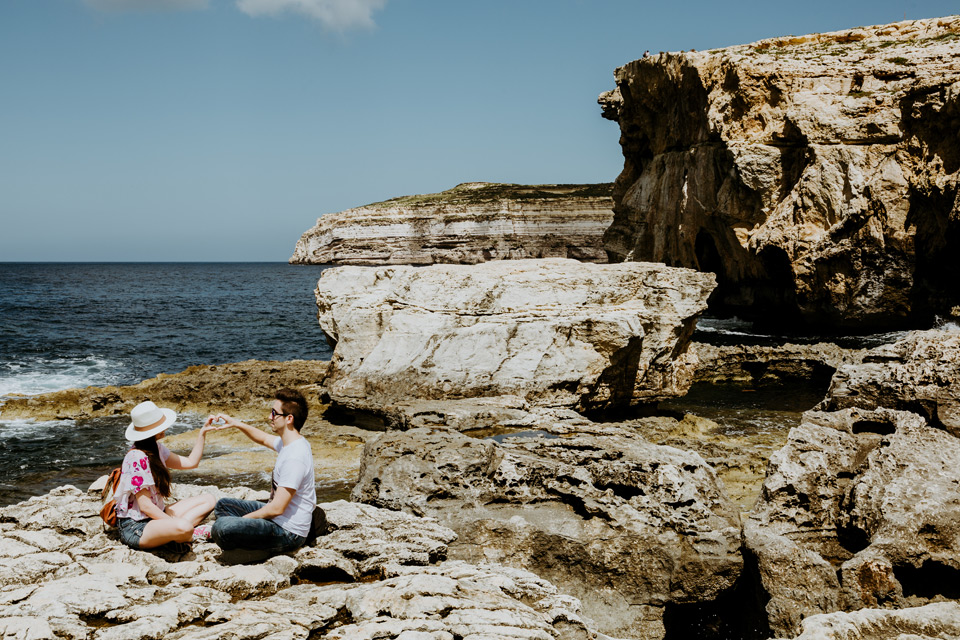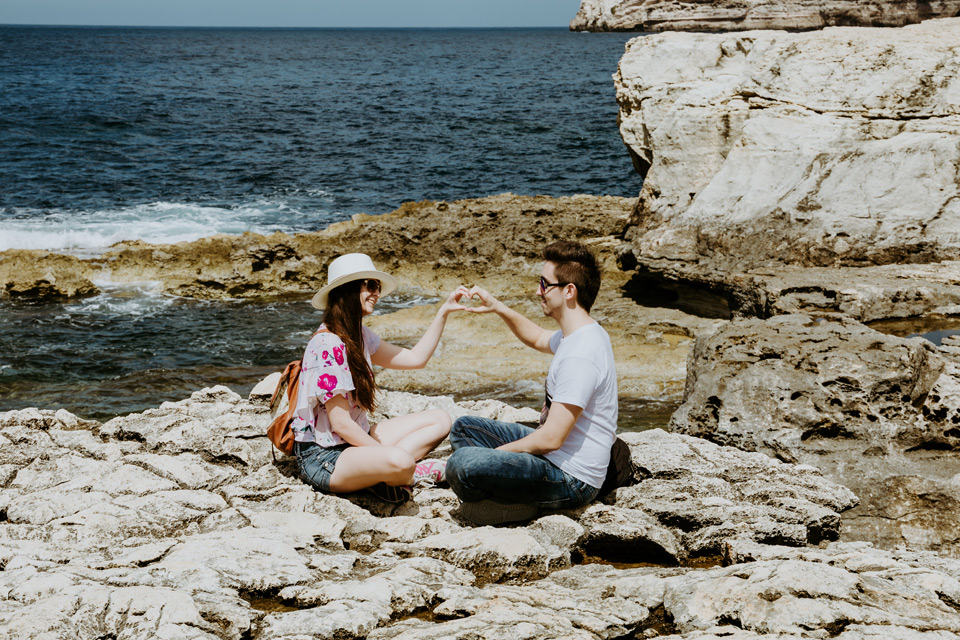 walk to the Fungus Rock
We are very interested in the areas near the Rock Mushroom, so we go for a walk along the sea. On the left we pass a small tower – there is a lot of them all over Malta. Were it not for our quick travel companions, we would go with Wojtek an hour longer because we like it very much here. We only stop for a few moments in a few places where I can see interesting frames and photo ideas in my head.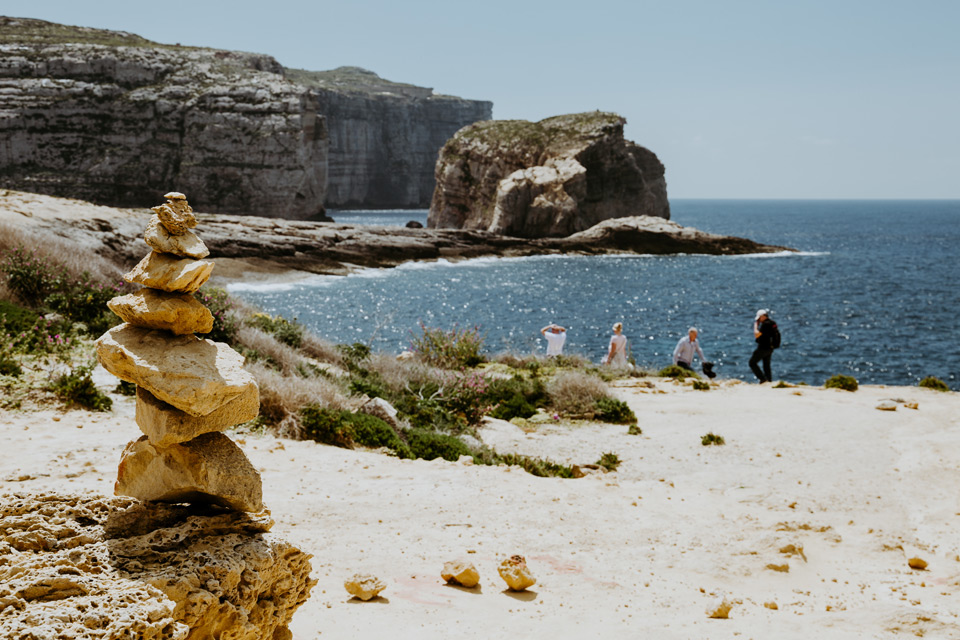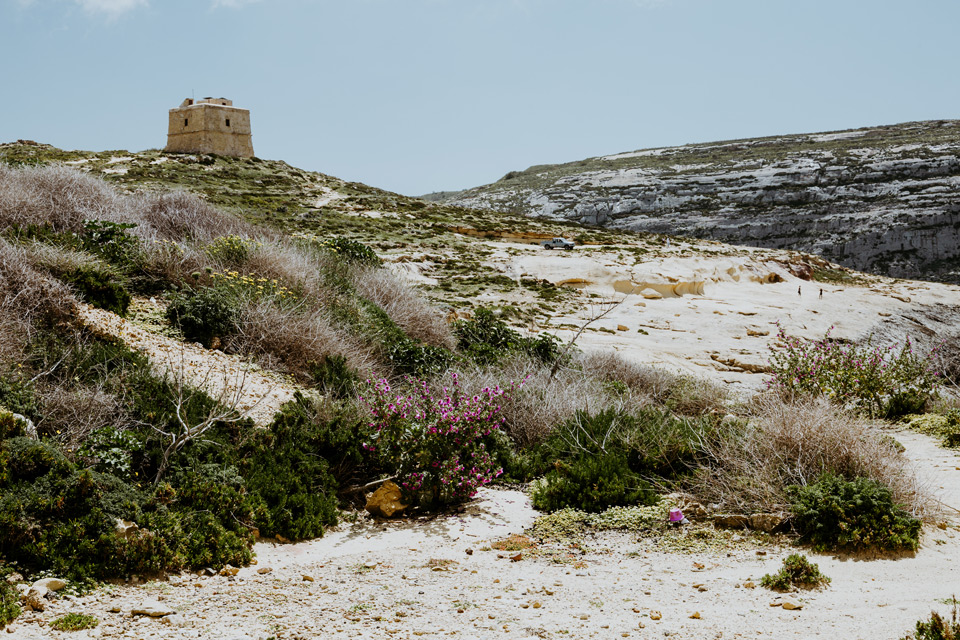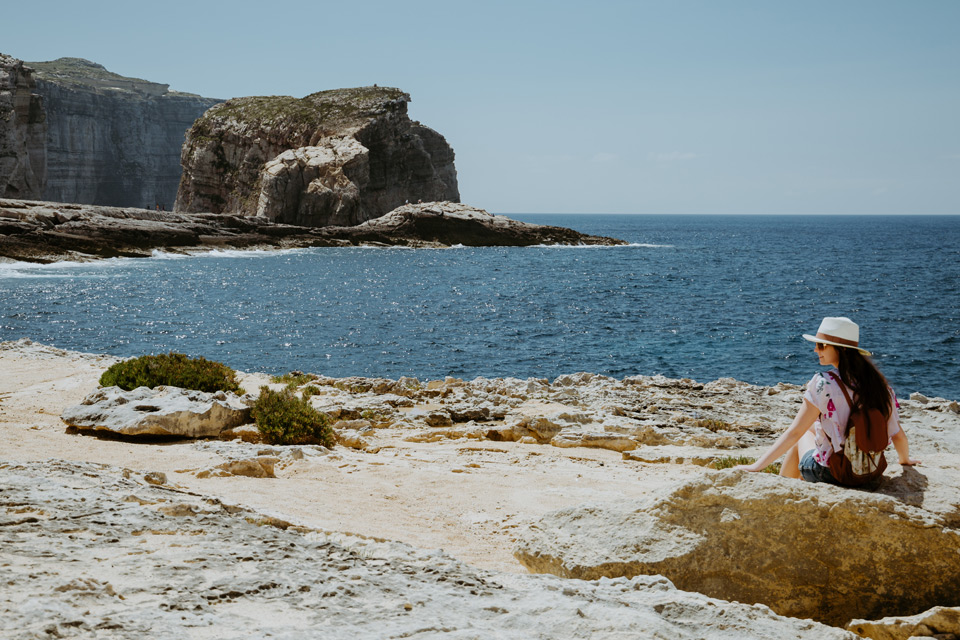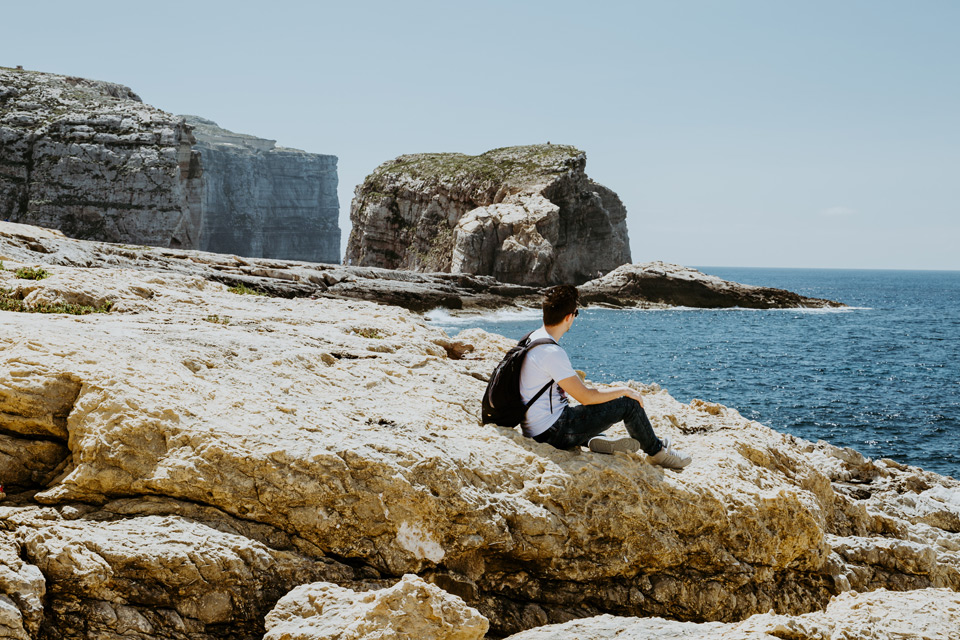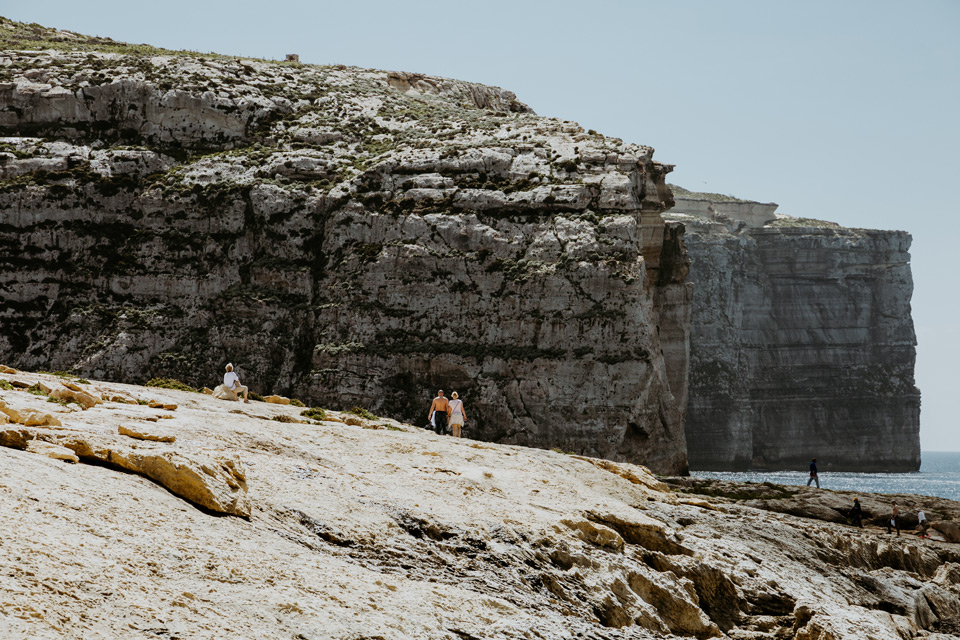 Finally, we reach under the rock. In the meantime, my dad had reached the end of the promontory, which can be seen in the photo below. Fortunately, my sister is close and she takes our favorite photo of us from the whole trip. Later the camera is taken over by Wojtek. We set out on the promontory on which my dad has been waiting for us for a long time. The views are fabulous, see for yourself!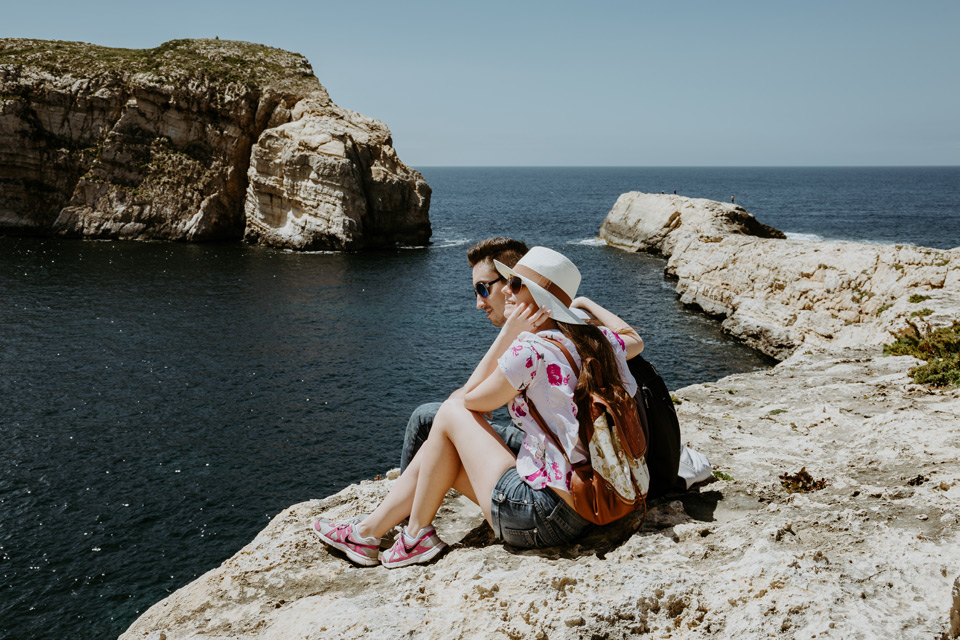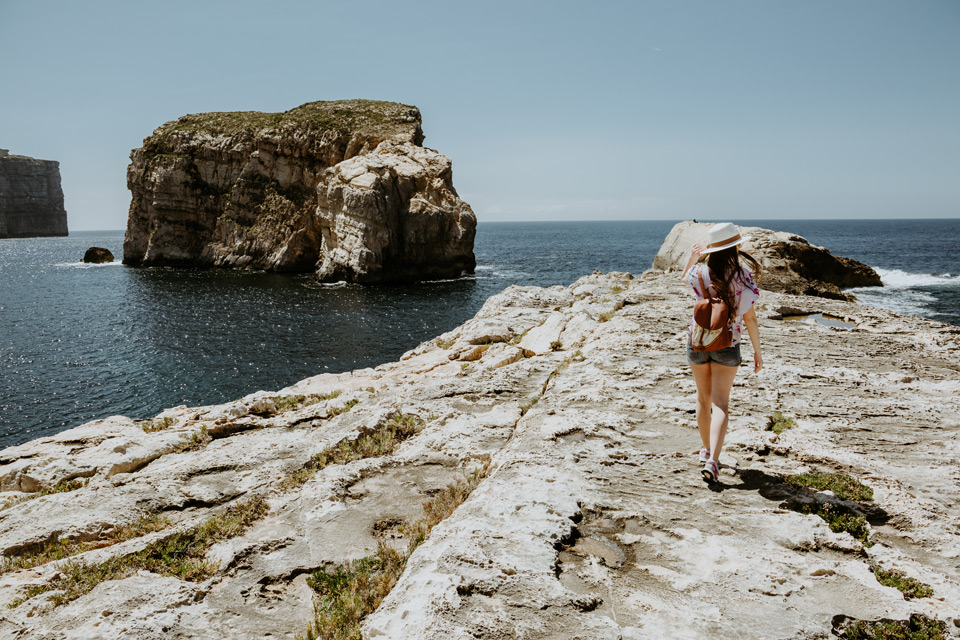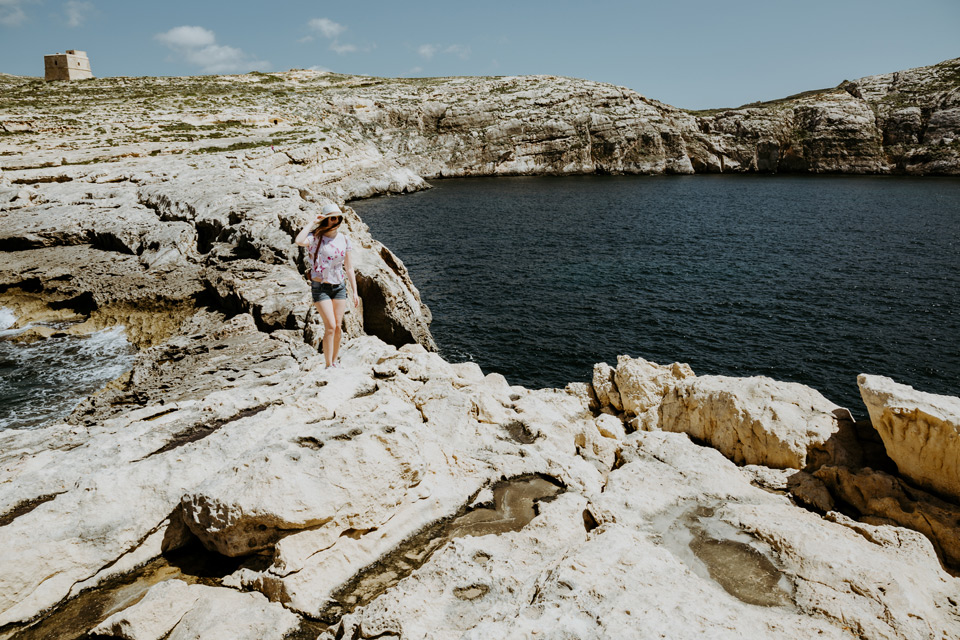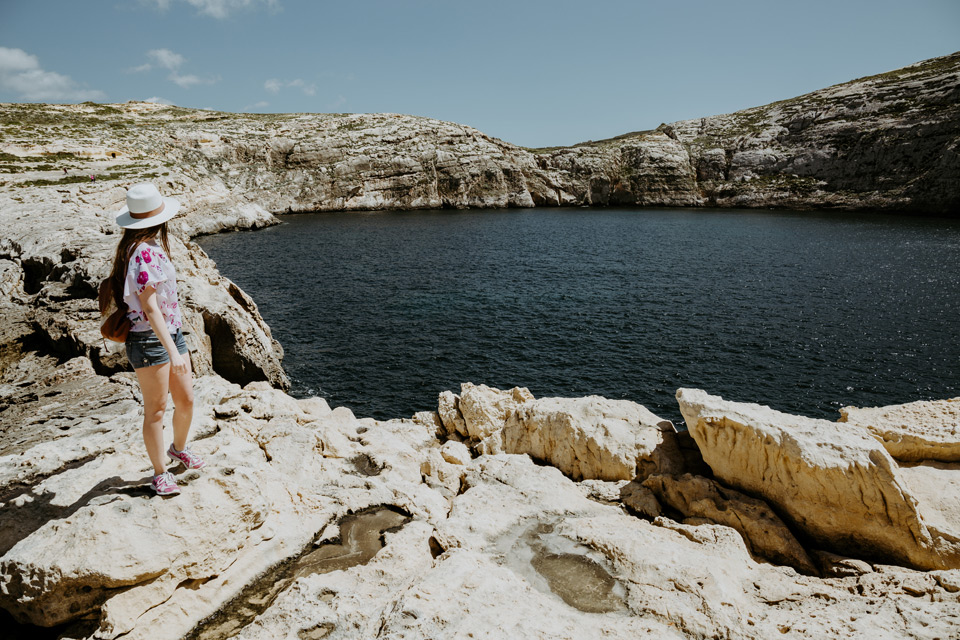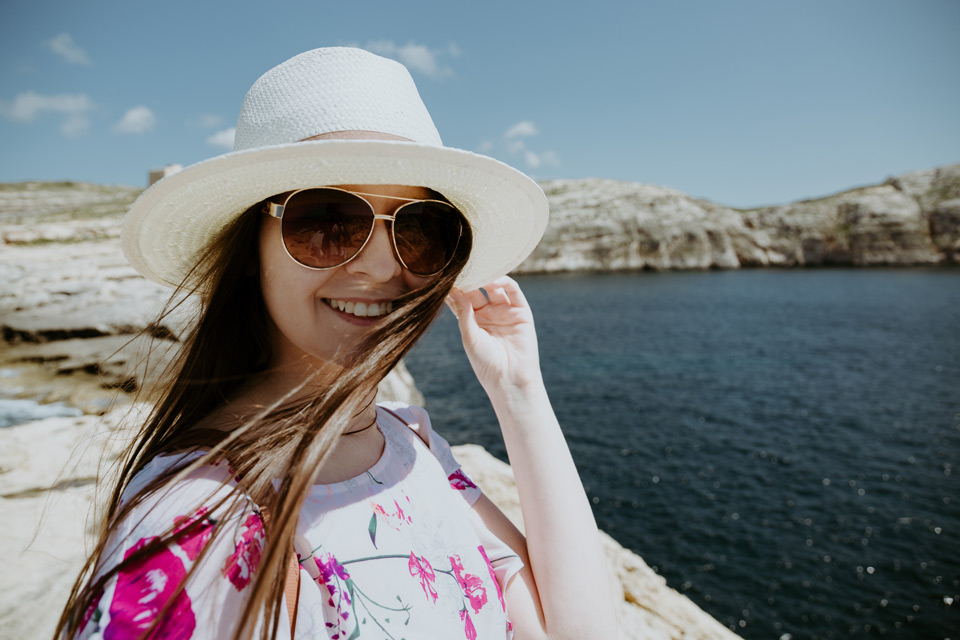 I have to mention that there are a lot of lizards on Gozo. Every now and then beautiful little creatures got entangled under our feet. Fortunately, I didn't see any snake, because I hate these, and I shudder at the thought of them.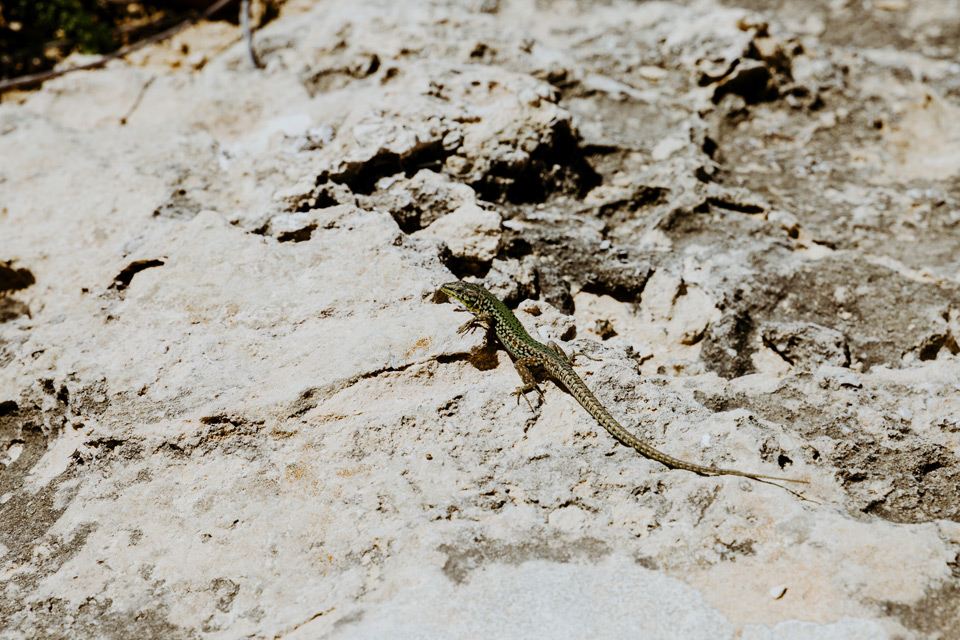 Dwejra Bay- hidden bay
Now we'll show you a place we haven't seen on any blog or any Gozo guide. Robert discovered it, so he deserves an applause. He leads us along a small path, and then stairs appear before us. Very scenic ones! There is nobody down below us, only a little higher on the rock there's sitting couple. The water in the bay and the surrounding rocks have a beautiful color. I totally don't understand how it happened that we are almost alone here. Even at Fungus Rock we met only a few people. People come on holidays to see something, and they don't even want to go for a short walk in the immediate area. Don't be lazy, you must visit this place.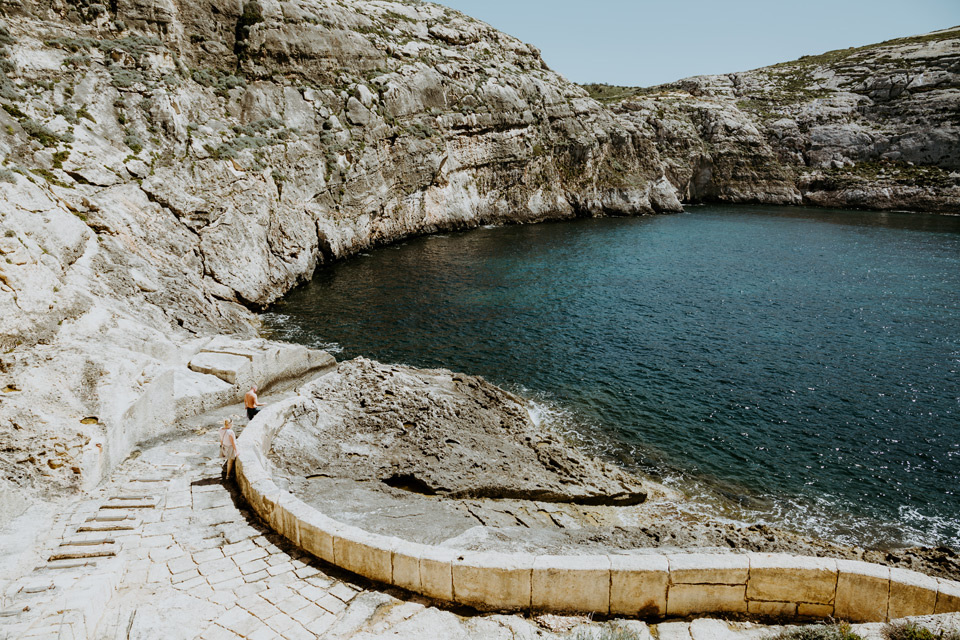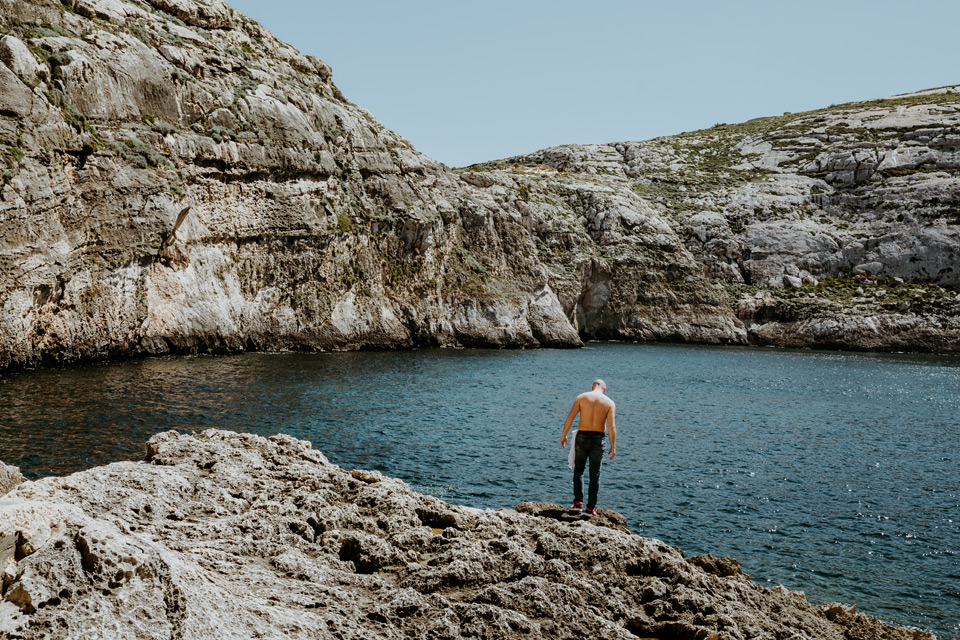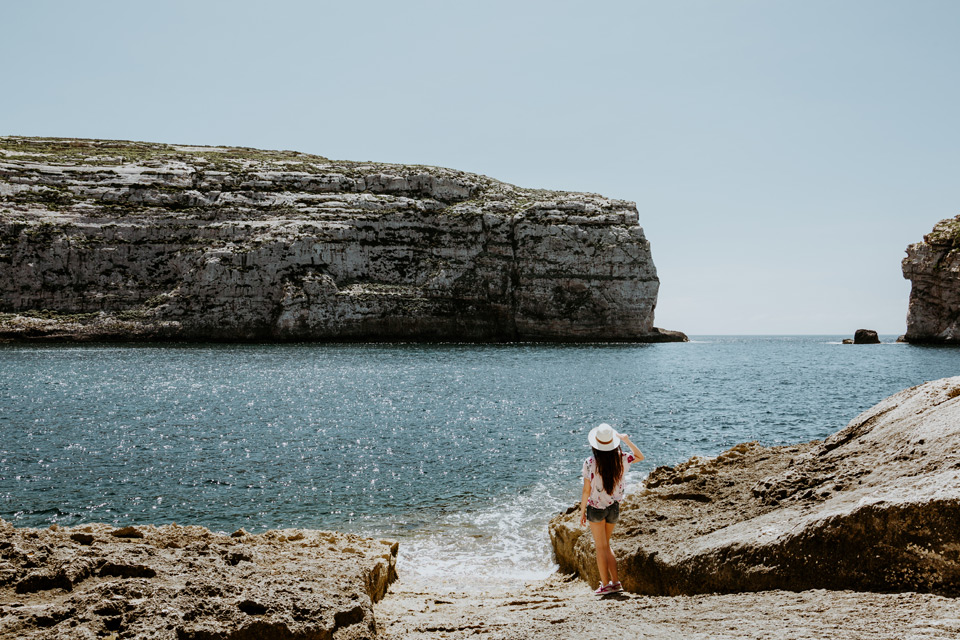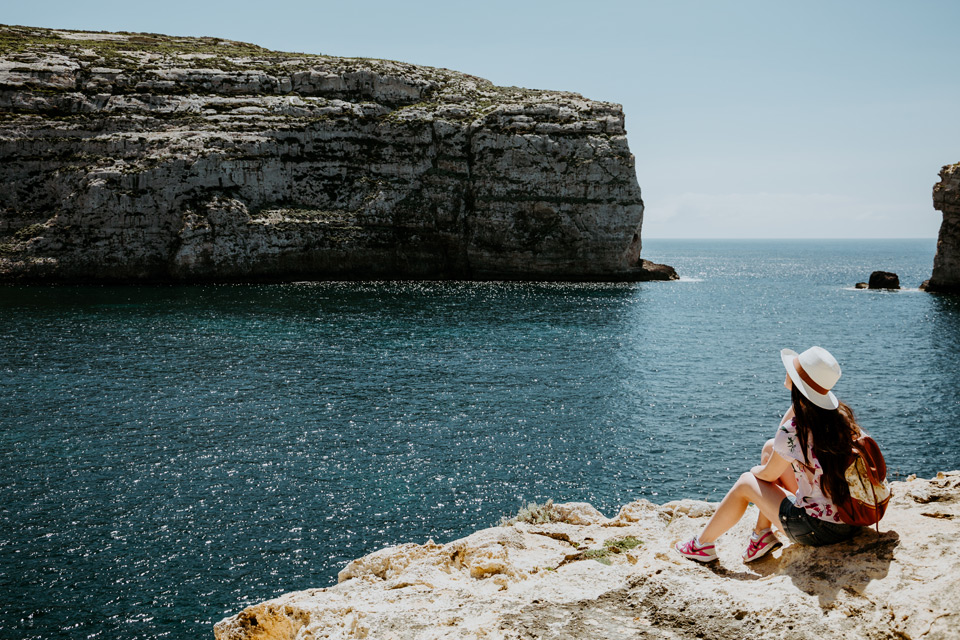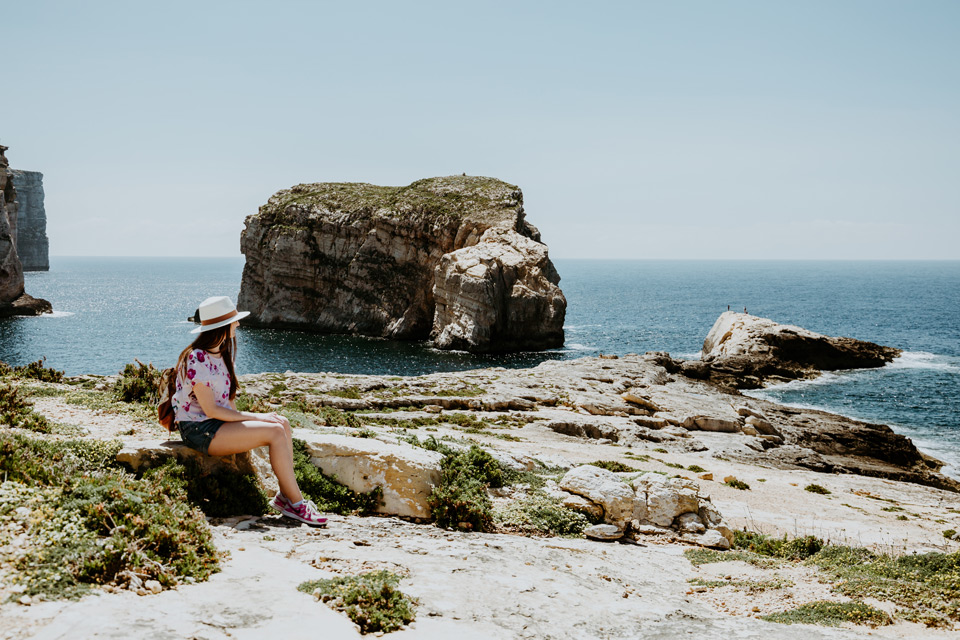 How we spend the rest of the day, you'll find out in the next post. Below are links to the next parts of the report. Come check them.
Practical information
The ferry to Gozo costs 4.65 euros per adult return. You pay 15.70 euros for a passenger with a car.
On Gozo, as in Malta, there is left-hand traffic.
Map of today's route: tutaj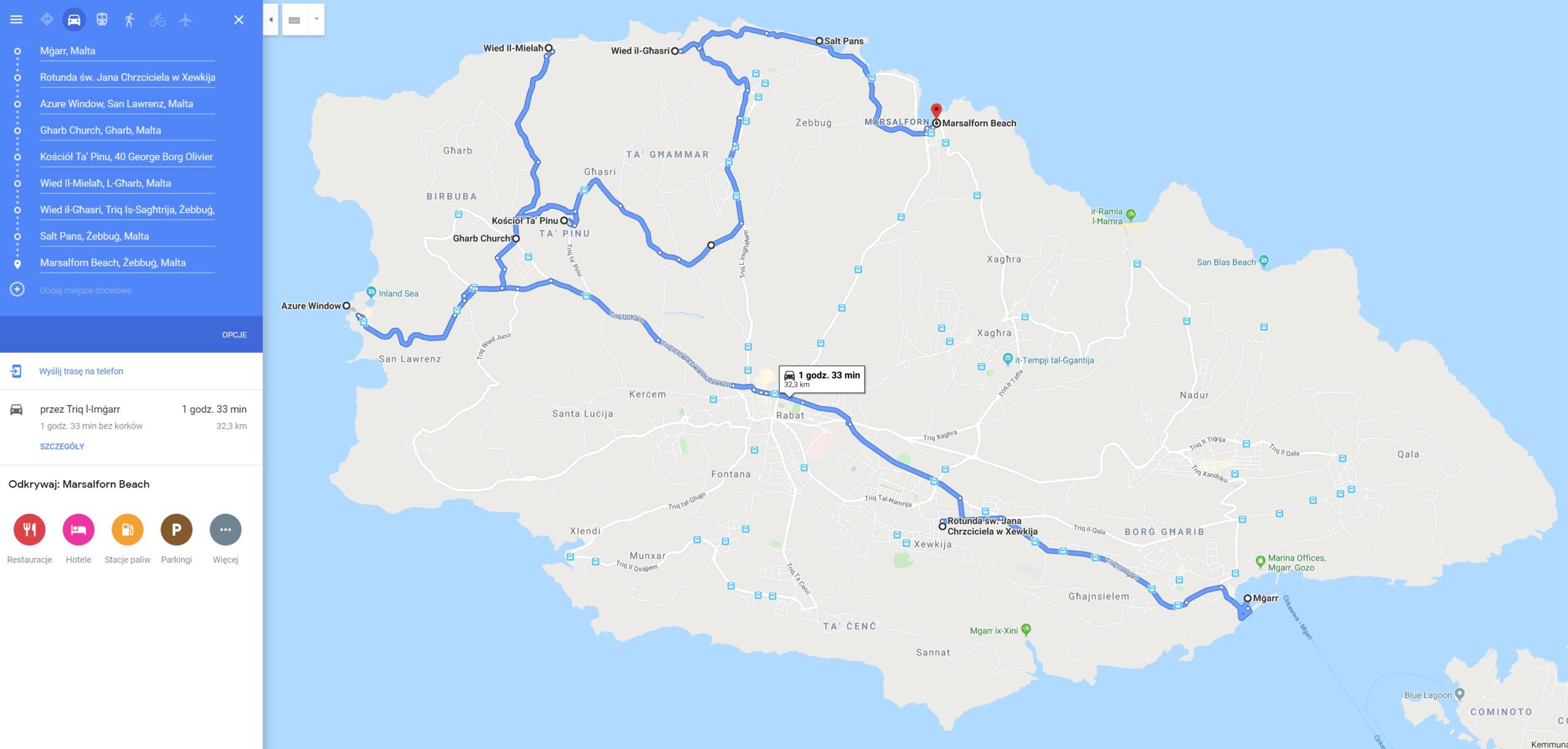 Thank you for reading the entry!
If you think it is interesting, we would be pleased if you leave a mark in the comment.
You will find more posts from Malta here:
There are direct links to the next and previous episodes below.
All our travels: Travels
We also invite you to our Instagram and Facebook fanpage, where you can be up to date with all our travels.
See you later! 🙂