Today we plan to visit the town of Nerežišća, see Pustina Blaca, enter the highest peak of the island of Brač-Vidova Gora, and look for lavender in Donji Humac.
Nerežišća and chapel with pine on the roof
We leave Supetar heading south. We stop in a parking lot in Nerežišća. There are a lot of lizards in the nearby bushes. I capture them in photographs.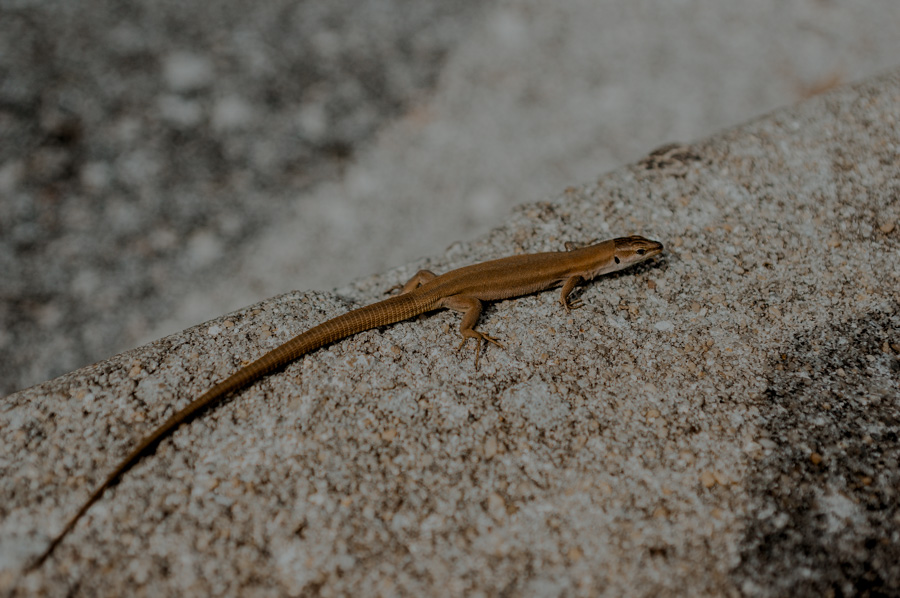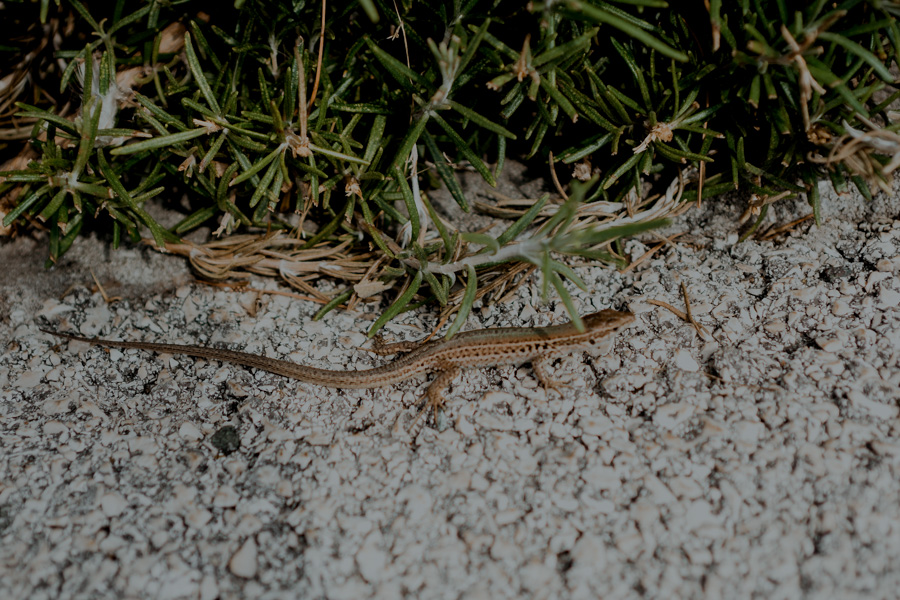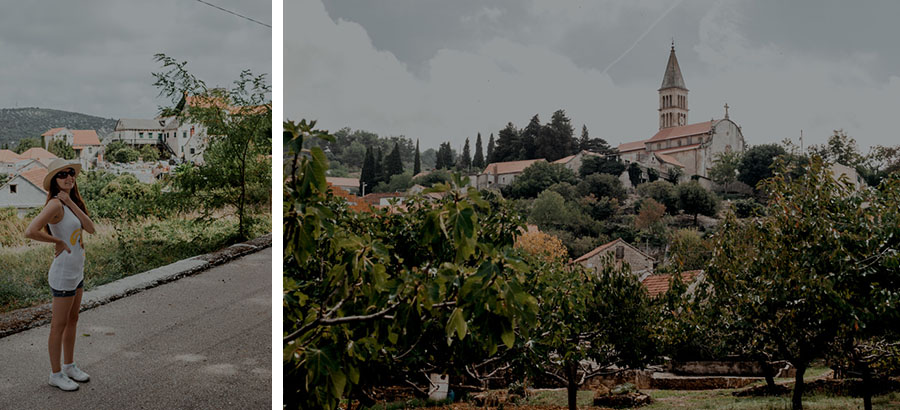 We go for a walk around the town. We see stairs and we go up. We pass the parish church dedicated to Our Lady of Carmel. From someone's report I know that there is a "house with a tree on the roof" somewhere. We look for him, but we do not know which way to go.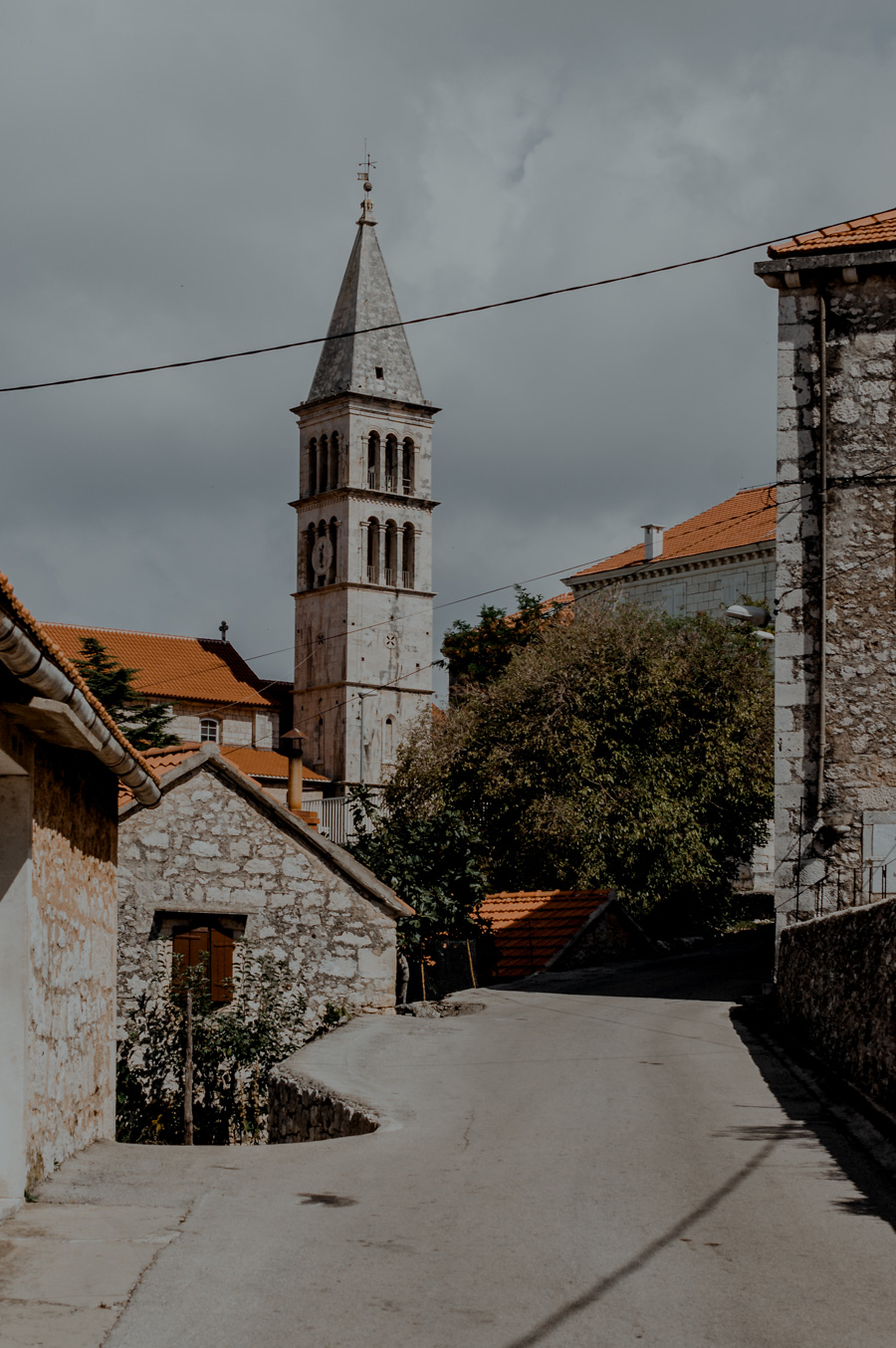 We come to the highest situated parts of Nerežišće by accident. At the top there are such views: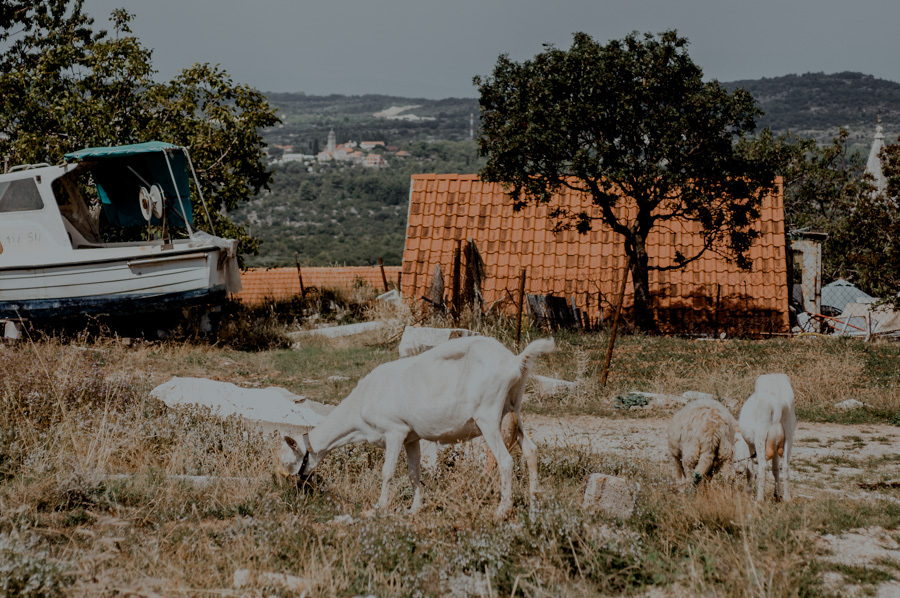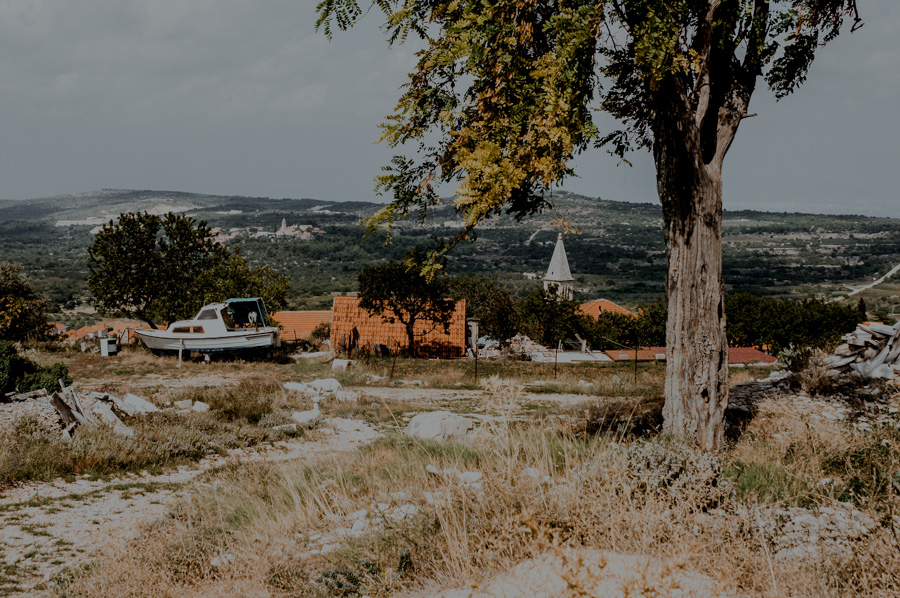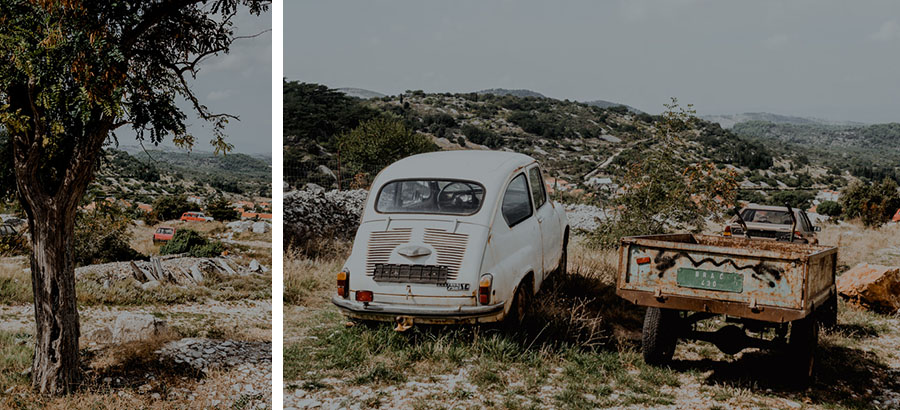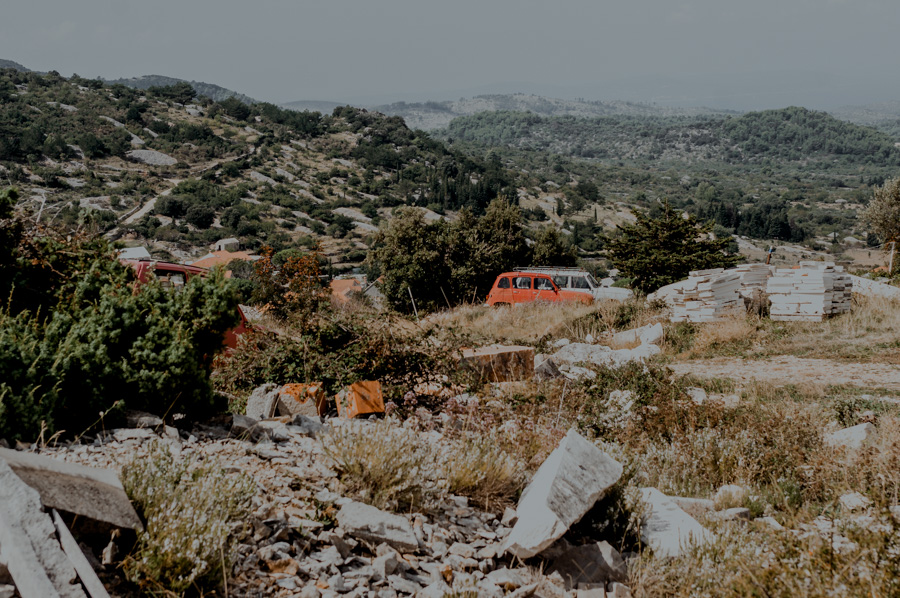 We meet nice Croats here. I ask in English for a house with a tree. A funny Polish-Croatian conversation goes on. They do not quite understand what I say to them and what I draw with my fingers in the air. Lady consult something with her husband. After a moment, she says to him, "Moze bic to?" (May be it?). I hear words that sound similar in Polish and I say, "Moze bic to". They show us which way to go. We guess that we have to go to the center of the village. We go down a similar route as the other side and descend the stairs. In the distance we see Donji Humac.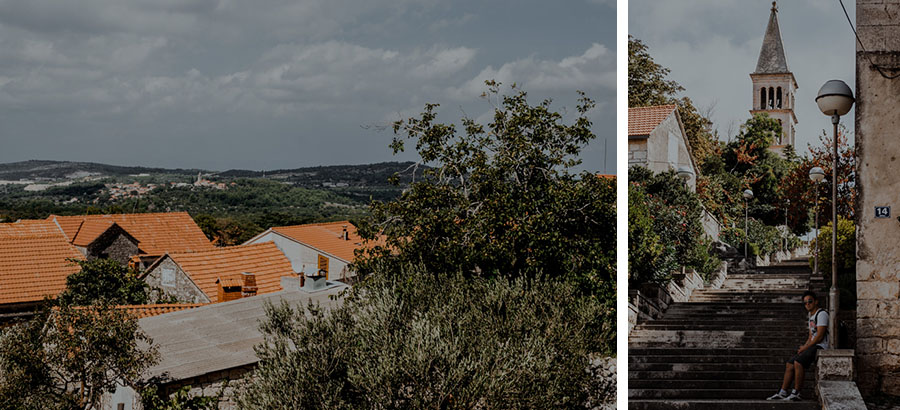 We head in the designated direction. After traveling a few hundred meters a wanted "house" appears in front of our eyes. This is exactly the Saint Peter's Chapel, and pine has been growing on its roof for over a hundred years. In 1969, it was recognized as a natural monument.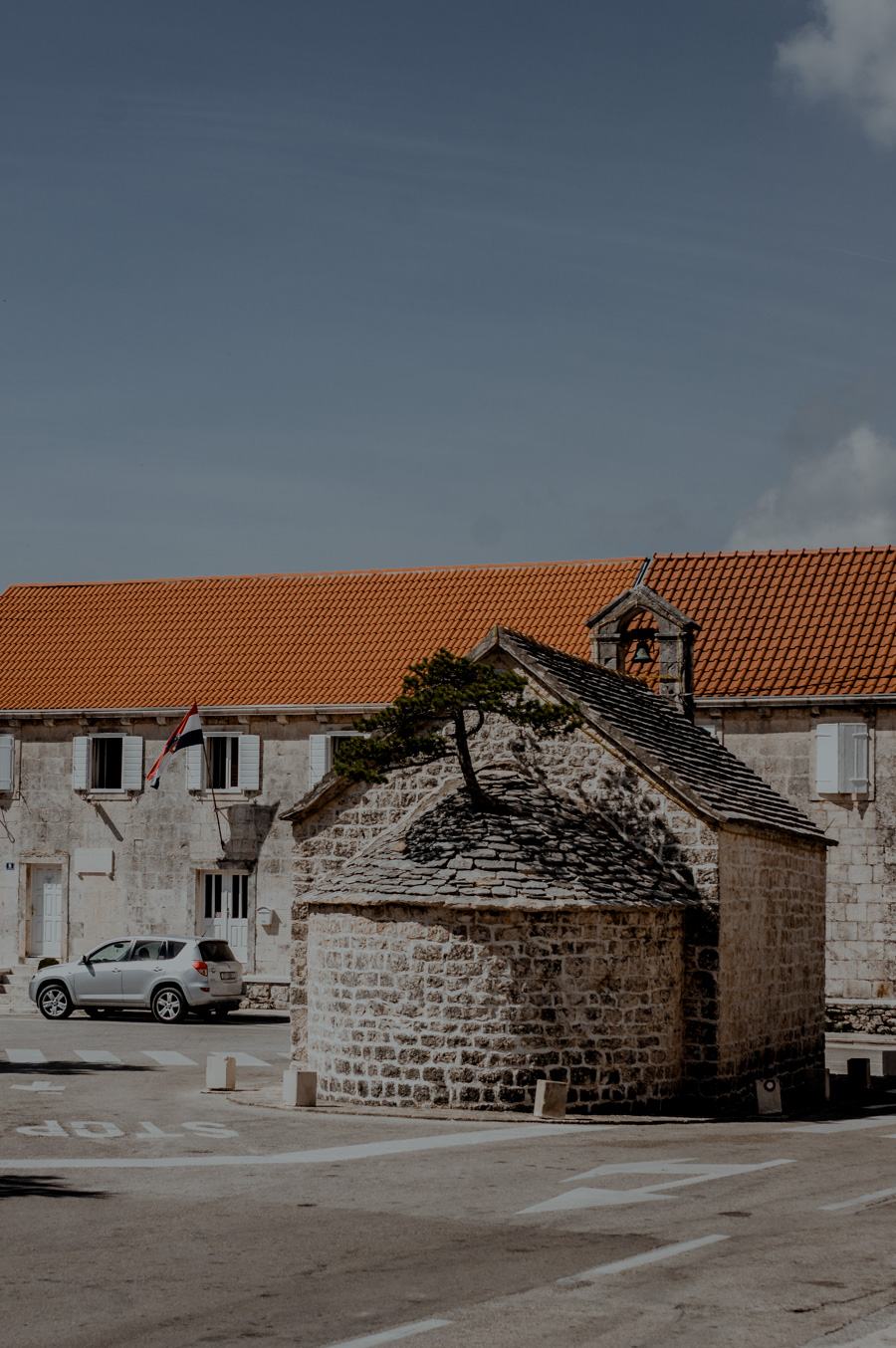 On the way to the car, we see such ruins: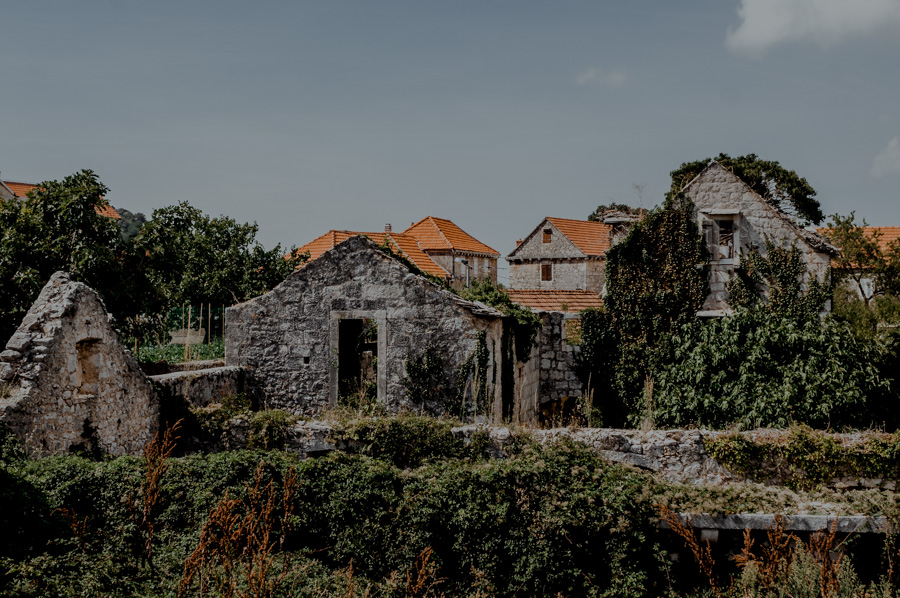 We go back to the parking lot and move on.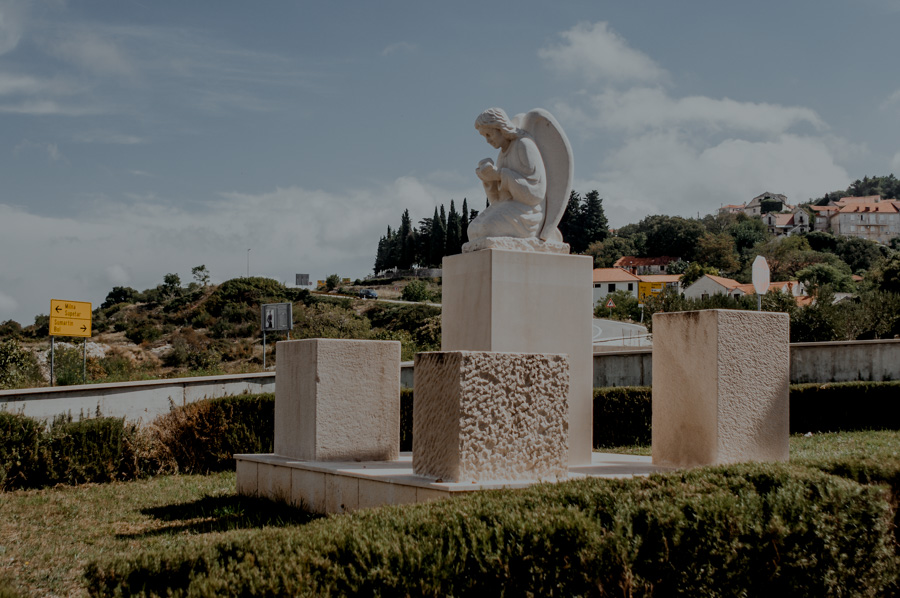 Hermitage blaca- "must see" on the Brač island
Our goal is Blaca Hermitage (otherwise Pustinja Blaca). A sand-gravel road leads to the place. There are no large holes, so you can easily get there by car, even with a lower suspension. We cool ourselves a little longer in the car and set off on the road. I recommend that you buy trekking shoes. The route is not very difficult, but sometimes there is a lot of pebbles and it's easy to slip.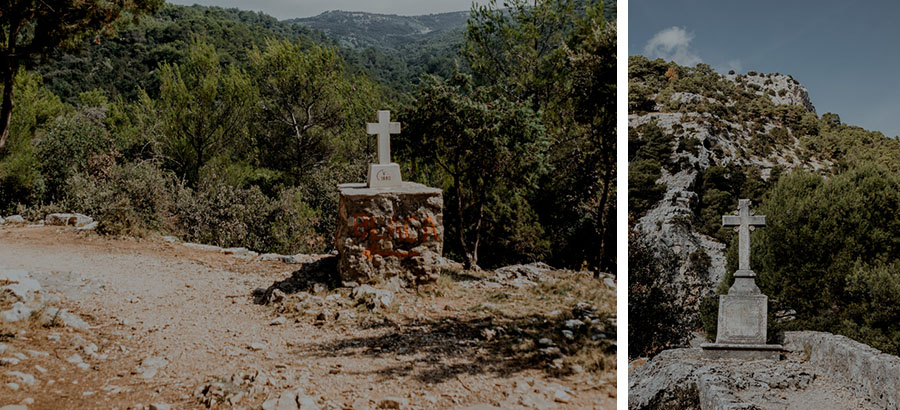 After about 30 minutes we reach the destination. You can also reach the hermitage by sea from Bol. It can be reached by boat to the bay of Blaca and from there, with a guide, you go up to the hermitage. I do not know which option is better. We chose the land road. It was the most convenient for us.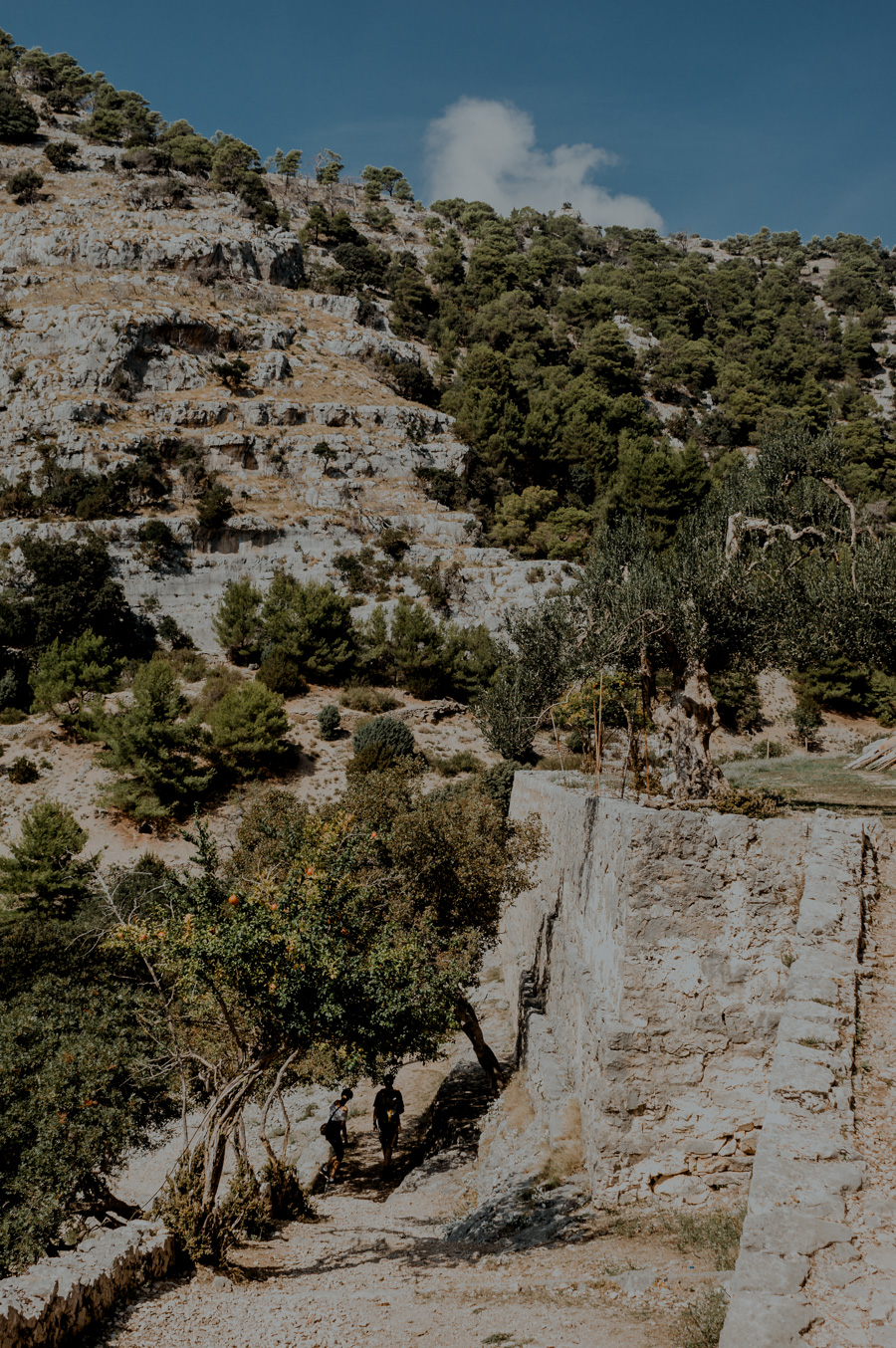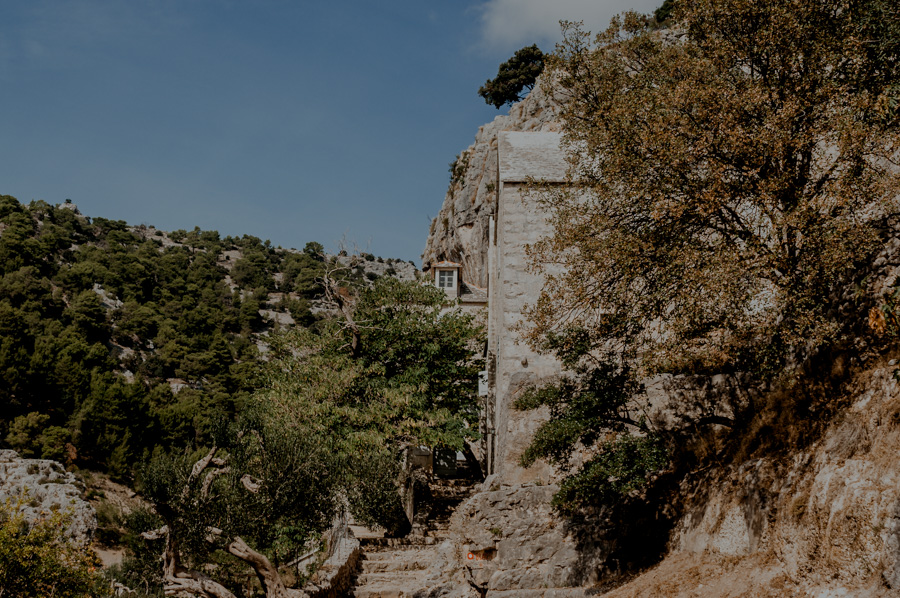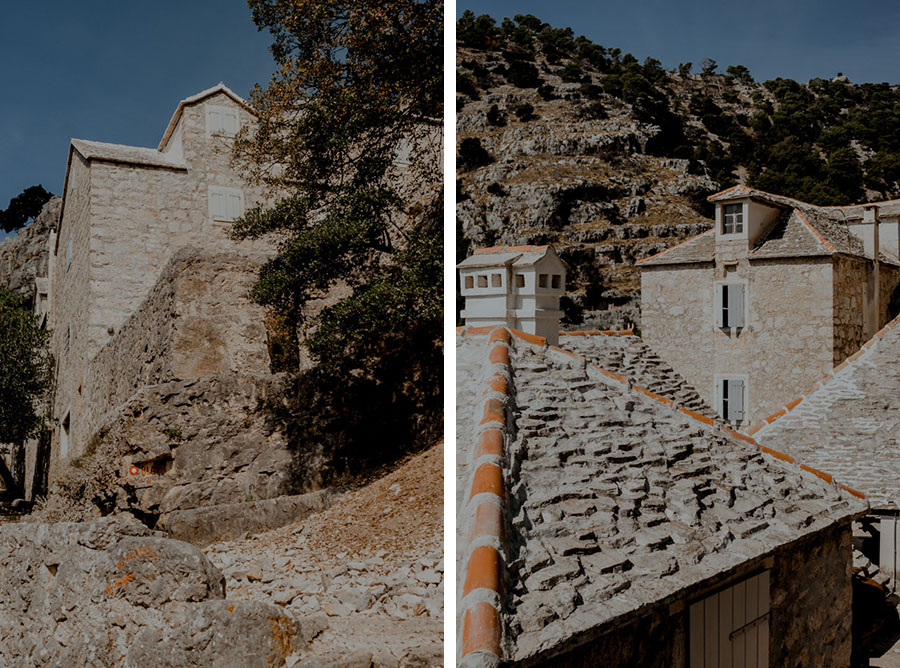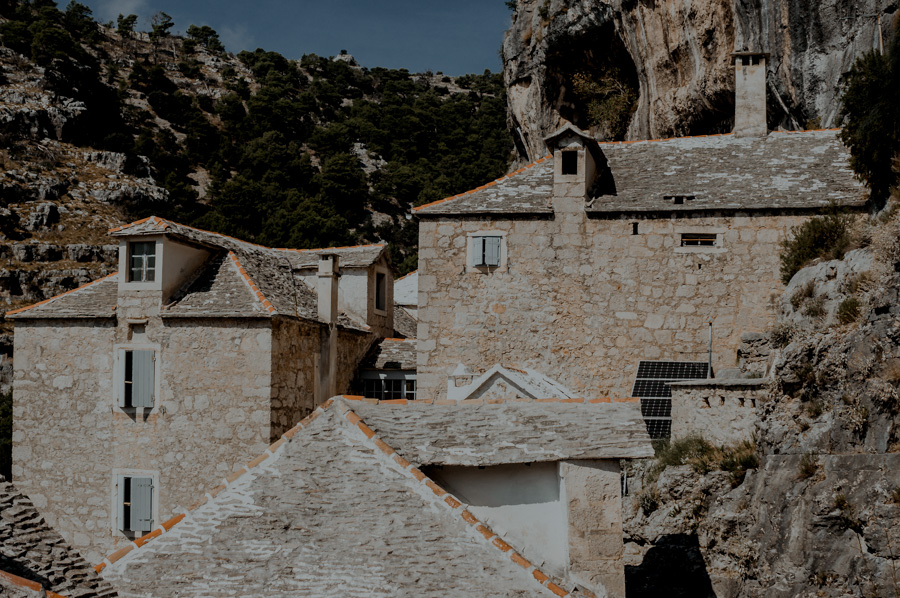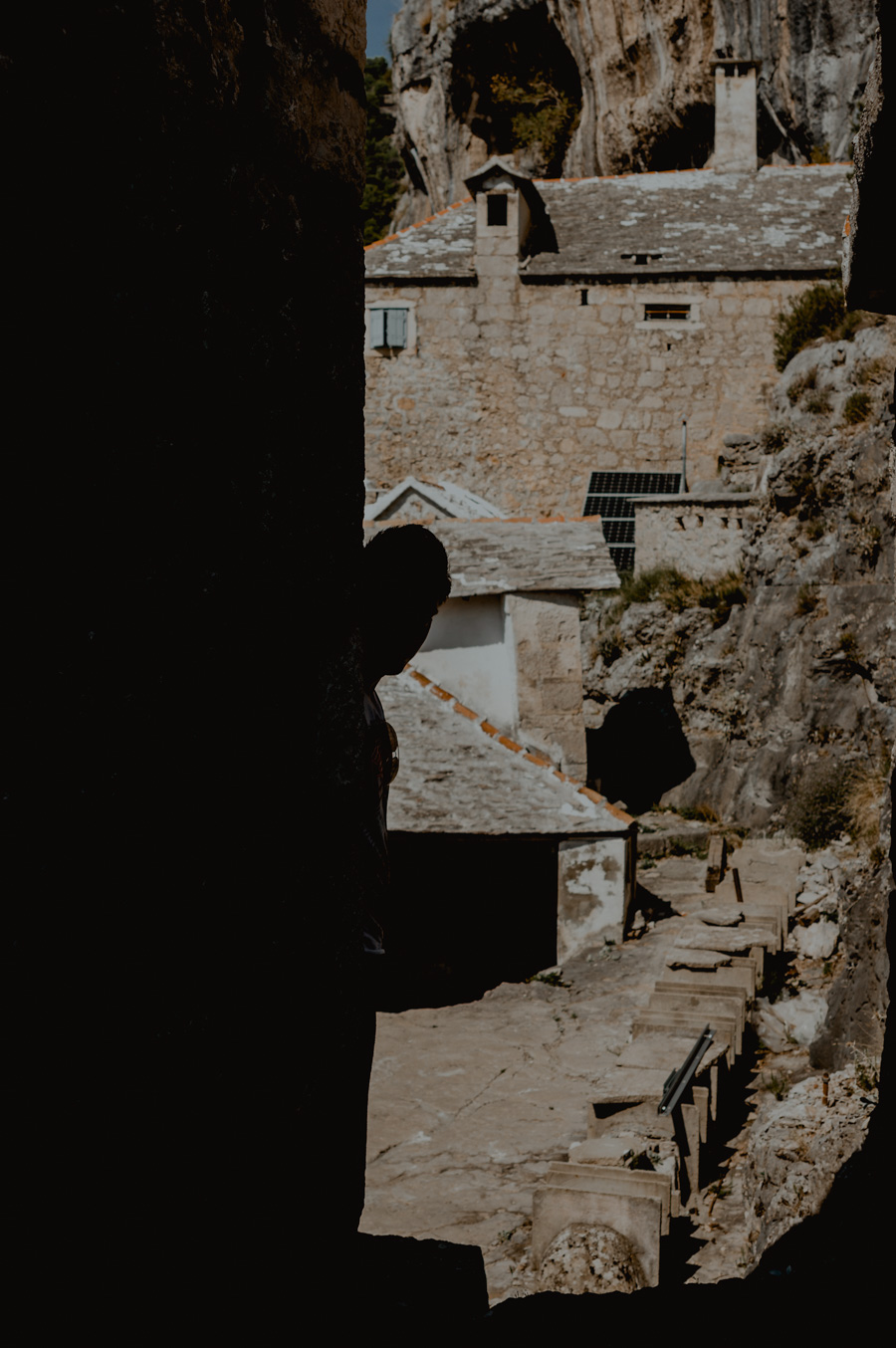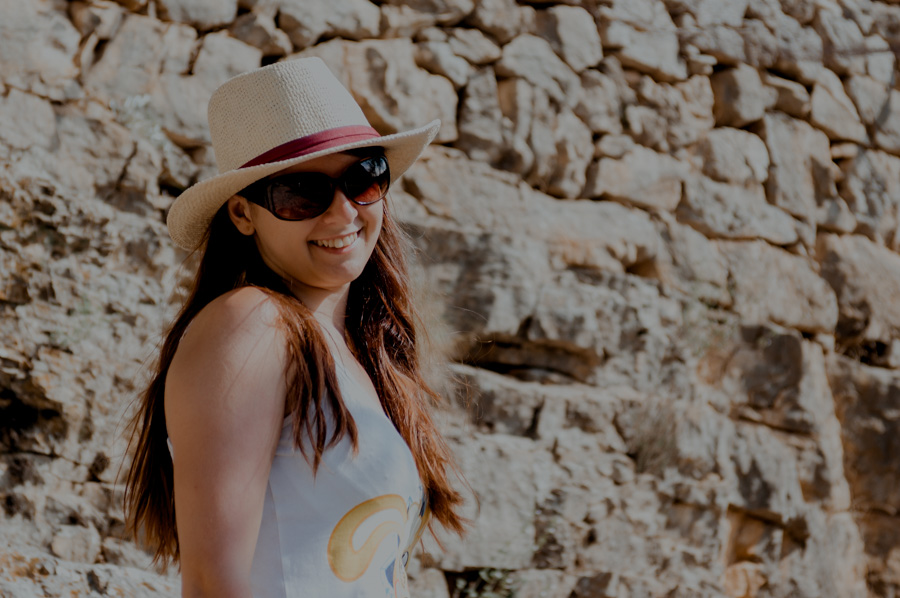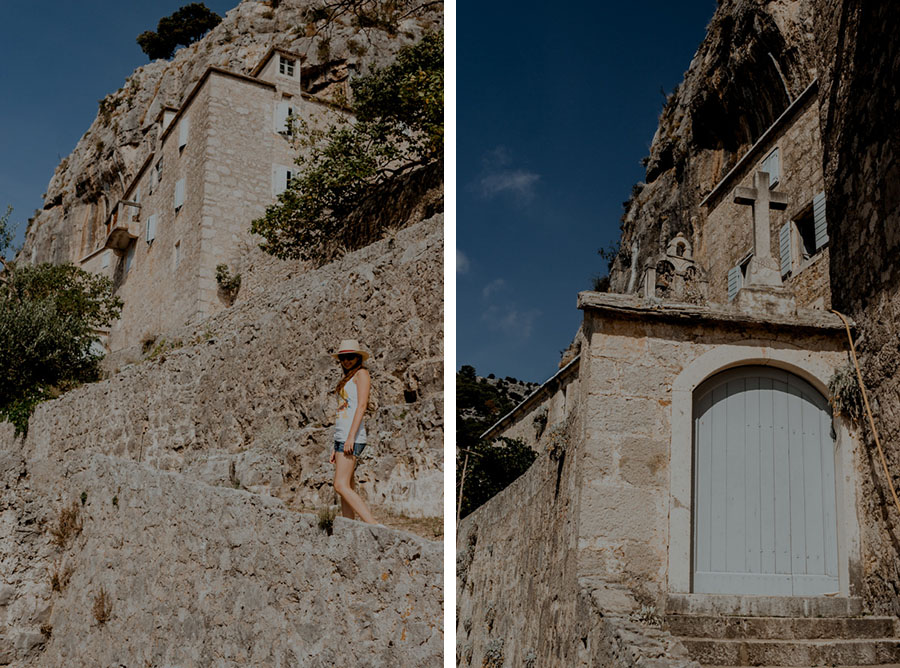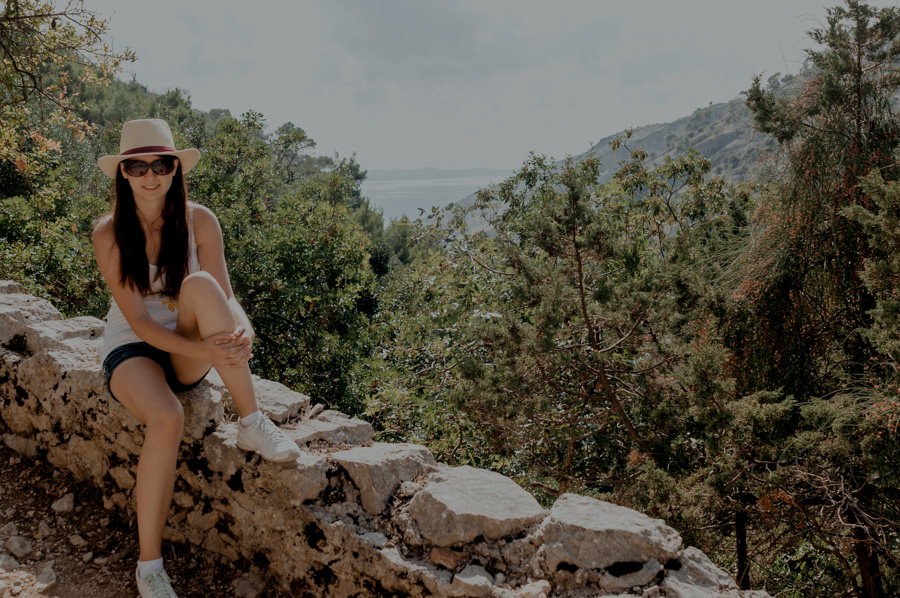 Visiting the hermitage is behind us. We rest. It is terrible heating. We wonder if we should go down to Blaca bay, but together we come to the conclusion that in such heat the return road uphill will take us at least an hour and a half. It's a waste of time and effort. We take photos from the path with a view of the entire hermitage and we head towards the car.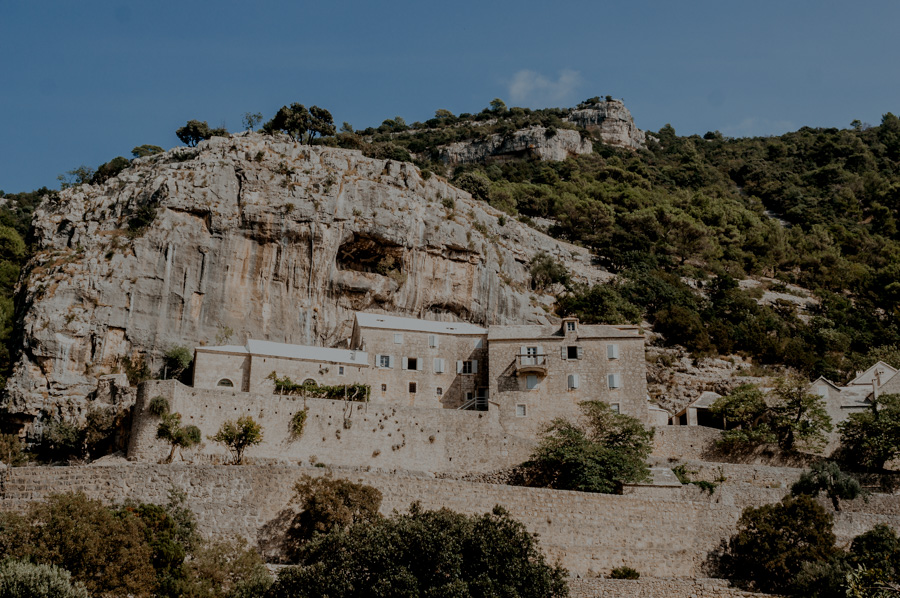 We come back by different path.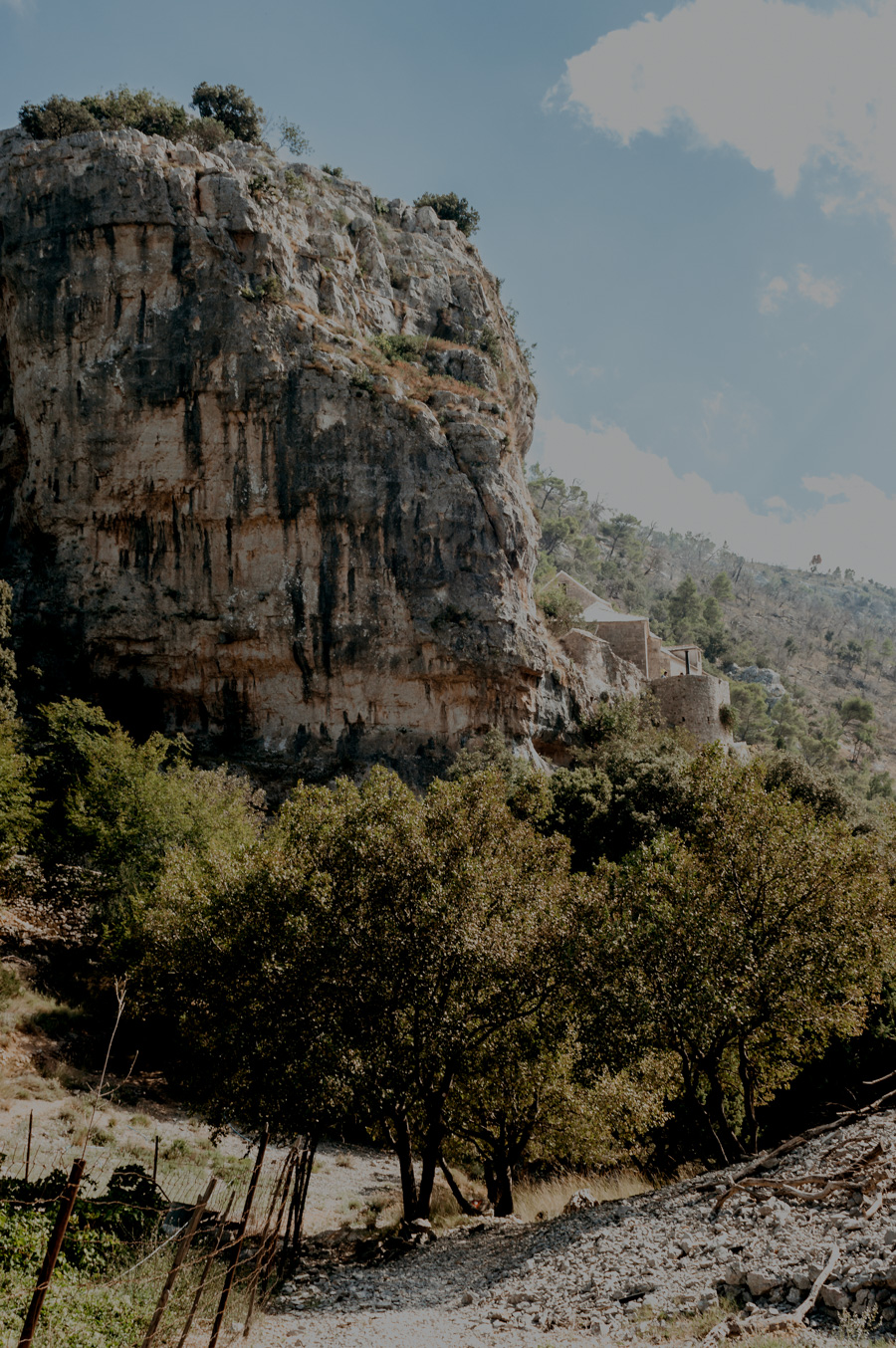 Where can you see the island of Hvar from?
We reach the car and drive further towards Vidova Gora. On the way, this one time, I don't do my job properly as a navigator and we land on the Farska Bay, which comes out good. The road ends, there is no exit to the bay. You can not even see it from here but behind us, there is a great view of the neighboring island of Hvar.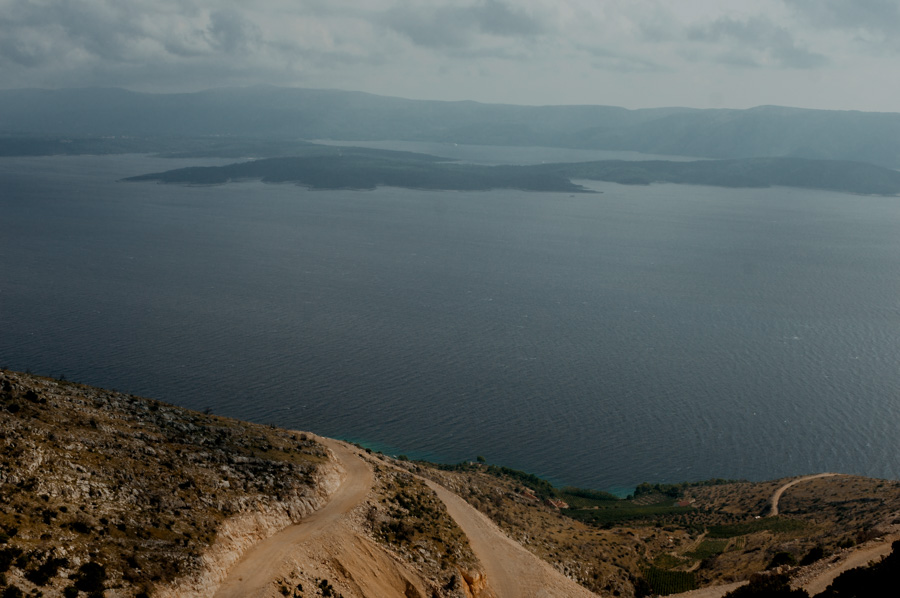 Brač island and its highest peak Vidova Gora
We turn back and reach our destination without any problems. The final section of the route to Vidová is through the forest. At the top, we see a lot of parked cars. We leave out next to them and we wander a small path to the very top. You can also follow the asphalt road. Unfortunately, strong wind and low visibility make it impossible to observe the lower town of Bol and the neighboring island of Hvar.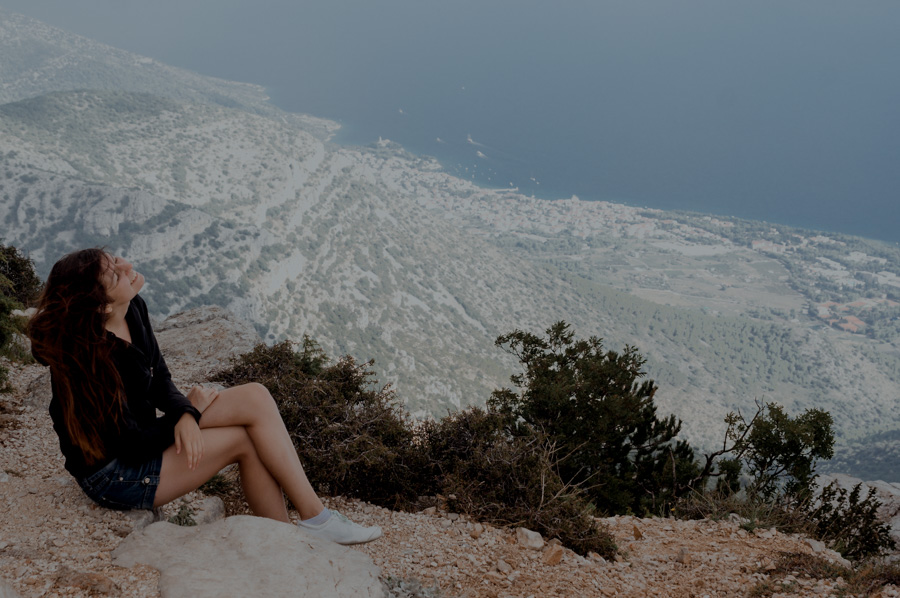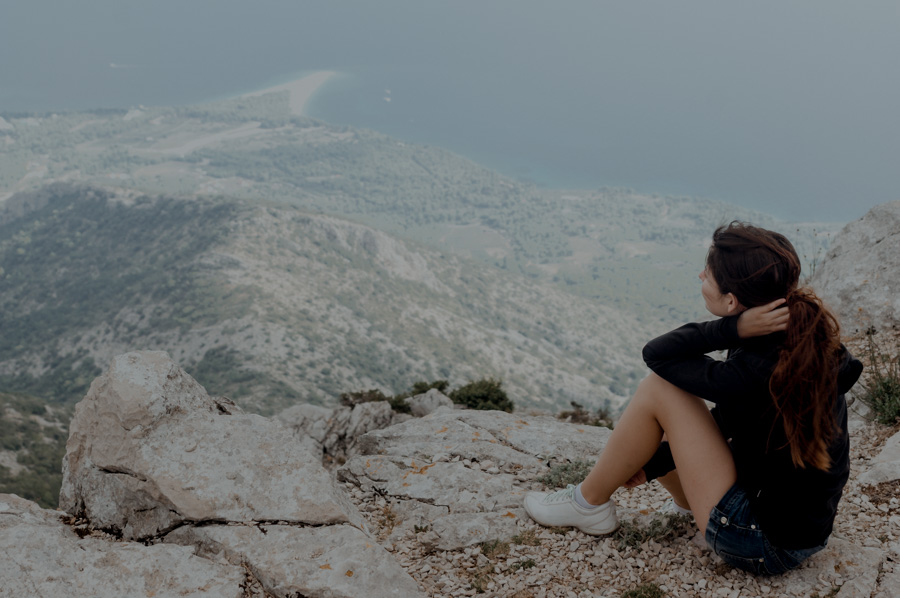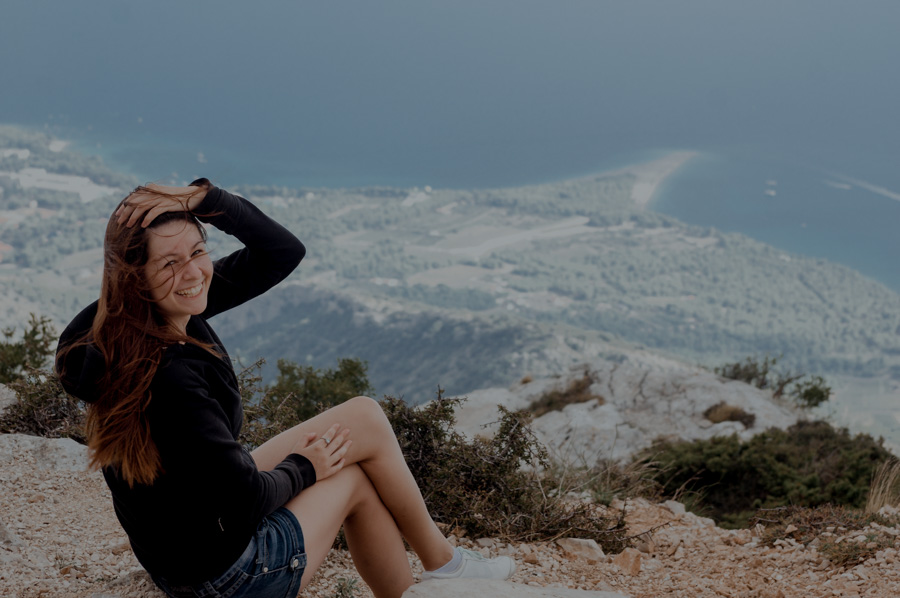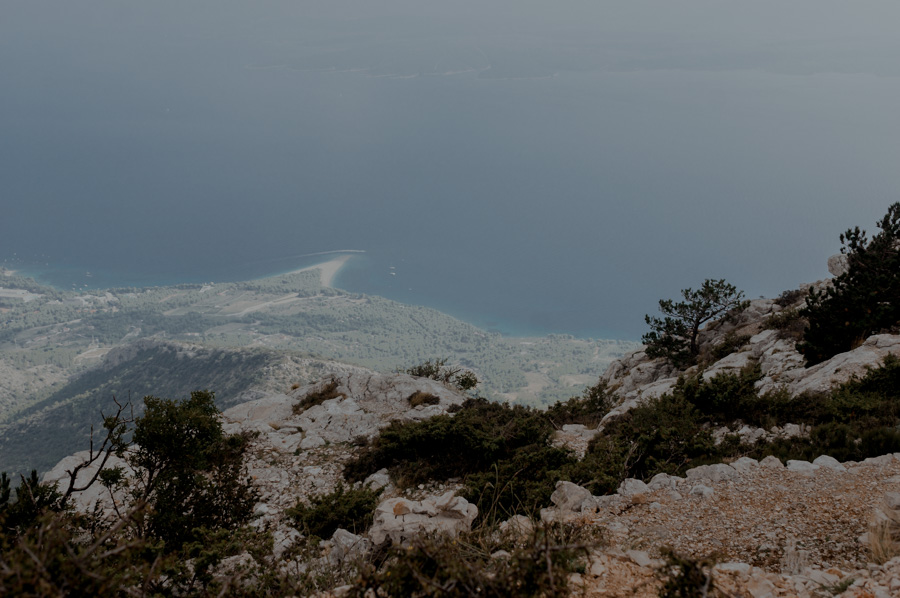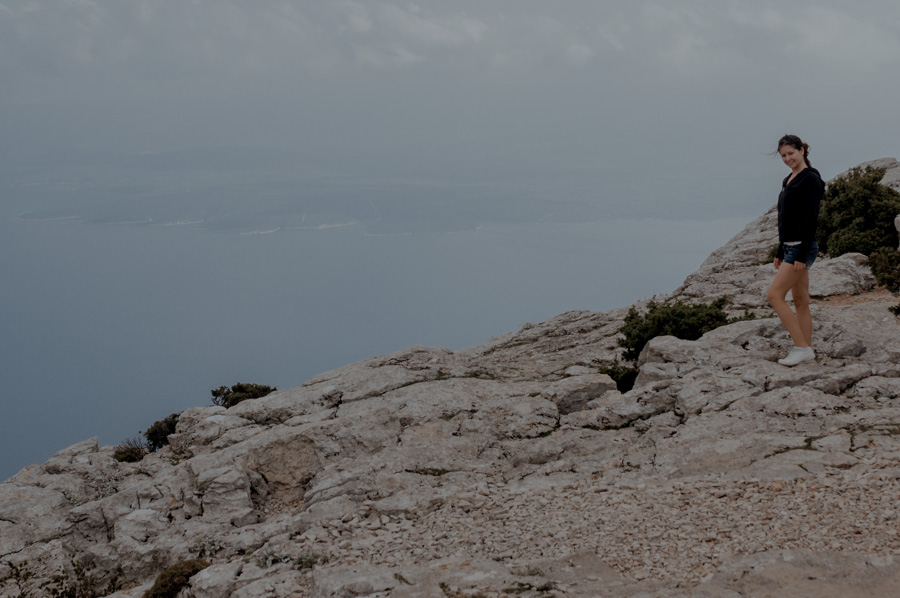 Donji Humac and Croatian lavender
From Vidovej we head towards Supetar. It seems that this is just the beginning of the day, but it took a lot of time to explore the Blaca Hermitage. We arrive to Donji Humac. I read that you can collect lavender there near the church. Wojtek waits in the car, and I go to search for lavender. I make the bouquet, tie it with a hair band and I'm happy to get back to the car. In September, the lavender is no longer purple, but grayish, but still smells good. Even today, brought bouquet decorates my bathroom.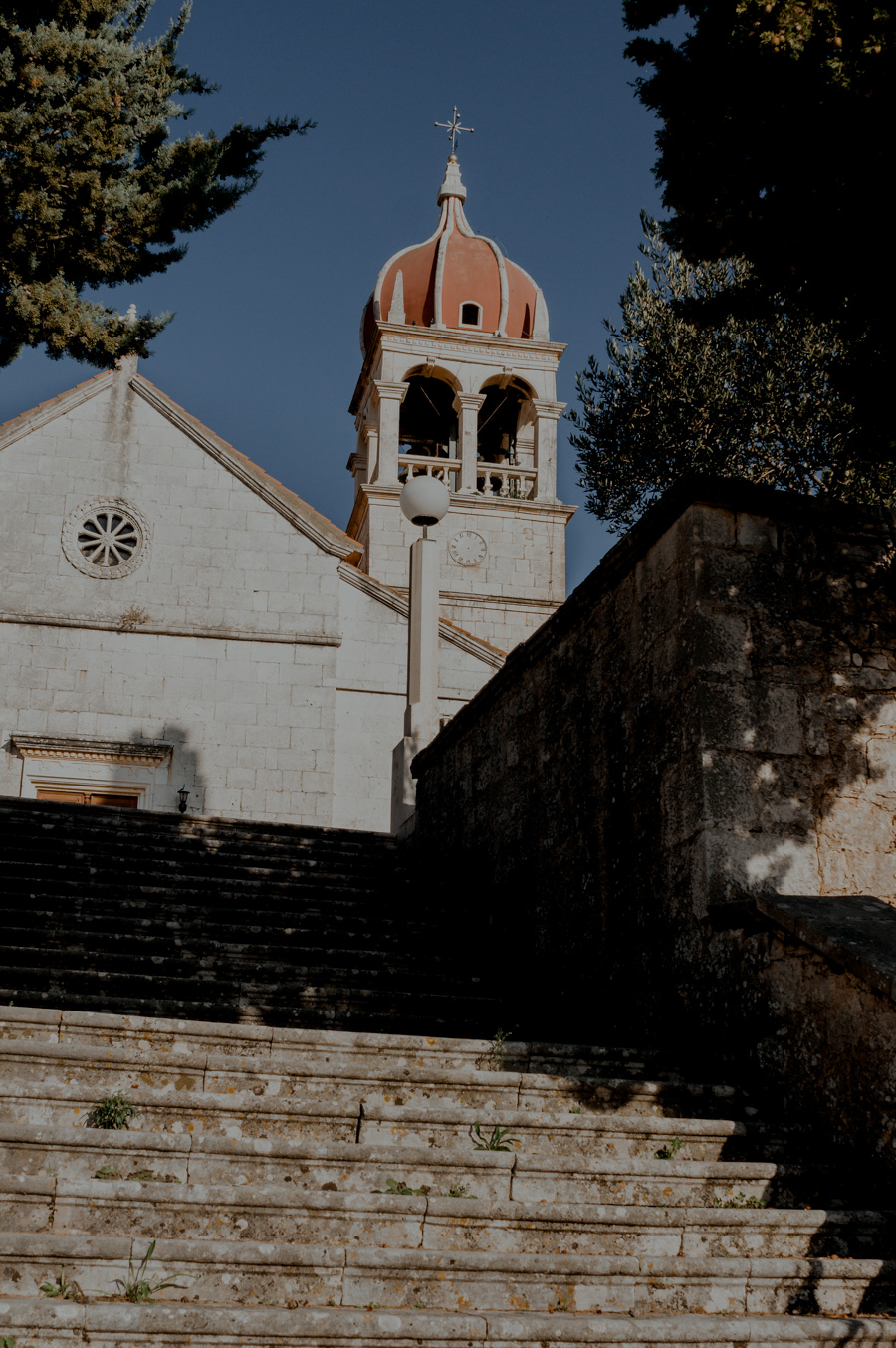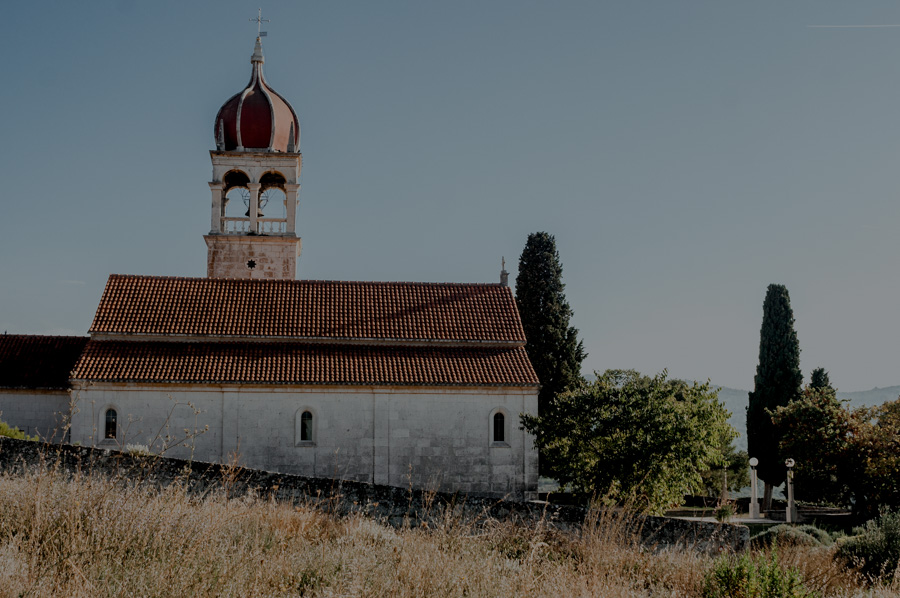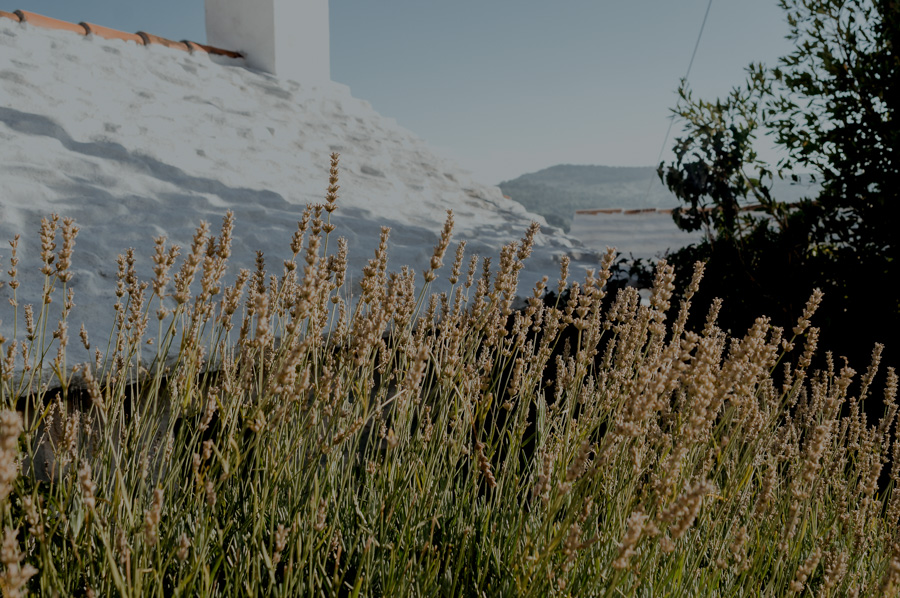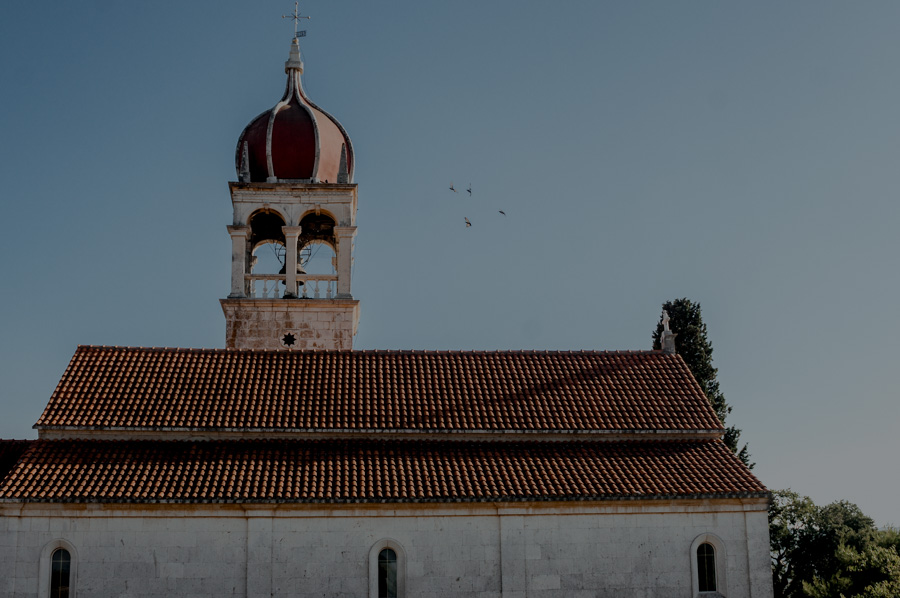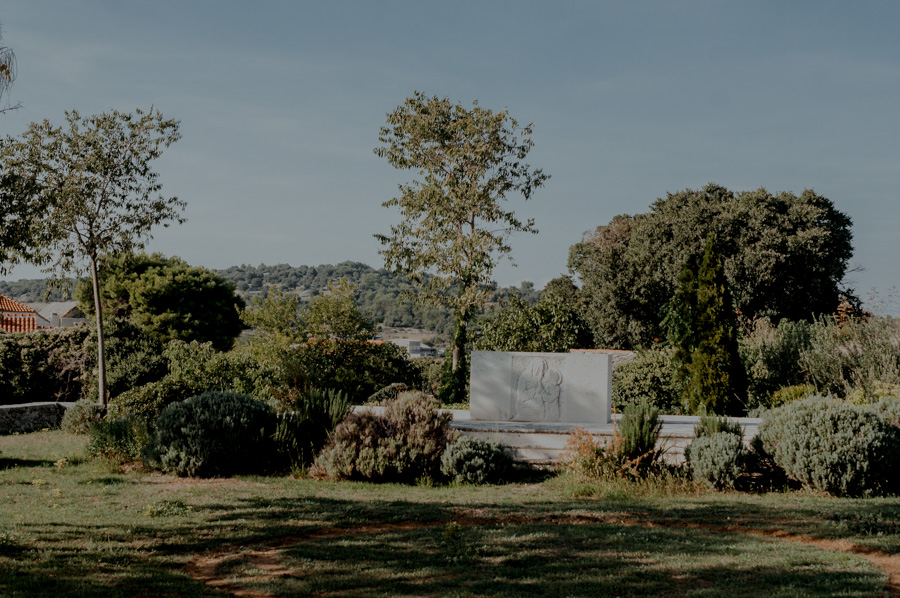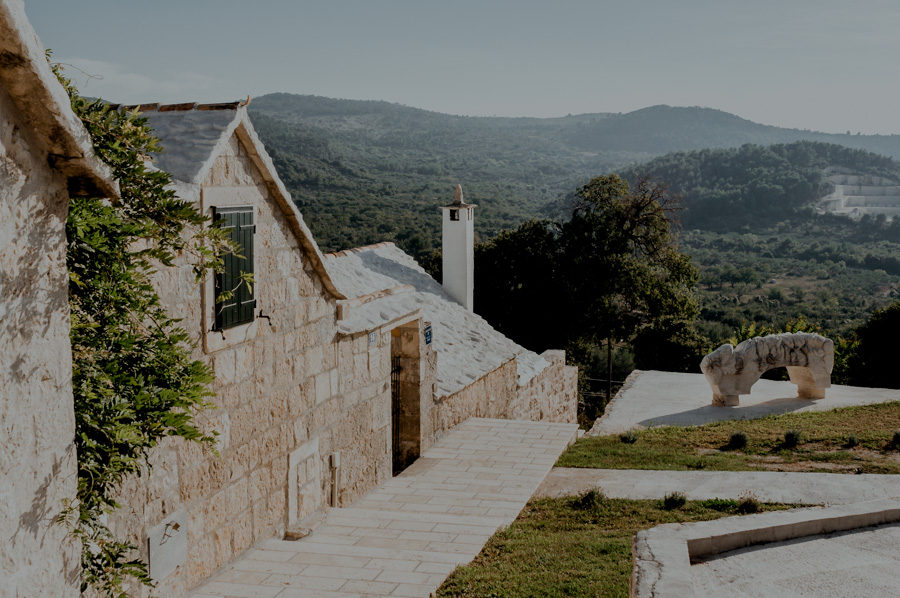 What to eat in Croatia?
In Supetar we drive to Lidl. This is a huge plus of living in this city, because you can buy something to eat cheaply (in other places there is no Lidl store). We buy spices, gnocchi and fresh brancines for lunch. They are probably the most delicious fish in Croatia. We ate the orads, but they were a bit worse. It is good that nothing is missing in the apartment and you can fry easily sitting on the terrace with a view of Jadran.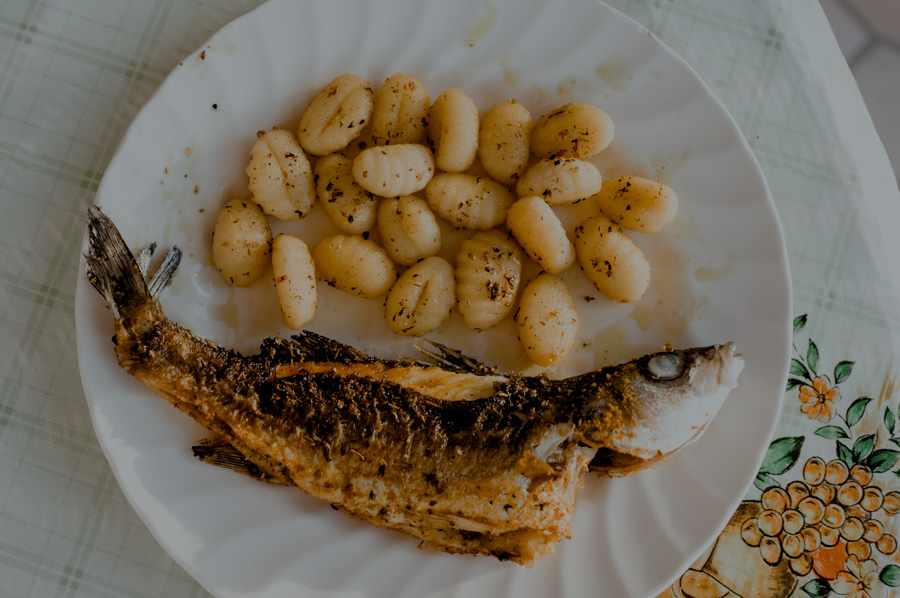 Interesting bays in the north of the Brač island
During the dinner the sun slowly begin to set, and I have not yet managed to bathe that day. We go fast to Sutivan – we were there yesterday. We enter the harbor and go along the sea to the bay. We park at the bay behind Uvala Likva. I wrote that I was curious about further bays, so this time we go further and see another place. Two bays behind Likva quickly drip in the last rays of the sun. It's getting quite dark and cool. The waves are getting bigger. Wojtek is worried about whether I can make it to the coast. We' drive back.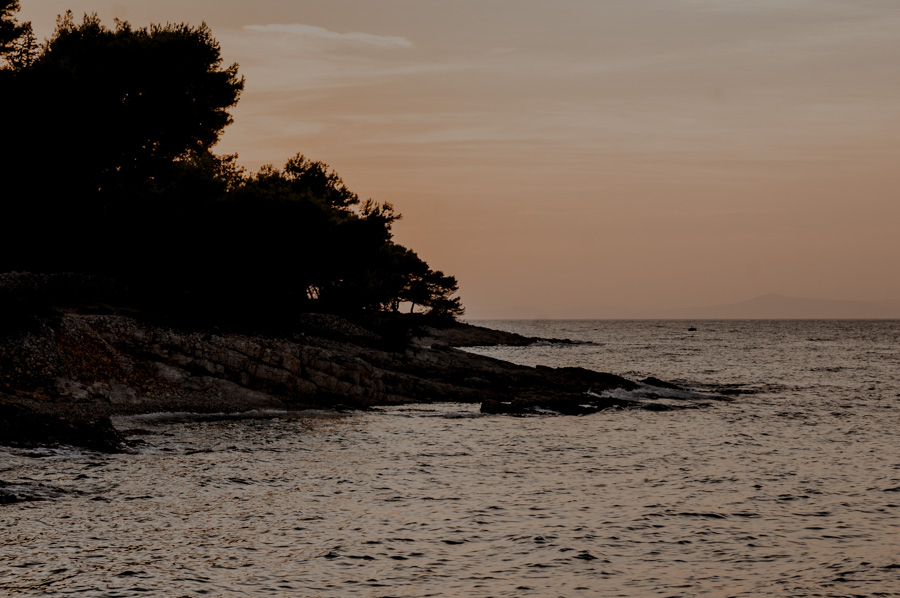 On the way back an unpleasant surprise awaits us. It turns out that the port has been closed (closes at 19) and we have to go another way. By accident, we pass the little church that I was looking for during the second day of my stay on the island. I do not take pictures as it's dark. We roll in narrow streets and we can not find a way out. We thought we would get stuck overnight, but eventually we manage to leave the city.
In the evening, we relax on the terrace and watch the sea with distant lights from the vicinity of Split.
Thank you for reading the entry!
If you think it is interesting, we would be pleased if you leave a mark in the comment.
You will find more posts from Croatia here:
There are direct links to the next and previous episodes below.
All our travels: Travels
We also invite you to our Instagram and Facebook fanpage, where you can be up to date with all our travels.
See you later! 🙂