The idea for a trip to the north of Italy came when I learned about the possibility of cheap flights to Bergamo. Many bloggers were delighted with this area, so I decided to take advantage of their advice and see for myself if it's worth it. I took Wojtek, my sister and my dad with me. This was our first trip together, it took place in 2016 in September.
How to get from the airport to the center of Bergamo?
We land at the airport in Bergamo. On arrival, we buy 3-day tickets in the arrivals hall for using public transport. This ticket costs 7 euros and gives the possibility of using buses throughout Bergamo (also from and to the airport) and Funicolare queues. There is an option to buy a one-day ticket – 5 euros and a single ticket – about 2.2 euros. We get on bus 1, which goes, among others, to Stazione (train station in the lower center), and later to the upper city of Città Alta. We get off earlier to change to another bus and get to the apartment. From the apartment window we have beautiful views of the Città Alta.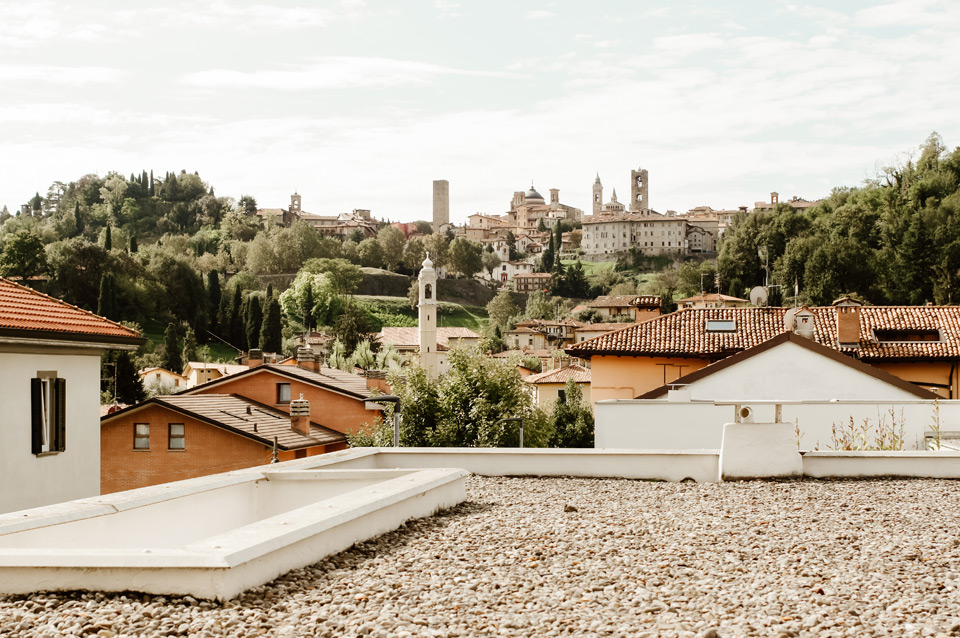 After resting we head to the store for water. We all take the cheapest bottle (about 70 cents). Then it turns out that it's a carbonated drink in the style of sprite. Our moods break down for a moment. It's only the next day that we discover that the prices of water are shown in the store for a pack, not per item. It turns out the price of 1.5 euros for water is actually 25 cents per bottle.
Bergamo- what to see in Città Alta
We go back to Via Maironi da Ponte and head up. I have to admit that from the exit of the apartment began beautiful views of the upper city. After 15 minutes, we reach one of the four gates of Bergamo- St. Lawrence.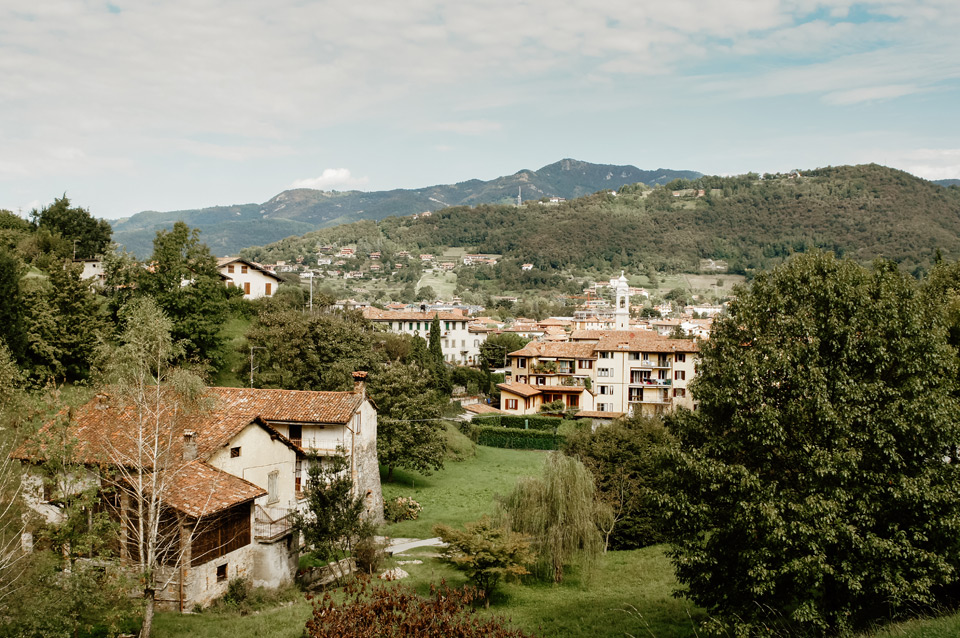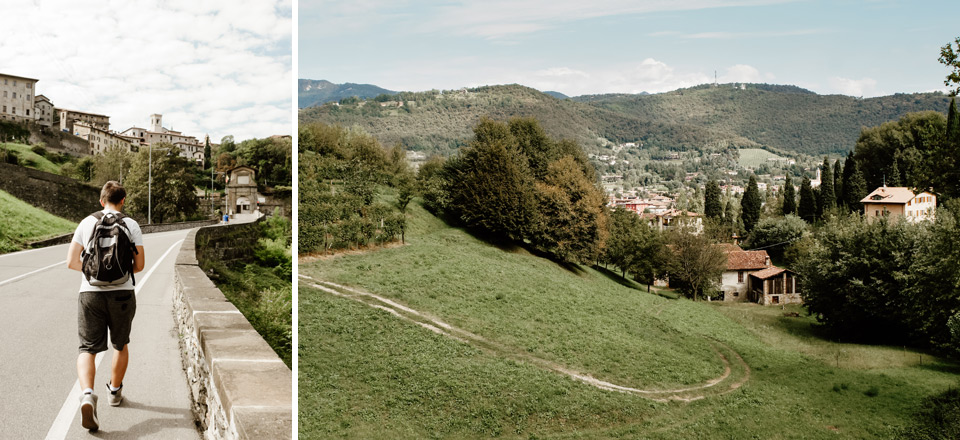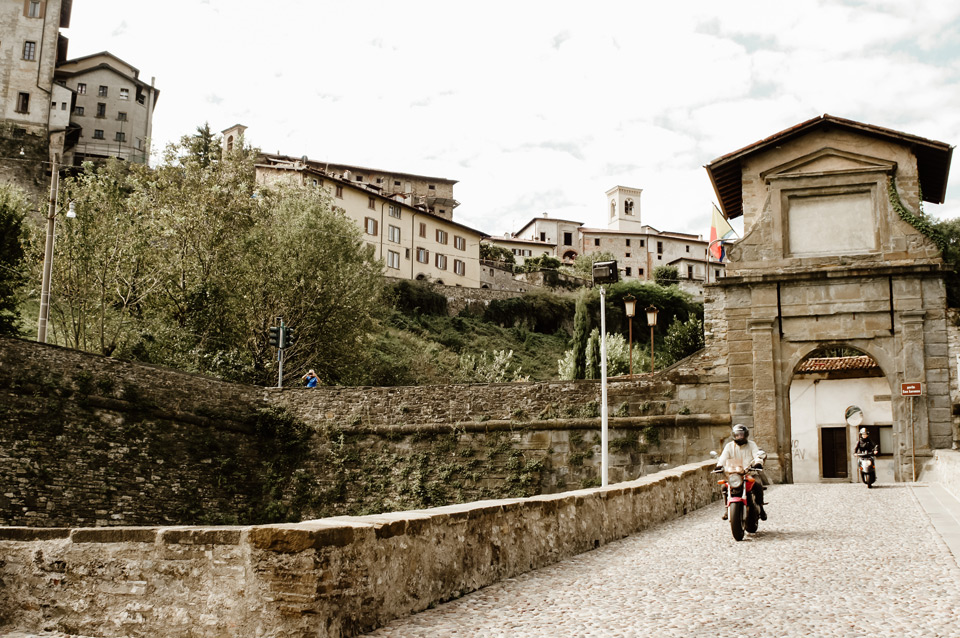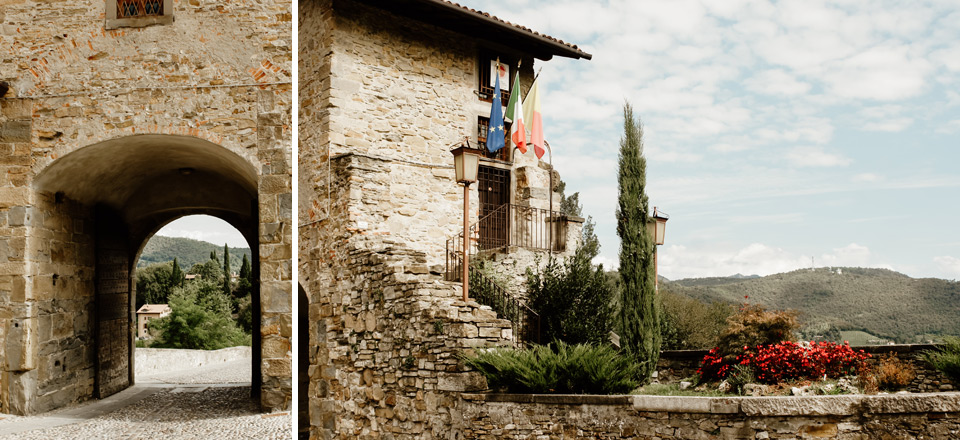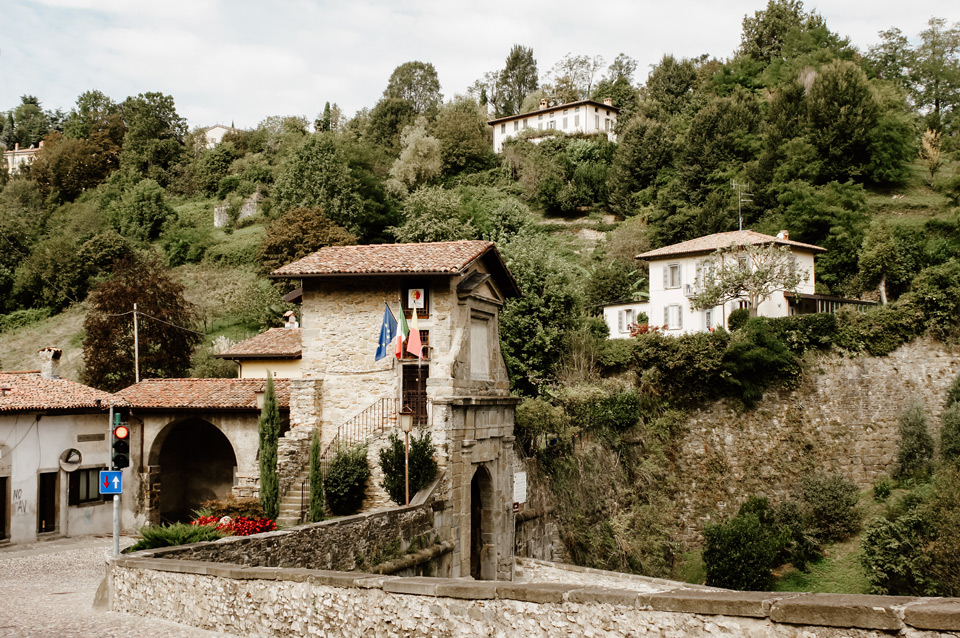 Behind the gate there is something like a mini-park. Italians sit on the grass or on the wall and rest.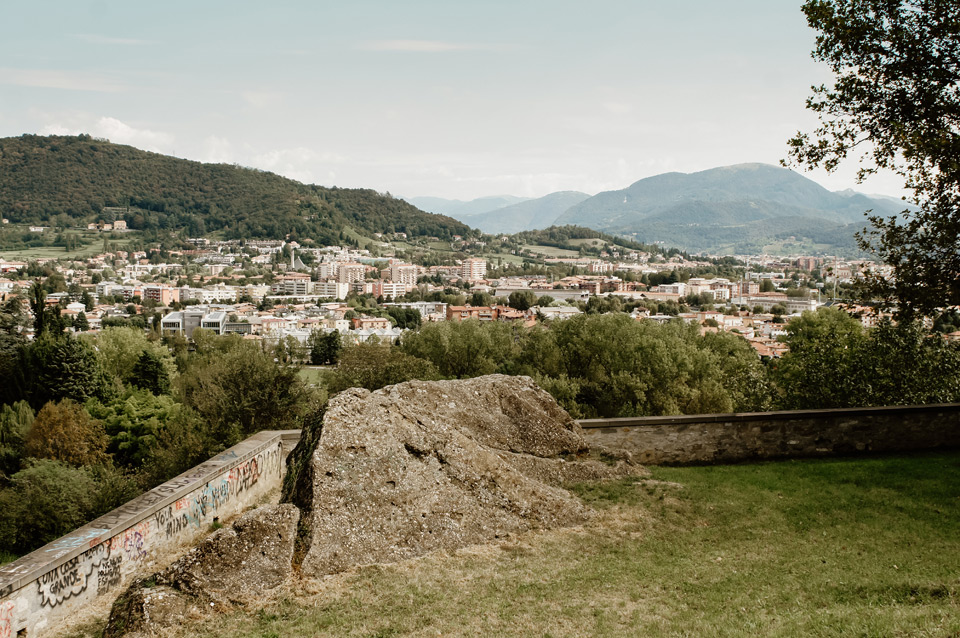 We take photos, go straight ahead and turn into Via S. Lorenzo. We go uphill all the time until we reach a small square with the Basilica of Santa Maria Maggiore.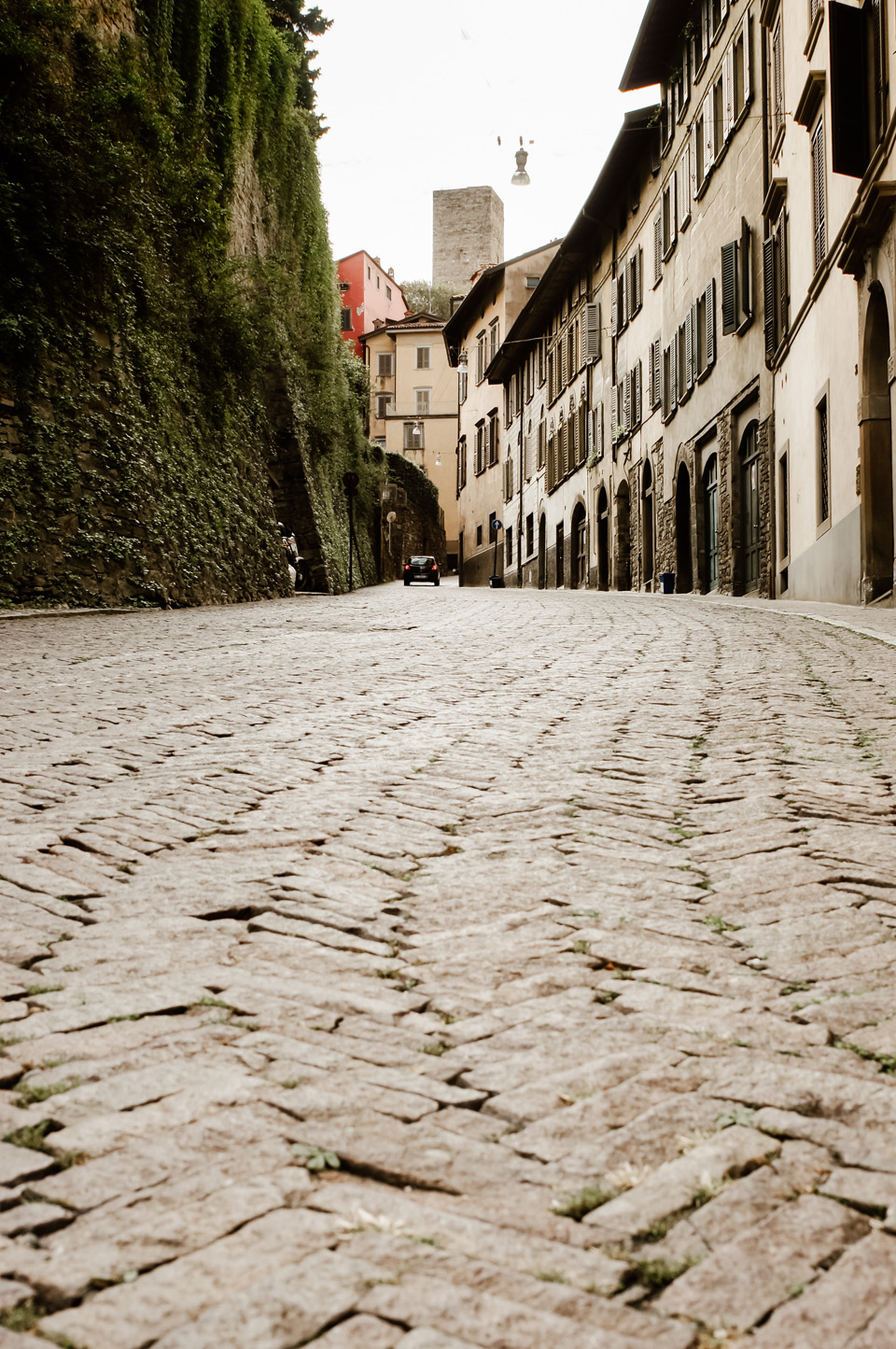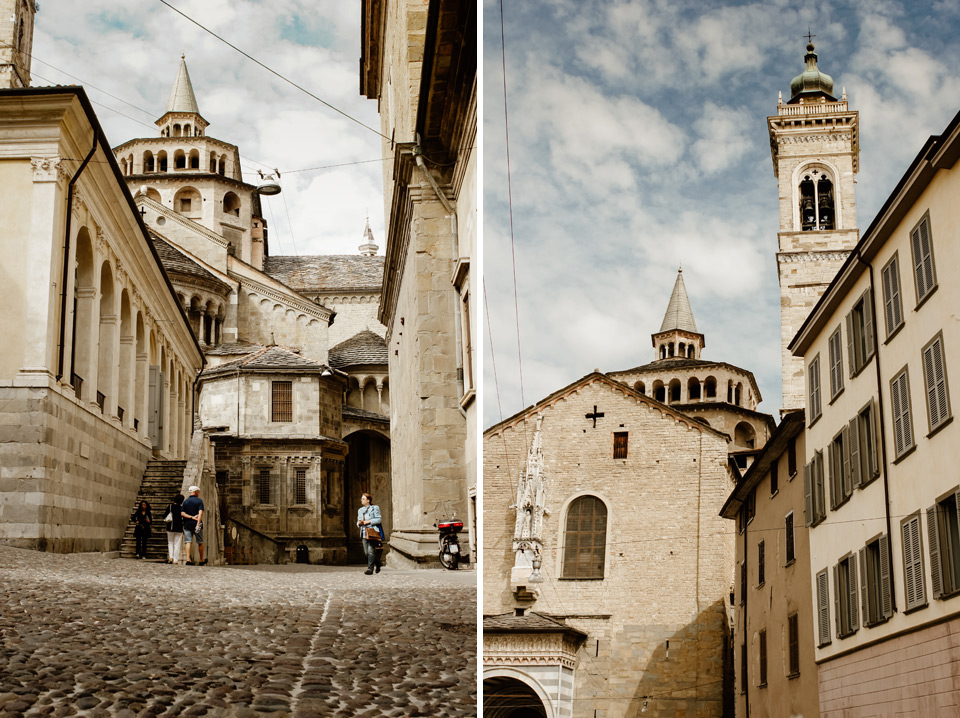 The most beautiful places in Bergamo
Behind the building, turn right, walk around it and get to Piazza del Duomo. Adjacent to the basilica there is Capella Colleoni, a chapel designed by Giovanni Antonio Amadeo as a mausoleum for the Colleoni family. At Piazza del Duomo there is also the Bergamo Cathedral, dedicated to Saint Alexander.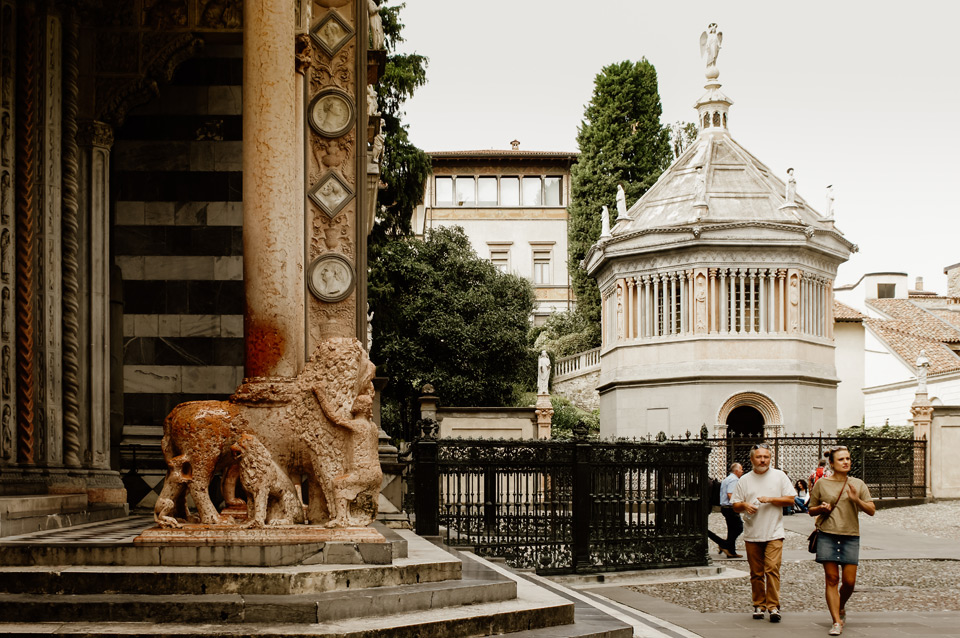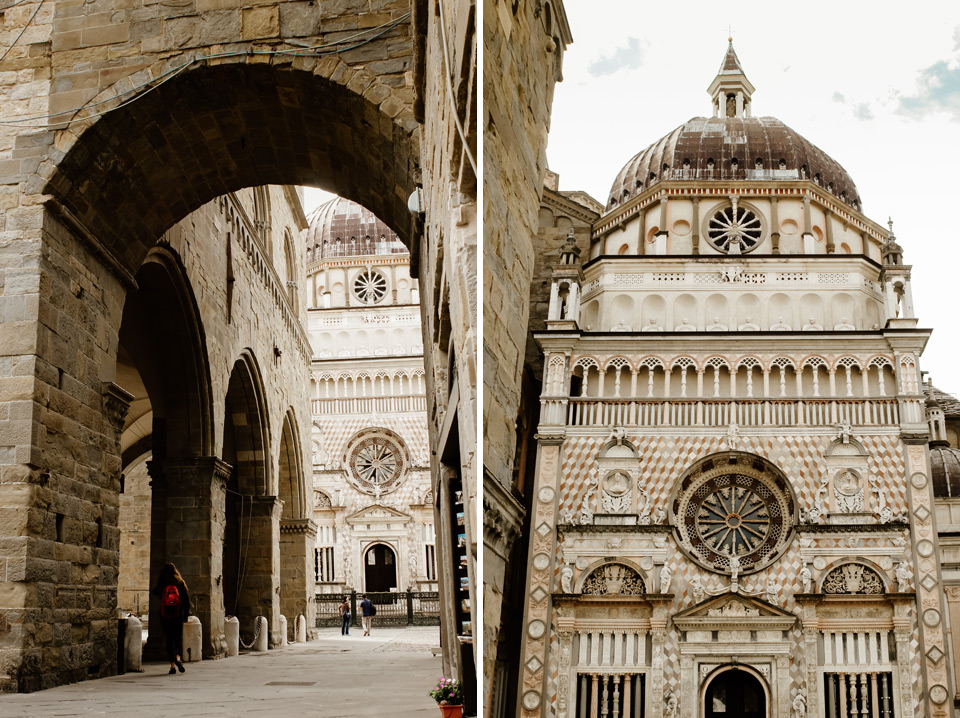 Just behind this square, there is another one – Piazza Vecchia. Everyone sits down here and I walk around with the camera. I take the pictures of Palazzo Nuovo (in front of us), the fountain in the middle of the square and Palazzo della Ragione (behind us). I recommend a virtual tour of google maps. Thanks to this you will know what building you see during the trip or what square you are in. I have to admit that it was after leaving that I did such a walk to make a report for you. Before that I had no specific plan for visiting the city. In Bergamo, I walked blindly down the streets and managed to hit everywhere, and everything I saw was a surprise to me.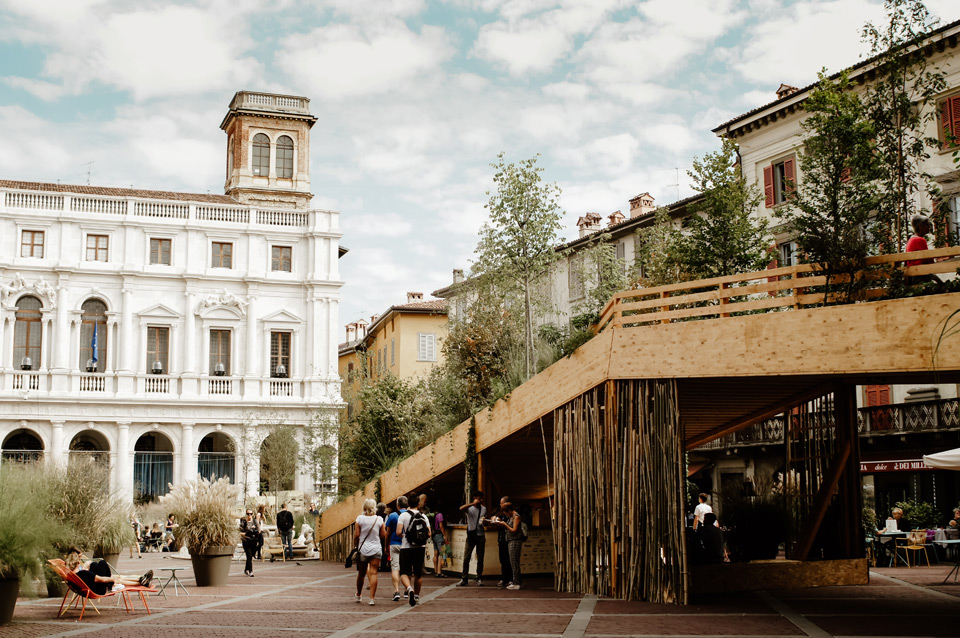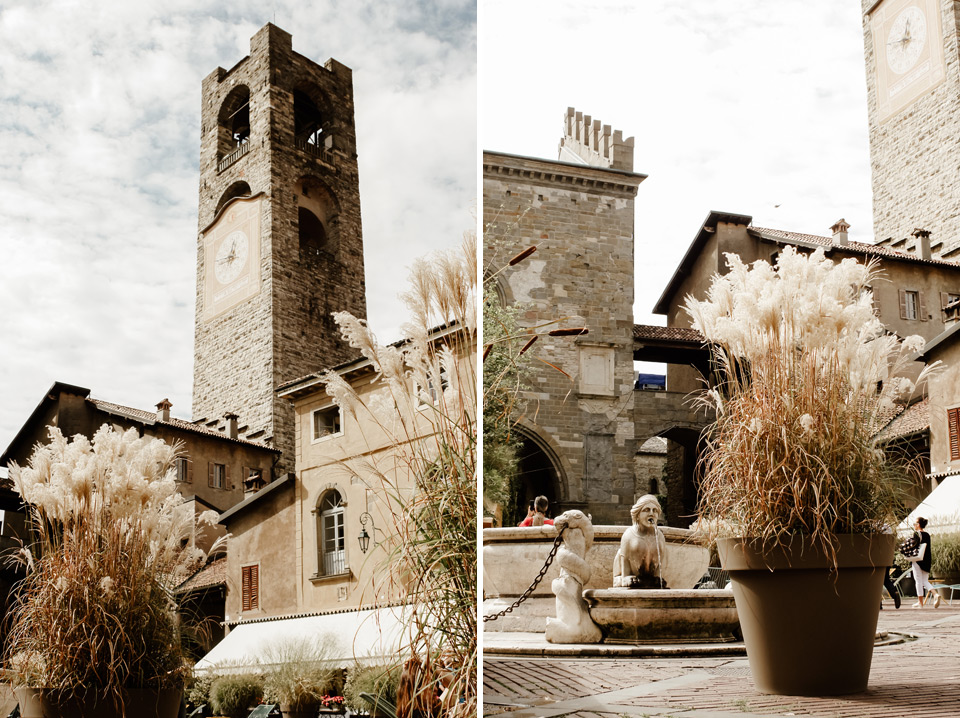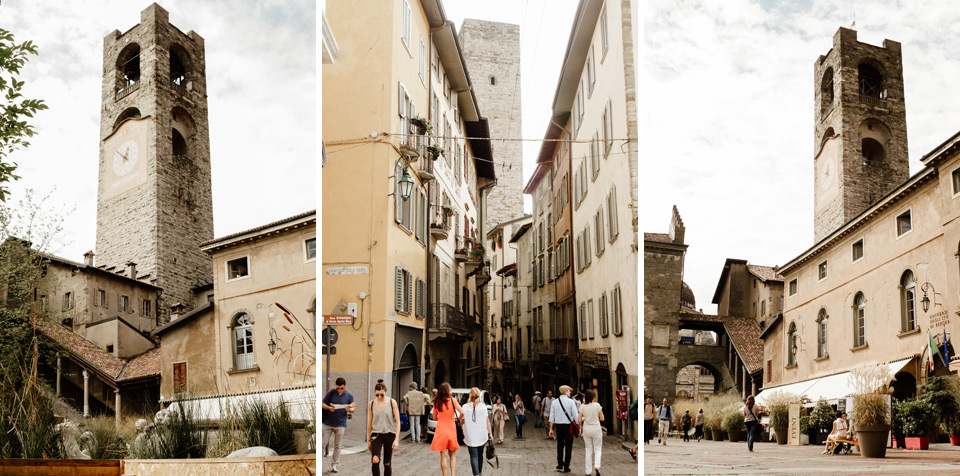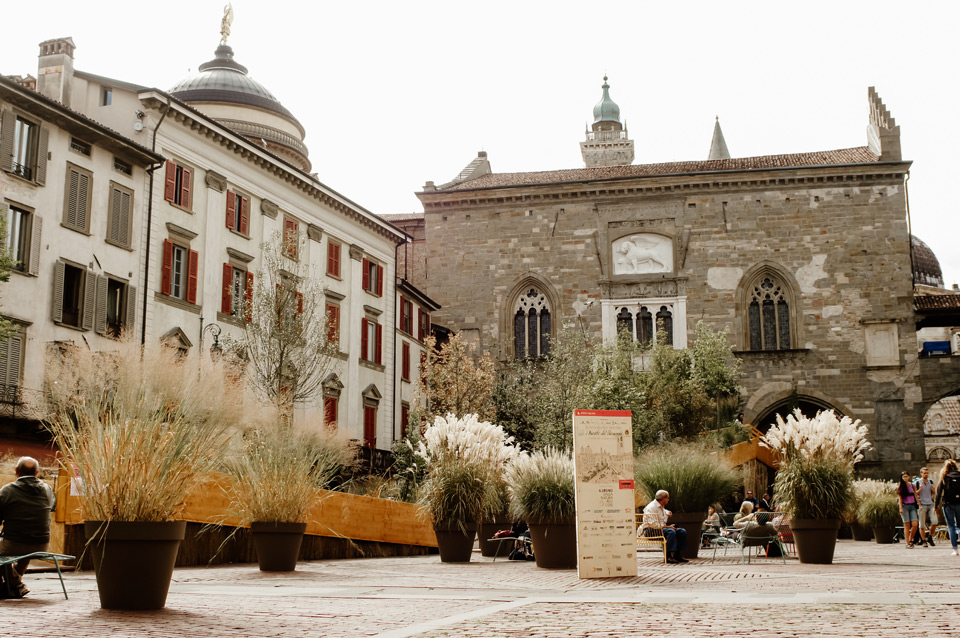 Make sure you go to the hill of San Vigilio. This is a must visit place in Bergamo. To go there you have to enter Piazza Vecchia (here we are now) and enter Via Bartolomeo Calleoni. On the way you will pass Piazza Lorenzo, then you will go through the gate, then through the citadel and you will be on the main street, from where there will be a signpost pointing to Castello di S. Vigilio.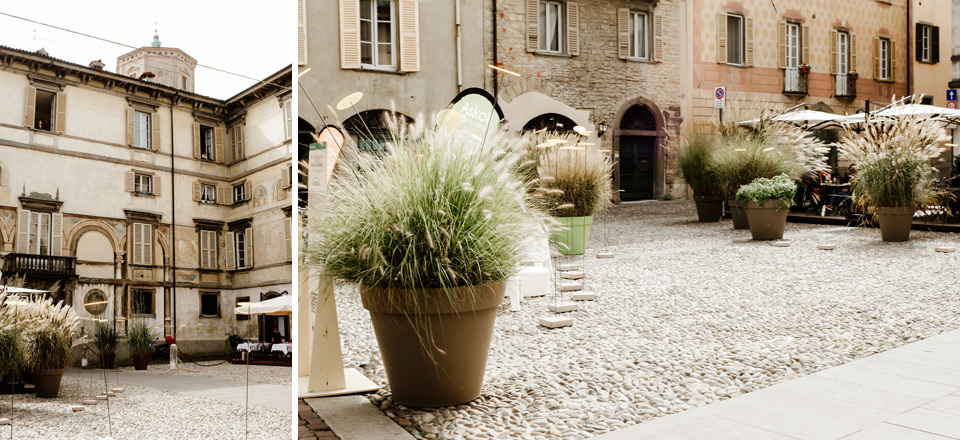 Immediately after the bus stop we go through the next gate Bergamo- Saint Alexander. Right behind it there is the Funicolare queue. We show the tickets (guy doesn't even look at them much) and go upstairs.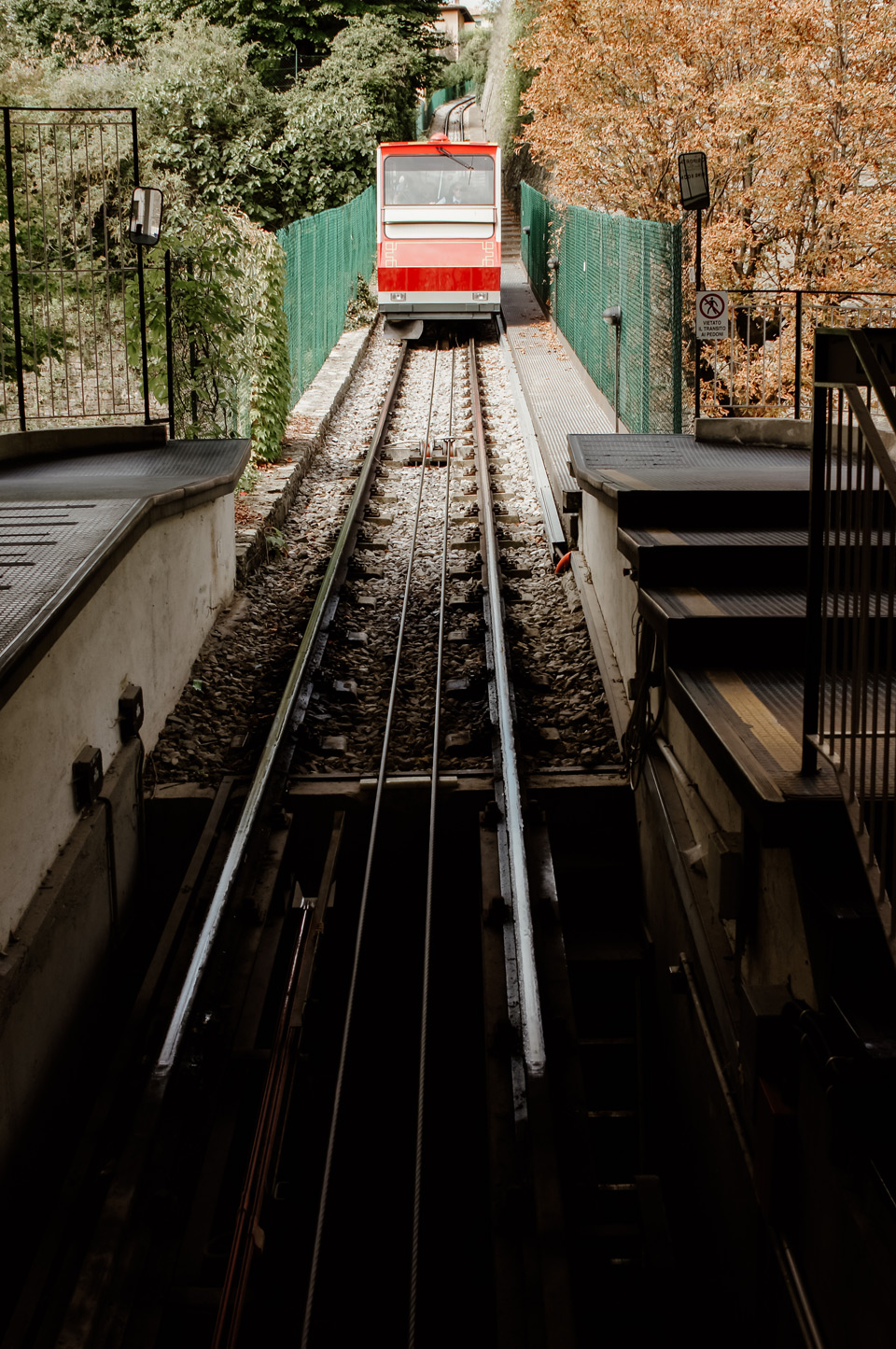 San Vigilio hill and views of the Città Alta
At the top we have beautiful views of the Città Alta.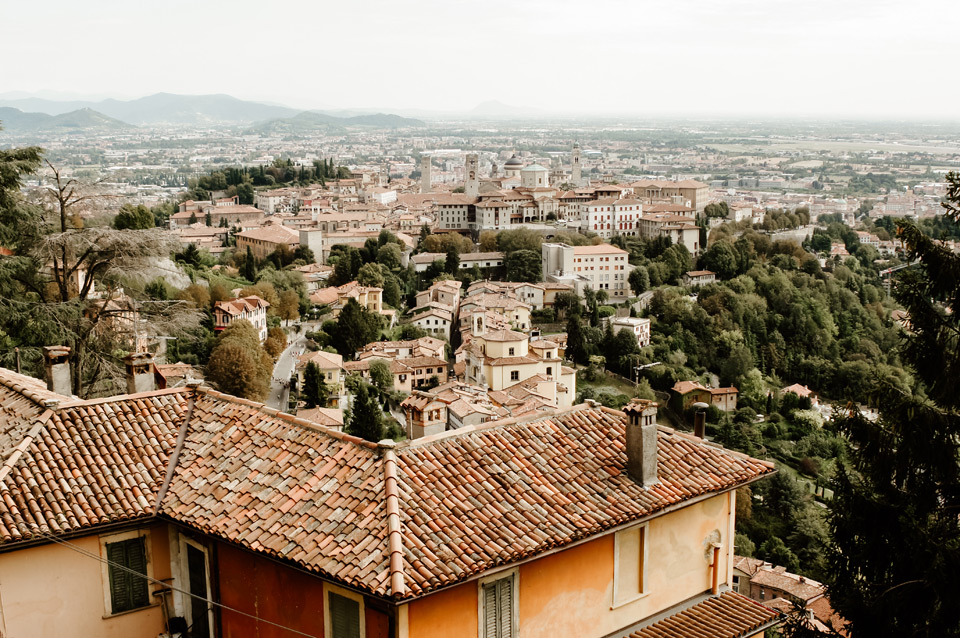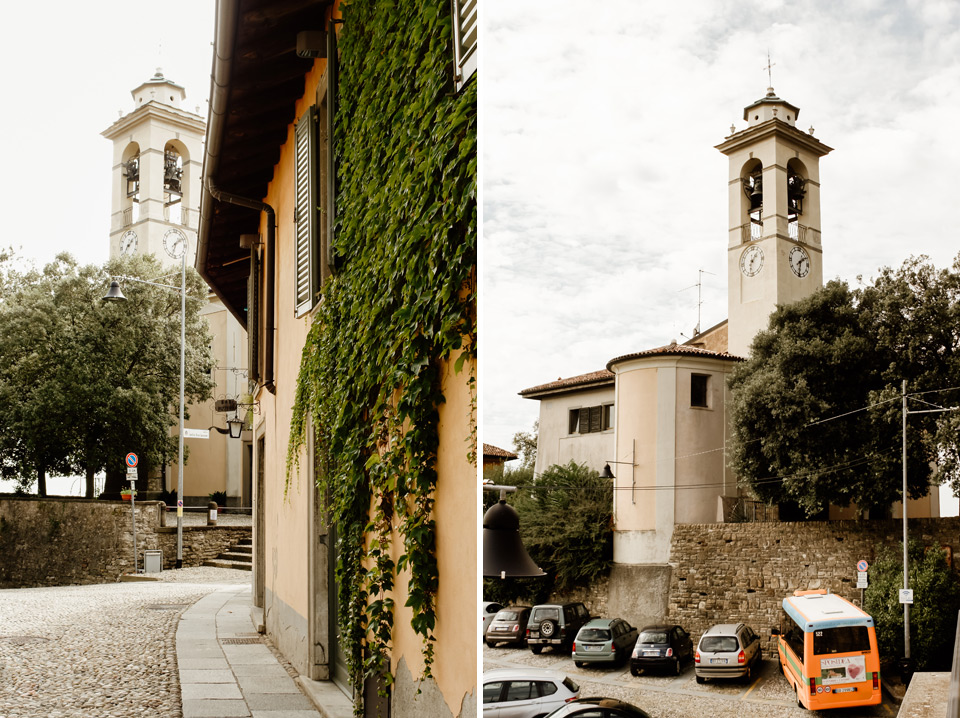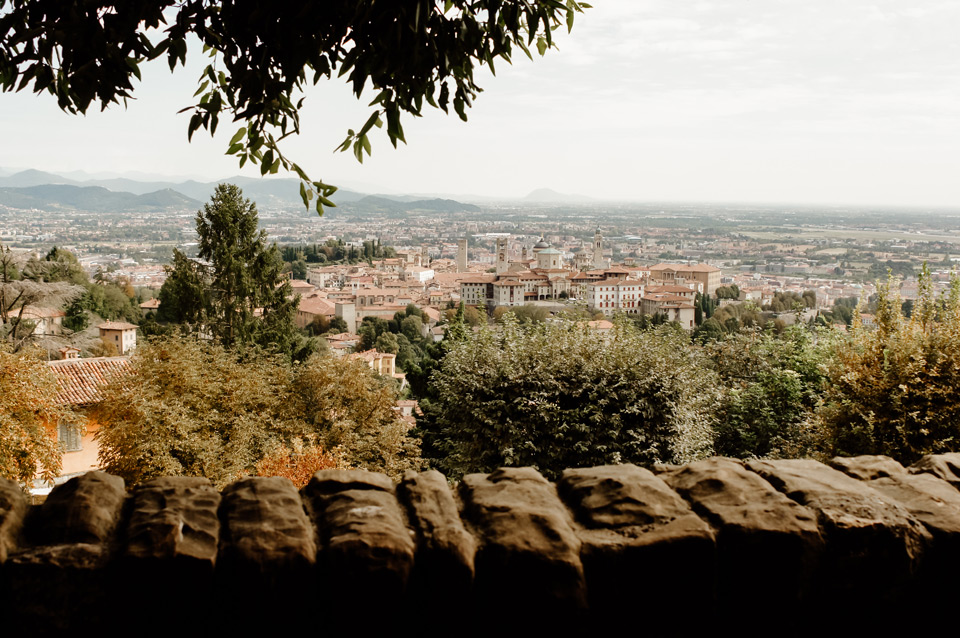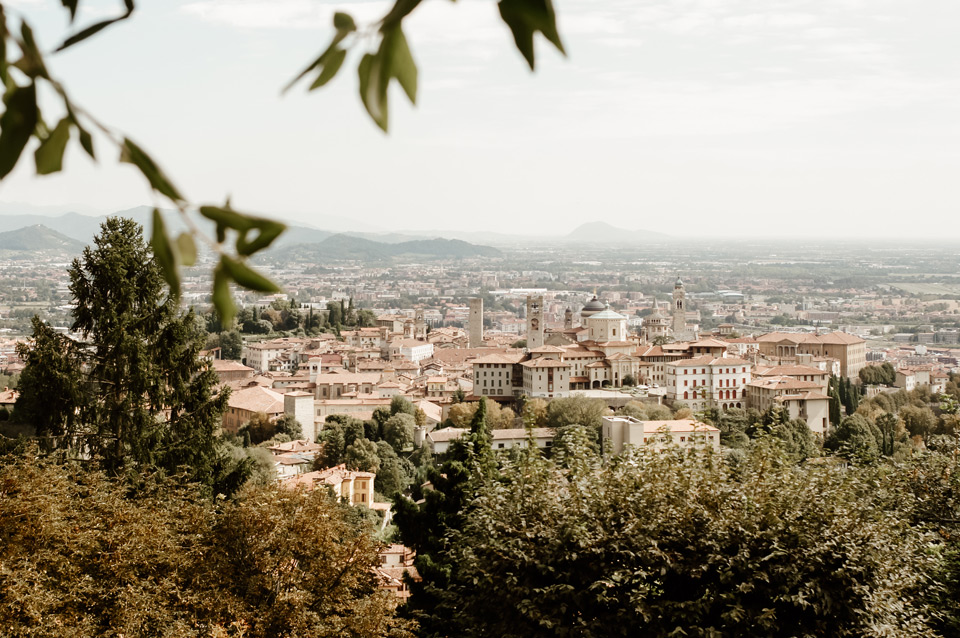 We walk once on one side and then up the hill to the castle. Then we cross the bridge and go down the stairs, where there is a small park and a fountain. We sit down for a moment, and then we come back the other side. Also we enter the tower (it's very easy to miss the entrance!) And up the stairs. We admire another nice views. At the summit we meet many Poles, as well as a nice old gentleman with whom Wojtek looks out for lizards hiding in the wall.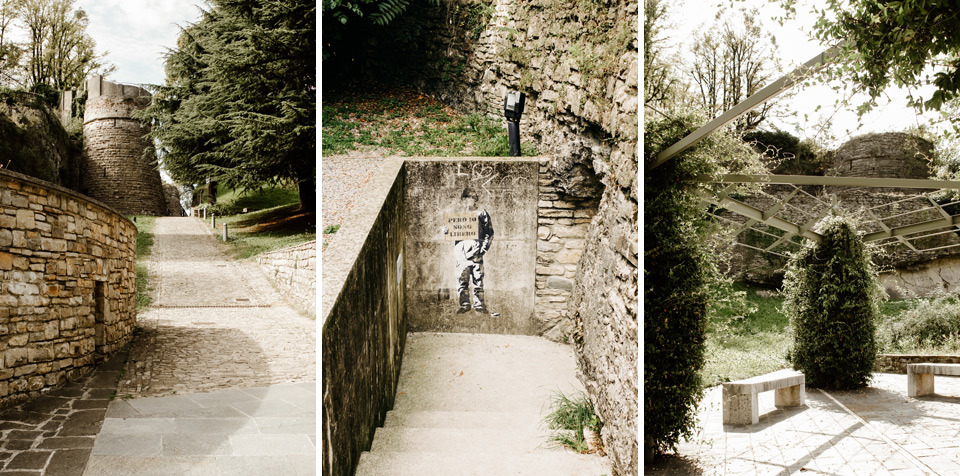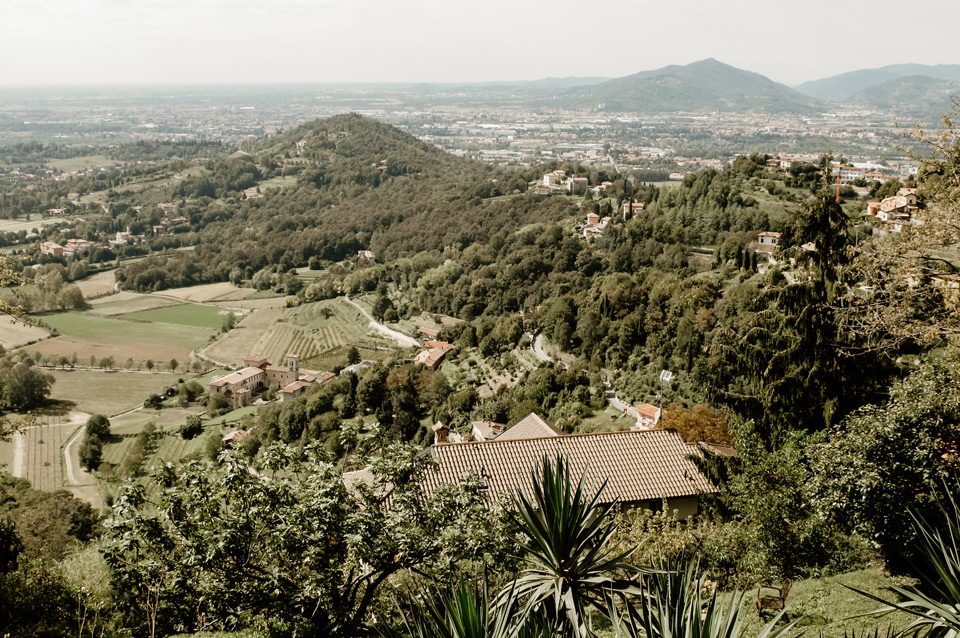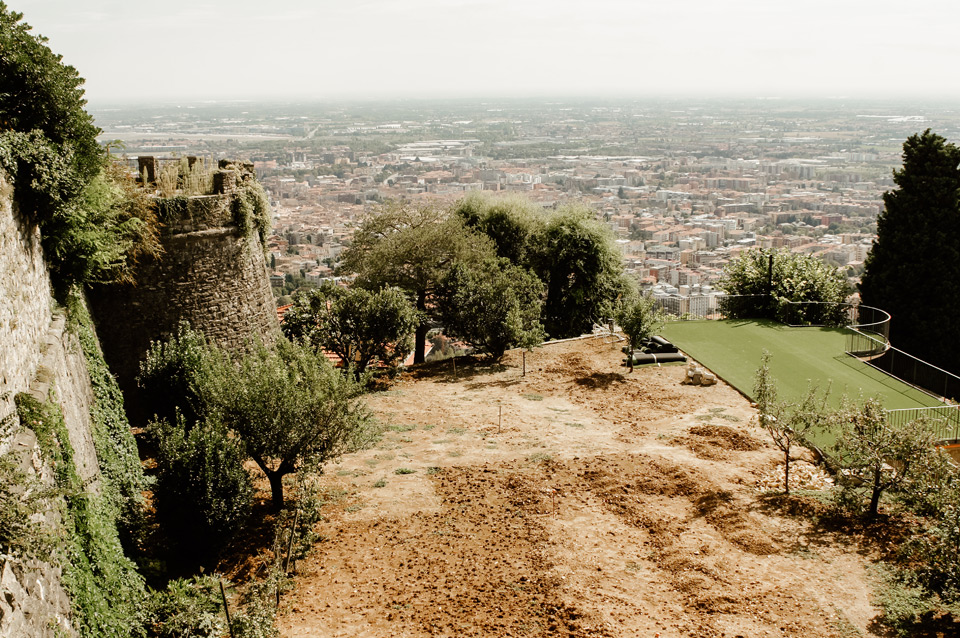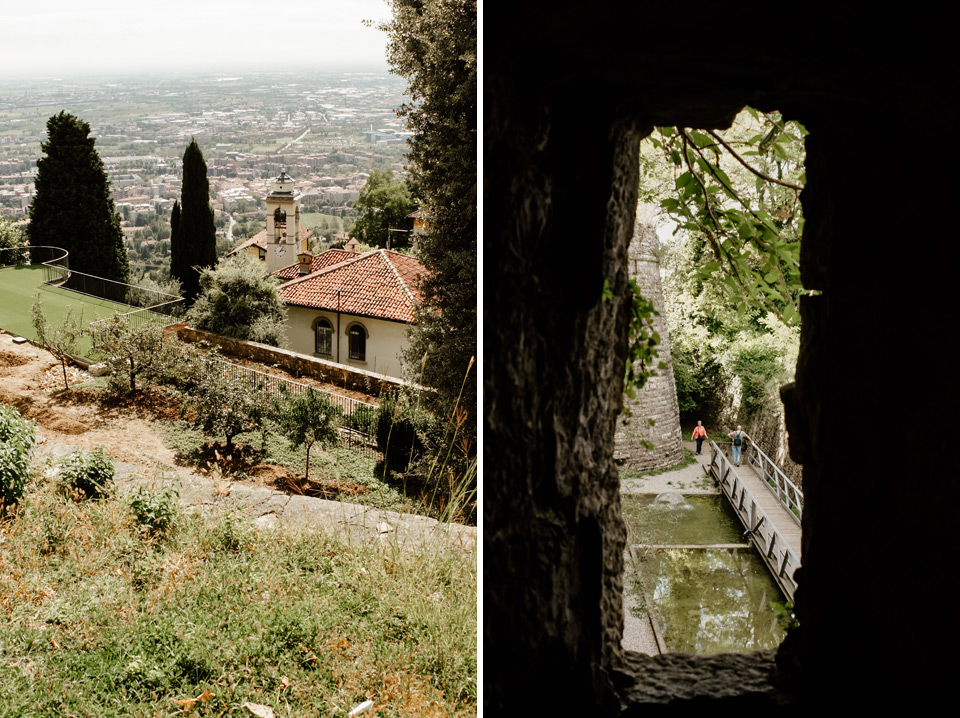 We come back from the castle and wait for the cable car. Also we take pictures with the city views in the background.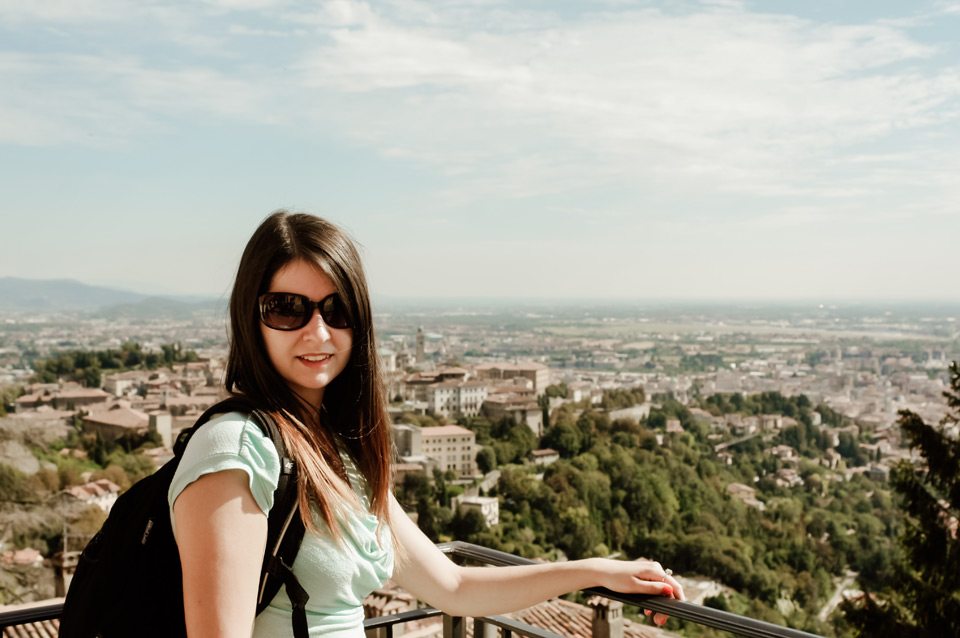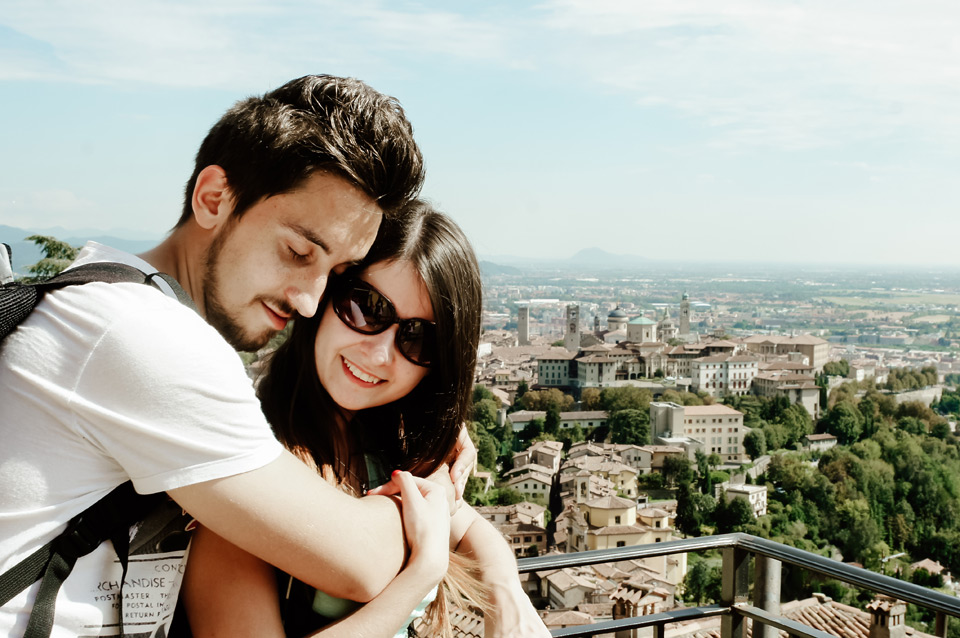 More Bergamo attractions
After descending, we sit down for a moment to eat something, and then we move on to the Venetian defensive walls (Viale delle Mura street). We pass the third gate – Saint James. Now we have views of the lower city – Citta Bassa and we can see planes flying from the airport.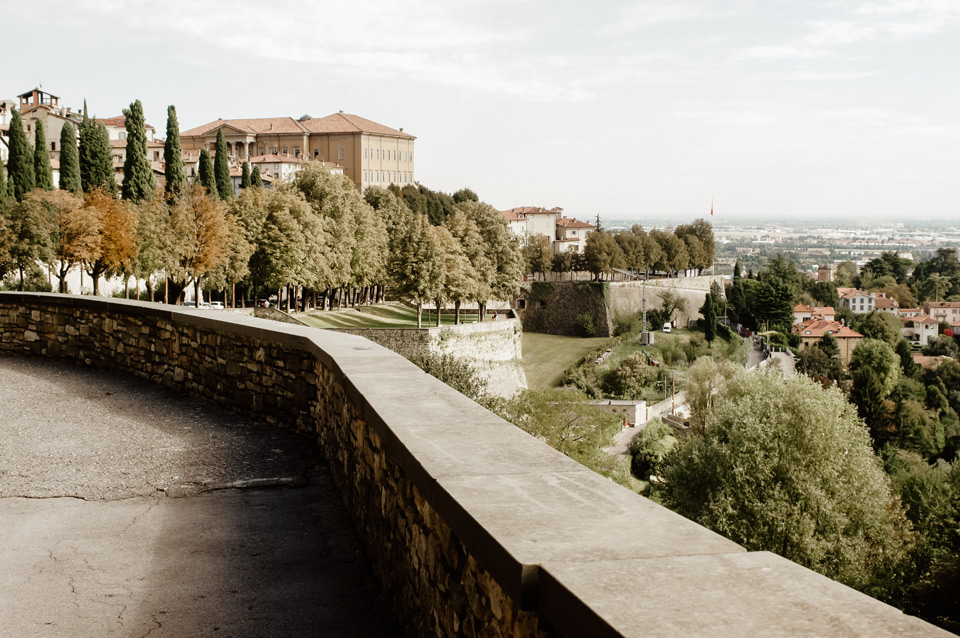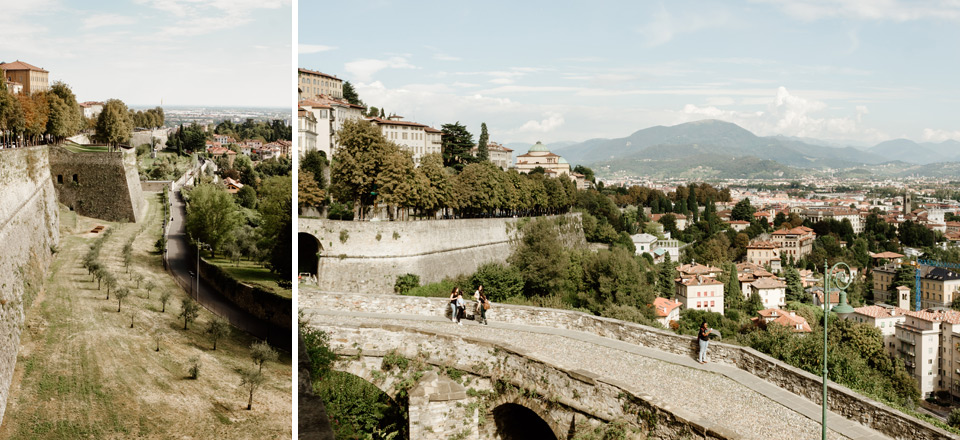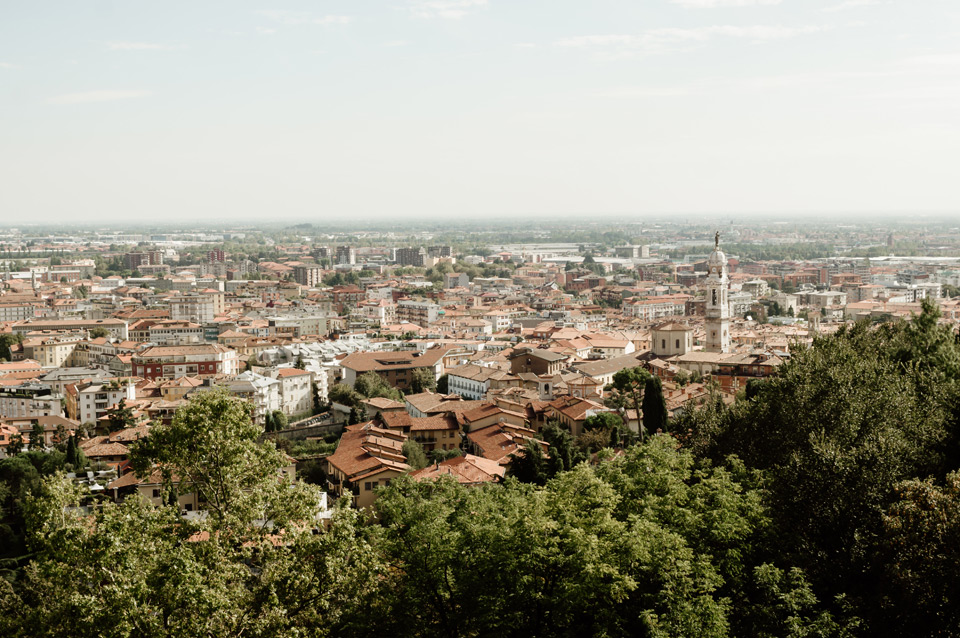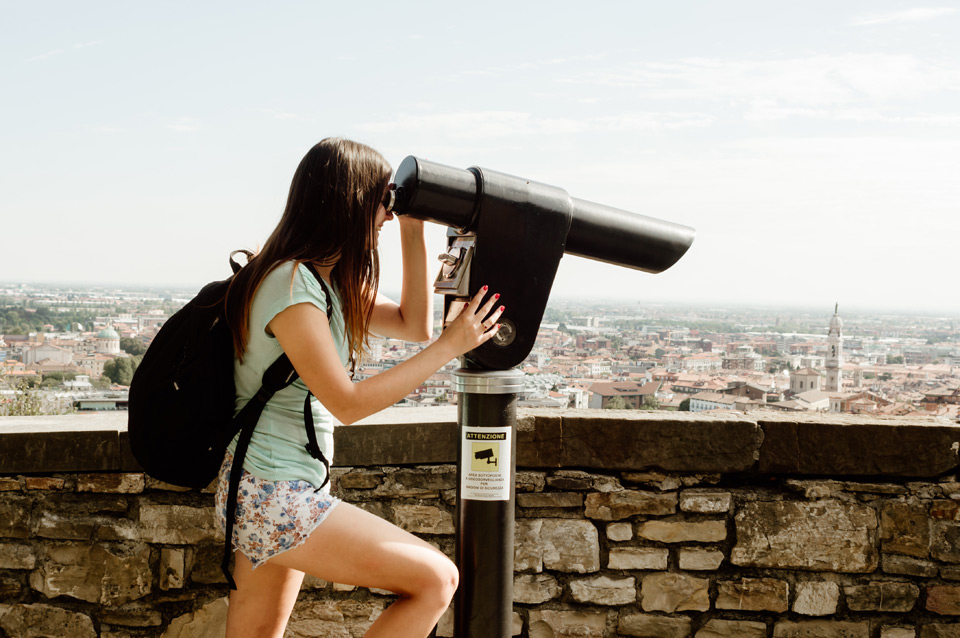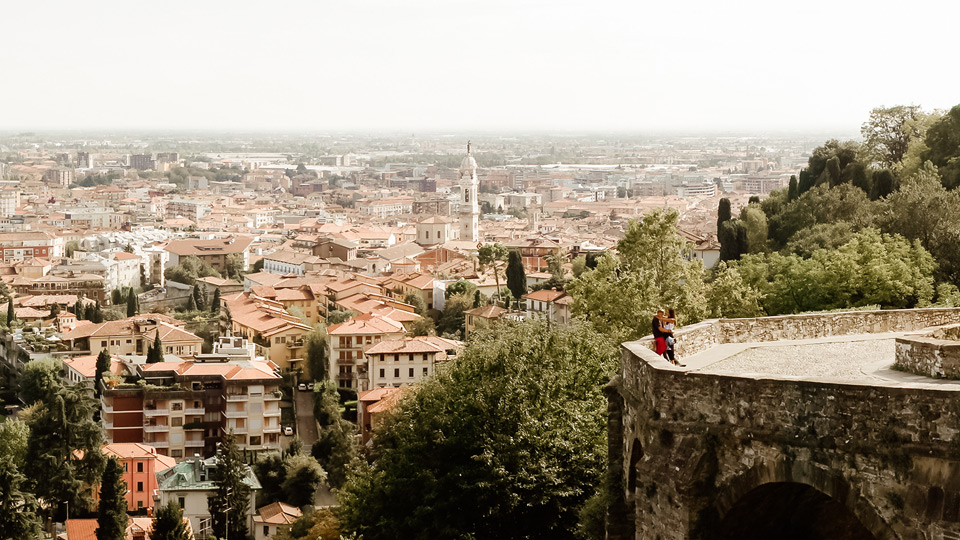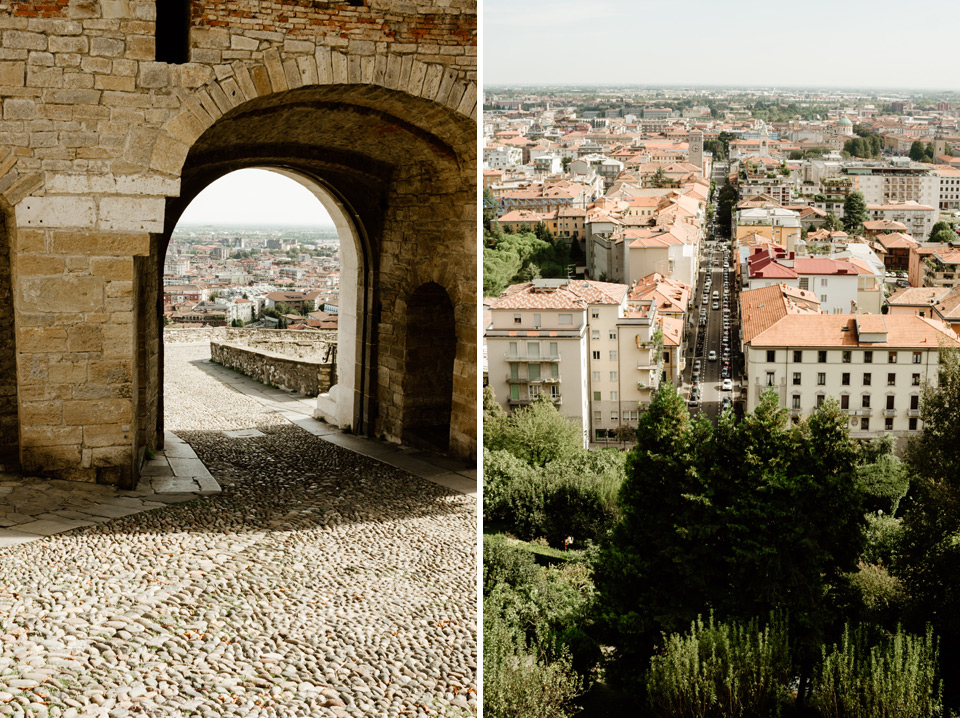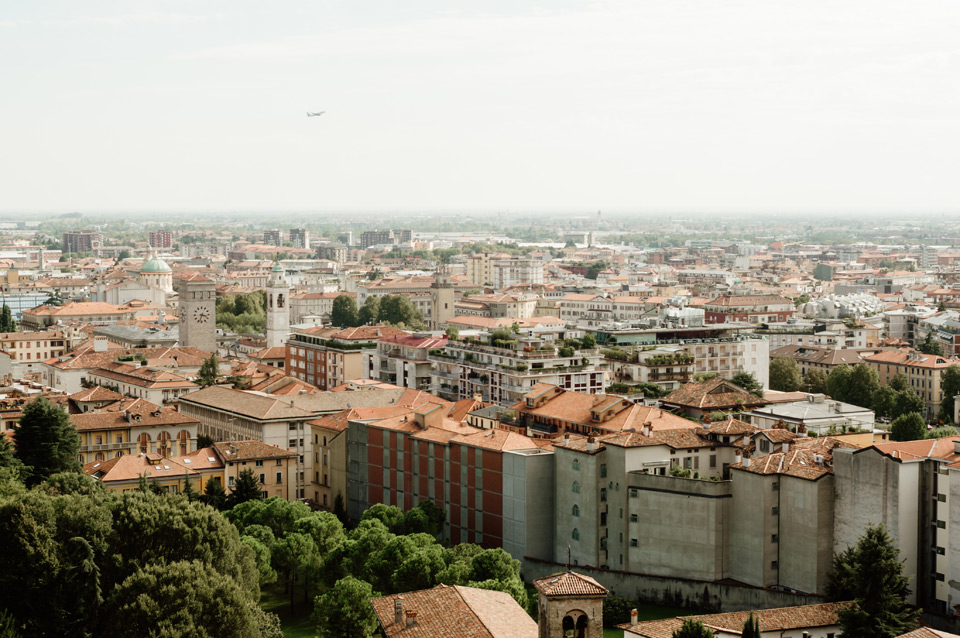 We walk a long street, pass the last fourth gate – Saint Augustine. Just behind it we get to the entrance to the park of Sant Agostino. The park itself doesn't impress me, but the views from it are delightful. See for yourself.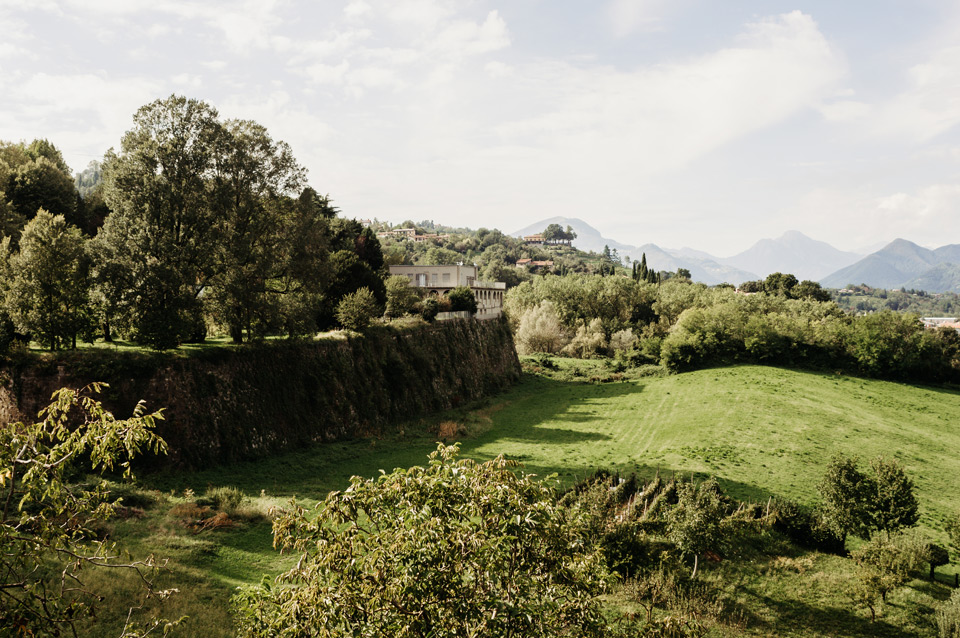 We continue along Viale delle Mura towards the old town to eat something. Unfortunately, we find a siesta and all restaurants are closed. I don't know which time it lasts from, but it's worth finding out. Now only bars and pizzerias are open, which unfortunately my comrades don't like. We go home to have a bite and we decide that we will eat dinner later.
A walk around Citta Bassa
After resting we set out to take a short walk around Citta Bassa. We get off at the Porta Nuova stop in the very center and go towards the Funicolare funicular which goes to Città Alta. We want to see what the illuminated upper city looks like (and I really want a pizza!). Cable cars run until midnight today, so we don't have to hurry. Night Bergamo is very climatic. We recommend an evening stroll through the narrow streets of this charming city.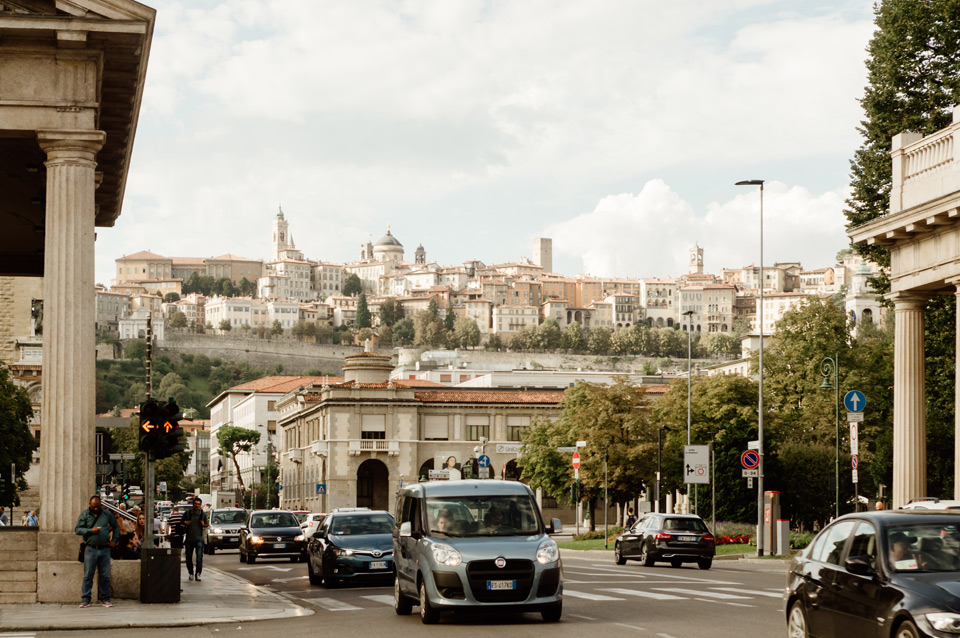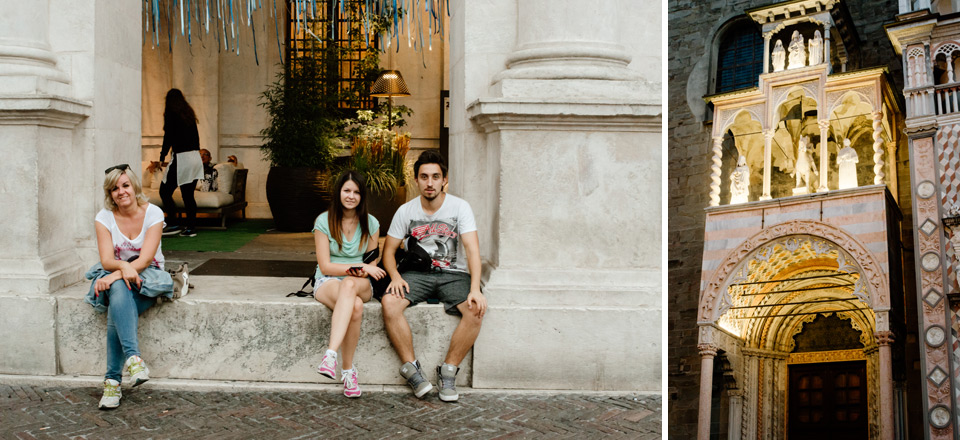 Bergamo- practical information
You can fly to Bergamo cheaply with Ryanair and Wizzair from Poland. Ticket prices are low. It's possible to find a flight at a price of around 100 PLN (~25 EUR). Bergamo is a very good starting point to explore the whole of Lombardy. It's also a good idea to pack your hand luggage only and go to Bergamo for the weekend.
In Italy there is a siesta between 13:00 and 17:00. Restaurants are closed then.
Restaurant bills often include a so-called coperto. This is a service charge, its cost is indicated on the menu and is about 1-2 euros.
If you plan to travel around Lombardy by train, remember that tickets must be checked. The exception is tickets bought online. It's worth using regional trains. Intercity journeys cost a little more.
As I mentioned at the beginning of the entry, it's worth buying a day ticket for 5 euros or a 3-day ticket for 7 euros for bus and funicolare rides. It's also valid on lines to the airport.
Bergamo Cathedral is open every day between 07:00 and 19:00. Cappella Colleoni is open from Tuesday to Sunday from 9.00 – 12.30 and 14.00-18.30 (March – October) and from 9.00 – 12.30 and 14.00 – 16.30 (November – February). Admission to attractions is free. Remember that opening hours are subject to change. You can find current information here.
Thank you for reading the entry!
If you think it is interesting, we would be pleased if you leave a mark in the comment.
You will find more posts from Italy here:
There are direct links to the next and previous episodes below.
All our travels: Travels
We also invite you to our Instagram and Facebook fanpage, where you can be up to date with all our travels.
See you later! 🙂