In this post I will describe and show our second day on the island of Gozo. You can see the first part here: Gozo, part 1- travel report. During the weekly trip to Malta, tourists often spend only one day on Gozo. I recommend spending at least two days on the island.
Mġarr ix-Xini- mało znane atrakcje gozo
I once mentioned that I like to look for interesting places to see on my own. To do this, I open GoogleMaps on my computer and "walk" on the map. That's how I discovered Mġarr ix-Xini Bay. This is our first point on today's sightseeing route. We choose the route to the destination via Triq ta 'Mġarr ix-Xini. You can see John the Baptist in Xewkija rotunda from it. The road is narrow and holds only one car. Fortunately, nobody is coming from the opposite direction. I don't like to ride such remote areas, but I am delighted.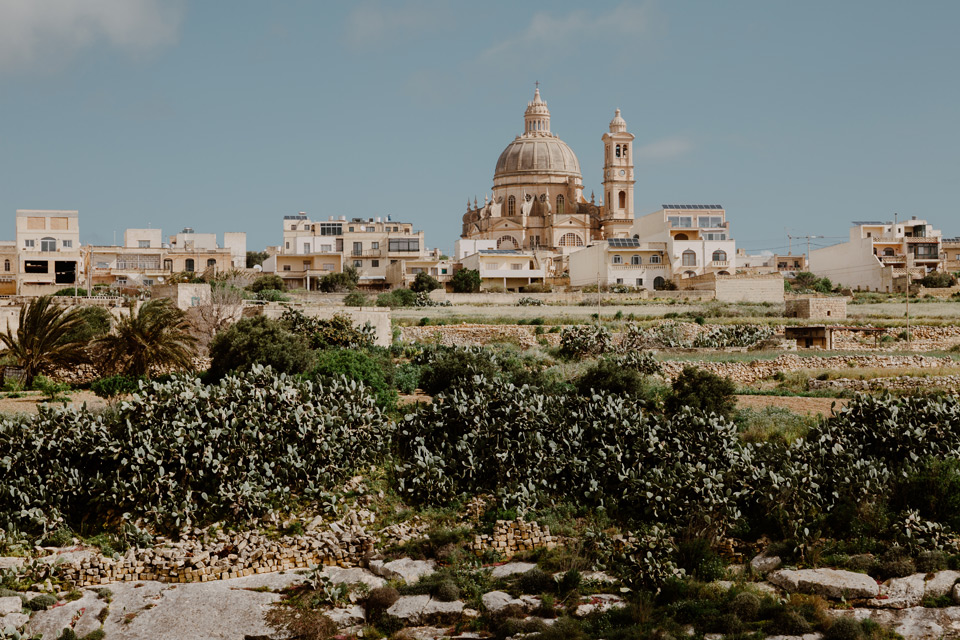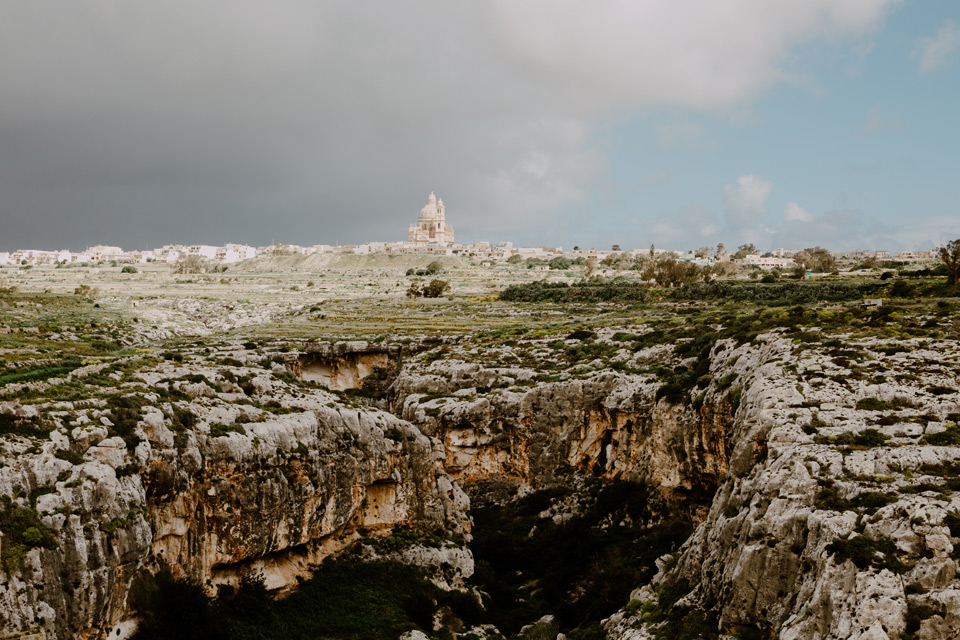 We come to Mġarr ix-Xini. We wait for a moment in the car because it rains. Fortunately, after a while it stops and then the sun comes out. At a calm pace, we explore the entire bay around.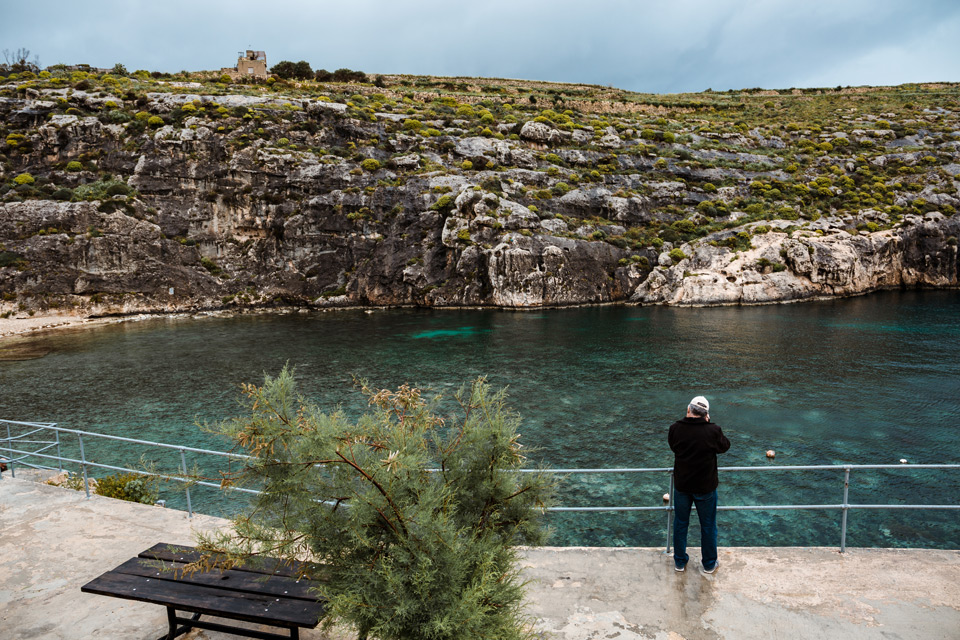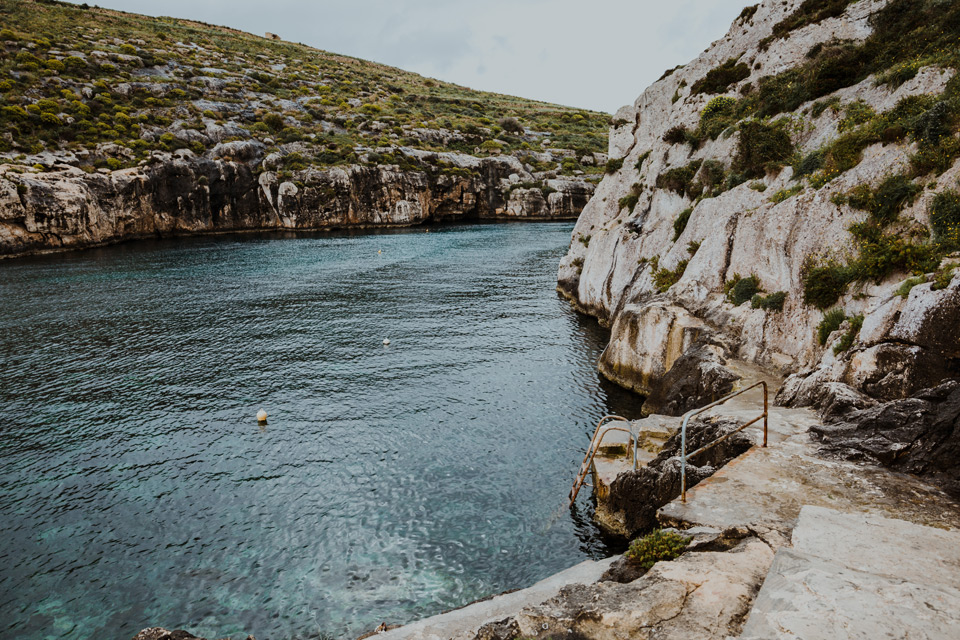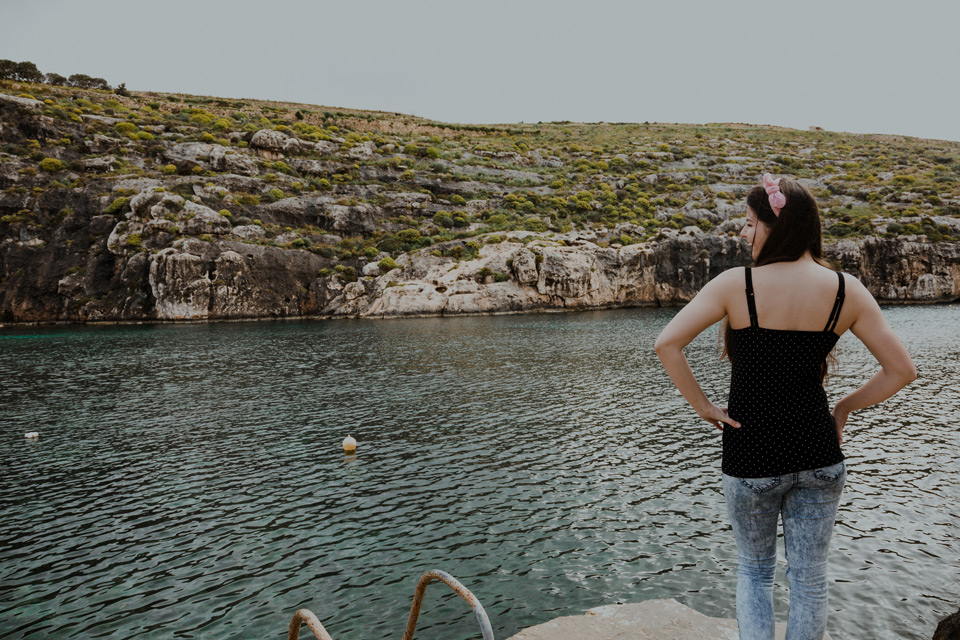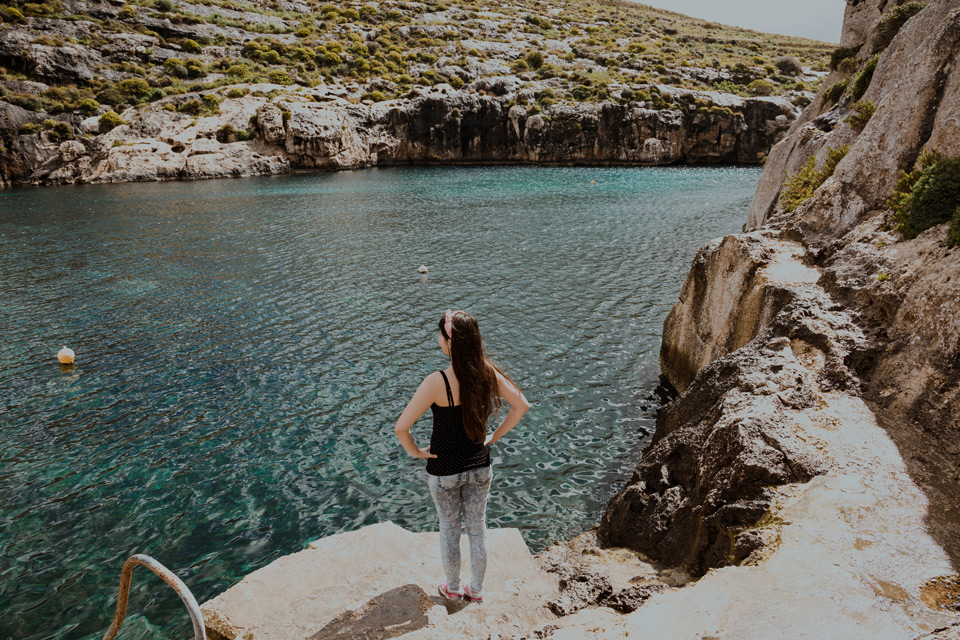 Mġarr ix-Xini- BEACH
We also go down to the beach. I was expecting something better, but it's not bad. Only the views are a bit "raw". The bay is surrounded by rocks here and there and a bit by greenery. In the distance the only thing that may interest us is the tower with the same name as the bay – Torri ta 'Mġarr ix-Xini. It's nice here, but nothing more. Certainly, the lack of tourists adds some charm and we can stay here almost alone, but I would not call this place "the hidden treasure of Gozo" as I read somewhere.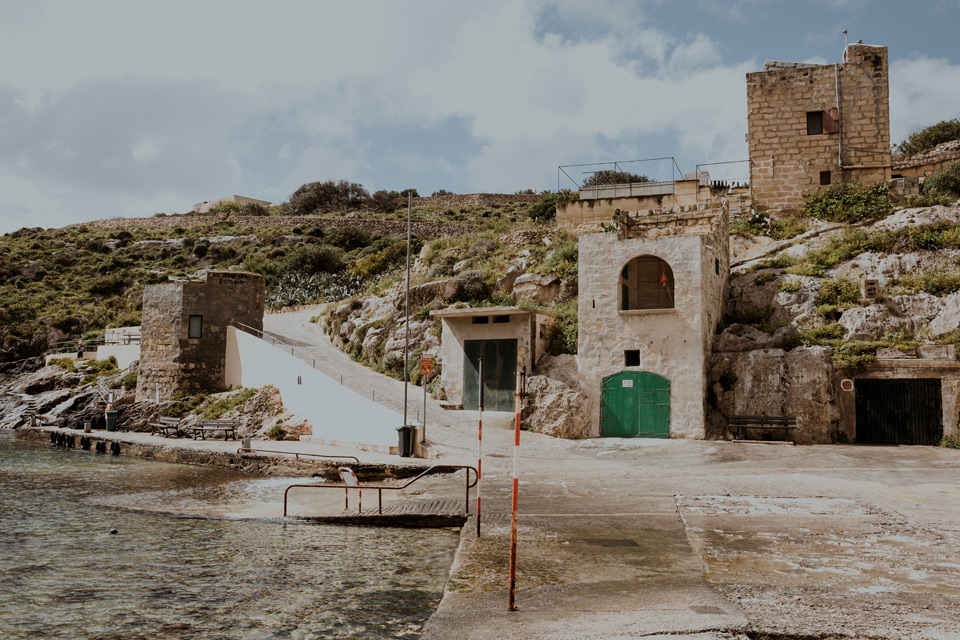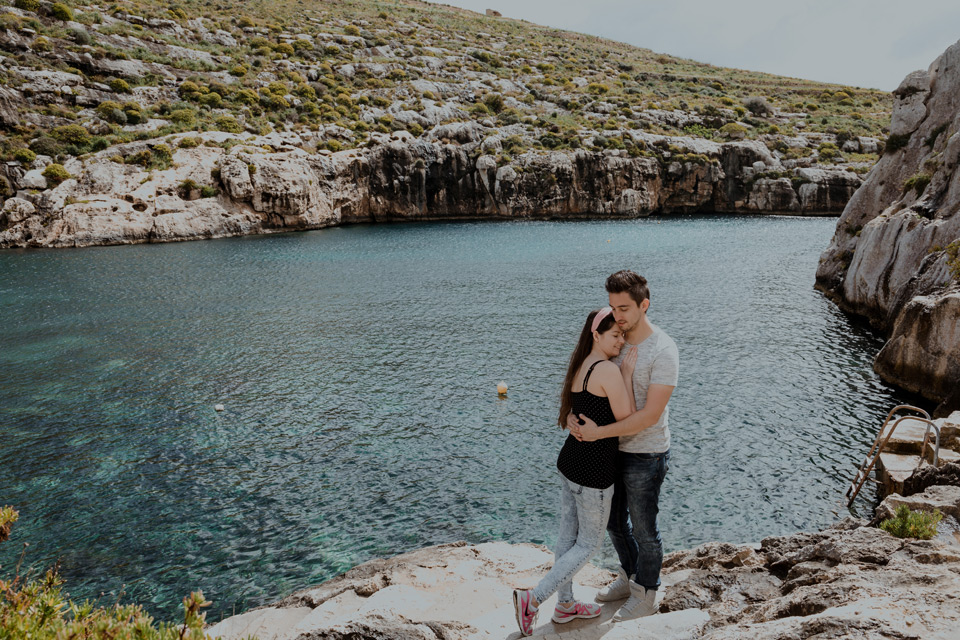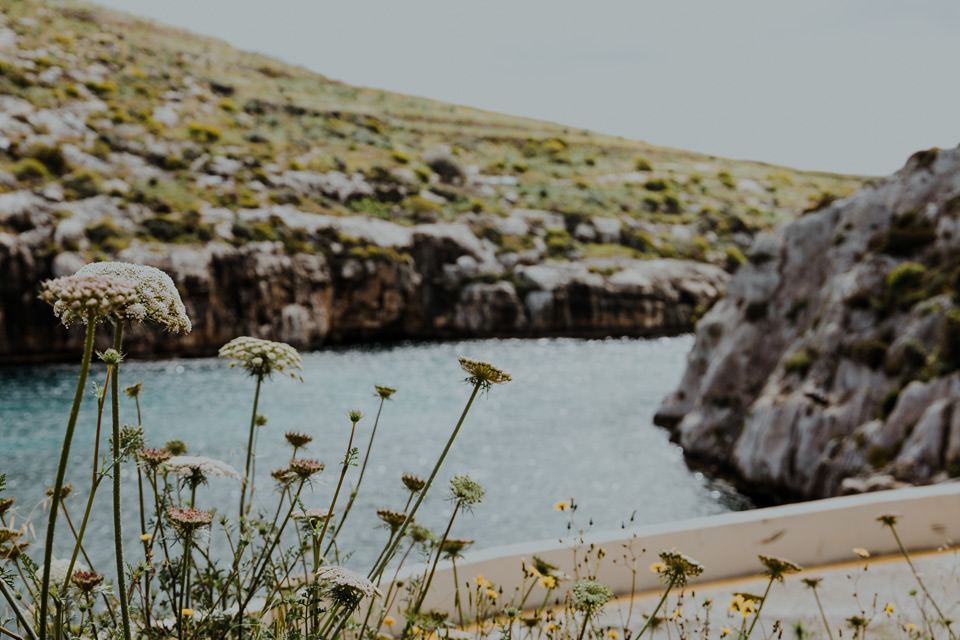 I go with Beata up the road in search of frames. I wanted to take a picture that I saw on the internet and which beautifully portrayed Mġarr ix-Xini from afar. Unfortunately it don't work out. I suspect that it was taken from the other side of the bay, where there is a walking trail – I didn't know it at the time. If you don't have a car, you can reach Mġarr ix-Xini on foot from either Għajnsielem or Xewkija. The first one is a little bit closer.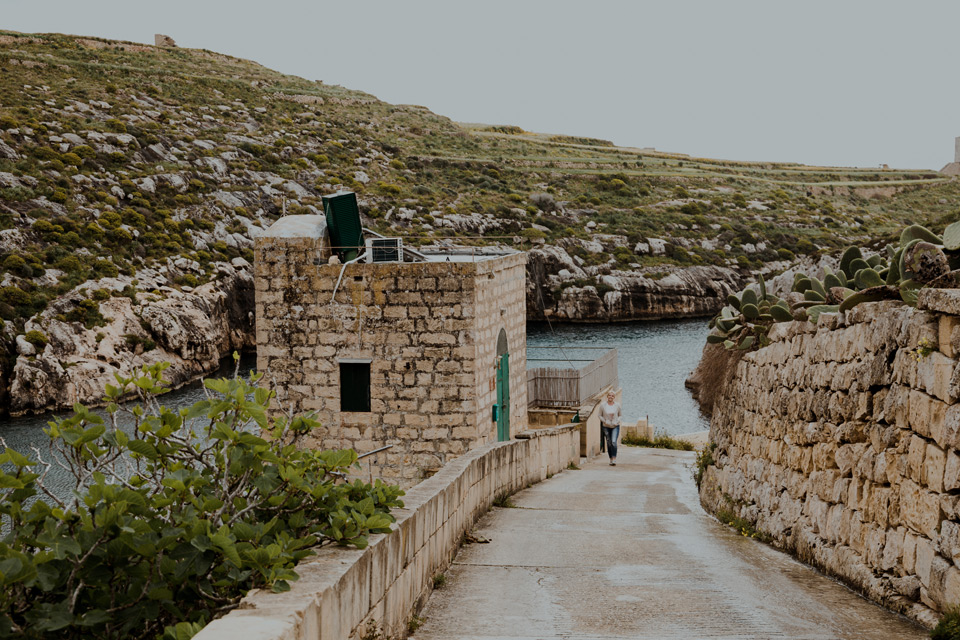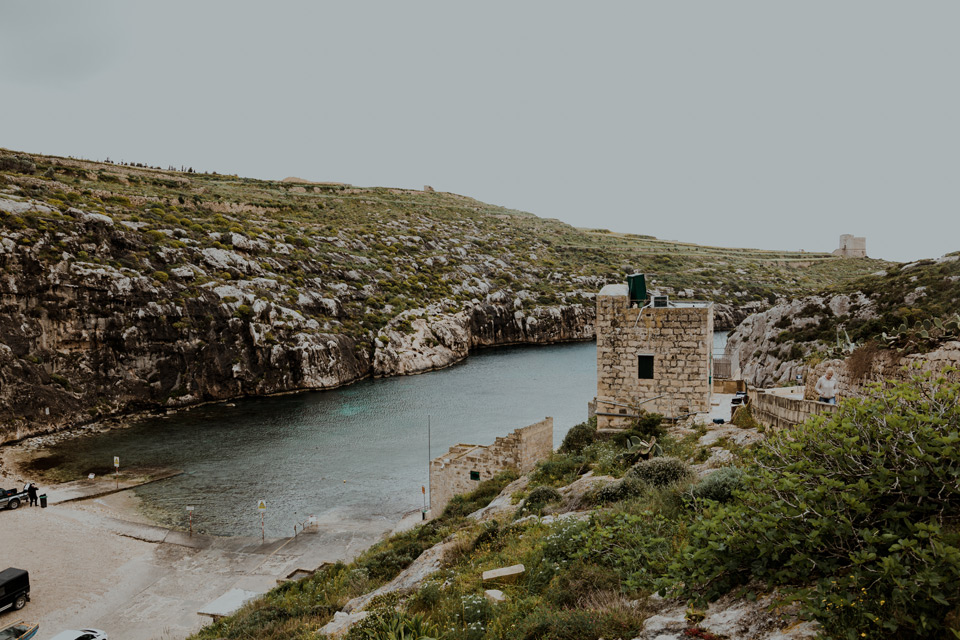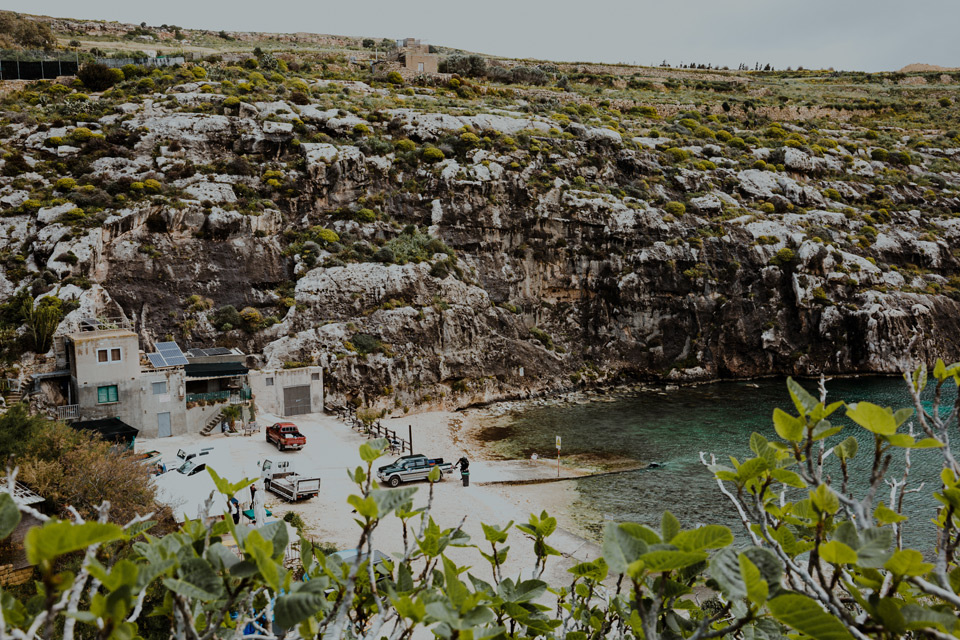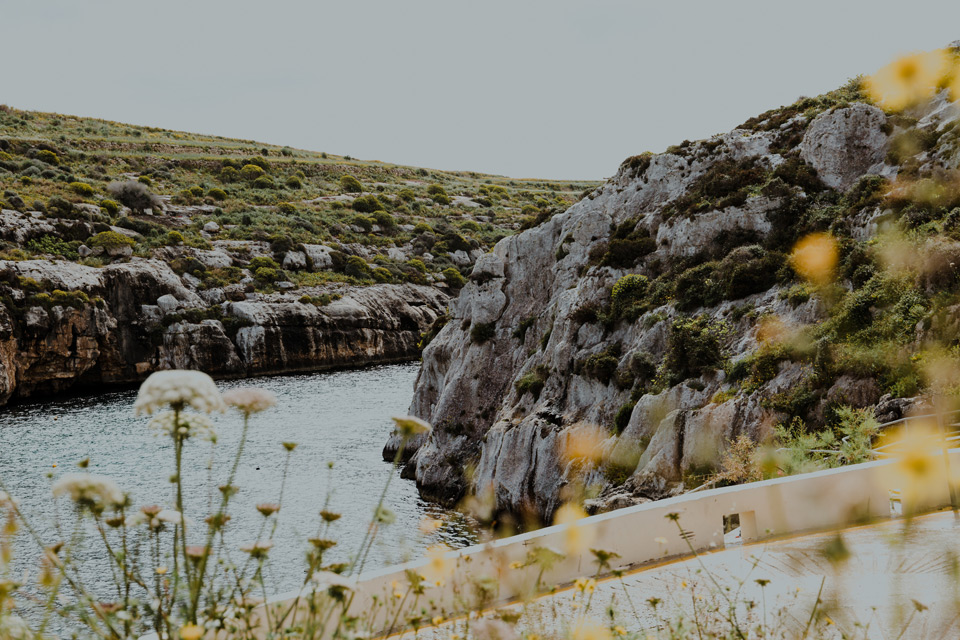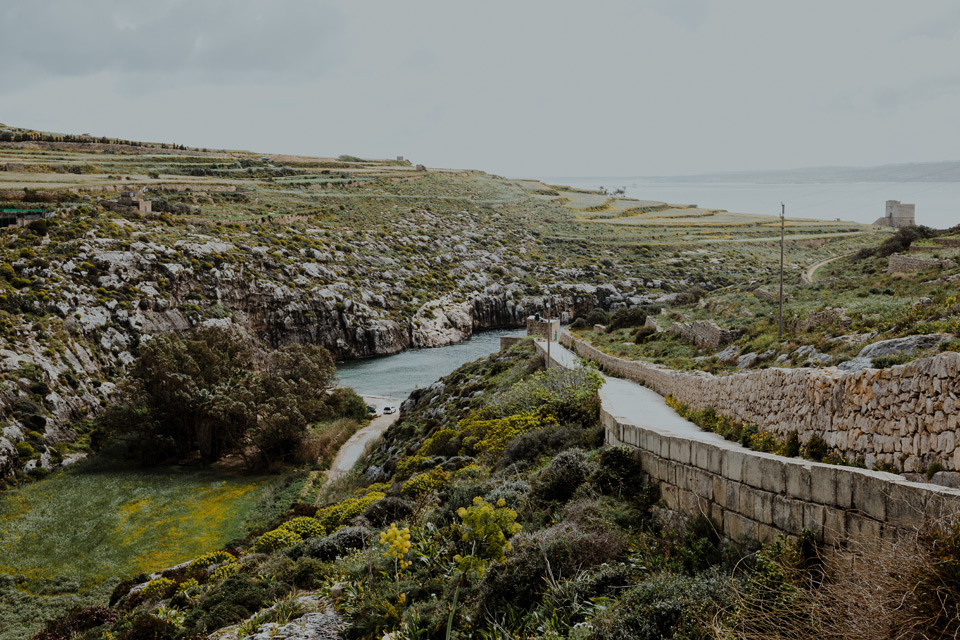 The most beautiful places on the Gozooka Xlendi
We leave Mġarr ix-Xini and go to Xlendi. We were already in this place, but it was sunset, then it quickly became dark and we were unable to explore the bay thoroughly. Fortunately, today we have a lot of time to look into every nook and cranny. We leave the car and the first views knock us down. We go down the stairs to the water and slowly walk first one way, then the other. The waves are huge today. Swimming in the sea is impossible today, but the most important thing is that the sun shines!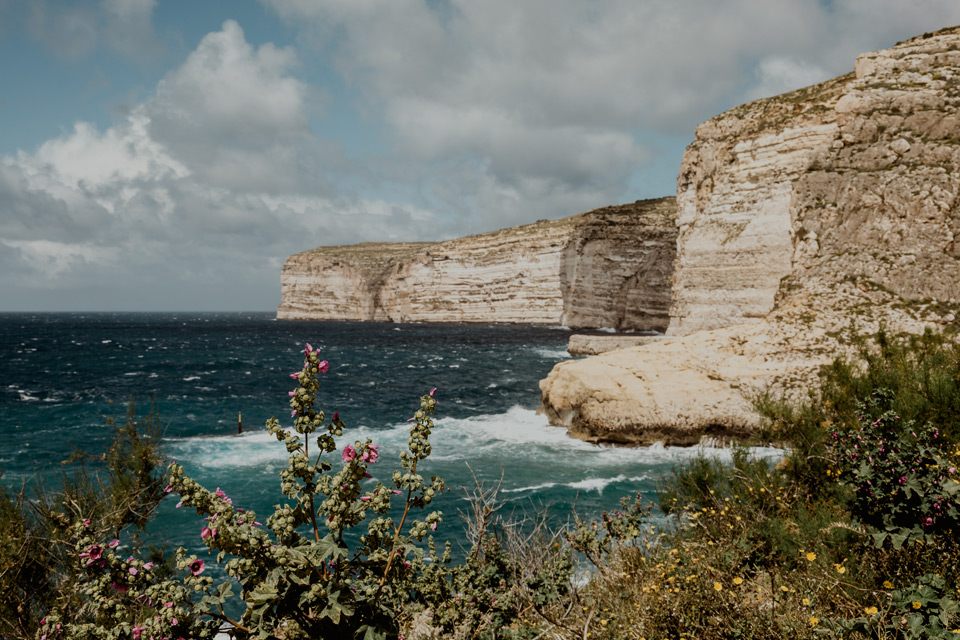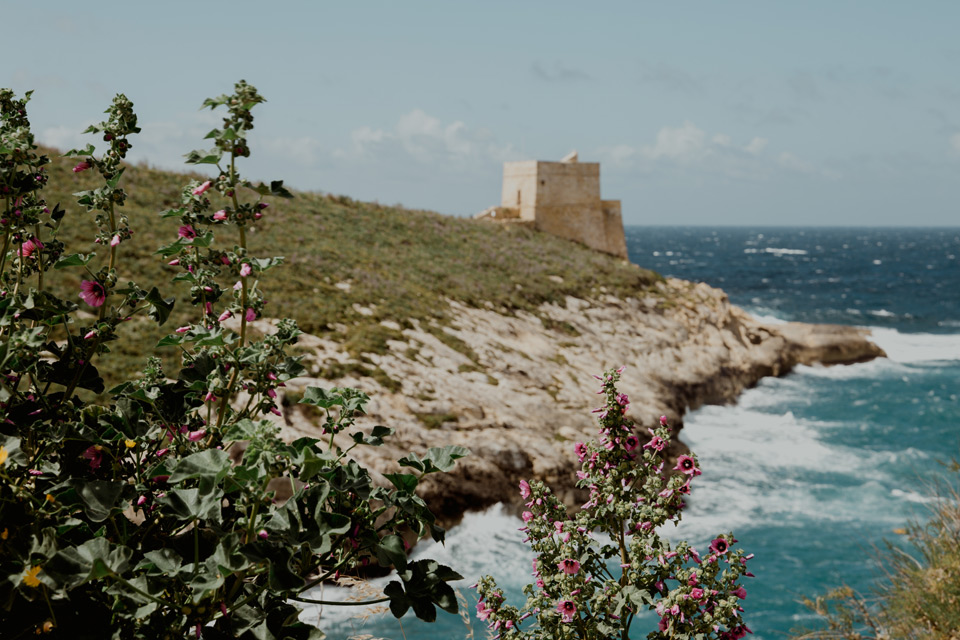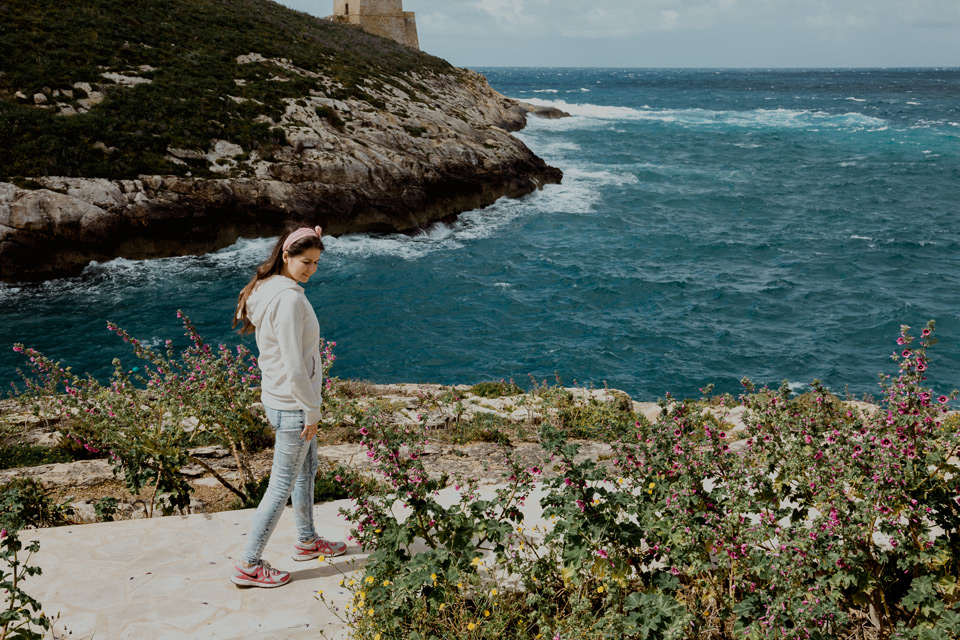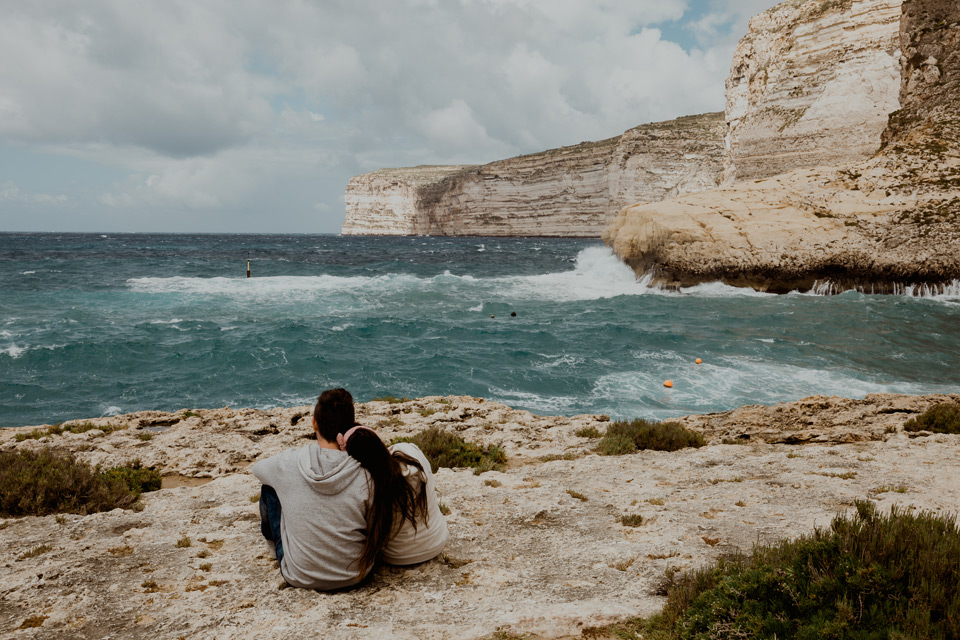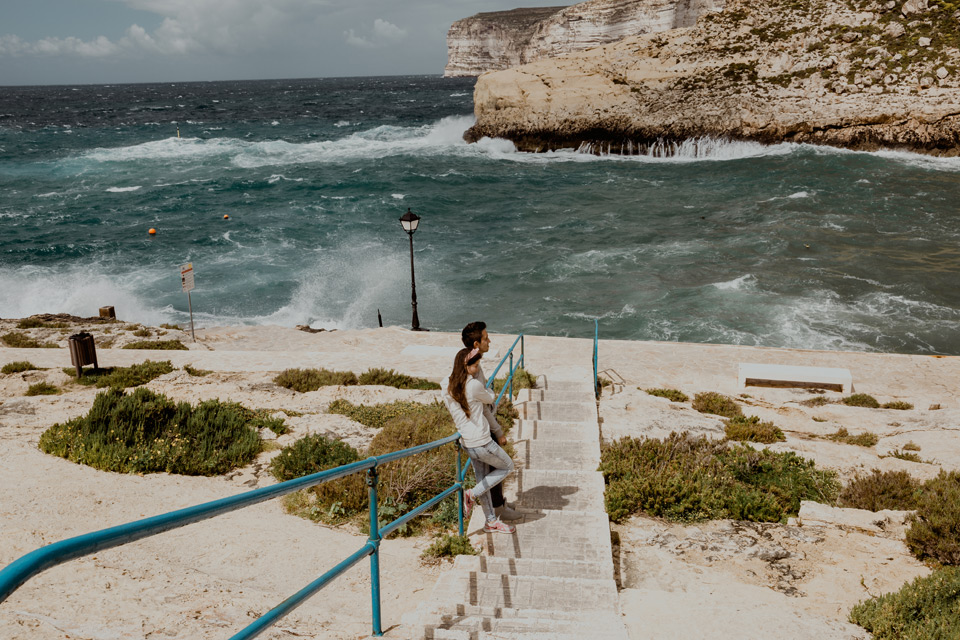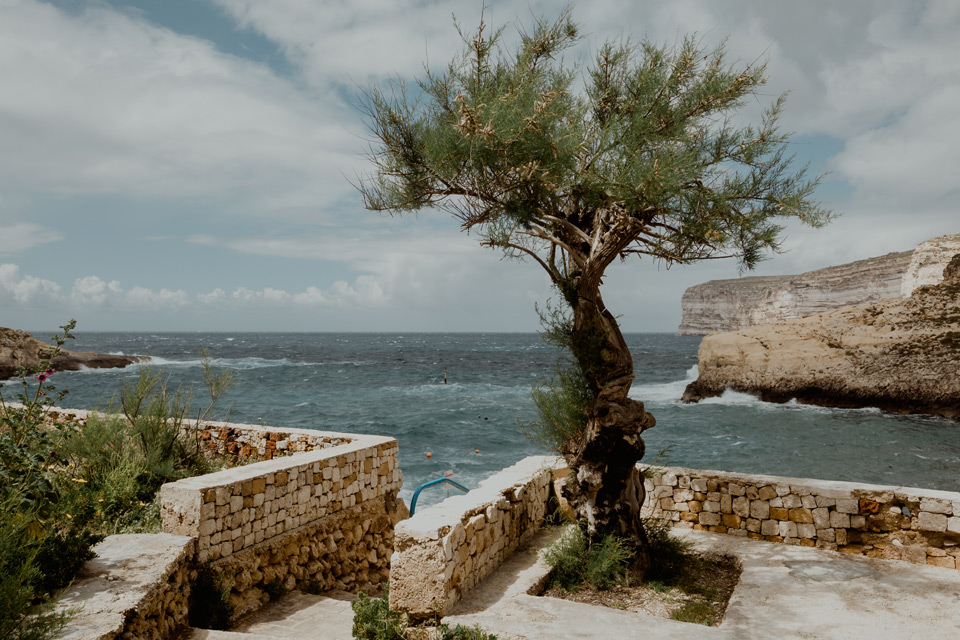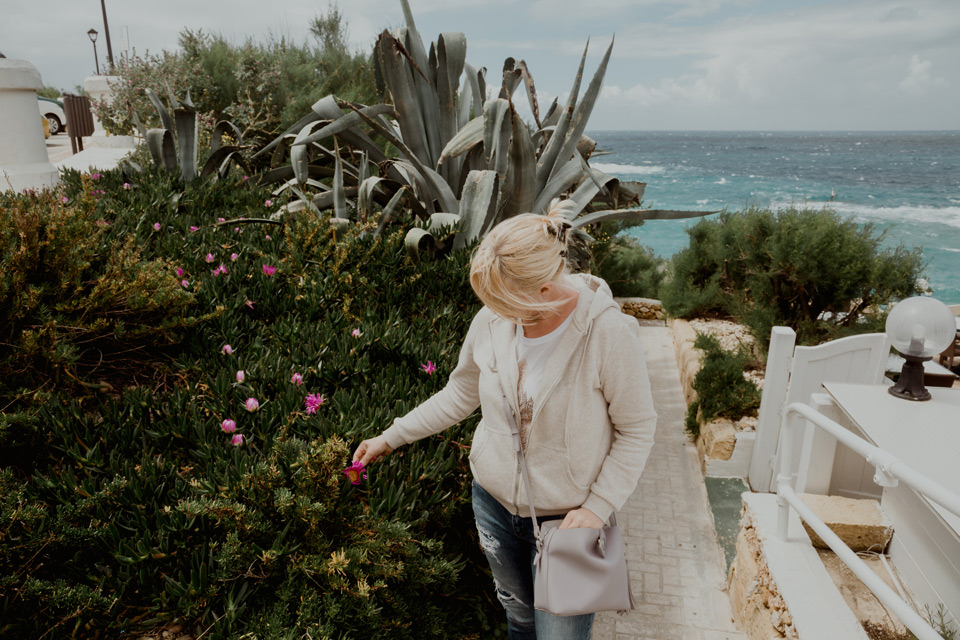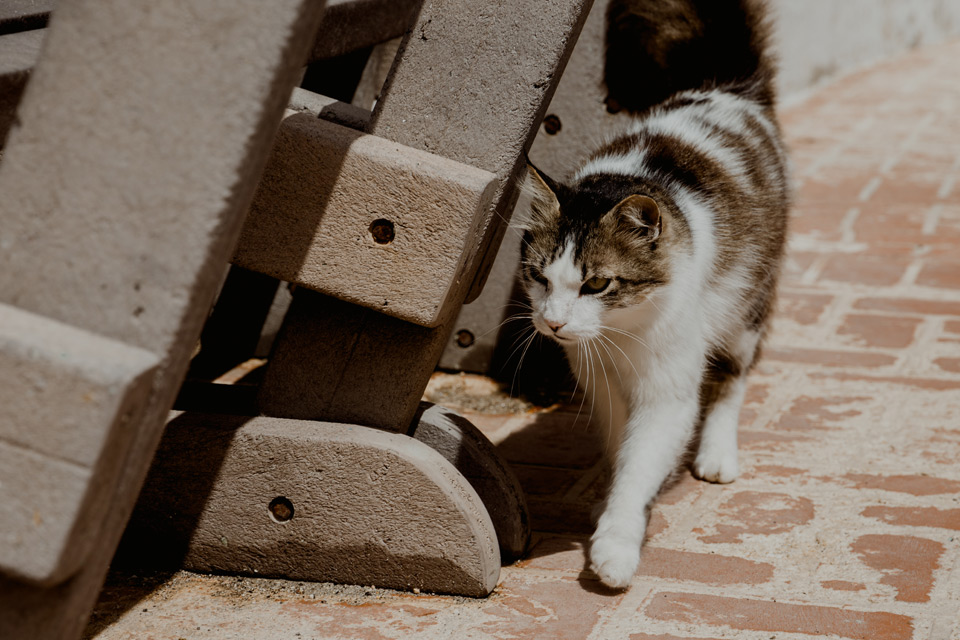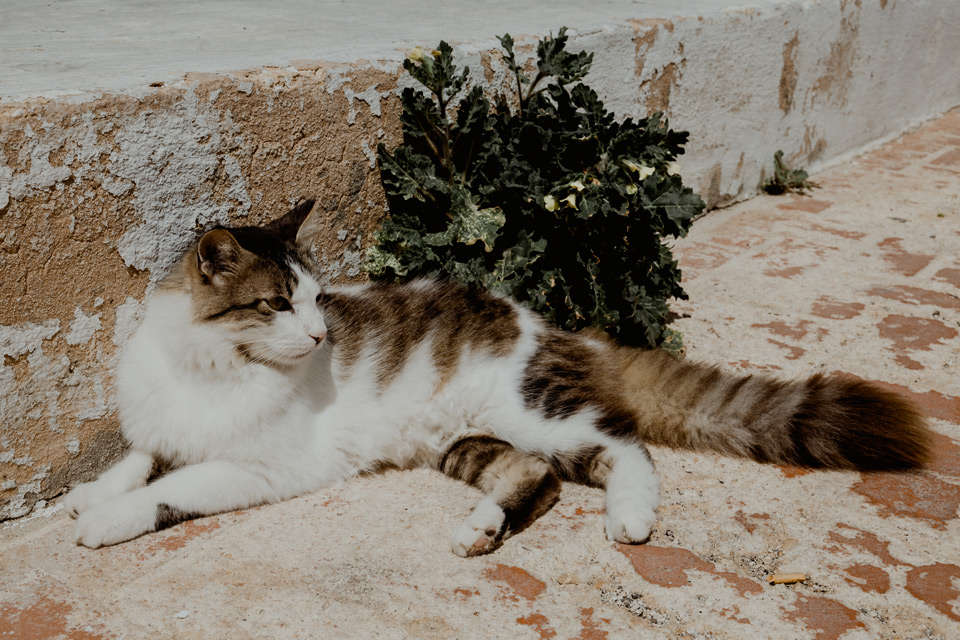 We visit the restaurant Il-Terrazzo. There are the most beautiful views of the bay of Xlendi from it. I order Mohito and spaghetti with seafood – yummy. Before serving a meal, a regular visitor of the restaurant comes to sit on my knees. Unfortunately, I forgot his name, but you can recall him by looking at the pictures below. Below there are also photographs that show views from restaurant's surroundings.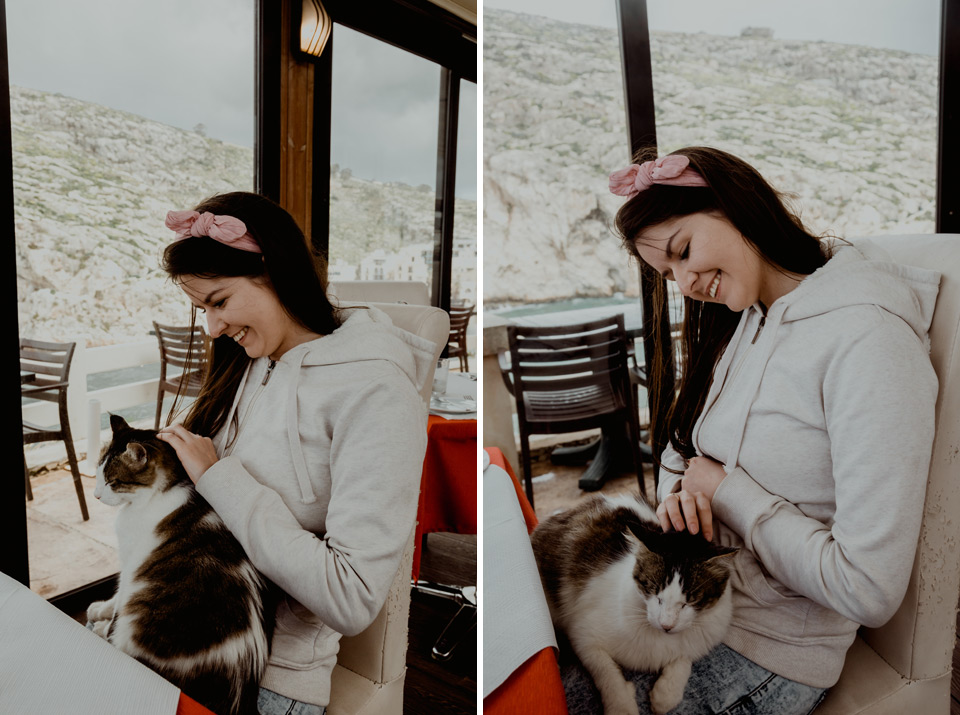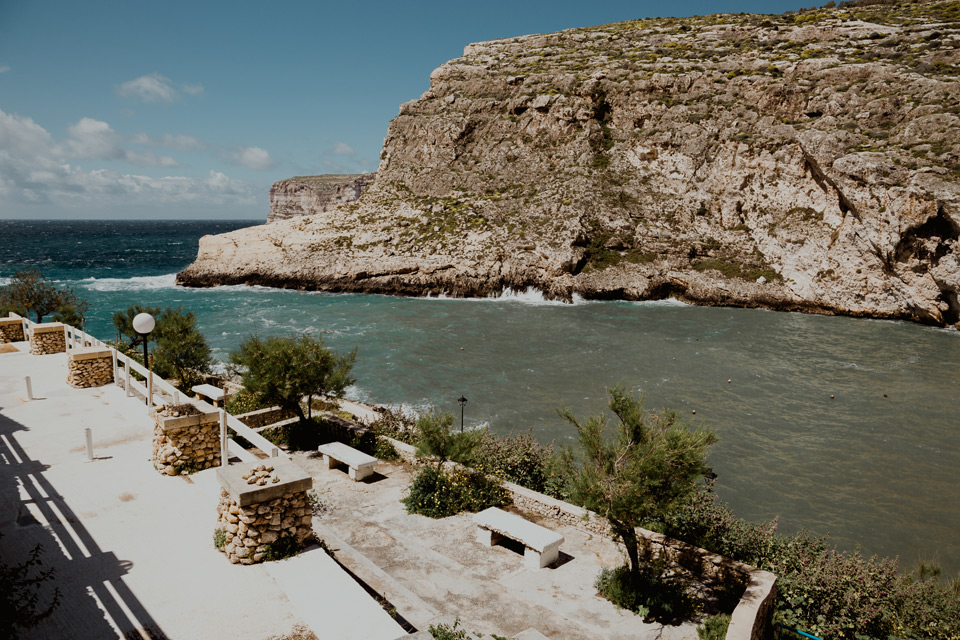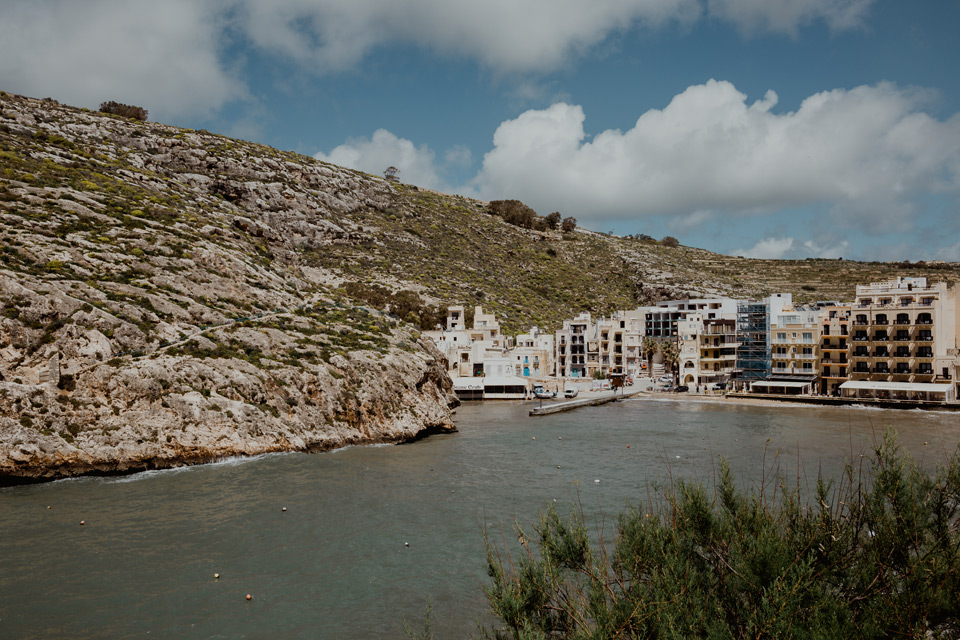 We go down to the bay, where there are a number of buildings and restaurants. Later we enter the trail, which we spotted from the other side of Xlendi Bay and observe the bay from a different perspective, this time its left side. We take a lot of photos along the way, we are not in a hurry.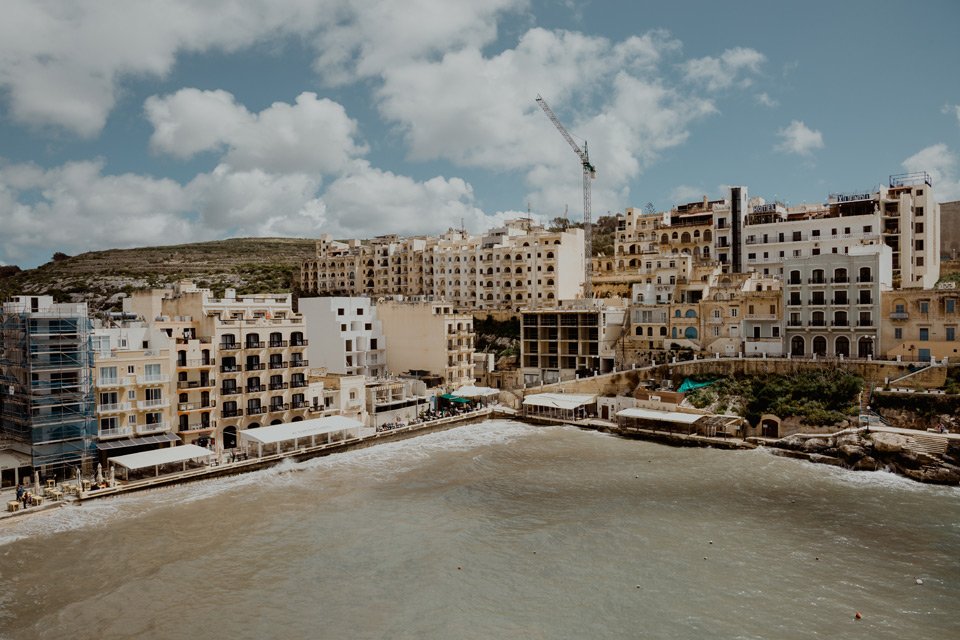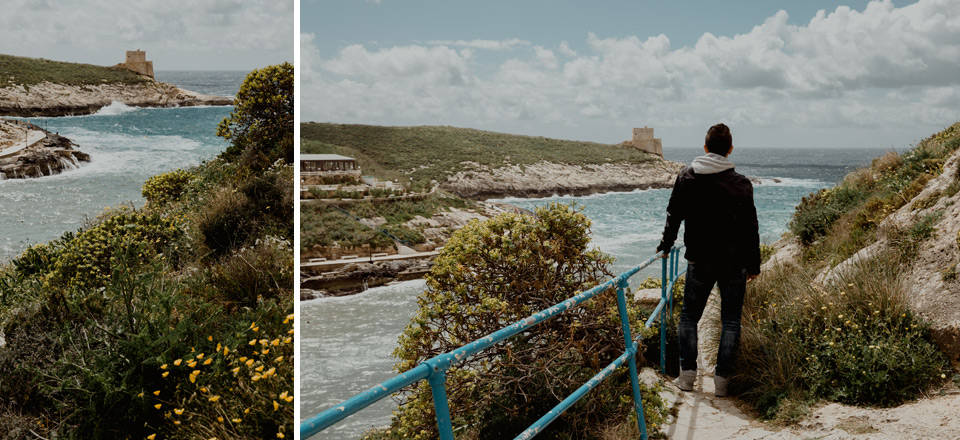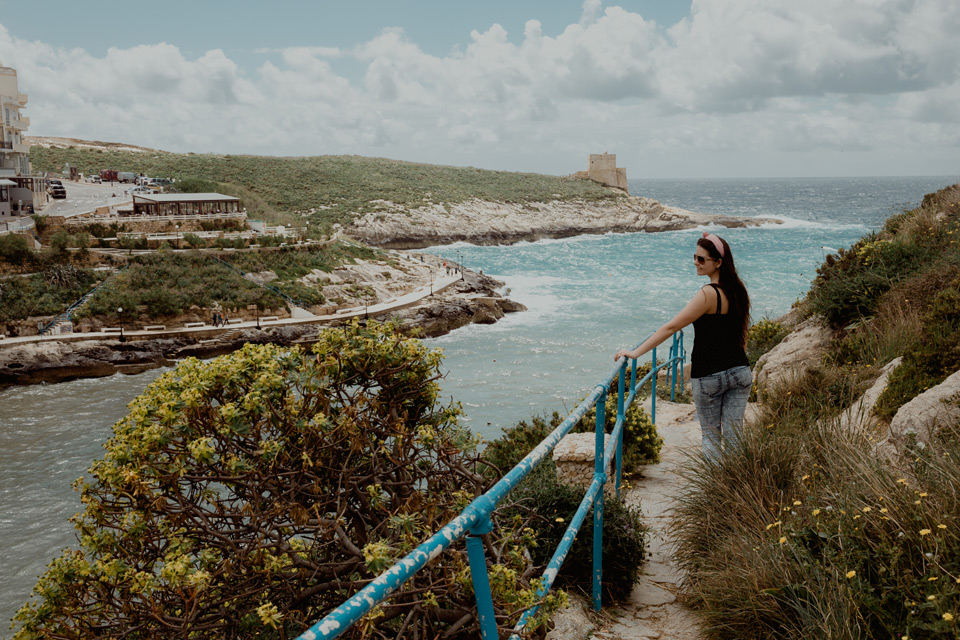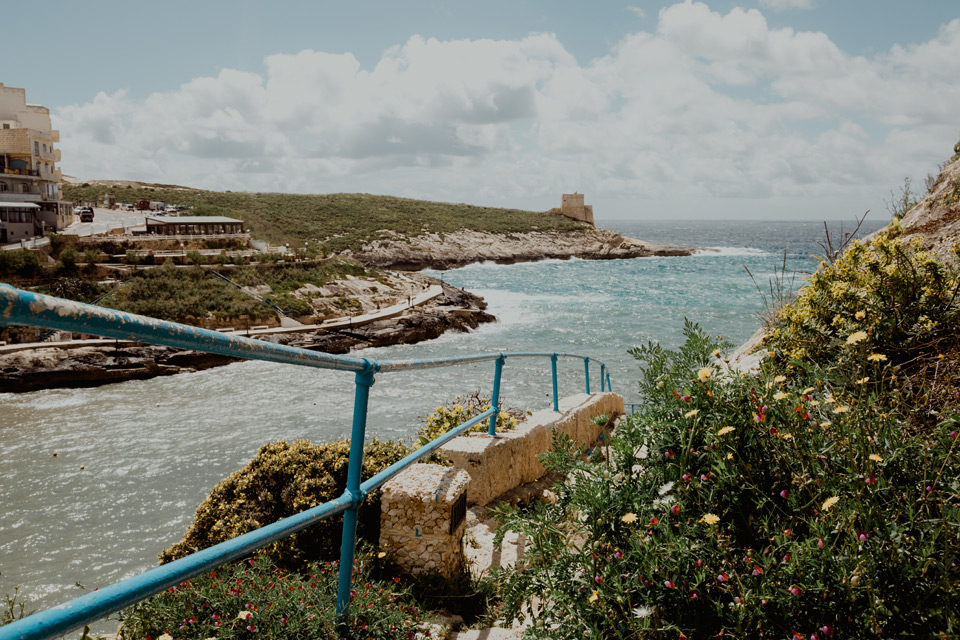 The path leads us to an amazing place. We would be happy to stay here longer, but we lost our companions somewhere. Everyone had a different pace and went in a different direction. We have to check if they are still alive.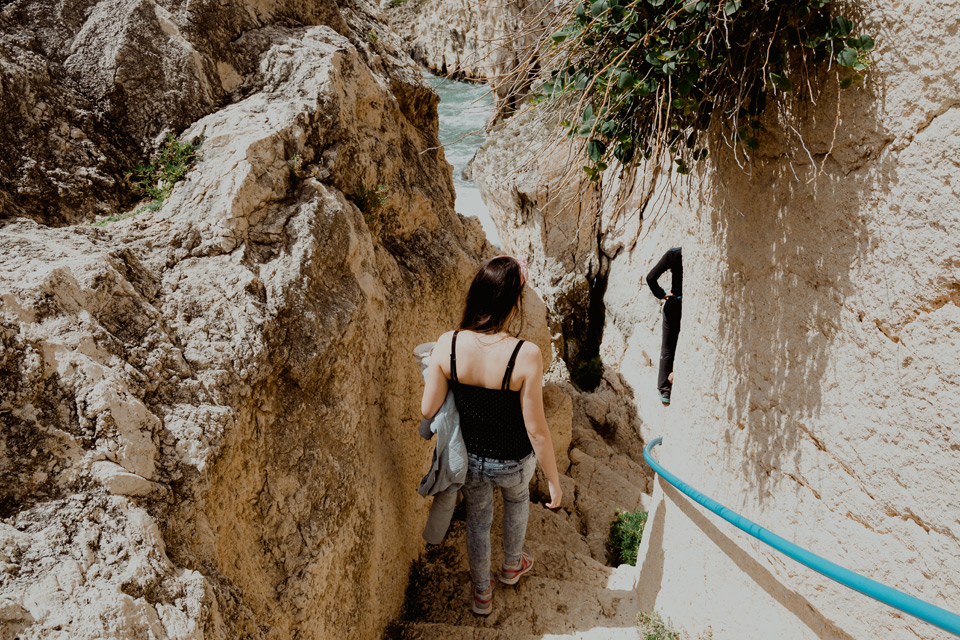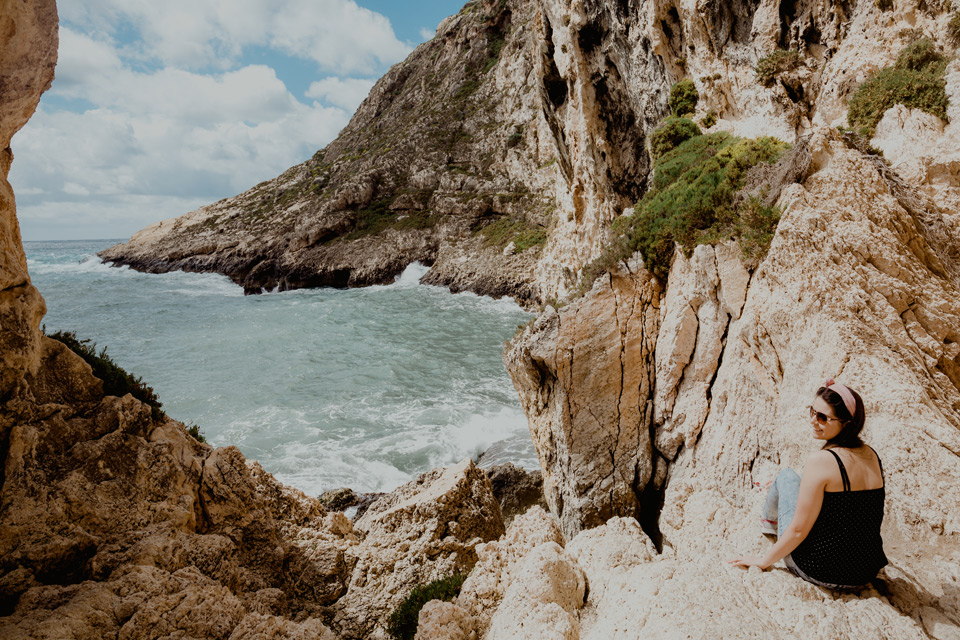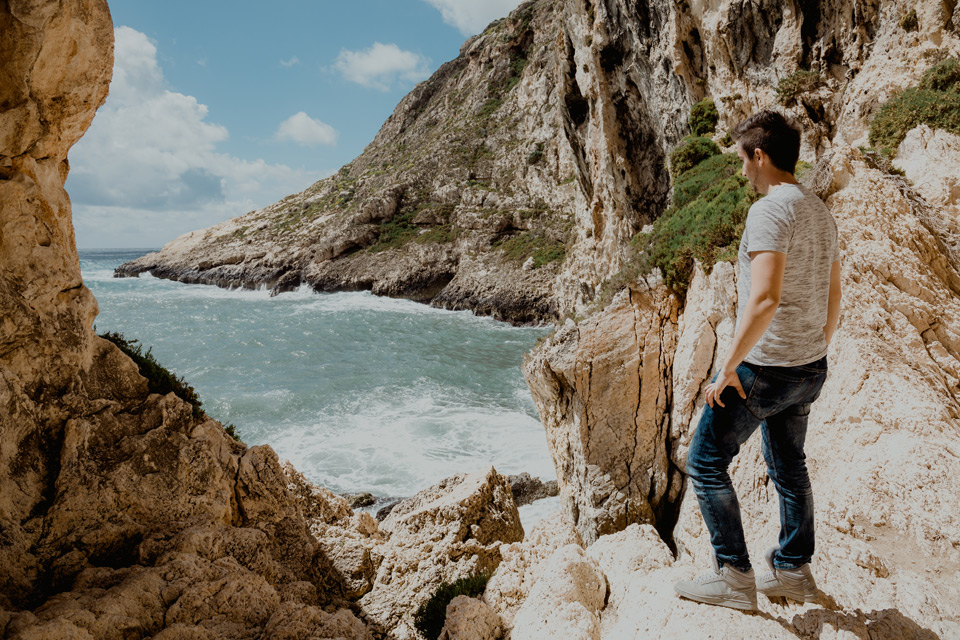 Xlendi Bay – undiscovered secrets
We return to the parking lot, meet with Beata and Robert, and go in an undiscovered direction, i.e. to the left. In a moment a small charming bridge appears before us. We go through it, and by the way we meet with another cat. This one is a bit shy. I want to give him food, but he is too scared and accepts nothing from us. We go further. Once we look at the feet, and once towards a beautiful bay. The views are wonderful.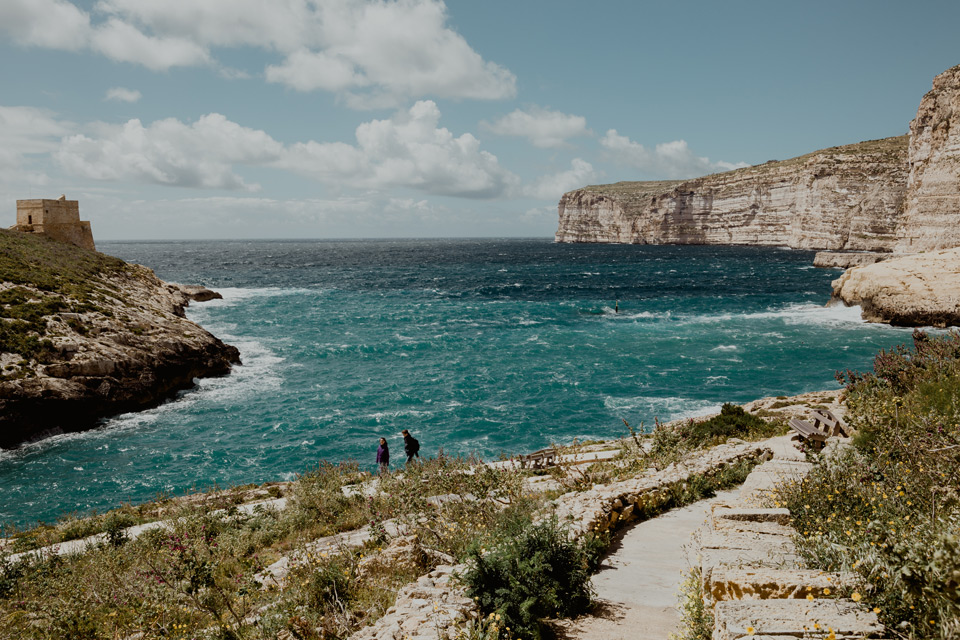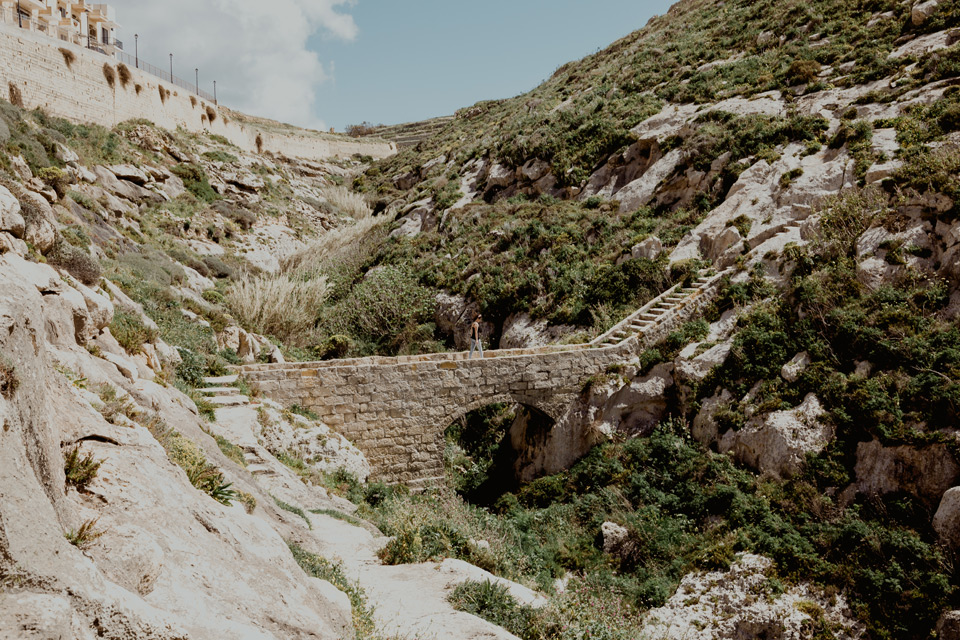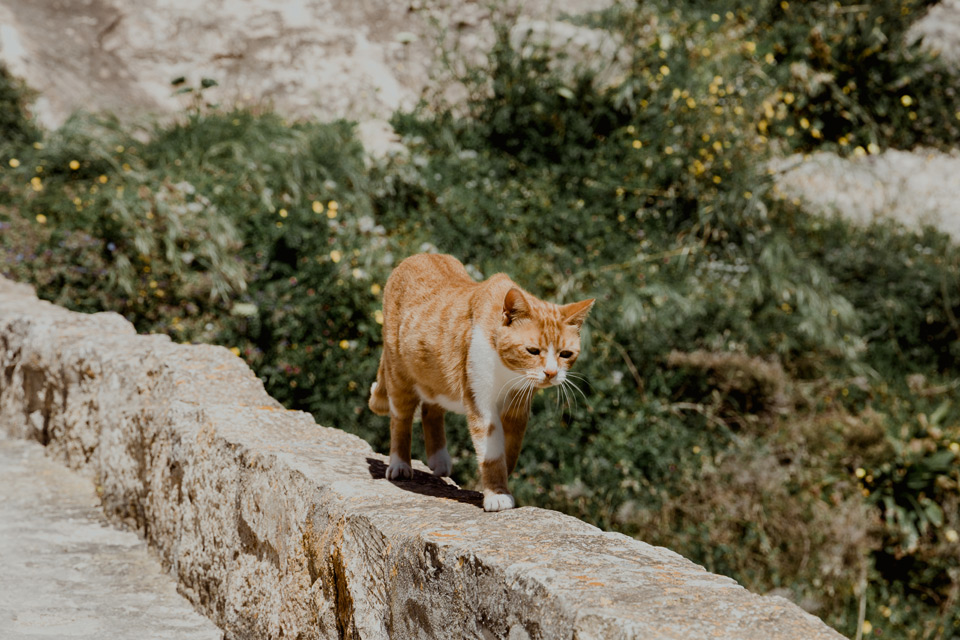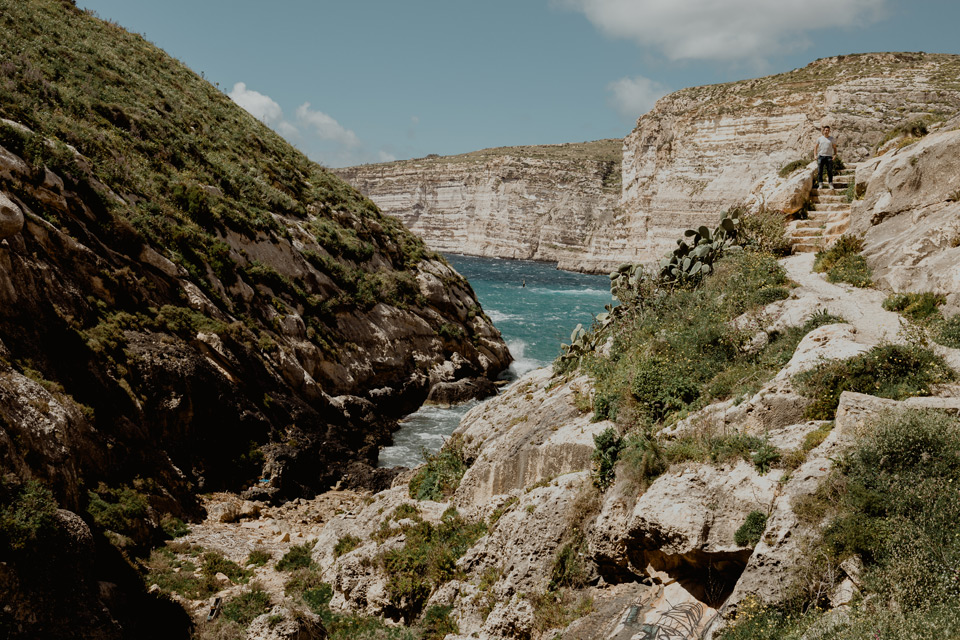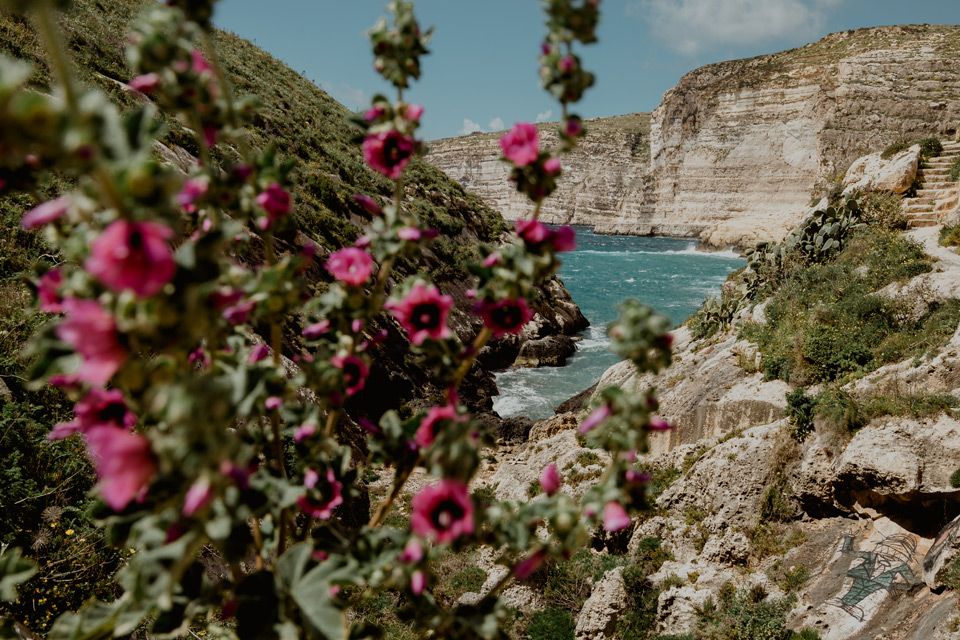 Behind the bridge the path becomes narrow and you have to walk over stones. Wojtek goes first. After a while he says to me "Kinia, stop! I don't want to scare you, but under this stone I saw a snake." I stand for a moment and I don't know what to do with myself because I hate these creatures. Wojtek calms me down and says that he only saw the snake pass between the stones and it would do nothing to me. In the end I somehow get through. Later, we meet only lizards, and they don't bother me.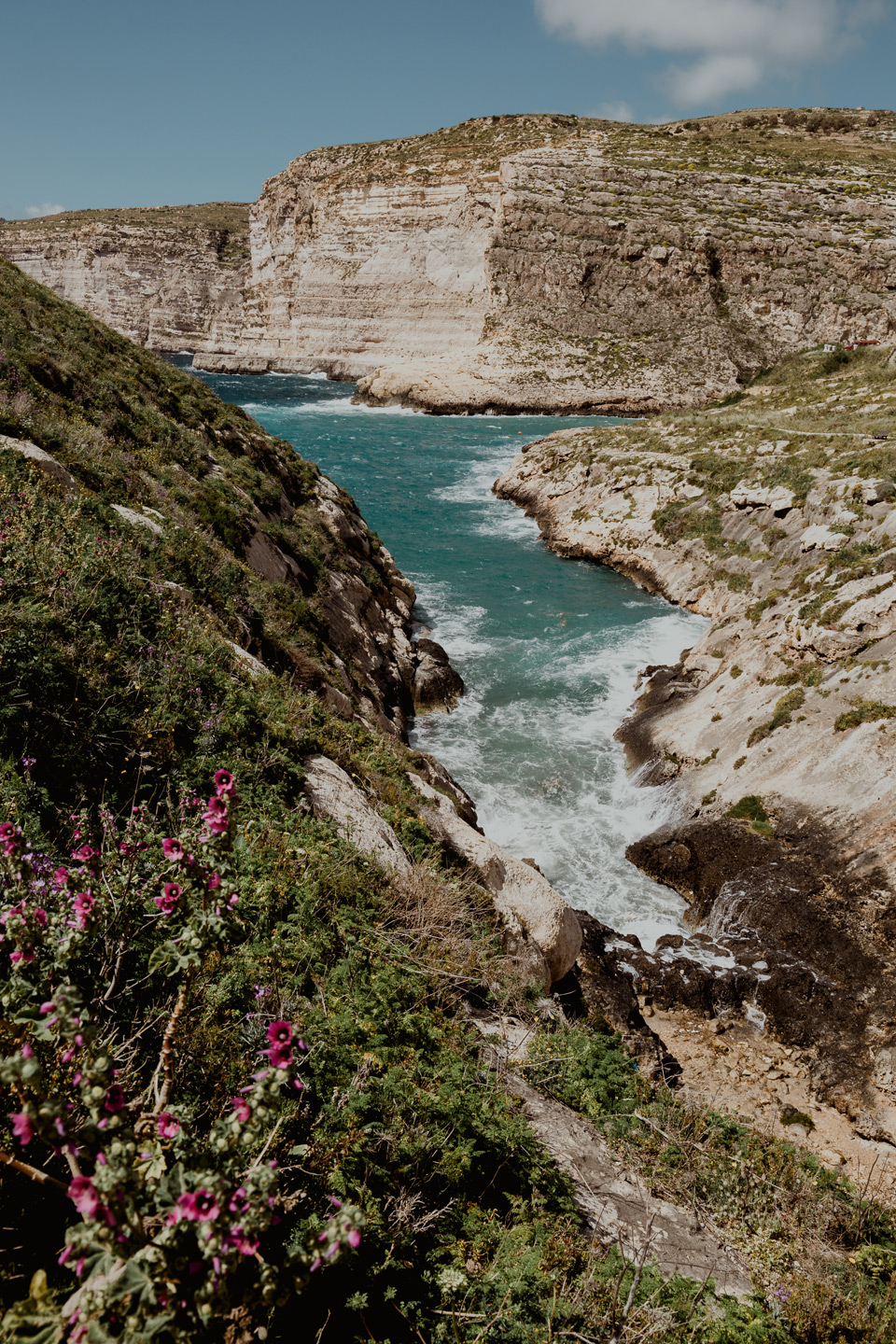 different worlds on the island of Gozo
And this is what the area around the Torri tax-Xlendi tower looks like. On one side it's very green and a lot of flowers grow, and on the other it's as Wojtek says, that is, "One map ends and another world begins." We go towards this "other world" and enter the "desert map". Much less greenery there, only rocks and sand.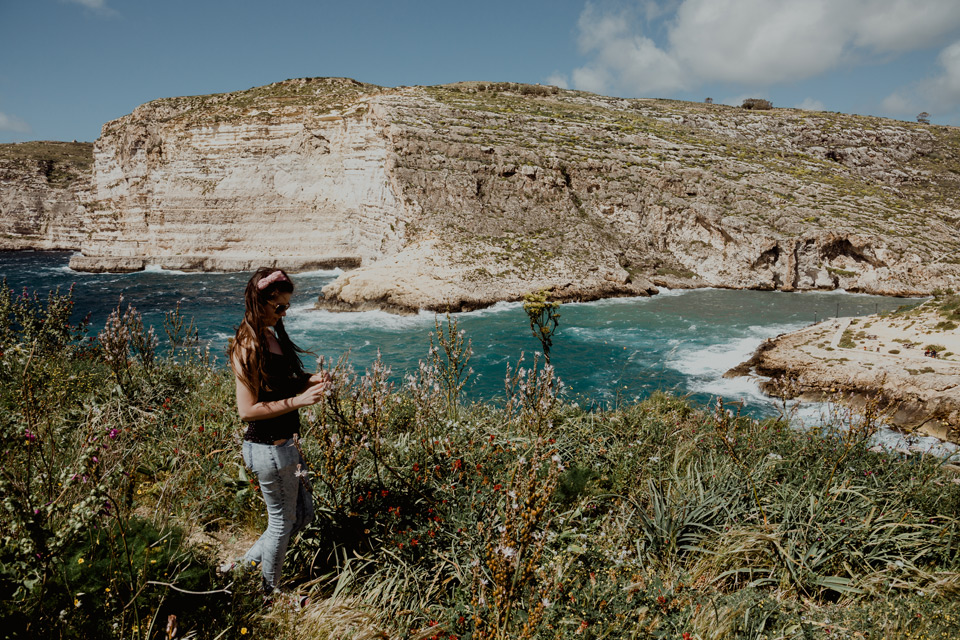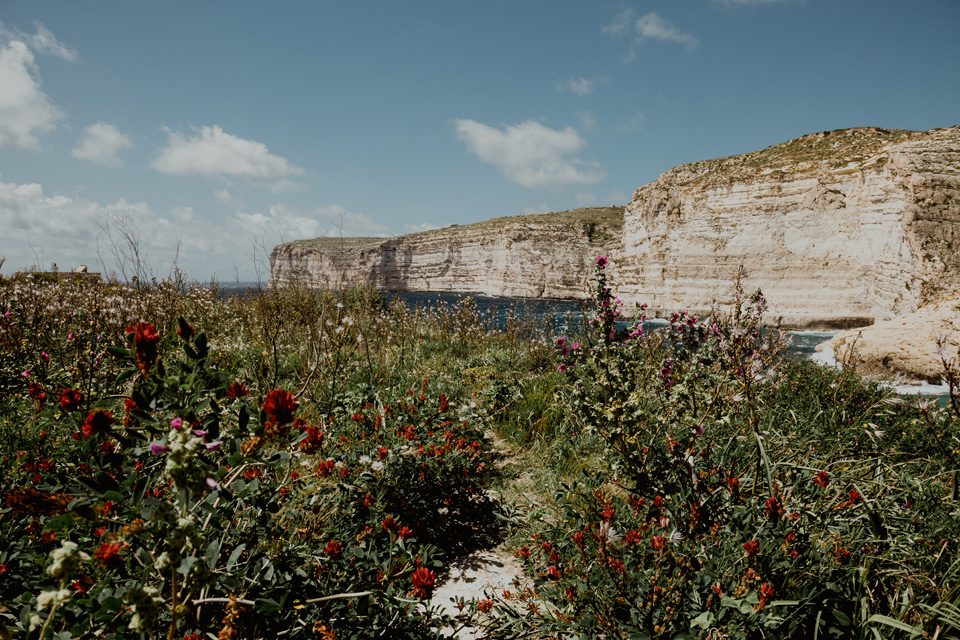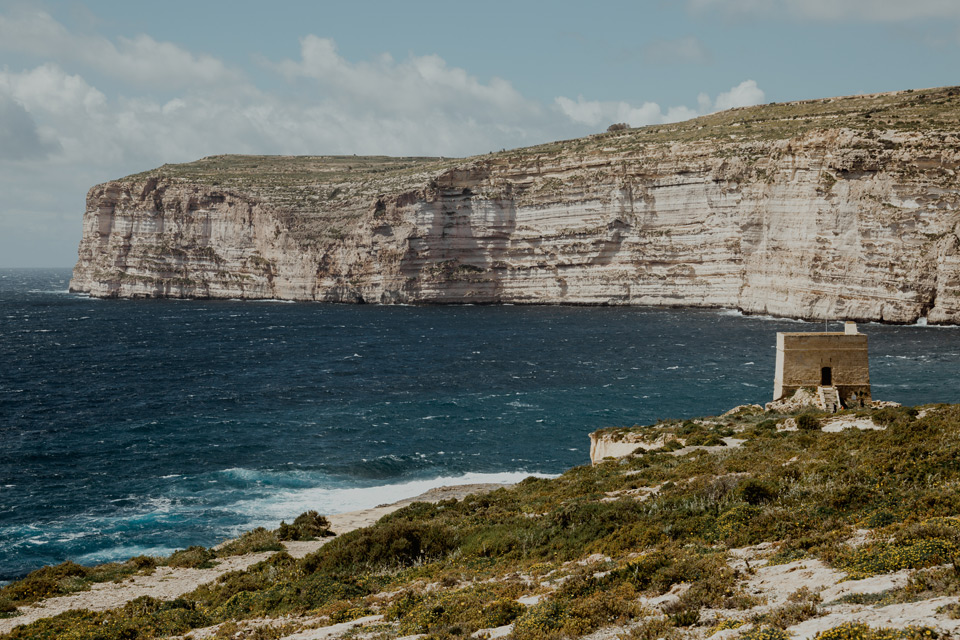 After thoroughly exploring the bay of Xlendi, we return to the car and drive towards the capital. We didn't know then that there was a beautiful place on Gozo- Sanap Cliffs. If you love rocks and the sea, then while exploring Xlendi, go a bit to the east, where these beautiful cliffs are. Another attraction worth seeing on Gozo are the Ta 'êenċ cliffs. I have no idea why I didn't discover these places before leaving. I regret that we didn't get there!
If you want to find out how we spent the rest of the day and what the views of the entire island of Gozo look like, then check out the fourth and final part of the report.
Map of today's route: tutaj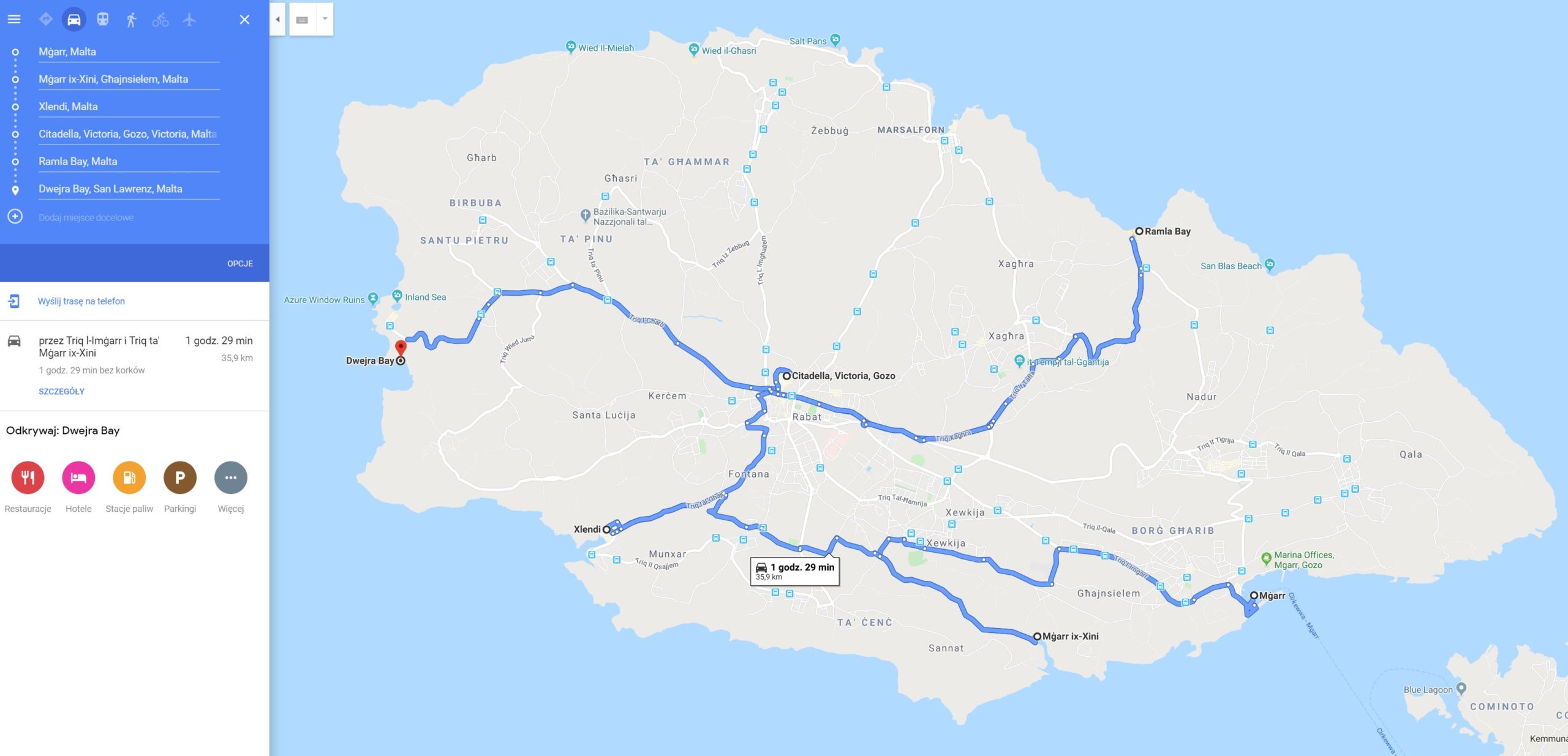 Thank you for reading the entry!
If you think it is interesting, we would be pleased if you leave a mark in the comment.
You will find more posts from Malta here:
There are direct links to the next and previous episodes below.
All our travels: Travels
We also invite you to our Instagram and Facebook fanpage, where you can be up to date with all our travels.
See you later! 🙂