When we bought tickets to Malta, we already knew that one day we would definitely go to Comino. In my opinion, this is a small, beautiful pearl in the Mediterranean Sea and the biggest attraction of all of Malta. It lies between Malta and Gozo. It attracts a lot of tourists, but fortunately they revolve only around the most famous place – Blue Lagoon. Other parts of Comino are empty! I say "fortunately" because we have walked around the whole island and there are many more interesting corners than just the most famous attraction. We are delighted, that's why we show you photos and we promise that, like us, you will decide to get to know Comino better than the average tourist.
How to get to Comino?
You can get to Comino with the help of "Comino Ferries" company. It provides daily round trips from Marfa or Cirkewwa in Malta. The ships reach the Blue Lagoon on Comino. The trip to the island takes about 25 minutes, and the return from Comino takes about 35 minutes. As of today, the price for a return ticket for an adult is 13 euros, for children under 10 years is twice as low. You can make a reservation via the website, but you must do it at least 24 hours in advance. In this way you can save 1 euro. We use this option and reserve tickets in advance. There is no need to choose a specific time, only the date. Our option is to ship from Marfa.
We arrive in Marfa about 20 minutes before the first cruise. Thanks to this, we are able to easily exchange an electronic ticket for a paper ticket at the ticket office and queue for the first ship. We want to be on the island first and enjoy the less crowded Blue Lagoon Strait. Probably later – crowds of tourists may appear. We leave Marfa almost on time. Then we sail along the shore and rocks of Comino, pass the Crystal Lagoon and finally get off at the Blue Lagoon.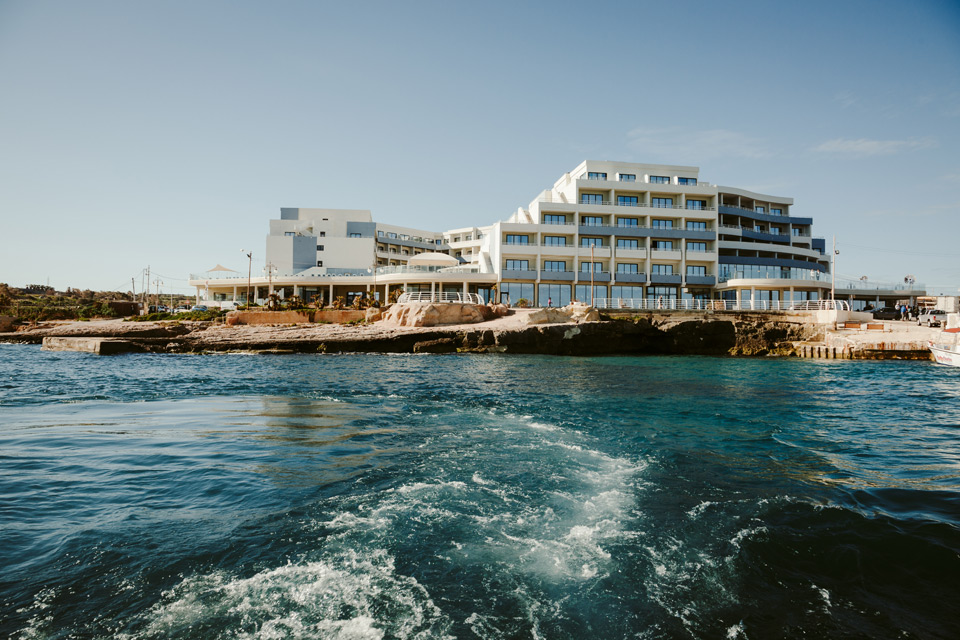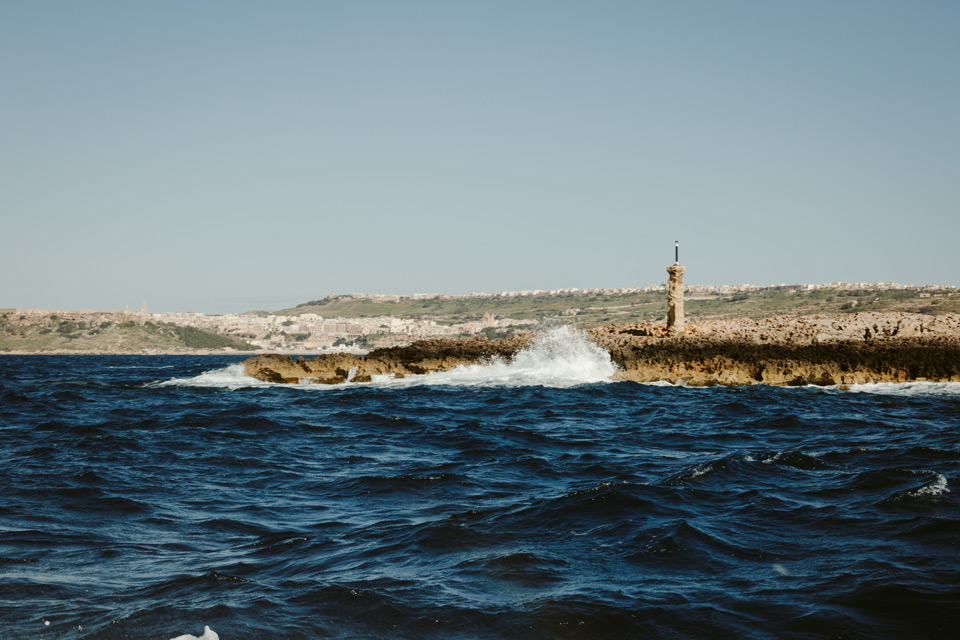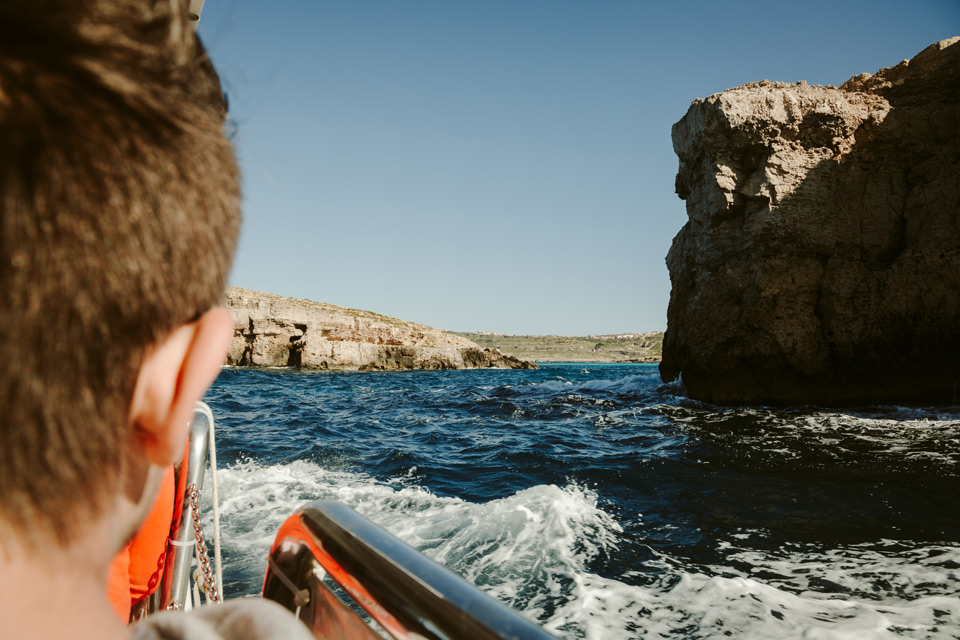 The famous Blue Lagoon on Comino
The first impressions from Blue Lagoon are great. There are not many people yet, so we enjoy beautiful views and take pictures without crowds of tourists in the background. The place looks more beautiful live than on photos and postcards. The water has a beautiful color – azure at the edge, then dark blue. In front of us lies the beautiful island of Cominotto – that's why the Blue Lagoon is so popular. For beach lovers, I have sad information. The beach at Blue Lagoon is really small and you need to spread towels on the rocks. We are not interested in that because we have other plans.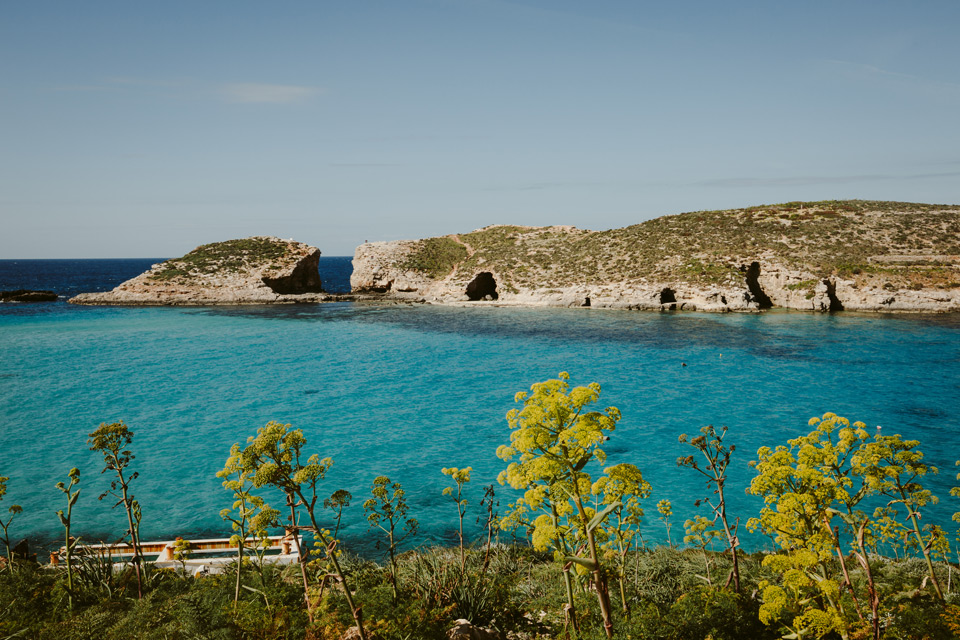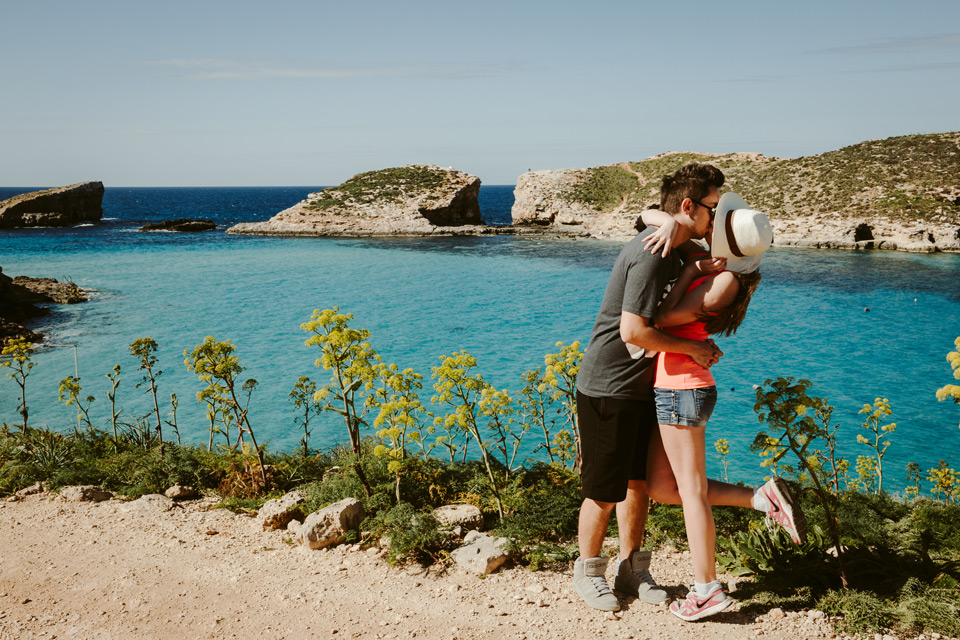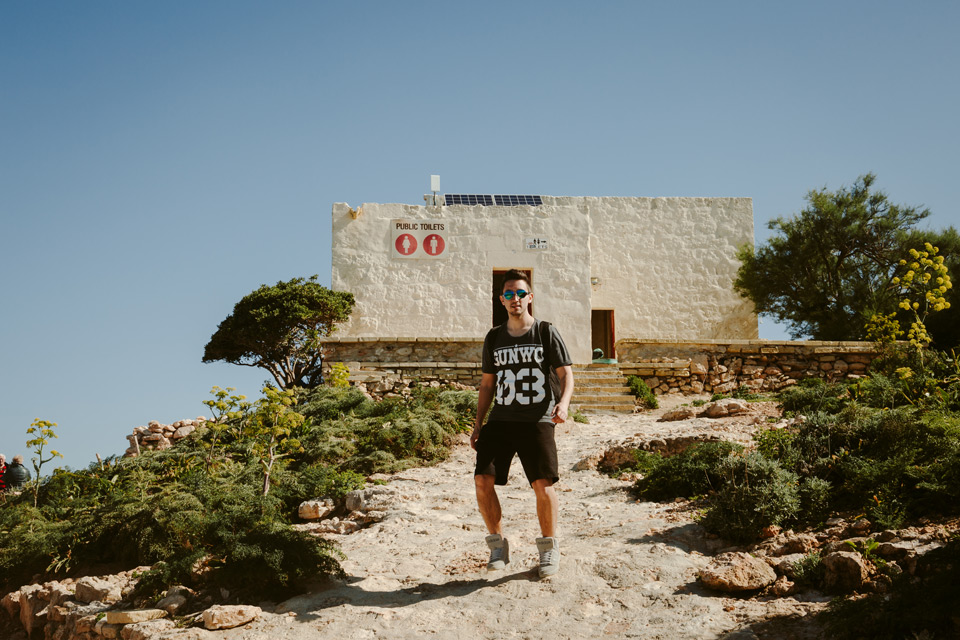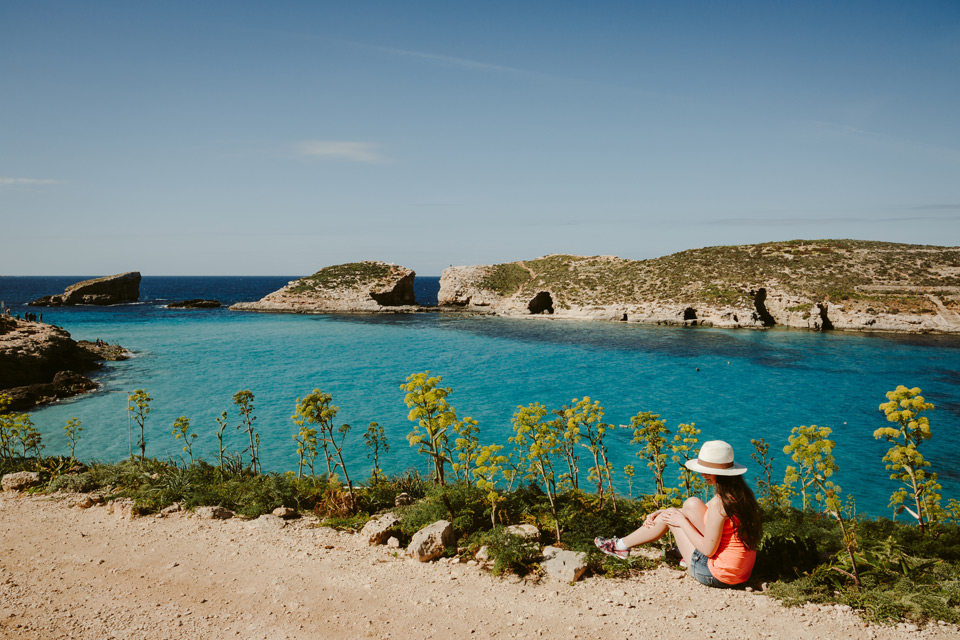 Beautiful south-west coast of Comino
We go along the seashore towards the north of Comino. After just a hundred meters, the first wonderful views begin. As you can see, there is no point in limiting yourself to Blue Lagoon. The Comino coast is very picturesque and worth visiting. There are many coves, rock bridges and cliffs here, as well as plenty of places to take interesting photos.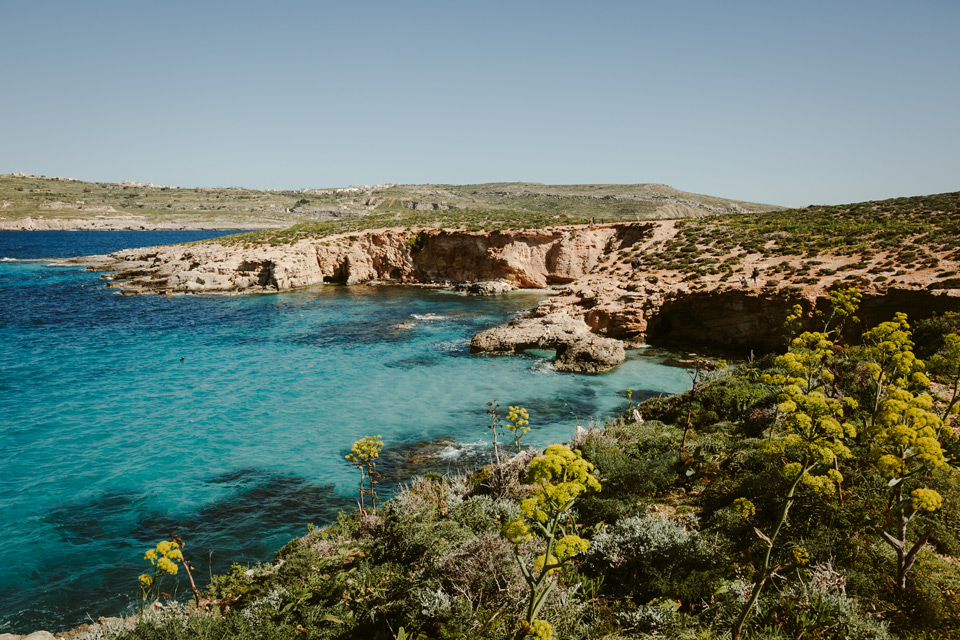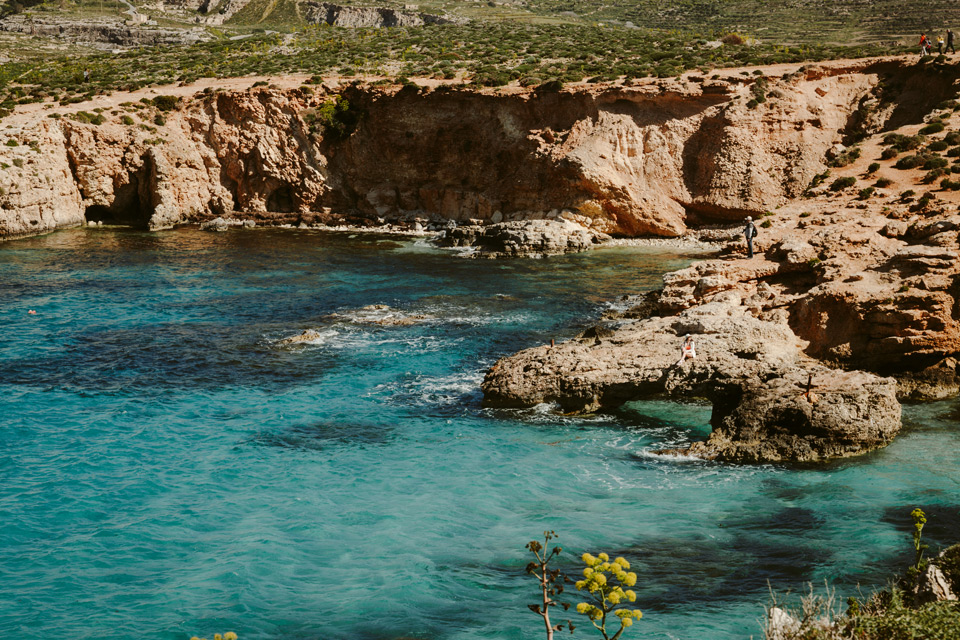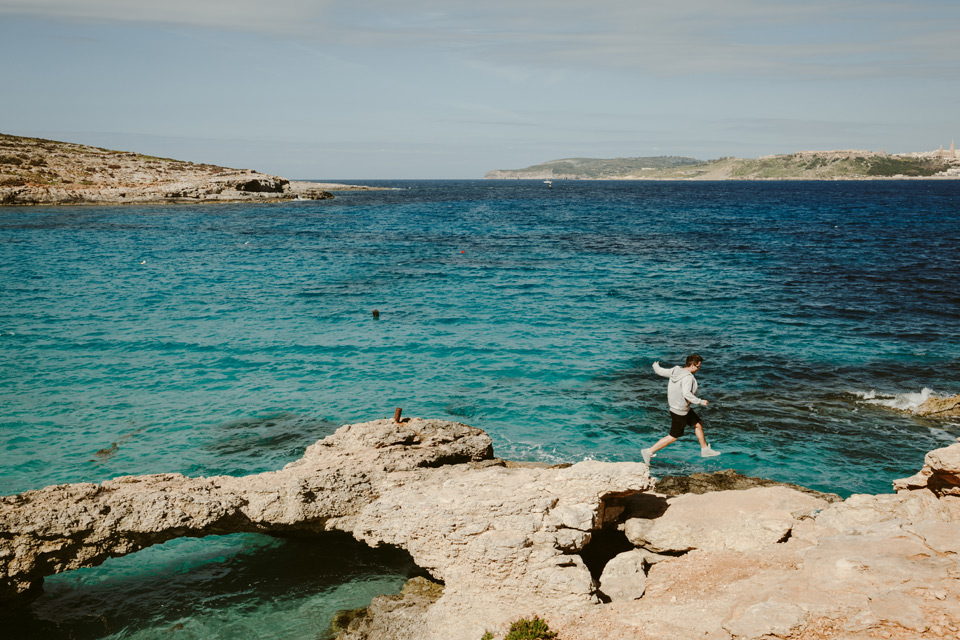 The further we go, the more we can see the neighboring island of Gozo. We can easily recognize the port in Mgarr, for example.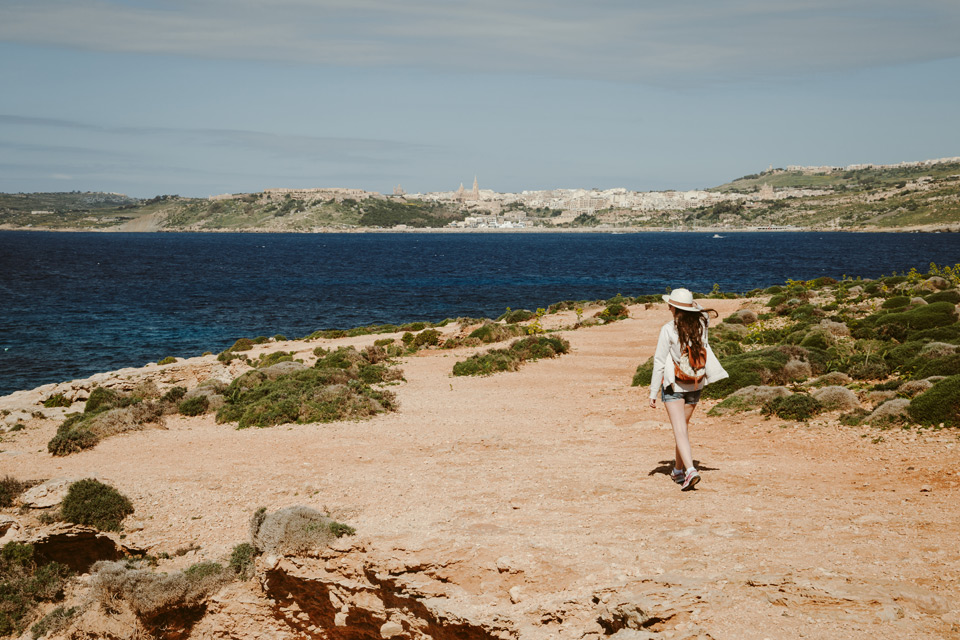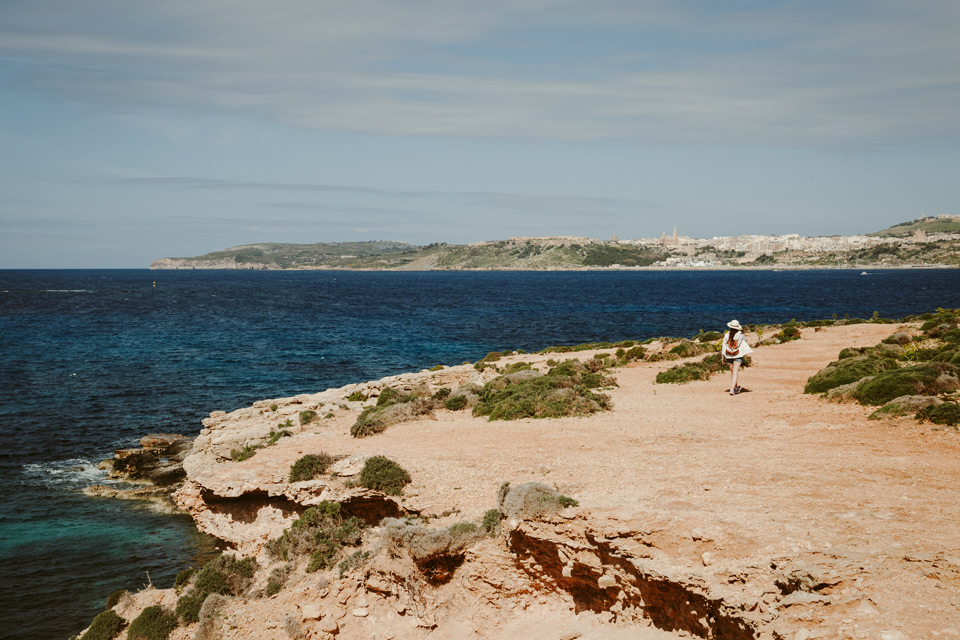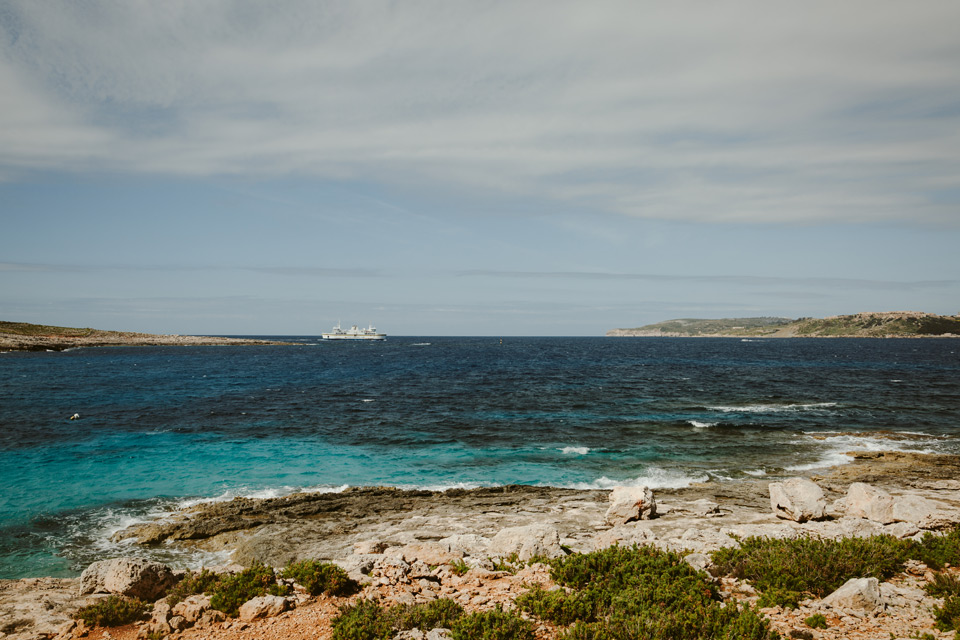 Northern cliffs and views of Gozo
We continue our walk around the island and reach other places worth seeing on Comino. It's hard for me to describe these views, you just have to come here and see for yourself. I can only repeat myself and say that the Comino coast is really beautiful and every now and then we can discover new, interesting corners.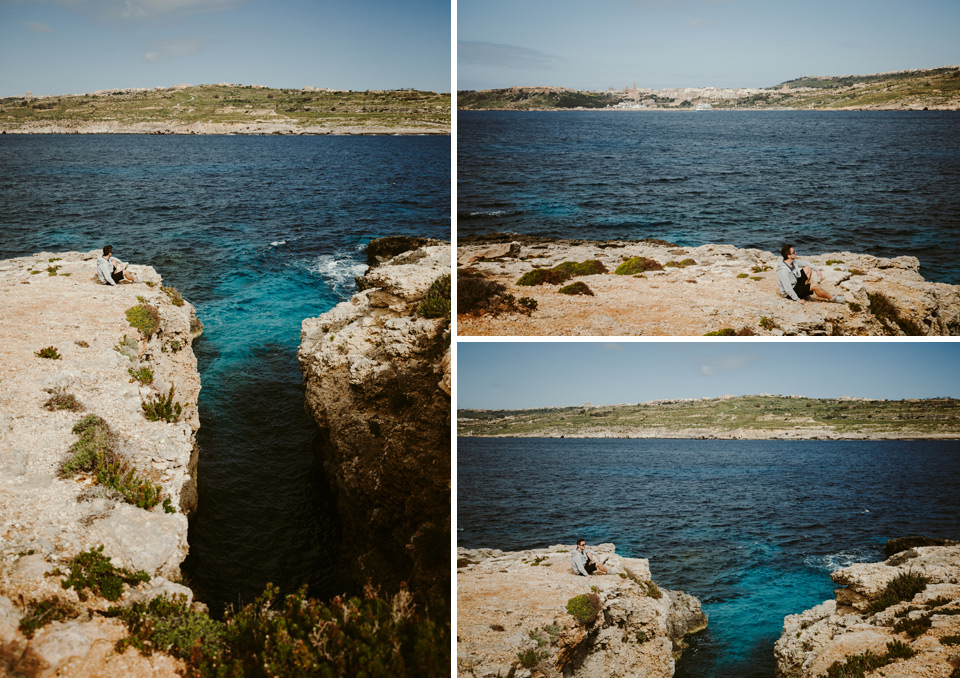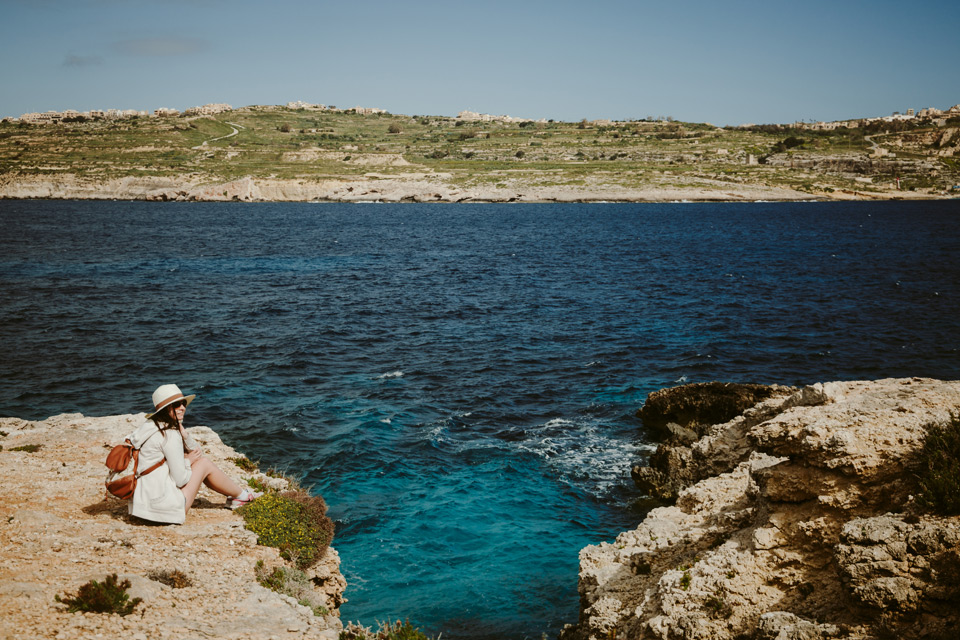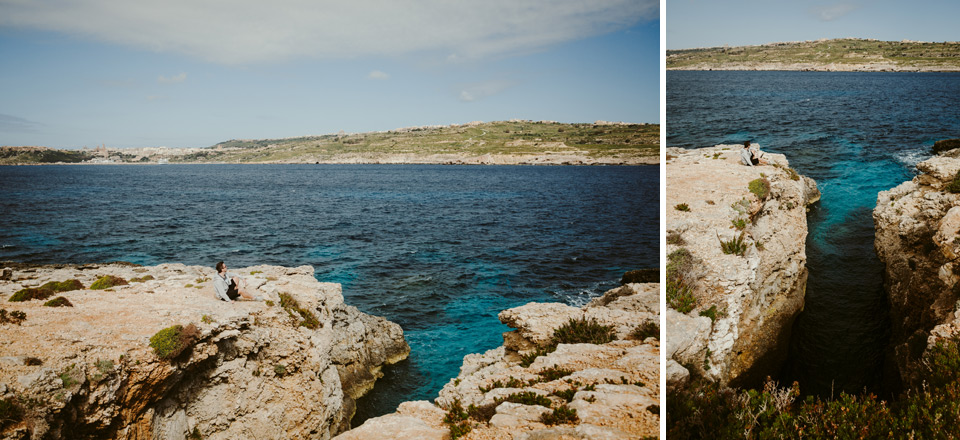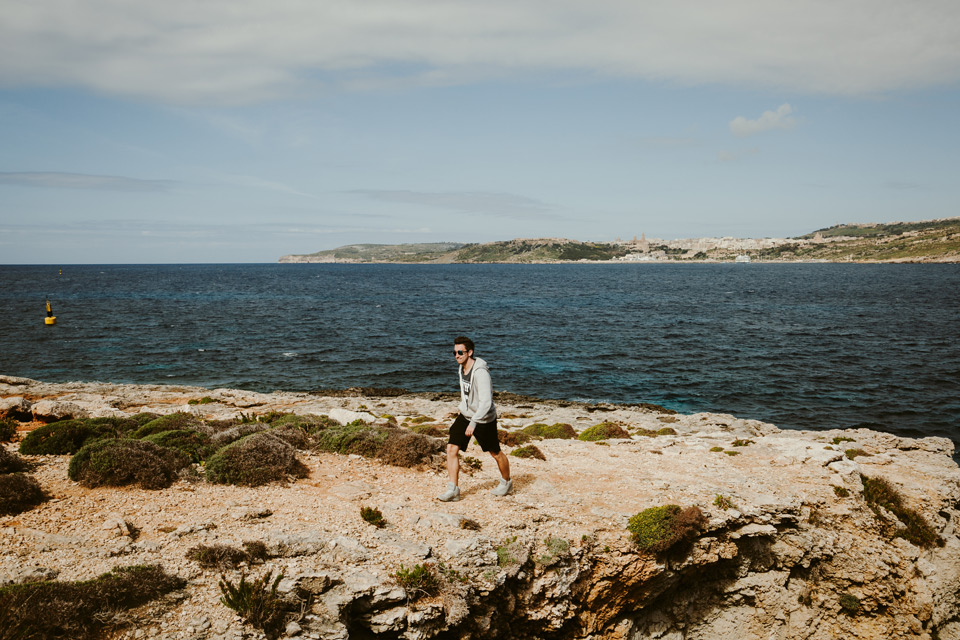 The most beautiful beaches of Comino
After a short walk we reach a beautifully situated beach or maybe a bay. There is no sand here, but you can find a fairly comfortable stone and spread a towel on it. There are several people outside the beach. If you take a good look at the pictures, you'll see them. In front of us is the Hondoq ir-Rummien na Gozo bay. We thought about visiting her when we were on the island, but we gave up, because other places won.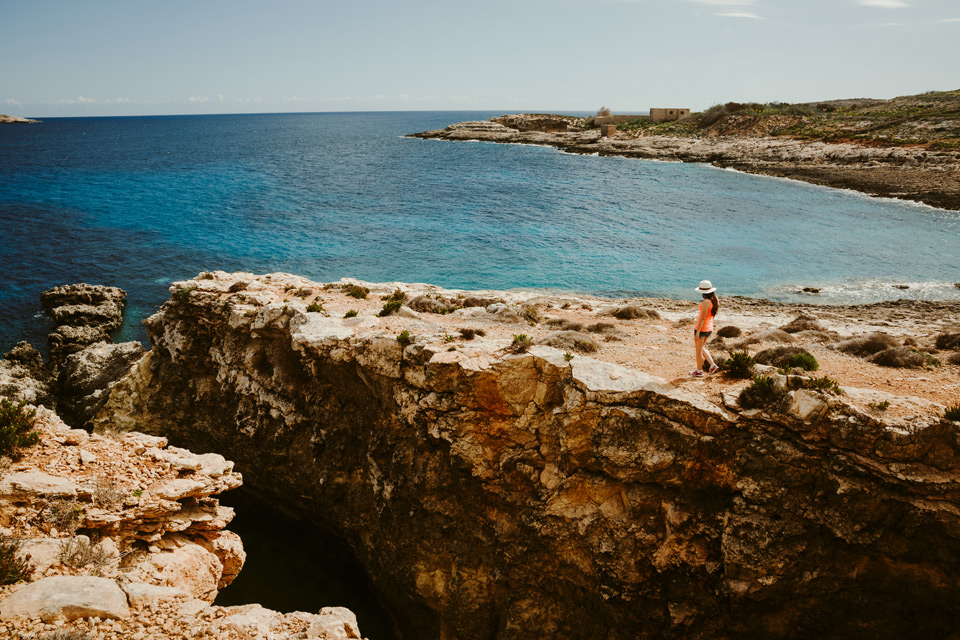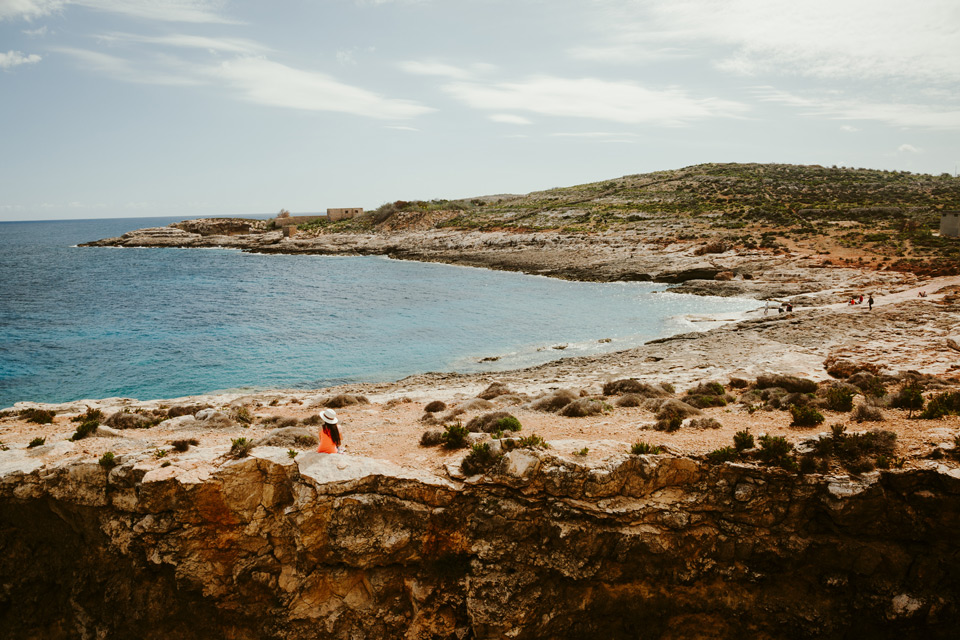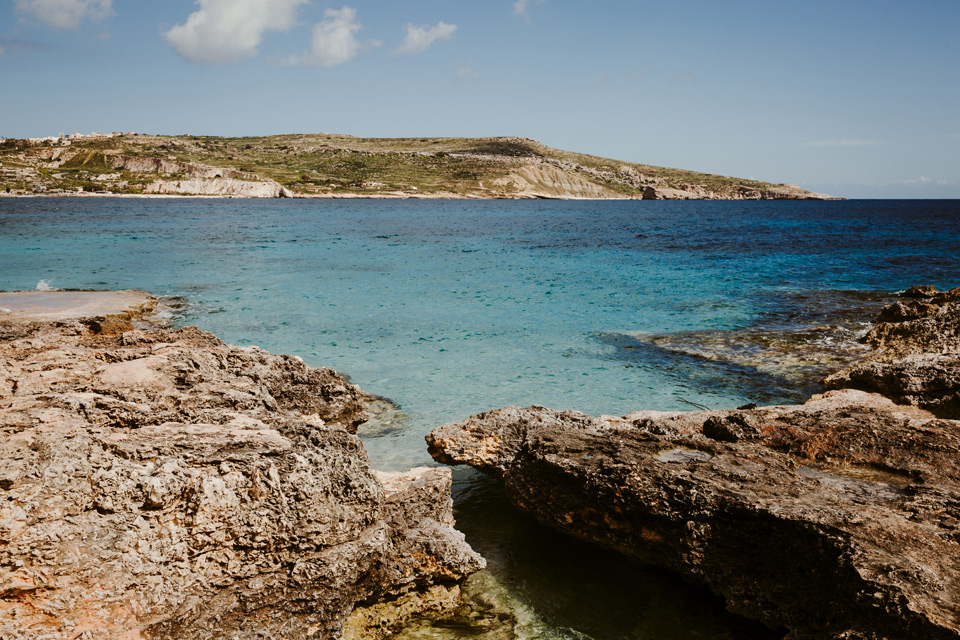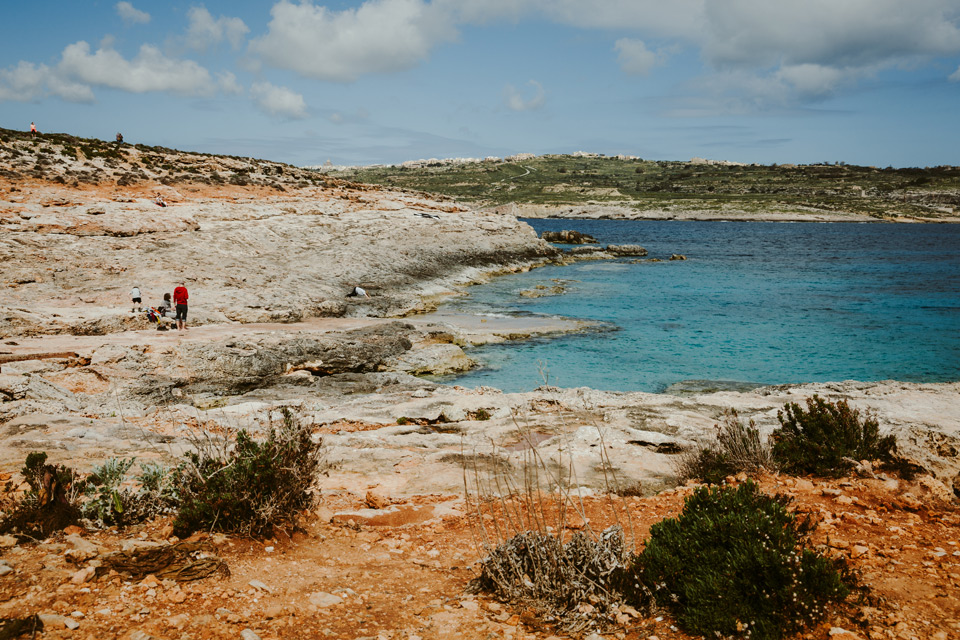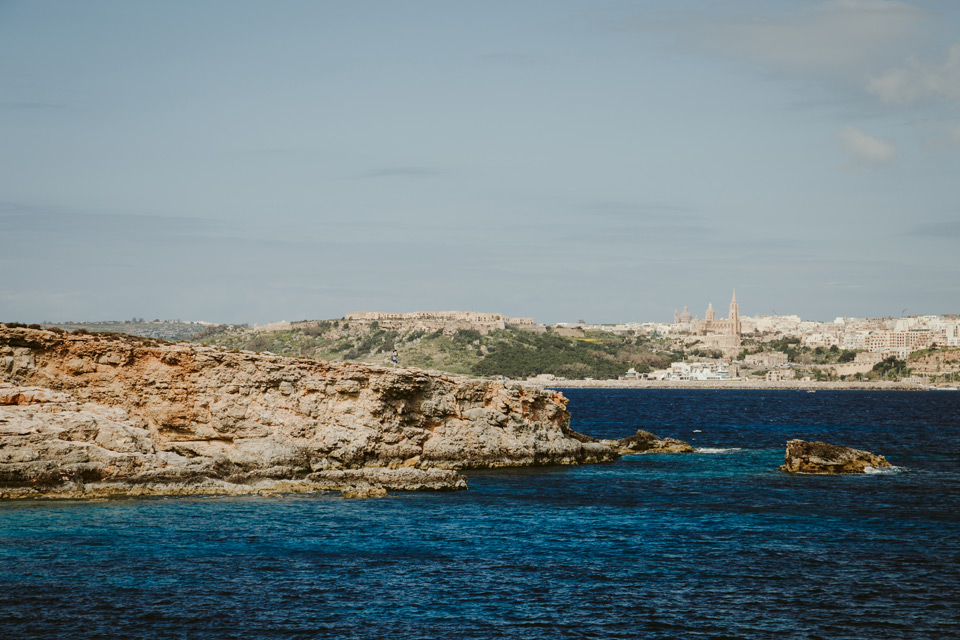 Behind the beach you can reach other interesting attractions of Comino. At least I think they are worth attention. One of them is a long rock – like a headland that is protruding into the sea. This time Wojtek poses for photos.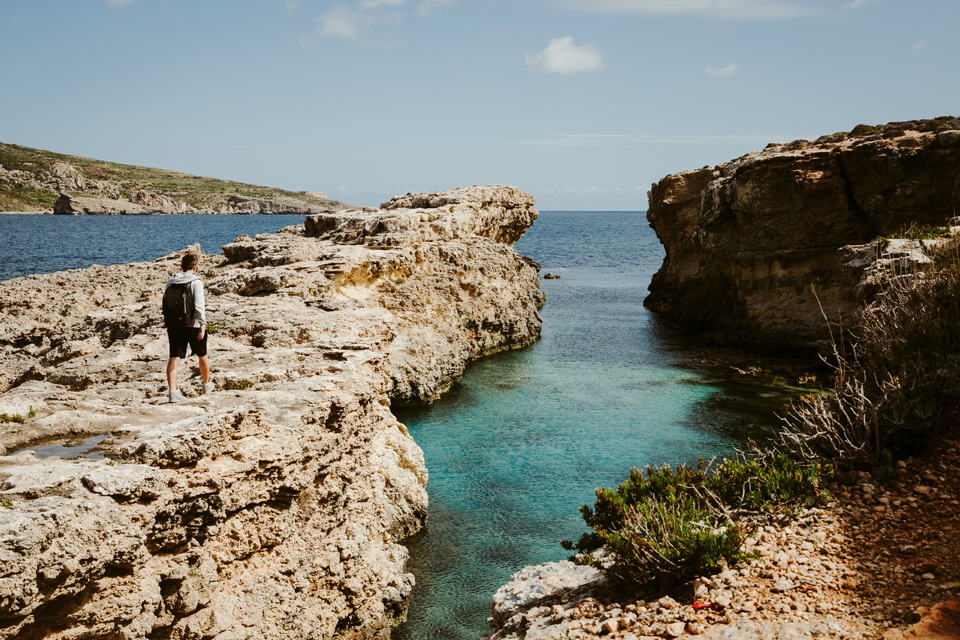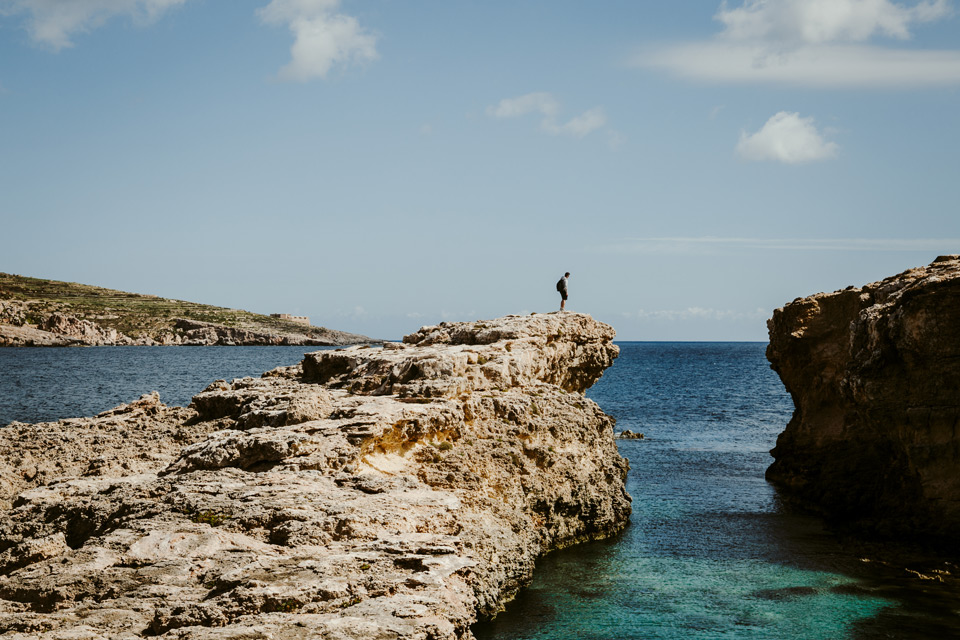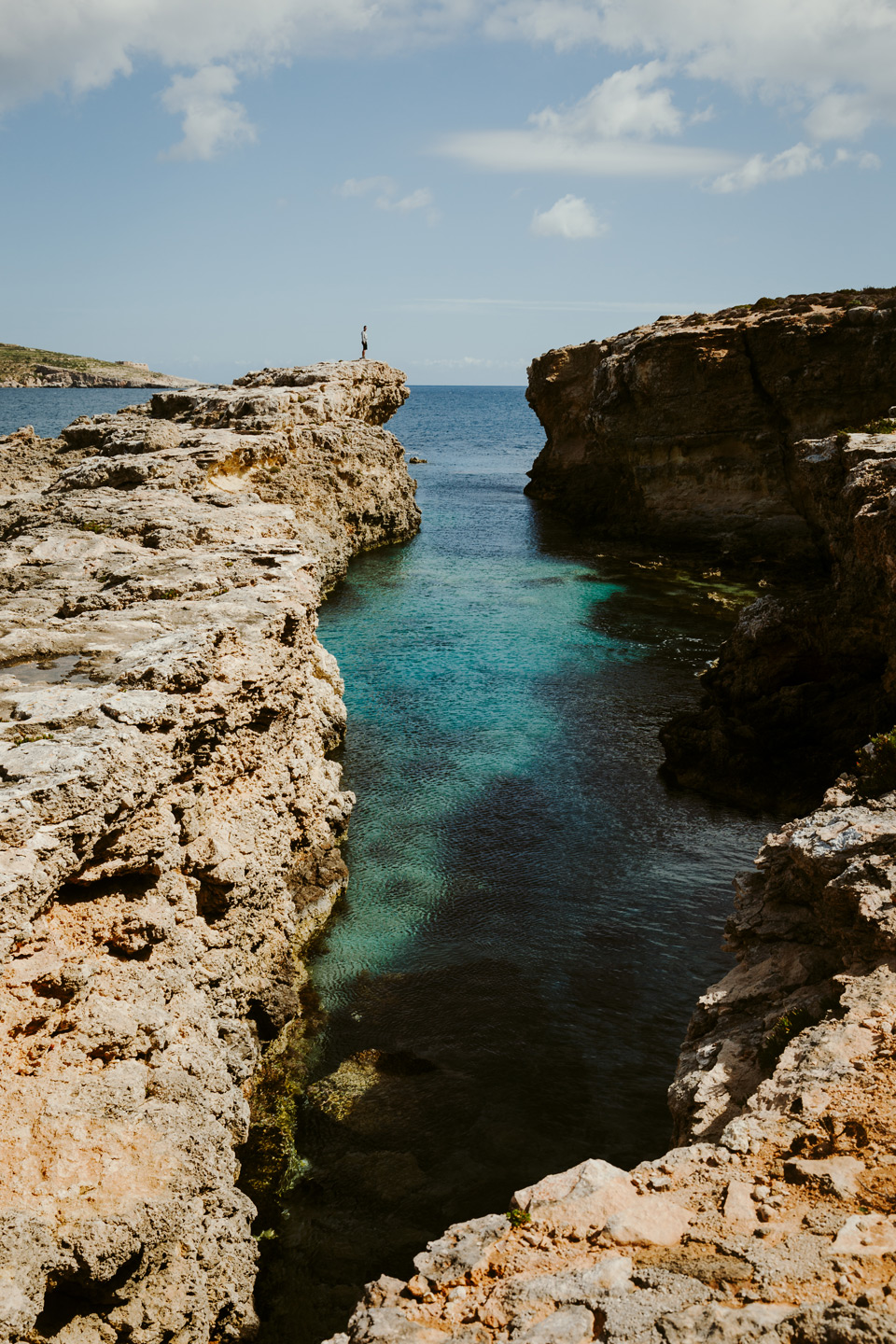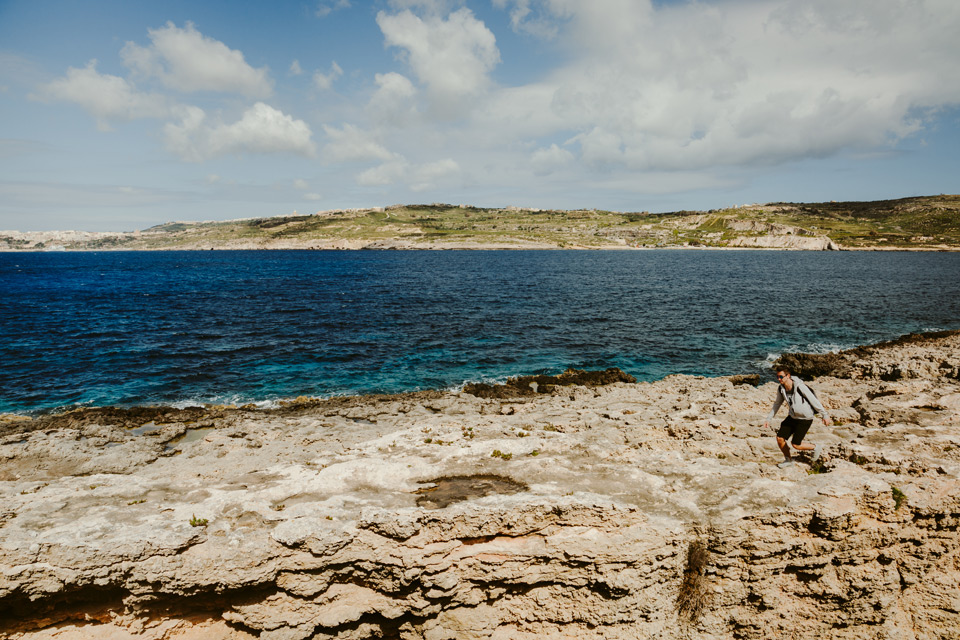 San Niklav Bay and Comino Hotel
There is no passage further, so we have to go back to the beach where we were just a moment ago and go for a while along the path towards the center of the island. Later turn left and in this way we reach the beach of San Niklav. Next to it's the only hotel on the island called Comino.

If we look towards the sea, another trail begins on the right side of the Comino Hotel. Thanks to it we can continue our walk around the island. Lizards run under our feet every now and then. The views are getting harsher, less rocks and stones here. There are no more people here. Since we leave the beach at the hotel, we do not pass anyone on our way.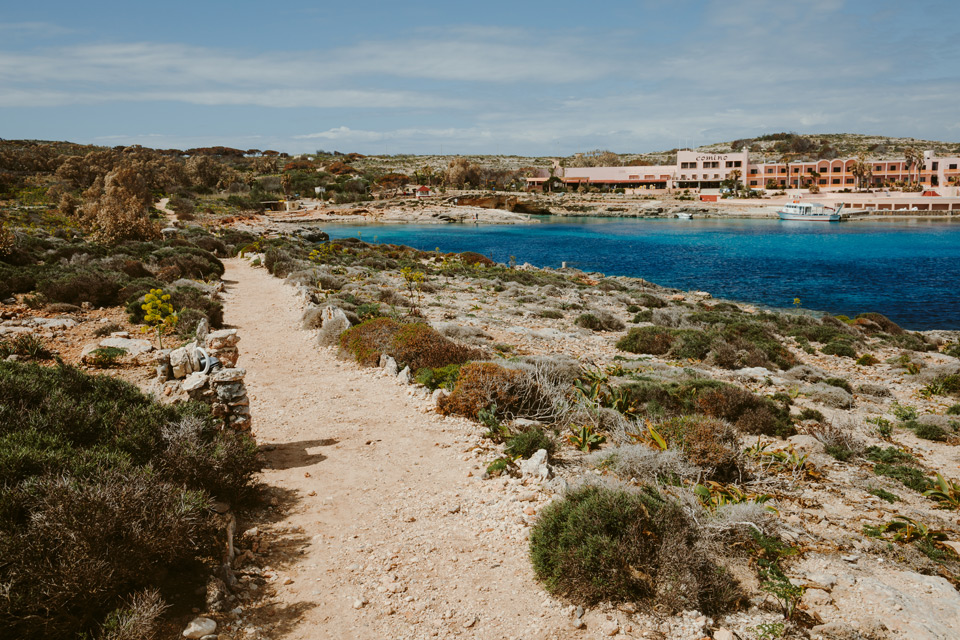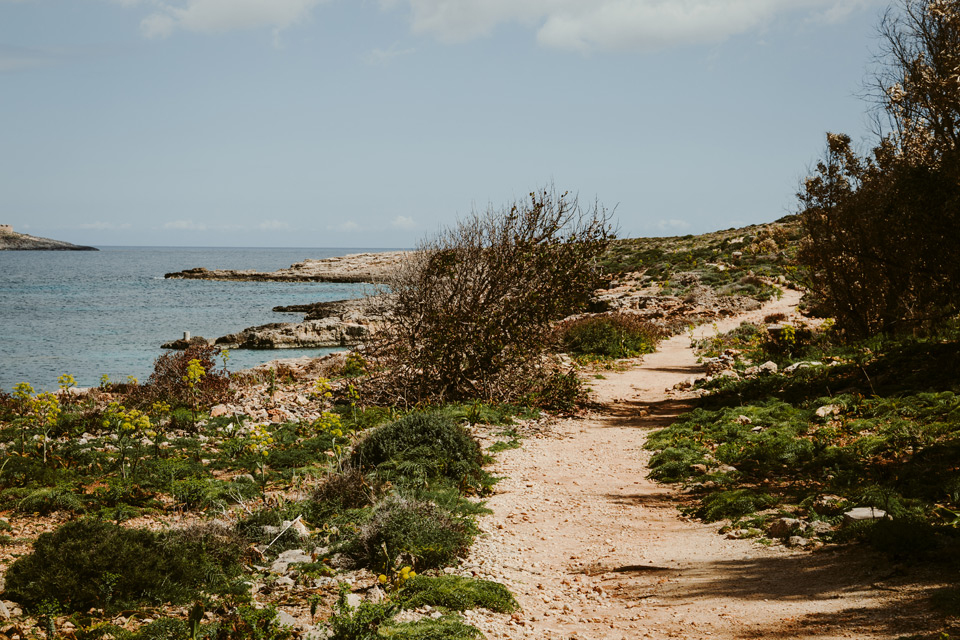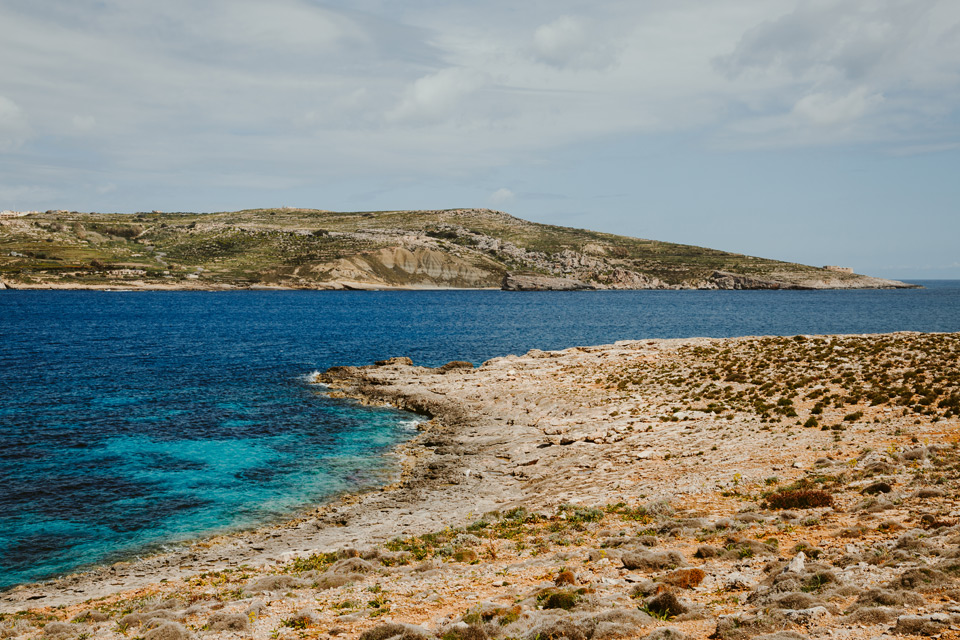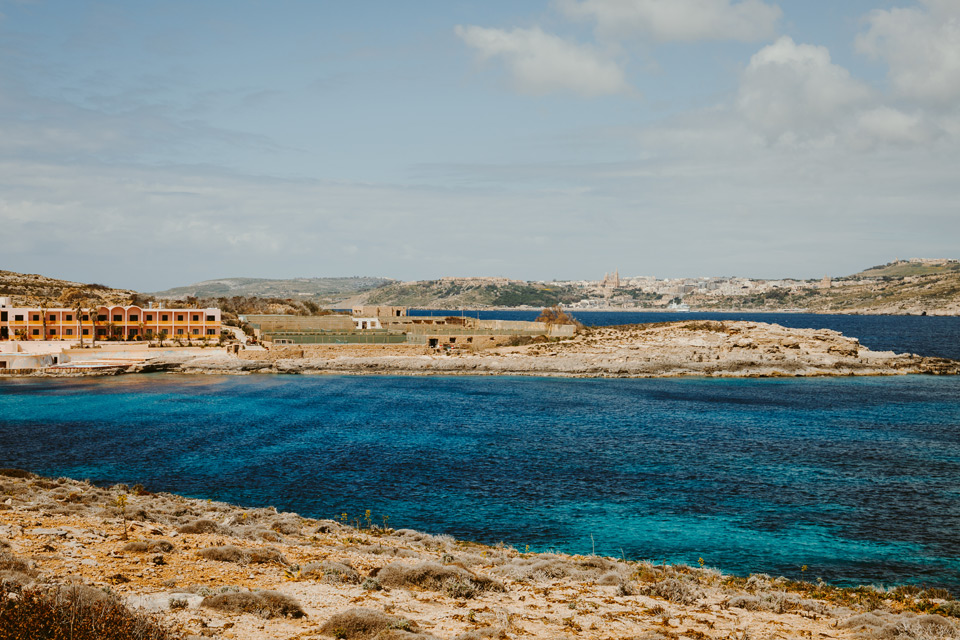 Abandoned tourist resort
The path leads us to an abandoned city. Perhaps tourists come here and stay overnight, but today we don't meet a living soul. The place is very climatic. I was looking for such things on Comino! You can say that Comino is like an island from a movie.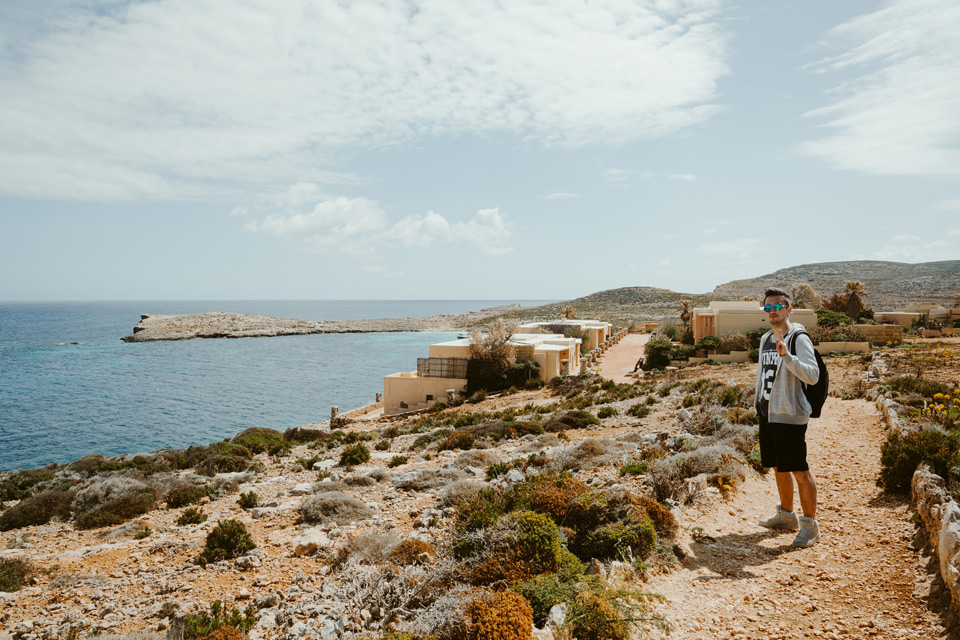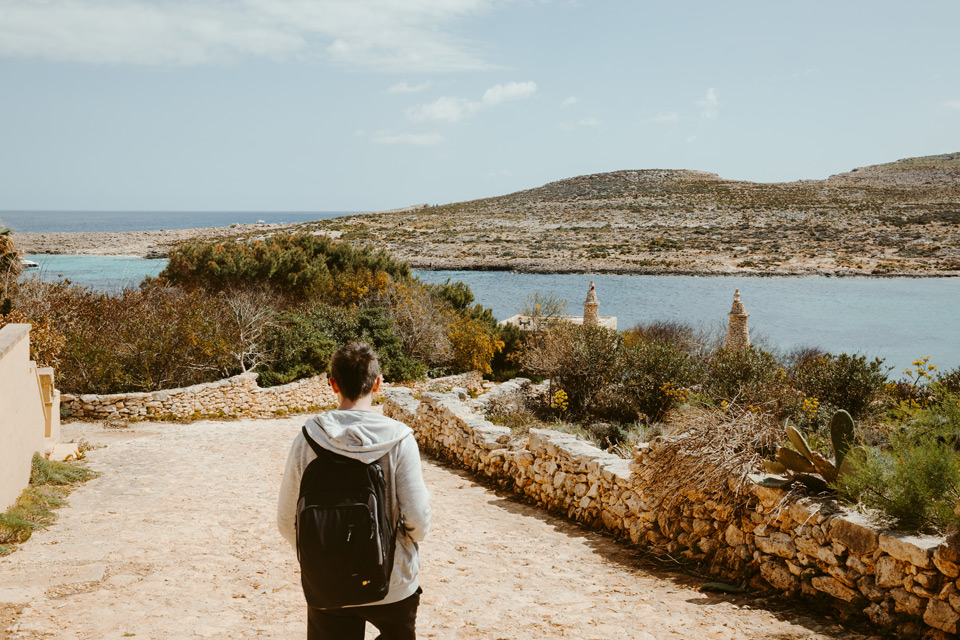 What to see in the north of Comino?
After leaving the resort we reach the Santa Maria Bay beach. It's worth to come here! The beach is sandy, with a gentle descent to the water and great views all around. Unfortunately, in some places it's littered with some brown tree waste – it's probably just the time of year that the trees lose something. Probably in other months the beach is clean.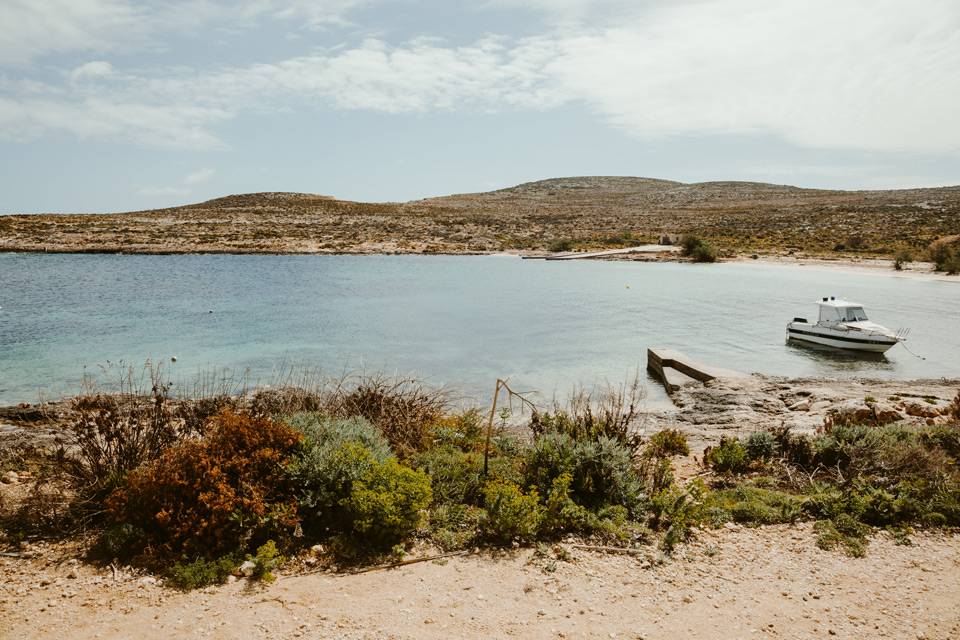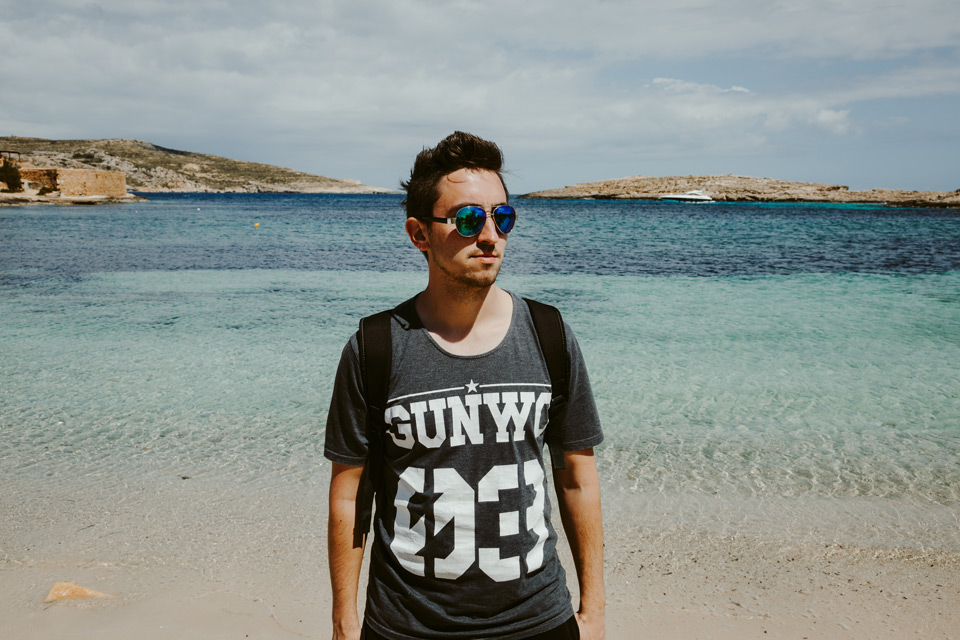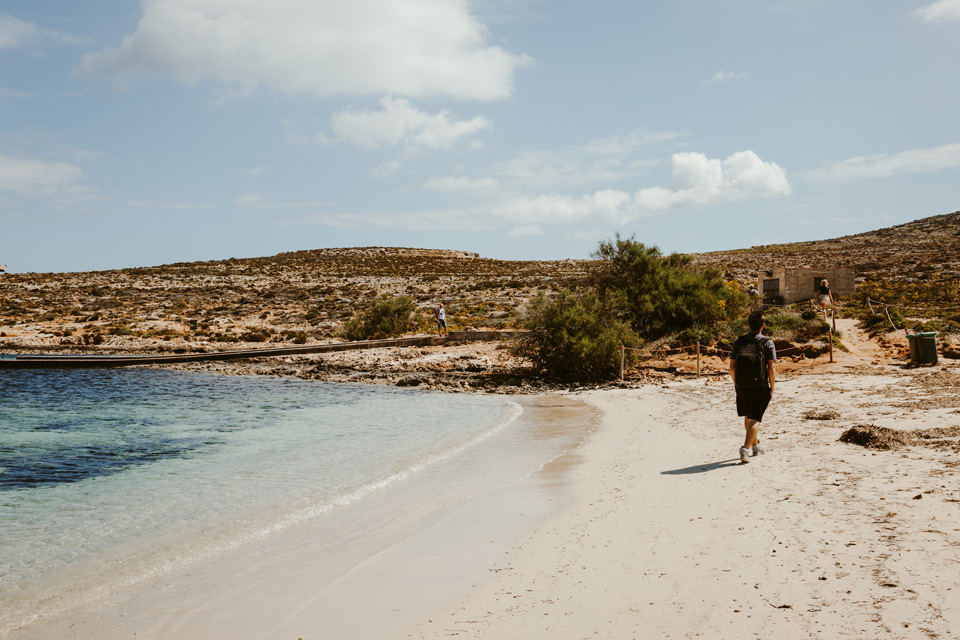 We go further along the sea. In this area, the coast is very gentle, but it's enough to walk a few hundred meters and again it becomes diverse.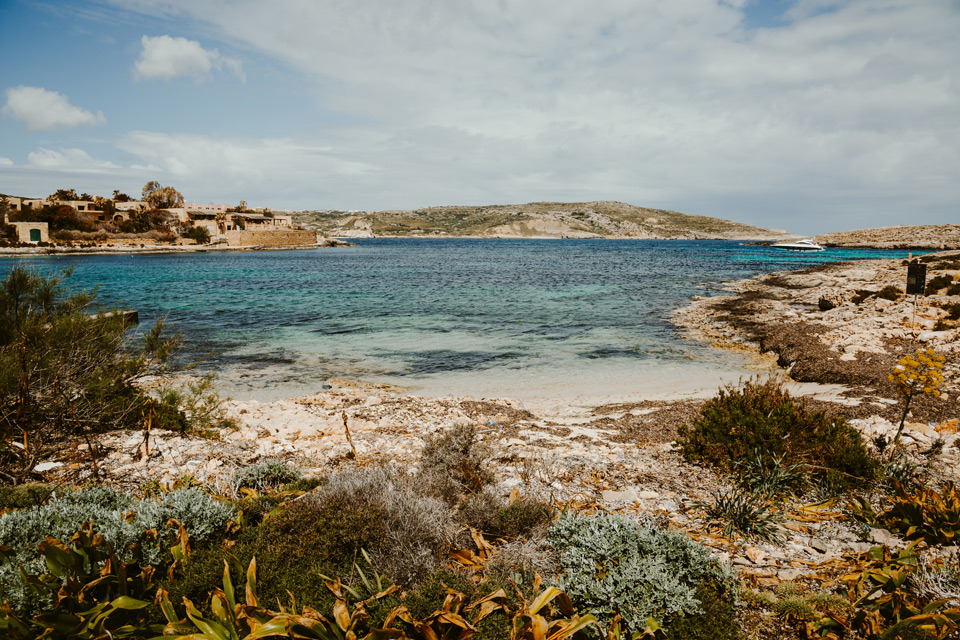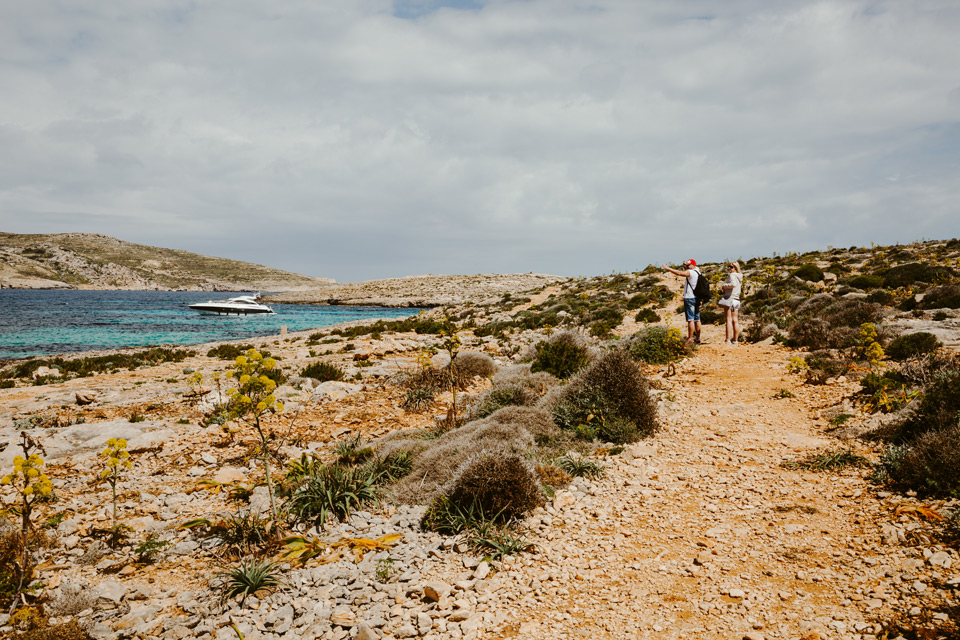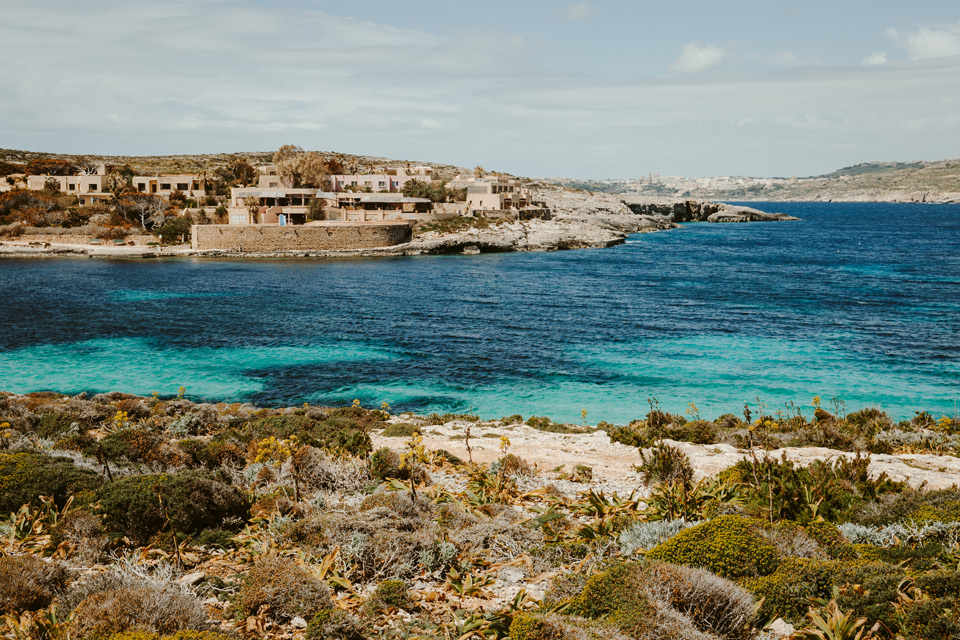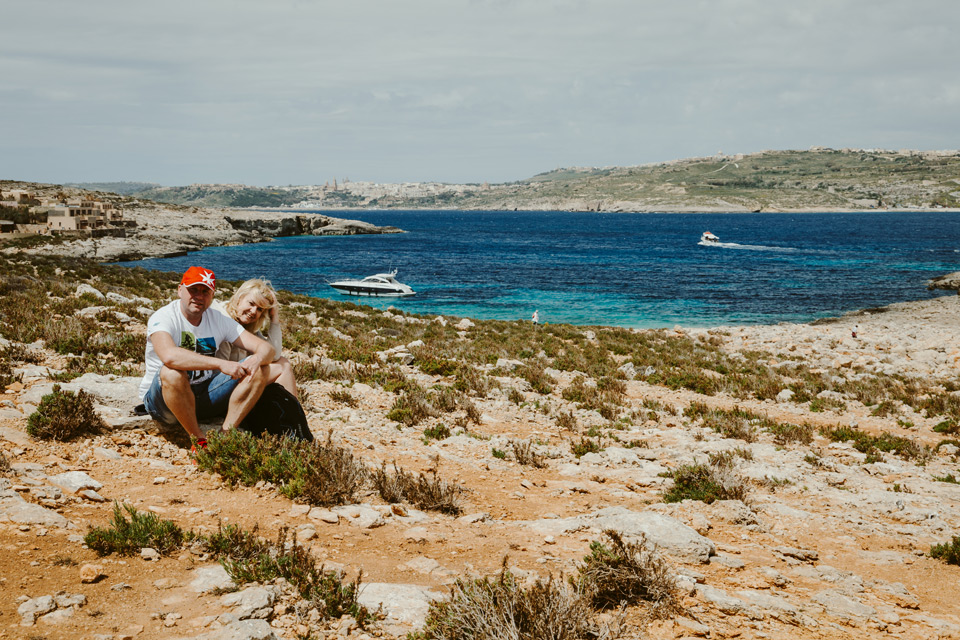 Julia Caves and Santa Maria Caves
An interesting place on Comino are the Julia and Santa Maria caves. They are marked on Google Maps, so you can easily get here. You can only have a problem with seeing them close, because there is no path and you have to walk on stones. A better idea is a boat trip and visiting them from the sea.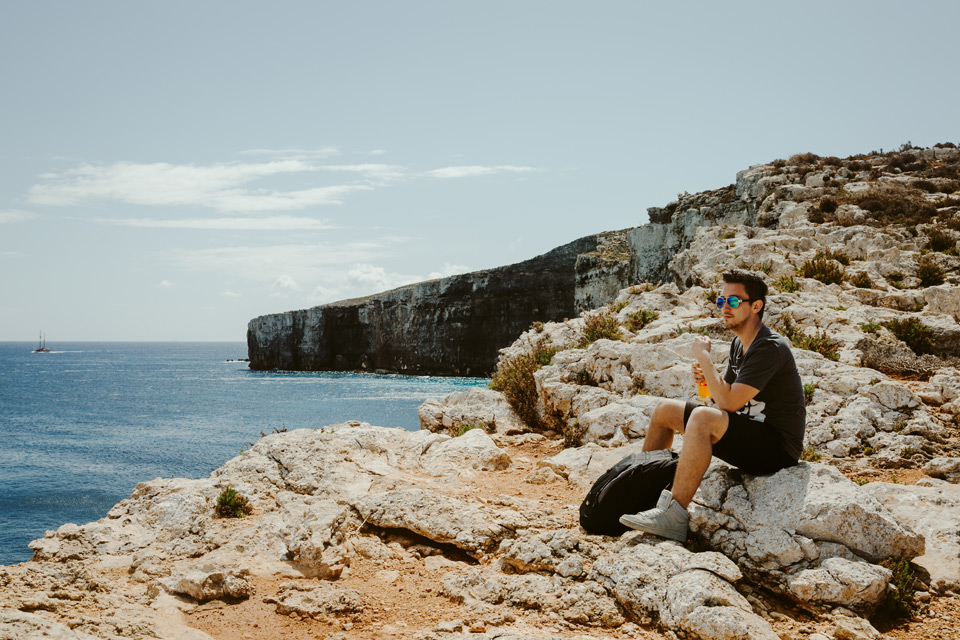 As I mentioned at the caves, the path ends, so it would be very hard to continue walking along the sea. We return to the Santa Maria beach, and there we enter the path that leads through the center of the island. At the beginning of the trail we pass a small church – the Chapel of the Right. Return of the Holy Family from Egypt – probably the only one on Comino. Later, we meet abandoned, destroyed buildings and overturned electric lines. This is a sign that there was once a civilization here. Today, only a few people live on the island. hopefully this will not change and Comino will always be such an oasis of peace.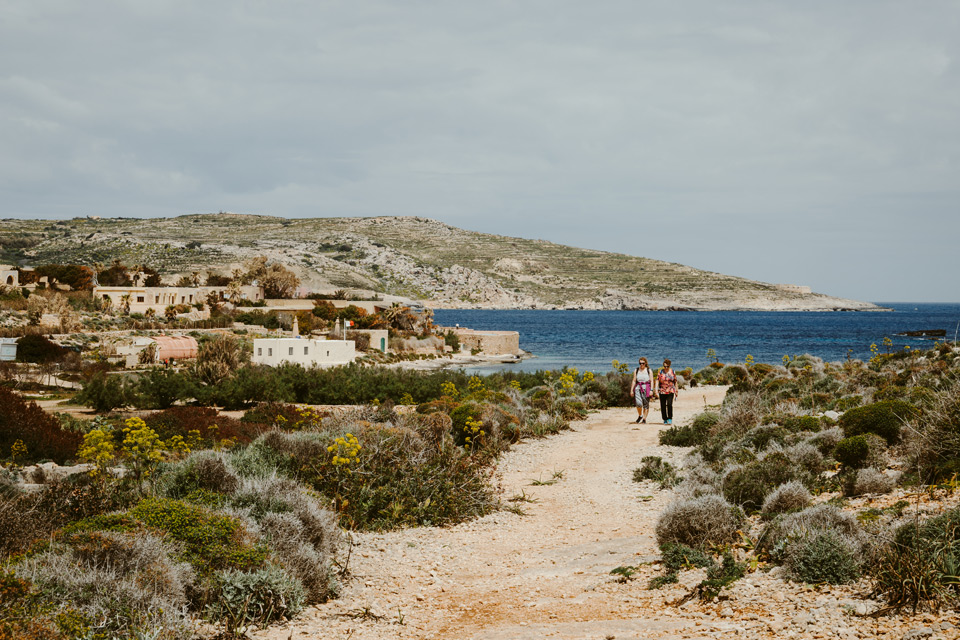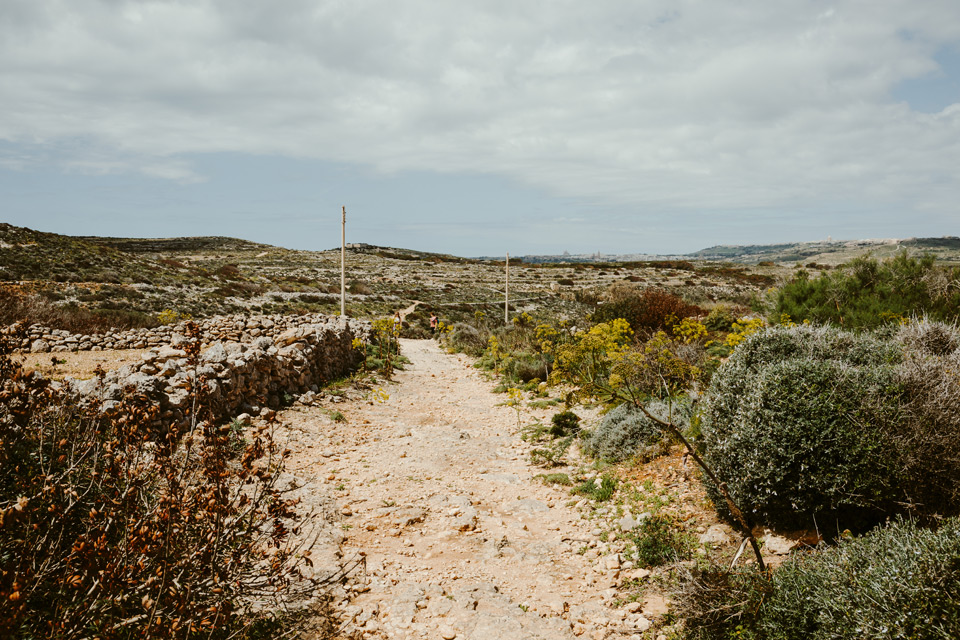 South Comino – what to visit
The path leads us to the Battery of Saint Mary (Il-Batterija ta 'Santa Marija). It's a historical object that was built in 1715-1716 and is still in quite good condition. You can approach the cannons and see how the inhabitants of Comino once defended themselves against pirate raids.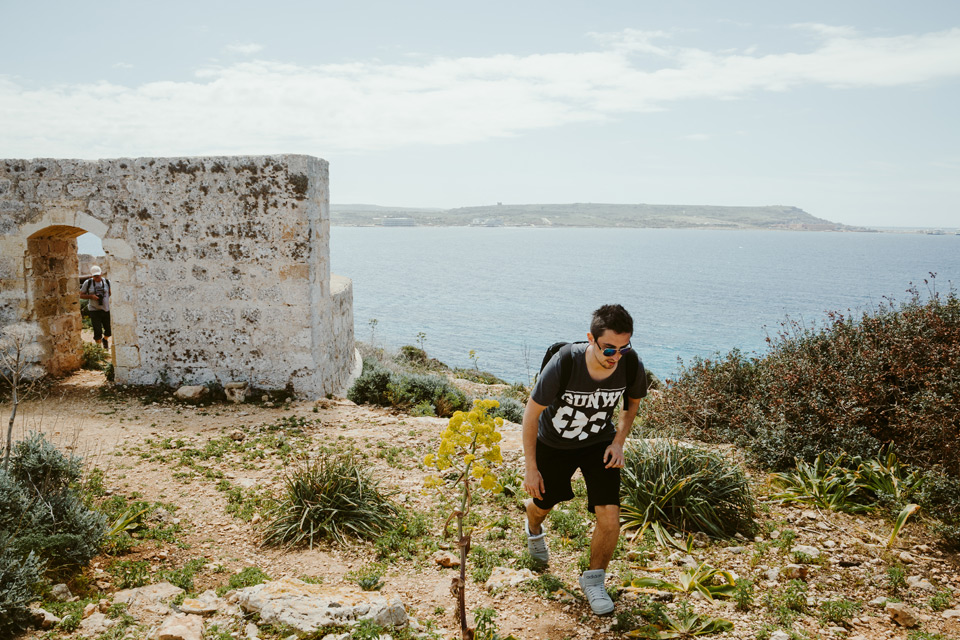 When it comes to Comino fortifications, the Saint Mary's Tower is an important building
It was built as the first tower to defend on Comino. Once used by the armed forces, today it's a wonderful viewpoint for everyone. You can see it from the islands of Malta and Gozo.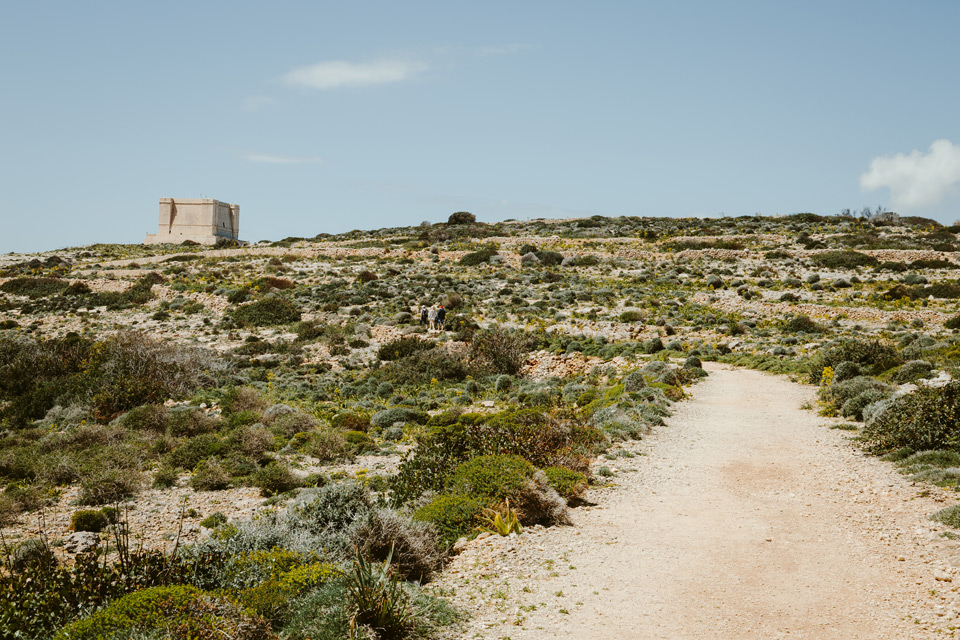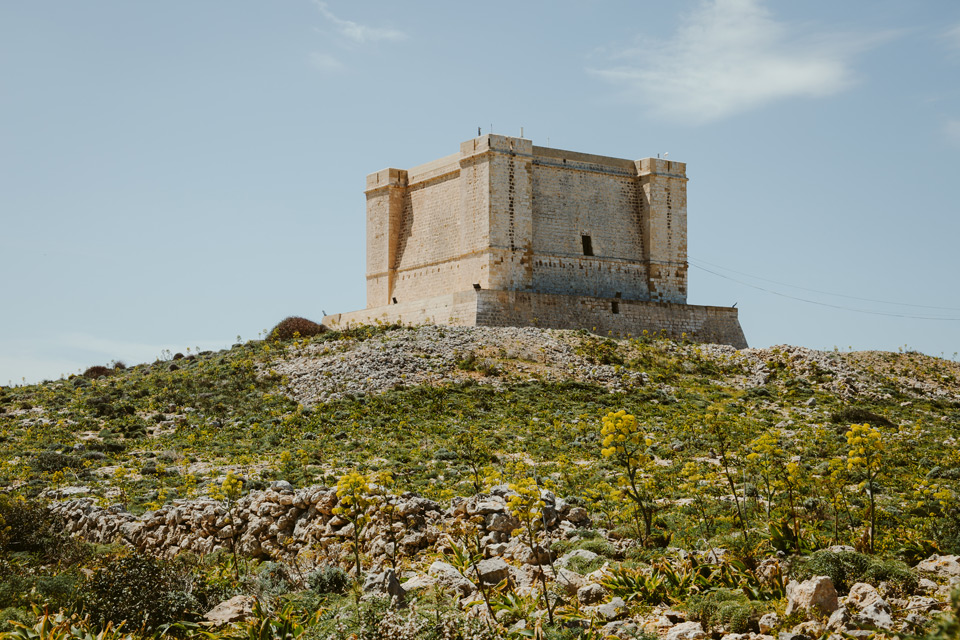 Interesting is another, abandoned building on Comino, which on Google Maps is called "Abandoned Isolation Hospital". Wojtek says that the place looks like a former psychiatric hospital. In fact, the building served as an isolation hospital for people who were diagnosed with blight and cholera in the late 19th and early 20th centuries. During World War I, German prisoners were held here.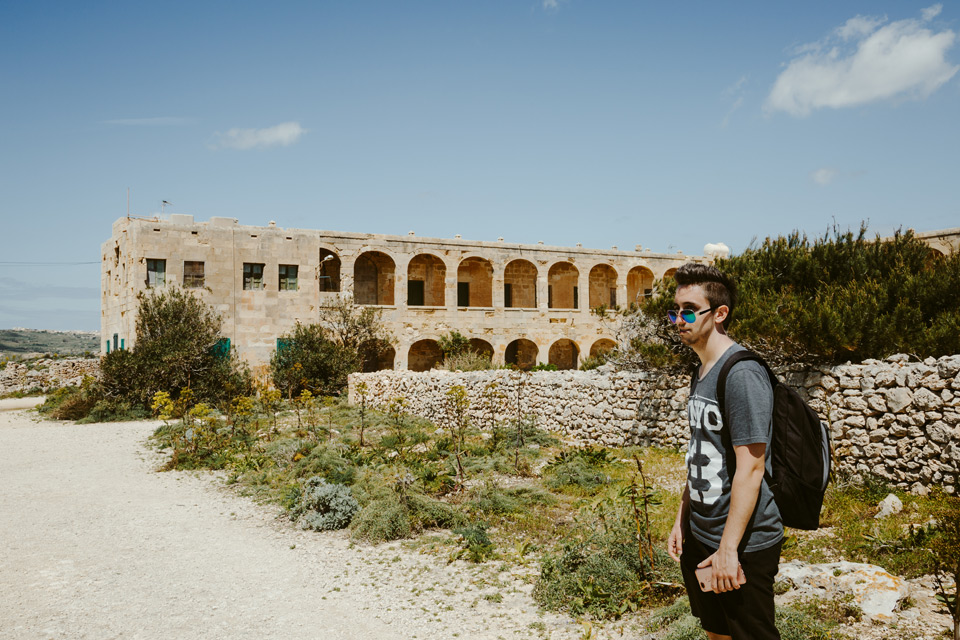 We walk along the path and pass by the monuments mentioned earlier. We are already able to circumvent almost the entire island. Blue Lagoon can be seen from afar. Of course we can also see Gozo.
An interesting attraction for Comino may be P31 Wreck for some. It's a shipwreck that lies at the bottom of the sea. Unfortunately, only divers will see it. The place is praised because apparently there is very good visibility in the water and by the way of visiting the ship you can see many species of fish.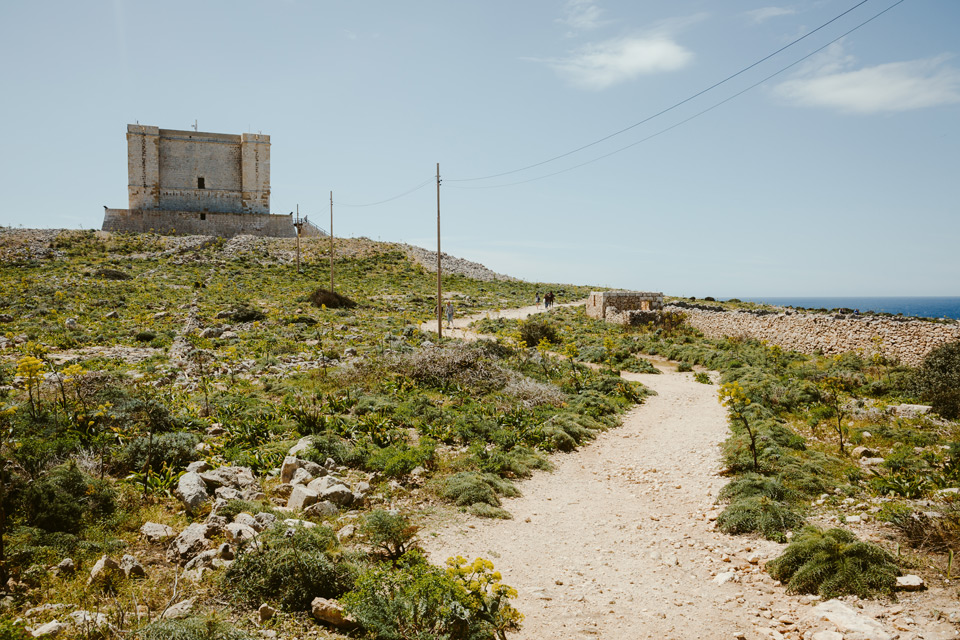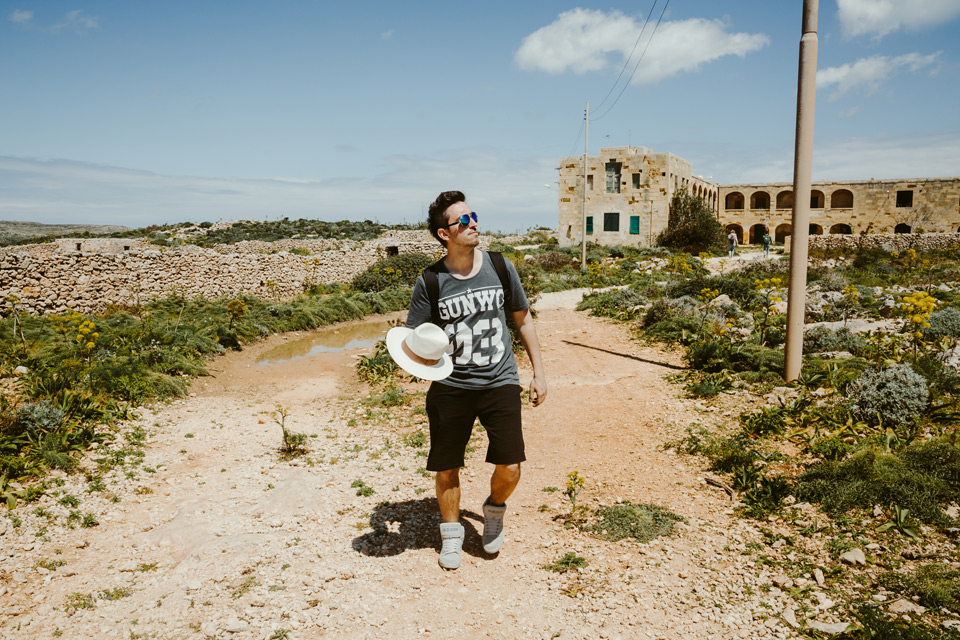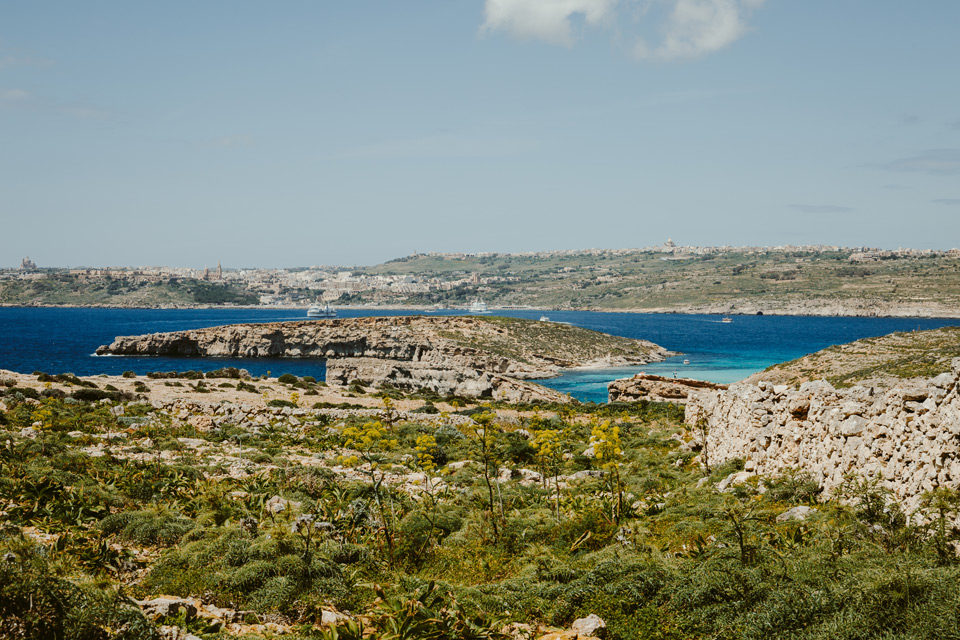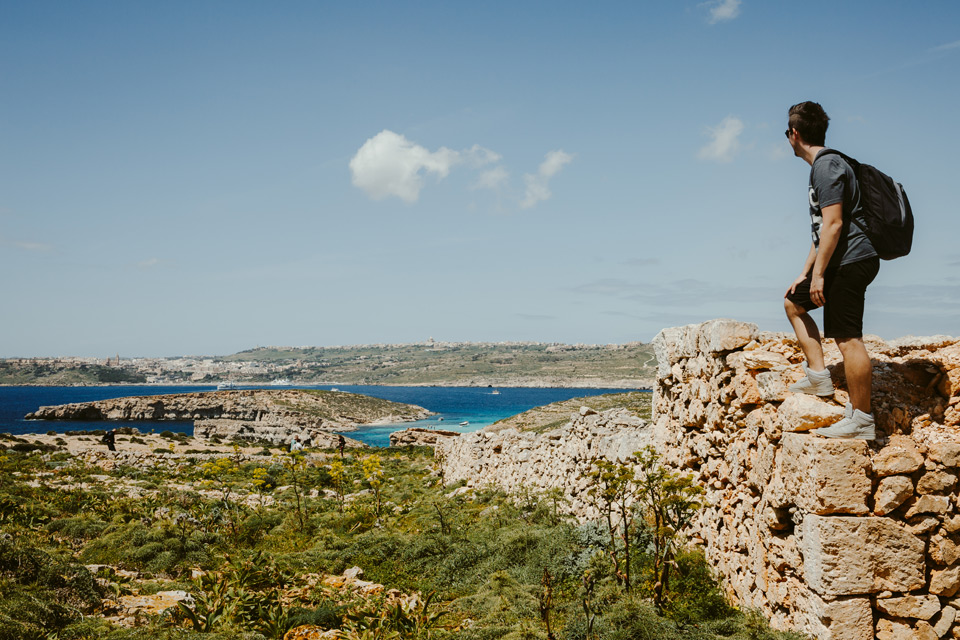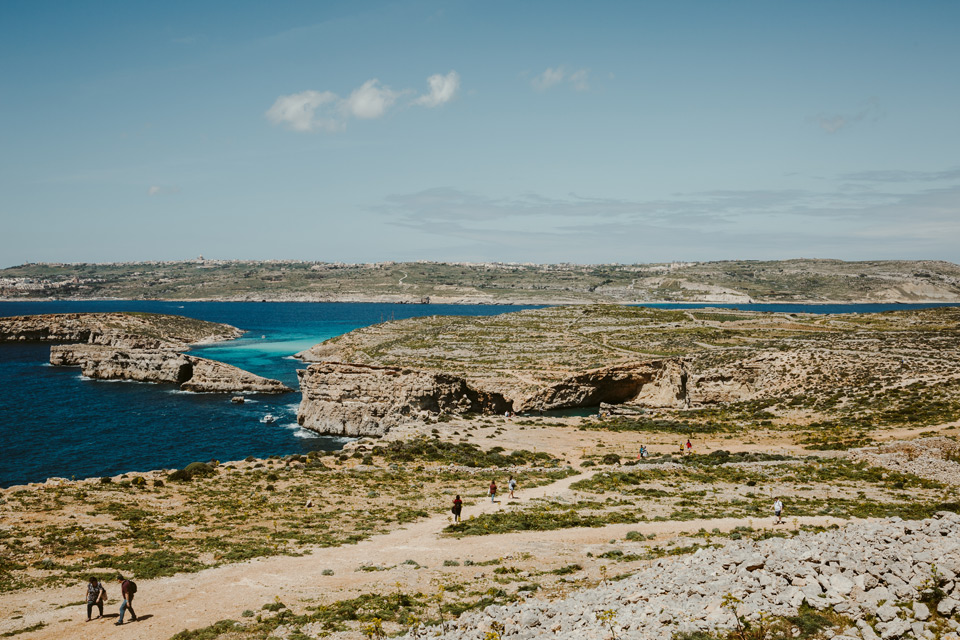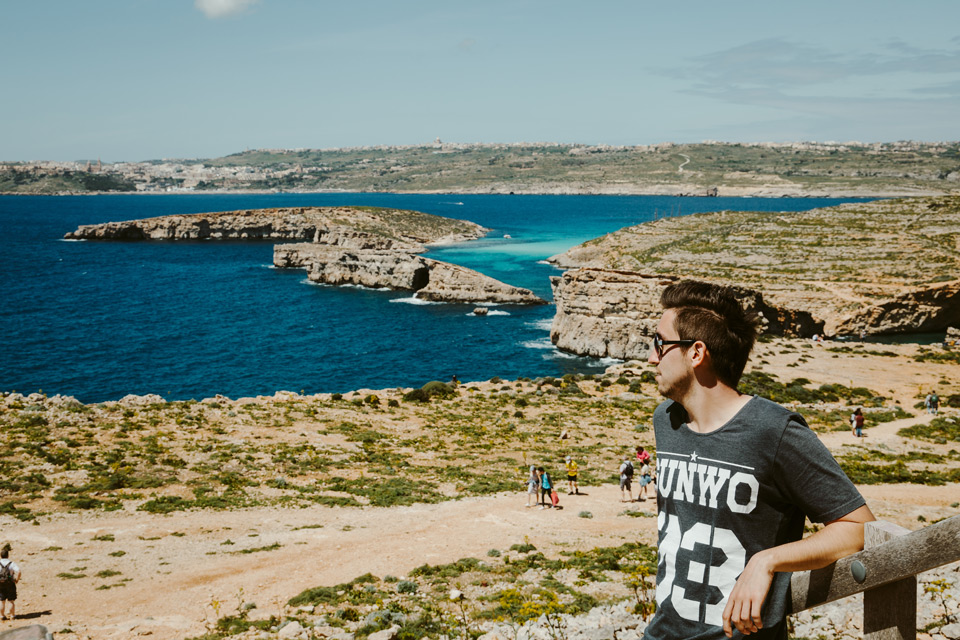 Comino- where to admire the most beautiful views?
Blue Lagoon is already very close to us, but we go in the opposite direction towards the place called "Lantern Point". From there, you'll see the most beautiful views of the Blue Lagoon and the Crystal Lagoon in front of it. In my opinion it's the most scenic place on the whole island of Comino. It's worth making a panorama, because you won't capture all the beauty of this place in one or two photos.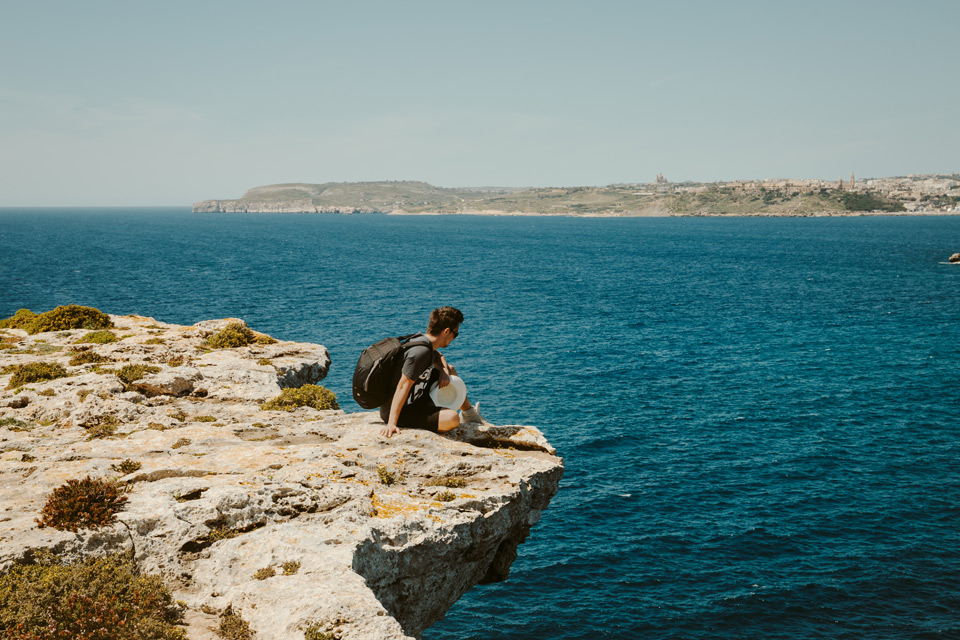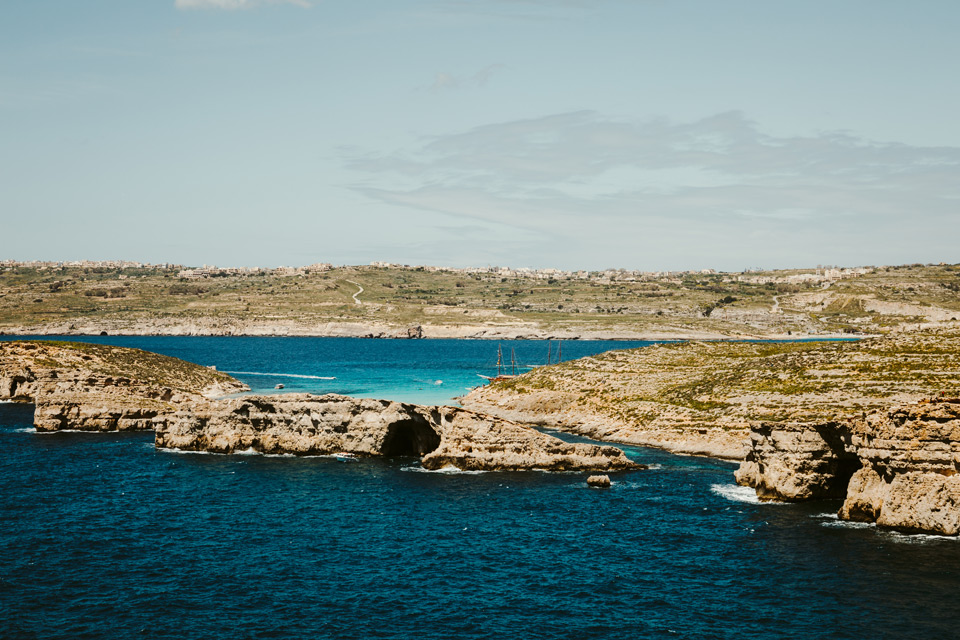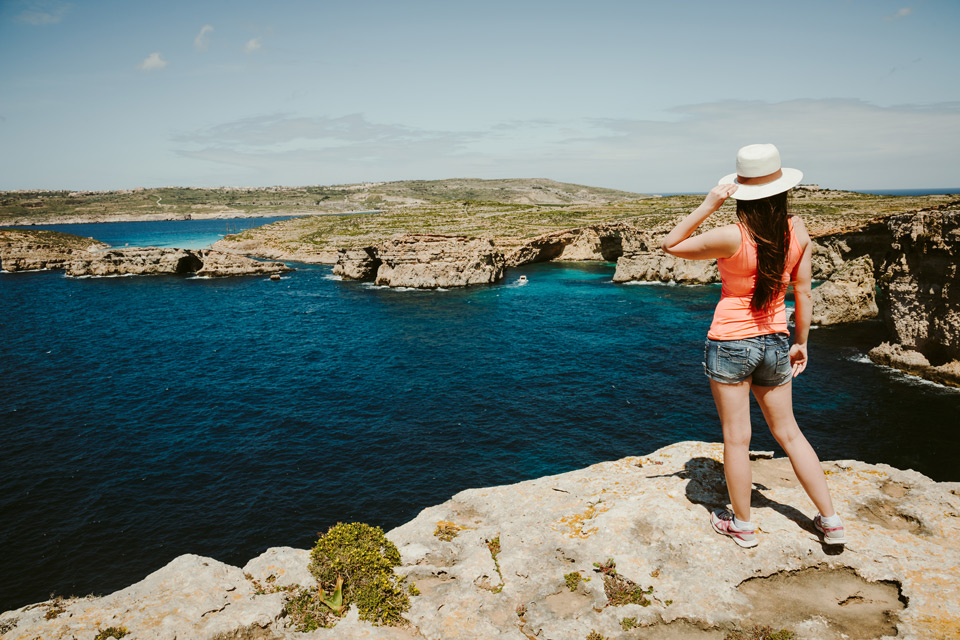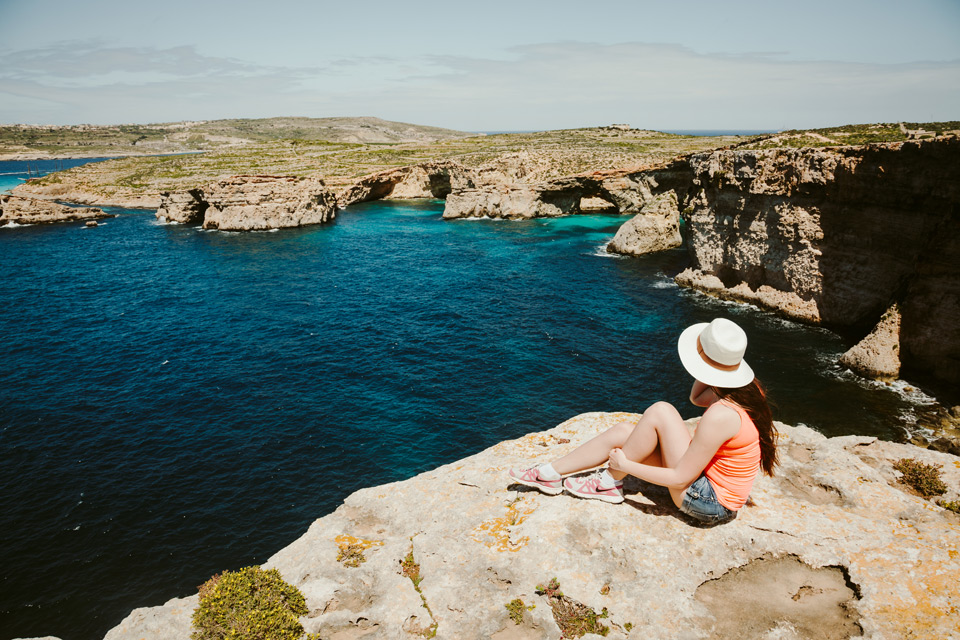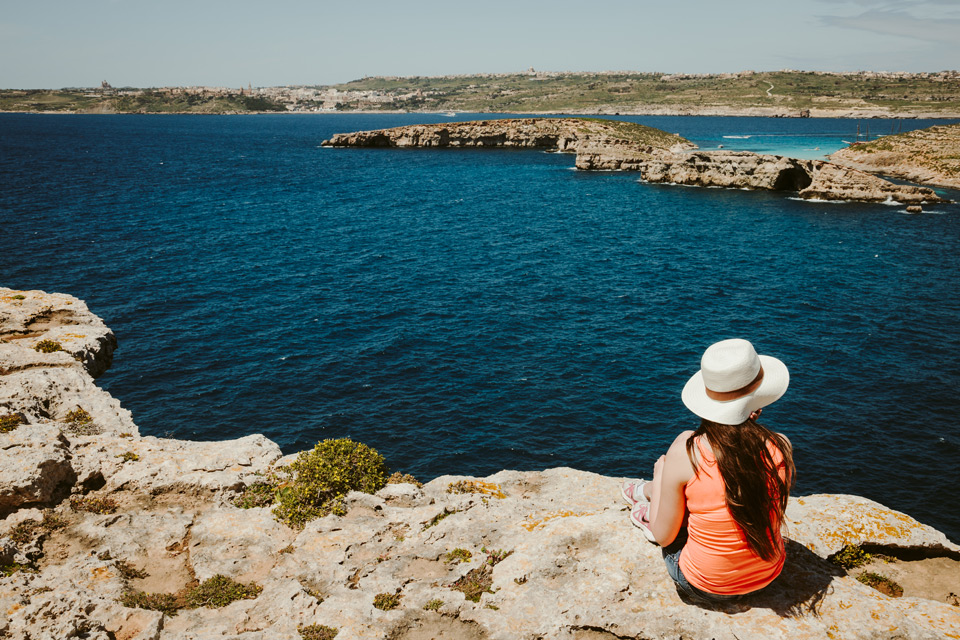 Crystal Lagoon- Comino's second most popular place
After taking million photos and a short rest on the rocks, we slowly go towards the Blue Lagoon. Of course, we make a stop at the Crystal Lagoon. We try to absorb as much beauty as possible. Unfortunately, more and more people appear on our path. It's not as empty and pleasant as in the morning. We try not to worry about it. There is no beach in the Crystal Lagoon, which is why a lot of people jump from rock to water in the warmer period.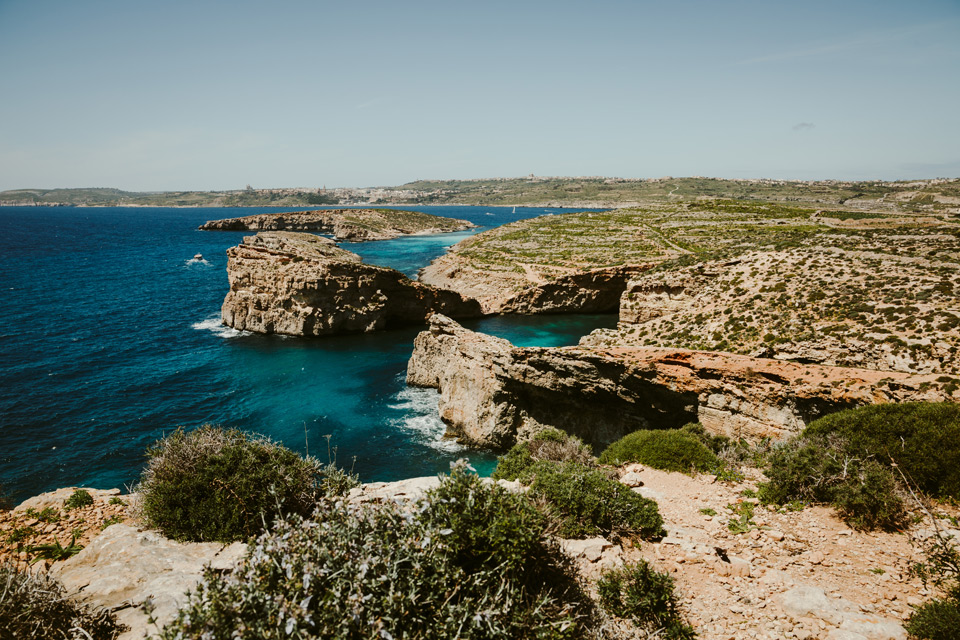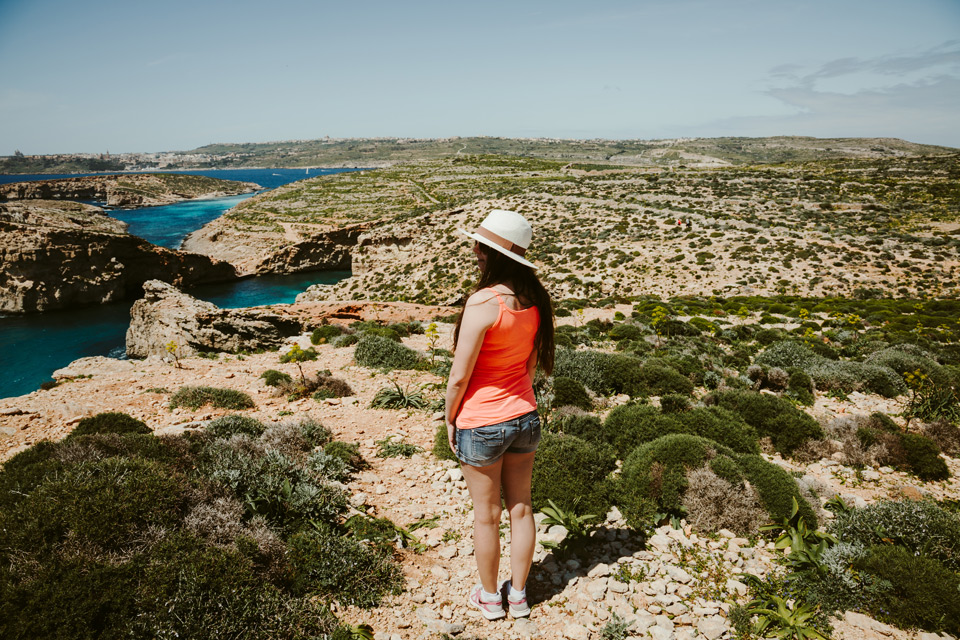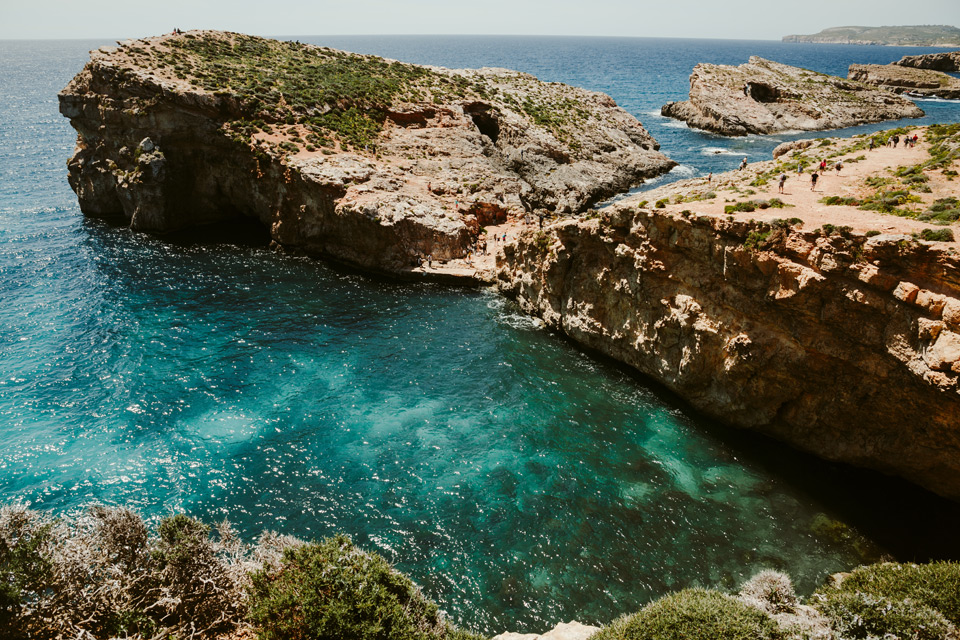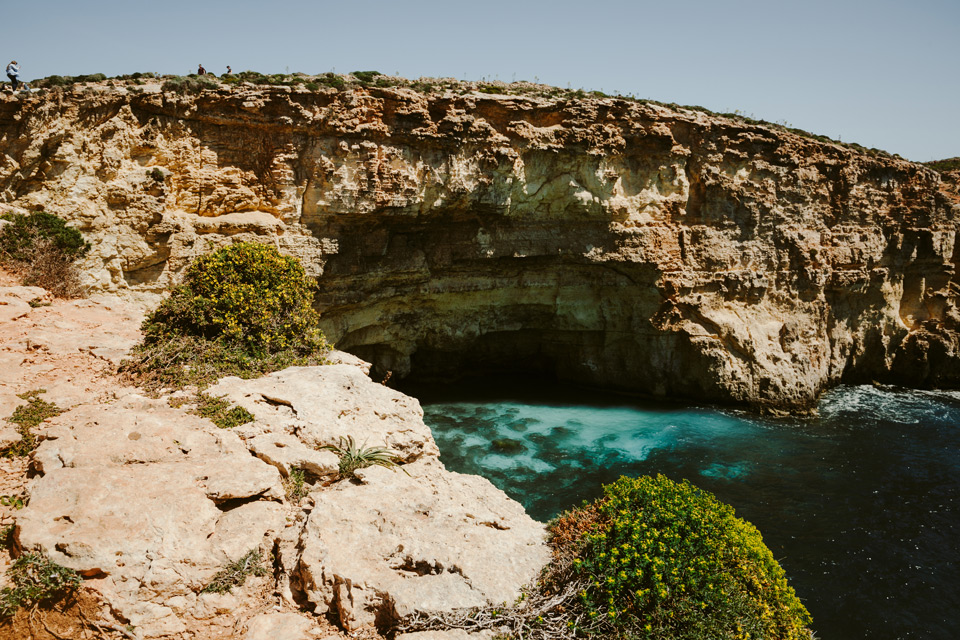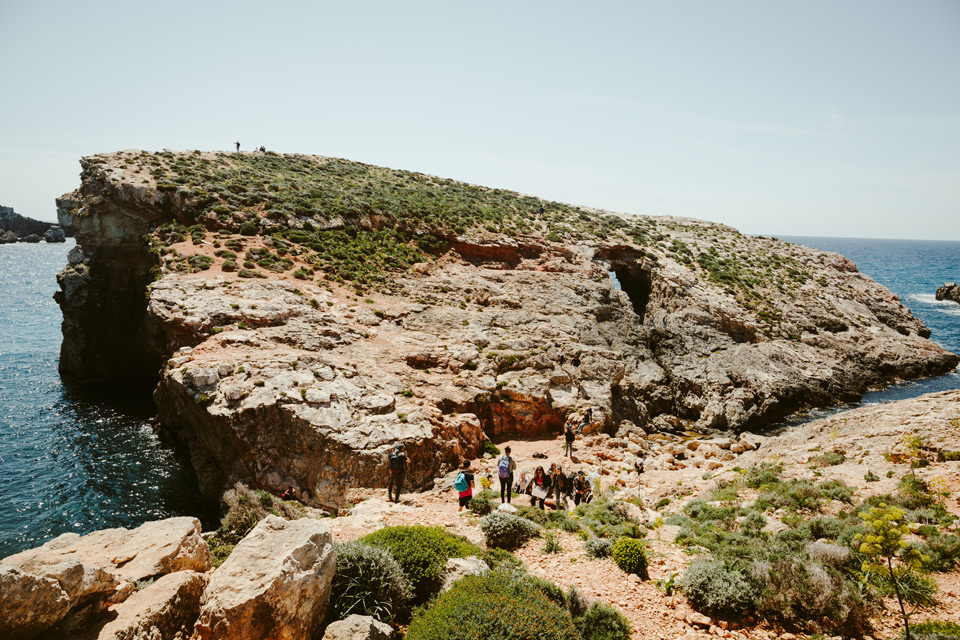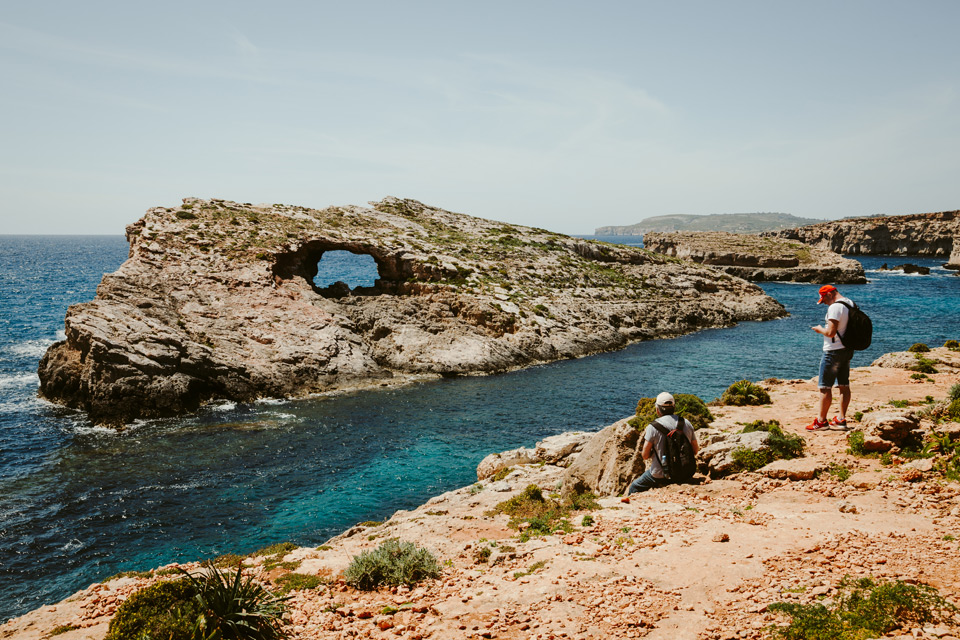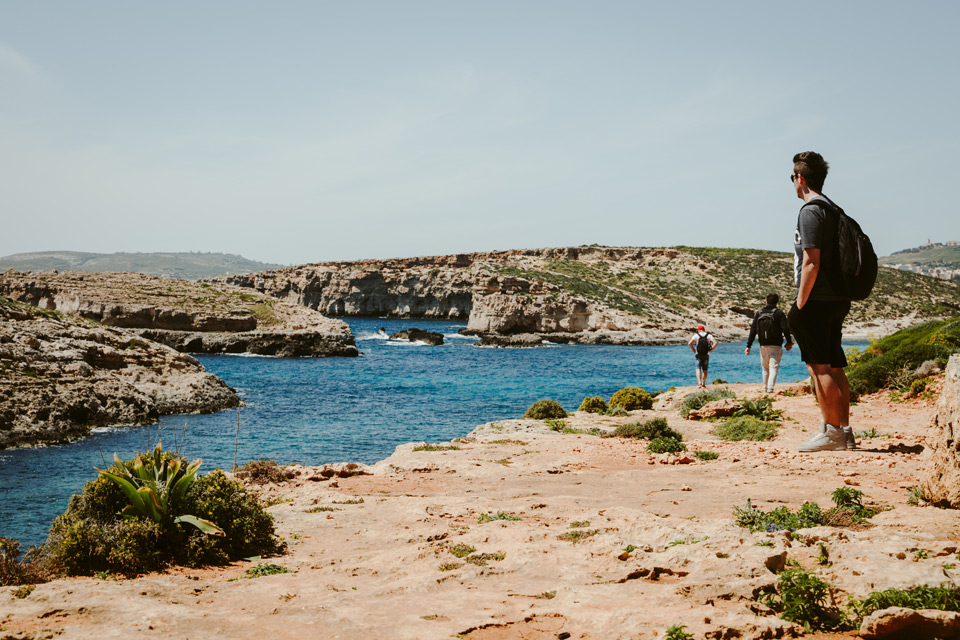 Clash with civilization – Blue Lagoon
Finally we reach the end of our route – Blue Lagoon. We collide with civilization. I don't know another place in Malta where there would be so many people in one place. It's hard for me to understand why 90% of tourists on Comino don't move from the Blue Lagoon and prefer to spend time crowded. Unfortunately, we have to join the crowd for a while. We are hungry, and here there are plenty of food booths. We order fried calamari and French fries and, to make it happier, a pineapple drink called "Blue Lagoon". It's really yummy, so we don't regret those 10 euros it costs.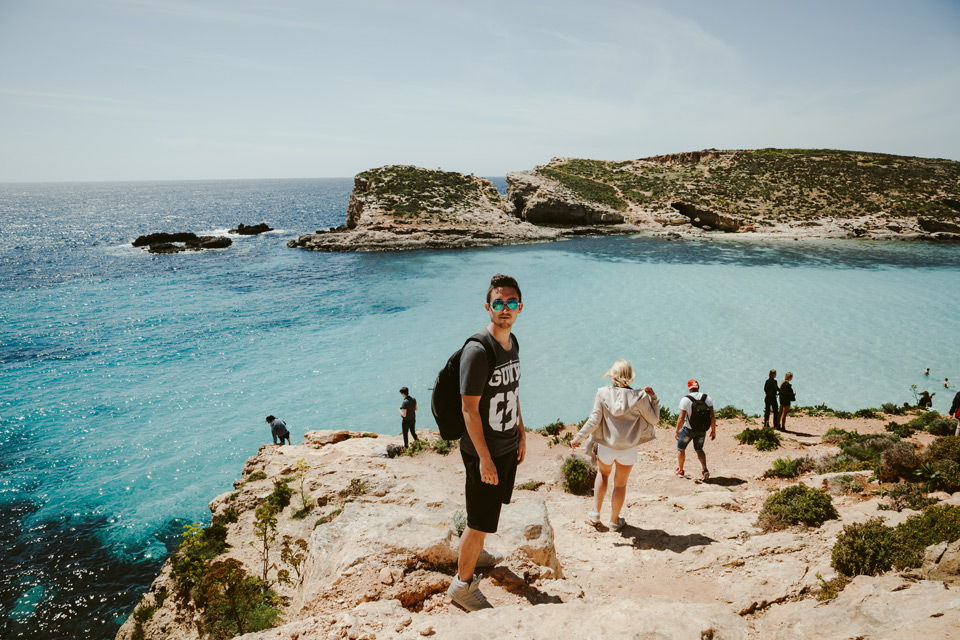 After the meal, we decide to go back to Malta. We still have a few places to see today. Whole Comino was visited today and sitting in the crowd by the Blue Lagoon is not very pleasant for us.
We get to a crazy boat. The gentleman behind the wheel tells us to sit in specific places. Initially, we don't know for what purpose, but after a while everything is clear. We sail very fast and literally jump on the waves, so if we stayed where the helmsman threw us out, we would be all wet. The girls scream and everyone laugh. It's fun! I consider our cruise successful.
Thank you for reading the entry!
If you think it is interesting, we would be pleased if you leave a mark in the comment.
You will find more posts from Malta here:
There are direct links to the next and previous episodes below.
All our travels: Travels
We also invite you to our Instagram and Facebook fanpage, where you can be up to date with all our travels.
See you later! 🙂